If you're coming to Los Angeles (or even live here) there's a spot you need to discover that has so much to offer: come discover the Conejo Valley with me!
Recently, I was invited to discover the Conejo Valley by Conejo Valley Tourism. To be honest, after living in California for over 25 years, I wasn't even clear where the Conejo Valley was!
Disclosure: I was hosted by the Conejo Valley, and the Sheraton Agoura Hills for two nights' stay along with a friend. As always, all opinions are my own.
Where is the Conejo Valley?
The Conejo Valley straddles both Los Angeles and Ventura counties and encompasses parts of Thousand Oaks, Newbury Park, Westlake Village, Oak Park, Agoura Hills, and Malibu.
Why Should I Visit the Conejo Valley?
Maybe the question should be "How could I not visit the Conejo Valley?" With two world-class museums, the beaches of Malibu, great restaurants, wine-tasting, breweries, horseback riding, a wine safari and much more, there are endless choices, and something to suit everyone.
Let me show you what my friend Maria and I did during out two night stay, and almost three full days in the Conejo Valley!
Where Should I stay in the Conejo Valley?
With a plethora a choices, you won't have a problem finding a great hotel, but I can give you one suggestion firsthand after staying here, myself–
Sheraton Agoura Hills Hotel
We checked in to the Sheraton in the afternoon and took our bags to our room after admiring the spacious lobby with lots of purple accent lights! You know immediately was smitten (well, those of you who know I ADORE purple)!
Our room was very clean, and (we would discover) very quiet too, which was fantastic. The beds were comfortable and when we called the front desk for any queries, they were quick to respond to our needs. From the front desk staff to housekeeping, everyone was very pleasant and friendly. I'd definitely recommend the Sheraton Agoura Hills Hotel.
Although we didn't use them, the Sheraton Agoura Hills features and outdoor heated pool and state of the art fitness center, as well as an outdoor firepit!
This is just a sample itinerary to give you an idea of the type of weekend or mid-week break you can enjoy when you discover the Conejo Valley!
Adobe Cantina
Before checking into our hotel, Maria and I had stopped at Adobe Cantina, a Mexican restaurant. Although they have a gorgeous patio for dining, it had just rained quite hard that morning, so we ate inside.
Both of us were quite hungry, and the menu had so many wonderful items, it was really difficult for us to narrow our choices down to one each. Funnily, we both ordered fish tacos San Felipe style, which we enjoyed. Maria loved the chipotle aioli so much, she asked for more!
The Ronald Reagan Library
Our first excursion was to visit the The Ronald Reagan Presidential Library and Museum. I've been twice in the past, but would buy an annual membership if I lived nearby; it's truly a wonderful treasure trove of memories and discoveries in a gorgeous location.
I was especially excited to return because I heard about the current special exhibit. It's at the Library until April of 2020, and is called Egypt's Lost Cities. After seeing this exhibit, I want to tell everyone I know that they just cannot miss it.
Maria and I were astounded at the plethora of artifacts and the massive size and weight of some of the biggest statues! We were in awe that these came all the way from Egypt to the Conejo Valley!
There were many video clips which explained how these artifacts and historical pieces came to be found which was incredibly interesting. You can watch my Instagram story (link below) which shows a lot more of the exhibit and video clips throughout our Conejo Valley trip.
Nota bene: we spent much longer than we anticipated in Egypt's Lost Cities, so plan accordingly if you visit.
After leaving the special exhibit, we walked through the rest of the Reagan Library and Museum which narrates Ronald Reagan's life, from his ancestors, birth, family life and his more famous years, into his presidency and death through photos, keepsakes, clothing, letters and much more. I cannot recommend this enough as parts of the displays are deeply moving. Reagan's legacy is beautifully preserved here.
Again, although both Maria and I had visited in the past, we spent much longer than we'd expected we would, and had to pick up speed when we went to see Air Force One (no pun intended)!
It's really hard to believe that this was the plane that Ronald Reagan and six other US presidents used during their time in office. It's really wonderful to be able to walk through and see everything as it was during Reagan's presidency, including his jelly bean jar and the china that was used on board.
We just had enough time to visit the Christmas Trees of the World before leaving because it was time for the museum to close. We exited through the back so that we could see part of the Berlin Wall which is permanently on display, as well as the memorial where Ronald and Nancy Reagan are laid to rest.
In the Southern California region? Why not visit Torrance as well?
Twisted Oak Tavern and Brewery
Maria and I popped back to the Sheraton Agoura Hills Hotel to freshen up and relax a bit before dinner. Directly across the street from the hotel is Twisted Oak Tavern and Brewery, which was extremely convenient. This is a great place for beer lovers and/or to meet friends.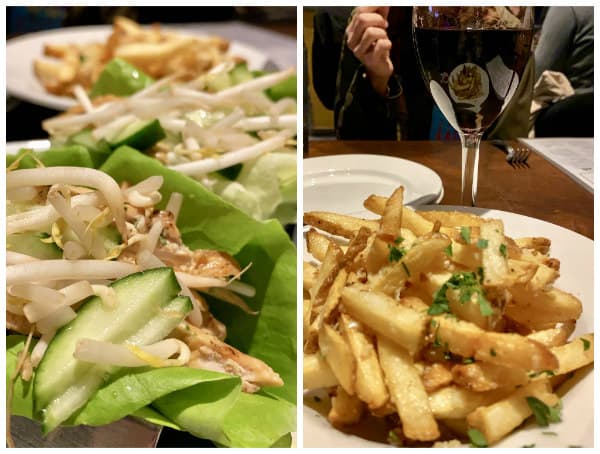 After a rather large lunch, neither one of us was super hungry, so I had a glass of red wine, we shared some deliciously fresh Saigon sliders and flavorful garlic-lover fries. I really enjoyed the sliders (which truly weren't sliders), as they were bibb lettuce leaves filled with chicken, cucumbers, bean sprouts, crispy garlic and ginger with a spicy peanut sauce! Maria was over the moon with her cauliflower dish. It made me happy to see her enjoying (and finishing) a huge amount of cauliflower!
The Getty Villa
The next morning we hopped in the car for a gorgeous drive through the mountains of Malibu to visit the The Getty Villa. Again, just like the Reagan Library, this is definitely a place you simply shouldn't miss. It's almost like a quick visit to Italy, especially as it's sitting atop a hill overlooking the Pacific Ocean, just off the Pacific Coast Highway.
The Getty Villa is a replica of a luxurious Roman villa that was found in Herculaneum, Italy. The Villa dei Papiri or "Villa of the Papyruses" was rediscovered in the 1750s. Bronze and marble sculptures, wall paintings, colorful stone pavements, and over a thousand papyrus scrolls were excavated, which is why the villa is named as it is.
I simply cannot share as much as I would like to here as I would have hundreds of pictures and go on and on for ages about the art, architecture, exhibits, gardens and tours.
Please just know that what I'm showing you is just the tip of the iceberg, so to speak.
Maria and I took two free docent-led tours which were fabulous.
We learned so much more than if we'd just wandered on our own. I highly recommend looking up the times for these tours when you visit.
We stopped by the beach on our way to lunch. You can never go wrong with ocean views.
OR Authentic Thai Cuisine
After visiting the Getty Villa, Maria and I were both ready for a good meal, and we'd decided to pop into the new (only opened for a week) OR Authentic Thai Cuisine in Thousand Oaks. It was the "authentic" part of the restaurant name that spoke to me, and I was not disappointed!
We enjoyed a hot wonton soup and yellow curry that was truly sublime, along with a delicious Thai iced tea. I ended up speaking to the chef who told me lots of their ingredients were sent from Thailand and how she makes the curry by hand at the restaurant! They were so kind and gave us a serving of their deep fried bananas with coconut ice cream, too.
All the servers and staff went above and beyond with their service and with food that makes me think about it two weeks later, it's definitely a place you'll want to visit!
Cornell Winery and Tasting Room
After another recharge at the Sheraton Agoura Hills, Maria and I were off to the Cornell Winery and Tasting Room for a wee wine tasting before dinner.
I wasn't kidding when I wrote that you can discover the Conejo Valley with me, because I'd never heard of or been to Cornell, but have passed nearby countless times on my way to visit my brother Malibu. It was like being in Gold Country (Central California) with a tiny, cowboy town atmosphere and we loved it!
We entered Cornell Winery and Tasting room, which was dimly lit and decorated for the festive season. It was not only a great wine tasting experience, but Maria and I also chatted with our hostess and server along with others who were also tasting wine. It was just the most lovely afteroon in a warm and friendly space, that I would recommend it to anyone.
The Old Place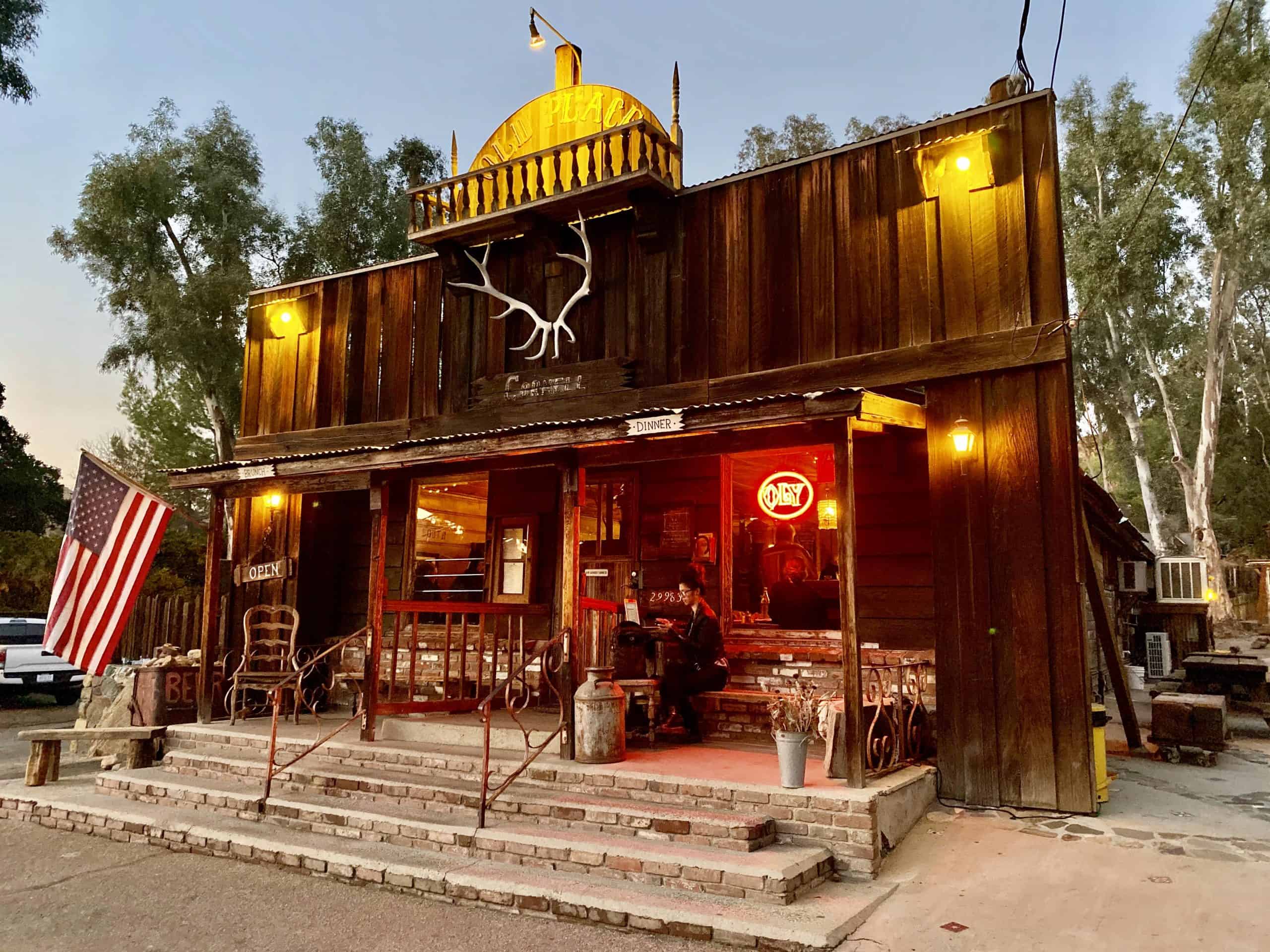 Luckily, I had read about The Old Place in advance of our visit and so had made reservations for us, since this unique restaurant is only open four days a week, and reservations are a must.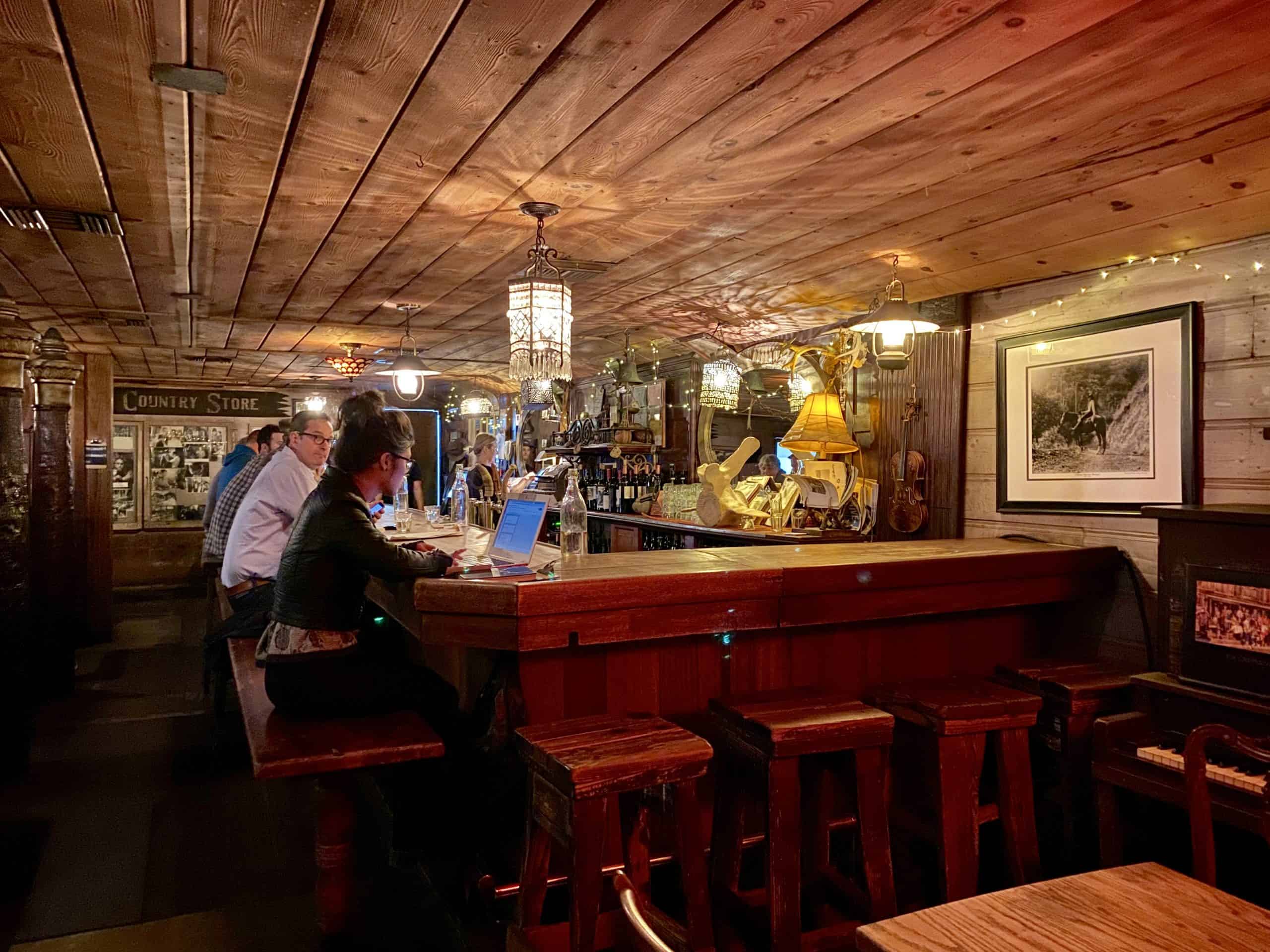 It was such a wonderful atmosphere, once again, reminding me of being much farther north in California, than feeling like I was only a few miles from home! Our server was so cheery and helpful in guiding us with our menu choices. Their tagline is "Honest food cooked over fire", and they don't have a freezer or a mile long menu, which is great. I went with the chicken pot pie which was so big, I could only eat half.
Maria indulged in her favorite veggies and the biggest baked potato I've seen in quite some time. Although I would give points for the big chunks of chicken in the pie, there was an overriding sweetness in this dish which I wasn't accustomed to, but know others love (sweet and savory together).
The atmosphere in The Old Place is assuredly one of the most unique in all of Los Angeles. In case you're in the neighborhood from Thursday to Sunday, and don't have a reservation, you can always pop in and you might get a place at the bar. They also serve breakfast and lunch on weekends, which is apparently when they're really hopping!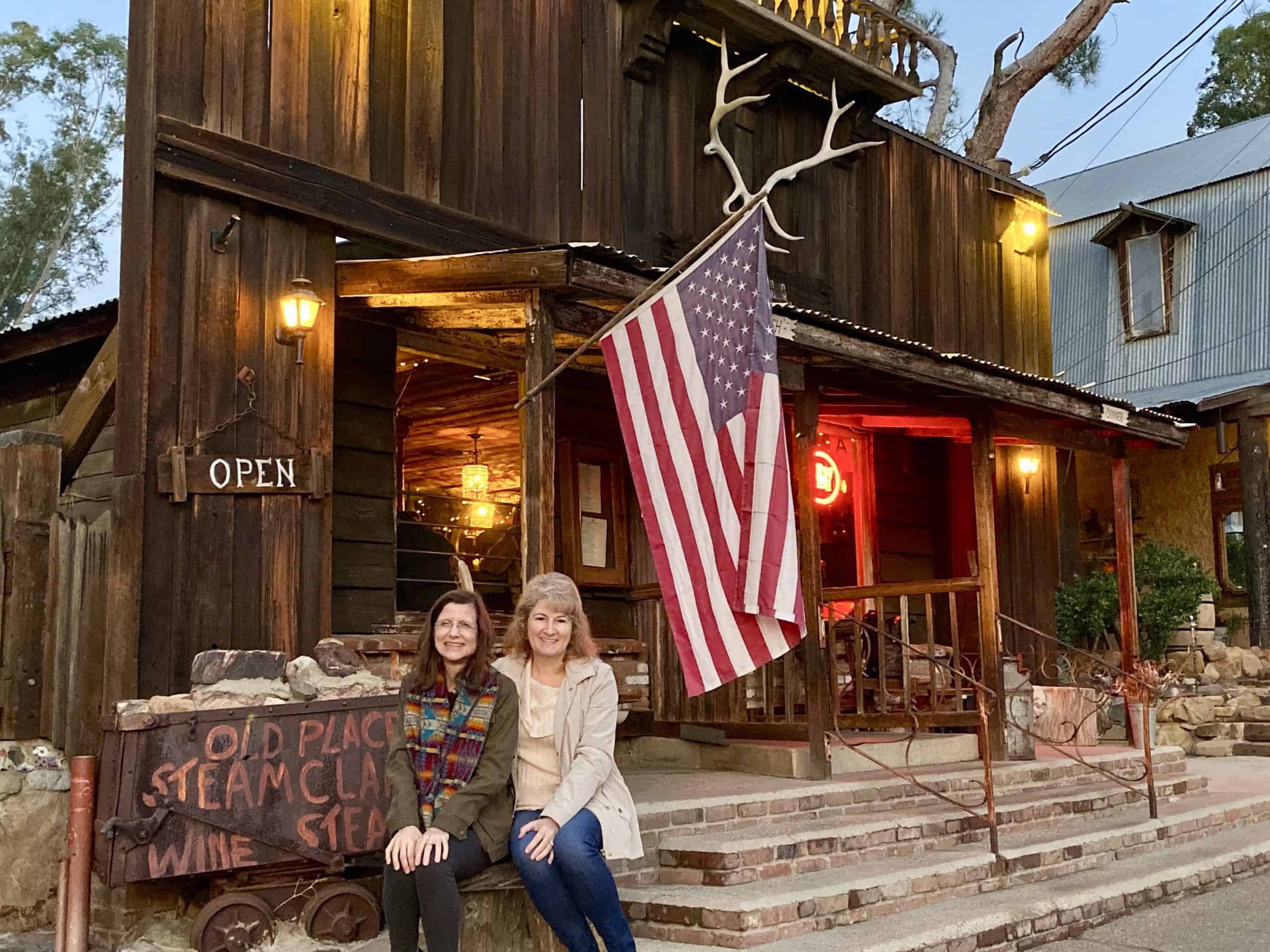 We drove back to our hotel via an old bridge which isn't like most bridges in LA. We'll definitely be returning to Cornell.
Discover the Conejo Valley with Malibu Riders
We were both so excited for our last morning in our trip to discover the Conejo Valley because we were going horseback riding! Neither Maria or I have ridden extensively, but we were both happy to be "back in the saddle again"! Sorry, I couldn't resist. 😝
Only a few minutes from our hotel and we were at the Paramount Ranch where we were to meet our guide. Sadly, the entire old film set structures which were used in countless Hollywood movies burnt to the ground in the Woolsey fire last year. I didn't realize this until we visited, and it was so frustrating as I'd passed nearby hundreds of times before the fire.
There were only four of us on the ride and our guide, Ashley, got us all paired, and saddled on our horses so we could start our hour long ride. We arrived about 40 minutes early (they ask for 45 minutes) as it takes some time not only to get saddled onto each horse, but the guide also has to explain how to manage the horses. (We discovered that each horse has a different "personality", too.)
Discover the Santa Maria Valley in Central California, too!
The other couple was very late, which impacted all of us leaving. This is especially hard on the guide who had to be back in time to take the next riders out.
Soon, we were all off on a gorgeous ride through the hills of Malibu. My horse was the slowest one so I was at the back, and Maria was warned that hers was a "snacker". It was so funny as this horse just wanted to stop to eat every chance she had, but Maria did a relatively good job keeping her moving! To be honest, I think the horse couldn't really feel Maria as she is so light!
Even though the fires had ripped through parts of the area and it hadn't rained in months, the scenery was still stunningly beautiful. No wonder they shot lots of western movies here.
We all really enjoyed the horseback riding experience with Malibu Riders and I would love to come back and do it again. I think it is such a relaxing and different way to get into nature, other than hiking the hills of Malibu.
Lure Fish House
Our last meal in the Conejo Valley was a Lure Fish House in Westlake Village (although there are three other locations). This is a restaurant I'd heard about in the past and Maria had actually been before. I had a difficult time deciding between the clam chowder or the fish and chips and ended up ordering the latter. Maria had a salad and the almond pesto cauliflower with tortillas (she's a huge cauliflower fan, as you probably deduced for yourself)!
The Lure Fish House is a family owned restaurant using freshest, sustainably caught seafood from trusted sources. They also believe in using organic and local fare, which is so important to me, too. The fish was definitely fresh and tasted really good, but the batter was a bit too thick for me, so I did leave some.
However, Maria was basking in cauliflower goodness and just raved about how good it was. I am not a cauliflower or pesto fan, so I let her enjoy every last bite! I do think that I would like to go back to Lure and try other dishes, especially the clam chowder.
Carrara Pastries
Our very last stop as we were leaving the Conejo Valley was Carrara Pastries, an Italian bakery that I've wanted to visit for a couple of years since meeting the owner, Damiano, and his brother, at an Italian event. There are two locations and we visited the one in Agoura.
Let's just say that I was really impressed by the contents of the bakery cases! Everything was impeccably decorated and there were pastries like frittelle and rum babas like I just had in Naples the month before! The pastries I tasted were very good, especially the frittelle, and I'd love to have been able to try more, but how many pastries can one girl eat?!
There were so many other restaurants, cafes and bakeries that we didn't try, as well as the Malibu Wine Safari, where we could have seen animals like zebras, camels, bison and even a giraffe whilst wine tasting.
✧
In less than an hour (on a late Friday afternoon), we were pulling into my driveway and both Maria and I felt as though we'd been miles and miles away. It's so good to take this type of break, no matter how near or far, as long as it's a change in your regular routine. One reason is because travel is great for brain health, too. Here's a quote from Psychology Today, which I know isn't the best source for this sort of material, but this is practically common sense…
"Travel disrupts your routine and introduces novelty to your brain, which improves cognition and helps reactivate reward circuits." -Psychology Today
I do hope that you enjoyed our little jaunt to discover the Conejo Valley in Southern California and that I've given you some new places to add to your travel list! Please visit this website for more information~
If you have any questions, I'd be happy to answer them, and in the meantime, I hope you have some travel planning in your immediate future! Happy travels!
Here is the link to my Instagram story, if you'd like to watch it.
This discover the Conejo Valley post was sponsored by Conejo.com and the Sheraton Agoura Hills Hotel. I am disclosing this in accordance with FTC regulations.
discover the Conejo Valley