Corinthia Budapest Hotel in the Pest side of the city is simply one of the most stunning hotels I've ever seen. Make this your base for a luxurious stay in the center of the city, especially if you're embarking on an AmaWaterways river cruise.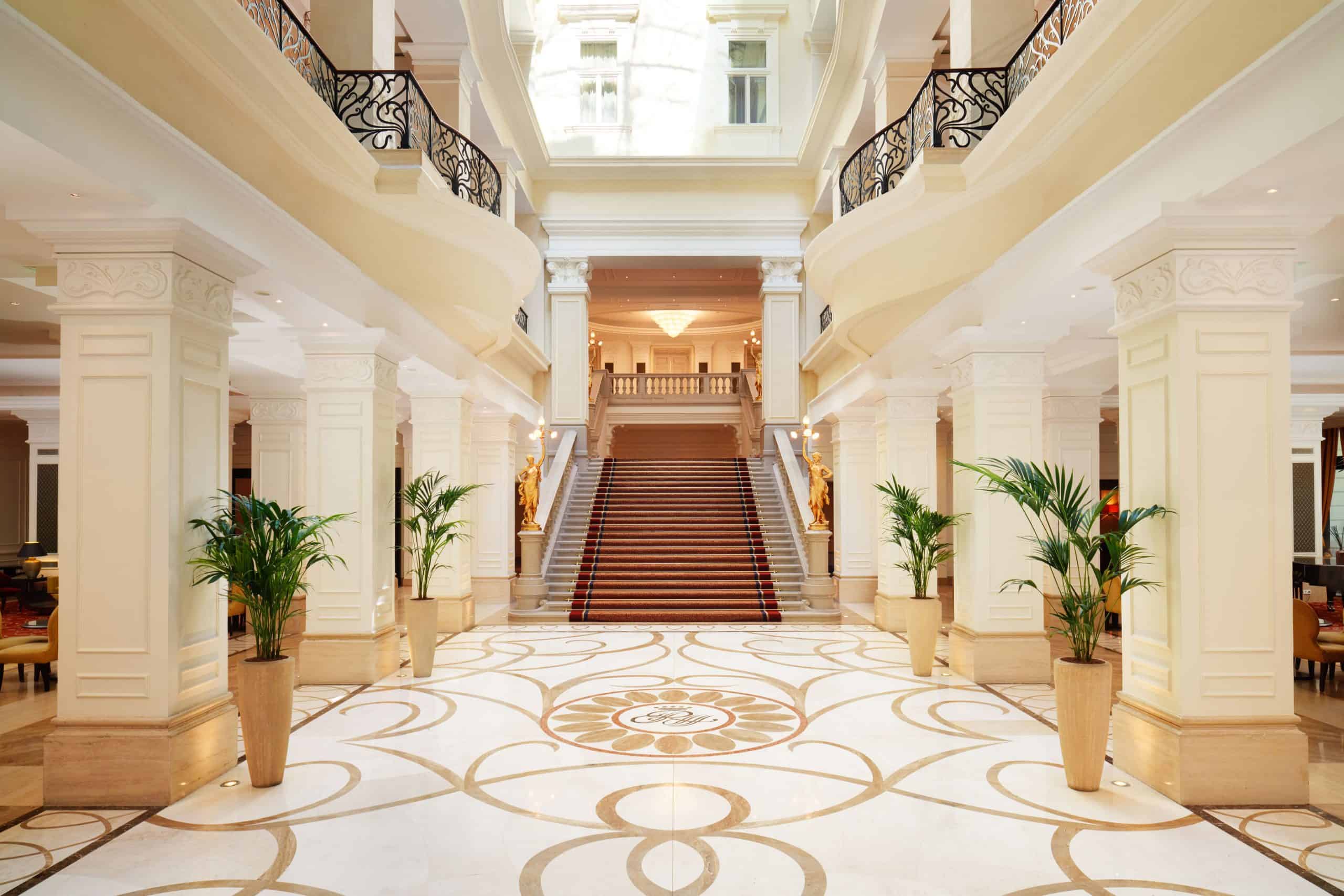 In October, I took my mother to Europe for her 70th birthday. Her big day had come and gone in May without as much as a flower or a cake, so I simply had to do something before the year was out.
Disclosure: I was hosted by The Corinthia Budapest Hotel for a one night stay, dinner and breakfast. As always, all opinions are my own.
You may recall that Mum and I enjoyed an AmaWaterways Enchanting Rhine river cruise in 2016 which was simply unforgettable. It was marvelous to be invited back on the newest AmaWaterways ship: the supersized AmaMagna!
I will be sharing our phenomenal cruise experience in detail very soon, but I'm mentioning it now because the reason we were in Budapest was because this was where were were to embark on our Melodies of the Danube cruise.
The Corinthia Budapest Hotel is the perfect place to stay before or after an AmaWaterways cruise. Why? Because both AmaWaterways and the Corinthia Hotel are going to spoil you rotten. Luxury is a given with both entities.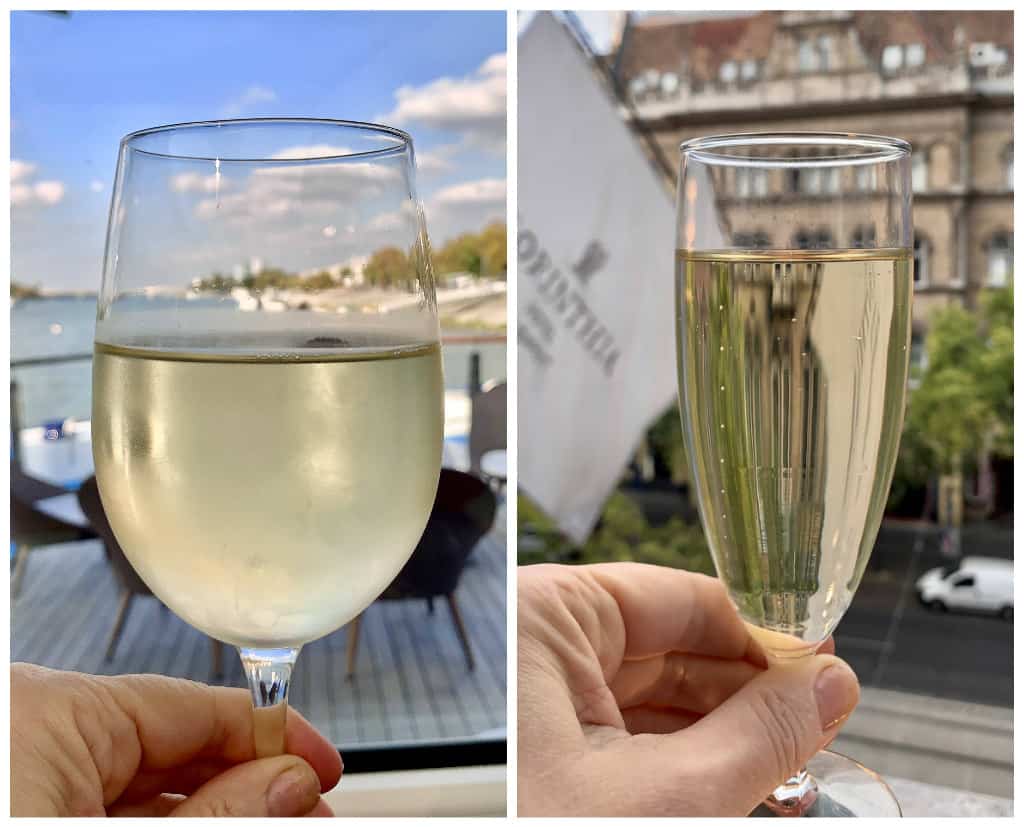 Arriving in Budapest.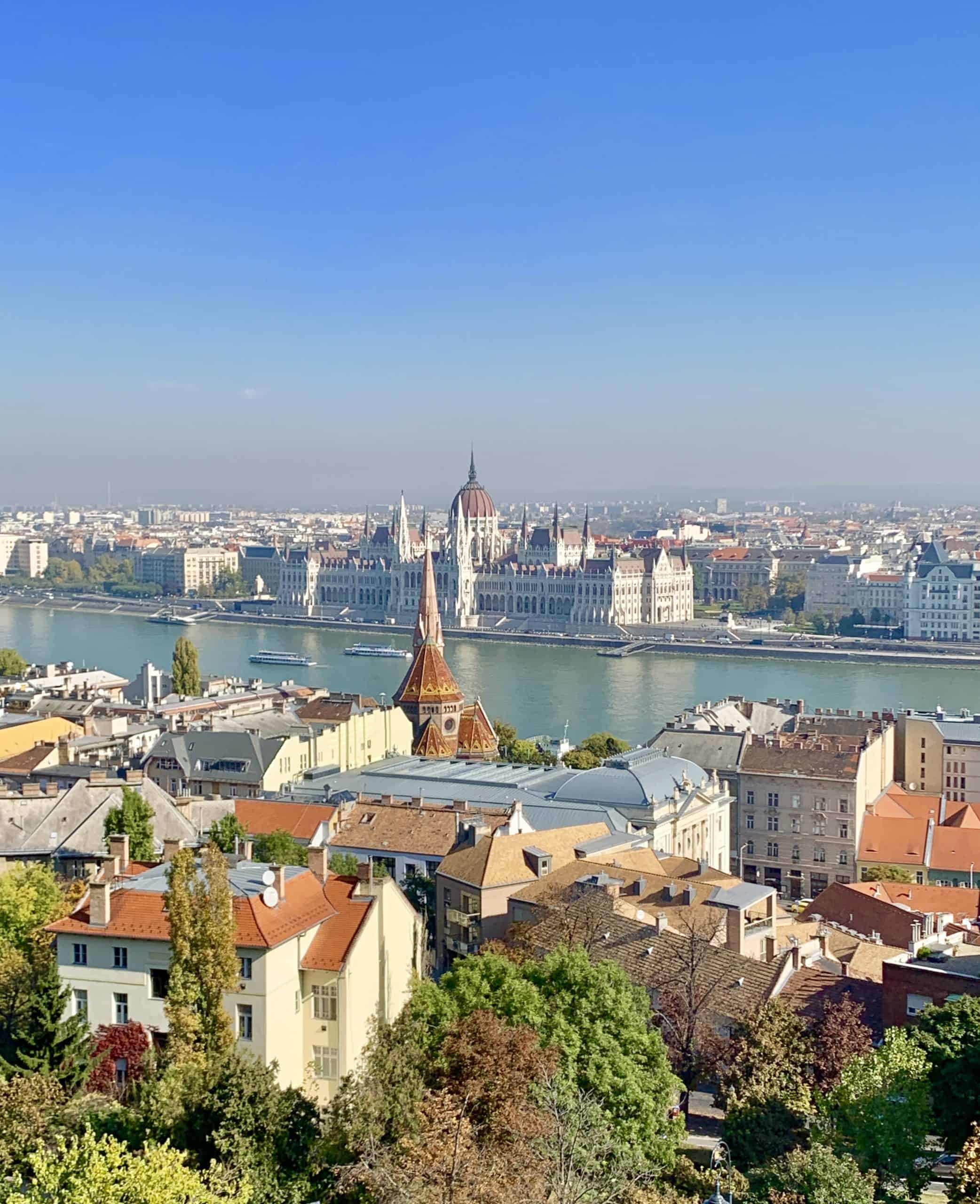 Mum and I had been in Italy visiting relatives, so we flew to Budapest from Rome. It was a brief, two hour flight and we were already there. Traveling in Europe is so different than in the US! You could fly for five hours in the States and it's still the same, food, language and culture.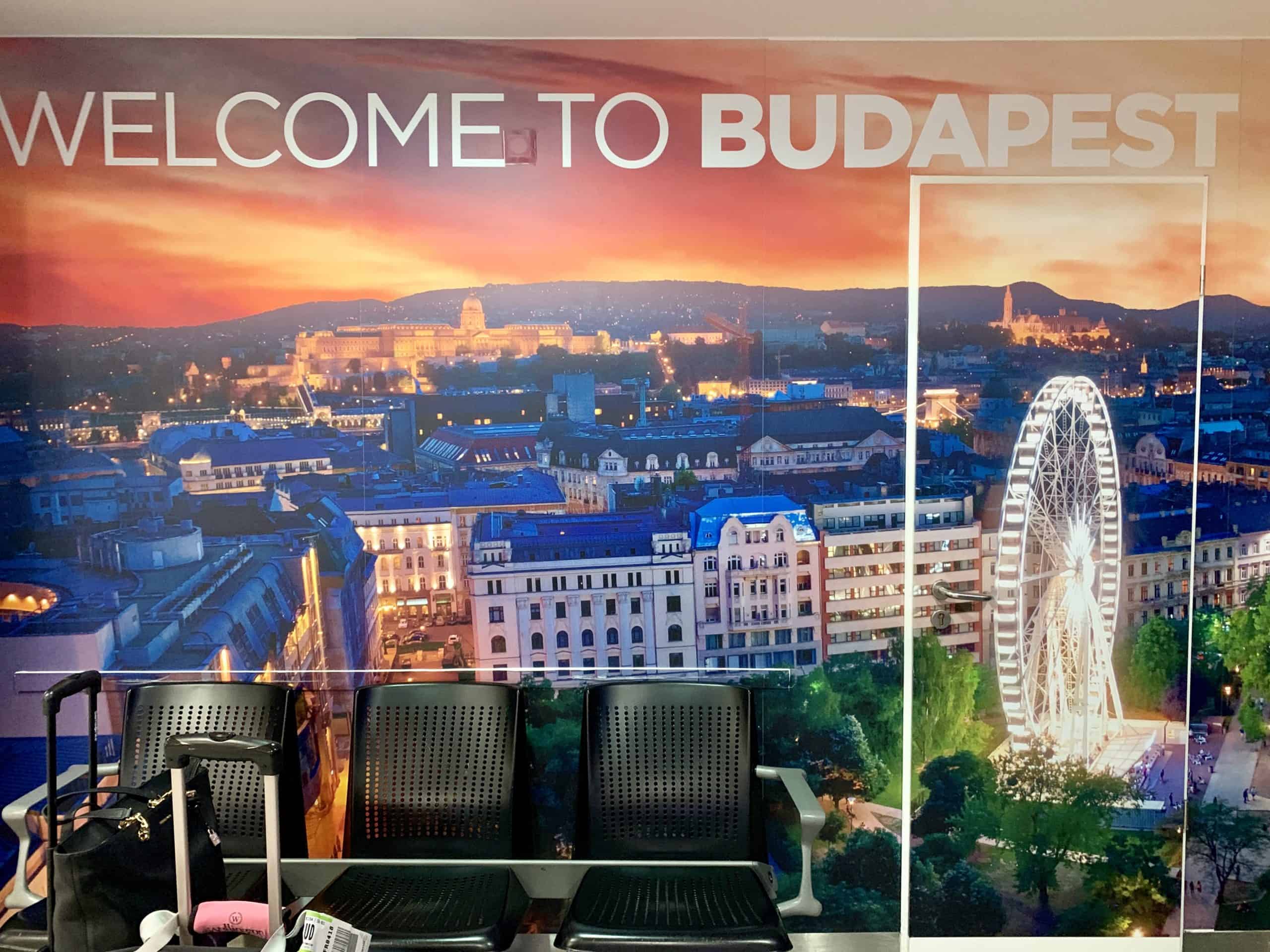 I hadn't made arrangements for transportation to the Corinthia Hotel, but it was so incredibly easy to book a shuttle! There was a desk for bookings and then footprints on the floor to follow to the waiting area where a computer screen shows each group's ticket number. Once it comes up, you go to your shuttle and you're off; it was all very civilized! (Italy, are you taking notes?)
The Corinthia Budapest Hotel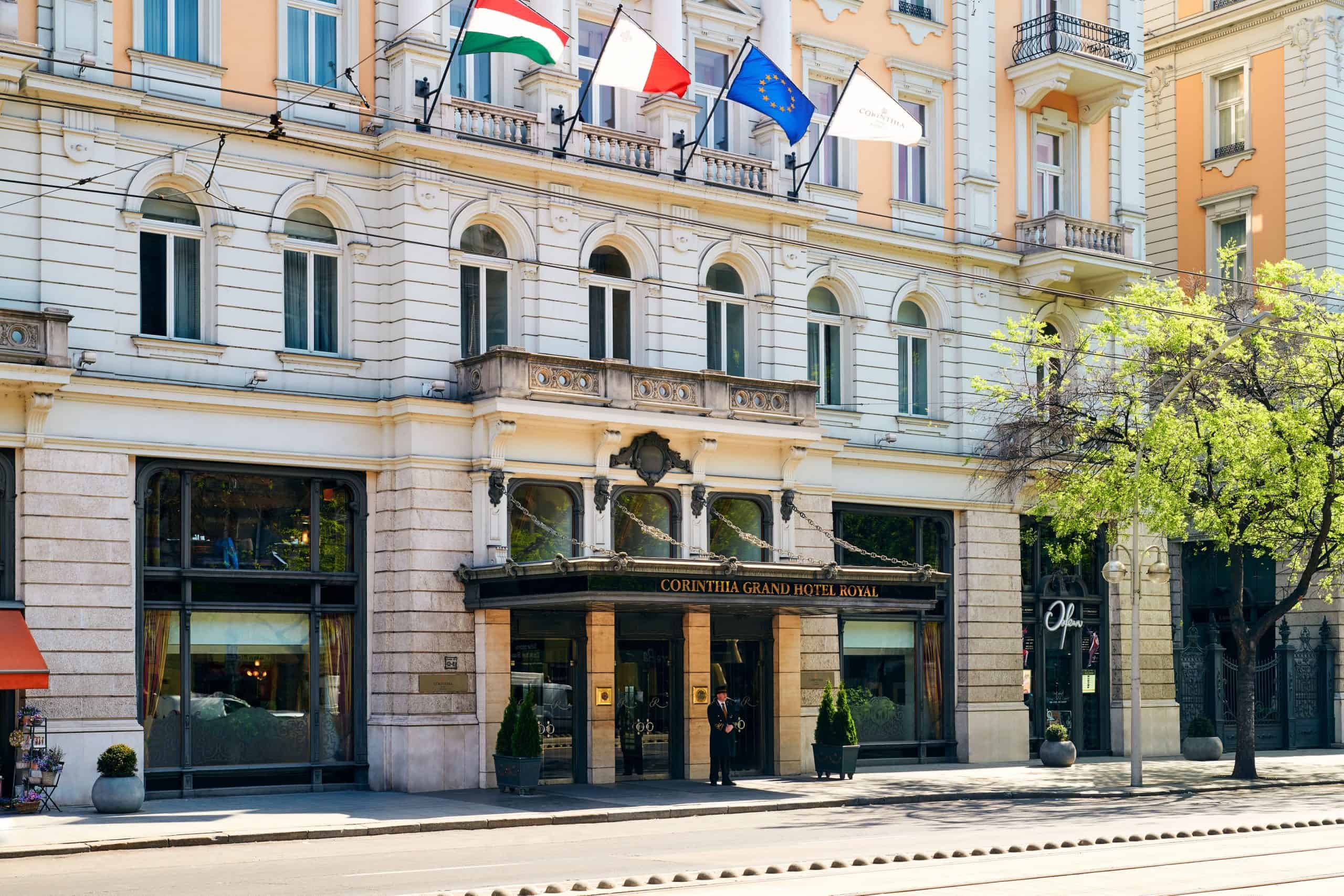 From the moment you arrive at the Corinthia Budapest Hotel, you are whisked into a world of luxury. Our bags were taken inside, and we were in awe of the beautiful architecture that greeted us in the lobby!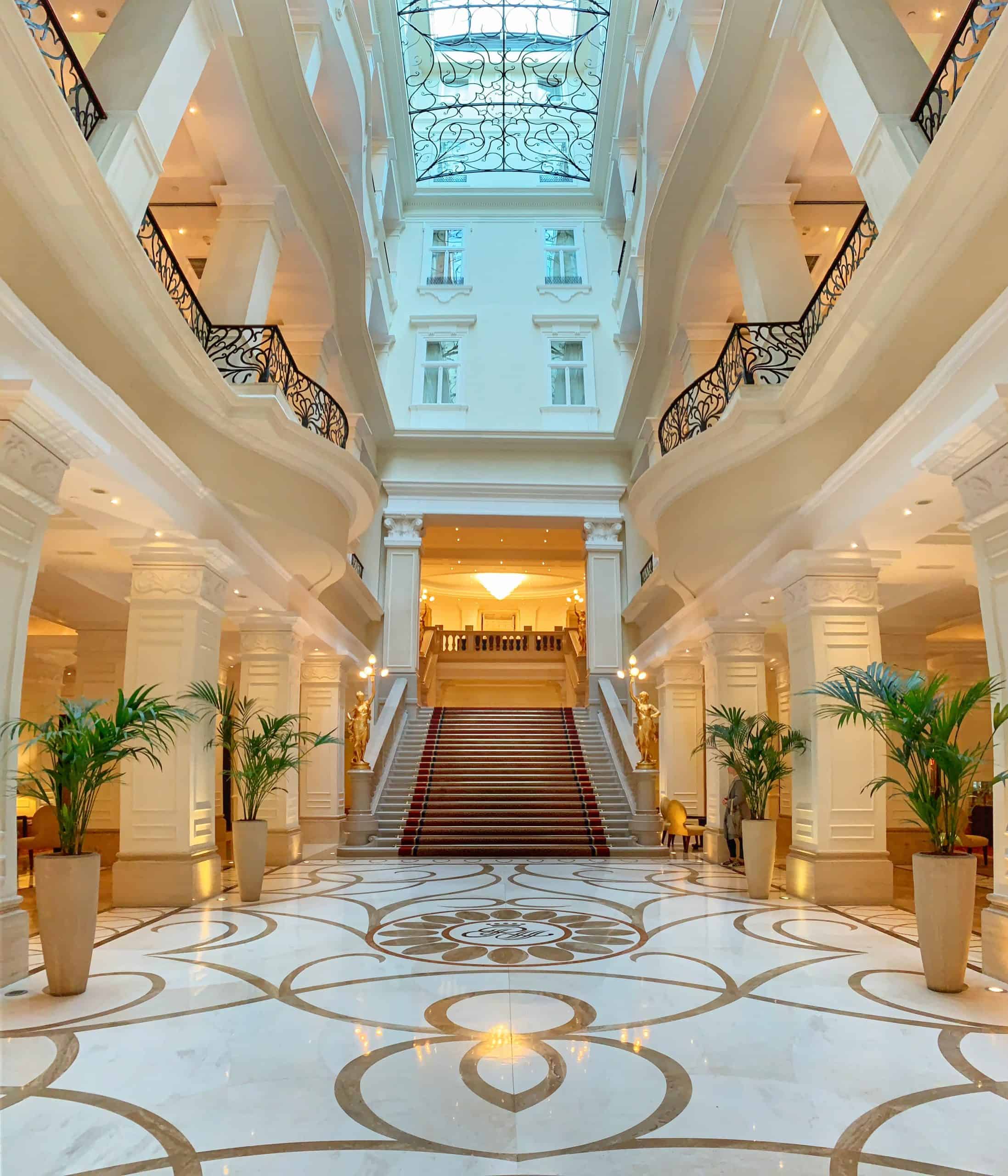 Mum and I were taken to reception where were checked in immediately by John, who was a gem. Somehow, we learned that he was new, so I complimented him as he seemed so confident, friendly and knowledgeable.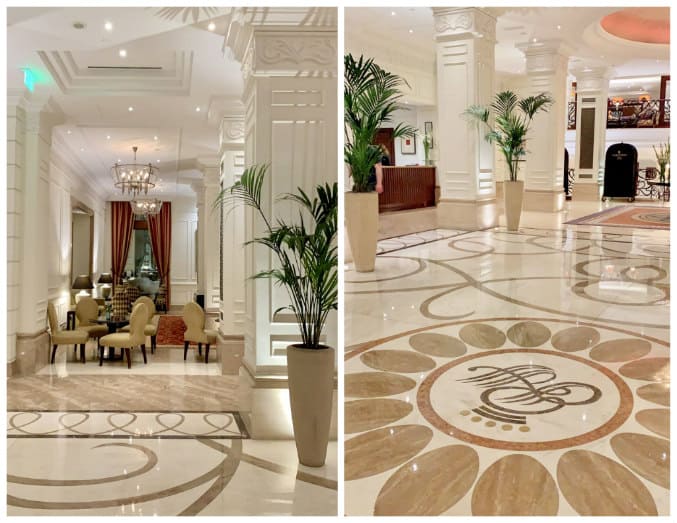 Soon we were in the elevator heading up to our suite, but Mum and I had no idea what was in store for us. This was one of our stunning views just heading to our room.
Executive Suite at the Corinthia Budapest Hotel
This is just a fraction of our suite at the Corinthia Budapest Hotel. As we entered the foyer of the suite, both Mum and I were amazed at the size of the gorgeous suite. The modern decor was a pleasant surprise, with shelves of fashion books and vases adorning the them.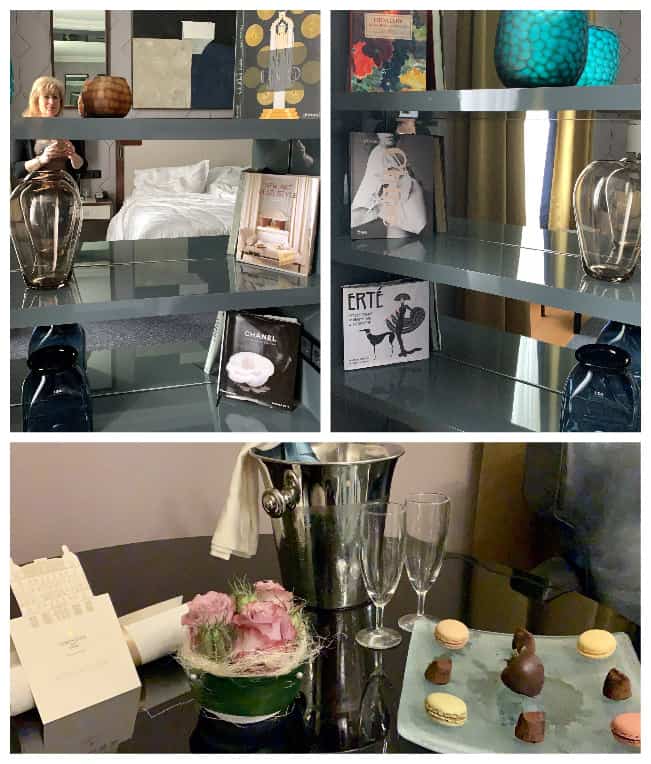 We had two bathrooms: a smaller one just off the entry and the master bath off the dressing room which was through the bedroom. Measuring 753ft² /70m², this suite is almost as large as my first house (which only had one bathroom)! You can see much more of the suite on my Instagram story highlight which I'll link to at the bottom of this post.
We also had an impressive view from our balcony! I loved the architectural style of the buildings in Budapest. There was such an interesting array from different time periods.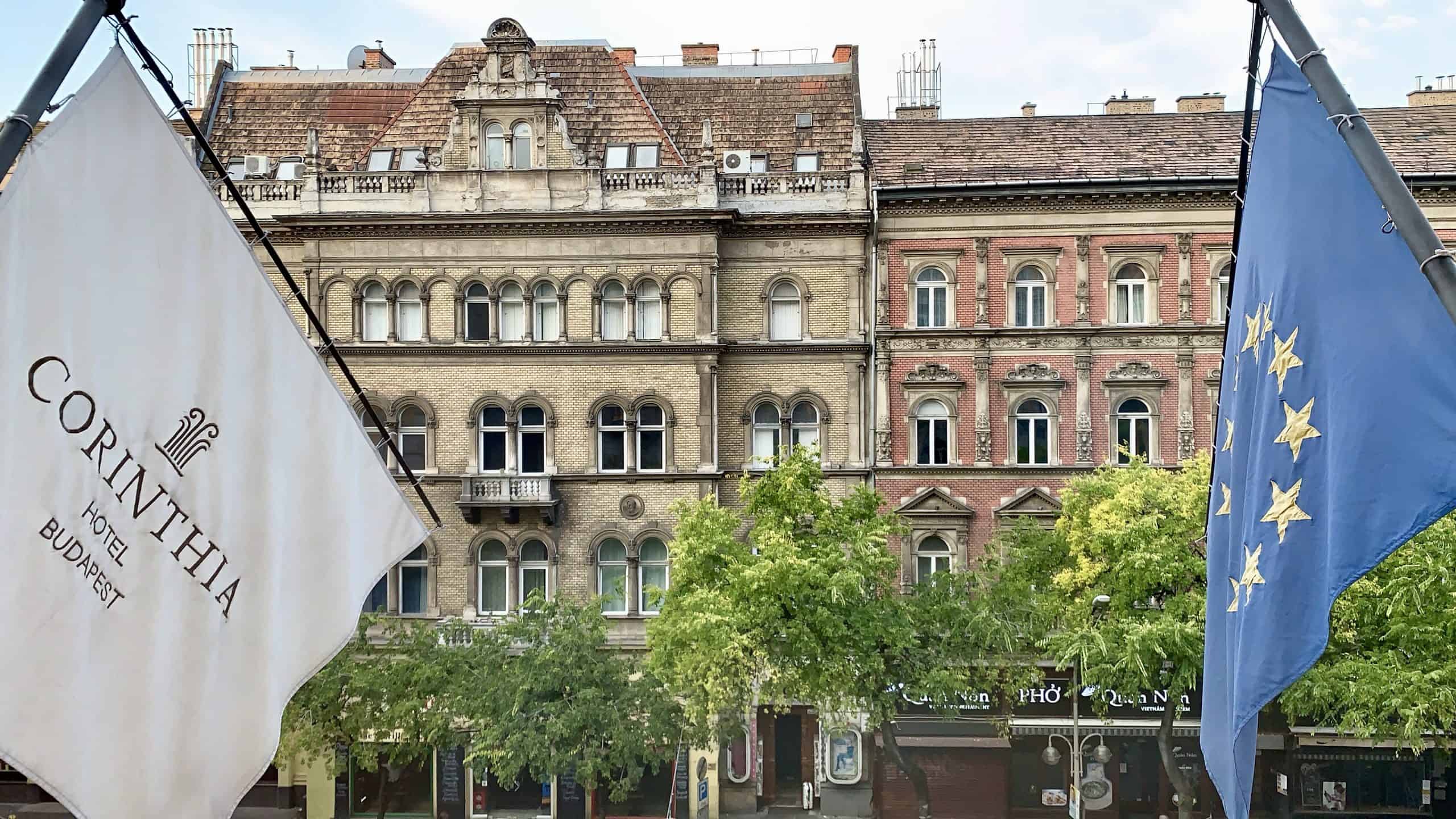 The balcony was the perfect place for some bubbles!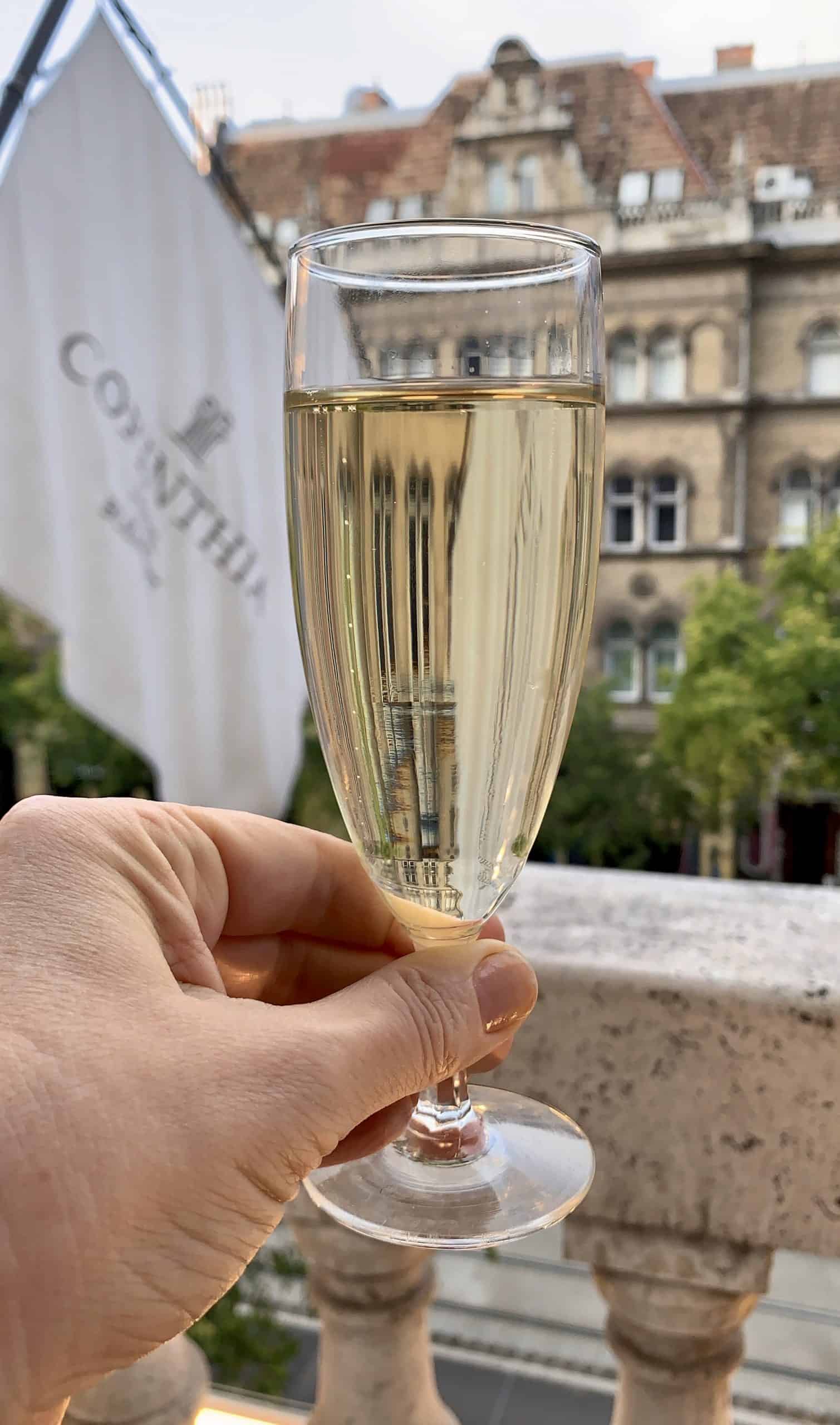 Dinner at Brasserie and Atrium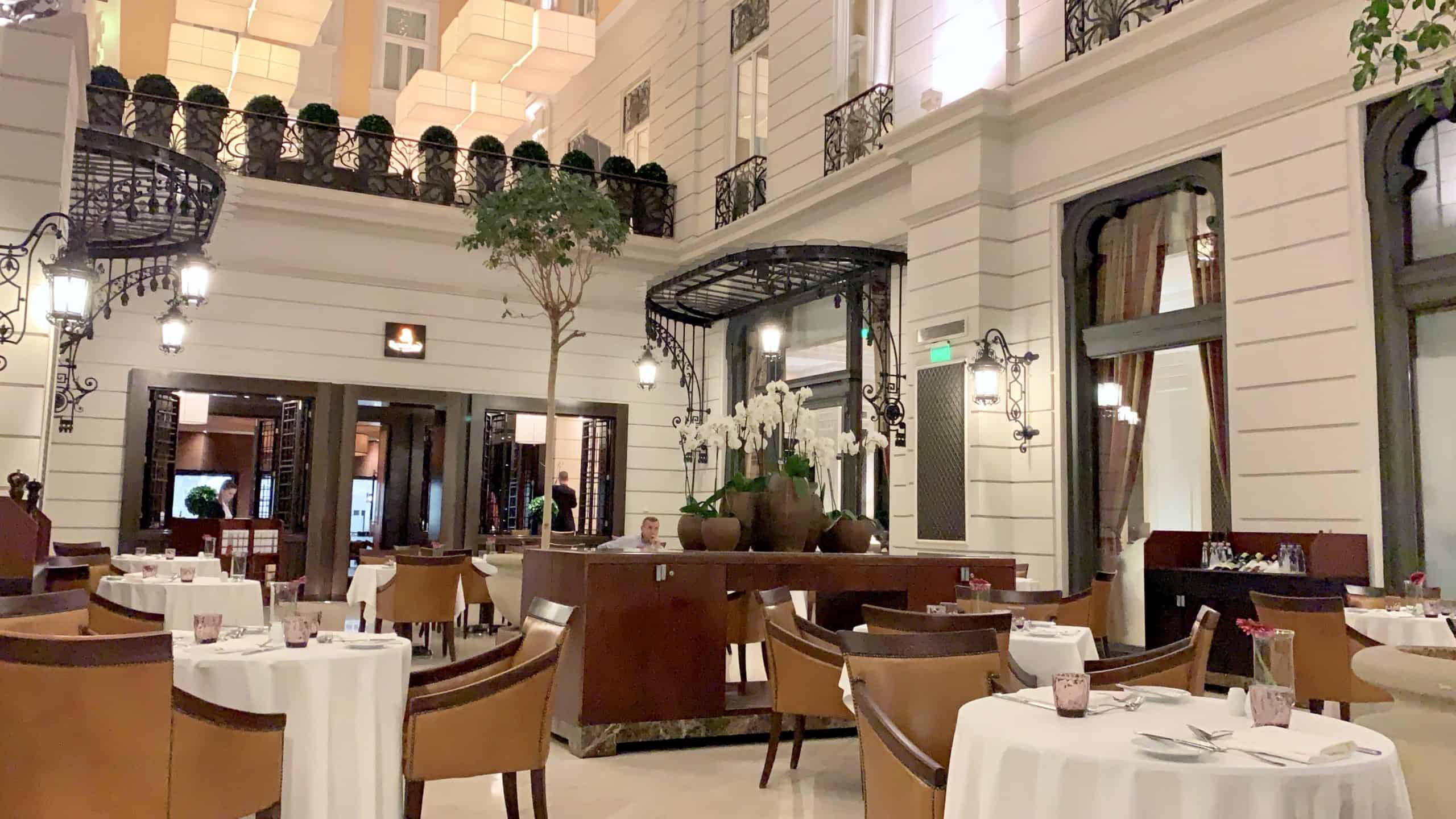 Our dinner at the Brasserie and Atrium, just one of the restaurants and bars at the Corinthia Budapest Hotel was a marvelous experience. Both the food and service were very good, and Mum and I enjoyed a fabulous first night in Budapest, thanks to the Corinthia Hotel.
I started with a lovely French onion soup, but Mum ordered the sous vide octopus salad, and I wish I had done the same! It was beautiful, and arrived with baby gem lettuce, potato, inked aioli, sundried tomato, crispy garlic bread, Moroccan preserved lemon served with a shallot and chili dressing. It was outstanding.
Our server, Dominika was lovely and helped us with choosing from the many dishes on the menu as well as the wines. Zsófia was also lovely and very attentive. Next, Mum and I decided to order a typical Hungarian dish, chicken paprika with schupfnudel (described to us as sort of like large spaetzle), and an Austrian classic, Wiener Schnitzel.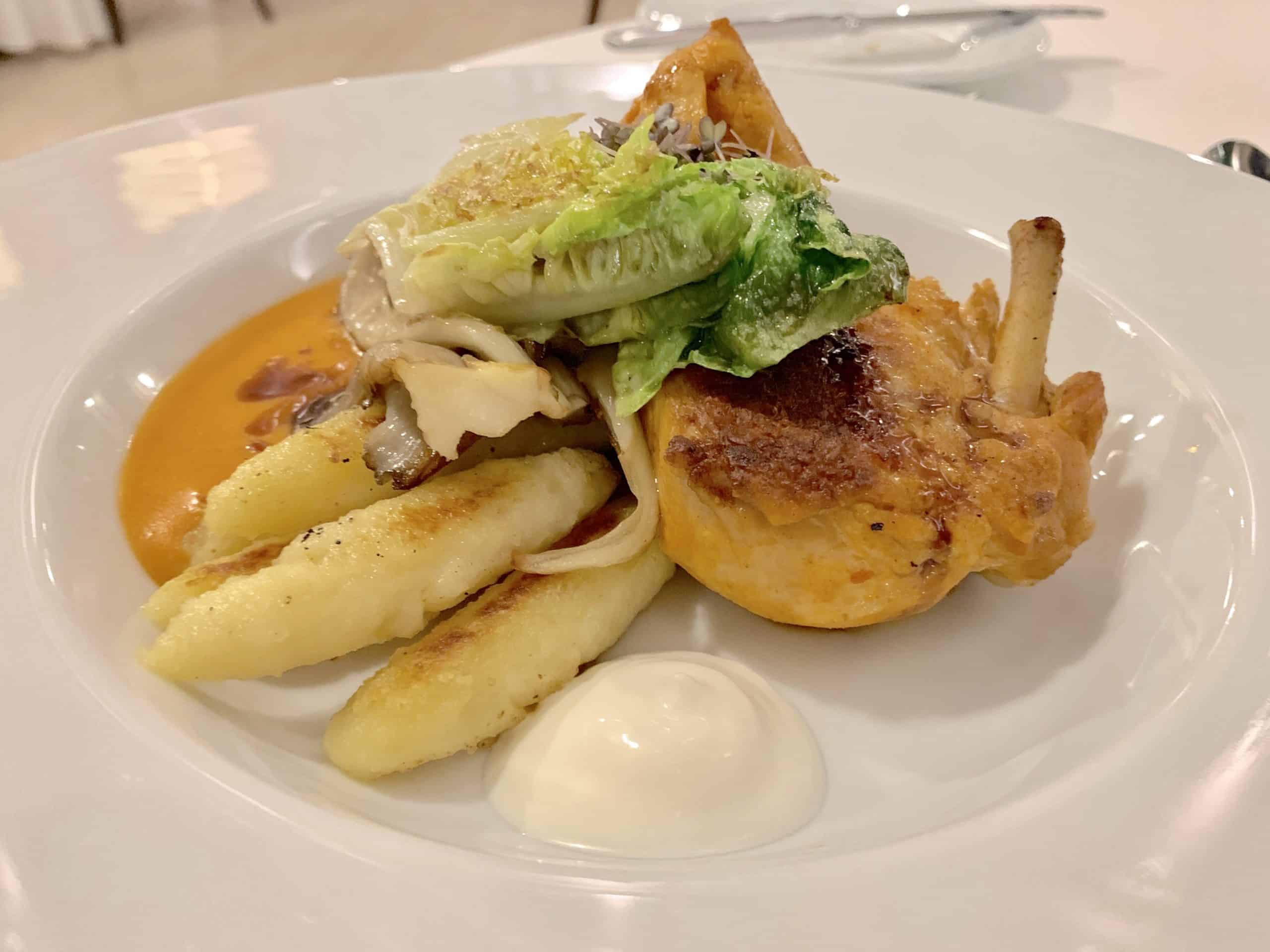 I can highly recommend both dishes (I really loved the shupfnudel and paprika sauce)!
We ended by sharing a decadent gianduia crème au chocolat with crumble, Devon cream and wildberries: lovely!
I decided to go for a little walk after dinner while Mum went back to our suite. The area was hopping that night and although it was October, it was very mild.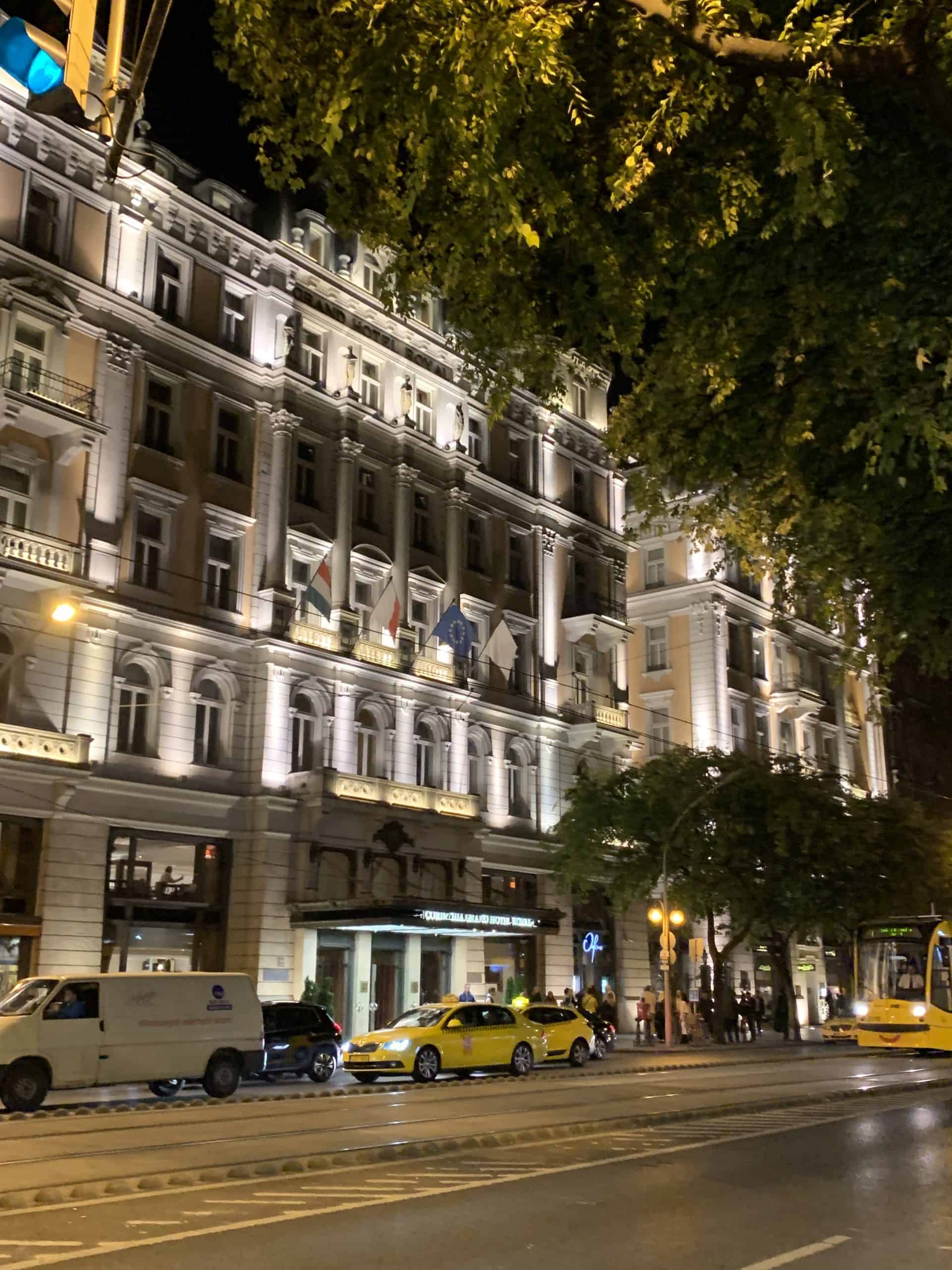 The Royal Spa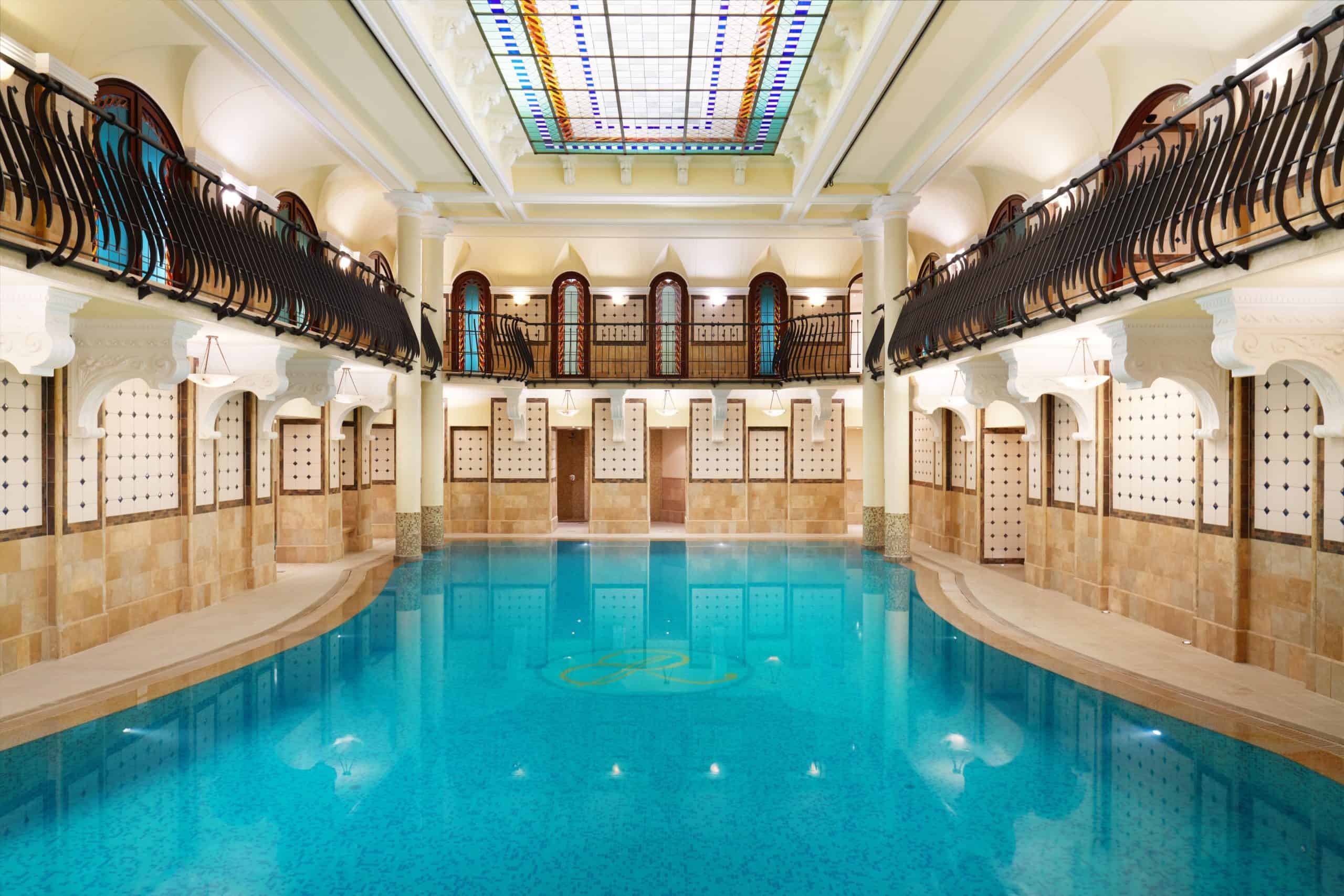 There are spas, and then there are SPAS! It's difficult to say which is more spectacular, the gorgeous art deco spa in the Corinthia Budapest hotel, or the swoon-worthy lobby. I say you just have to go and decide for yourself, however, the Corinthia website does describe the spa as "the jewel in our gleaming crown."
The next morning, Mum and I went to the spa before breakfast, and we had it all to ourselves, if you can believe it! Yes, it looked exactly as it does in the photo. Access to the Royal Spa is available for a small additional fee when booking Superior room, but is complimentary when booking Deluxe room, or higher category.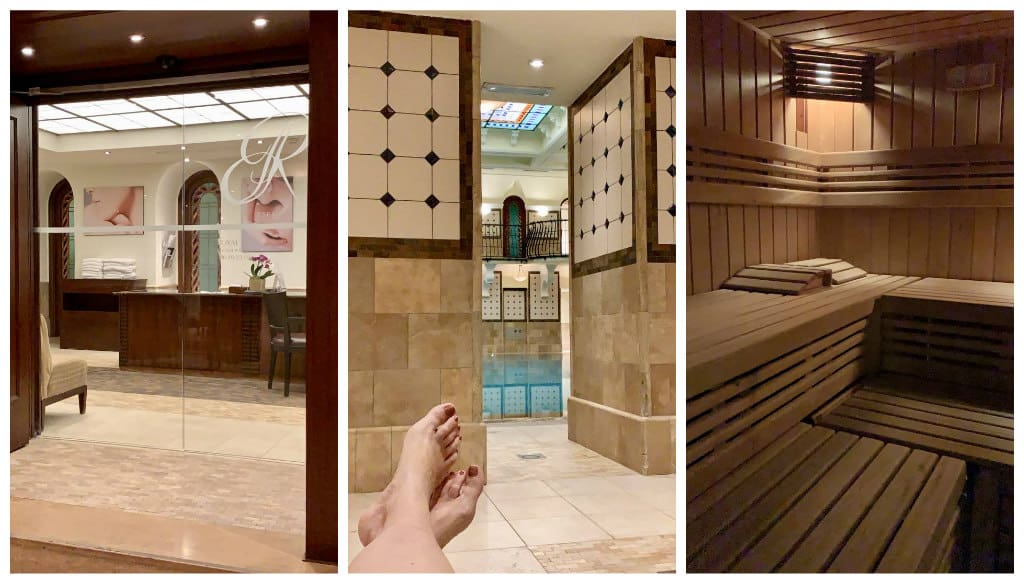 Apparently, we are very fortunate to still have the spa in existence as plans were made to use the obsolete and forgotten building as parking facilities when it was rediscovered in 1983. It had been out of use since 1944. Luckily, János Dianóczki, the person in charge of the decision, wanted to have it restored instead of destroyed! You can read more about the interesting history on the Corinthia website (below).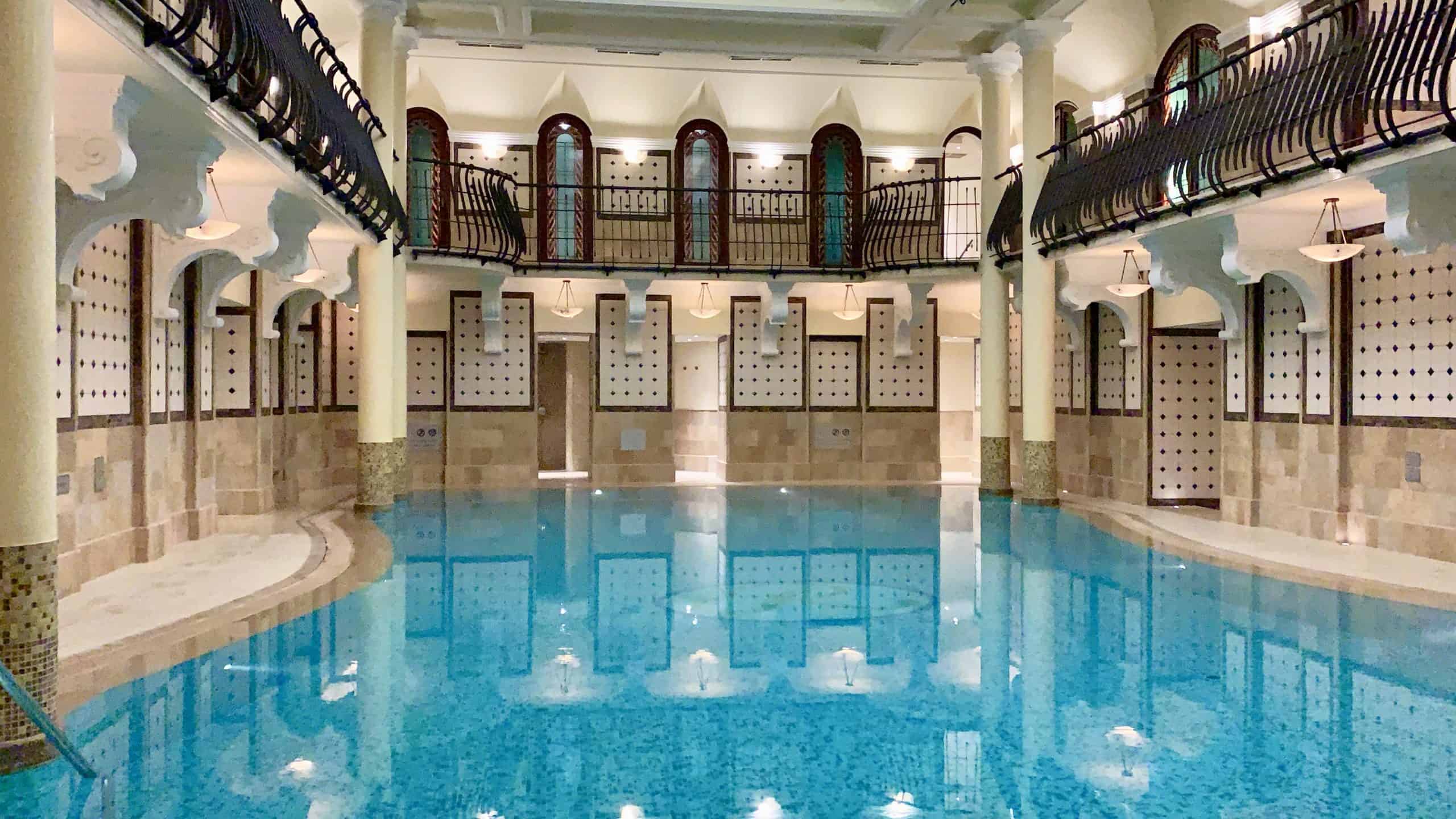 Breakfast at the Corinthia Budapest Hotel
These photos simply don't do the Corinthia Budapest Hotel's breakfast buffet justice. There was an abundance of choices from bread and pastries, to a fully cooked to order breakfast, omelettes, and more. You could choose fruit juice, champagne or a more traditional coffee or tea as a beverage. Or you could have them all. No one will leave here hungry!
Breakfast is served in the Brasserie and Atrium, and everyone is shown to a table by a host aptly dressed as a Corinthian, complete with chiton and cloak!
The Grand Ballroom
After staying at the restored monastery hotel in Naples, I've now decided to always ask if there's anything I shouldn't miss at any hotel where I stay. Whether it's hidden pathways to rooms built into a mountain, a rooftop with incredible views of the city, or a grand ballroom, as is the case at the Corinthia Budapest Hotel.
I'm so glad I asked because seeing this room in person was simply marvelous. The attention to detail and the beauty was astounding. I can only imagine attending an event in this ballroom!
Also, for any Anglophiles, you'll be happy to know that the Corinthia Budapest Hotel serves afternoon tea! This is on my list for next time.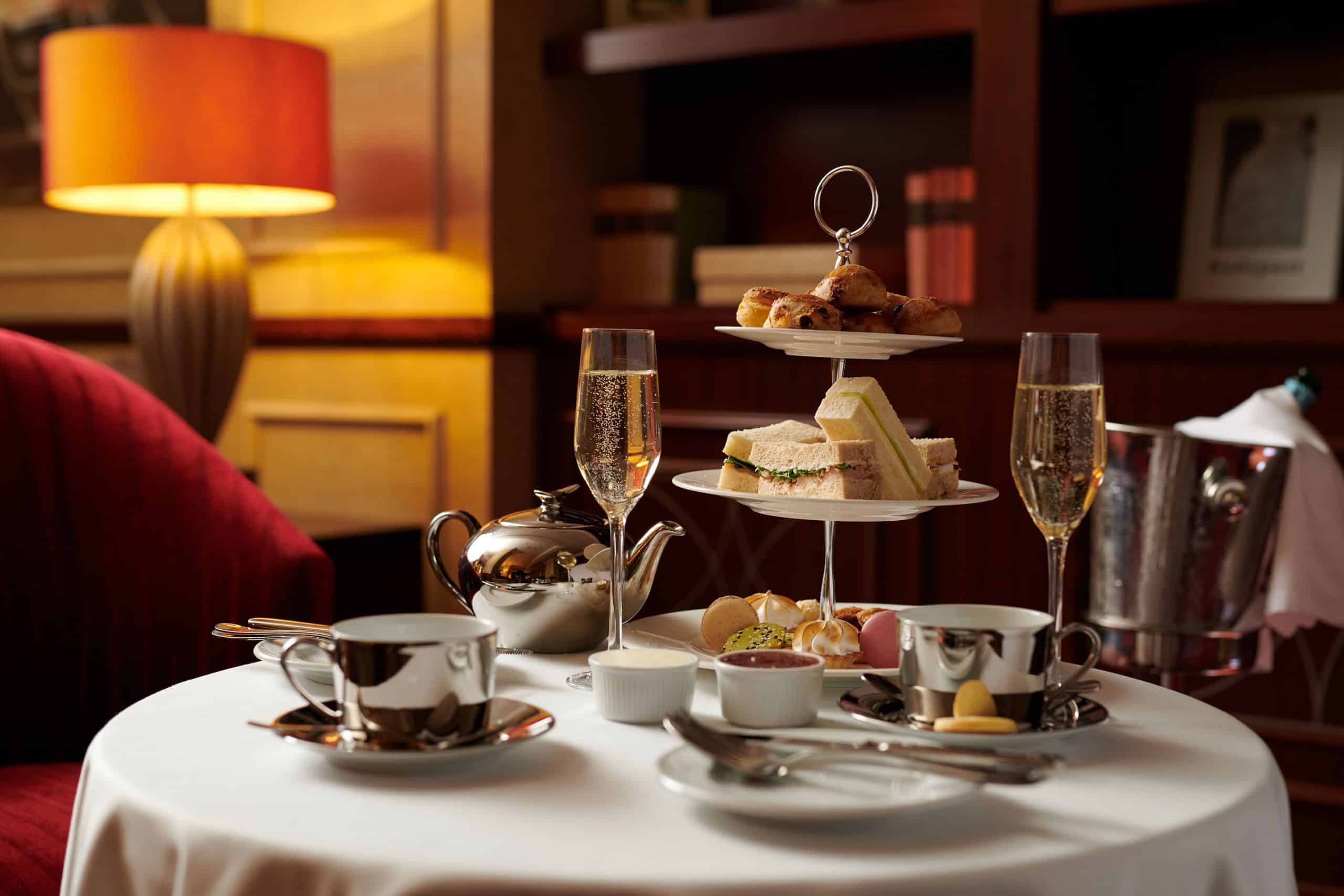 Sightseeing in Budapest
Quote from my mother when we were going to do a bit of sightseeing in the city: "But it's such a shame to leave the room!"
This was my first time in Budapest, but it certainly won't be my last. I had heard a lot about this Hungarian city, but truly did not expect so many fabulous things to do and see! I was so taken aback at how much I fell in love with Budapest, and how it happened so quickly. Here are just a few of the places Mum and I visited in our short time there.
We went to mass at St. Stephen's Basilica which is named in honor of the first king of Hungary. Whether you are Christian or not, even if you're an atheist or agnostic, I urge you to see this incredible structure, inside and out. It's simply awe-inspiring (and I've been to hundreds of amazing churches and cathedrals).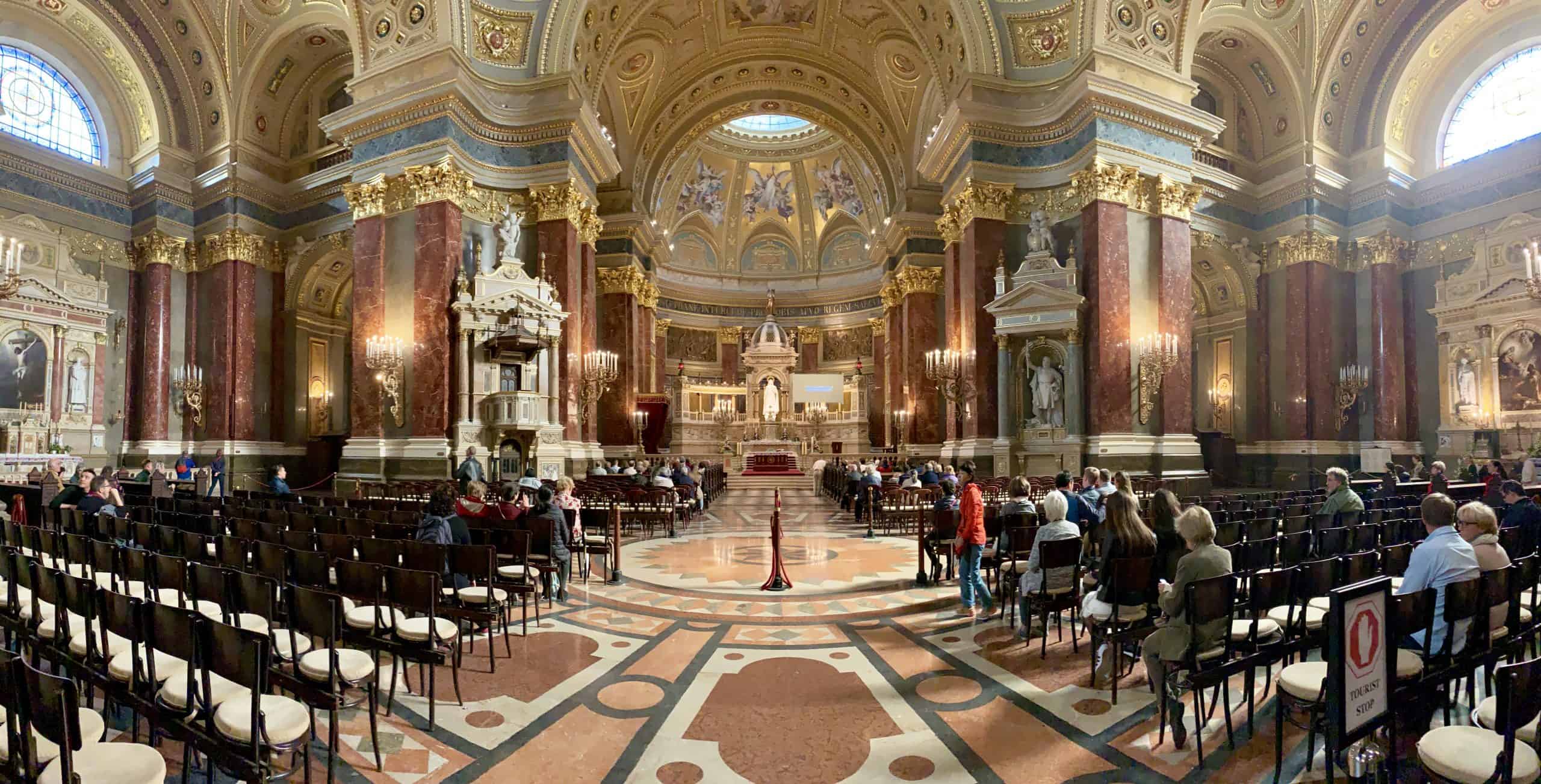 The Great Market Hall of Budapest is a highlight for foodies, so you know I loved it here! Mum and I bought some paprika in the cutest containers. Lots of great food as well as local crafts, linens, etc.
Traveling across the Danube takes you to the Buda side of the city, which I recommend that you do not miss. Matthias church is another incredible example of the architecture of Budapest, both inside and out.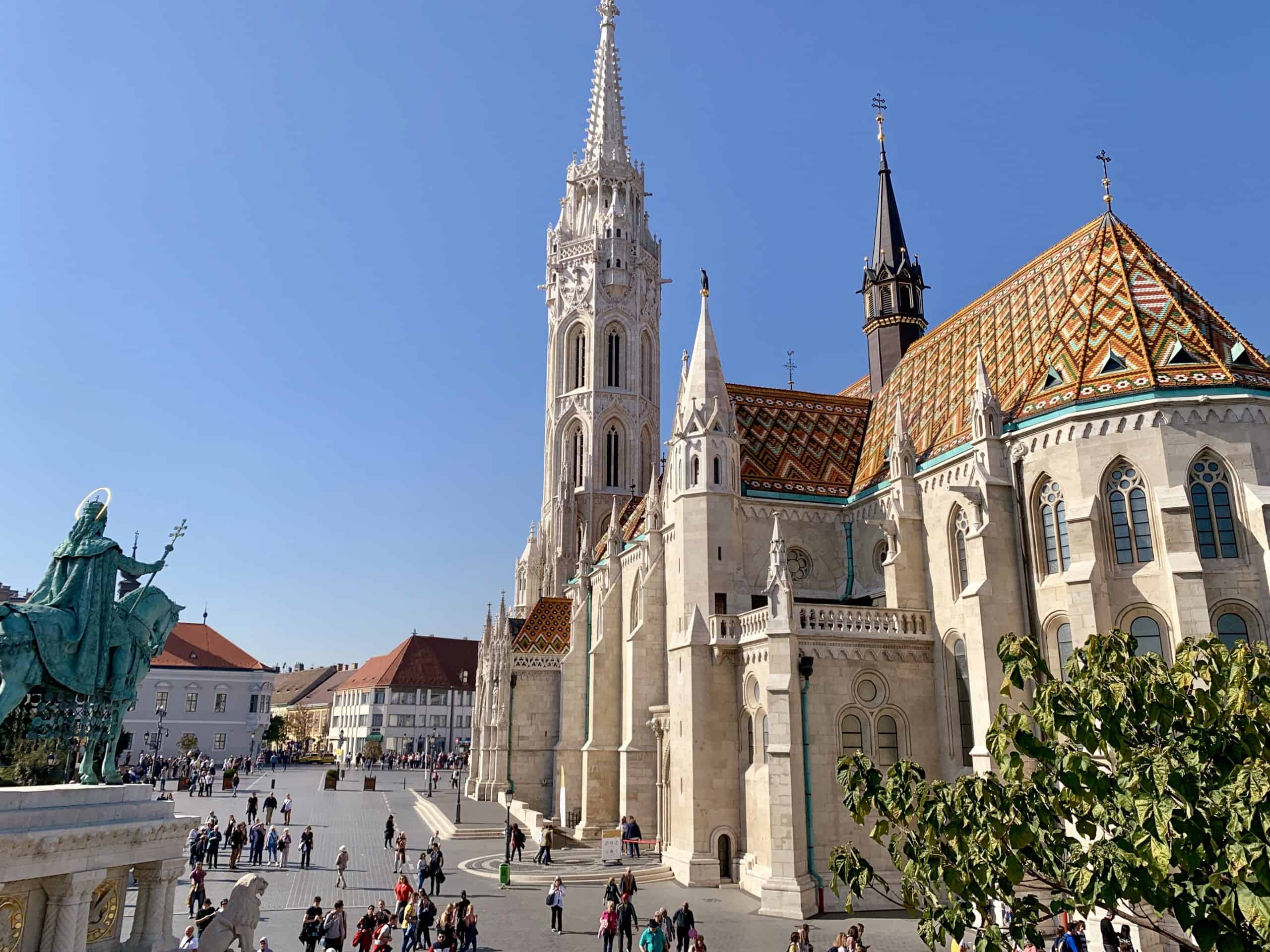 Whilst here, don't miss the amazing views of the city!
And don't forget the most iconic view of parliament at night!
✧
I hope you enjoyed reading about my experience at the Corinthia Budapest Hotel! If you have any questions, please feel free to email me, or you can visit the website below. Stay tuned for my upcoming posts on the AmaWaterways Melodies of the Danube cruise!
Watch my Instagram story highlight (video clips) from my stay at the hotel to see much more of our suite and more.
The Corinthia Budapest Hotel is an iconic, 5 star,
grand hotel located in the heart of Pest.
An overnight stay begins at €180/$200 per room, per night (two sharing) and includes a delicious full buffet breakfast.
Call +36 1 479 4000 or visit
The Corinthia Budapest Hotel website.
I was in an executive suite which comes with many perks and amenities. I also want to mention that the Corinthia DISCOVERY Loyalty program offers many benefits at 500 luxury hotels, in 76 countries, including discounts, in room gifts, flexible check out, room upgrades and more. Go to Corinthia DISCOVERY for more information and to register for the program.
Consider this your invitation to visit the Corinthia Budapest Hotel ~
✧
I was hosted by The Corinthia Budapest Hotel for a one night stay, dinner and breakfast. As always, all opinions are my own and I am disclosing this in accordance with FTC regulations.