This luxury hotel in Basel will make your Swiss trip unforgettable. From the Grand Hotel Les Trois Rois' history, to her beauty and impeccable five star service, you will never want to leave.
After my trip to Portugal, visiting Porto, Lisbon and Sintra, I took a short flight to Basel, Switzerland.
Disclosure: I was a guest of The Grand Hotel Les Trois Rois for one night. I paid for my dinner at Le Brasserie, and I was hosted by Basel Tourism for a walking tour of Basel. All opinions are my own.
I decided to begin the second week of my trip in Basel, and day by day, take the train back to Paris. (My roundtrip flight from Los Angeles was in and out of Paris.)
Basel Airport
One of the most unique and wonderful facts about the city of Basel is that it is located in Switzerland, but adjacent to both France and Germany. Can you imagine, immediate access to three incredible countries? This is a sign at the Basel airport (which is located in France).
If you're planning a trip to Switzerland and travel to Basel, you don't have to limit yourself to one country, even if you don't have a lot of time. This was my third time in Basel, but only the first time I actually spent enough time there to get to know the city a little better.
How to Reach Basel's City Center from the Airport
If you fly to Basel, you will have to choose where to exit from the airport: Switzerland, France or Germany; you will choose Switzerland. From here, there are two practical ways to reach the city center of Basel.
Bus: Line 50 will take you from the Swiss sector to Bahnhof SBB station or to Basel downtown (Basel Bahnhof SBB) within 23 minutes and costs under 5 CHF. (Courtesy of Basel Airport website.)
Taxi: will take about 12 to 20 minutes depending on traffic and costs about 50 CHF. Uber/BlaBlaCar can be a less expensive option.
NOTE: there is no train station at the airport, so there is no direct access via rail from the Basel airport.
Due to some difficulties at the Basel airport, I shared a taxi with another lady who was traveling to the city center. Since it was a beautiful day, I decided to walk to Hotel Les Trois Rois. I passed a market with some incredibly beautiful fresh produce and cheeses.
I had another reason for wanting to walk, too: I wanted to buy some Swiss biscuits that I'd been wanting for almost three years! I had discovered them in Zurich at the Hotel Schweizerhof and fell in love with them. They are super hard and crunchy spoon-shaped biscuits from Läckerli Huus. I bought a box of 50.
It was a short walk to The Grand Hotel Les Trois Rois, and I couldn't wait to discover what awaited me inside. I had already read and learned a little of the remarkable history of this award-winning luxury hotel in Basel, so I was extremely excited to visit.
NOTE: You can watch my Instagram story HERE.
The video clips show a lot more than just photos.
Grand Hotel Les Trois Rois: a Luxury Hotel in Basel
I walked up the carpeted steps, through the revolving door and was met with a stunning and elegant foyer (the first photo at the top of this page). The flowering tree and crystal chandeliers in the massive entry set a luxurious tone, along with the beautiful arches and railings on the floors above.
I was immediately greeted and welcomed to the hotel by staff who showed me to the reception desk. Check in was a breeze and soon I was in my room at Les Trois Rois in one of the upper floors.
A Bit of History
Les Trois Rois means "The Three Kings" in French. In 1681, the building was founded as an inn for gentlemen. Almost 200 years later, it was rebuilt in 1844 as a grand hotel. I love learning about places I visit because it adds so much more to my travel experience. Les Trois Rois always seems to have been a luxury hotel in Basel.
For example, how brilliant is it to know that you're staying at a hotel where a very long list of notable guests have stayed? For example, a short list includes Napoleon Bonaparte, Voltaire, Franz Liszt, Charles Dickens, Picasso, Chagall, Dalai Lama, Queen Elizabeth II and The Rolling Stones! Can you imagine? For more on the compelling history of this historic hotel, see the link at the bottom of this post.
My Room at Grand Hotel LesTrois Rois
I was initially told that the river view rooms were all full, so I was incredibly surprised when I arrived and saw that my room not only had a view, but a balcony overlooking the Rhine! It was gorgeous!
The beautifully appointed Queen Room included a writing desk, Bang & Olufsen flat-screen TV, queen sized bed (which was incredibly comfortable). Inside the closet was a safe, and a mini-bar stocked with free-of-charge snacks and non-alcoholic beverages. You can't tell from the photo, but the wallpaper was simply exquisite.
The marble clad bathroom features a heated floor, top of the line toilet, as well as high-quality, Swiss made Feuerstein Essentials amenities. Although my room was decorated in a classic European style, there's nothing outdated about amenities and technology. A touchscreen glass panel is near the door for controlling the bathroom floor heating, towel dryer, room blinds and more.
I had my second surprise when I heard a knock at the door and a bottle of chilled Ruinart champagne arrived, accompanied by a tray of snacks!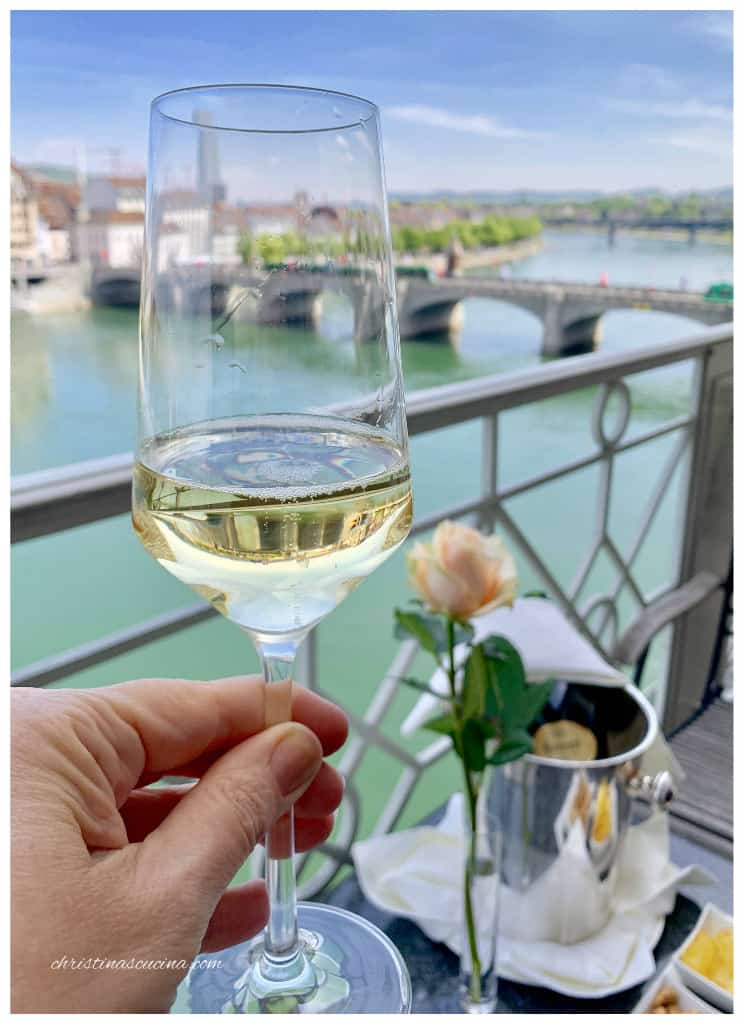 I wasn't even going to try the rosemary cashews since I'm not a huge fan of cashews, but I nibbled one and that was it: they were addictively delicious! I hope to post the recipe soon.
After enjoying my champagne, snacks and view, I decided to explore the hotel and orient myself a little more in this historic building before going out for a walk in the city.
Around Hotel Les Trois Rois
The beautiful architecture throughout the hotel escapes no one. Adjacent to the lobby is the classy sitting room and well-stocked bar. Unfortunately, I never had a chance to enjoy one of these stools!
Afternoon tea is available at Les Trois Rois and served in the lobby, which would be a lovely treat, especially if the weather is being a bit British.
Although I didn't visit, the hotel also boasts an upscale Salon du Cigare (cigar lounge) on the lower ground floor featuring 155 types of cigars, bar menu and fine wines. There's also a dining terrace for use when the weather permits.
This is a view of the Grand Hotel Les Trois Rois luxury hotel in Basel from the Mittlere Brücke (Middle Bridge) over the Rhine River. It is in a central location in Basel that is perfect for exploring the rest of the city.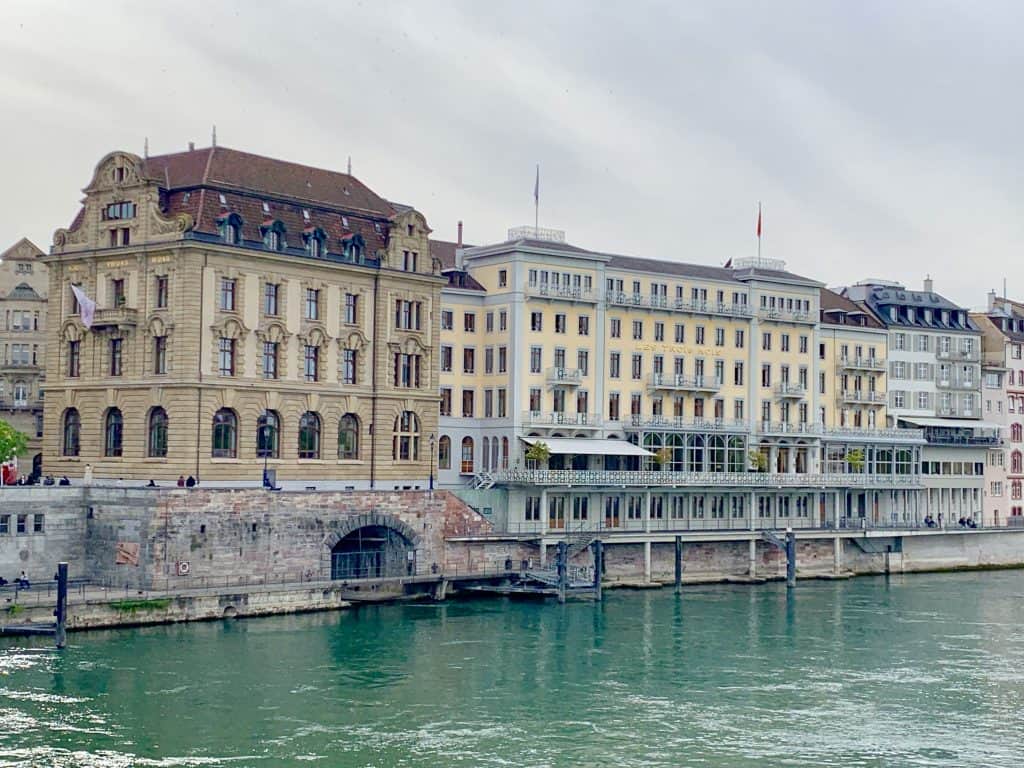 Restaurants
– Cheval Blanc by Peter Knogl -3 Michelin stars, 19 GaultMillau pts
For Michelin star dining, you won't need to go too far as Cheval Blanc (White Horse) is located in the Grand Hotel Les Trois Rois. Chef Knogl and his team have intertwined Mediterranean and Asian influences with French haute cuisine, earning them a spot in the top 100 restaurants in the world. Be sure to book in advance to avoid disappointment.
-Brasserie
I had a wonderful dinner at Brasserie Les Trois Rois (see below). This is also where the plentiful breakfast buffet is served. Before going to dinner, I wanted to enjoy Basel in the sunshine since the forecast the next day predicted rain.
Exploring Basel Near Hotel Les Trois Rois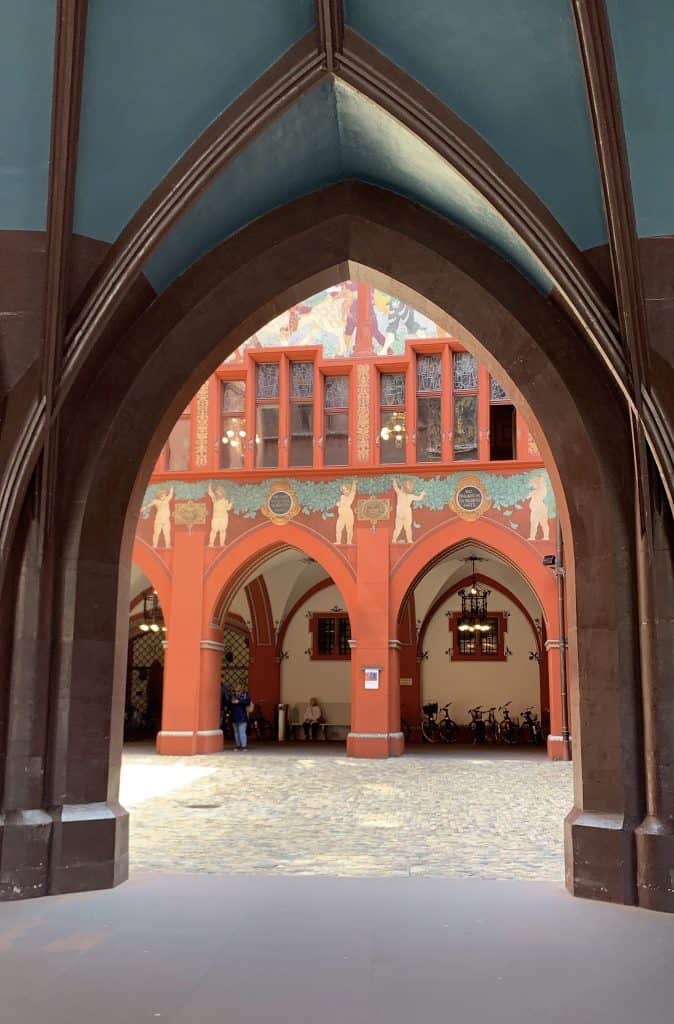 The area near the hotel is wonderful for walking. There are parks and fountains, as well as shopping streets more typical of a major city. The architecture and style of the old buildings and churches is fantastic.
In the photo below, you can see a building behind the fountain which looks like a church, but it's actually a museum. One of Basel's amazing features is that they have almost 40 museums in their city!
Switzerland has some of the best pastries in Europe, so I had to indulge my sweet tooth when I spotted a lovely strawberry tart! It was much more refined than the ones I grew up with in Scotland, and was just gorgeous (in looks and taste)!
Helen from Les Trois Rois explained to me that there's a fun way to cross the Rhine and it's in a boat attached to a line which runs across the Rhine River. The wind blows the boat across the river! I'm so glad she told me as I saw people crossing and ran down to join them! (You can see the clip in my Instagram story.)
Parts of Basel look like they're straight out of a fairy tale, and unlike similar places I've been, there aren't throngs of tourists swarming through the streets.
I walked back across the Middle Bridge and was back at my lovely hotel.
Dinner at Brasserie Les Trois Rois
Given that the Brasserie requests phones be put away in their restaurant, I don't have many photos, but I had to capture a least one of each course to share with you (and did it as discreetly as possible)! I began with a bowl of lobster bisque which is poured into the bowl at the table. Along with a glass of Swiss white wine, it was a wonderful start to my meal.
My main course was a sumptuous seafood risotto bursting with flavor. The risotto itself was wonderful, but my favorite was the melt-in-your-mouth scallops!
As there wasn't much daylight left by the end of my meal, you'll have to excuse the poor photo of my beautiful fruit and cream dessert, which included rhubarb, if you didn't spot it!
This was the view of the Middle Bridge and Rhine River from my room later that night; simply magical.
Breakfast at Les Trois Rois
As you can see, the breakfast buffet at the Grand Hotel Les Trois Rois has an incredible array of choices. Again, I didn't take too many photos, but I can tell you there was much more to choose from than anyone could eat in one meal.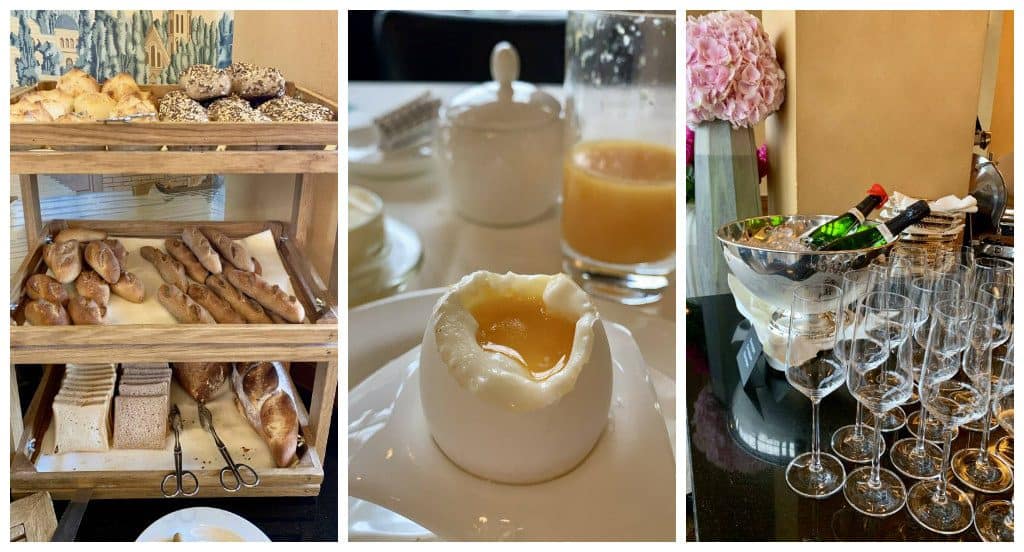 And there's more to choose from on the menu. I ordered a soft-boiled egg and it was perfect.
A Guided Walking Tour of Basel
As predicted, the next morning was a bit rainy. I met Isabelle from Basel Tourism near the hotel, as she was going to give me walking tour of the city. She was absolutely delightful, and a treasure trove of information about the history and architecture of Basel.
The upper right photo in the collage below shows the smallest museum in the world! You are looking at the entire museum which is the display in the window of a door. Isabelle explained that it changes often and people are encouraged to loan their collections here. As you can see, this is an exhibit of wooden dolls. I thought it was a wonderful idea and so incredibly cute!
We passed through the Basel Minster which was originally built as a Catholic cathedral, but is now a Reformed Protestant Church. I had visited the day before and took some photos in the sunshine. I would definitely recommend visiting as it's one of the tourism highlights of the city. There's so much to the history of this church which was built between 1019 and 1500.
I truly enjoyed my walking tour with Isabelle and learned enough to know that there's so much more in Basel that I want to see!
One last tip, make sure to try a Basler gold klein (Basel gold bar). A lovely little pastry shaped like a gold bar is perfect with a cappuccino!
Farewell, Basel!
A most gracious thank you to Hotel Les Trois Rois for hosting me in Basel, and to Basel Tourism for the walking tour of their beautiful city! I cannot wait to return!
For more information or to book a reservation at Les Trois Rois
If you want to learn more about the history of this iconic,
luxury hotel in Basel, and its notable guests
My next stop was the colorful town of Colmar, France. Stay tuned!
I was a guest of the Grand Hotel Les Trois Rois for one night. I was hosted by Basel Tourism for a walking tour of Basel. All opinions are my own. I am disclosing this in accordance with FTC regulations.
luxury hotel in Basel