Going to Lisbon? Check out Heritage Avenida Liberdade Hotel in central Lisbon. It's in the perfect spot to explore all of Portugal's capital city!
Last week, I shared my day trip to Sintra and the Parques de Sintra from Lisbon, and explained that I'd been left high and dry in the city with no hotel on my last night thanks to Expedia and/or the hotel.
Disclosure: I paid for my two night stay at the Lisbon Plaza Hotel, but was hosted for one night at the Heritage Avenida Liberdade Hotel, thanks to Lisbon Heritage Hotels. I was given a media ticket to Lisbon Under Stars. All opinions are my own.
Who is to blame? I don't know, but Expedia did eventually give me a voucher for the inconvenience.
Lisbon Plaza Hotel
I had been staying at the Lisbon Plaza Hotel which is located in the historic center of Lisbon. It was a beautiful hotel and I really enjoyed my stay there, but my flight to Basel was at 6 am and I had wanted to stay closer to the airport for my last night in Lisbon. As it turns out, leaving from central Lisbon was not an issue (it's only 5 miles from the airport) so I would have been fine staying all three nights at the Lisbon Plaza Hotel.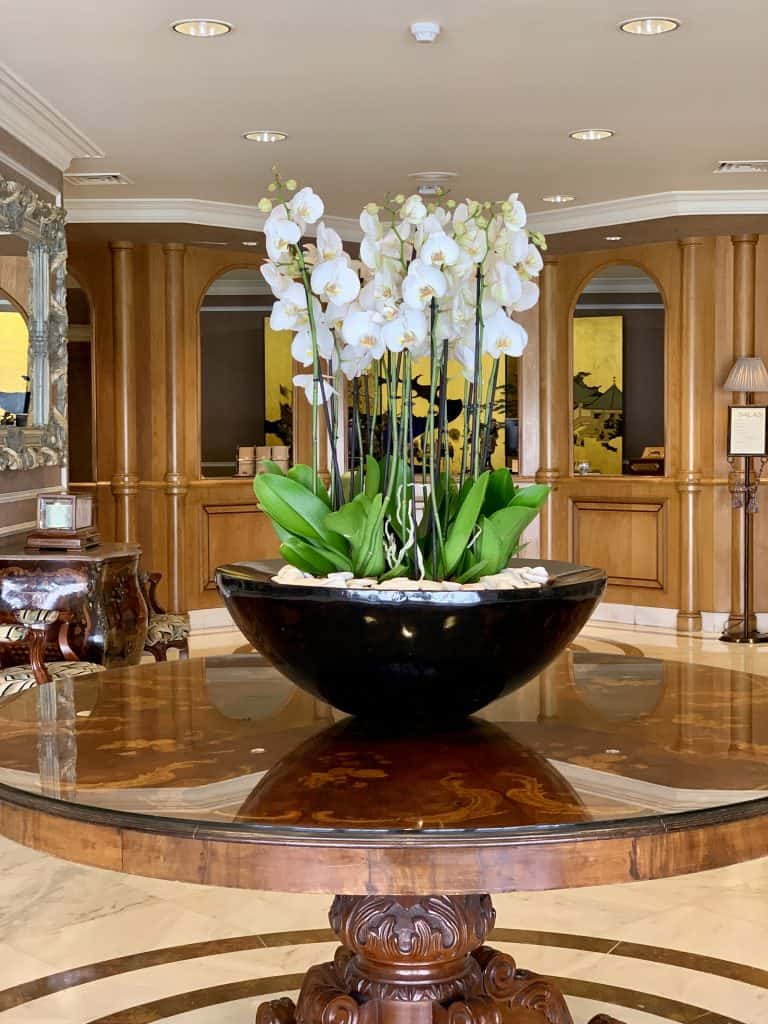 When I left for Sintra that morning, I spoke to Catia at the front desk at the Lisbon Plaza Hotel and explained that my hotel that night had been cancelled and asked if she had a room available for me that night. Catia explained that it appeared that they were fully booked, but she would see what she could do. I left my card and my luggage and went to enjoy my day in Sintra.
National Museum of Ancient Art
One of the perks of staying at the multiple award-winning Lisbon Plaza Hotel was free entry to two art museums. I took advantage of visiting Museu Nacional de Arte Antiga, and would definitely recommend it, especially on a super hot day!
Let me show you some of the places I saw in Lisbon before I share the wonderful Heritage Avenida Liberdade Hotel with you. Both the Lisbon Plaza Hotel and Heritage Avenida Liberdade Hotel are in the central part of Lisbon, which is the perfect location for sightseeing around the city.
Sights Around Lisbon
Lisbon has to be one of the most photogenic cities I've ever visited. The colors are so vibrant and everything seems to be a set up for an Instagram shot.
There are so many different areas of Lisbon, each with its own unique style, personality and atmosphere.
Of course I had to fuel up with all the walking I did!
Aaaand let's not forget the pasteis de nata (Portuguese custard tarts)! I didn't actually eat the other pastry below, it just looked fabulous.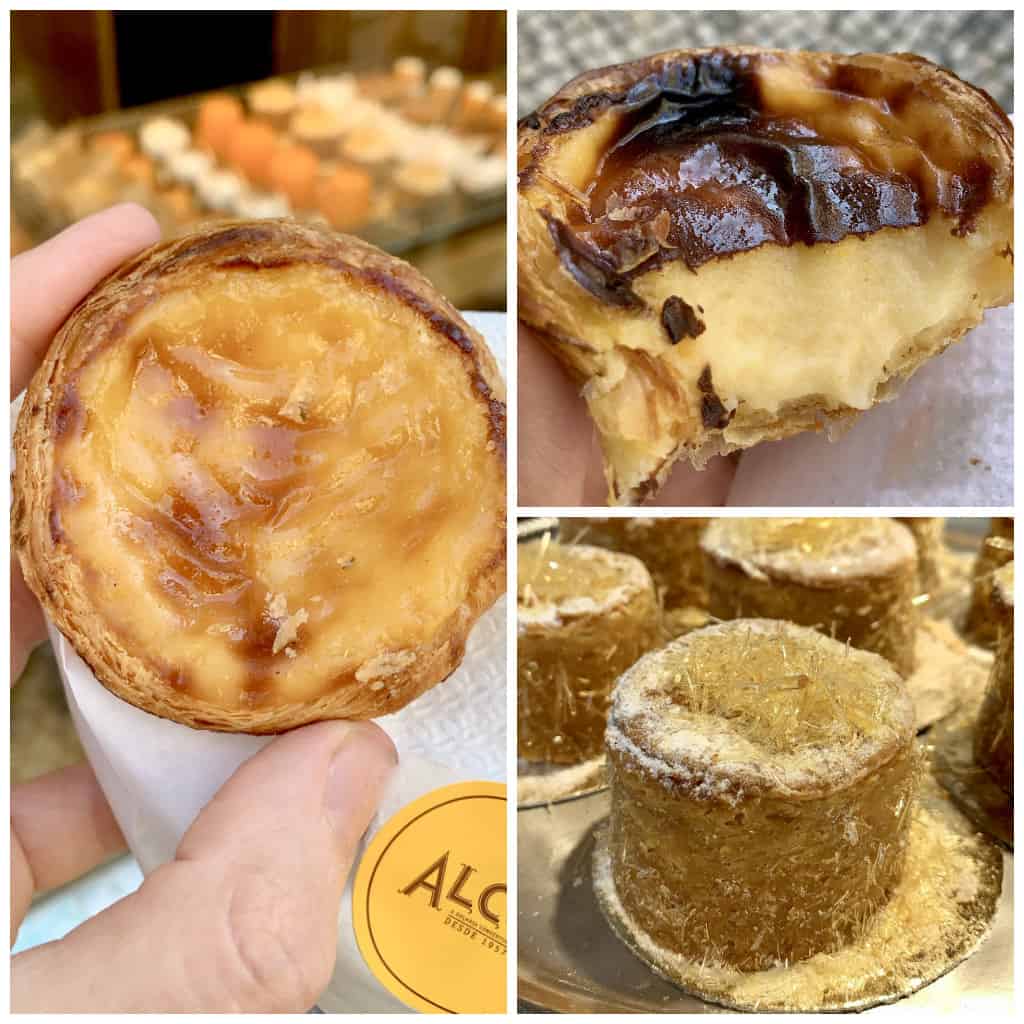 I was very fortunate that the timing of my trip to Lisbon coincided with Lisbon Under Stars, a laser light show which is shown at the Carmo Convent ruins. This is a spectacular venue to see such an immersive and creative light show. It reminded me of the shows at the St. Louis Union Station Hotel which I saw last spring.
The show is about Lisbon's history, including the great earthquake of 1755 which almost completely destroyed Lisbon and is the reason that the Carmo Convent is in ruins.
Unfortunately, the show only runs from early May until mid July, so if you're interested in seeing it, you'll have to wait until next summer. Do get your tickets ahead of time as shows sell out (there are two each night). This is the square just in front of the Carmo Convent. Such a beautiful summer evening atmosphere!
That night, I walked just around the corner of this square and found a little place called Vertigo Cafe. The photo of the shrimp, roast potatoes and glass of wine above are from there. It was one of the best meals I had in Lisbon, and the staff are super friendly and welcoming! I felt as though I was dining with friends even though I was alone.
Heritage Avenida Liberdade Hotel
When I returned from Sintra, I went the Lisbon Plaza Hotel to pick up my luggage and check if they had a room available. I was told that they were indeed full, but their sister hotel, Lisbon Avenida Liberdade Hotel (a five minute walk across the street) had a room reserved for me. I was very happy!
At the Heritage Avenida Liberdade Hotel, I was greeted with the most warm and welcoming atmosphere. High ceilings, low lighting, candles and natural palette of colors were so calming and peaceful.
I checked in at the front desk, which used to be an apothecary that has been beautifully restored. Many other elements in the building have been kept in their original state, for example the wooden main door, veranda railings and Pombaline tiles.
The hotel was artfully designed by Miguel Câncio Martins who clearly succeeded in rehabilitating the 18th century building into the present, while keeping its old charm and details. The bar area has a constant supply of teas, coffee, snacks and Port.
The port was lovely.
And so was my room with a view!
I was in an attic room with dormer windows, great views of St. George's Castle, the city and even out to the ocean.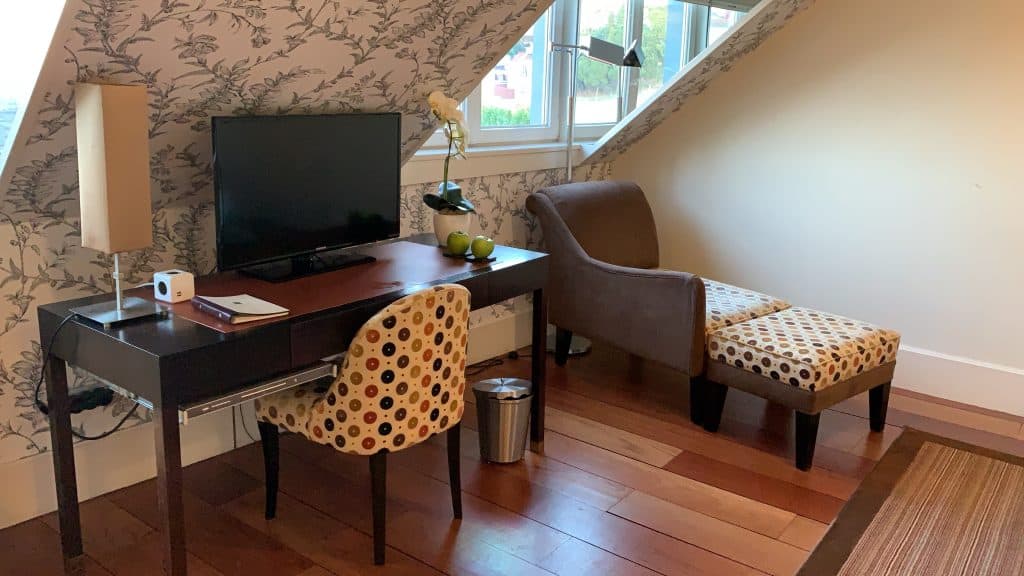 The bathroom was very spacious with a huge tub, and behind the angled mirror was a safe, blow dryer and shelving.
I loved my room; it felt like a hidden getaway in the midst of the busy city! Heritage Avenida Liberdade Hotel also has a fitness room with a jet pool and gym.
The hotel also provides 24 hour room service, laundry, free WiFi, free use of a computer and printer (in case you need to print your boarding pass) with internet access and a video library. There are quotes and photos around the hotel which are uplifting and I feel really adds to the welcoming atmosphere.
And you won't miss the fact that there's no restaurant at the hotel because there are so many dining choices in Lisbon! On my last night, I hit the Time Out Market, which had been recommended to me several times. If you've never heard of it, you probably will soon because they are expanding rapidly. Time Out Markets are already open in Miami, New York and Boston, and are soon set to appear in Chicago, Montreal, Dubai, London and Prague!
Time Out Markets have a unique concept: top restaurants in the city are invited to have a "take-away" stand featuring a few of their menu items, and guests then dine on communal tables in the center of the market. It's a great way to taste many of the city's best foods (and wine) all in one place.
I enjoyed the view from my room that last night in Lisbon.
I was disappointed that I wasn't able to enjoy the included breakfast at the hotel the next morning, but my flight was much too early. With no traffic, it only took about 20 minutes and I was already at the Lisbon Airport. I was on my way to Basel, Switzerland and was looking forward to staying at another wonderful hotel, Les Trois Rois (The Three Kings).
If you are traveling to Lisbon, do look into staying at Lisbon Avenida Liberdade Hotel, or The Lisbon Plaza Boutique Hotel. In fact, there are three other Heritage Hotels to choose from, all located in the historic center of Lisbon. It may be difficult to choose just one!
Note: if you're considering using Airbnb here in Portugal, or anywhere else worldwide, I feel compelled to warn you about my personal experience with them. Airbnb is not a customer service oriented company, and you may find yourself left high and dry.
Pin to your favorite travel board on Pinterest!
Disclosure: I paid for my two night stay at the Lisbon Plaza Hotel, but was hosted for one night at the Heritage Avenida Liberdade Hotel, thanks to Lisbon Heritage Hotels. I was given a media ticket to Lisbon Under Stars. All opinions are my own.