The Cordis Hotel in Auckland, formerly The Langham, is the perfect place to stay in the city. Even if you don't book a night there, make it a point to go to Eight Restaurant. It's a culinary experience you won't soon forget!
Last month, my husband and I took a trip "Down Under". Why did we go? Simply because it has been on our bucket list, and Scott's Cheap Flights sent an email with a mistake fare for Burbank to Auckland for $390 (yes, roundtrip)! We made it an open jaw flight adding Sydney to the itinerary for a grand total of $602 roundtrip per person.
Disclosure: I was given a media rate for our room at the Cordis Hotel in Auckland and hosted for two buffet lunches at Eight Restaurant. All opinions are solely my own.
We used our Capital One "No Hassle Rewards" for one flight, so we actually only paid for one of our flights. $602 for two people to fly to Auckland and Sydney from LA; pretty good, huh? 😎
Now, back to the Cordis Hotel in Auckland, which is the only hotel we booked before heading to New Zealand. I wanted to have a hotel in central Auckland for our first night. Given the forecast of 10 straight days of rain, we wanted some flexibility in where we'd go, so we booked the rest of the hotels from day to day.
We arrived around 10 am, and were just planning on dropping off our luggage and checking in later in the afternoon, but lo and behold, our room was ready when we arrived! It was lovely to be able to settle in after a very long flight. I can't tell you how thankful I was to have booked at the Cordis hotel in Auckland. Knowing it was a Langham brand, I knew it would be lovely "home away from home", and it truly was.
Cordis Hotel Room
My husband and I were very happy with our room. It was immaculately clean and decorated in soothing, neutral tones with lots of thoughtful attention to detail and extras not found in many other hotel rooms.  For example, there was a Handy smart phone at our disposal to use during our stay if we needed it!
Cordis Lobby Lounge
After we got cleaned up, we were feeling hungry and wanted to eat. It was bucketing rain, so we were thankful that the Cordis Hotel in Auckland not only had their Eight restaurant, but also the Lobby Lounge where we could sit and have a hot drink before having lunch. Others were having afternoon tea in the lounge and I noticed some test tube looking things which I asked about. You can see them in the photo below.
Tea Selections at The Cordis Hotel in Auckland
The tubes are filled with samples of all the tea selections which are offered at the Cordis hotel. What a brilliant idea! Have you ever wondered whether you'd like a tea or not? Doesn't it make a world of sense to be able to smell them first? I sniffed quite a few of the teas and realized I just loved this idea! There were some I knew I'd dislike just from the smell, yet more that I knew I would truly enjoy. This one smelled wonderful.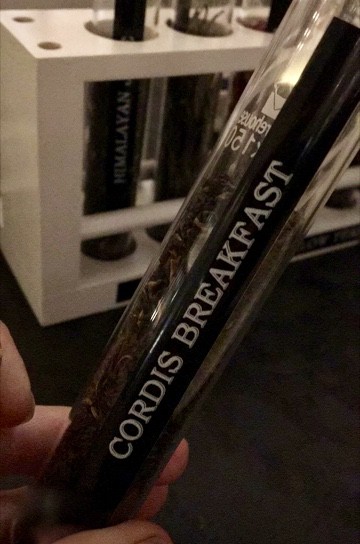 Som was the lovely tea sommelier who graciously spent time with me, even though we weren't having afternoon tea. She also gave us two beautiful drinks to try while we were in the lounge. One of them was a matcha tea with raspberry puree,  and vanilla milk. The other was a beautiful butterfly tea concoction and both were very enjoyable. I don't usually have such unique beverages and was uncertain about how they'd taste, so I was very pleasantly surprised!
After our drinks in the Cordis Lobby Lounge, my husband and I headed to Eight restaurant, literally a few paces away. This display will give you an idea of what Eight has to offer. I honestly won't be able to do it justice as it was just a phenomenal dining experience. It is called "Eight" for its eight kitchens.
Eight Restaurant at the Cordis Hotel in Auckland
Eileen was our lovely hostess and I should add that all of the staff at Eight (actually at the Cordis Hotel in general) were so incredibly kind and welcoming. All I can say is, if you live in Auckland, you are so fortunate! This means that you can return to Eight restaurant, over and over again. Each time would be a different experience because there is simply no way to taste even just a little bit of everything that Eight has to offer in one visit. Trust me, I tried!
Let me give you a tour and try to describe just how fabulous the quality of the food was. We were there for the Sunday lunch. Dinner includes even more options, if you can imagine that after seeing what is offered for lunch! Let me add that the restaurant itself was extremely clean, modern and almost futuristic-looking. I loved the design!
You can start with some cheese and crackers, but there's so much more to choose from!
I'll start with the seafood, which, as with all of the choices at Eight, were so plentiful.
Not only was there shrimp, mussels, oysters and more, but diners can choose fresh, raw fish and seafood to be cooked to their liking!
An incredible array of choices!
There was a chef preparing fresh sushi rolls and sashimi. So many options! My husband was in heaven with the sashimi, in particular.
As with the seafood, there was a large selection of premium cuts of meats, and vegetables, at the New York-style grill which could be cooked to each diner's desire. Choices ranged from beef, lamb and sausages to kangaroo, ostrich and venison, as well.
In addition to these "choose your own combination" type dishes, there was no shortage of ready to eat dishes, from pasta, to Indian fare, to soup and dim sum. I cannot stress enough that this was not what I've experienced to be typical "buffet food". Everything was beyond delicious. For example, I tried a little bowl of the leek and potato soup which is one of my favorite soups. I couldn't believe how delicious it was. I make it all the time, but I think the leeks and other ingredients were just so much more flavorful than what I get in LA.
Honestly, this soup was so good that I just kept thinking about it even after we left the restaurant. In fact, believe it or not, I went back down for dinner by myself (my husband was still full from lunch) and ordered another bowl!
You know how particular I am about Italian food, right? Well, I had a little sample of the truffle pasta and it took everything I had not to go back for more! I just wanted to have a little taste of as many dishes as possible to be able to report back, but goodness it was difficult! Here are a few reasons why I was so hesitant to eat too much of just one thing. And this is just a sampling!
I was so excited about the Indian choices at Eight, especially since there was a chef on hand to make me my own garlic naan in the Indian Tandoor kitchen! In addition to the authentic Indian curries, all the sauces and chutneys are house-made! I loved everything I tasted.
I haven't even mentioned the lengthy salad bar, Asian options and exquisite desserts, either! As I said earlier, Auckland residents are soooo lucky to be able to visit more than once! This is a buffet restaurant with the highest quality food and dishes made as they would be in a restaurant where you would be served.
I could share many more photos, but I think I've convinced you that if you are in Auckland, you really should dine at Eight restaurant. Do you think you'd enjoy it? Let me know in the comment section below.
The breakfast options the next morning looked fabulous, too! Pastries, bread, bagels, made to order omelettes, fruit, cheese, meats, cereal–the list goes on.
For more information about (or to book)
the Cordis Hotel in Auckland
For hours, information and prices for
Eight Restaurant
*Note: as of this date, the exchange rate for NZ dollars to US dollars is $1 to 72¢ giving Americans over a 25% discount in the prices listed. Please check the current exchange rate for your own currency for proper rates.
Don't miss another recipe or travel post; sign up for my free subscription below!
The Cordis brand of upscale 5 star hotels caters to business travelers, romantic and family stays, all while continuing with the quality of the Langham name.
Afternoon Tea at The Langham, London
Afternoon tea at The Langham, Pasadena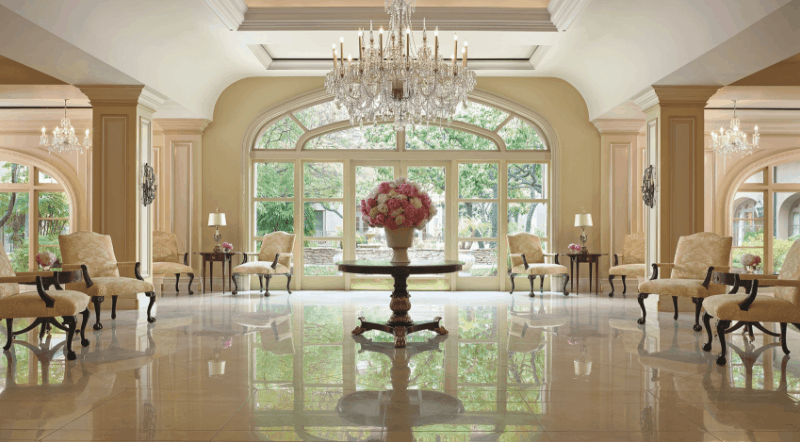 Cordis Hotel in Auckland