Enjoying The Langham Afternoon Tea with Wedgwood in London is truly an experience that one should have at some point in their life.
Yes, this my personal opinion, but if you follow me, you're probably already a tea and scone lover, so this shouldn't take much convincing.  Did you know that The Langham, London, established in 1865, is the famed birthplace of afternoon tea, and the first "Grand Hotel" in Europe? Partaking in afternoon tea here is the equivalent to golfing at St Andrews' Old Course in Scotland.
Disclosure: The Langham Hotel, London hosted my daughter and me for afternoon tea. No conditions were made, and as always, all opinions are completely my own. 
Last month, I flew to London with my daughter to accompany her to Edinburgh. She was beginning her study abroad program at St Andrews University and had quite a bit of luggage. It took her quite some time and energy to convince me to join her (wink, wink), but in the end, I relented. Sigh. 
We arrived at Heathrow Airport about 10 am and were at The Langham Hotel, located at the top of Regents Street, in the desirable West End of London by noon. Although it was January, it wasn't very cold, and the sun was shining. Walking alongside The Langham on the way to the entrance, I noticed this plaque which read~
"Oscar Wilde and Arthur R. Conan Doyle dined here with the publisher of "Lippincott's Magazine" on 30 August 1889. A meeting that led to "The Sign of Four" & "The Picture of Dorian Gray""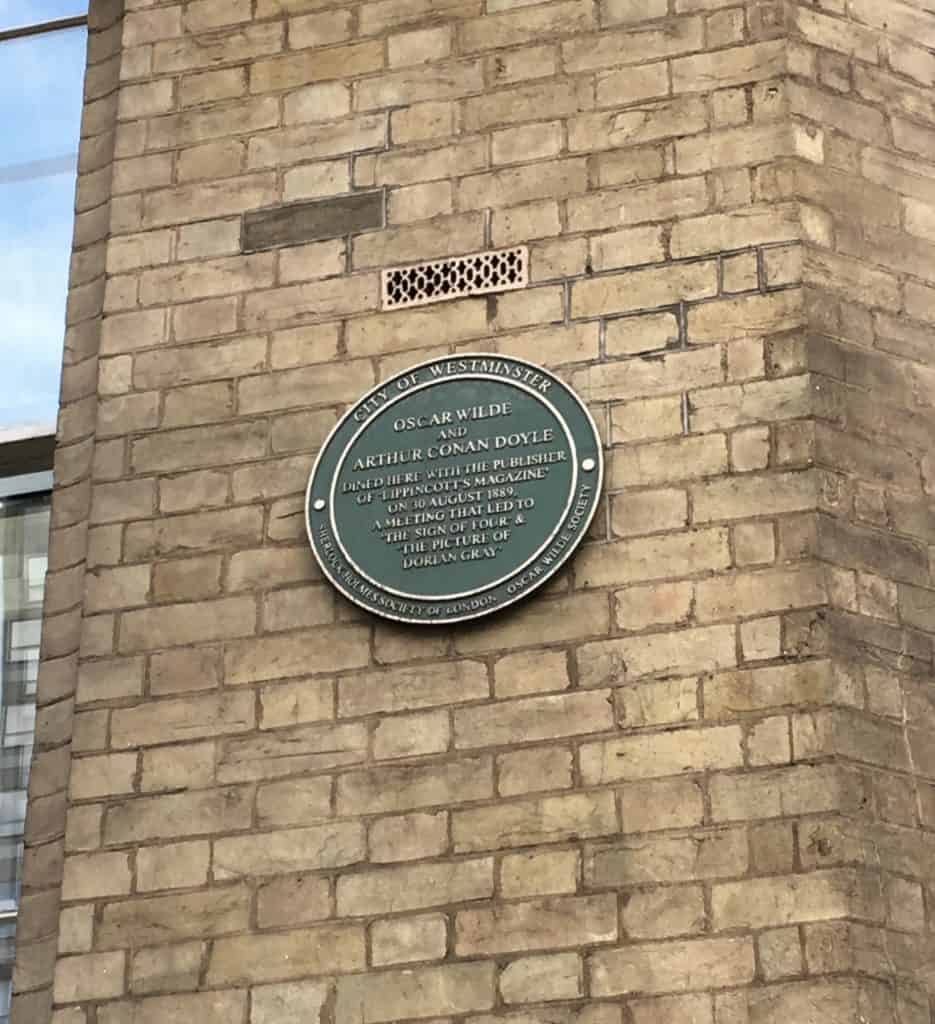 I don't know if you're a history or literature buff like I am, but I can't even tell you what it means to me, knowing that I too, dined in the same place as Oscar Wilde and Sir Arthur Conan Doyle! I feel very strongly that certain experiences when traveling cannot have a monetary value placed upon them, like this one.
Langham Afternoon Tea in London
Upon entering the stately Langham Hotel, my daughter and I were promptly seated in the relaxing, and sumptuous Palm Court. I had already enjoyed a Langham afternoon tea with Wedgwood in Pasadena and was curious to compare the two.
Our waitress, Joanna, was eager to please and asked for our choice of champagne. My daughter and I both chose the N.V Laurent-Perrier Brut Champagne Rosé which arrived promptly.
Soon afterwards, we were served a lovely cherry and cranberry posset amuse bouche. If you follow me on Facebook, you've often heard me rave about my friend Cynthia's posset recipe. I'd never had a cherry or cranberry posset, but it's now on my list as a larger serving would make a fabulous, light dessert. Incidentally, Cynthia and I indulged in Afternoon Tea by Wedgwood at The Langham Huntington, Pasadena, a few years ago. This beloved British tradition has spread and is now enjoyed worldwide.
Finger Sandwiches
After choosing our teas, including the Langham's own blend, the perfectly made finger sandwiches were served on the dainty patterned Wedgwood china. They included Cucumber with cream cheese and chives, and Peppered beef pastrami with red Leicester coleslaw. I have never enjoyed corned beef, but I adored this sandwich. They are all the creations of Head Chef Chris King and his team at The Langham, London.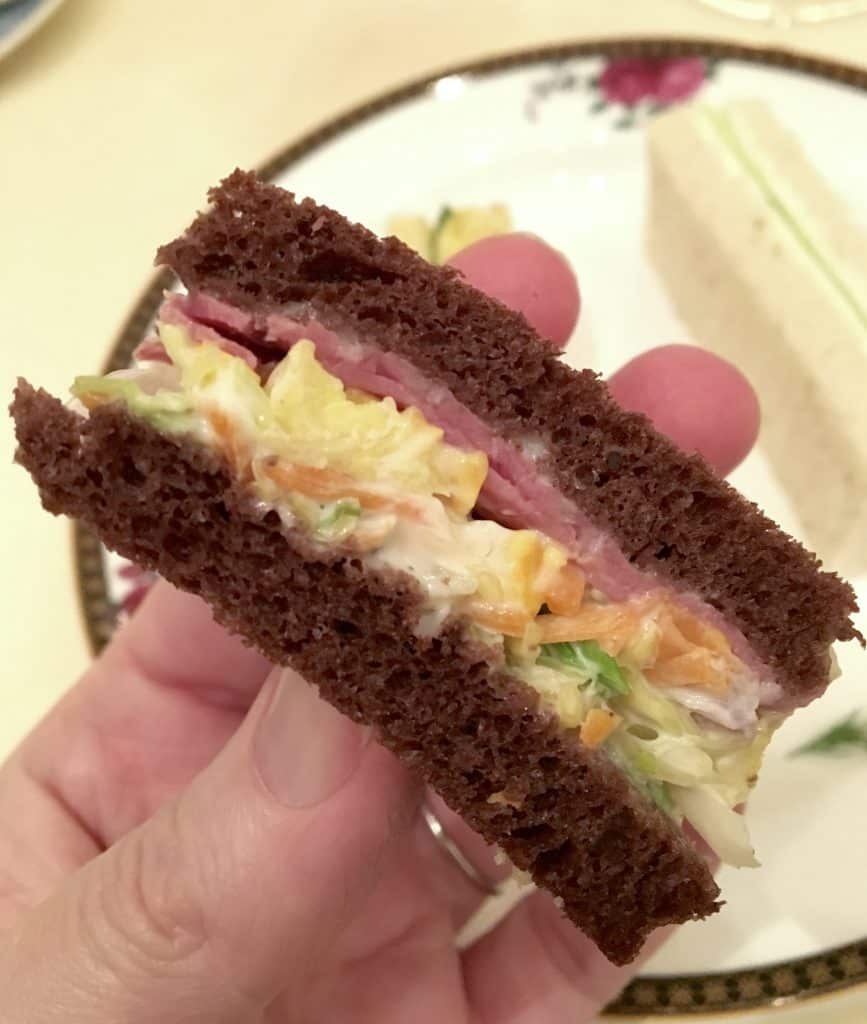 Also on the plate was Corn-fed chicken with golden sultana on carrot bread, a delectable Truffled duck egg brioche, and sitting atop them all was an open-faced Smoked salmon asparagus on rye.
My daughter is allergic to tree nuts, however, The Langham assured us that the utmost of care would be taken to ensure that her Langham Afternoon Tea would be nut free. She was able to enjoy all of the sandwiches.
Tea Service
Immediately after the savories were served, our teapots arrived, perfectly brewed according to the specifications for each tea. Joanna poured us each a cup of tea, and left us to enjoy it along with the savory treats.
TIP: If you feel that you may not be comfortable in such a setting, possibly never having been for afternoon tea before, fear not! The Langham has you covered: check out these Dos and Don'ts for afternoon tea etiquette.
The afternoon tea experience is truly a break from the banalities of everyday living. Having a hot cup of perfectly brewed tea alongside delectable finger sandwiches was the perfect antidote to our jet lag. There was no rush to go anywhere; we just the enjoyed the food and tea in the uncommonly relaxing atmosphere.
After we had finished our sandwiches, we were offered more. My daughter and I both had one more of our favorites. I was surprised that she chose the Corn-fed chicken sandwich instead of the Cucumber with cream cheese.
Scones and Sweets
Next came the most beautiful sweets, with plain and raisin scones which are served with Devonshire clotted cream and strawberry preserve, along with more hot tea.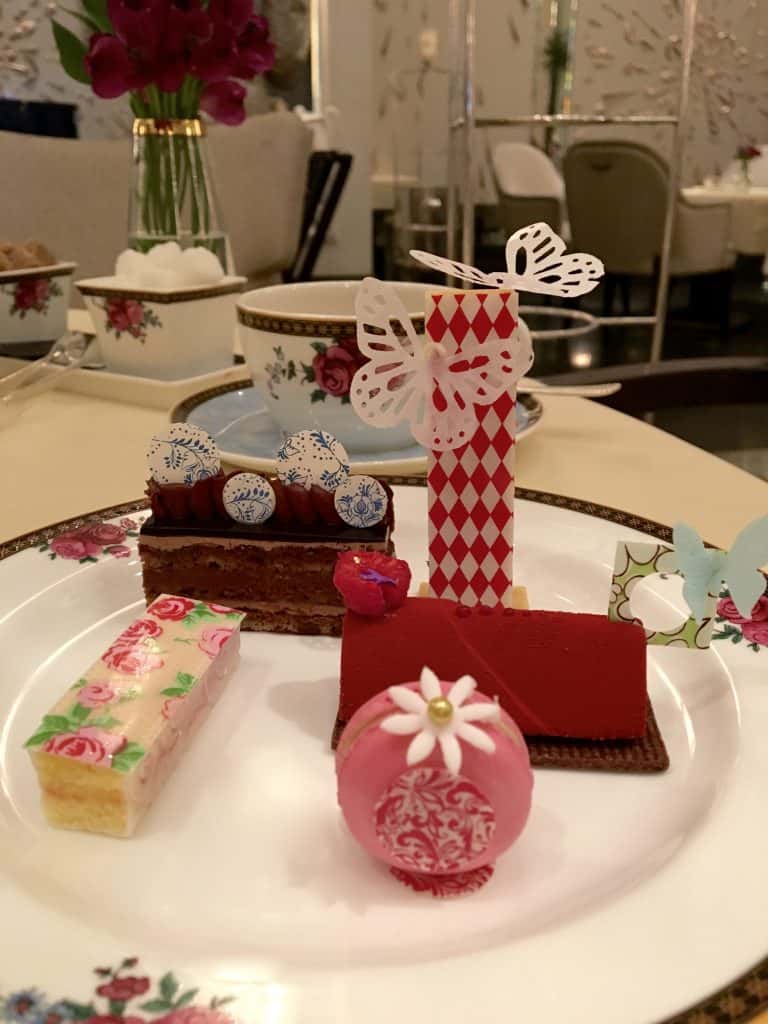 This amazing presentation was created by Executive Pastry Chef, Cherish Finden and her culinary team. Inspired by classic Wedgwood collections, the pastries feature butterfly and daisy motifs, and are simply exquisite. Although pleasing to the eye, the flavors of each pastry were just as pleasing to the palate.
My daughter had the same presentation, minus the macaron, due to the nut content. It was replaced with a gold-leaf topped lemon dessert.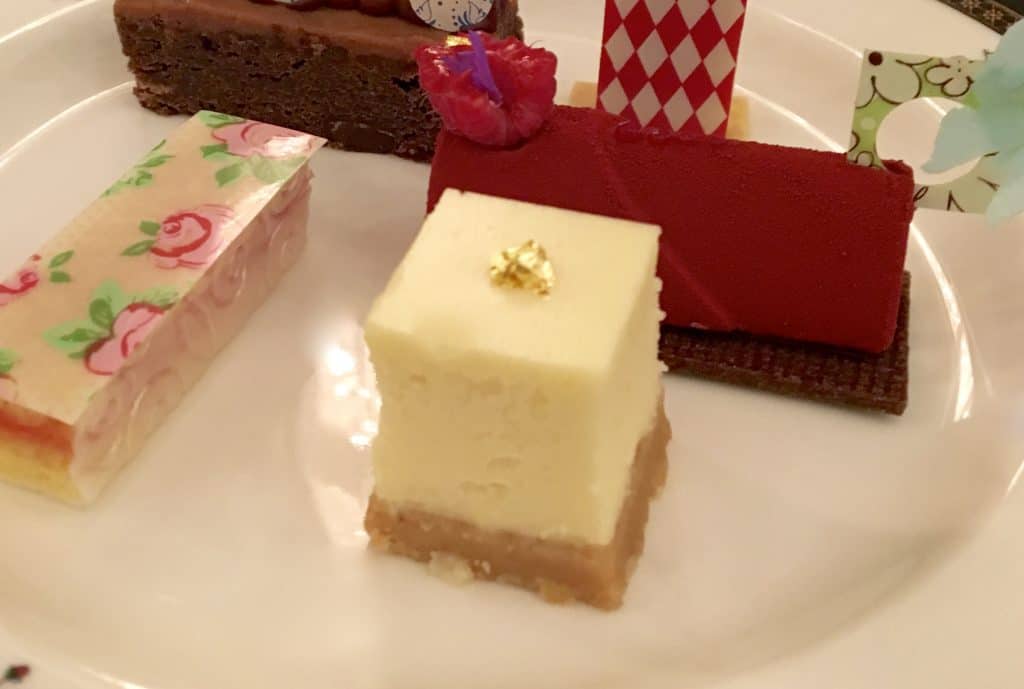 The pastries were phenomenal and if I had to choose, I just wouldn't be able to pick a favorite. Although, it might possibly come down to a choice between the The 'Paisley Parcel' which had layers of moist chocolate cake enhanced with Kahlua and double espresso, and the simple 'Hathaway Rose'. The flavors of this floral design topped Lemon Victoria sponge with raspberry jam reminded me of my childhood years in Scotland.
Two other offerings were the 'Butterfly Bloom' featuring a buttery shortbread tower with salted caramel, and the 'Yuzu for You' which incorporates the Langham No. 150 chocolate balanced with the acidity of the 'yuzu', a citrus fruit originating in East Asia. Last, but not least was the Wedgwood Wild Strawberry: a wild strawberry 'pâte de fruit' with a pistachio cream macaron.
John Watson
Before heading to London, one of my loyal readers named Heather had privately messaged me on Facebook when she saw that I was going to The Langham Hotel. She told me that her good friend, John Watson, was the very talented piano player in Palm Court. I asked our waitress if she could find out if the man at the piano was John Watson, and indeed, he was.
It was lovely for him to come to say hello during his break. John is truly a brilliant piano player, and being able to listen to his music during afternoon tea just another reason to go to The Langham, London.
My daughter and I had such an enjoyable, quintessentially British experience having afternoon tea at the Langham in London. I do hope you are able to do the same if you are ever in England's capital city. Not only was the food and beverage top-notch, but the service was exemplary; not overbearing, but Joanna and other servers were there if we needed anything (not that we even had to ask)! We were offered a beautiful take-away box to bring the remaining pastries with us.
I must say, I'm happy to see this trend of not wasting food growing in Europe (unlike the US, where it has been done for years). Attention to detail is evident in all that is "Langham."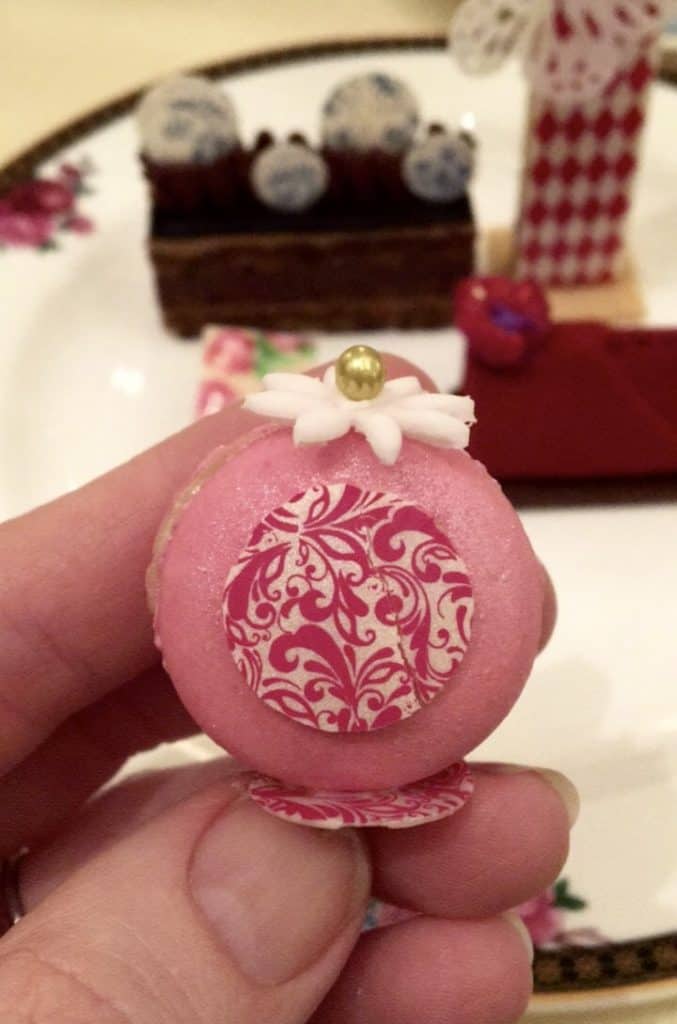 The price of afternoon tea at The Langham £49 (currently $61) which is definitely more than a little tearoom in the countryside would charge, however, your experience will truly last a lifetime. For the record, you should be having tea at those little tearooms, too! A completely different experience, but if you do your research, there are many gems throughout the UK's towns and villages.
After having tea, we took a walk down Regent Street and wandered into Liberty's of London, which is near The Langham, and strolled around the area until it was dark.
One thing to remember is that the sun sets very early in January–this photo was taken before 6 pm–but I still love London's charm and history, no matter the circumstances. (The Langham Hotel is on the left.)
For more information regarding The Langham Afternoon Tea with Wedgwood (London) or to make a reservation, click below~
The Langham Hotel, 1c Portland Place, Regent Street, London, GB W1B 1JA
Don't miss another recipe or travel post, sign up for my free subscription below!
I promise not to share or sell your email address, ever.

Disclosure: I was hosted for afternoon tea at The Langham, London. As always, all opinions are my own. I am disclosing this in accordance with FTC guidelines.
Langham afternoon tea