The wonderful Waitomo Glowworm Caves in New Zealand need to be on your bucket list! Honestly, I would never lie to you. Going into the caves has to be one of the most awesome experiences I've had and awe-inspiring sights I've ever seen.
Disclosure: I was given a 20% discount on our 45 minute Waitomo Glowworm tour and Auto Europe car rental. All opinions are solely my own.
As you recall, my husband and I were in New Zealand last month. Before we left LA, the forecast was for 10 straight days of rain in Auckland. Unfortunately, the weather forecast was pretty darn accurate!
I had decided to "wing it" while we were in New Zealand, only booking a hotel for our first night. We'd check the weather forecast each night/morning and decide which direction to drive, day by day.
It was a pretty good plan, except that some days it was raining throughout the entire North Island, so we simply couldn't avoid the rain. We picked up our rental car at Auckland airport which I'd rented through Auto Europe. Yes, I used Auto Europe for a car rental in New Zealand! I use them all the time in Europe, but I had no idea I could use them Down Under. Now you know, too!
Since it was raining cats and dogs when we picked up our car, we decided to stay in Auckland one more night. We went to a market that had been recommended to us by fellow diners at Eight restaurant at the Cordis Hotel the day before.
In Auckland
La Cigale French Market was a little under the weather, literally, as stall holders spent more time emptying their tarps of rain than doing anything else. I felt as sad for them as I did for us as it was the only chance we had to see this fabulous French market. However, we made the best of it and tried a few things there.
We had lunch at Non Solo Pizza and I was impressed! The pizza and porchetta and rapini panino were both excellent! I'd definitely recommend this restaurant.
We truly didn't do too much this day due to the weather, but luckily, when we woke up the next morning, we spotted some blue sky! Although, our excitement didn't last too long because it began pouring again within half an hour of us leaving Auckland! Ugh. We checked the weather and decided to head southwest, where it looked as though we'd get some drier weather.
Luckily, our plan worked.
Heading South from Auckland
Some of New Zealand's countryside reminded me so much of parts of Britain!
Complete with sheep…
and cows.
The Waitomo Glowworm Caves
I don't even remember where I read about the Waitomo Caves, but that's where we decided to go. We arrived in the early afternoon, and went to buy tickets. Remember, it's summer Down Under in February, so it was a very busy season for them. We were actually lucky to get two spots in the last 45 minute glowworm tour later that afternoon.
We had to wait about three hours before going on our tour, so we visited​ The Waitomo Caves Discovery Centre's Museum of Caves. This museum has a great collection of fossils, photography from the early days of the caves' discovery as well as caving memorabilia.
Then we drove less than half a mile away to go on a short hike into a National Park. We were also fortunate to have time to kill before our glowworm tour or else we'd never have discovered this wonderful hike. If you go to the Waitomo Glowworm Caves, add some extra time to include the Waitomo Walkway (we only did part of it). There are many beautiful hikes in this area, including one to a waterfall.
The weather had flip-flopped from the morning and it was really hot by this time in the afternoon. Fortunately, we even had time for a refreshing drink. New Zealand had pretty good cider!
We arrived back at the Waitomo Glowworm Caves in plenty of time for our tour.
The Guided Tour
Our tour guide was Tinz and he was brilliant. I thoroughly enjoyed the tour with him guiding us through the caves. He was very informative with a bit of humor interspersed throughout his narrative. You could tell he loved doing his job.
We weren't allowed to take photos inside the caves, simply due to safety reasons. It's extremely dark in certain places within the caves, and sometimes wet. You can only imagine some selfie photography might end badly! However, I was given permission at the end of the tour to take a few photos to share with you!
I have yet to explain to you what these glowworms are. Essentially, they are bioluminescent worms that attach themselves to the ceiling of the caves and produce a long, thread which hangs from above. Nothing short of incredibly amazing. This is a sideview for you to see what I'm trying to describe.
When seen from below, all that is seen is the glow which appears to be a starry night sky! If you've been on Disney's Pirates of the Caribbean ride, it's reminiscent of that, but everything you see is REAL!
We were taken through many different caves. There were stalagmites and stalagtites galore within the Waitomo glowworm caves.
Then, we loaded ourselves into a boat in pitch darkness. This was my favorite part of the tour as we floated into a part of the cave which is only reachable by boat. It was almost surreal: above us were so many glowworms! It looked like a starry sky on a clear night! Of course, I couldn't take a photo and it wouldn't have turned out anyway with such low light. You'll simply have to go to see it in person!
The caves alone would be worth visiting, but the glowworms are definitely Mother Nature's pièce de résistance!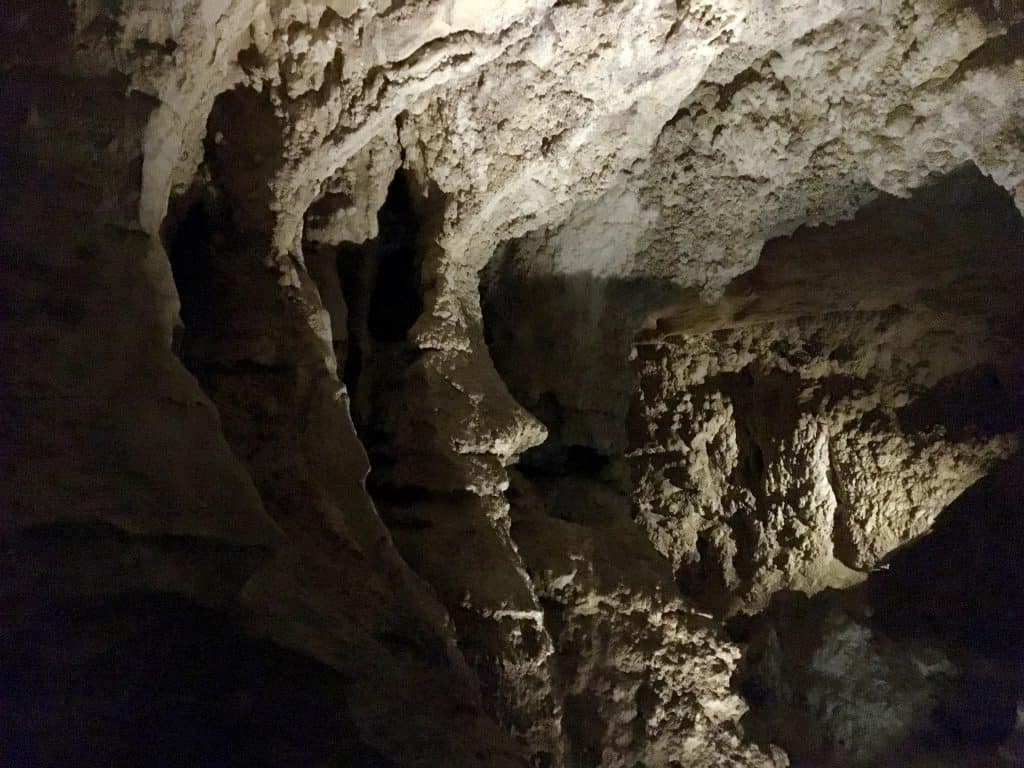 It was dusk when we left, but my husband and I would both have loved to explore more of the Waitomo glowworm caves and the area, too. Sometimes, when you don't make plans, you make a serendipitous discovery, much as we did. However, the bad thing about not planning ahead is that you may arrive when the attraction is closed or booked solid. Pros and cons to both ways of traveling, as in many other aspects of life.
Waitomo is about 120 miles from Auckland, or a 2.5 hour drive. For more information on the Waitomo glowworm caves and the different tours available, click the link below.
I have much more to share with you from our New Zealand trip, so stay tuned!
Don't miss another recipe or travel post; sign up for my free subscription below!
(I promise not to share or sell your email address, ever.)
To get a better idea of what it's like to be in the glowworm caves, google "glowworm caves" and click on IMAGES.