Tongariro National Park is a must-see destination in New Zealand's north island. Chateau Tongariro Hotel is a great place to stay in the park if you are taking a road trip through this beautiful country.
Disclosure: I received a 20% discount on my Auto Europe car rental and was hosted for breakfast at the Chateau Tongariro Hotel. All opinions are always my own.
Our full road trip plan was an Auckland to Auckland loop, however, this post covers a part of it (day 3 and 4 of 6 days).
After leaving the incredible Waitomo Glowworm Caves on the north island of New Zealand, my husband and continued south, trying to avoid the rain which was forecast. We had no set itinerary due to the inclement weather, and each day would look at the radar map and go from there. This is the beauty of car rental and driving: spontaneity and going exactly where you want to go.
Our Route
You can see where we decided to go after leaving Waitomo on the map below. We spent our second night in Te Kuiti, which is just outside Waitomo. The third night we spent in New Zealand was in Whanganui, and our fourth was in Tongariro National Park. There are 13 national parks in New Zealand, so we have many return visits to look forward to! Mount Aspiring National Park is just one of the parks on the South Island.
Let me show you some of the sights from our drive through this western and central part of northern New Zealand. The morning after leaving the Waitomo area was rainy, but cleared as the day went on.
Awakino
This was the first Lamington I spied and had to try it. It tasted really good, but I was later informed by my Aussie friends that an authentic Lamington is coated in chocolate and made in Australia. Who knew? I didn't mind tasting through both countries, though. :)
New Plymouth
We ate lunch at a pub in New Plymouth (I couldn't resist the black pudding on the menu)! Afterwards, we checked out Pukekura Park, which is granted a Garden of National Significance title. It wasn't difficult to see why. The park was very large and very impressive, including its buildings, smaller gardens and prominent structures.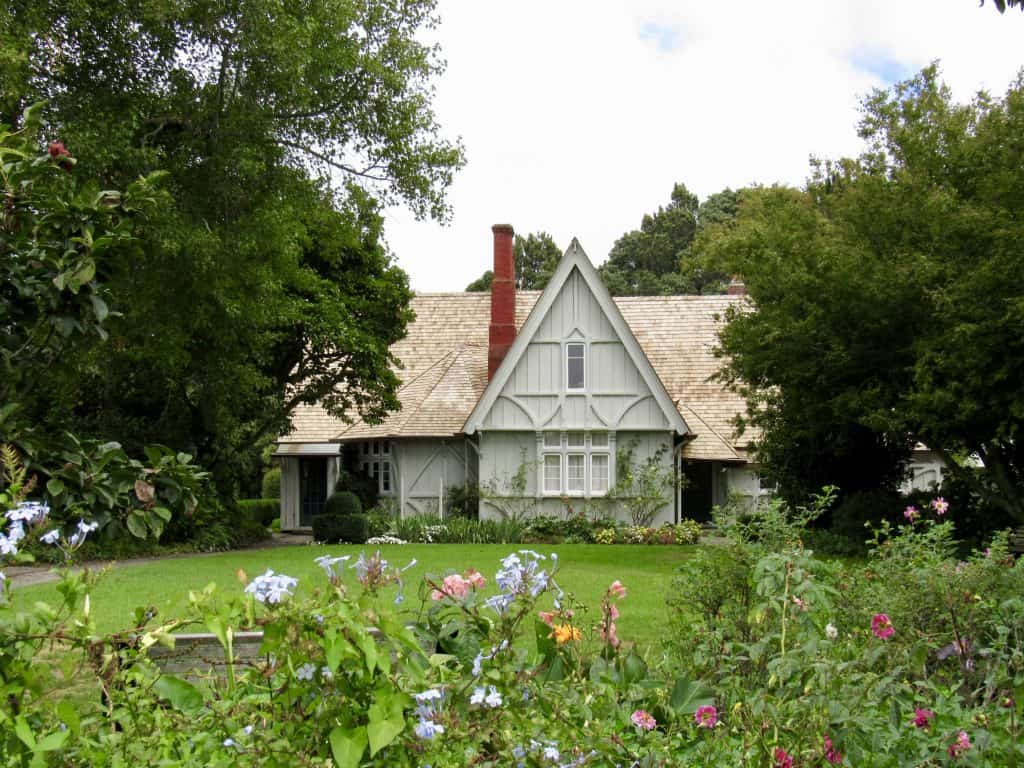 Patea
After leaving Pukekura Park, we made our way south to the coast and stopped at Patea Beach. Can you believe it? Blue sky and sunshine: what a difference it makes! We had no idea that this was a black sand beach until we walked onto it. This is only the second time I've seen black sand. The first time was on Maui.
Whanganui
We decided to have dinner and stay in Whanganui that night. If you get a chance to go to Caroline's Boatshed, I would recommend that you go. We really enjoyed our al fresco dinner that evening. Here's a photo of my appetizer: seared scallops with crispy pancetta, served with lime oil and citrus aioli.
I discovered a wine I really liked from New Zealand here, too: HaHa Sauvignon Blanc. (Funny name, no?) 😂
Whanganui was a cute little town dotted with shops along the main street which were lined with gorgeous floral hanging baskets. I wouldn't have minded staying here to explore a bit more.
The next morning we started our drive northward towards Tongariro National Park because the rain just seemed to be heading all over the North Island. We had to think about being back in Auckland for our flight in a few more days, so northbound made the most sense.
Even though it was overcast and beginning to rain, the views were still quite stunning and almost looked like paintings. I can only imagine soaking this up in the sunshine!
Sometimes the view would include a waterfall, but green was definitely the color of choice in New Zealand!
Chateau Tongariro Hotel
Unfortunately, as we drove, the weather worsened and rain increased in intensity. We just wanted to get inside somewhere warm at this point. As we headed up the road towards the Chateau Tongariro Hotel, we couldn't see any of the surrounding landscape, but the hotel looked pretty dry and warm to us!
The front desk staff were wonderful, and the trainee who assisted us might be just who the manager needs for a quick lesson on how to deal with guests. I had asked to speak to the manager upon our arrival and waited for over an hour, to no avail, even though I was told he would be coming. I actually saw the manager walking through the lobby, so it's not that he wasn't there. He never did answer my request and didn't send an apology, either. Other than this issue, other staff were fantastic.
The Ruapehu Lounge looked so inviting, we decided on having afternoon tea, especially given the weather.
Afternoon Tea at the Chateau Tongariro
The afternoon tea tray wasn't as plentiful as most hotels I've been to, but the sandwiches were tasty. The pastries were good, however, I enjoyed the light scones with thick, New Zealand cream the most!
The Hotel
Our room at the chateau was tastefully decorated in soft, neutral tones. It was very relaxing and clean, however, there were a few details which needed a bit of paint, or wee face-lift to make the chateau a truly spectacular hotel. If I noticed, I'm sure other guests will, also. However, as you can see, our room was beautiful. I don't think you'd be disappointed in staying here.
After having tea, we noticed that the rain had stopped. We bravely ventured out for a walk in Tongariro National Park, but armed ourselves with umbrellas.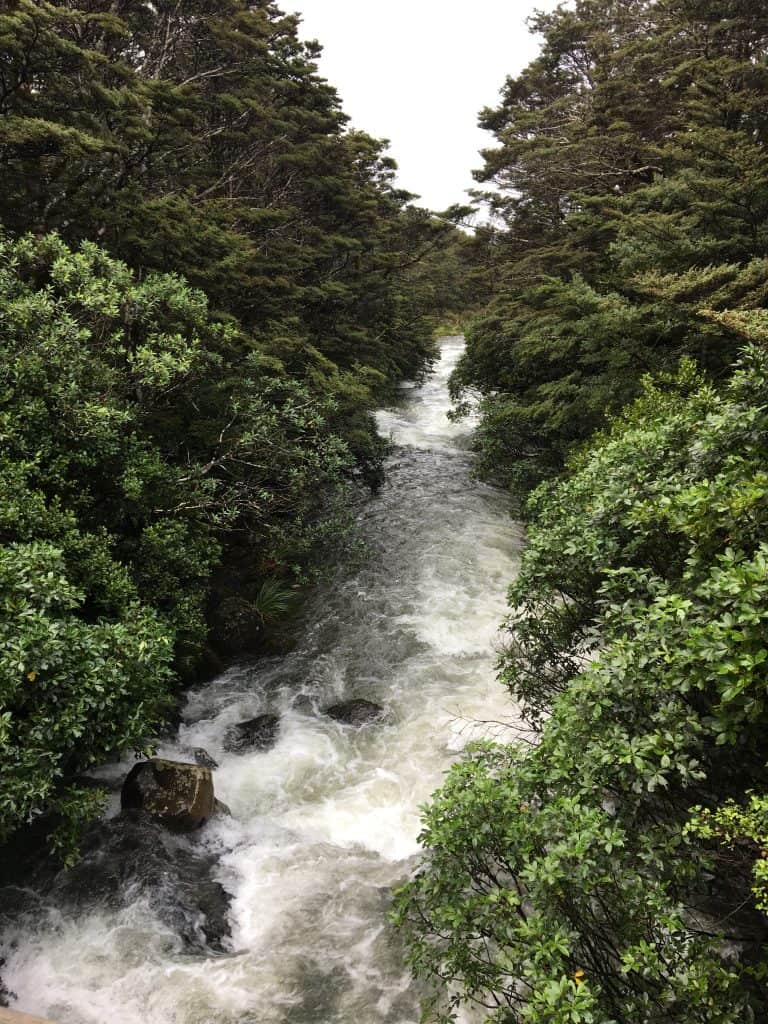 Given that we were visiting in summer, thankfully, the temperatures were mild. We walked as far as a river called Whakapapanui, but then realized we were at least a 30 minute walk from the hotel when it began to lightly rain again. Our umbrella insurance didn't work! We started walking back, but it was almost as if Mother Nature was toying with us: the rain stopped as soon as we turned around!
The clouds began to move and revealed a little bit of blue sky. As we approached the chateau, it was actually bathed in sunlight.
We had a very light dinner at the Tussock Bar and Restaurant which is a few steps from the hotel itself. It was a casual dining restaurant, and I gave it extra points for having lots of bottles of HP Sauce on hand! We slept well that night.
Breakfast at the hotel the next morning was served in the gorgeous Ruapehu Room. It was a plentiful buffet with many choices ranging from cereal, fruit, pastries and yogurt, to cooked items, such as eggs and meats.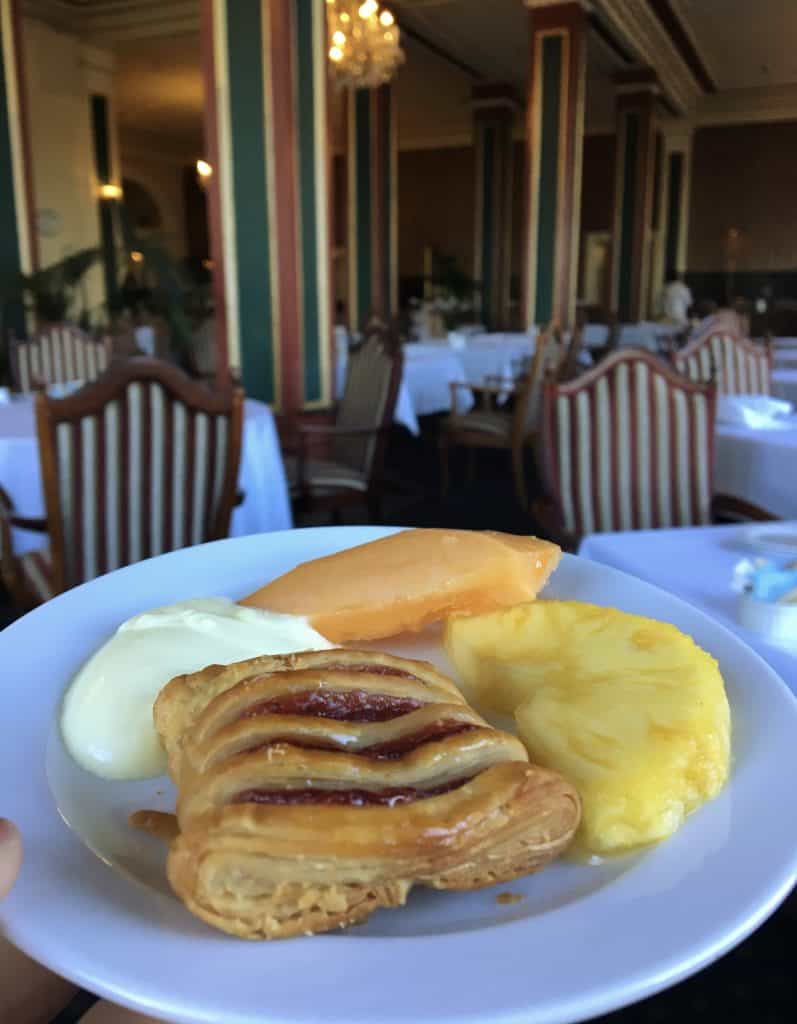 After a leisurely breakfast with a few trips to the buffet, my husband and I were ready for a hike. Fortunately, we awoke to stupendously blue-colored skies and sunshine! The views from the hotel windows were extremely different from the previous day. I was shocked to see a volcano, Mt. Ngauruhoe! (It also happens to be known as Mt. Doom to Lord of the Ring fans.)
Tongariro National Park
Staying within a National Park has its benefits. We were able to walk to so many hiking spots. I had no idea that Tongariro National Park is a World Heritage Site until we came upon this plaque.
Taranaki Falls Loop
The Taranaki Falls Loop (hike/walk) was pretty easy, but incredibly scenic. It took about two hours in all and although the elevation did rise, it was definitely not a strenuous hike. I was excited to see the waterfall, especially since the sun was shining after all the rain; the air was so fresh and clear.
The terrain changed several times through the short distance of the loop.
I took time to enjoy the details along the way, like spiders' masterpieces and wildflowers.
Taranaki Falls
Midway through the loop, hikers are rewarded with the awesome sights and sounds of Taranaki Falls.
Walking back to the hotel provided stunning views of Mount Ruapehu. This is not only the largest active volcano in New Zealand, but the highest point on the North Island (credit: Wikipedia). If you're a LOTR fan, Ruapehu was used in the Lord of the Rings movies (Mordor).
The views were spectacular.
Tawhai Falls
Back onto the subject of Lord of the Rings, on our way out of Tongariro National Park (by car), we stopped at another filming location, Tawhai Falls. This waterfall was used for Gollum's Pool.
We could have spent days in Tongariro National Park, but again, had to think about our departure in a few days from Auckland and made our way towards Rotorua.
If you are planning a trip to New Zealand, I'd highly recommend visiting Tongariro National Park, and try to schedule a few days there if possible. For more information on Chateau Tongariro Hotel, click on the link below.
Don't miss another post! Sign up for my free subscription
I promise not to sell or share your info, ever.