Catalina Island is the perfect getaway from any place in Southern California. Go for a day or a weekend, or even a week!
After all the posts on my European culinary tour, you may think that the photo above could have been taken in the south of France. However this is actually Santa Catalina Island, only 22 miles off the coast Southern California.
Catalina Island
It is, in my opinion, a very overlooked and under appreciated gem which is right under Southern Californians' noses. Catalina Island is usually visible from most of Los Angeles' coastal area, and higher locations. I can see it after a short walk from my house, but many Angelenos I know have never been to the island. This is really a shame. And if locals fail to take advantage of this great getaway, I'm sure tourists who visit Southern California are the same.
Disclosure: I was hosted by Catalina Express for a roundtrip ticket to Catalina Island, a one night stay at the lovely Avalon Hotel.  Also included was dinner at Bluewater Grill, lunch at Maggie's Blue Rose, two half-hour massages from Island Breeze Spa and Salon. A Casino tour for two was provided from the Santa Catalina Island Company (Discovery Tours). As always, all opinions are my own.
When I returned from Europe in September, my friend Maria and I were talking on the phone. She mentioned wanting to take advantage of the free birthday offer from Catalina Express: a free roundtrip ride to Catalina Island. Prices have been lowered, but the birthday offer is no longer valid. One thing led to another and soon, I had our "girls getaway" to Catalina Island all planned for the end of November. It doesn't take much to convince me to go somewhere, and I hadn't been to Catalina Island in ten years!
TIP: If you're still struggling to find that perfect Christmas gift, why not buy a Catalina Express gift card? More and more people agree that they would rather have an experience rather than a tangible gift (I'm one of them)! Once you read this post, I bet you'll be asking for this link: Catalina Express Gift Cards online.
I'm sharing our itinerary so that you can see just how much you can see and do on a one-night stay in Avalon. You can imagine how much more you can do if you stay for two or three nights. Or what about just relaxing with a drink on a terrace or balcony, enjoying the gorgeous views?
Catalina Express Ferry Service
We took the midmorning boat on Maria's birthday so that we would miss early morning traffic to Long Beach. We arrived in plenty of time to park, check in and relax at the Catalina Express lounge in before boarding. The Catalina Bistro and Express Grill offer beer, wine, appetizers, breakfast, lunch, dinner, cappuccinos, lattes and smoothies. It was such a gorgeous day, that we took a stroll on the landing.
Maria and I were upgraded with Commodore Lounge tickets. We were given priority boarding, a snack and a beverage ticket in a more intimate environment. It was a lovely way to start the the celebratory trip. Soon, we left the port of Long Beach, enjoying the beautiful views.
The Ferry Ride
The last time I had gone to Catalina, it had taken two hours to go by ferry. I had a bad experience taking an anti-nausea pill on the way over, too. I was afraid of getting seasick, since I didn't take a pill this time. Arriving in just about an hour was amazing! I was already regretting having let ten years pass without returning, and I hadn't even disembarked! It was such a smooth ride that I could wholeheartedly recommend this to even the most seasick prone person (like my dad). I was elated!
As soon as we arrived, we walked down the main street of Avalon, Crescent Avenue, to check into the Avalon Hotel which was just a few minutes away. This is one of the loveliest aspects of Avalon: most everything you could need or want, and many attractions, restaurants, hotels and services are all within a few minutes' walk from any spot in the town!
The Avalon Hotel (A free bottle of wine or sparkling cider to birthday guests).
The intro on The Avalon Hotel's website describes the hotel perfectly and succinctly: "The Avalon is one of Santa Catalina Island's premier hotels…discover an environment of understated elegance, where luxurious bedding, unique artwork and hand-crafted hardwoods and tile combine to create an enchanting experience. Most of our Catalina Island hotel rooms have breath-taking ocean views of Avalon harbor and its scenic surroundings."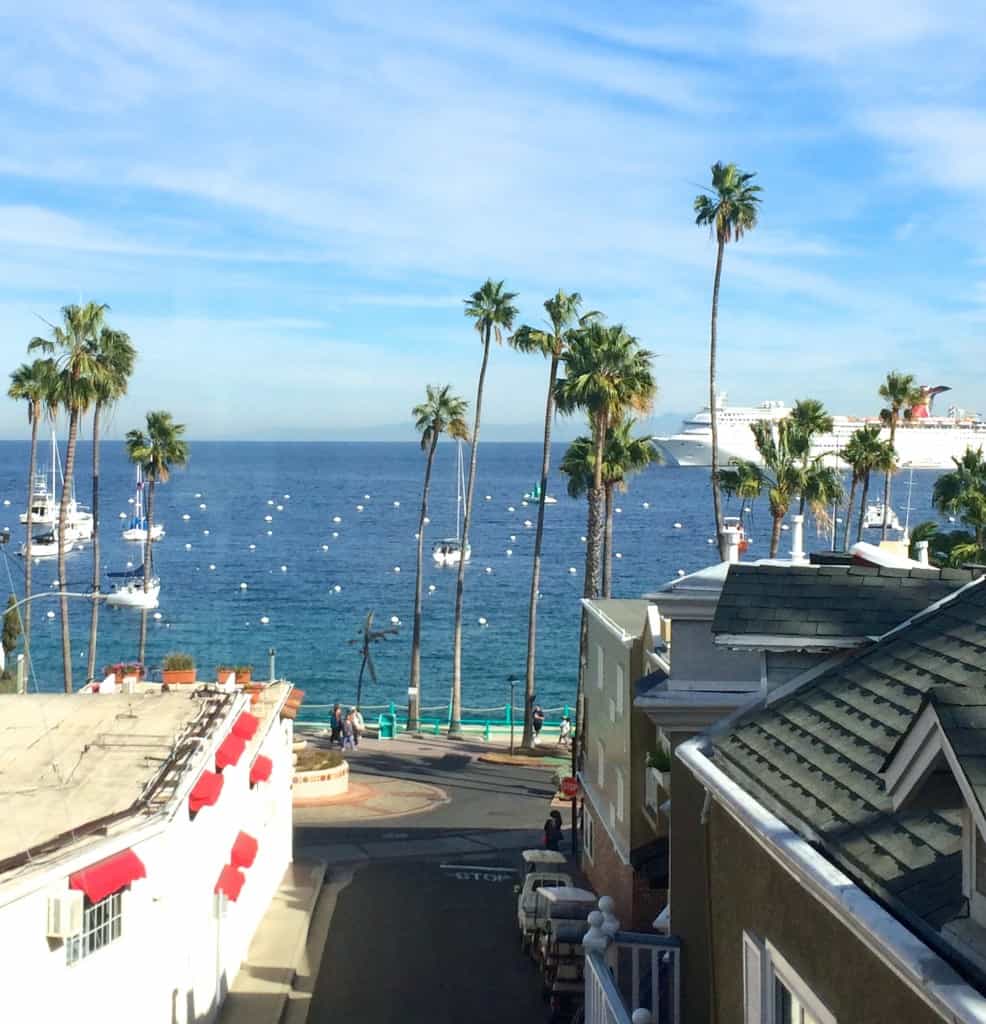 These words take on a completely different meaning after staying at this unique hotel, because each description touches upon everything I loved about The Avalon Hotel. However, even with the hotel's outstanding qualities, I must say (and I know Maria would agree with me) that the staff was the highlight of our stay. We felt as though we had gone to stay with friends because every single person we encountered was so incredibly welcoming and genuinely friendly.
We were checked into our room by Erica, who explained that the 15 room hotel had been remodeled with African Mahogany, which was used extensively to line the hallways. Our room was immaculate and tastefully decorated with paintings of the Casino and local scenes and had a large balcony offering gorgeous views. The bathroom was large and bright, and had two soft robes for our use.
However, my favorite feature at The Avalon Hotel was our balcony!
At least until we visited the rooftop terrace, which had even better (360°) views! After exploring our room, Maria and I decided it was time for lunch. When we were in the lobby, we began chatting with Erica and met Sherrie (who works in the accounting office in another location). She offered us a ride in her golf cart when she heard we were going to eat at The Buffalo Nickel. It is located about one mile from downtown Avalon. We all hopped on and took a quick ride together. We laughed the entire way (Sherrie was so much fun)!
The Buffalo Nickel
Maria and I enjoyed a lovely lunch on the patio. Maria chose a charbroiled chicken breast salad from the birthday menu, and I had the carnitas tacos (I paid for my meal). We really enjoyed our leisurely lunch, and the service was very good, too. We took the free shuttle back to Avalon and decided to walk off our lunch.
Catalina Island Coffee and Cookie Company
As we did some window shopping and wandered around Avalon, we found ourselves in front of the Catalina Island Coffee and Cookie Company so Maria took advantage of the free coffee offer. I noticed some beautiful cookies and asked about them.
Apparently, they are made and sold as a fundraiser to help restore the beautiful Chimes on Catalina Island. Another thing Maria and I loved about Catalina was hearing the bells chime from this tower, just above the walkway to the casino. It would be a shame if they were no longer used due to disrepair. For more information or to donate to the Catalina Chimes Tower Foundation, click here. 
Lloyd's of Avalon
We popped into Lloyd's as it's such a part of Catalina's history. Apparently, Marilyn Monroe (when she was still Norma Jean), lived on Catalina Island for a short time and used to stand outside Lloyds and watch the taffy being pulled, as it still is now.
Maria and I decided to walk over to the Casino, (which is to Avalon, what the Eiffel Tower is to Paris). The Casino offers a free 40 minute walking tour, but Maria and I didn't realize that they were only given at specific times, so we decided to go the next day.  We didn't regret the walk as the afternoon glow on the Casino made an already picturesque setting even more stunning.
Avocado Cafe
Before our 4 o'clock spa appointment, we stopped by the Avocado cafe. I couldn't believe Maria had never tasted a Dole Whip before, so now she can check it off her list; she loved it, too!
Island Breeze Spa and Salon
Maria is constantly on the go when she's at home, so I knew a relaxing massage would be a fantastic birthday surprise for her. She was beside herself when I told her where we were going! Lourdes, the owner of Island Breeze Spa and Salon was busy with a client when we arrived, but we were still greeted warmly. We were  introduced to Oscar and Angie who would be giving us our 25 minute massages. (I paid for an extra foot reflexology add-on, which extended our treatment another 10 minutes.)

Maria and I were ready for our massages in adjoining, dimly lit rooms with soothing background music within minutes of our arrival. We were both extremely happy with our treatments, and although 35 minutes isn't a lengthy treatment, the difference it made for both of us was phenomenal. Knots were worked out of our shoulders and we truly enjoyed a bit of pampering, which neither of us do enough.  We chatted with Lourdes before we left and thanked everyone for the wonderful service.
Maria and I practically floated back to the Avalon Hotel to relax for a while in our cosy room before getting ready for dinner. However, first we just had to go up to the rooftop terrace for the night views.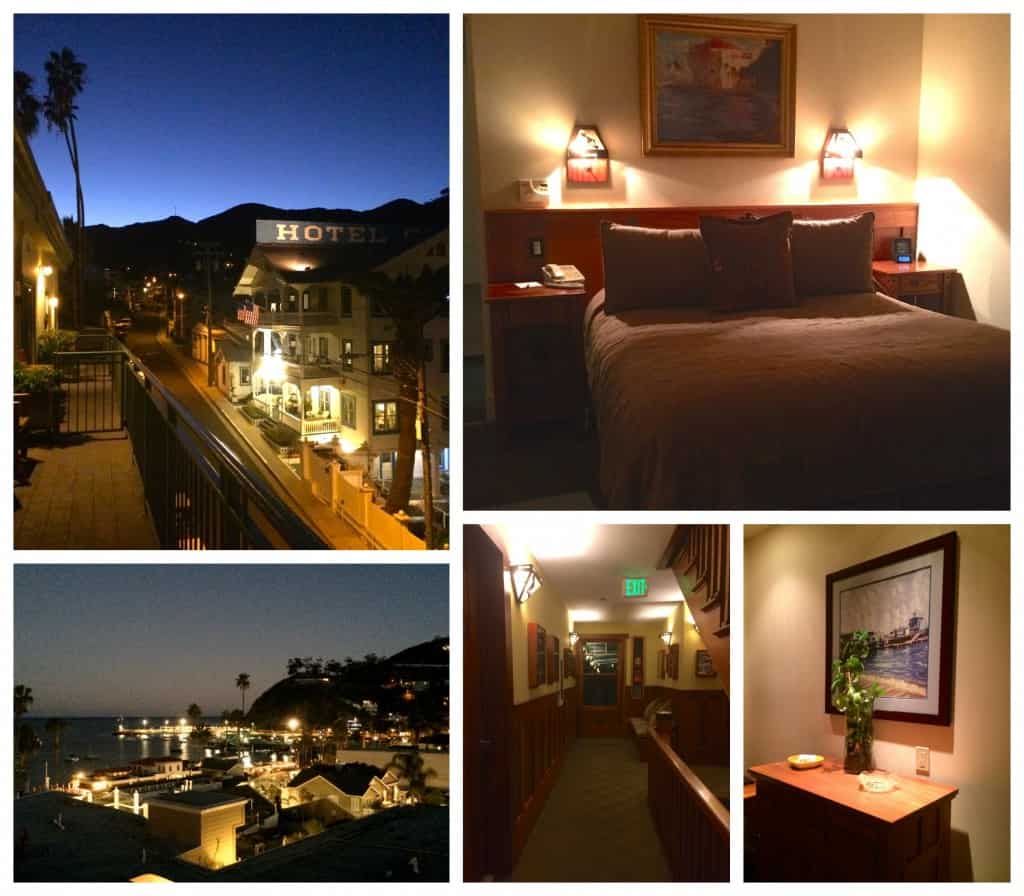 Before leaving for dinner, we met Kim, who was working at reception for the evening. With Erika, the four of us had a lovely chat about many things including family and Sticky Toffee Pudding. (I wonder how that came up!) Maria and I left for dinner, and once again we both remarked about how refreshing it was to be around so many friendly people.
Bluewater Grill
The Bluewater Grill is a relative newcomer to Catalina, but has already been voted, "best of Catalina". Everything about our experience at the restaurant made it clear why they had been awarded this honor. The atmosphere is casual, yet classy and service was truly impeccable. Our server was so friendly, but still professional. Quality is of the utmost importance, which is evident in the freshest seafood they serve.
We started our meal with Seared Sea Scallops with Roasted Jalapeño Aioli with Tomato Oil and Bacon. We also ordered the New England Clam Chowder. The scallops were so fresh, and delicious, I could have eaten them all! Unfortunately, they were Maria's appetizer, so I just had one! I had the clam chowder and was extremely happy with the flavor and consistency.
Next, our entrees arrived. Maria's grilled Mahi Mahi with broccolini and scalloped potatoes looked wonderful. However, when I saw my Pappardelle with Shrimp and Scallops, I couldn't decide which looked better! Maria was over the moon with her birthday dinner. I truly enjoyed my pasta with the porcini and white wine cream sauce. The fresh seafood just made the dishes.
We met Adam, one of the managers, who told us a little about the background of the Bluewater Grill restaurants. He shared the owners' vision when they first wanted to open a restaurant. Being a native Catalina resident, he also answered our questions about living on such a small island. We really enjoyed learning about the island culture. We understood why there is such a small-town, friendly atmosphere that we felt almost everywhere we went.
After our experience at Bluewater Grill in Avalon, my friend Cynthia and I had the opportunity to dine at the Newport Beach location, which you can read about HERE. 
Once we left the Bluewater Grill, we were back in our hotel room for the night, within a five minute walk; what a concept! For two LA girls, it was a welcome change to driving and sitting in traffic for long periods of time. This is what is meant by having a "getaway", as we truly left everything behind.
Breakfast at The Avalon Hotel (included with a hotel stay)
The next morning, we awoke relatively early, so I couldn't resist a peek at the view from our balcony.
We lazed in bed for a while before getting up to get ready for breakfast, because that's a requirement when you're on a getaway, right? Continental breakfast at the Avalon hotel is complimentary and served in their intimate and secluded courtyard. The area boasts a lovely Koi pond, tropical plants and a plethora of hummingbirds. The little hummers included a bold one named, Flit, that doesn't like it if anyone goes near his feeder! Both Maria and I filled up on our favorite breakfast foods as there was a good selection of cereals, yogurts, hard boiled eggs, bagels, muffins and more.
As we were having breakfast, the resident innkeeper, Laurie came outside and asked if we'd ever hand-fed Koi fish. Since neither of us had ever had the pleasure, Laurie told us to let her know when we were ready to feed them. After breakfast, we filled our fists with food and plunged them into the Koi pond. It was quite a unique experience as the fish literally sucked the food out of our closed fists! It was a true feeding frenzy, but so much fun!
After feeding the fish, we were off to pick up our golf cart rental so we could tour Avalon on our own. It was December 1st and we had another gorgeous, blue-sky day!
Catalina Island Golf Cart Rental and Tours
Just around the corner from The Avalon Hotel, you'll find the Catalina Island Golf Cart Rental and Tours booth. Here you can rent a golf cart, go on a zip line eco-tour, or an undersea expedition in a semi-submersible submarine or book many other exciting activities. I was the designated driver for our golf cart rental, and after a brief explanation of where to go on a map of Avalon, we were off! There are very few cars in Avalon, in fact, most residents travel in golf carts, too. I drove through town, up towards the Wrigley Mansion, also known as The Inn at Mount Ada, which was built by William Wrigley, Jr.
The view from the vantage point near the inn is nothing short of spectacular, so we stopped, as did many others, to take it all in.
It was rather a good thing that other people had stopped along with us, as I had engaged the parking brake and when we went to leave, I didn't know how to disengage it. Maria and I were looking all over the dashboard and on the floor, trying to find a release. I also tried pushing on the brake, to no avail.
We must have drawn attention to ourselves, as a man came walking over to us and asked if we were looking for something. We laughed and told him that we were in fact looking for the brake release. He responded, "You ladies aren't golfers, are you? Just push on the gas pedal." So, just in case you aren't a golfer either, you've learned something new!
One of my favorite experiences on our getaway to Catalina was touring Avalon by golf cart. Although Maria wasn't driving, she felt the same. She just kept exclaiming, "This is so much fun!" and it was! I think we were both really surprised at how much more we enjoyed it, compared to our expectations. We had the rental for two hours. This was the perfect amount of time to drive the loop around the town, up into the hills, down past the Chimes tower, Casino and back into town. Of course, this included stopping now and then for photos, too!
Most of the road is clearly marked for rentals, but there were a couple of places which didn't have signs, where it would have been helpful. That said, there's really no place where you could actually get lost, so I would highly recommend renting a golf cart, no matter what your age, or who you are traveling with!
We had about half an hour before having lunch at…
Maggie's Blue Rose Mexican Fare & Margaritas
Another newcomer to Avalon is Maggie's Blue Rose Mexican restaurant. It has already won the 2014 "Taste Around of Avalon" for "Best Taste of Food" for three different entrees. Although, this restaurant is hip and trendy, you won't find any pretention here. In fact, Maggie's truly impressed us with their down to earth, friendly staff. From Margaret (Maggie), herself, and her lovely husband Steve, who owns Steve's Steakhouse upstairs, to the hostess, and servers, everyone made us feel at home. It's rare that everyone on staff is so friendly and congenial, but from our experience at so many Avalon businesses. This seems to be the norm, rather than the exception on Catalina Island.
For Mexican Food in Avalon
We were immediately brought fresh chips and homemade salsas, and our drink orders were taken. I had to try the Catalina Tea, a version of a Long Island Iced Tea, which I really enjoyed. Even Maria, who doesn't usually drink cocktails, had raised eyebrows and a big smile after tasting it!
The decor contained a lot of Margaret's favorite art, whether paintings, chandeliers, plates or hanging stars. It was a great atmosphere, especially since it was even more festive with the Christmas decorations.
Maria and I had two appetizers: the Grilled Street Corn on the Cob with lime, mayo and ancho chili powder, topped with Cotija cheese and "derailed tableside" (our server cut the corn off the cob for us)! This was the only thing I wasn't crazy about, but Maria was ecstatic as it meant that she could have it all. I, on the other hand, was in heaven with the Relleno Style Goat Cheese Filled Jalapeño poppers–oh yes, goat cheese filled jalapeños dipped in batter and deep-fried! You know me and goat cheese!
Next came our entrees: lobster enchiladas and fish tacos! Oh my, the terrible thing was that they were both so tasty that we kept eating more, and more, even though we were full! I would definitely return to Maggie's when I come back to Catalina.
Last, but definitely not least, on our itinerary was the Casino Tour. After walking off some of our wonderful lunch, we headed over to the Casino.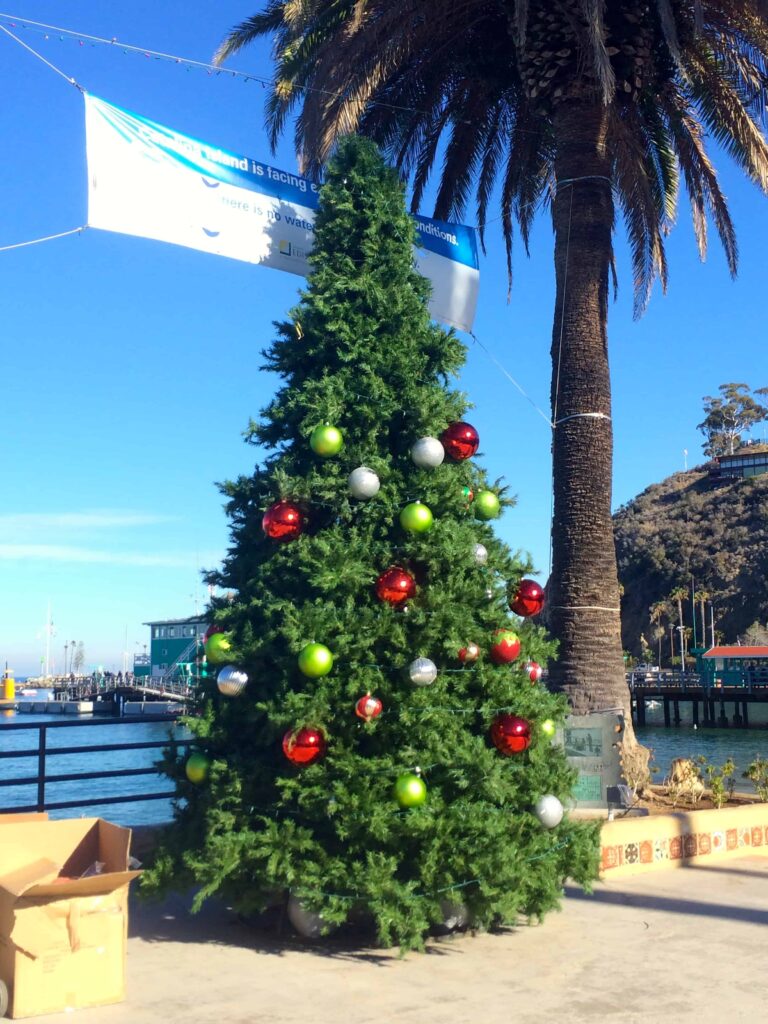 Casino Walking Tour
In a nutshell, you really should take this tour, whether it's your birthday or not. The Casino is such a historic venue, and the tour we were given by Rebecca was so intriguing and interesting. I'd now love to take the Behind the Scenes tour, too.
The art and architecture, in addition to the history behind this building is nothing short of spectacular. Maria and I were really glad we didn't leave the island without seeing the inside of the Casino. Both the theatre downstairs, and the suspended ballroom floor, upstairs (which are both still in use) are stupendous. I was really impressed with the Tiffany lights in the ballroom. They are suspended on a pulley system so they are easy to clean.
There is so much Hollywood history attached to the Casino, and Catalina in general, as many celebrities used to take advantage of the island as a getaway.  Stars such as Charlie Chaplin, Henry Fonda, Laurel and Hardy, Errol Flynn and many more would come to play on Catalina. They'd also arrive to go dancing at the Casino.
Movies were also made on Catalina. This is the reason there are now bison in the interior of the island as they were left there after being used on a movie, many years ago. I haven't even touched on the rest of the island, Two Harbors or all the other activities one can enjoy on Catalina. There's simply too much to cover in this post.
After the Casino tour, we walked back to the Avalon Hotel to pick up our bags. We made it to the Catalina Express Catamaran in time for our trip back to Long Beach.
Saying Goodbye
Maria said it had been one of her best birthdays ever. I have to say, I enjoyed Catalina so much more this time, than I had ten years ago. Catalina Island has her own natural charm and beauty, and Avalon offers so much for visitor. However, it's the people of the island that truly made Maria and I feel so welcome during our brief stay.
Although we had gone for less than 48 hours, we had done so much, but still relaxed, and enjoyed ourselves immensely. Later, I found out that my 18 year old daughter was upset that I had gone without her. She exclaimed that Catalina is one of her most favorite places. Now I understand why.
Visit all the places I mentioned below~
The Avalon Hotel
one of many UNIQUE INNS
Santa Catalina Island Company Casino Tour
Thank you to Catalina Express for a roundtrip ticket to Catalina Island, and to the lovely Avalon Hotel for a one night stay.  Bluewater Grill for dinner, Maggie's Blue Rose for lunch, Island Breeze Spa and Salon for two half-hour massages. A Casino tour for two from the Santa Catalina Island Company (Discovery Tours) was included. As always, all opinions are my own. I am disclosing this in accordance with FTC regulations.