No bake pineapple and cream dessert is a super easy no cook dessert that tastes like something much more time-consuming. Everyone loves these tropical treats which my Aunt Virginia created.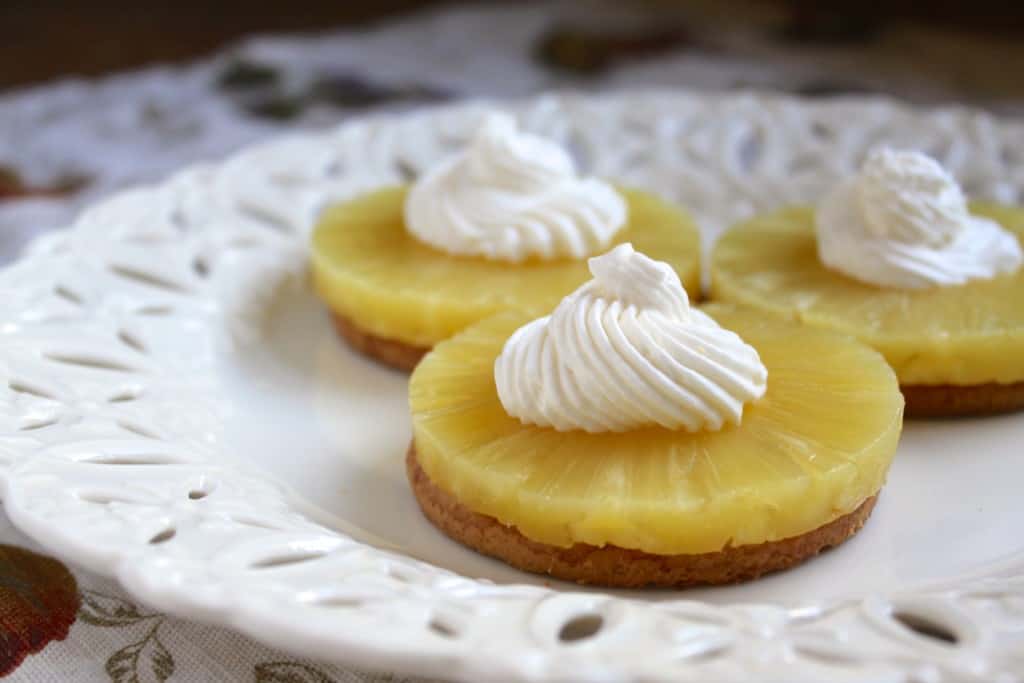 It seems to me that my aunt in Scotland should have been a recipe developer. Everyone who's tried Aunt Virginia's pineapple and cream dessert made with Digestives have become huge fans!
This post may contain Amazon affiliate links for your convenience, but at no additional cost to you.
There are so many great dishest hat she has created, and all of them are winners, like her lovely Digestive* treats. The following photo is of her actual dessert which I took last year (note that the color of the cream in Scotland is more yellow, or cream colored, as compared to our US cream).
So it seems fitting that I share this recipe on her birthday! Happy birthday, Aunt Virginia!
*US readers: Digestives are an incredibly popular biscuit (cookie) in the UK. More popular than Oreos!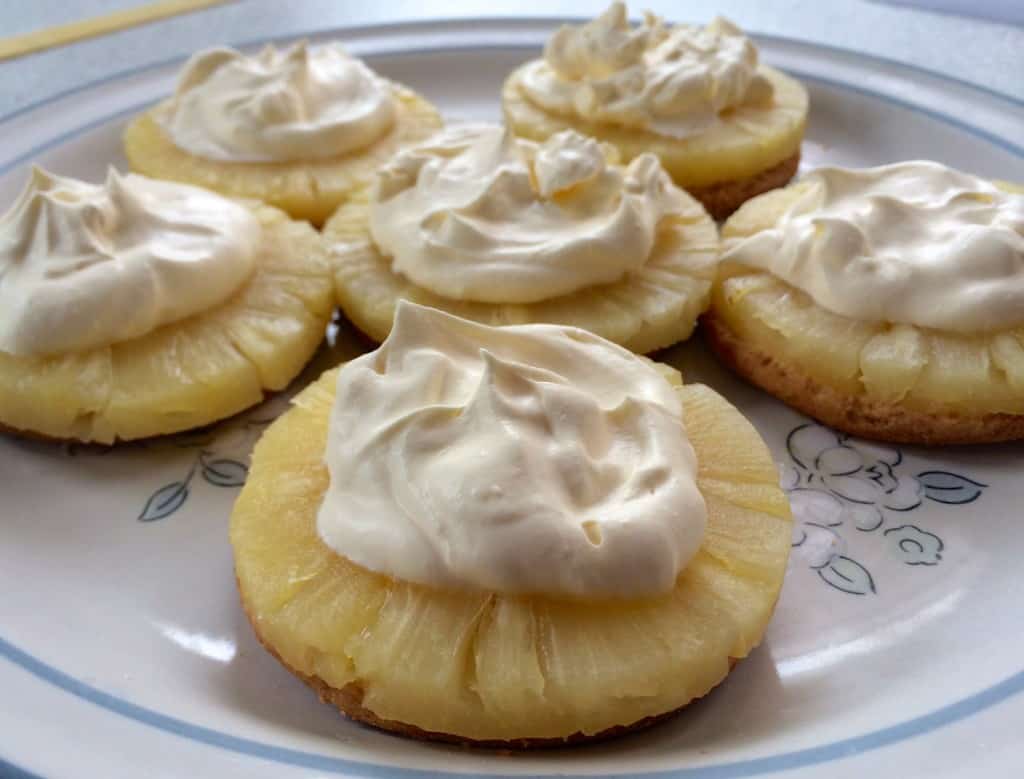 These have to be one of the easiest desserts ever made. There's really no need for a recipe. Simply place Digestives on a serving plate (yes, make them right on the serving plate), for as many as you'd like to make, then place a slice of pineapple on top of each biscuit. Spoon a little juice in the center of each ring. (I imagined a little rum would work, too!)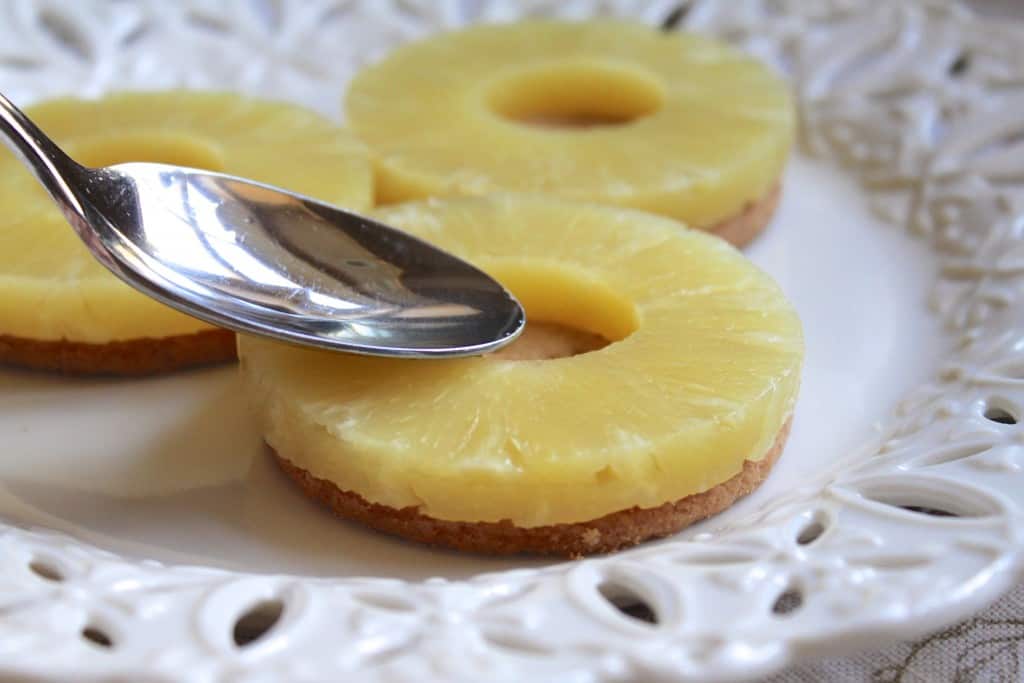 Then either spoon or pipe some freshly whipped cream (in the UK, you can spoon on double cream) into the center of the pineapple ring. Place in the fridge for a few hours before serving, so that the Digestives soften. The pineapple rings and Digestives are the exact same size, so this even looks like a perfect little dessert.
And would I be posting these Pineapple Cream Digestives if they weren't absolutely delectable? Of course not! I love these little treats and that's why I asked my Aunt if I could share them with you! Don't forget, this is the same Aunt Virginia that gave me the recipe for Homemade Bounty & Mounds Bars.
Let me know what you think about either of these great recipes and I'll pass it on to Aunt Virginia herself; I'm sure she'd love to hear your comments! I do believe Aunt Virginia's Pineapple and Cream Digestives will make you a fan, too!
Pineapple and Cream Digestive Delights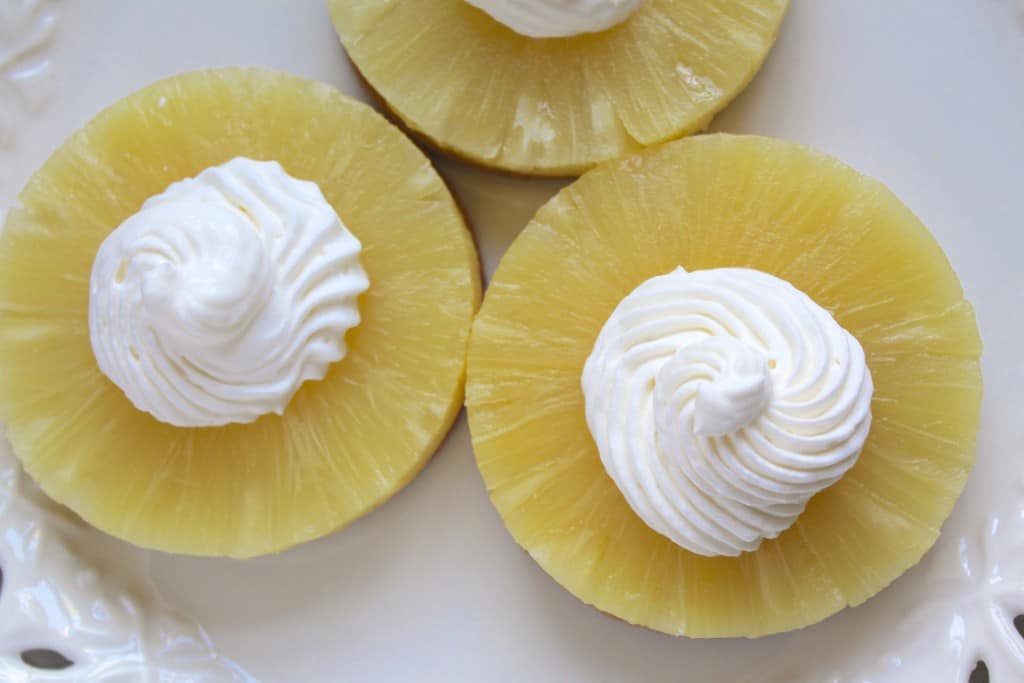 Love pineapple? Try this moist pineapple carrot cake recipe.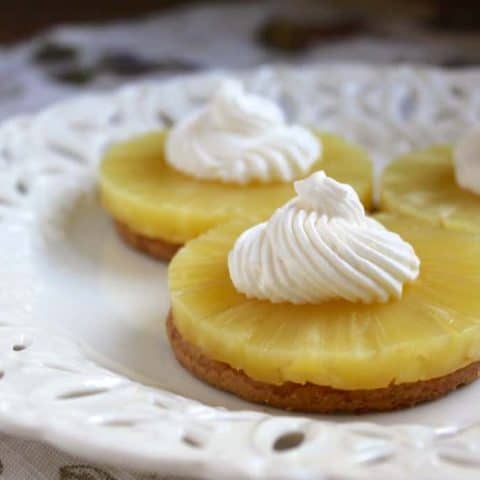 Aunt Virginia's Pineapple and Cream Digestives
A super easy dessert recipe that is ready in minutes.
Ingredients
6 Digestive biscuits (use McVitie's for best results)
6 slices pineapple rings
1 cup whipped cream (about 4 oz of whipping cream, whipped)
Instructions
Place Digestives on a serving plate.
Top each one with a pineapple ring and add a little juice to the center.
Spread or pipe cream into the center of the pineapple and refrigerate until biscuit is soft.
Notes
For adults, soak the biscuit with a little rum or your choice of liqueur or spirit, if desired, for a more mature treat.
Nutrition Information:
Yield:

6
Serving Size:

1
Amount Per Serving:
Calories:

160
Total Fat:

6g
Saturated Fat:

3g
Trans Fat:

0g
Unsaturated Fat:

2g
Cholesterol:

9mg
Sodium:

48mg
Carbohydrates:

26g
Fiber:

2g
Sugar:

18g
Protein:

2g
Nutrition information is only estimated.
Don't miss another post! Sign up below for my recipe and travel posts.
Christina's Cucina is a participant in the Amazon Services LLC Associates Program, an affiliate advertising program designed to provide a means for sites to earn advertising fees by advertising and linking to Amazon.com, with no added cost to you.