International S'mores are a twist on an American classic. I think everyone will find one combination they'll love!

As an Amazon Associate I earn from qualifying purchases.
After making homemade marshmallows, it's only natural to make S'mores, right? But you know me and my chocolate problem. When I started thinking about European chocolate, I got an idea, and another idea, and another.
International S'Mores!
(Twists on an American Classic)
Well, just look at what I've done.
SCOTTISH S'MORES
Shortbread, Cadbury's Dairy Milk Chocolate and a marshmallow
FRENCH S'MORES
Mere Poulard biscuits with dark chocolate (preferably French) and a toasted marshmallow
DUTCH S'MORES
Stroopwafels with a very dark chocolate (Dutch chocolate if you can find it) and a toasted marshmallow ~ Version 1
DUTCH SPECULAAS S'MORES
Speculaas Cookies with dark chocolate and a toasted marshmallow ~ Version 2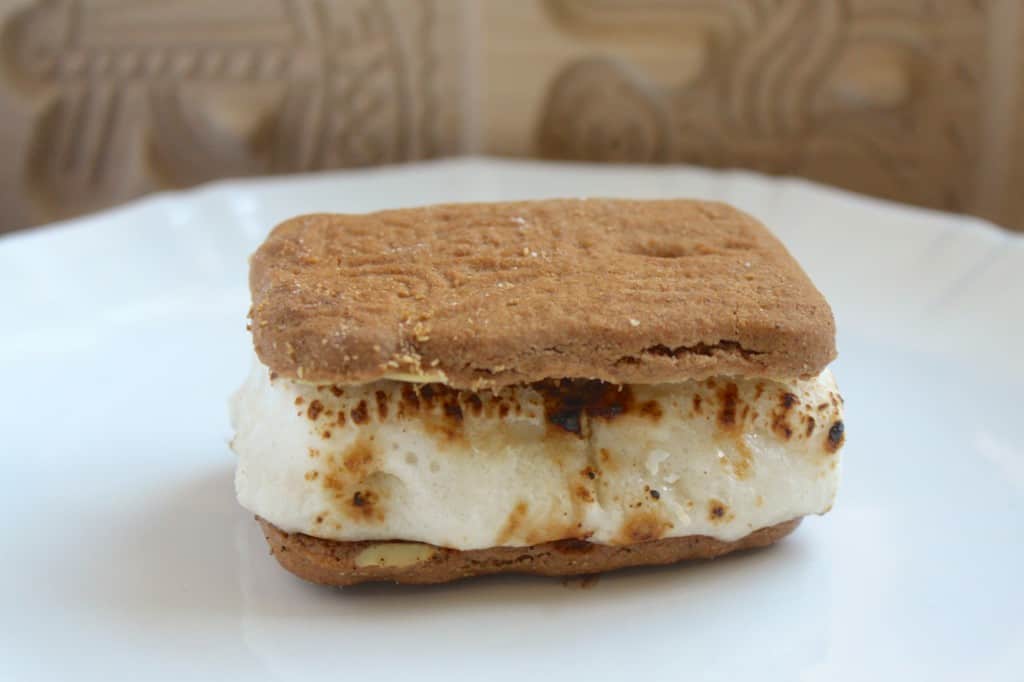 ITALIAN S'MORES
Latte e Miele Biscotti with Italian (Perugina dark) chocolate and a toasted marshmallow
BELGIAN S'MORES
Speculoos biscuits with Belgian dark chocolate (buy these at Trader Joe's if you have one nearby) and toasted marshmallow (I was kind of hungry when I was shooting these…can you tell?)
And last, but not least, my favorite ~
BRITISH DIGESTIVE S'MORES
Digestive Biscuits with Cadbury's Dairy Milk Chocolate and a toasted marshmallow! Heaven to a Brit!
I wanted to make Australian S'mores with Anzac Biscuits and Mexican S'mores with Mexican Cookies, too. However, there are only so many S'mores a girl can eat in one go!
Let me know if you come up with another international s'mores version. I'd love to hear what you come up with. In the meantime, I hope you try one of these treats as they are all deliciously naughty, and very messy! Enjoy!
International S'mores...Twists on an American Classic
International variations of the American s'more campfire treat!
Ingredients
Two cookies or biscuits (Digestives, French butter cookies, stroopwafels, etc.)
One or two pieces of chocolate
One large marshmallow
Instructions
Begin by toasting the marshmallow over a campfire.
Next, place the chocolate on top of one cookie/biscuit.
Add the marshmallow on top of the chocolate.
Top with the last cookie/biscuit and enjoy!
Nutrition Information:
Serving Size:

1
Amount Per Serving:
Calories:

0
Don't miss another post! Click to sign up for my free recipe & travel subscription below.
I promise not to sell or share your info, ever.
Christina's Cucina is a participant in the Amazon Services LLC Associates Program, an affiliate advertising program designed to provide a means for sites to earn advertising fees by advertising and linking to Amazon.com.