Bluewater Grill in Newport Beach is a top-notch seafood restaurant located on the water for a very New England style dining experience here in Southern California!
Have you ever been to Newport Beach?
*SPONSORED POST – Thank you to Visit Newport Beach for sponsoring today's post and inspiring me to visit, and to Bluewater Grill for the wonderful lunch.
I have, but yesterday's visit made me realize how much it reminds me of New England. It's an inexpensive alternative to getting my "east coast fix" for atmosphere and food, with the bonus of beautiful winter weather and some palm trees! Instead of a five hour plane trip, it's not even an hour's drive from Los Angeles (okay, depending on traffic).
My friend, Cynthia, from What a Girl Eats and I needed some down time, and headed to Newport Beach for a girls' day out. We arrived in less than an hour and wandered by the marina in the gorgeous December weather, admiring boats and yachts in the marina, before our heading to our lunch reservation.
Bluewater Grill has been voted "best seafood in Orange County". If the experience at my first visit to the Catalina Island location (a week prior) was any indication of what to expect at the Newport Beach restaurant, I could easily understand why they were voted #1.
The restaurant and its location is one of the main reasons we felt as though we were on the opposite coast yesterday. Take a look–where would you guess this was taken if you didn't know?
The Bluewater grill even has a dock, so you can take your boat to the restaurant, in true east coast style or, as it's called in OC, dock and dine. We sat on the patio and the setting couldn't have been better. Courtney, our server took our drink and appetizer orders, and we already knew that we were going to have a great day!
My Captain's Mai Tai was perfect, not too sweet, as they can sometimes be. Cynthia requested a Pomegranate Martini, one of my favorite cocktails, and it too, did not disappoint. We checked out the Bloody Mary bar, as diners receive a basic Bloody Mary, but then are invited to the bar to add all the additions the way they like it!. I love this idea. (FYI: Bluewater offers a vegetarian and gluten-free menu.)
I'd never had oysters, but they looked so fresh, I just had to try them, and hey, I'm an oyster fan! We also had clams, but the pièce de résistance was the Ponzu Sashimi Sea Scallops on the half shell with wasabe aioli and wakame salad! It was a fantastic appetizer. I also can't say enough about the care that was taken in the presentation–look at this!
In the photo above, you can see a cup of the Lobster Bisque, which was hot and especially tasty with the soft and crusty sourdough bread. Honestly, Cynthia and I were in foodie heaven by this point and there was still more to come! With the view from our table, maybe it wasn't just foodie heaven.
As we watched the boats, we were reminded of the famous Newport Beach Boat Parade. It's the longest running boat parade in the country, and it's running December 16th through the 20th (that's next week)!
Next, we had small portions of calamari, fish and chips and crab cake; I wouldn't be able to decide which one I liked most, if I was a judge. All were made with such fresh seafood, it made each dish spectacular.

Ruth, the manager, was lovely; she and Courtney came to check on how we we were enjoying our food. It was obvious that they cared about their customers, as they did the same with the guests around us.
Next came a piping hot bowl of glorious cioppino! Need I say more?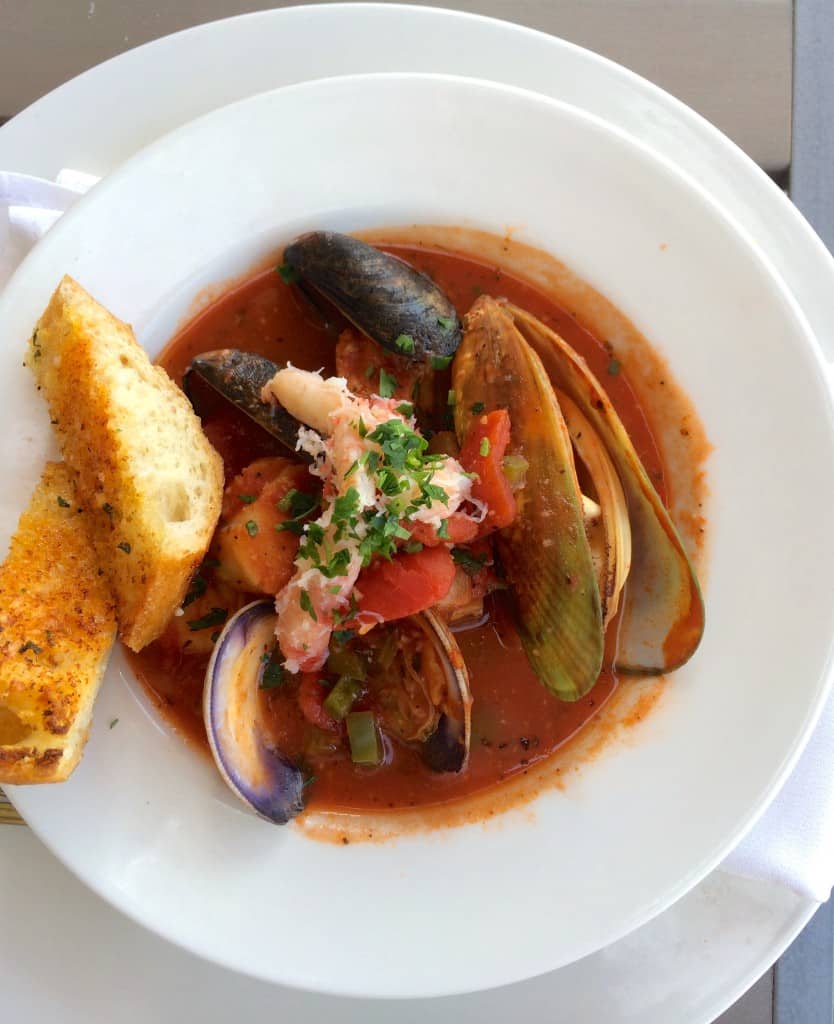 I was afraid my Italian taste buds may have said this dish wasn't up to snuff, but even they were delighted!
We were able to meet Chef Chris Veratudela before our meal and Cynthia took the opportunity to ask him what his favorite dishes were. Among them was the Miso Glazed Black Cod, which Courtney had suggested, and Ruth raved about, so we had to give it a try. It was served on a bed of Blue Lake beans and shitake mushrooms. If you can imagine this fish dish tasting even better than it looks, that's how it was: fabulous.
The cod was flaky, fresh and perfectly cooked, and the glaze wasn't overpowering at all. The green beans and mushrooms were a unique and tasty base for the fish which we devoured, despite all we'd eaten! Everyone liked it on Instagram, too! We were enticed into trying the mud pie, as it was homemade, as most everything is at Bluewater Grill. The coffee ice cream was a wonderful (and not too sweet) end to a delectable meal.
We ran into Chef Chris as we were leaving and asked for a photo. We don't really care about celebrities; Cynthia and I are more interested and impressed with people who know how to cook!
We were so close to the beach, we stopped by the pier before heading home. Sometimes you just have to feel the sand in between your toes, get up close and personal with a seagull and listen to the waves. It's good for your soul; it doesn't hurt to bring a friend, either.
You can see Catalina Island in the distance, in the photo below.
Check out the DEALS AND SPECIAL OFFERS for Newport Beach, including deals on dining, hotels, drinks and even whale watching! The NEWPORT BEACH RESTAURANT & DINING OPTIONS page features something for all taste buds, from fine dining to casual fare. Cynthia and I are elated to be able to offer a chance win a $50 gift card to visit the original Bluewater Grill in Newport Beach yourself (there are also six other locations).
Don't miss another recipe or travel post, sign up for my free subscription below!
I promise not to share or sell your email address, ever.