The Pollok House in Glasgow is a hidden gem that you simply must make a point to visit. The gardens alone are a beautiful place to see. And don't miss the Highland cows!
Move over, Downton Abbey. The Pollok house in Glasgow is Scotland's answer to Highclere Castle!
As an Amazon Associate I earn from qualifying purchases.
In fact, when I visited the Pollok House, this past September, after driving up from England, I ran into a class of school children who were dressed up as lords and ladies, wait staff and serving girls: a veritable miniature version of the Downton Abbey cast! Each time I passed them, they all bowed and curtsied to me; it was adorable! I wish I could have taken a photo for you, but–children and photos and laws–you know.
Disclosure: I was given a one year Royal Oak Foundation Membership; all thoughts and opinions are mine.
SPECIAL OFFER: If you're heading to the UK this year, don't miss joining the Royal Oak Foundation before you go! Not only does your membership grant you free admission to all the National Trust Properties in England, Northern Ireland and Wales, and National Trust of Scotland properties, but also includes a parking pass! There's a perfect membership level for everyone (including students.)
Click here and use the discount code, "CUCINA2020" to receive a 10% discount!
The Pollok House
Pollok House, a National Trust for Scotland property, which has reciprocal benefits with the National Trust (and therefore, the Royal Oak Foundation) is located in the center of Glasgow, in Pollok Park. My Royal Oak membership was still valid from last year, so I had free admission.
Although I did visit the interior of the house and enjoyed it immensely, no photography is allowed, so you'll just have to put it on your list and know that it's very worthwhile. Here's a view from the inside.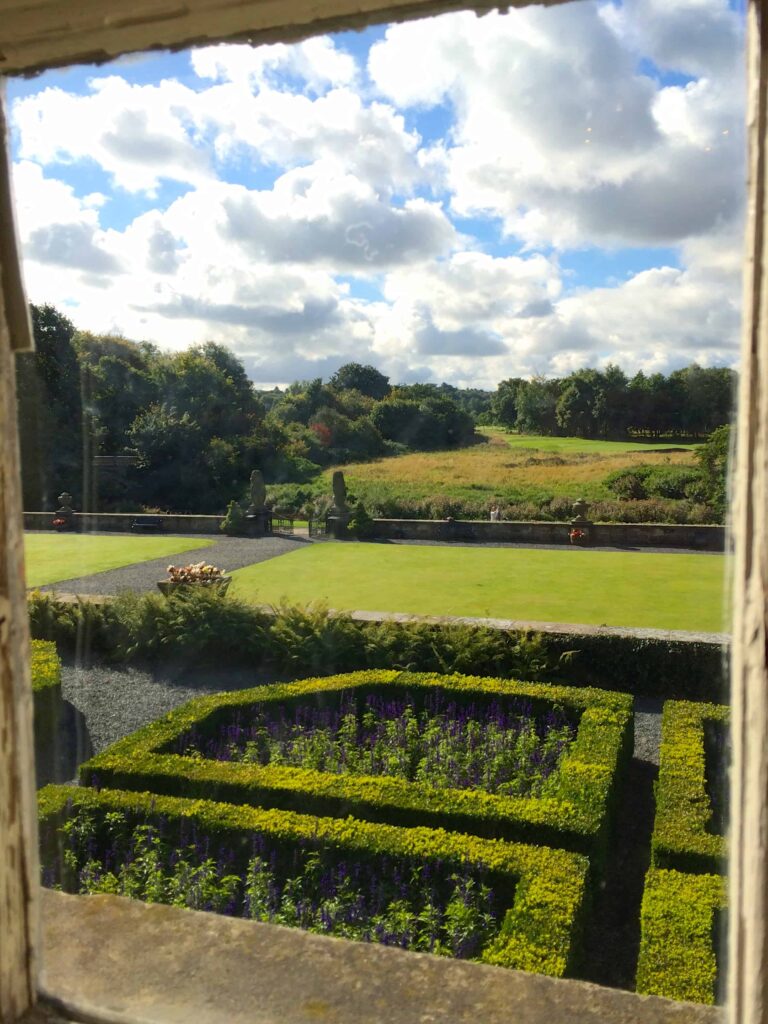 After touring the house, I had to pop into the restaurant, and couldn't resist at least one shot there!
I was then off to tour the gardens. There's not much I need to say, when I have these photos to show you.
The Pollok House is worth seeing in itself, but add the gardens and it's a "don't miss" attraction in Glasgow. I can't believe this was my first time visiting it.
Also, the Burrell Collection is located within Pollok Park, so if it's a rainy day, which may actually happen when you're in Scotland (ha ha!), you could visit this brilliant collection of art, artifacts, paintings, and more. Be sure to check the opening times, though, as I believe it's undergoing a major renovation soon.
You'll also get a chance to see loads of Highland cows before or after going to the Pollock House, within Pollock Park.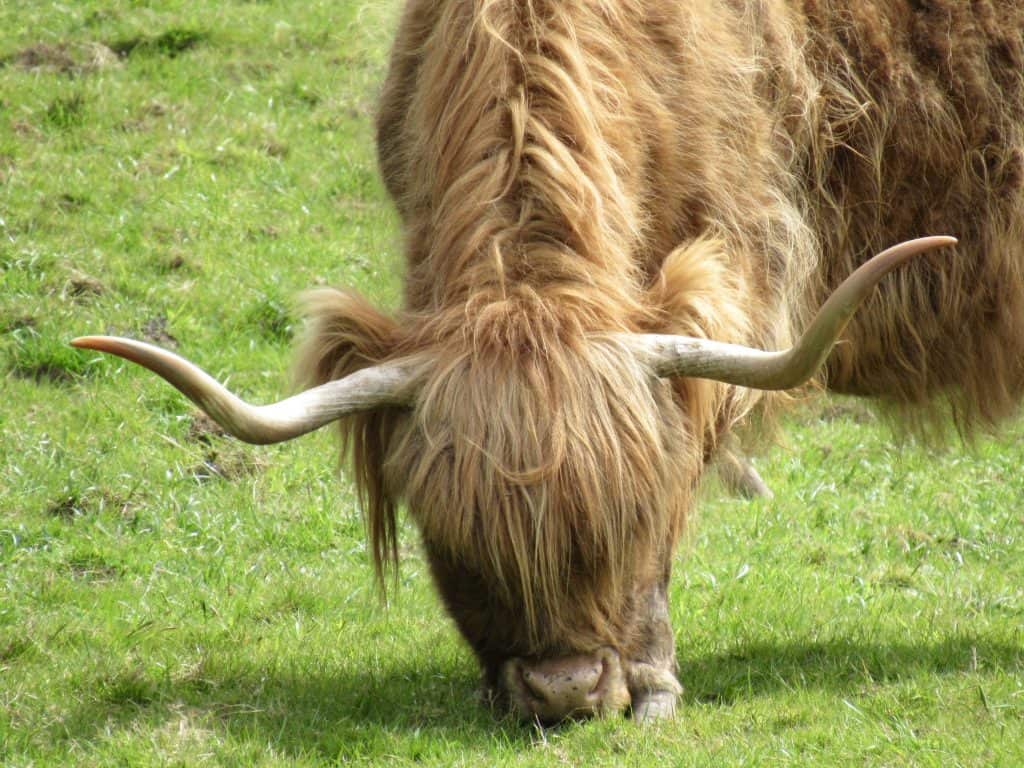 After I visited the Pollok House, I drove back to meet my cousin, Peter as I was taking him out for lunch at my good friend, Melanies' Craigard Tea Room, in Helensburgh (pronounced "Helens burrah"). Peter is usually the one feeding me (fish and chips), so it was my turn to take him out.
Craigard Tea Room
I wrote the story of how I first found Melanie's tea room three years ago, when I posted this Red Lentil and (Barley) Soup recipe, that my daughter fell in love with. Since then, Melanie and I have become friends online, and now in real life! She's an incredible human being and bakes like nobody's business, also heading up the Scottish Baking Awards, in addition to running her cosy and very Scottish tea room!
Pete had never been to Craigard, but I had been raving about Melanie's Cullen Skink, so we both ordered a bowl. Luckily, we got the last two bowls of the day; that was a close call! If you don't know what Cullen Skink is, it's a smoked haddock chowder that is phenomenal! Smoked haddock is not easy to find in the US, but I've now found Stonington Seafood in Maine, and this haddock is top notch. Recipe coming soon!
Melanie recently started offering afternoon tea and although the Cullen Skink and homemade bread and butter was really filling, I couldn't leave without trying her sandwiches and treats! I've had her meringues and honestly, I could be enticed into doing lots of things for just one of them!
Of course, everything was deliciously tasty, and Pete became a new fan of Craigard Tea Room. Lucky him, he's driving distance from there, unlike me. If you travel to Scotland and are in Glasgow, make it a point to go to Melanie's tea room. Loch Lomond is nearby and you can make it a day out in the area nearby.
Helensburgh is a beautiful town and you can visit the Hill House, designed by famous Scottish architect and designer, Charles Rennie Mackintosh right up the street from Craigard Tea Room.
In fact, on the way home, Pete and I stopped by Geilston Garden, another National Trust for Scotland property to which my Royal Oak Foundation membership allowed us entry at no charge. Pete had never been, but I had visited the gardens a few years ago with my family. However it had been cold and rainy and I really wanted to see it in the sunshine. It turns out, it was really worth stopping–what a difference!
Geilston Garden
Geilston Garden is relatively small, so we were only there for about half an hour. Obviously, one could spend much longer and see even more. I was so glad to see it in the sunshine, it made a world of difference.
The next day was going to be my last full day in Scotland, and of my culinary tour of Europe. I have to admit, I was starting to feel all the traveling was catching up with me and I was feeling a bit weary. It was six straight weeks of going non-stop, though, so I felt it was a justified tiredness.
However, I was ending on a high note as Pete's wife, Helen, and I were going to have afternoon tea at Gleneagles Hotel! A perfect ending in my homeland, doing one of the things I love best. It was bittersweet as I was elated to go to Gleneagles, but so sad at having to end my amazing journey.
Don't forget to use discount code "CUCINA2020 for a 10% discount
on any annual Royal Oak Foundation membership.
The pass offers free admission and parking at all UK National Trust properties
as well as National Trust for Scotland properties and more.
Disclosure: I was given a one year Royal Oak Membership; all thoughts and opinions are mine. I am disclosing this in accordance with FCC regulations. (I paid for my cousin's lunch, and my own lunch at Craigard Tea Room.)
Christina's Cucina is a participant in the Amazon Services LLC Associates Program. This is an affiliate advertising program designed to provide a means for sites to earn advertising fees. Done by advertising and linking to Amazon.com.