The afternoon tea experience at Gleneagles Hotel in Auchterarder Scotland is truly deserving of 5 stars.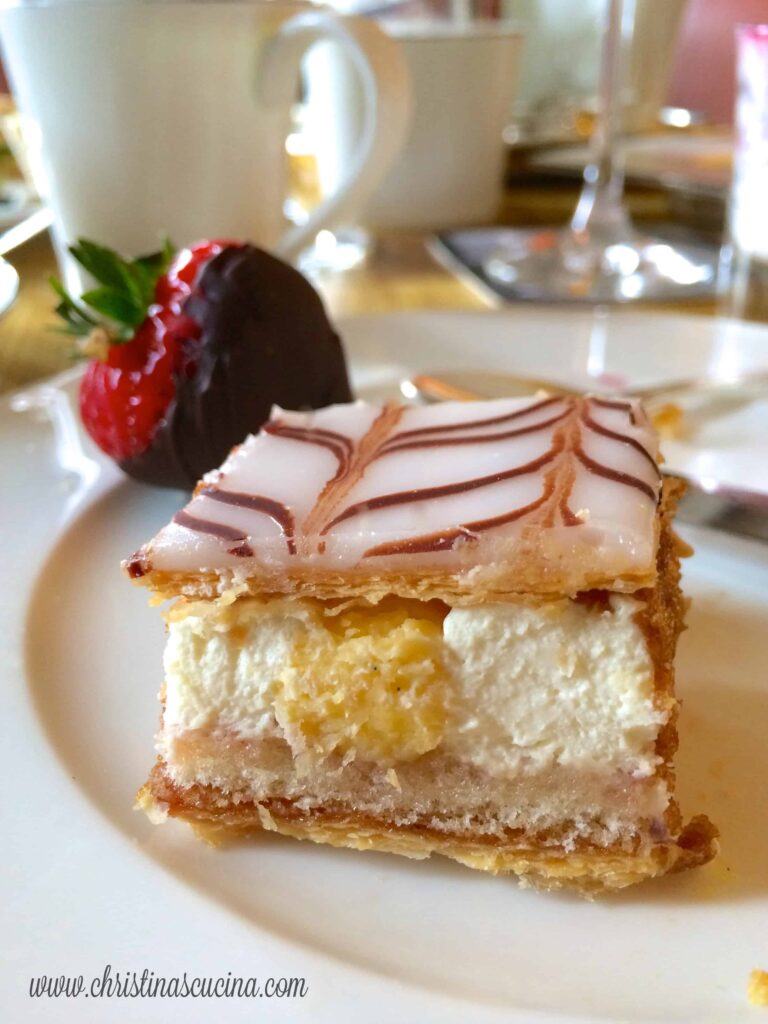 The End of my Culinary Tour
If you've been following along from the very beginning, you'll know that my European culinary adventure began with an afternoon tea post. So it seems fitting that it will end with an afternoon tea post. This is not just any old afternoon tea, but a luxury, 5 star experience at The Gleneagles Hotel.
Disclosure: I was hosted for afternoon tea for two by the Gleneagles Hotel and Airportag agreed to send me two, 16″ tote bags; as always, all opinions are my own.
I shared The Pollock House, The Craigard Tea Room and Geilston Garden with you recently, and explained that the next day would be the final day of my culinary tour. My anticipation for afternoon tea at Gleneagles, was tinged with a little sadness. I knew that my journey was coming to an end. I had invited my "cousin-in-law," Helen, to join me for tea, and it should suffice to say that I didn't need to twist her arm.
We left Glasgow with lots of time to spare on that rainy afternoon. However, little did we realize that I had programmed my phone to take us to The Kelpies, and not Gleneagles! It was when we were apparently arriving at our destination and Helen took this shot, that we suspected something was awry. Oops.
At least I got a glimpse of The Kelpies,  massive steel sculptures of two horses' heads which are now a popular attraction in Scotland.
Afternoon Tea Experience at Gleneagles
Helen and I arrived at the lovely Gleneagles Hotel shortly thereafter. Even in the rain, the grounds were gorgeous, and the hotel stunning inside and out.
Afternoon tea is served in the bar, a warm and comfortable setting, decorated in the Art Deco style. Helen and I were seated, and immediately brought two glasses of Ruinart rosé champagne. Ruinart is the oldest champagne house in the world. It was a lovely beginning to the quintessential experience of British afternoon tea.
Our server, Vanessa, was attentive yet unobtrusive. She poured our tea and I couldn't help capturing the moment. Properly made tea is such a joy, especially since it's a rare occasion to have it in the US.
Helen had a food allergy which I had forgotten to mention when making our reservation, but the kitchen staff still created the most gorgeous tray for her at a moment's notice. Vanessa then described each of the selections for us, in great detail. She was so professional, yet simultaneously friendly; in short, the perfect server. There was no pretentiousness in anyone at the hotel; everyone was lovely!
The variety and quality of the savories was evident in the entire selection. From the cucumber, cream cheese and chive sandwich and smoked Scottish salmon blini, to the cheddar leek quiche and Mini Findony pork sausage rolls, the flavor was outstanding in each and every bite.
Helen and I lingered and enjoyed it all, before starting with the exquisite looking sweets!
One of the reasons I was looking forward to afternoon tea at Gleneagles was being able to see Head Pastry Chef Neil Mugg. I had the pleasure of meeting him last year at the World Porridge Making Championships in Carrbridge, where he was one of the judges. Unfortunately, Chef Mugg was on holiday (vacation) at the time. However, his attention to detail and the phenomenal flavors in the pastries was still evident.
One of my favorites was the mille mille-feuille vanilla slice (pictured at the very top). It was simply sublime! I cannot fail to mention the wonderful scones! They were served with Scottish preserves (the best), lemon curd and thick, yellow clotted cream. Truly a crowning glory to the afternoon tea!
Helen was in heaven with her treats, and I savored the delicacies on my plate while we chatted, enjoying the relaxing afternoon. This truly was an experience not to be missed, at least once in a lifetime. If you're fortunate, you'll go much more often. I'd love to return and bring my mother and daughter. After we finished our afternoon tea, Helen and I wandered around. We wanted to see a little more of the Gleneagles Hotel. We enjoyed peeking into the preparations for an event and the Andrew Fairlie restaurant.
I managed to get a picture of the golf course from the car as it was still raining when we left. As it often does in Scotland, the hills looked like they were taken from a painting.
We drove back towards Glasgow, and although despite the clouds, the beauty of Scotland never fails to deliver.
Leaving from Glasgow Airport
The next morning I said goodbye to my family and dropped off my rental car at the Glasgow airport. I must say, it was one of the easiest experiences that I've ever had in dropping off a car. There was absolutely no hassle, and the airport terminal was walking distance from the Europcar rental office. What a difference this makes to the beginning or end of a long journey!
I hadn't eaten breakfast so I picked up a couple of black pudding and bacon butties (sandwiches) at the airport. I wanted to savor Scotland for as long as possible on my way home!
Unfortunately (for me), it was a sunny day. This always makes it that much harder for me to leave my homeland.
The good weather did allow for some awesome shots from my window seat. Can you see the the Scottish isles? The island below, right, is Colonsay.
I ate my black pudding buttie and said goodbye to Scotland, until I return again.
Thank you for following me on my culinary tour of Europe. I hope I brought you a little of the joy and discovery that I experienced during my delicious travels this summer.
For more information on the afternoon tea experience at Gleneagles,
click here.
I can't imagine a better present than giving someone the gift of afternoon tea at Gleneagles!
Most people are leaning towards wanting experiences over "things" (I'm definitely in this category).
Airportag
AS A THANK YOU AT THE END OF MY CULINARY TOUR OF EUROPE, AND THE END OF THE YEAR, there's a site I want to share with you called Airportag! I've recently discovered Airportag's merchandise and fallen in love. I thought you'd flip for them too, so I contacted the company. Captain Greg was generous enough to allow me to host a giveaway for three of these lovely 16″ tote bags. ($29.90 value, each!) They also agreed to send me two to try out, and I'm so excited (of course one of them is GLA). All their tote bags, pouches, pillows, t shirts and more are all made in the USA!
Three individual winners will have their choice of one 16″ Airportag tote bags (many more designs)!
Besides these awesome tote bags, t-shirts, pillows and other items, Airportag also offer personalized versions. These would make brilliant gifts for the traveler in your life!
Don't miss another recipe or travel post; sign up for my free subscription below.
I promise not to sell or share your info, ever!
P.S. I managed to pop into downtown Philadelphia to drop off some British treats and an 18th birthday present for my daughter on the way home. It just so happened to be parents' weekend, too. I'm not such a bad mother, after all!
Disclosure: I was hosted for afternoon tea; all thoughts and opinions are mine. I am disclosing this in accordance with FCC regulations.