Caramelized Leek, Pecorino and Sausage Risotto is a warm and comforting recipe to make for the colder season. Omit the sausage for a vegetarian dish.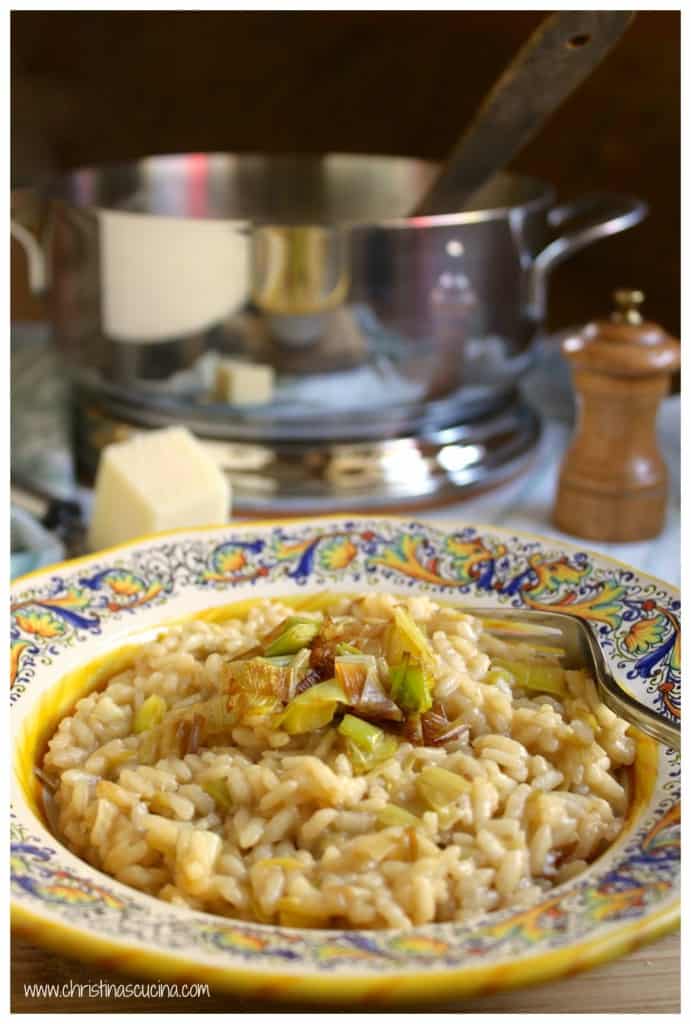 Risotto is always a good idea.
Disclosure: I received a Lagostina risotto pot to review, at no charge, and agreed to create a winter risotto recipe. As always, all opinions are my own. EDITED: please note that I have since learned that only a few pieces of Lagostina cookware are actually made in Italy.
As an Amazon Associate I earn from qualifying purchases.
Risotto
Whether it's a light, springtime dish with fresh peas or young asparagus, or a hearty winter risotto with pumpkin or ripe radicchio, it's consistently going to be a perfect meal.
Of course, if you have followed me for any amount of time, you probably know what I'm going to say next: in order to have the very best tasting risotto, you must use top quality ingredients.
The same applies for tools and equipment, so when I was offered a gorgeous Lagostina risotto pot in exchange for creating a recipe, I didn't even have to think about my answer. Lagostina is renowned for their quality cookware. Then they told me I could give one away to a reader, and that totally sealed the deal!
Here's the best part: I fell in love with the pot as soon as I laid eyes on it, but using it was so much better than I imagined, that I was rather taken aback. I mean, how can it just feel fabulous to cook rice in a different pot?
I don't know. I honestly don't, but all I can tell you that as much as this pot is a thing of beauty, it's an absolute joy to cook with. I know it sounds rather silly, but you'd have to try it to understand; the stirring wasn't a chore and the rice moved so fluidly, it was as if the rice just knew how to behave!
Read about my Cruise and Cook risotto making lesson on Lake Lugano, Switzerland!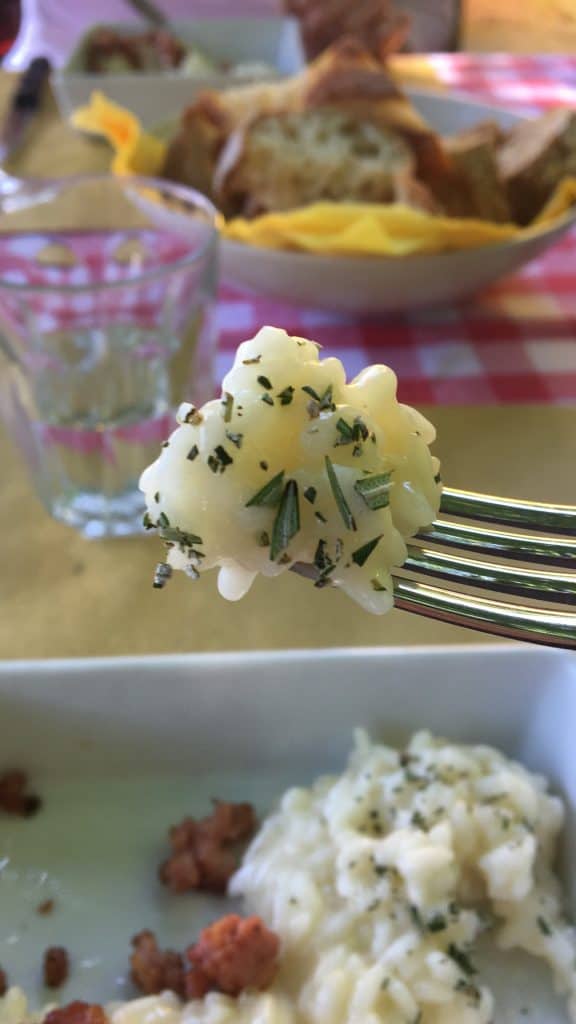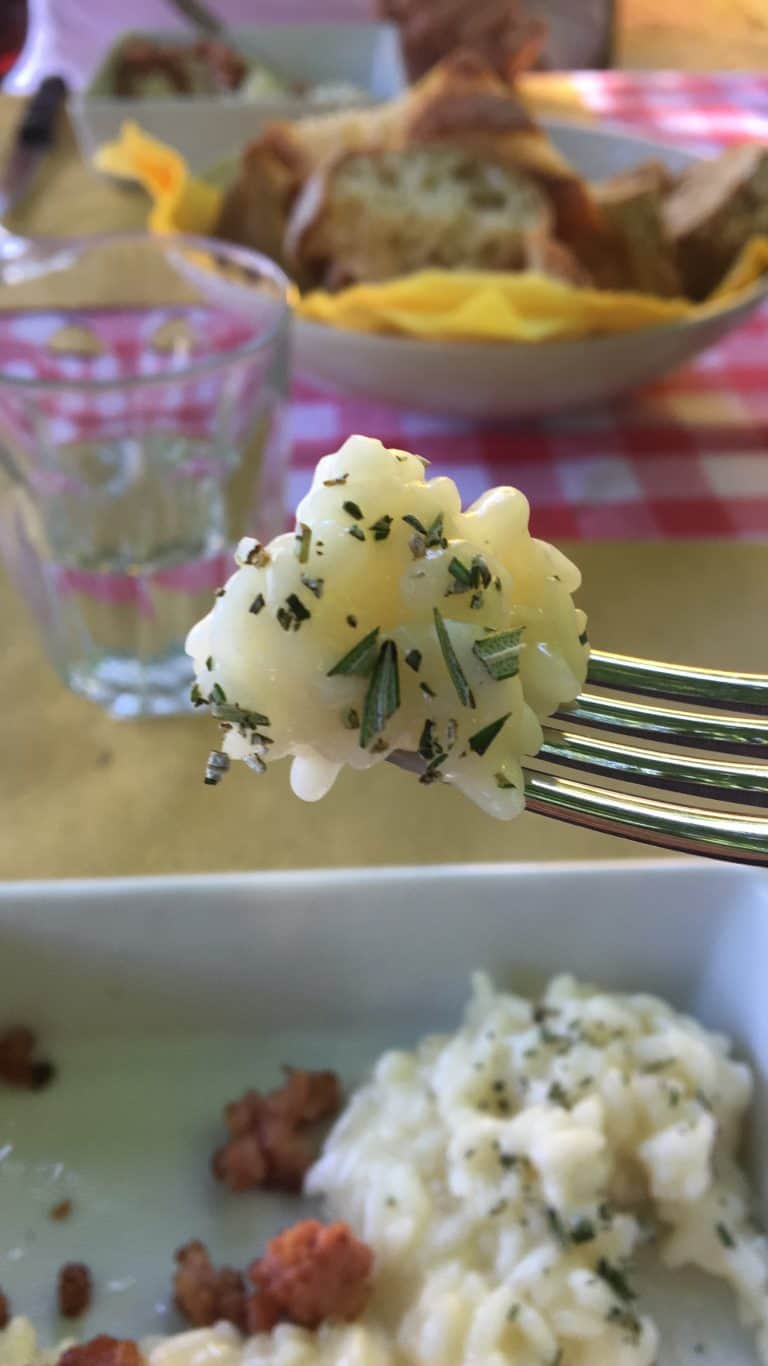 Don't tell anyone, but I'll be cooking more than just risotto in this stunner as it's just become my favorite new pot. Here's one of the many reasons, this fab feature: the lid becomes a trivet, so you can keep the risotto hot and serve from the pot; what a concept!
When I created this recipe, I worked with some of my favorite ingredients, Carnaroli rice (gives the best results when making risotto), beautiful winter leeks, and pecorino cheese.
This is a vegetarian recipe, but I had some spicy Italian sausage on hand, which I also tried with this combination; although it was really delicious (both with and without the sausage), the consensus was that if the sausage is being used, add more leeks, as it overpowered the delicate leek flavor. Let's get straight to the recipe and giveaway, shall we?
Caramelized Leek and Pecorino Risotto
(Italian Sausage optional)
Caramelized Leek, Pecorino (and Sausage) Risotto and a Lagostina Risotto Pot Giveaway!
A warm and comforting risotto dish made with leeks, Pecorino and if desired, Italian sausage, too.
Ingredients
1 1/2 cups (12 oz) Carnaroli rice
4 cups (32 oz) vegetable stock (chicken stock may be used if it doesn't need to be vegetarian)
3 medium sized leeks, sliced and washed in bowl of water and dried
2 tbsp butter
1 tsp olive oil
1/4 cup (2 oz) white wine or dry vermouth
(optional- 2 links or 4 oz fresh Italian sausage removed from skins and sauteed until cooked)
1/3 cup (2 oz) diced Pecorino cheese
1/2 cup (1/2 oz) grated Pecorino cheese
one or two pats of butter
salt and pepper
Instructions
In the Lagostina risotto pot, over medium high heat, saute the leeks in the butter and olive oil for at least 10 to 12 minutes or until the leeks are caramelized. Remove one third of leeks and set aside.
Add the rice and stir for about 3 to 4 minutes, until translucent.
Add the wine or vermouth and stir well until it evaporates.
Heat the stock and begin adding a cup (8 oz) at a time to the rice while stirring, allowing to simmer and cook down. Once absorbed, add another cup and continue until all the stock has been used; it should be al dente within 18 minutes. (If using the sausage, add it at this time.)
Remove from the heat and stir in the grated and cubed Pecorino cheese and pat of butter.Taste for salt and add pepper, if desired.
Place the Lagostina lid upside down to use as a trivet and place the pot on top. Serve the rice in bowls and top with a little of the reserved caramelized leeks
Please don't be intimidated by the thought of making risotto. It's really easy, and when you make it once, you'll wonder why it took you so long to give it a try.
Here are the basics of the recipe:
Caramelize the leeks.
Add the rice and saute for a few minutes.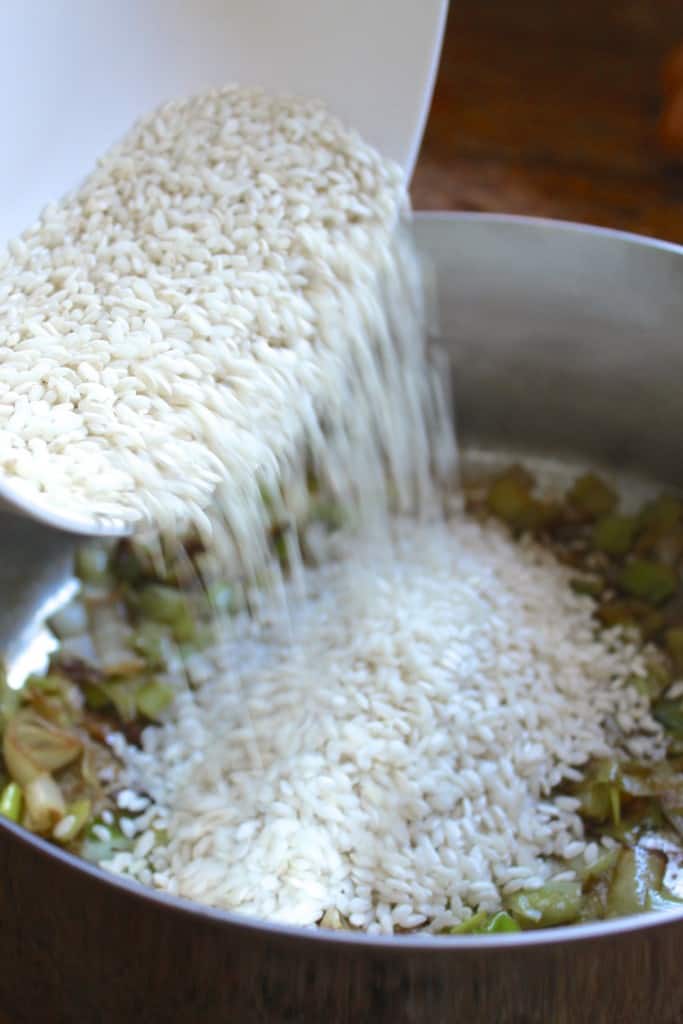 Add the wine, and then stir in the stock, in increments of four additions over the course of 18 minutes.
Remove from heat and add the butter, and cheeses (taste for salt).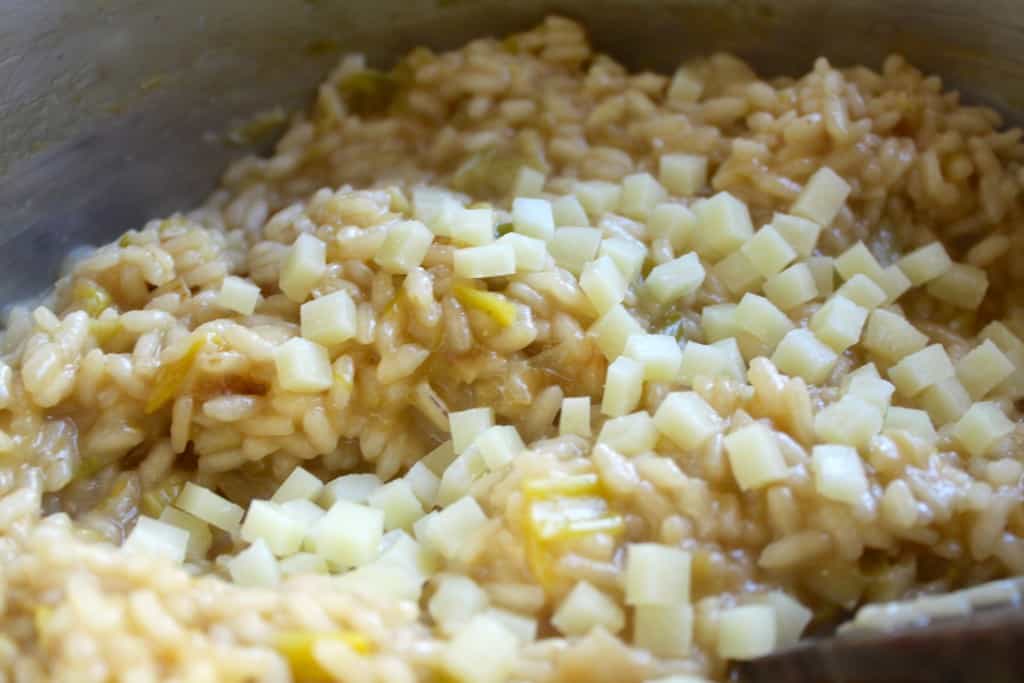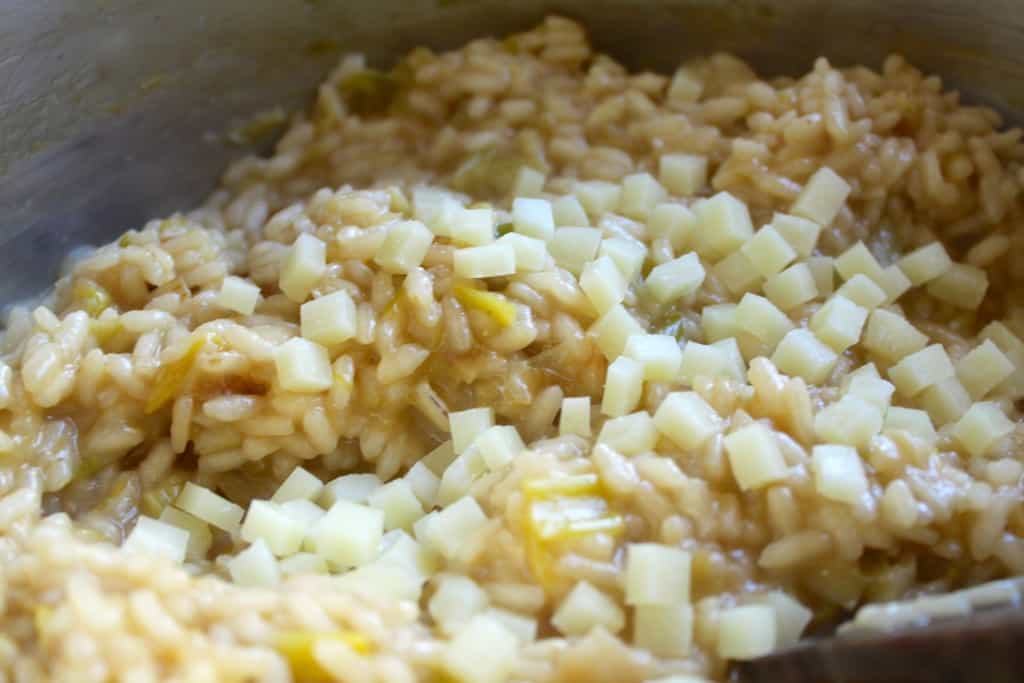 Finally, use the Lagostina lid as a trivet and serve, adding some reserved leeks on top as a garnish.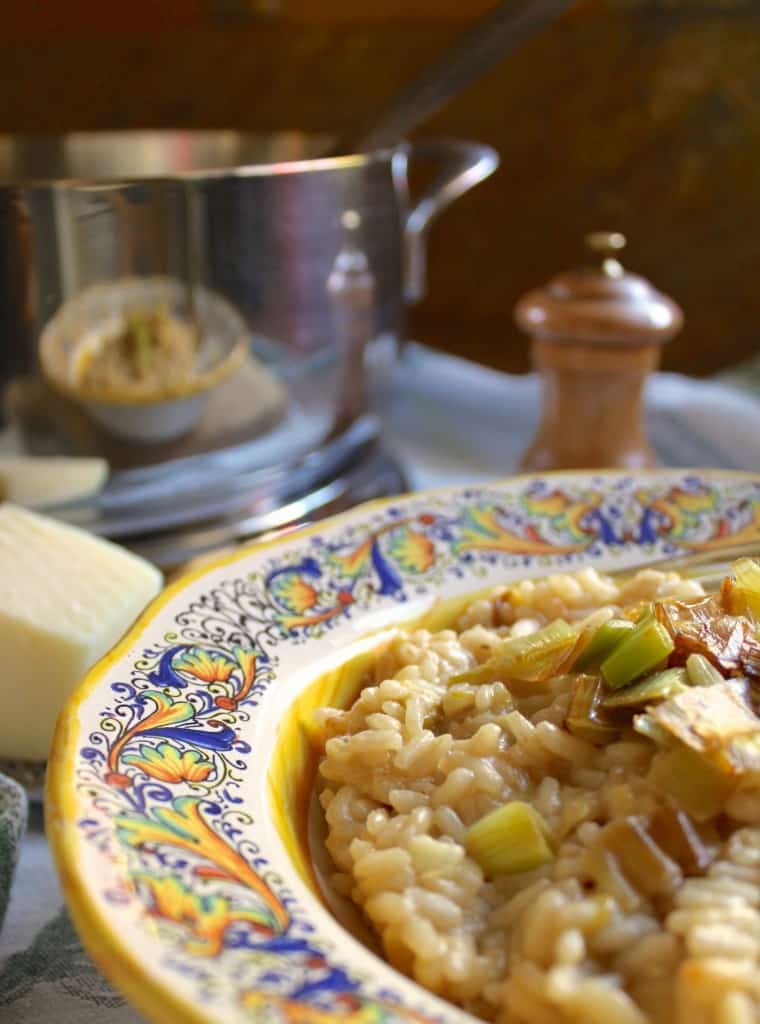 If using the Italian sausage, this is added just before the cheese and butter.
The Lagostina Risotto Pot
Rich, creamy risotto is easy to prepare in this classic Italian stainless-steel pan. Its 5-layer bonded aluminum and stainless-steel core ensures precise heating as you sauté arborio rice with onions, then simmer the grains in broth and wine. A wide rim speeds evaporation and facilitates stirring.
The Lagostina Risotto pot is available on Amazon.
Don't miss another post! Sign up below for my recipe and travel posts.
I promise not to sell or share your info, ever.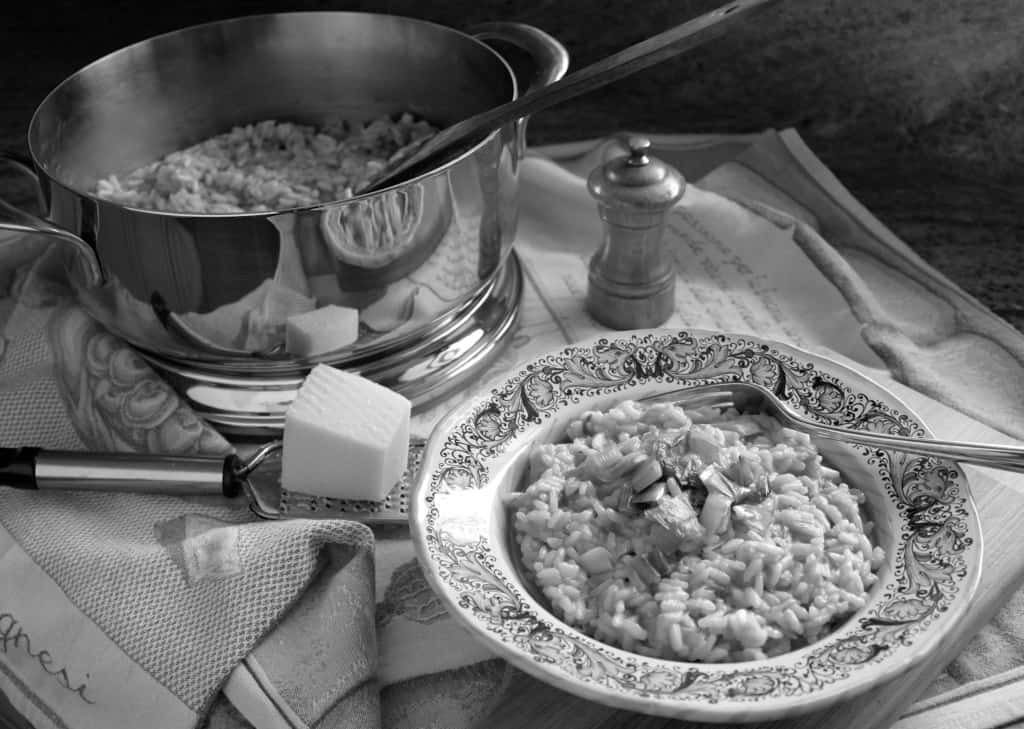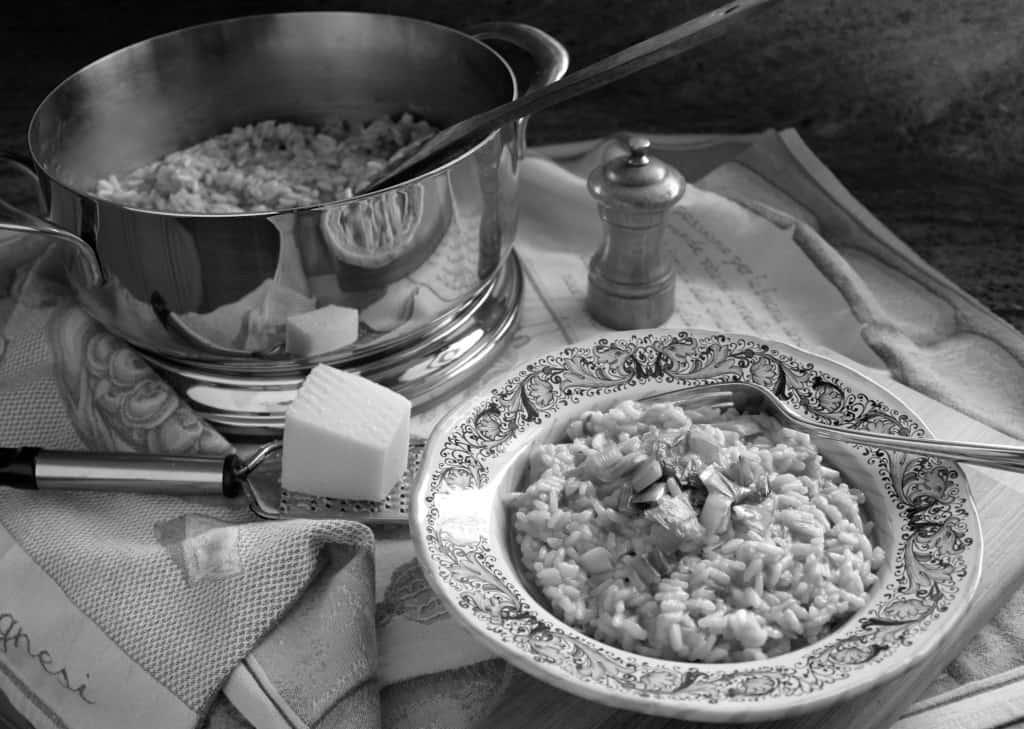 Disclosure: I received a Lagostina risotto pot to review, at no charge, and agreed to create a winter risotto recipe. As always, all opinions are my own. I am disclosing this in accordance with FTC guidelines.
Christina's Cucina is a participant in the Amazon Services LLC Associates Program, an affiliate advertising program designed to provide a means for sites to earn advertising fees by advertising and linking to Amazon.com, with no added cost to you.