Cruise and Cook on Lake Lugano is an experience that one could never forget. I hope you add Lake Lugano to your bucket list and take this wonderful cooking lesson as my friend Cynthia and I did.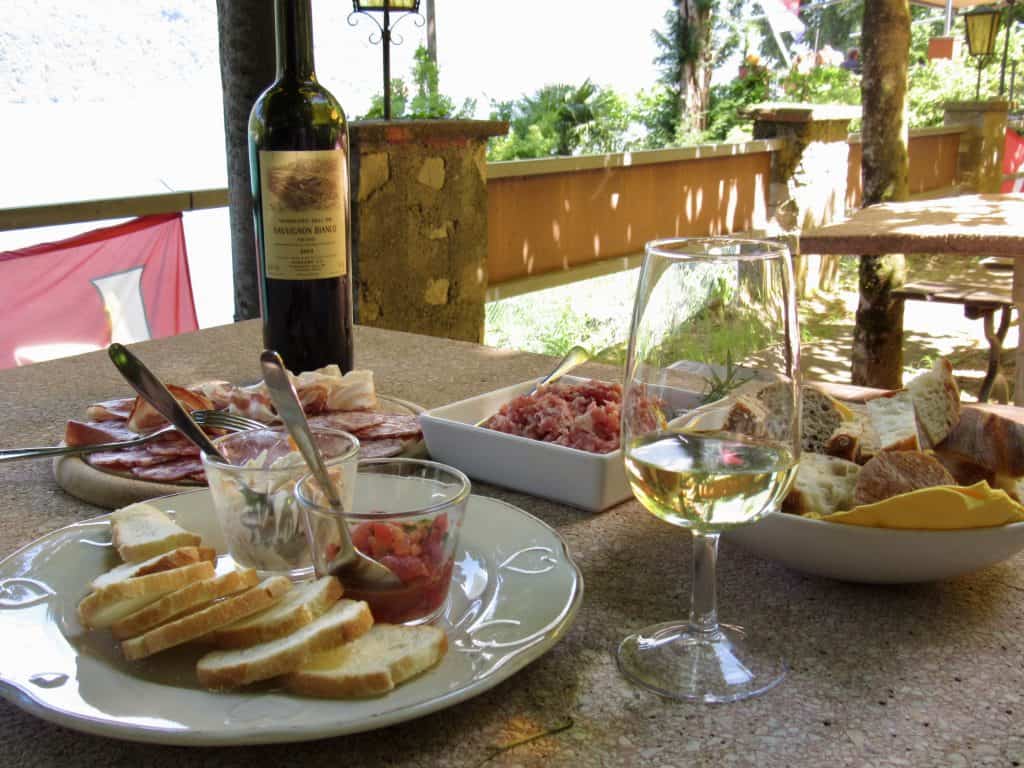 If you're following along on my tour of Italy and Switzerland from this past June, you'll know that Cynthia and I were last in Lugano.
Disclosure: Cynthia and I were graciously hosted for our stay (accommodations and meals) by the Ticino Tourism Board and Switzerland Tourism (Swiss Travel Pass). As a Booking.com affiliate and Amazon Associate I earn from qualifying purchases. All opinions are solely my own.
I promised to share our Cruise and Cook adventure in more detail, so that's what I'm going to do.
Cruise and Cook on Lake Lugano
The photo above shows where we walked from the train station (where we had met our lovely tour guide, Patricia) after returning from Bellinzona. She told us that Nicola, the owner of Grotto Descanso, was coming to pick us up himself to take us to his grotto.
Lake Lugano has many grottos which are small restaurants, many of which you can visit by boat. All I know is I want to visit them all!

Boat ride to Grotto Descanso
After walking down to the waterfront, Patricia caught sight of Nicola in his motorboat, and we climbed aboard. (Don't worry, there are public boats to take you to the grottos if you don't have private transportation.) Nicola sped his boat towards his grotto with Patricia keeping him company up front.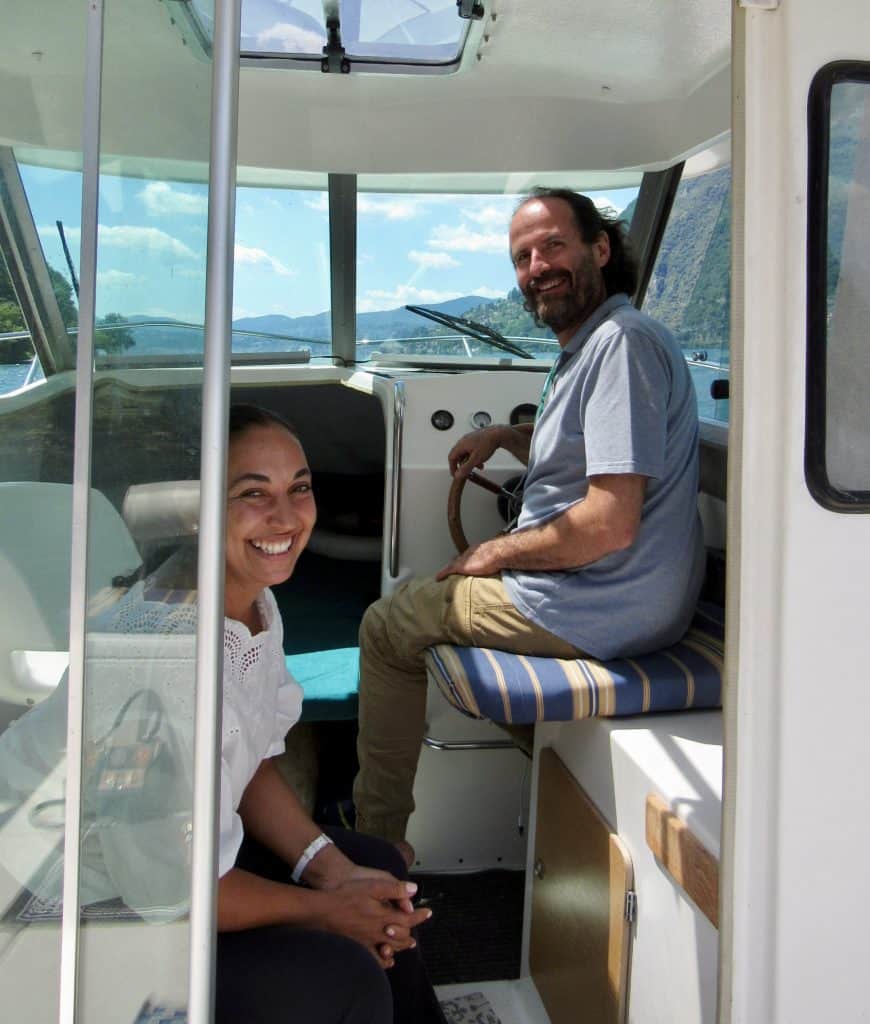 It was the most perfect day for a boat ride, but those happen frequently in Lugano!
Although Grotto Descanso is located in Gandria, it's across the lake from the actual village of Gandria. In the middle of our boat ride across the lake, Nicola stopped the boat. Cynthia and I didn't know why, until we saw Nicola unwrapping the top of a bottle of Prosecco and grabbing some glasses: the royal treatment!
It's too bad we didn't enjoy the boat ride over to the grotto!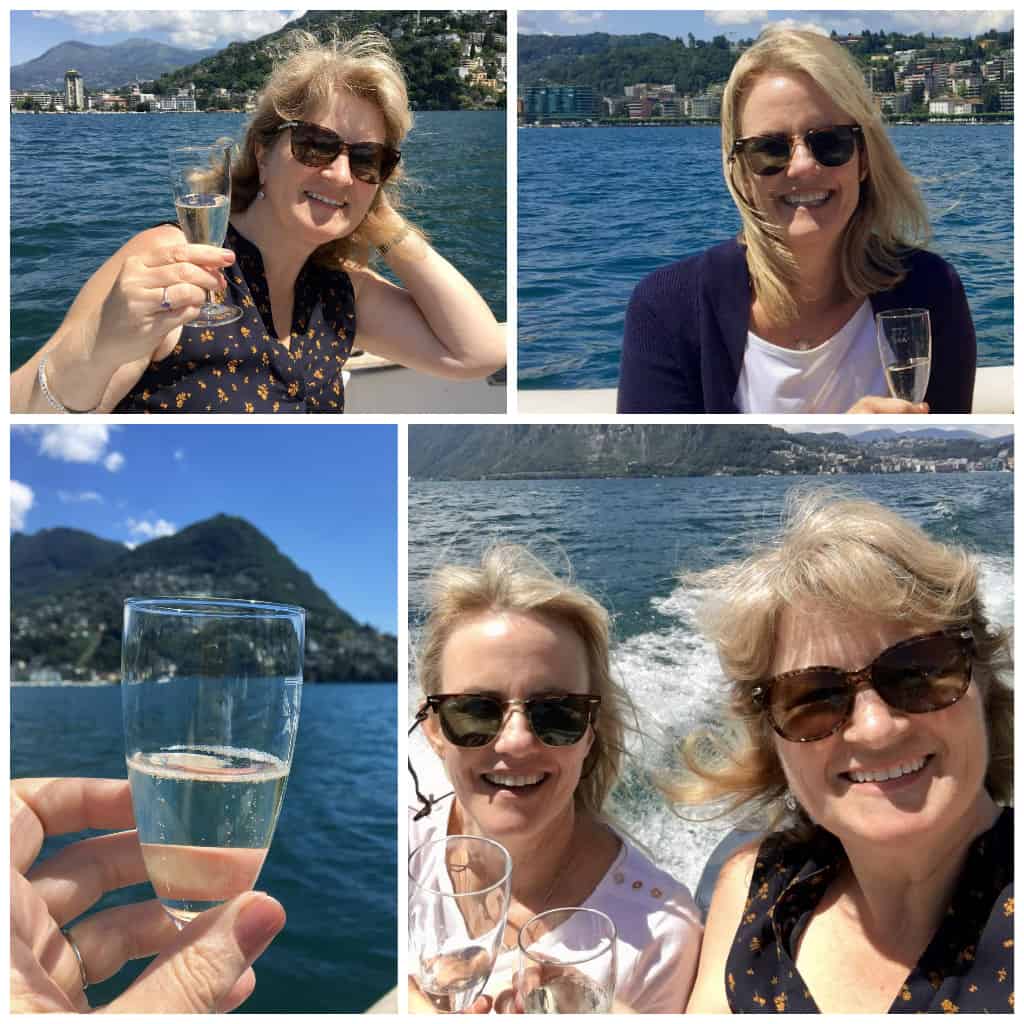 It was only about a twenty minute ride and we had arrived at Grotto Descanso. Do you ever have those times when you travel a very short distance, but feel as though you're somewhere completely and utterly removed from where you've just been?
That's how it felt for me when we arrived. The grotto was so secluded and peaceful, it felt as though we were miles and miles from Lugano.
Cruise and Cook at Grotto Descanso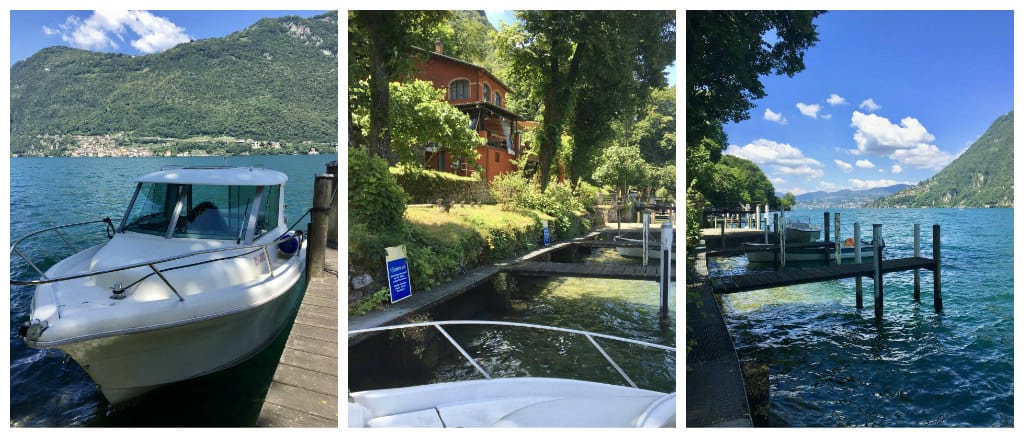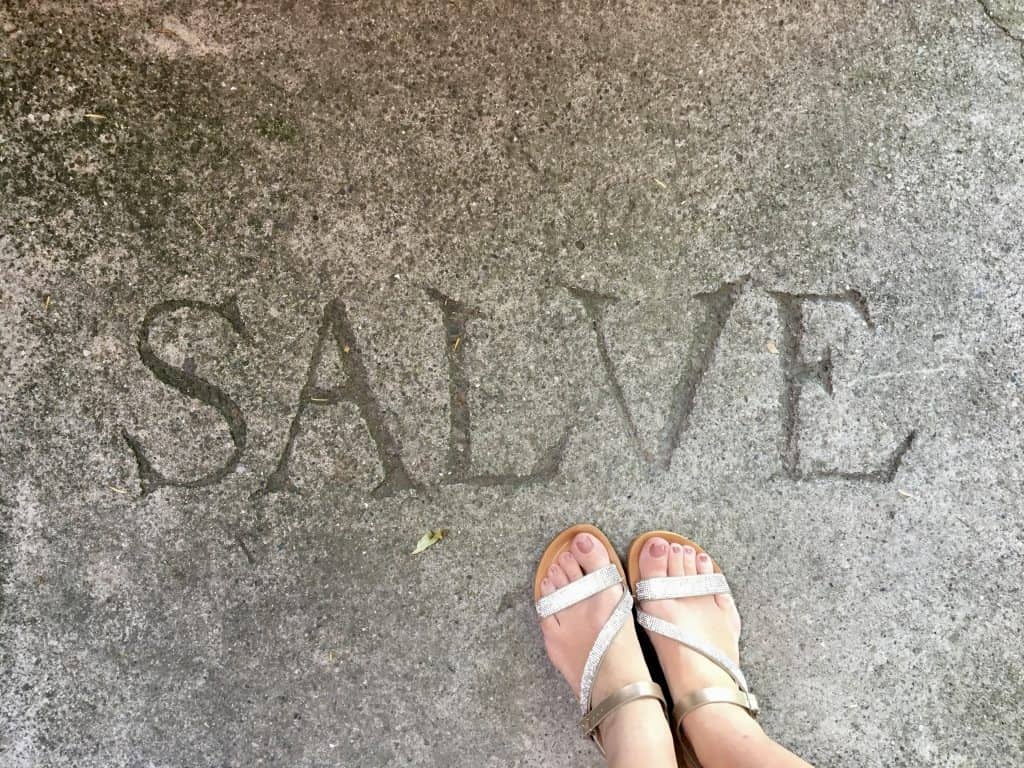 Grottos are called grottos for a reason. Before refrigerators were a thing, discovering a cool place to keep your food was a fabulous discovery. Caves inside of the mountain provided this function for the inhabitants of the area and they were able to preserve food.
Nicola took us into his grotto; the coolness and smell was reminiscent of walking into my grandparents' cantina in Italy. We then walked up the stairs to the main part of the restaurant and seating areas outside.
The entire place is just dreamy. I could have been quite happy to have vacationed here for two weeks!
However, we weren't there to vacation, we were there to cook and eat! Nicola led us to an area that was prepped for an outdoor cooking lesson to make risotto.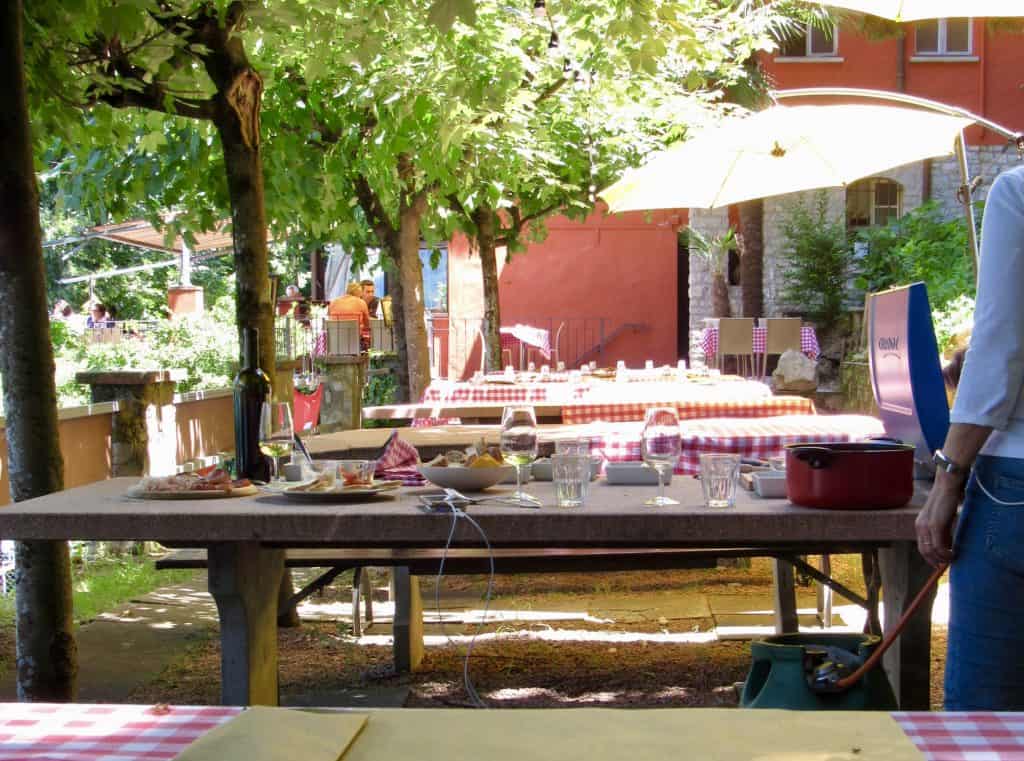 Some antipasti and wine were awaiting us, too!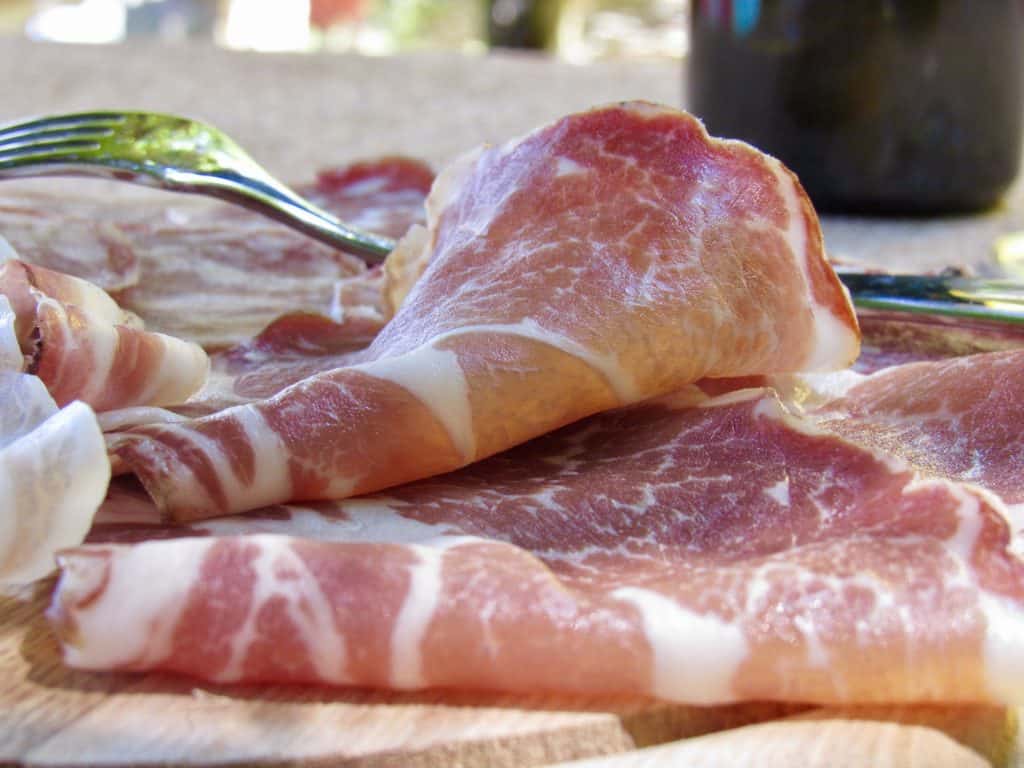 Nicola began making the risotto while we all nibbled the delicacies spread out before us, and sipped our wonderful wine.
Risotto Making Lesson
All the ingredients were prepped, and while I've made risotto many times, Cynthia was very excited to learn from a pro.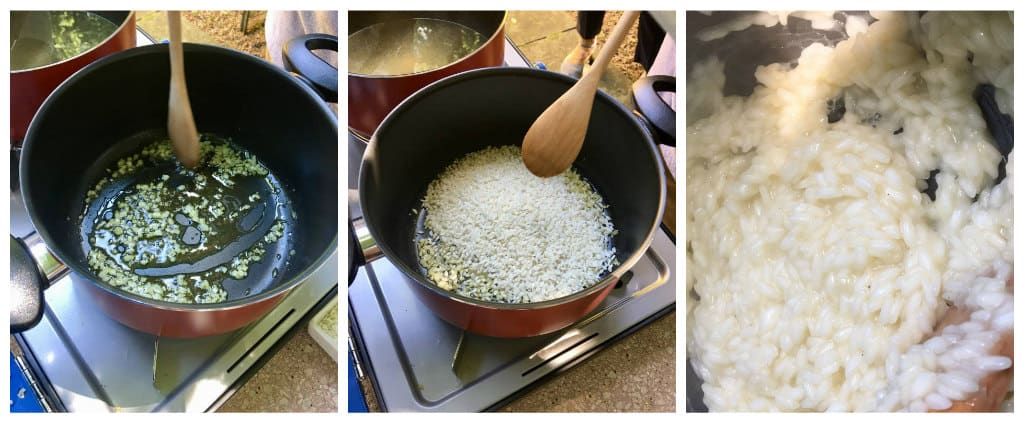 We all took turns stirring and cooking the risotto and sausage, Luganighetta, which is local to the area and apparently, not too easy to source.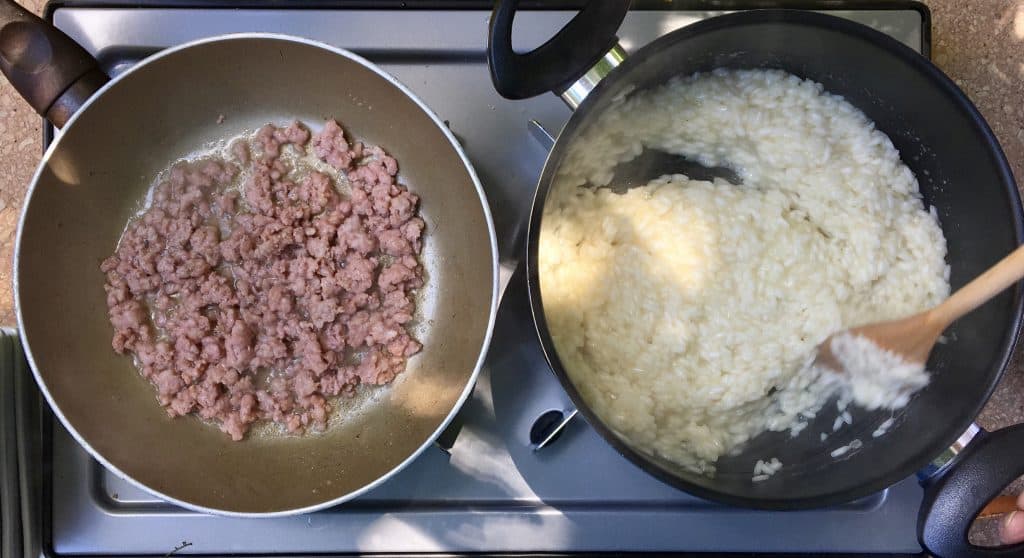 For an actual risotto recipe, you can refer to my risotto Milanese recipe, which is exactly the same as the one we made, but with saffron. Risotto is ready in under 20 minutes, so if you think it's a lengthy process, you'd be mistaken. Nicola served the rice two ways: with the sausage, and with finely chopped rosemary.
Lunch at Grotto Descanso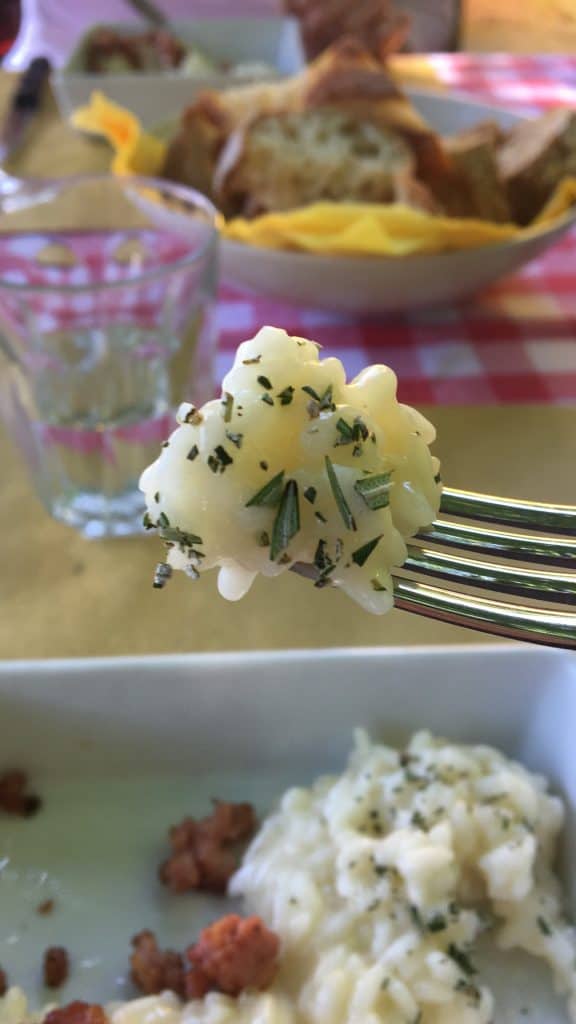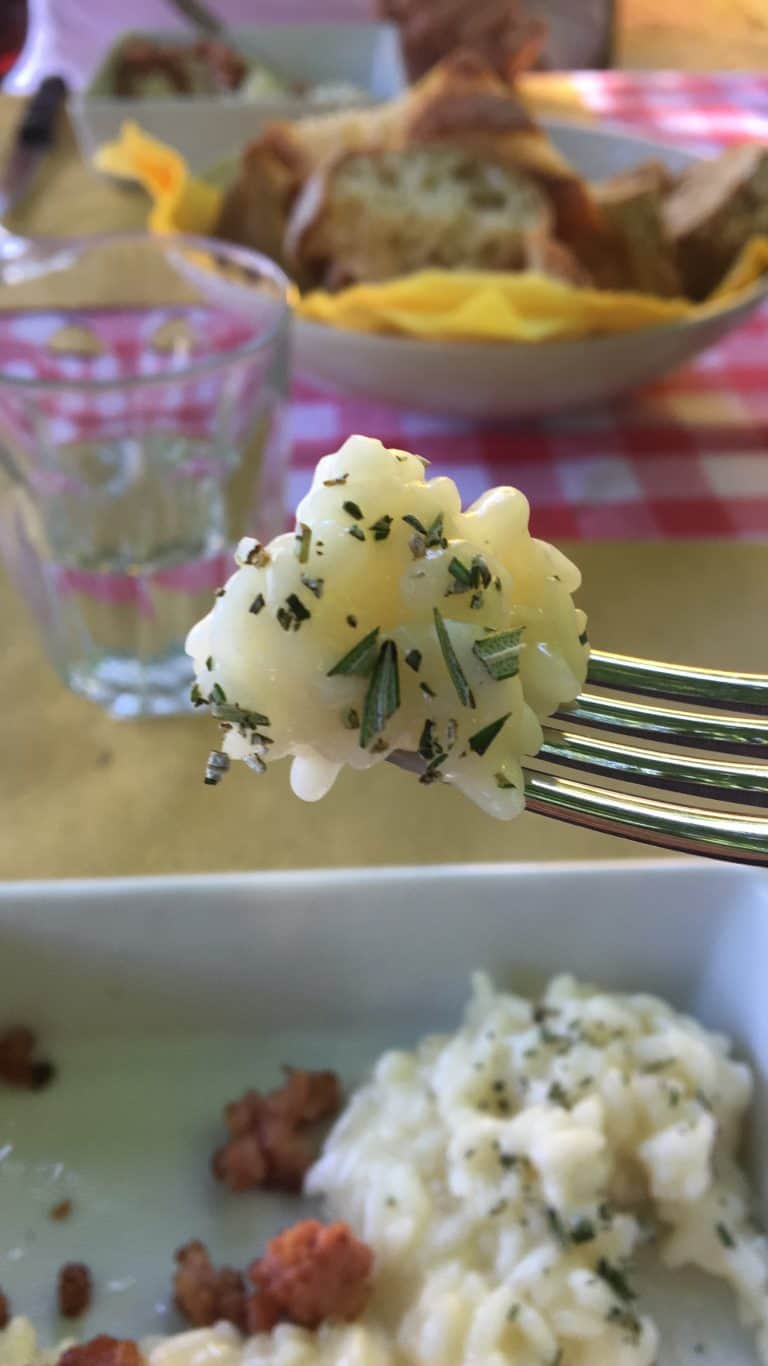 Both preparations tasted sublime, and I can tell you the setting and the company just added to the experience.
Cynthia and I were surprised when we finished our risotto as a plate of polenta and beef (polenta nel paiolo e carne stracotto). It was simply superb. Food tastes so much better when the quality is top notch.
Next, came a board of crostate which were hard to resist, even for Cynthia who doesn't have a sweet tooth.
After some chatting, the time to leave came all too soon, but Cynthia and I had plans to go to Monte Bré. Later, we both agreed that this Cruise and Cook experience was one of our most memorable and enjoyable culinary experiences we've ever had, together and separately. Luxury can be different things to different people, and to me, this was definitely something I'd describe as luxurious.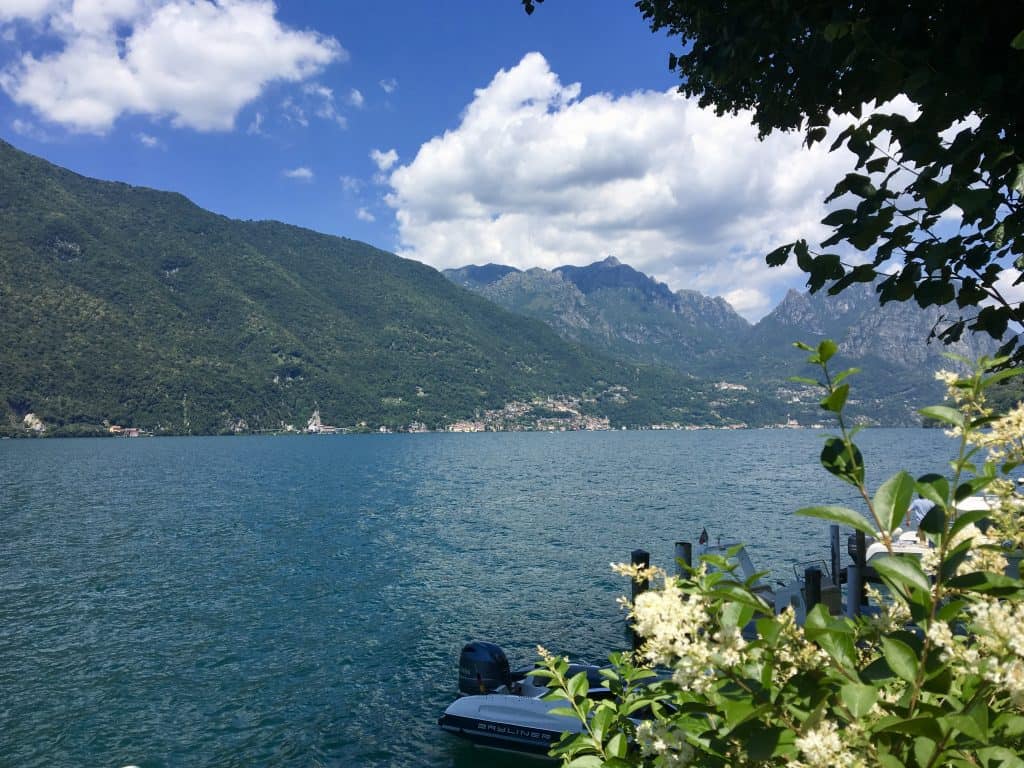 Leaving Grotto Descanso
We all headed back down to the dock to board the boat once more.
Soon we were wistfully saying goodbye to Grotto Descanso, and hoping that we would be back very soon!
Incidentally, I had driven along this part of the lake two years ago with my mother, on the way to Lake Como. We actually stayed in a village at the north end of Lake Lugano called Porlezza.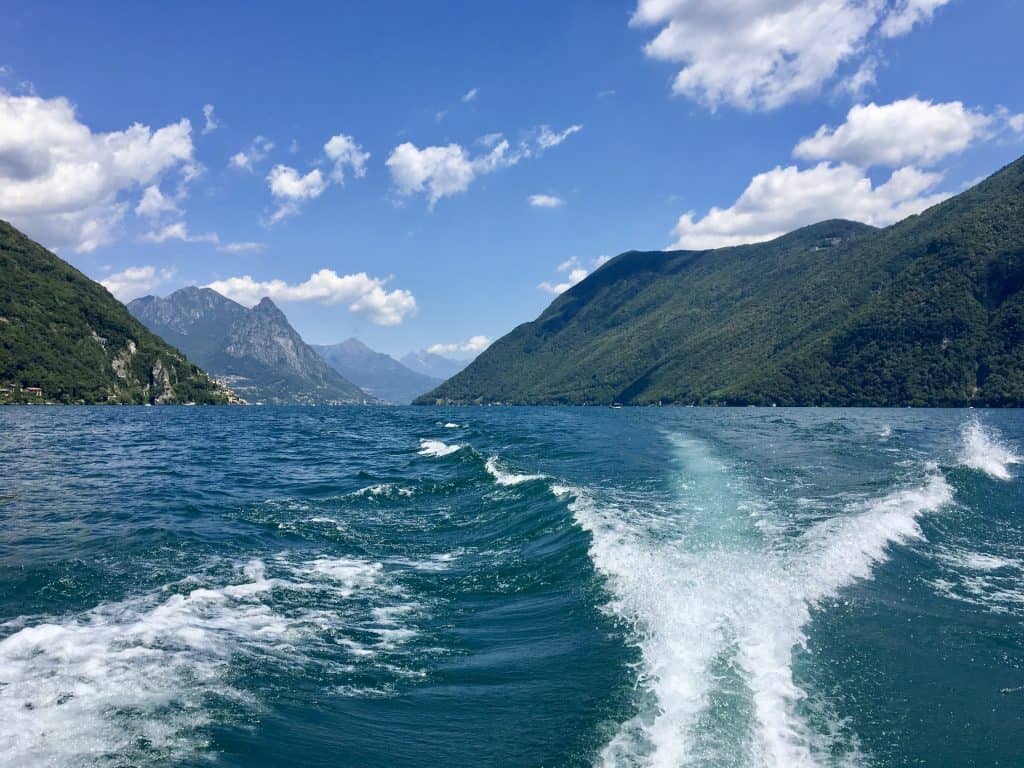 In just a few minutes, Nicola was docking the boat to let us off in Lugano so we could walk to the funicular of Monte Bré. We thanked him profusely for the magical afternoon and walked ashore.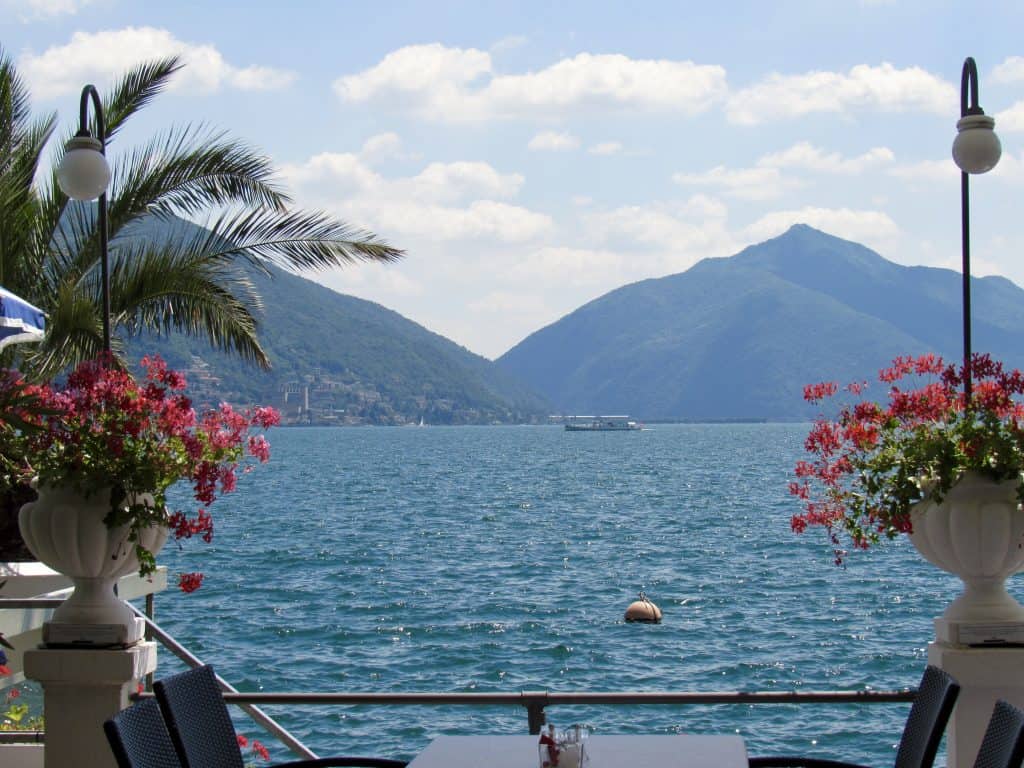 We also said our goodbyes to Patricia, who had been a wonderful tour guide that day.
I can't even tell you how many more photos I have of Lugano and the surrounding regions that we visited. It is such a gorgeous area that I hope I've enticed you to at least want to visit for a few days sometime in the near future. It's wonderful in the evenings, too.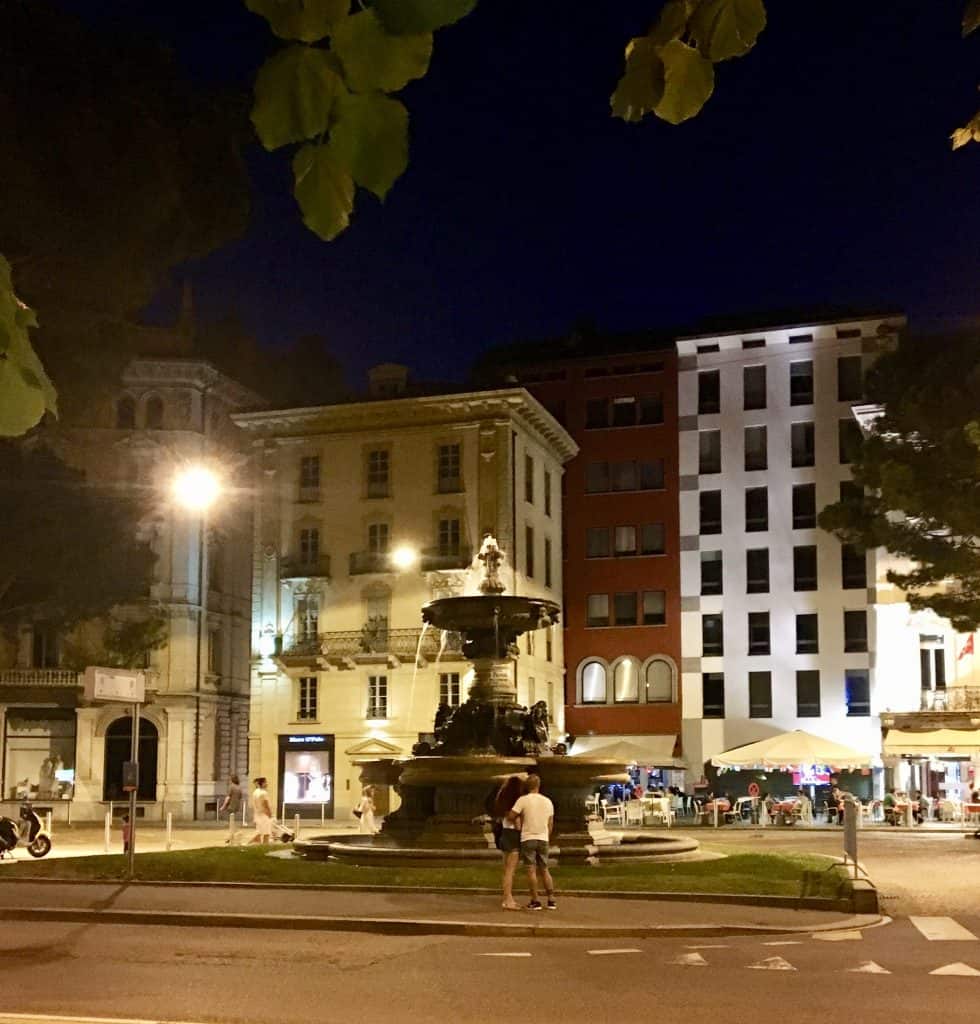 Here are some fun and useful links ~
Cynthia's post on our Cruise and Cook adventure.
If you'd like to see my Instagram story from our Cruise and Cook, just click here.
You'll see more of the risotto making in the videos.
More information about CRUISE and COOK.
Thank you to TICINO TURISMO and Nicola from GROTTO DESCANSO for hosting us!
You'll find lots of information on the sites.
Do you have any questions about our experience? Have you been to Lugano? Let me know in the comments below; I love to hear from you!
Christina's Cucina is a participant in the Amazon Services LLC Associate Program, an affiliate advertising program designed to provide a means for sites to earn advertising fees by advertising and linking to Amazon.com.