This is a basic risotto recipe, but for those of you who feel intimidated by the word RISOTTO, and think it is something only to be ordered at a restaurant…please give this a try. Just take it one step at a time, which is easy to do when you follow the pictures.
Once you make this, you will see that it's not at all difficult and will be able to venture into other ingredients and flavors:  sun dried tomato, vegetarian, etc.  Give it a try and let me know how it turned out at the comment section below…
NOTE: If you live in Los Angeles, try the fresh Italian Sausages at Claro's Italian Markets. They are the closest thing to the way my Italian family makes their own sausages. It will make a HUGE difference in the outcome of your dish. Start with the best ingredients and finish with the best flavor!
Italian Sausage and Mushroom Risotto
Serves approximately 4
Ingredients:
one large onion, diced
4 tablespoons extra virgin olive oil
1 cup (8 oz) Arborio or Carnaroli rice
1/2 cup (4 oz) white wine
3 cups (24 oz ) hot water (approximate, may need less or more)
porcini bouillion (or chicken, beef or vegetable flavor)
about 3 Italian sausage links (about 12 ounces) removed from casings (omit for vegetarian)
fresh white or crimini mushrooms, sliced and lightly sauteed
about 1 teaspoon chopped fresh parsley
1/4 cup (1 ounce) grated parmesan cheese
1 tbsp (1/2 ounce of butter, a small pat)
Kosher/Sea salt and pepper
Add 3 tbsp. olive oil to large saute pan over medium high heat, then add onion. Cook until onion is translucent.
Push onion to one side of saute pan, and add sausages (make sure casings have been removed.
Stir the onions, then start breaking sausage (I like to use a flat, wooden spatula tool, like you see in the photos) into smaller pieces…
…until it looks like this: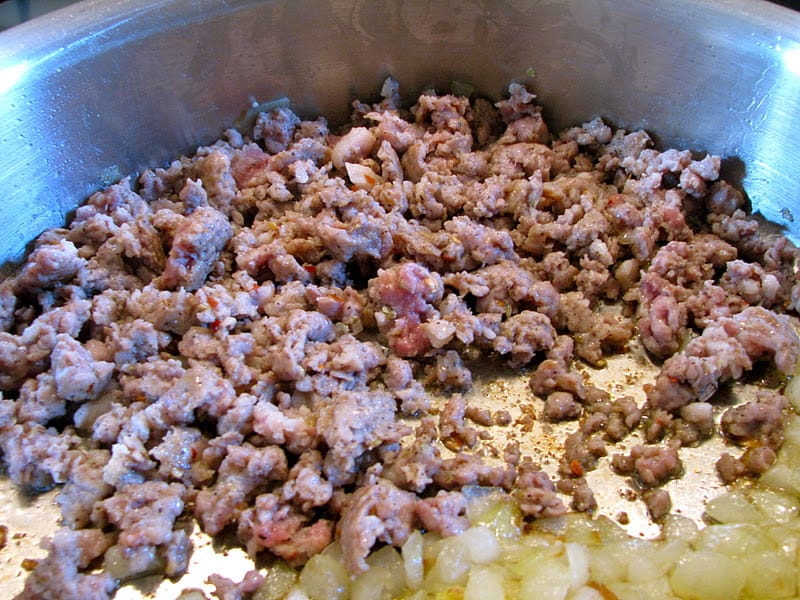 Once sausage is broken up, mix onions and sausage together until sausage is cooked and starts to brown. Remove from pan and set aside.
In same pan, add 1 tbsp. olive oil, (heat should still be medium high), then add rice. Stir constantly,  (add a little more oil if rice is too dry or sticks,) and cook for 1 minute.
Add wine and stir constantly until it evaporates.
Start adding about 1/2 cup of hot water at a time, stirring so the rice doesn't stick, until it is absorbed.
Melt the bouillon in some water and add continue adding to the rice, and stirring. The rice will continue to grow as you add the water.
Once all the water has been added, return the sausage, onion and sautéed mushrooms to the pan.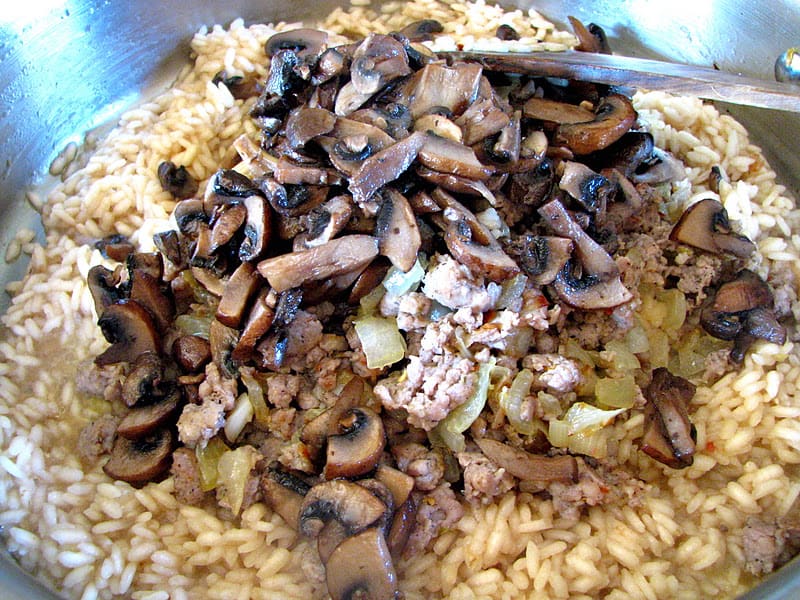 Stir thoroughly. Click here to see a short video clip of stirring the risotto.
At this point, if the rice should be ready. Remove from heat and add the grated Parmesan cheese, and pat of butter and stir well. Check for salt and pepper, and add as needed.
Serve; garnish with a sprig of parsley, if desired. Delizioso!!