Touring the Langhe region of Italy should be on your bucket list, and I have a hotel recommendation for you, at the Best Western Hotel Langhe Cherasco.
It's quite possible that you may not have heard of the Langhe region of Italy. This is one of the areas that until now, is still a bit "under the radar" of mass tourism.
Disclosure: I was hosted by the Best Western Hotel Langhe Cherasco which included breakfast and one dinner.
This past June, Lucia Hannau, who holds the Turin Epicurean Capital event every year, decided to add more to her plate (and ours) so to speak! You may recall that I was invited to attend in 2017, which was my first time in Turin (or Torino, in Italian). I've been back two more times since then; I'm hooked!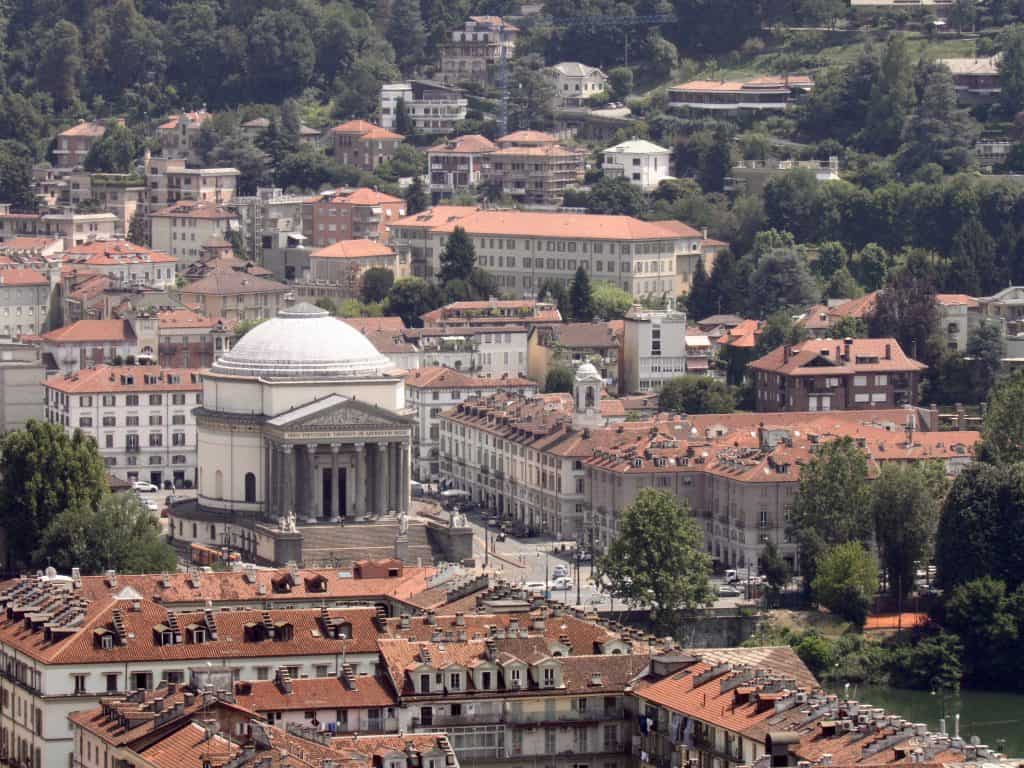 Lucia invited those of us who were attending this year's event to a pre-event tour of the Langhe region. Who would have thought that I'd be touring the Langhe region with a some friends and complete strangers and that it would end up being one of the best trips I've ever had? It was all arranged by Lucia, and Incoming Experience's Silvia and Alice.
In the photo below, front row, L to R: Jan from The Watchful Cook, and her partner in crime, Edoardo. My travel pal, Cynthia from What a Girl Eats, and the lovely Benedetta Oggero from Miss Bee. The two suspicious looking characters on either side of me in the back row are Daniele Taverna (on the left) and Antonio de Vecchi (on the right) who own and run the amazing and artisanal Gelato Village in Leicester, UK. 😎We all got along so well and had the most fabulous time together!
My friend Cynthia and I had met in Milan almost a week before and had been on an unplanned road trip in Northern Italy. Let me explain: we had planned to go on a road trip, but we were just "winging it" day by day, deciding at a moment's notice where to go, and where to stay. More to come on that later!
Allow me to give you a taste of what it's like touring the Langhe region, and where we stayed during our trip.
Touring the Langhe Region
Day 1 ~ (Slow Food & Banca del Vino) Pollenzo
We started our Langhe tour from Turin. Daniele and Antonio were kind enough to volunteer to rent and drive a van, saving us lots of euros! Thanks to Antonio for being an awesome autista (driver)!
Only a 45 minute drive from the city of Turin lies Pollenzo, not far from the origin of the Slow Food movement, home of Slow Food University and the Banca Del Vino. What a place for all of us food lovers to visit! The Banca del Vino is exactly what you'd expect: a wine bank. We went into the cellars for a tour, which was an incredible experience.
Originally, the cellars were part of King Carlo Alberto of the Royal House of Savoy. Now they are a way to say the history of Italy's wine making past for the future. You might be able to see the jars on the wood next to each botte of wine in the photo above. This is a sample of the earth in which the grapes were grown to make the wine. And speaking of wine, we also did some tasting.
Banca del Vino was definitely one of the highlights of our Langhe tour and I would recommend visiting. There's also a shop where you can buy wines and more.
After leaving the wine bank, we walked around the village of Pollenzo and saw the remains of what was an amphitheater in the center of all the homes. The stones from the amphitheater were all used to build the surrounding structures. Next, we were off to Bra, the home of the Slow Food movement.
Bra
If you've never heard of Slow Food or are unsure of what it is, it quite simply is the opposite of "fast food". Convenience, chemicals and massive marketing are not aspects of slow food. The founder, Carlo Petrini, a native of nearby Cuneo, took part in an anti-McDonalds's campaign when they wanted to open a location near the Spanish Steps in Rome (a man after my own heart)!
If you're interested in finding out more about Carlo and the now International Slow Food Movement or to become a member, I'll have the link at the bottom. It's marvelous and much needed at this time in our lives. I'm doing my part by trying to convince all of you to leave all the overly processed convenience foods on the shelves of the supermarkets. Don't pull into that McDonald's drive-through, try to buy better quality ingredients, and more whole foods. Once you start living this way, you'll see it's not that difficult.
Sorry, I'm off on a tangent again, but it's so important!
Our little group was so happy to visit the original place where Carlo Petrini conceived of this genius plan. We had a lovely lunch of cured meats and cheese and then we were led by Silvia and Alice up to the other side of Bra (it's sort of divided into two parts).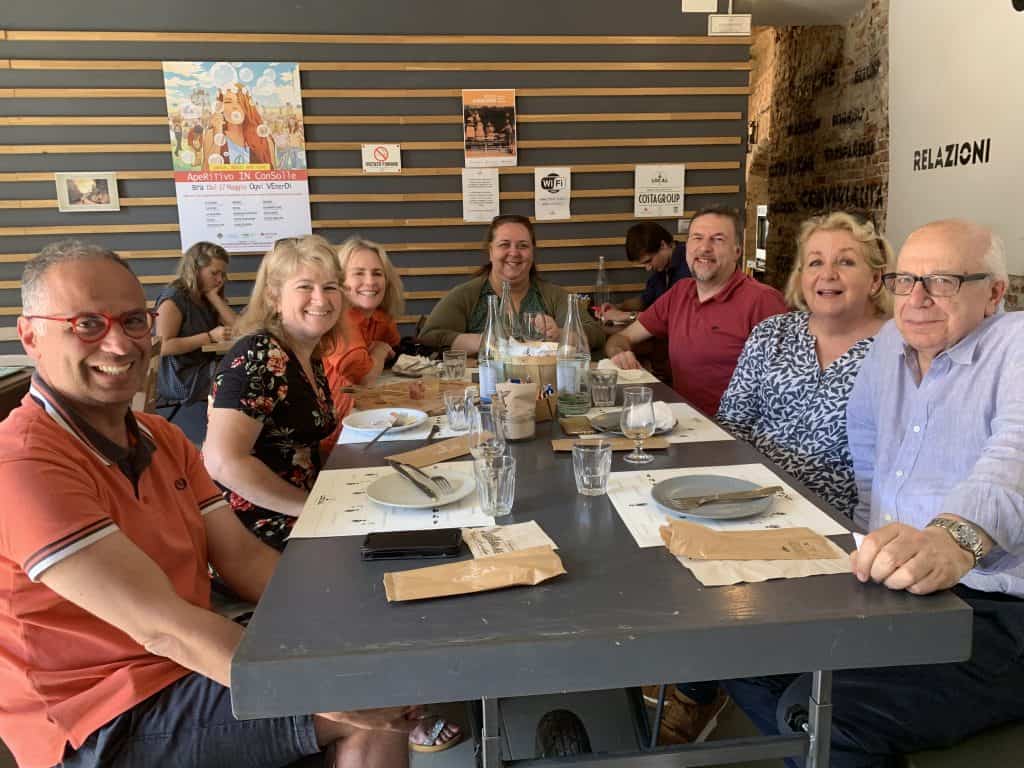 The time that we were touring the Langhe region was during one of Europe's most stifling heat waves this year in June.
We visited one of the most beautiful churches I've ever seen, and were given a quick history of it by a docent there. This Santa Chiara church in Bra.
After stopping for a rest, afternoon coffee (some of us had a spritz, not naming names), we were reading to hop into the van for a drive to nearby Grinzane Cavour.
Grinzane Cavour
A hilltop comune in the Piedmont region, Grinzane Cavour's main attraction is its large medieval castle and I would add, its views. You can watch my Instagram story to see some video clips of this village. In fact, I have a little bit of our entire trip on the clip. Watch it HERE.
And as I said, the views of the hazelnut groves and vineyards on the rolling hills are simply magical.
There were so many other hilltop towns that we could see from this vantage point.
It's definitely a place I would devote much more than three days for the next time I visit, but this was a great way to get a 'taste' of the area. By this time, it was late afternoon, so we headed to our hotel so we could get ready for dinner at the Best Western Hotel Langhe Cherasco.
If you live in the US, you probably have a "mindset" of what to expect from the Best Western brand, but I have to tell you, it is completely different in Europe! The Best Western I stayed at in Turin used to be a palace! So forget your past conceptions about Best Western, because this hotel in the Langhe region has a restaurant that absolutely stunned all of us (in a good way).
Best Western Hotel Langhe Cherasco
This isn't my typical hotel, it's not historic, rustic or charming, but it is perfectly located for touring the Langhe region. It's right off the autostrada, very clean, inexpensive and best of all, the restaurant is "meraviglioso" (marvelous)! Here is my room, which was very comfortable.
A good sized, bright bathroom with everything I needed (shampoo, conditioner, etc.)
After arriving and checking in, we all had a wee rest in our air conditioned rooms (it was SO hot outside), freshened up, and met downstairs for dinner. I must say, I was a bit disappointed that we weren't going to a restaurant outside of the hotel, because in all honesty, I still had those lingering thoughts about the American "Best Western" brand! I feel terrible that I even had those thoughts now.
Dinner at La Porte delle Langhe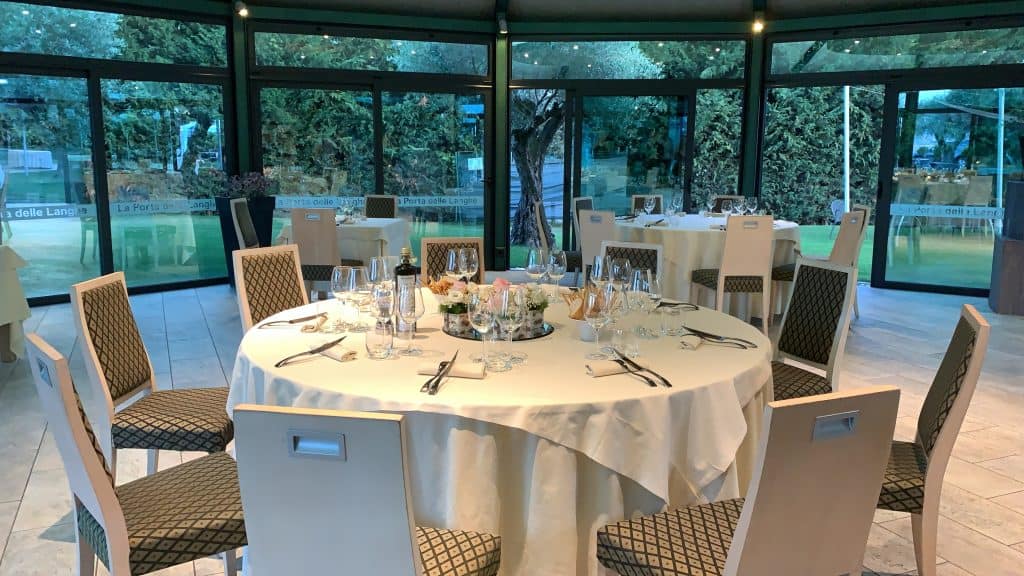 We didn't eat in the actual restaurant as the Best Western Hotel Langhe Cherasco staff had prepared a beautiful table for us. It was set in one of their special event rooms which felt like being outside (except there were no mosquitos)!
We were spoiled with a gorgeous array of fresh, local cheese from the Piedmont region. I cannot even begin to tell you how wonderful these were. I would have been happy to just have this with some wine and bread! However, we were also introduced to the famous Bra sausage, or "Salsiccia di Bra", which Daniele had been raving about to us. It's a beef and pork fat sausage made in Bra which is eaten raw.
Cynthia and I both really liked it! Because we were in "Slow Food Country" we didn't have any qualms about eating raw meat. Once we finished our aperitivo, we all sat down for our dinner . Our first course was Fassone beef tartare with Castelmagno cheese which was wonderful. This cheese dates back to the 13th century!
Then came 40 yolk tagliolini with Salsiccia di Bra (cooked this time) which was so good I could easily have eaten another serving–but, the third course was a perfectly cooked guianciale (pork cheek) with roast potatoes! EEK, it was fabulous and I couldn't resist finishing everything on my plate.
Last course was Bünet, a traditional Piedmont dessert made with chocolate, coffee, and Amaretti biscuits. I would actually love to make this at home and share the recipe! Here are the photos of the four courses.
After dinner, we were served a lovely spiced Barolo chianto with dark chocolate. I asked someone to take the chocolate away from me. It was such good quality chocolate!
It was time for bed as we had another full day ahead of us touring the Langhe region.
Day 2 ~ (Truffle Hunting &Wine Tasting) Roddi
I could do an entire post on the truffle hunting demo we had at Cadia Winery, as well as the lovely lunch, and wine tasting that we did! Not only did we get a demo, but we actually were able to find and help dig up truffles, thanks to an overzealous truffle dog!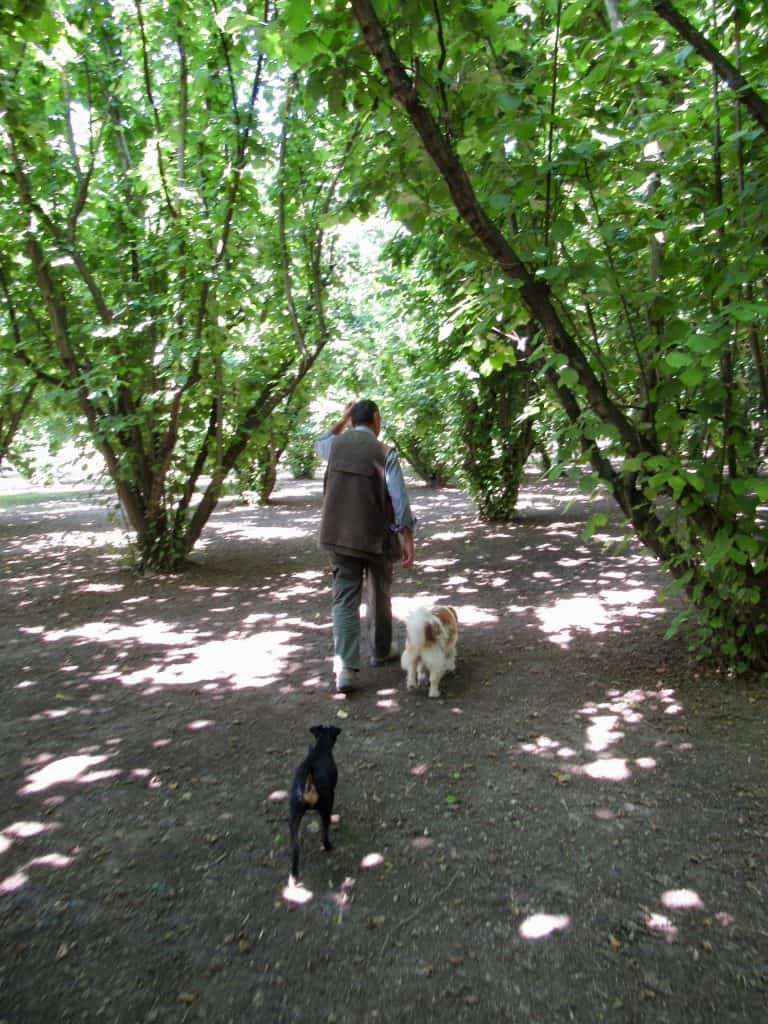 Not only did we get a demo, but we actually were able to find and help dig up truffles, thanks to an overzealous truffle dog! It was so exciting and so much fun!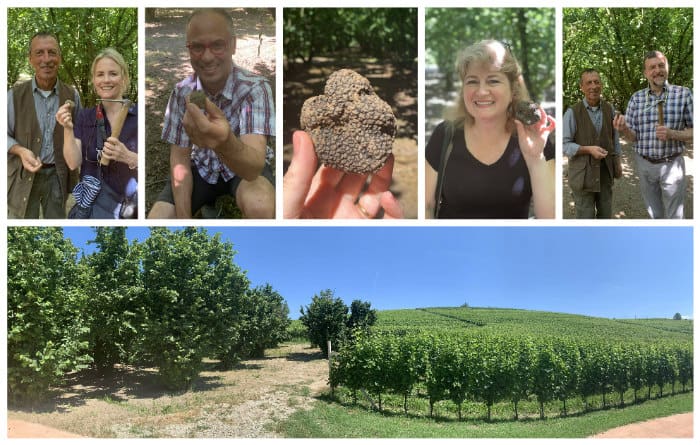 It was getting really hot and was close to midday, so we went inside for some wine tasting and nibbles. I would absolutely recommend Cadia Winery as it's a 15 acre family run vineyard and business, and the family was just lovely. In fact, Noe (the daughter) who was our guide, explained to us that the land had belonged to her great grandfather and it became a certified winery in 1996. They currently produce about 80,000 bottles a year.
Our lunch was wonderful and I must say, the hazelnut themed desserts were sublime! The hazelnuts from this region are simply the best in the world. (Look for Piedmont IGP hazelnuts.)
We bid goodbye to our lovely hosts and set off for Barolo, the next stop on touring the Langhe region.
Barolo
Our first stop in Barolo was the wine museum. Honest review: probably something I'd skip in future as it's a quirky sort of place, not what I was expecting at all. Parts of the museum are worthwhile, but I will say, they have really good air conditioning, so if you need a reprieve from the heat, you still may want to visit. However, I'd be happy exploring the comune of Barolo instead of spending my time at the museum.
Next stop was the Marchesi di Barolo Winery. Each of these barrels contains 24,666 bottles of wine! Isn't that hard to imagine?
This was another great guided tour through the winery cellars, ending with another wine tasting. Alessandro was our guide and he explained to us that every 10 years, a little Sardinian man arrives to clean the insides of the huge barrels. Here's the most incredible part: he must crawl through the little opening in the front of each barrel in order to do so (the third photo below shows how small this opening is). He can only be inside the barrel for a brief time so he really has to know what he's doing.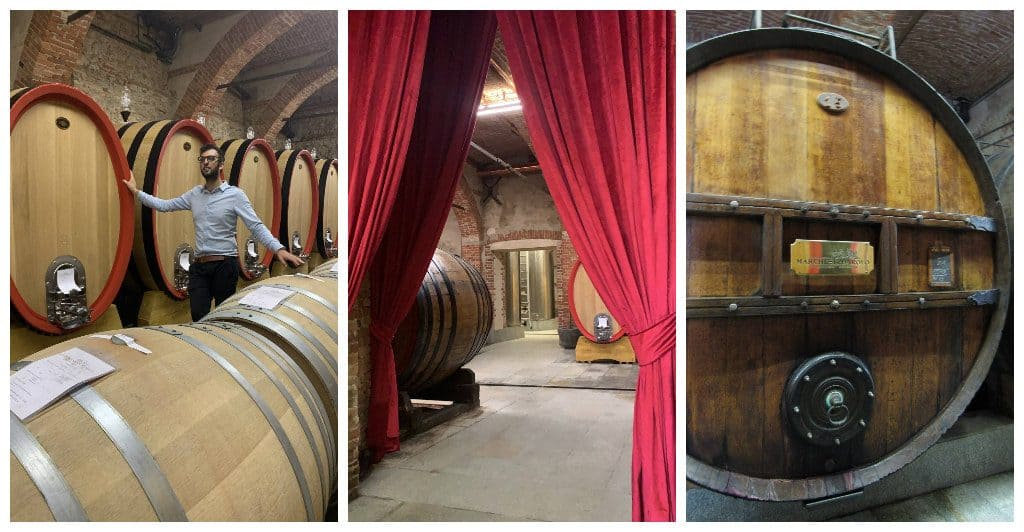 There was a lot of history associated with this winery, so it was a very interesting tour. Once we finished with the tasting of some wonderful Barolo wines of varying ages and blends, we went back to our home base of the Best Western Hotel.
Unfortunately, our final dinner wasn't praiseworthy, so I'm not sharing it with you. None of us were happy with our meal so it definitely wasn't just my opinion. It had a great view, but all of us agreed, we would much rather have had another meal at the Best Western Hotel Langhe Cherasco.
Day 3 ~ (Tour and Wine Tasting) Alba
On our final day, we visited the Fontanafredda Estate. I highly recommend allocating a few hours to spend here. It's like a small village, with top restaurants and even a hotel. It is owned by Oscar Farinetti, the founder of Eataly, so if you've been to an Eataly, you'll recognize the similarities in some of the areas.
We had a tour of the winery, and hunting lodge which King Vittorio Emmanuele bought for his mistress.
Here is one of the ornately decorated bedrooms.
There were also gardens which we wanted to tour, but didn't have time, however, we did eat lunch in the cafeteria. We were all happy with our choices, but we'd all be happy to be able to return and eat at either (or both) Disguido Osteria del Vino Libero or the more upscale, Ristorante Guido.
The winery tour was excellent and at the end we had a wine tasting in the cellar and I'd highly recommend this informative excursion.
After leaving the Fontanafredda Estate, we headed for Alba, the last town on our Langhe Tour.
Alba
As you can see, Alba wasn't filled with throngs of tourists.
A pretty little town, famous for truffles, would be a lovely place to visit on a trip to Piedmont. During October, The International Alba White Truffle Fair is held, so it would definitely be busier during this event.
Defintitely a place I'd like to come back to, and maybe even during the truffle festival!
Back to Turin
Antonio drove us safely back to Turin where we would prepare for the annual Turin Epicurean Capital Event the next day. I cannot express to you how much we enjoyed this three day jaunt touring the Langhe region of Italy. If you click on Jan's link above (The Watchful Cook) she explains her perspective of our tour experience.
Here are links to the places we visited, if you'd like to get more information, or visit yourself. And don't miss my video clips that I took during our trip HERE.
I hope you enjoyed this post, and hope it gave you a little taste of the area. Although, I don't feel I've done justice to the area as there's simply so much more that we saw and experienced than I could ever write and share in one post. Please send me any questions you may have or leave a comment below, I'd love to hear from you!