Oven baked fish with tomatoes is the way my Nonna Chiarina used to make fish. This is a typical Italian style recipe and is so easy to customize to your own liking.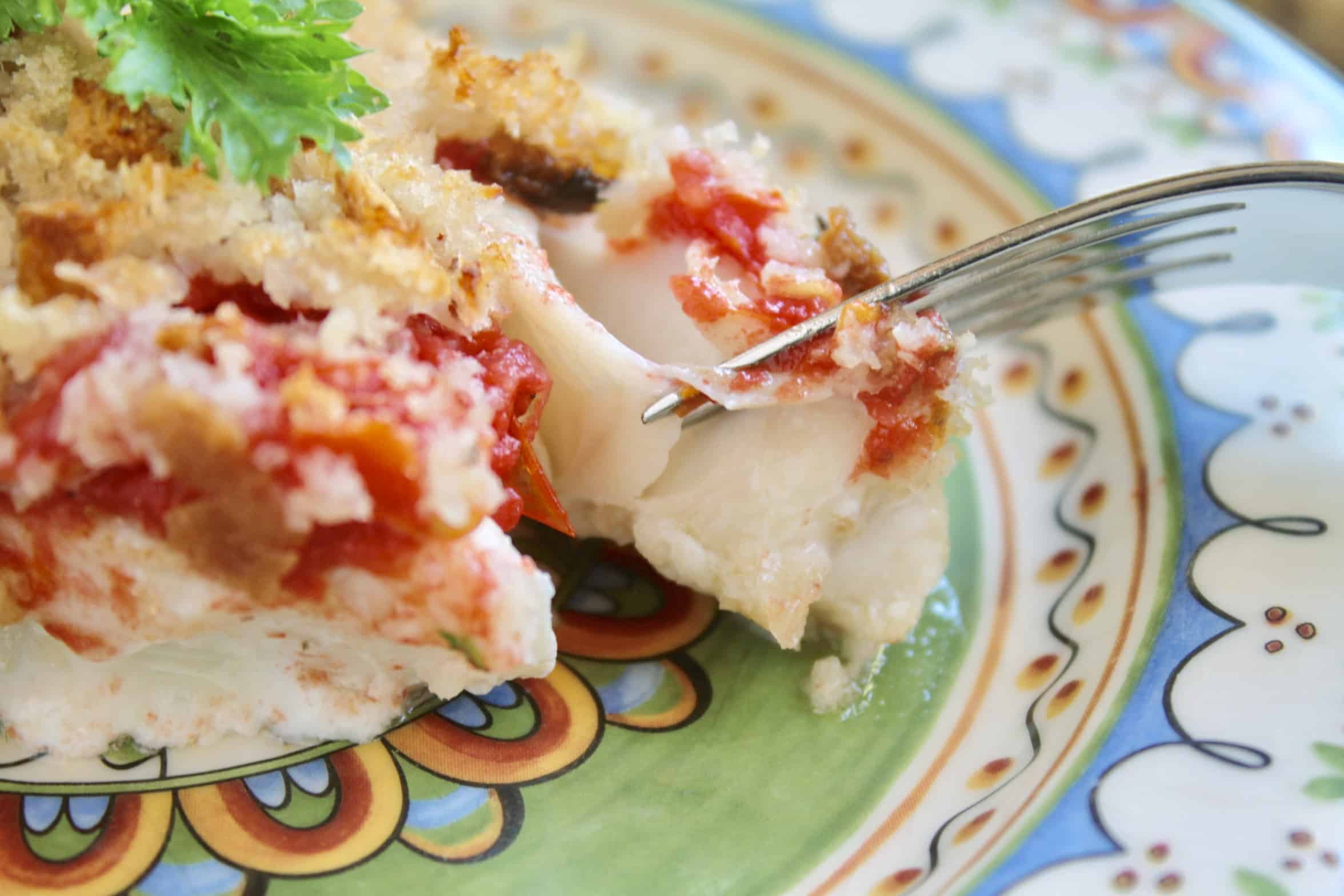 Eating more fish seems to be a goal for many of us.
As an Amazon Associate I earn from qualifying purchases.
As much as I adore fish and chips it's just not something I can have ready in 15 minutes if I'm in a hurry and just need a quick and healthy meal.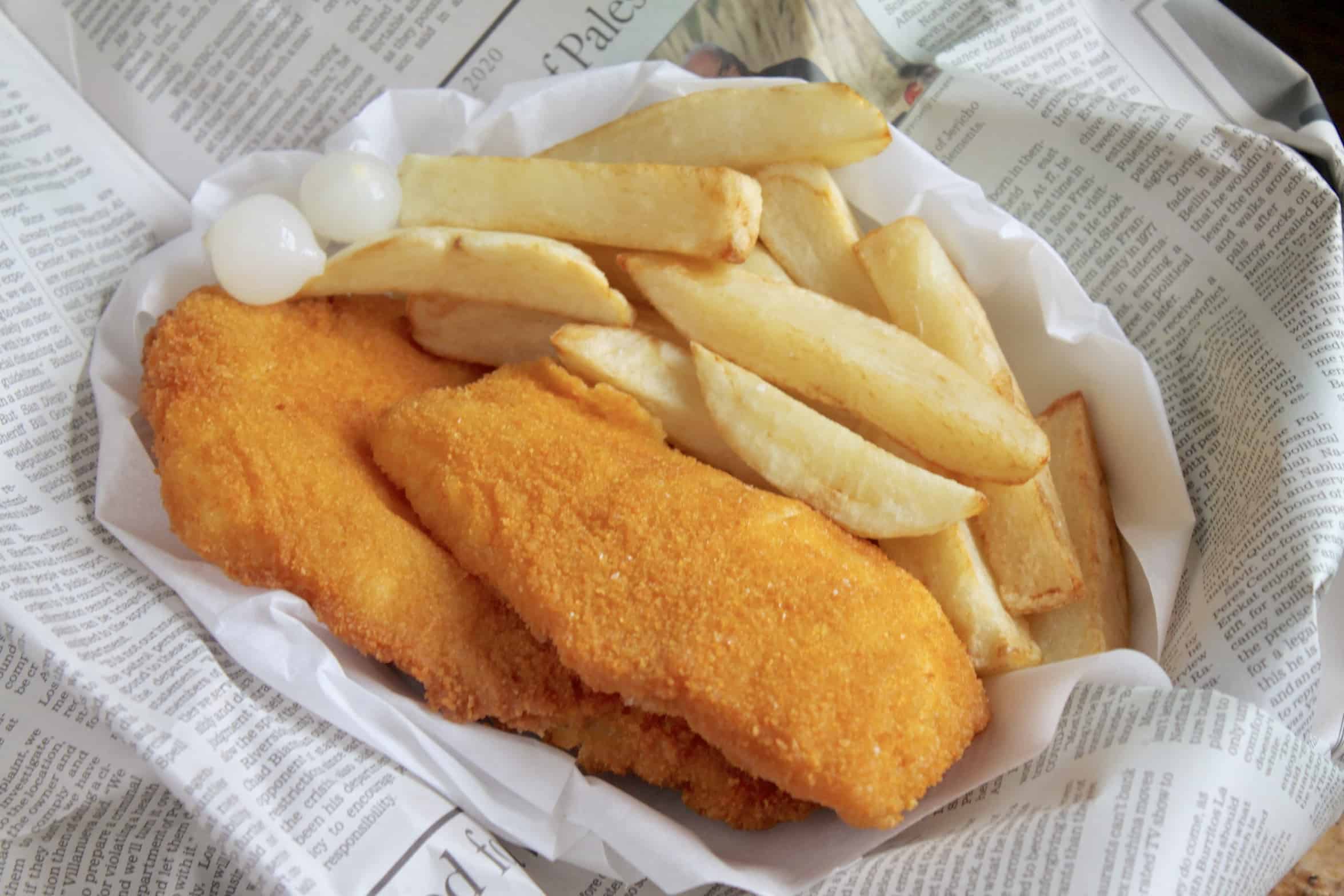 My nonna's recipe is perfect for those times. Even if there's nothing in the fridge for dinner, I can defrost some frozen fish and make this oven baked fish without anything else but pantry staples. Flaky white fish is topped with tomatoes and crispy breadcrumbs which are doused in vinegar and drizzled with olive oil; it's absolutely delicious!
I had my last fresh tomatoes from my plants which I blitzed in a food processor to top this haddock, but you can use canned pomodorini, (or fresh) or any good quality tomatoes in a can. I put more than I normally do because I wanted to use the tomatoes, but you can see my mother's version here.
It might remind of of the baked zucchini recipe I posted last summer which is made in a very similar manner.
How Long Does Fish Need in the Oven?
Fish doesn't need too long in the oven, so about 15 to 20 minutes in a hot oven should be perfect. Of course, times will vary depending on what type of fish you have and how thick the pieces are. Adjust accordingly so that if you have thin filets, take them out sooner than thick ones.
What is the Best Fish for Baking?
The best fish for baking is a nice flaky fish like haddock (my favorite) or cod, for example. However, you can use plaice, rockfish, snapper or even halibut or swordfish for this recipe. For the best seafood, it needs to be fresh or a good quality frozen brand.
Can I Make this Fish Recipe Gluten Free?
Absolutely, it's easy to make this gluten free, just omit the breadcrumbs, that's it. Alternatively, if you can make this with gluten free breadcrumbs, too.
Note: if you like, you can omit the tomatoes and this will give you a crunchy baked fish dish, that is still tasty.
Oven Baked Fish (Italian Style with Tomatoes)
Recipe from my Nonna Chiarina serves 2
FULL PRINTABLE RECIPE BELOW
Preheat oven to 400˚F (200˚C)
In an 8×8 baking dish, drizzle some extra virgin olive oil then sprinkle some breadcrumbs (if making gluten free, just use the extra virgin olive oil).
Prepare the tomatoes, oregano, Kosher or sea salt and extra virgin olive oil in a bowl.
Place pieces of fish in the pan and season with salt and pepper, then top with the tomato mixture. You can dot with the tomatoes, or put more (as in the picture below), to your liking.
Next, top with breadcrumbs. Again, add as much or as little as you like.
Splash with some strong red wine vinegar.
Lastly, drizzle with some good quality extra virgin olive oil.
Pop into the preheated oven for 15 to 20 minutes or until the fish is cooked and the breadcrumbs are crisp and golden brown. Serve immediately.
I think this is a dish that you'll be enjoying on a regular rotation after tasting it just once.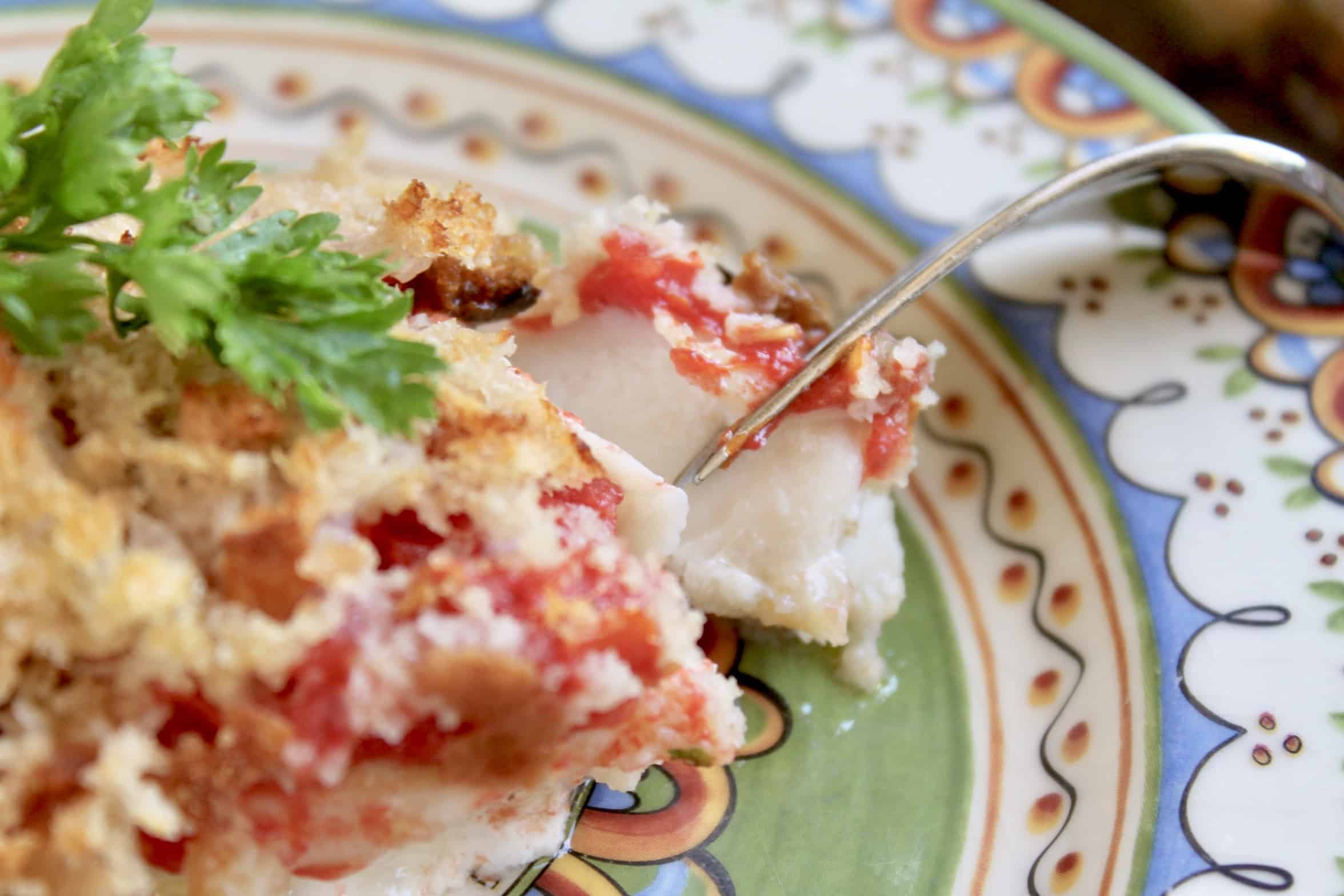 Sign up for my free email subscription below and don't miss another recipe.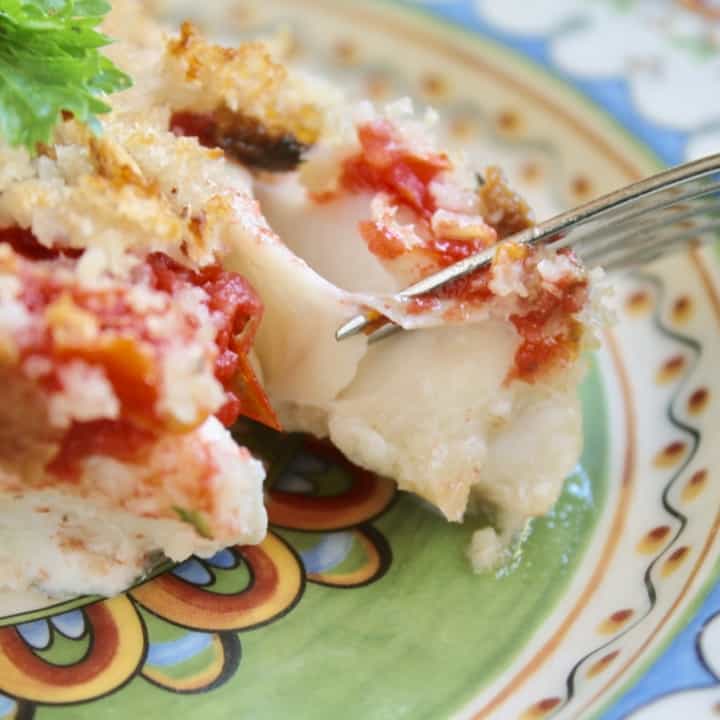 Oven Baked Fish (Italian Style with Tomatoes)
A super quick and delicious Italian style, oven baked fish recipe.
Ingredients
1 Tbsp extra virgin olive oil
¾ c (40 g) fresh breadcrumbs (or ⅓ c of dry breadcrumbs)
about 12 fresh cherry or grape tomatoes OR ½ c (115 g) canned tomatoes (pomodorini, plum or chopped)
1 lb (454 g) flaky fish, like haddock or cod
½ tsp salt or more, to taste (divided)
freshly ground black pepper (optional)
½ tsp oregano, dried
2 Tbsp extra virgin olive oil (divided)
2 tsp wine vinegar
Instructions
Preheat oven to 400˚F (200˚C)
Drizzle 1 tablespoon of oil into the pan, then sprinkle about 3 tablespoonfuls of fresh breadcrumbs (preferably a rustic loaf) over the oil.
Roughly chop the fresh tomatoes, if using. Put the tomatoes in a bowl and add the oregano, add some salt, a tablespoon of olive oil and mix together.
Place pieces of fish on the breadcrumbs in the pan, sprinkle with salt and black pepper, then top with the tomato mixture.
Sprinkle the remaining breadcrumbs on top of the tomatoes and fish. Splash with vinegar, then drizzle with a tablespoonful or more of extra virgin olive oil.
Bake in preheated oven for 15 to 20 minutes or until fish is cooked and breadcrumbs are golden brown. Serve immediately.
Notes
The thickness of the fish will determine a shorter or longer baking time.
Nutrition Information:
Yield:

2
Serving Size:

1
Amount Per Serving:
Calories:

390
Total Fat:

14g
Saturated Fat:

2g
Trans Fat:

0g
Unsaturated Fat:

13g
Cholesterol:

150mg
Sodium:

475mg
Carbohydrates:

19g
Fiber:

3g
Sugar:

4g
Protein:

49g
Nutrition information is only estimated.
Christina's Cucina is a participant in the Amazon Services LLC Associates Program, an affiliate advertising program designed to provide a means for sites to earn advertising fees by advertising and linking to Amazon.com.