Is Lugano worth visiting? The answer won't surprise you if you've already been to the Ticino area of Switzerland. In short, the answer is a resounding, "YES!"
If you've been following my travels from this past June, you'll know that my mother and I were in Rome for a Vatican Museum and Sistine Chapel tour with What a Life Tours. The following morning, we both went to Fiumicino airport: mum flew home, and I flew to Milan.
Disclosure: Cynthia and I were graciously hosted for our stay (accommodations and meals) by the Ticino Tourism Board and Switzerland Tourism (Swiss Travel Pass). All opinions are solely my own.
From the Milan airport, I took a train to the main train station in the city where I met my friend Cynthia from What a Girl Eats. To cut a long story short, we were both heading to Lugano, Switzerland for two nights. Lugano is in the Italian speaking part of Switzerland, in the gorgeous canton of Ticino. (We stayed in Como for one night, but will share that later.)
Hotel de La Paix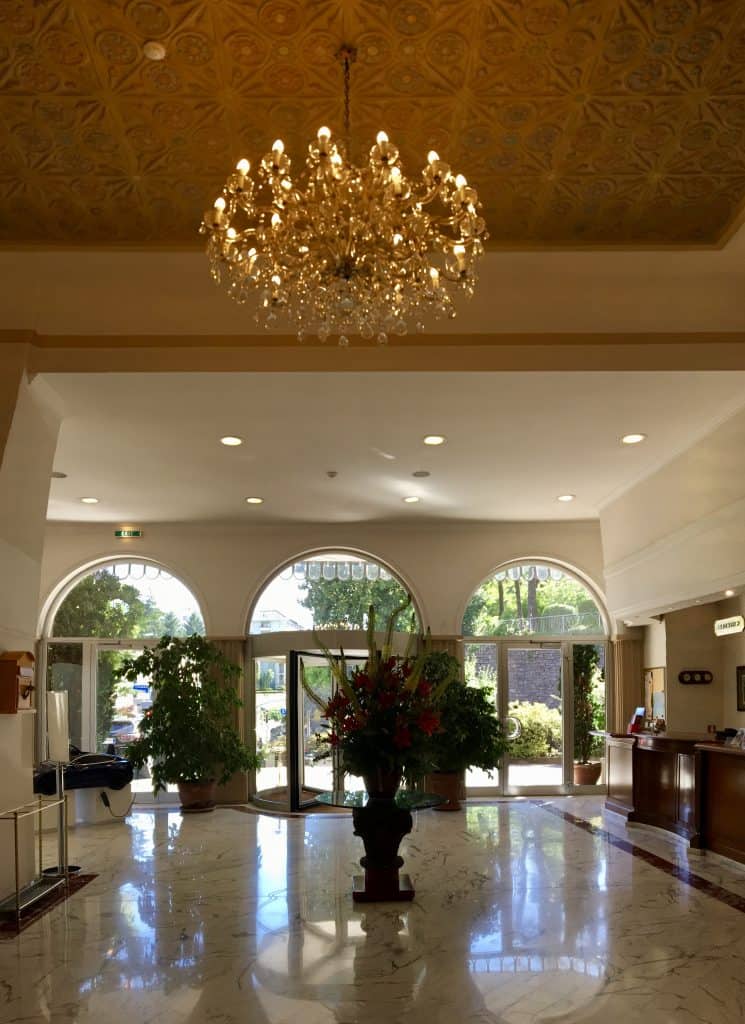 Our base for the weekend in Lugano was Hotel de la Paix, which was about a five minute bus ride from the train station. It was also a five minute walk to the lakefront. The rooms that Cynthia and I had were comfortable, and very clean.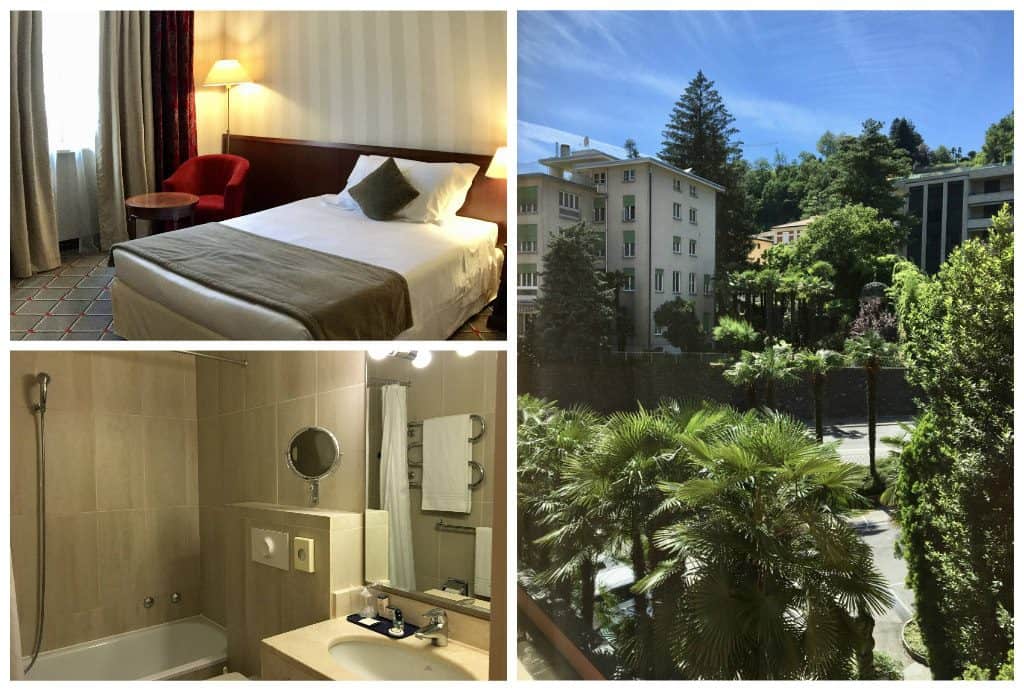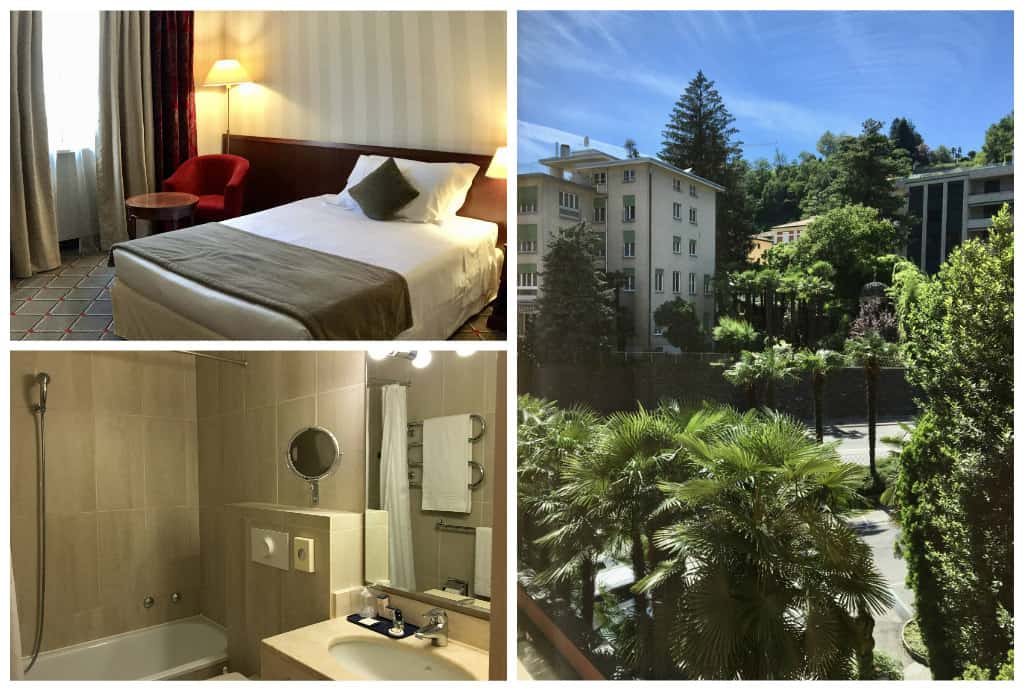 We were also able to see some larger rooms and suites, which had some lovely views of Lugano.

I love my Priority Pass membership!

We truly didn't spend much time at the hotel because as soon as we changed, we went for a walk along the lakefront. Which brings me to the first of my 9 reasons to answer:
Is Lugano Worth Visiting?
9 Reasons you Should Visit Lugano
1. Lugano's Lakefront and Old Town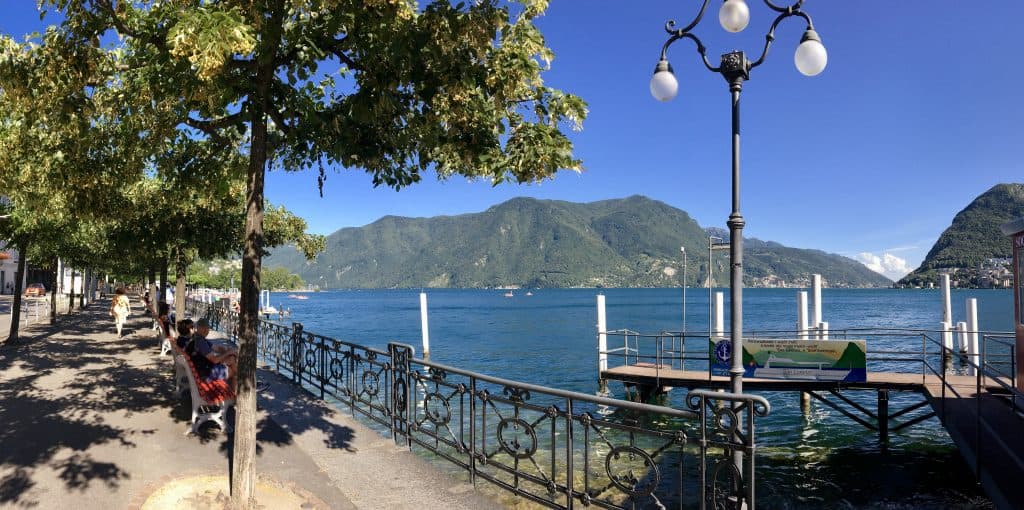 Our first experience in Lugano was walking along the waterfront into the Old Town. The views were spectacular.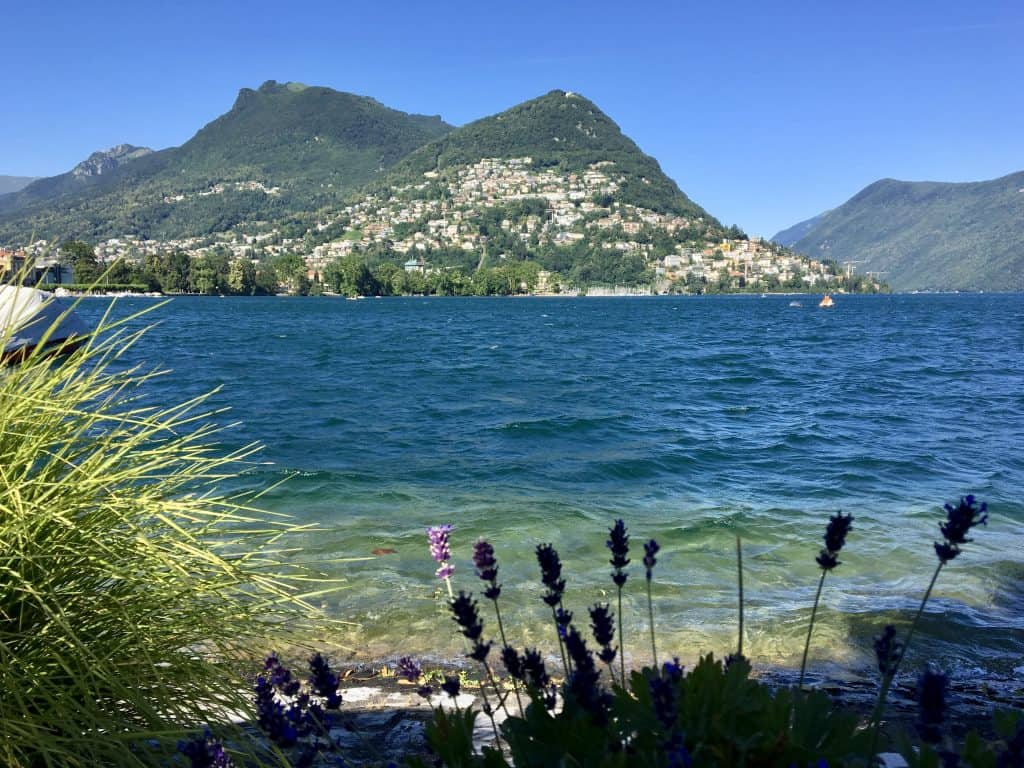 The Old Town of Lugano is a very intimate part of the city. There are lovely shops, restaurants and places to stay.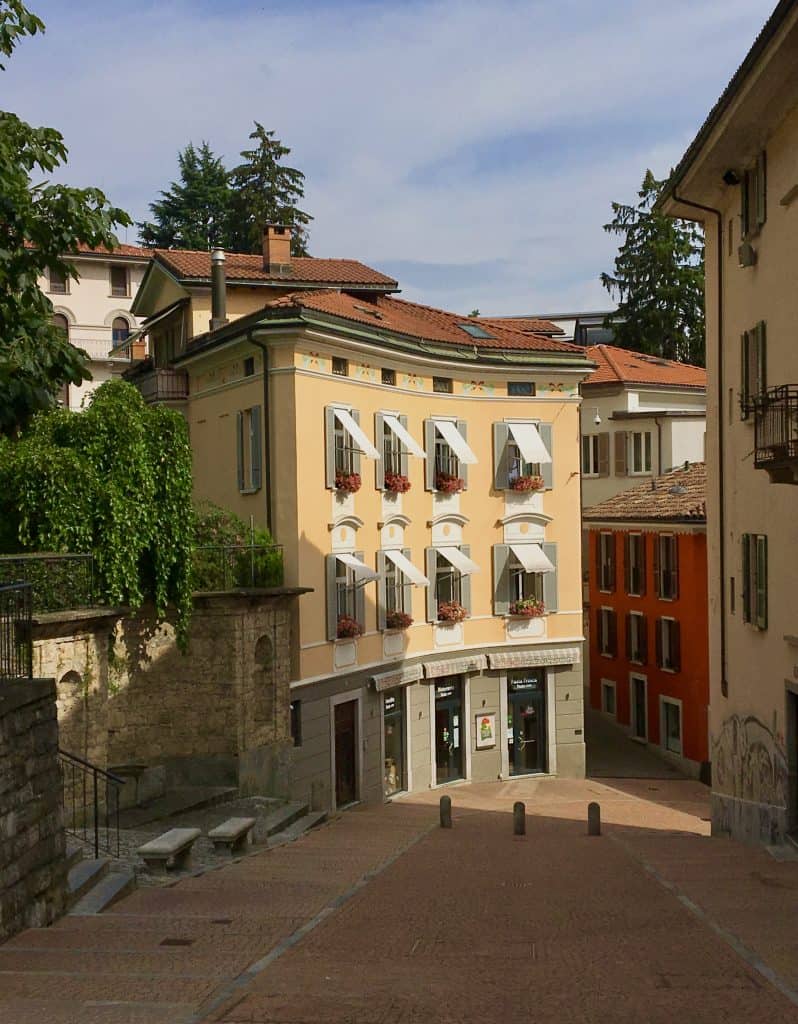 The cathedral, which is directly across from the train station, is absolutely gorgeous, inside and out!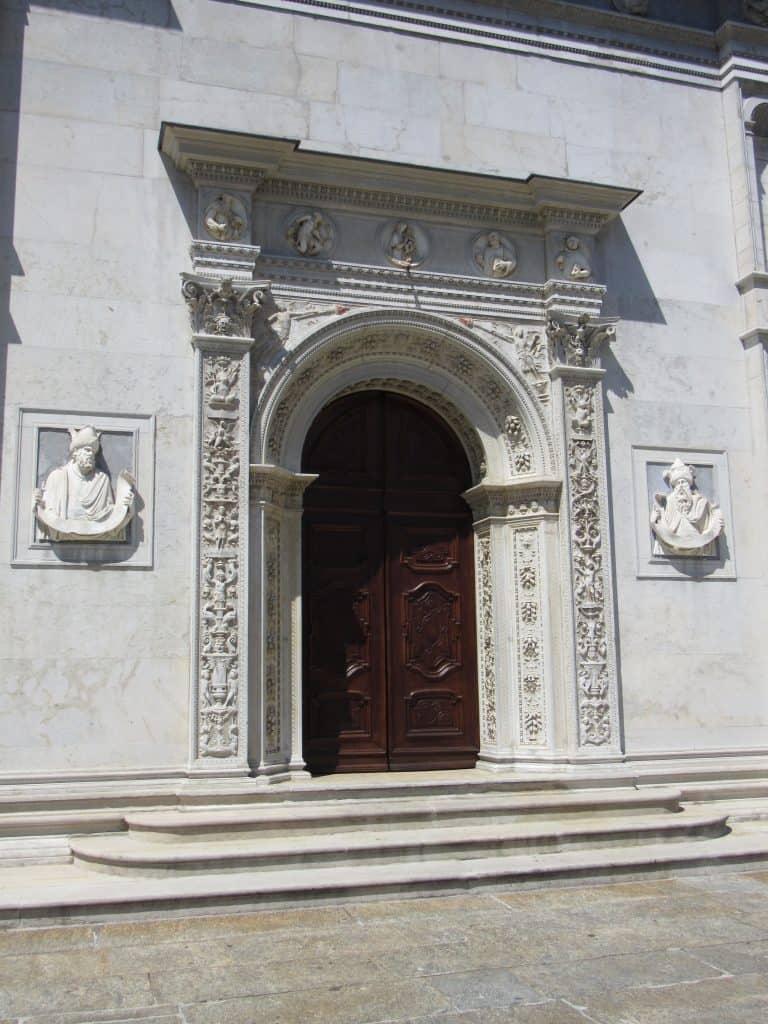 2. Grand Cafe al Porto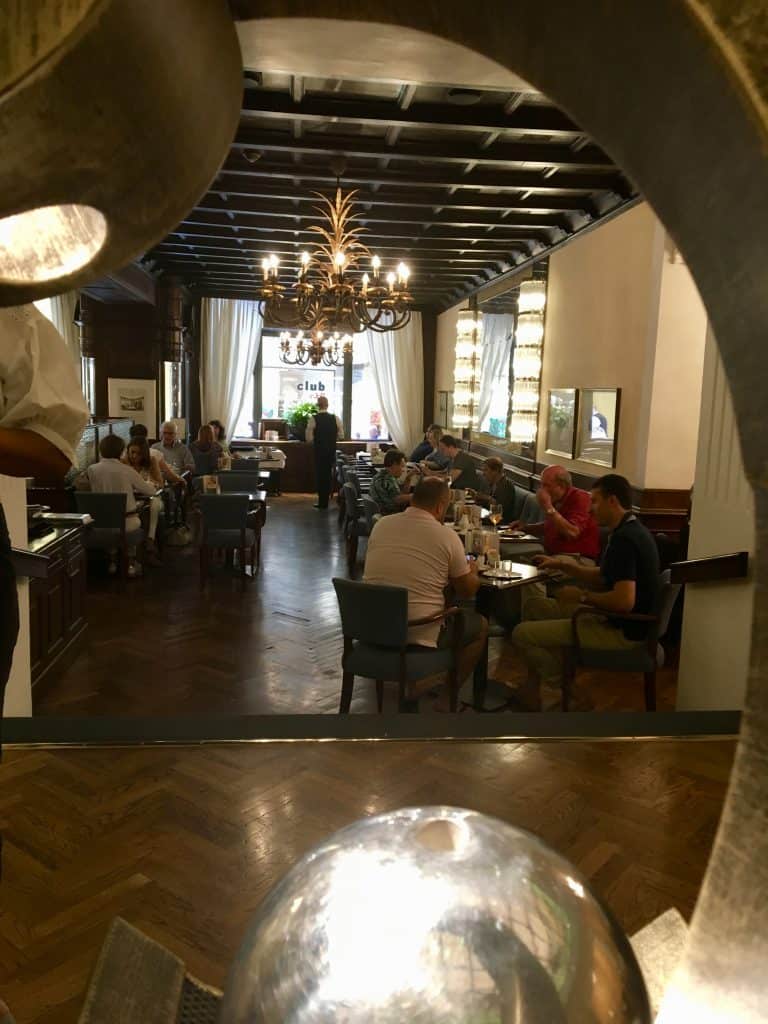 We had a few hours with a Ticino tour guide named Patricia. She was just lovely, and since she knew Cynthia and I were both foodies, insisted that we see Grand Cafe al Porto.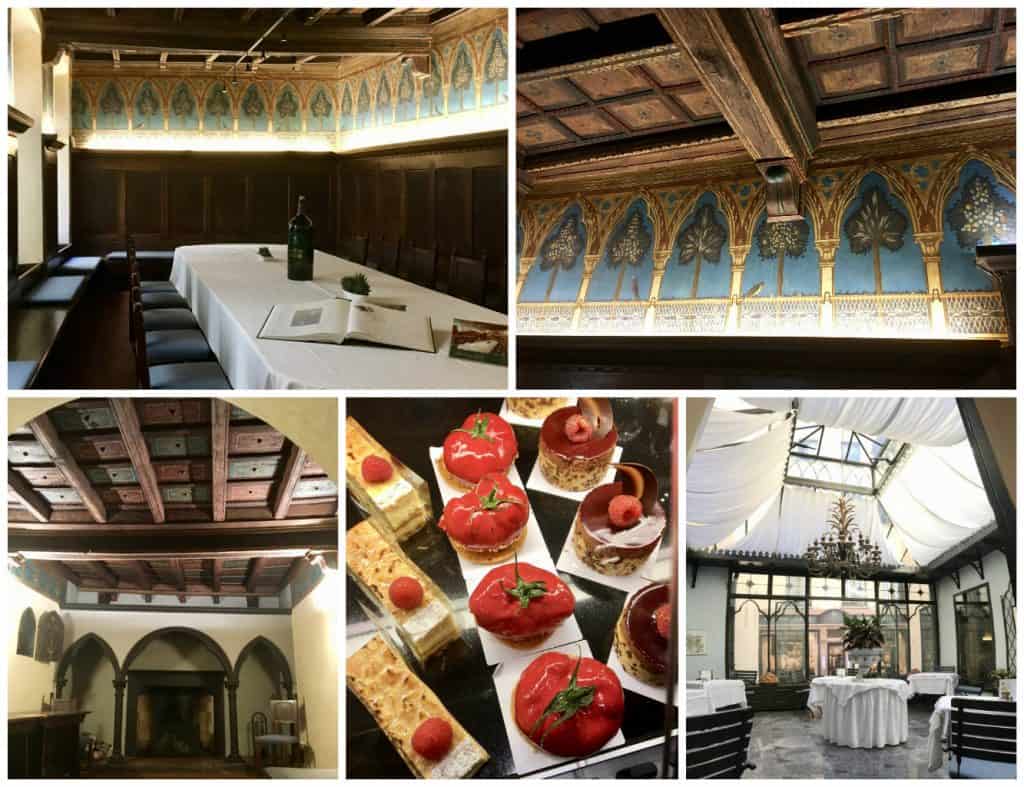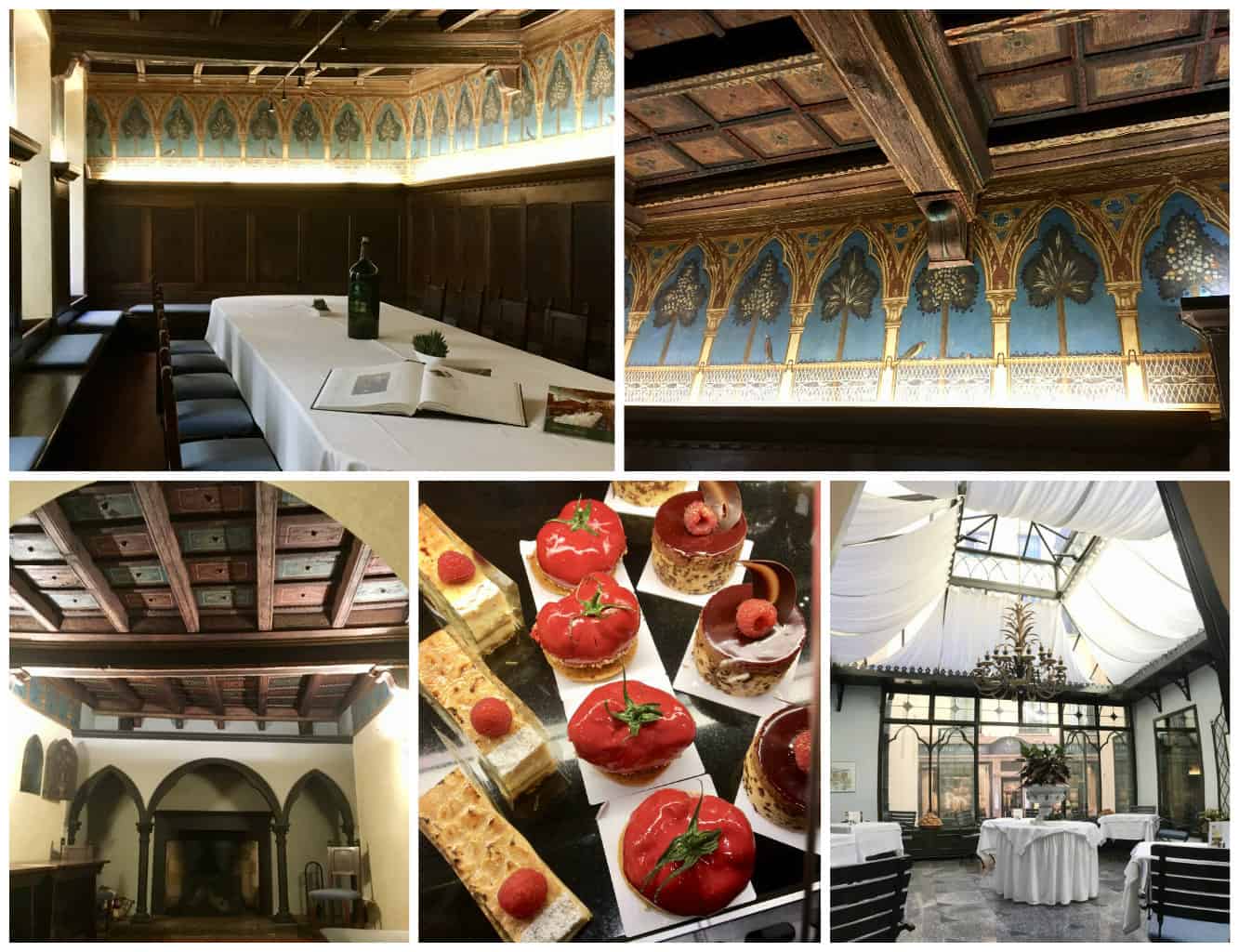 This cafe is actually perfect for architecture lovers and history buffs, too! The story behind this ancient building is incredible, and it is listed as one of the Historic Places of Italy. It used to be old convent, and was turned into a cafe and meeting place in 1803. If you love history, I urge you to read the story behind this building HERE. (NOTE: unless you read Italian or German, you'll have to use Google translate).

From the Florentine painter who painted the frescoes, to the secret meeting between the Allies and German officers during WWII and all the famous people who have visited, you will be amazed. Cynthia and I were so disappointed that we didn't have time to go back and have a proper visit to sit and soak it all in. Be sure to plan it into your visit.
3. Weather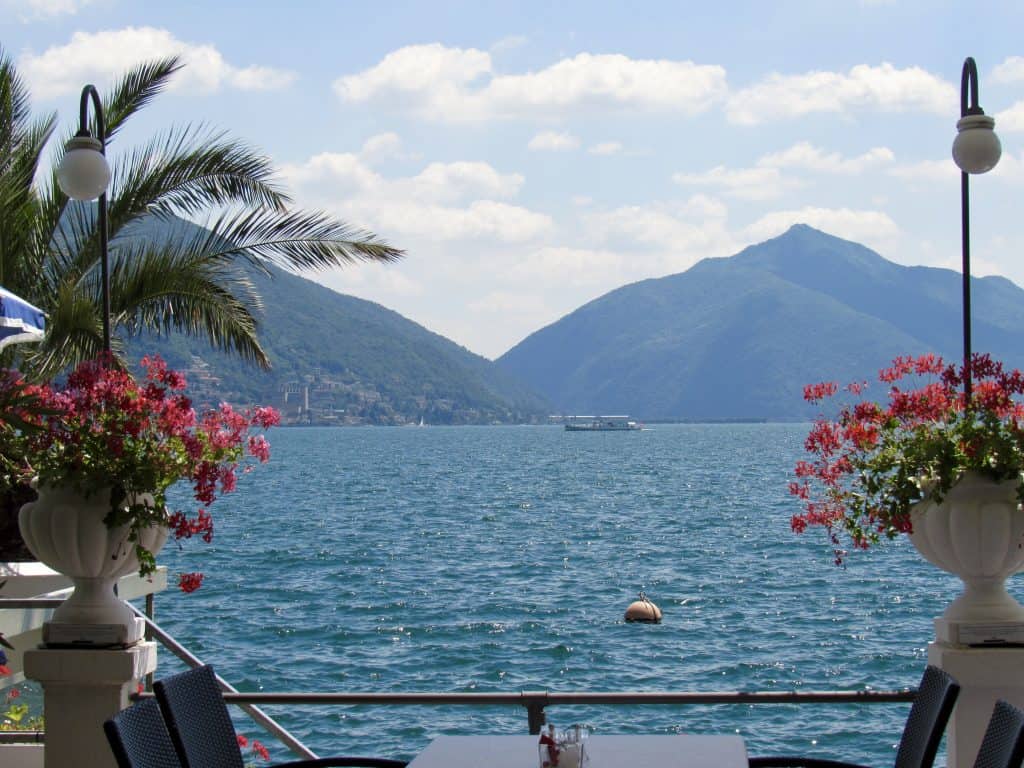 Most people probably don't conjure up a photo like this when you mention Switzerland, but this is in fact, Switzerland! Lugano's weather is some of the best in Europe, averaging about 2000 hours of sunshine a year, with particularly minimal cloud coverage. Cloud coverage is 43% in Lugano, compared to 77% in Zurich. Temperatures rarely dip below the freezing mark or above 86 degrees F (30 C).
4. Bellinzona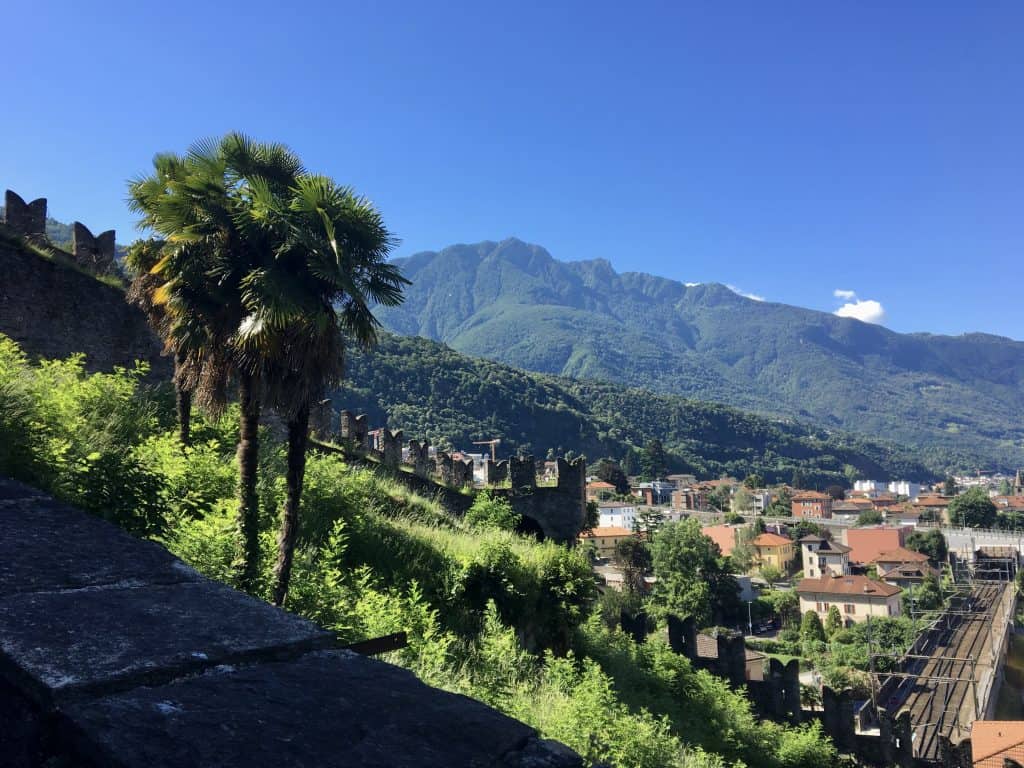 Not even half an hour away by train, lies Bellinzona, the capital of Ticino. I remember driving on the autostrada a couple of years ago and seeing a castle that simply called my name! In my head, I made a mental note, "Visit Bellinzona!" I was so fortunate that our time in Lugano included a Saturday because that meant we could visit Bellinzona's marvelous market held on this day each week!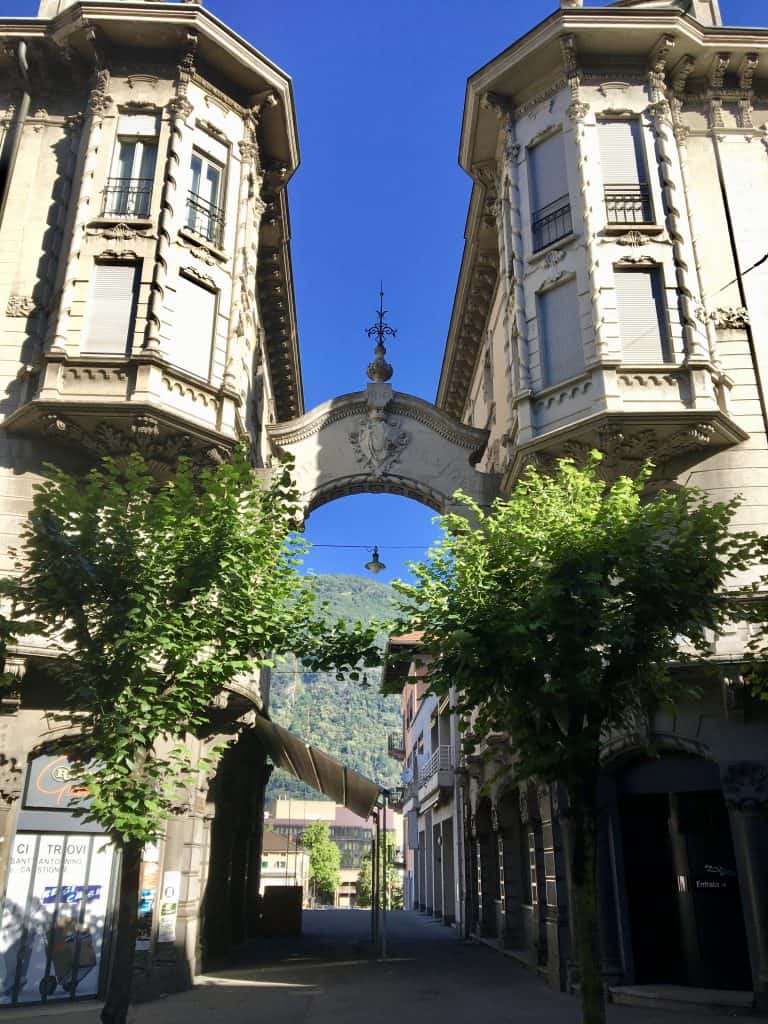 The architecture was hard not to appreciate as we walked towards the market. Some of the detail on the buildings was simply astounding!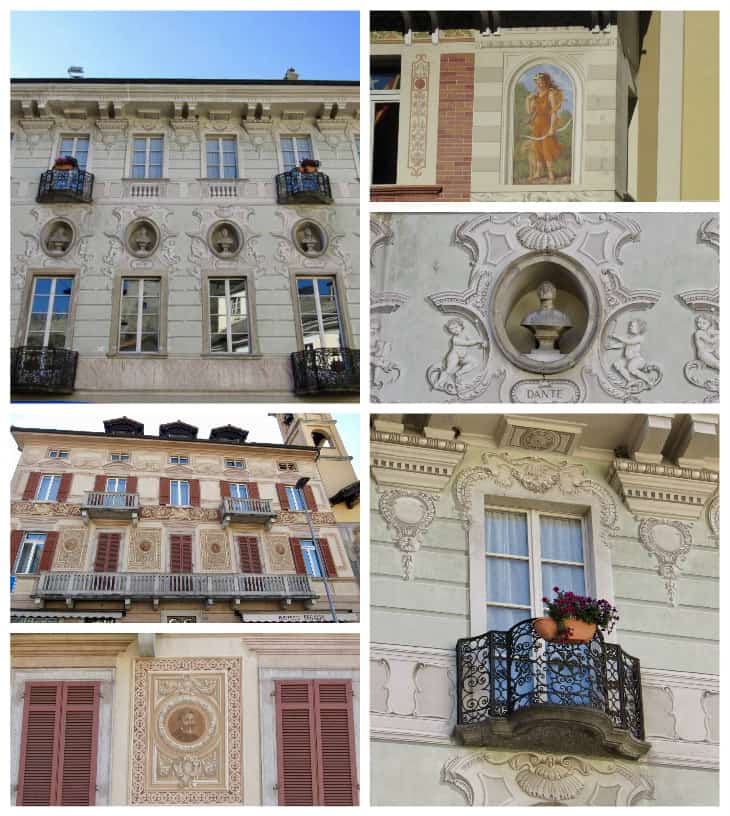 When we reached the market, it was almost painful. I just want to buy all the cheese, meat, gorgeous fresh fruit and vegetables and all the products I can't buy at home! However, without a kitchen and because of customs regulations, I can't. In future, I will simply have to stay in a place with a kitchen somewhere like Lugano or Bellinzona for a few weeks at a time! Who wants to join me? 😊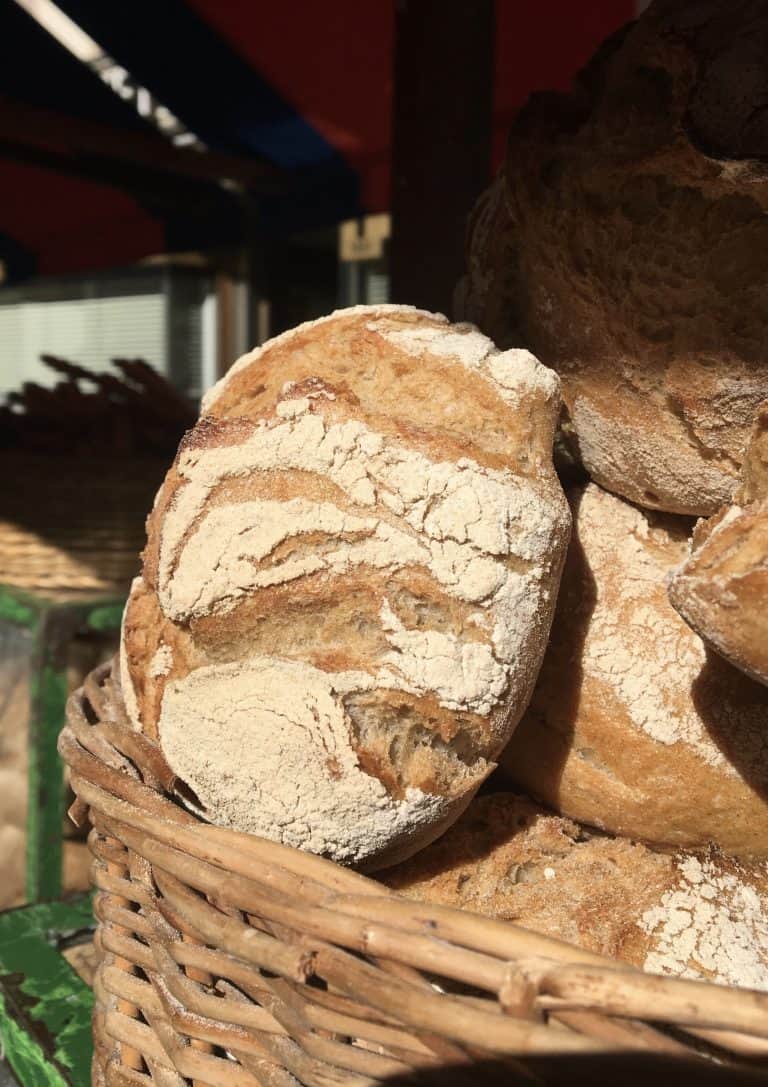 Almost everything is locally made and seasonal: the way food should be.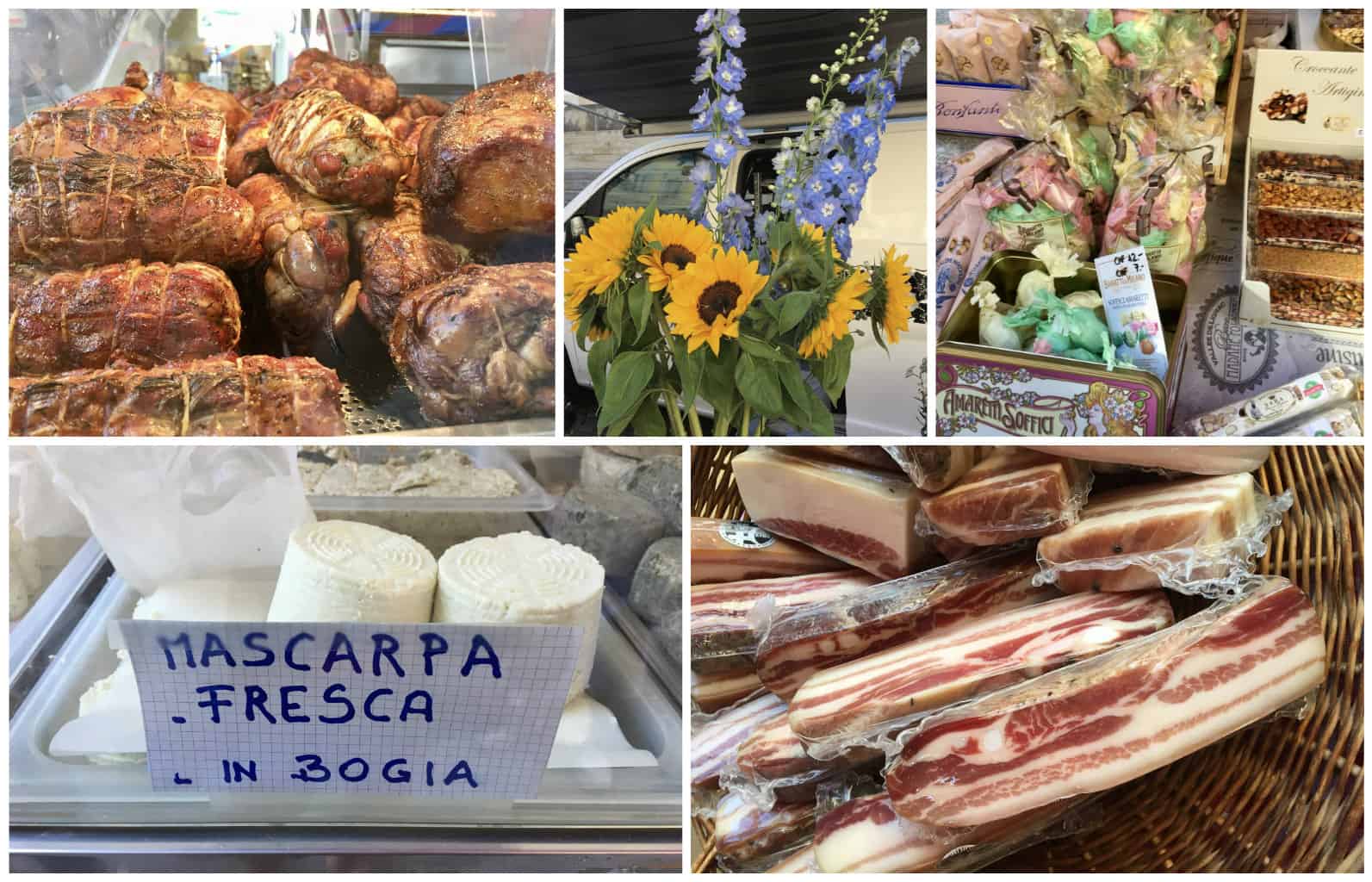 At least I did buy a delicious pastry!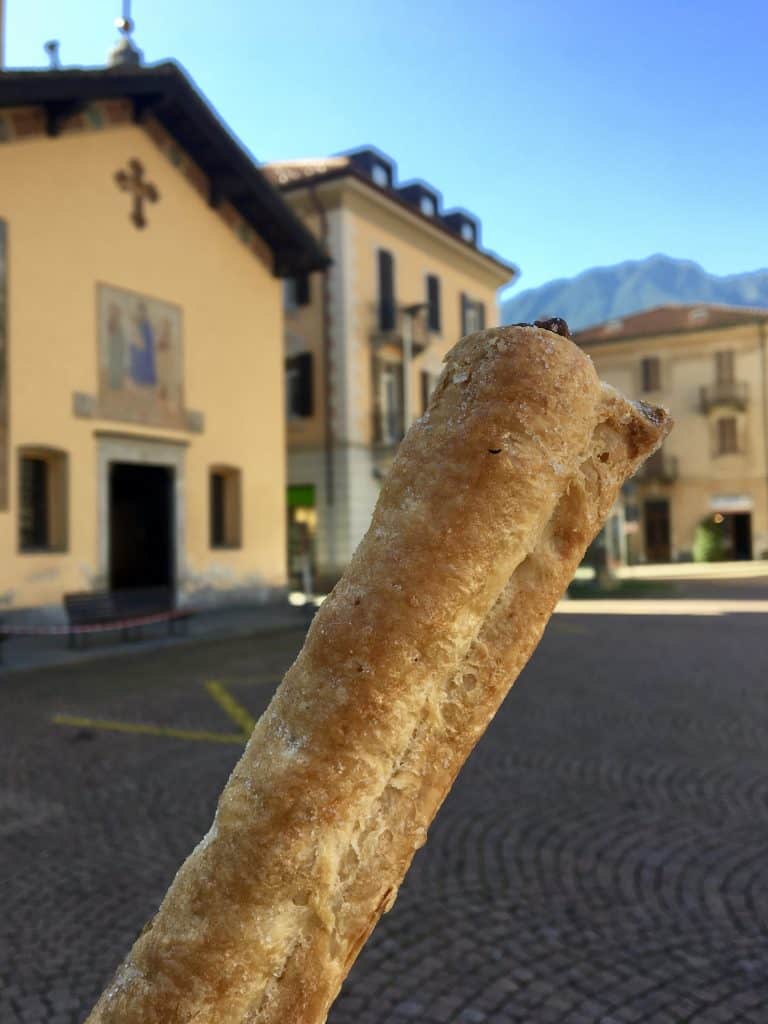 Cynthia and I walked through the entire market and came upon the loveliest square.
Another surprise: an obelisk in Switzerland!
From this point, we turned and saw the turret of a castle and its walls!
Bellinzona Castles
We began walking up a path that led to some better views. Lo and behold, another castle! In fact, Bellinzona has three castles. The Castles of Bellinzona with their defensive walls have been deemed a UNESCO World Heritage Site since 2000 (courtesy of Wikipedia).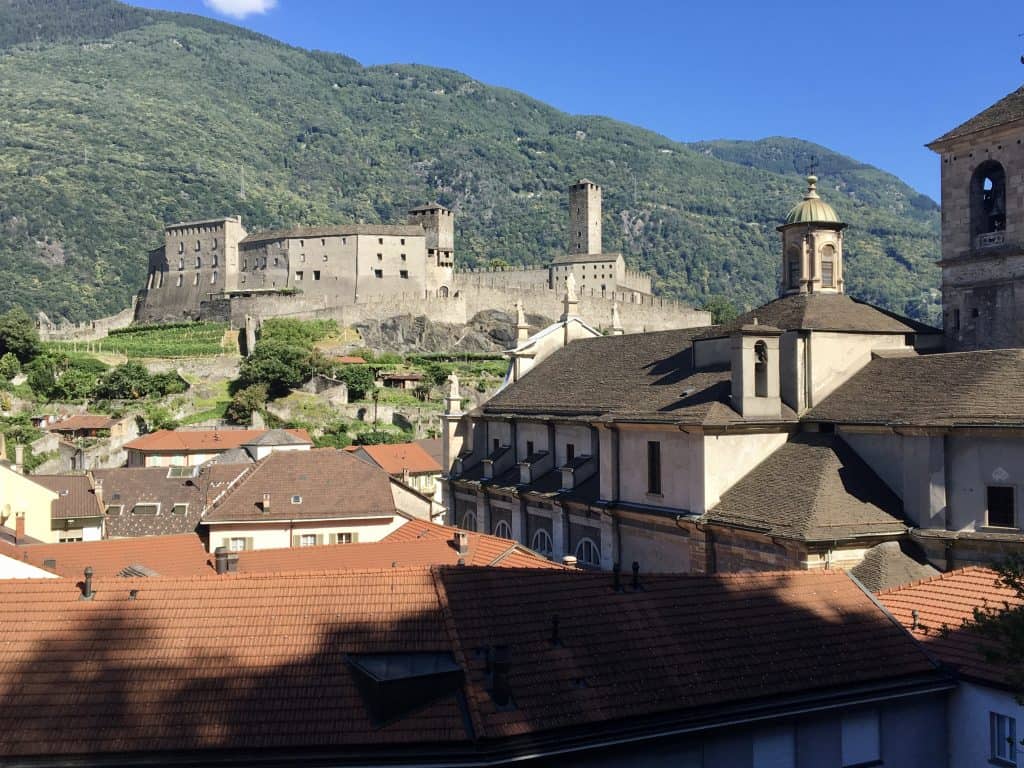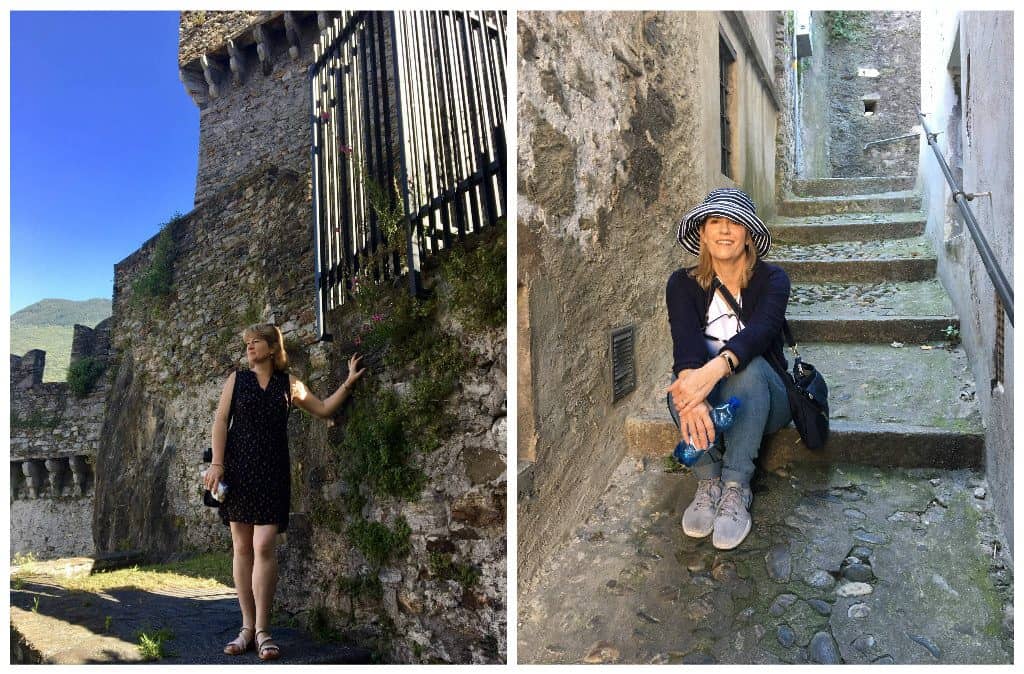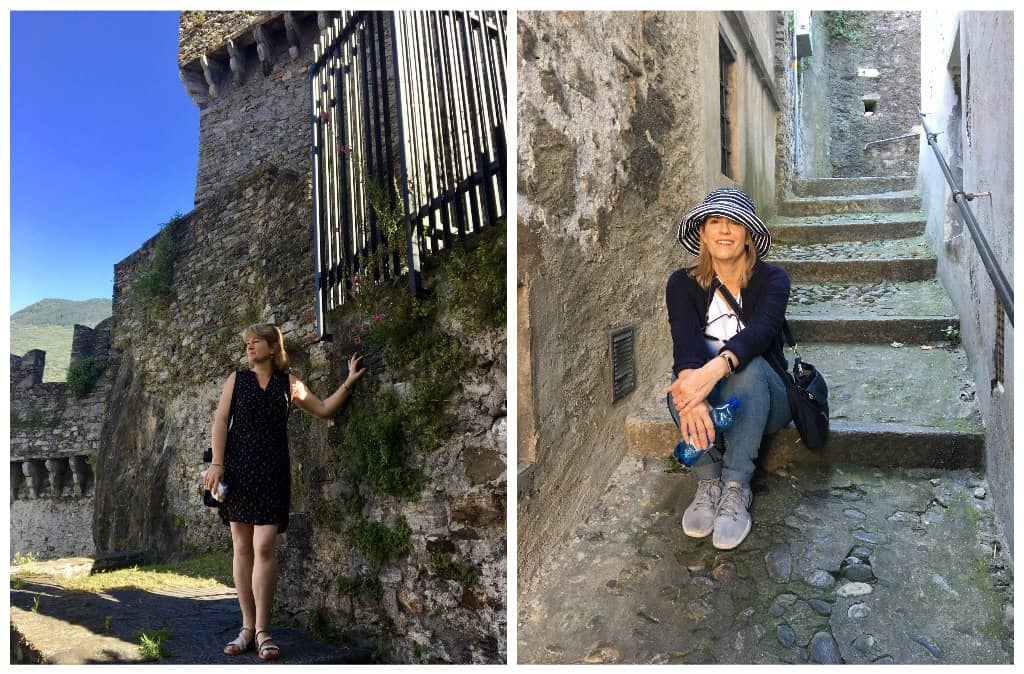 Walking back towards the market, there was one of the tiniest churches I have ever seen! However, the size didn't mean it wasn't another phenomenal sight.
In extreme contrast, I never suspected that there would be such a gorgeous and large cathedral in such a small town. Chiesa Collegiata dei SS Pietro e Stefano (St Peter and St Steven) was another architectural masterpiece for us to see.
We had time for a coffee before jumping on a train back to Lugano.
5. Lake Lugano
Who can resist swooning at lake views like this? Even if you never even go on the water, just looking at this gorgeous lake is better than therapy!

However, I wouldn't advise the former suggestion. Get out on the lake! Cynthia and I had a great motor boat ride over to a grotto (more to come), but there are public boats to take you, too.

I also spotted this brilliant idea! How fun would it be to take some food to have a barbecue in the middle of the lake? These people know how to live!
Lake Lugano at dusk.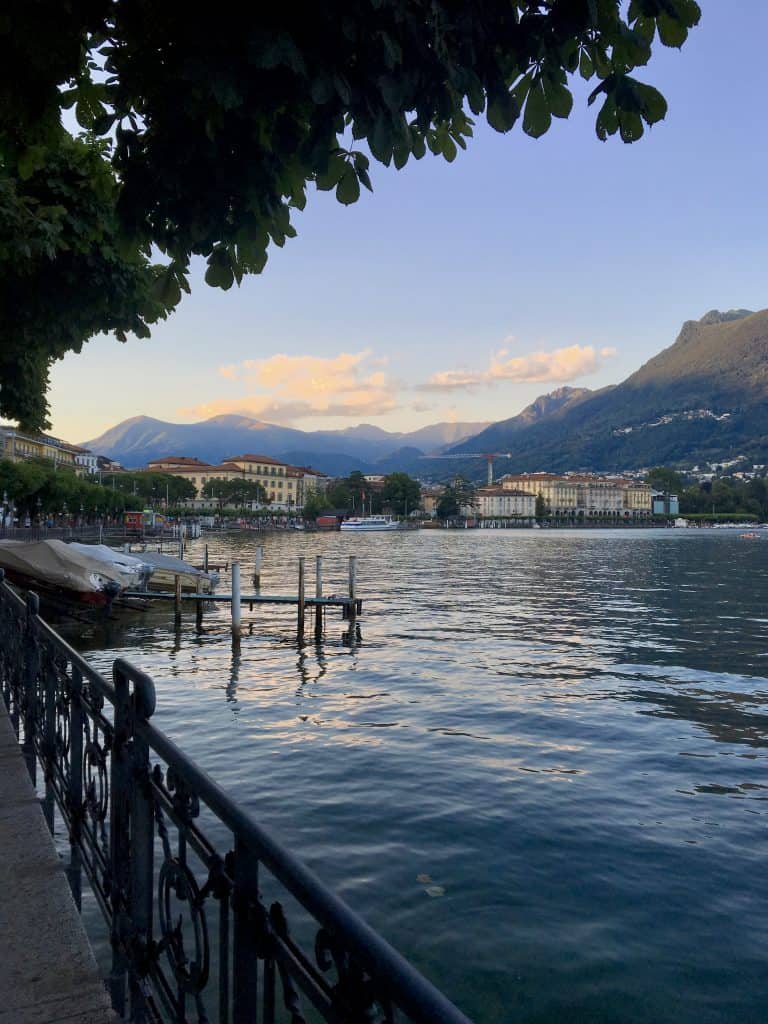 6. Grotte

I won't spend much time on the grotte because my next post is going to be all about a typical grotto. What you need to know is that you simply must plan to go to at least one. Cynthia and I visited Grotto Descanso on a Cruise and Cook experience to make and eat risotto.
It is, hands down, one of the best culinary experiences I've ever had, and I cannot wait to tell you all about it! (If you haven't signed up for my free subscription, do it HERE so you don't miss it.)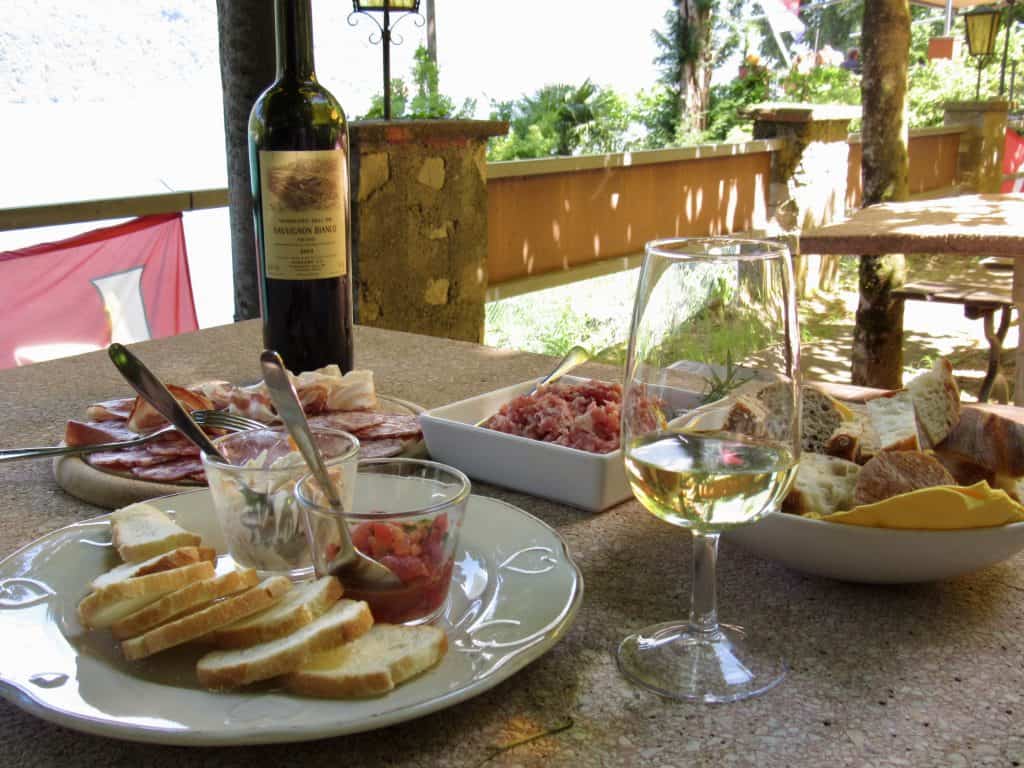 Sneak peek of the risotto is below!
7. Monte Bré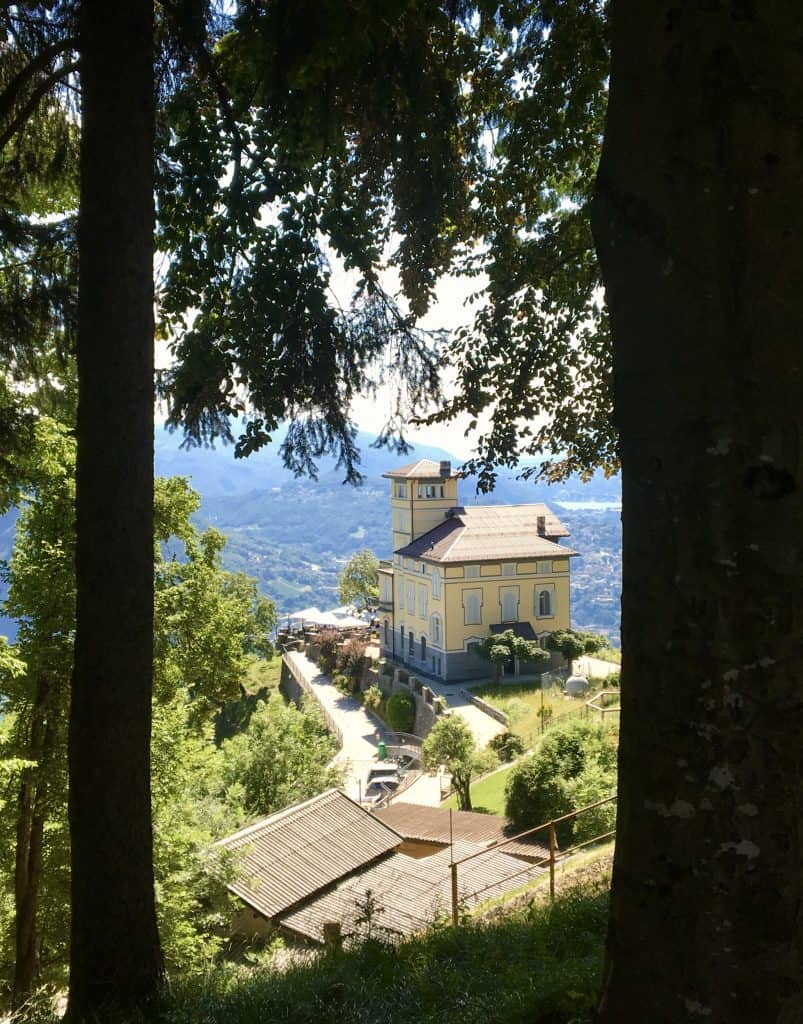 One of the most imposing sights from Lugano is Monte Bré. After our visit to Grotto Descanso, we visited Monte Bré by taking a funicular ride to the top. The views on the way up were wonderful.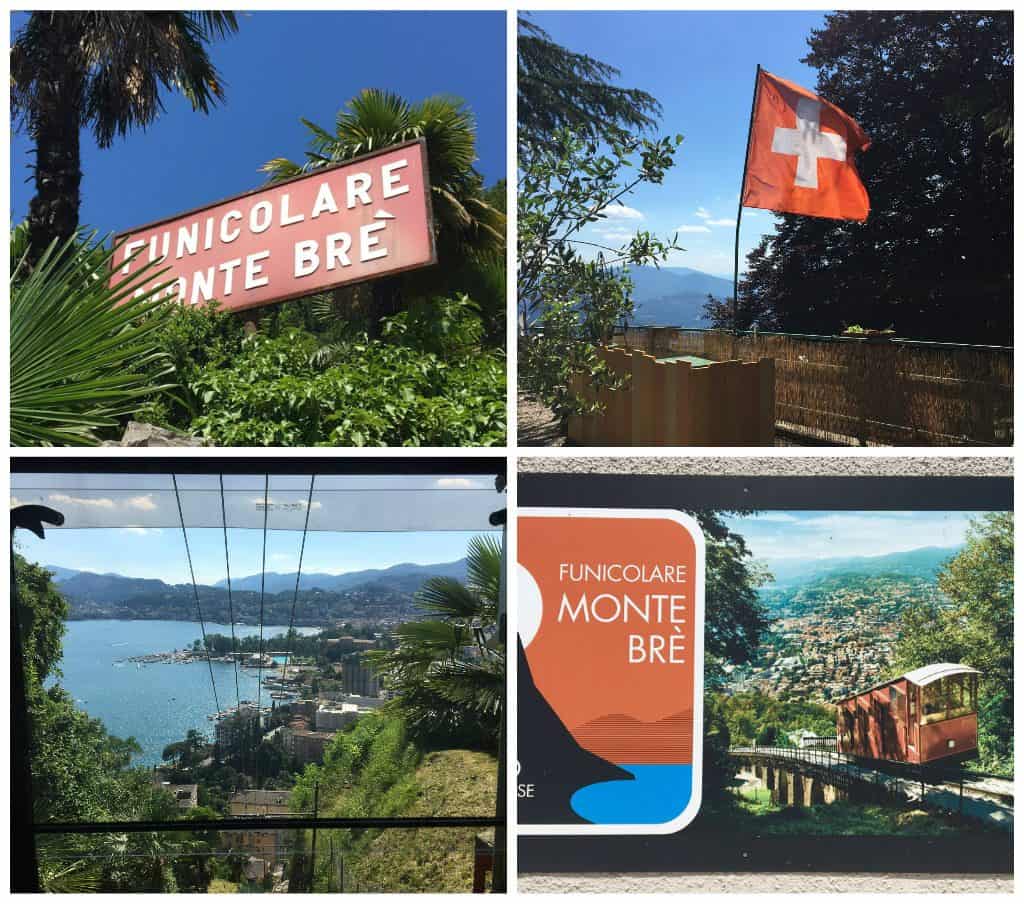 There is one stop to change trains.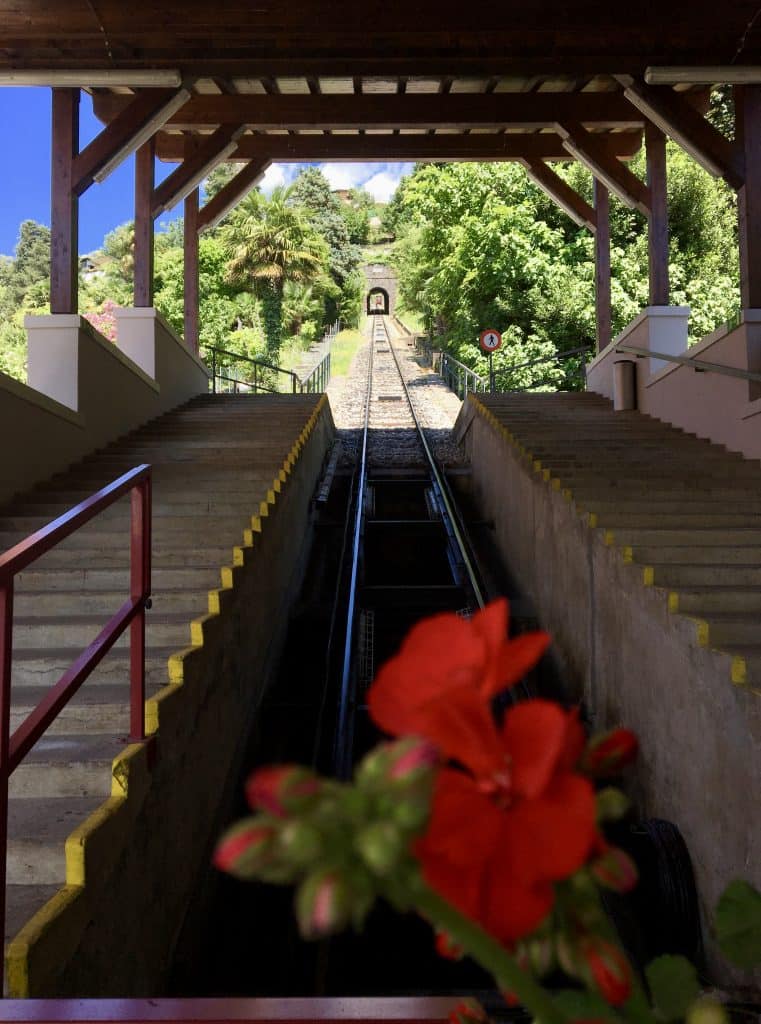 Once at the top, there are hiking trails and magnificent views.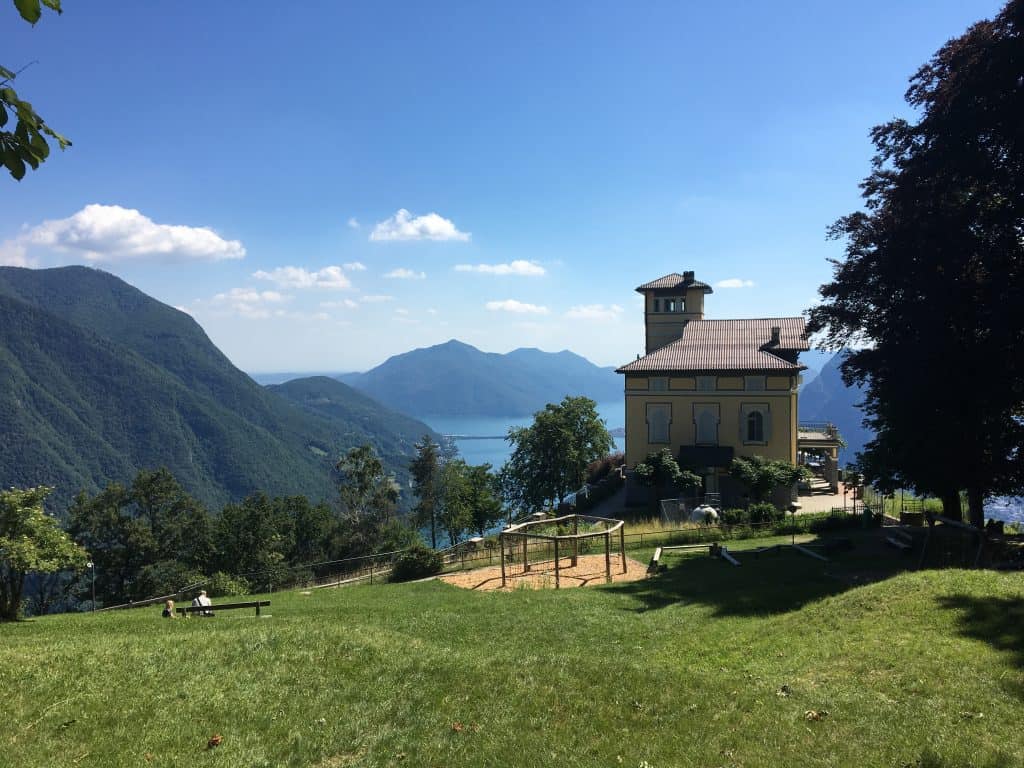 Apparently, one of the Bond movies had a scene that was set here. Cynthia and I decided we just wanted to soak in the views with an Aperol spritz (spritz photo above was taken here).
8. Cuisine
Risotto is king in Ticino, and goodness, do they do it well! There is a major Italian influence in the cuisine, given the proximity to Italy and the fact that Italian is spoken here. I loved this about the region (couldn't you have guessed?) Polenta is also a prominent dish, but there are so many other choices on the menu.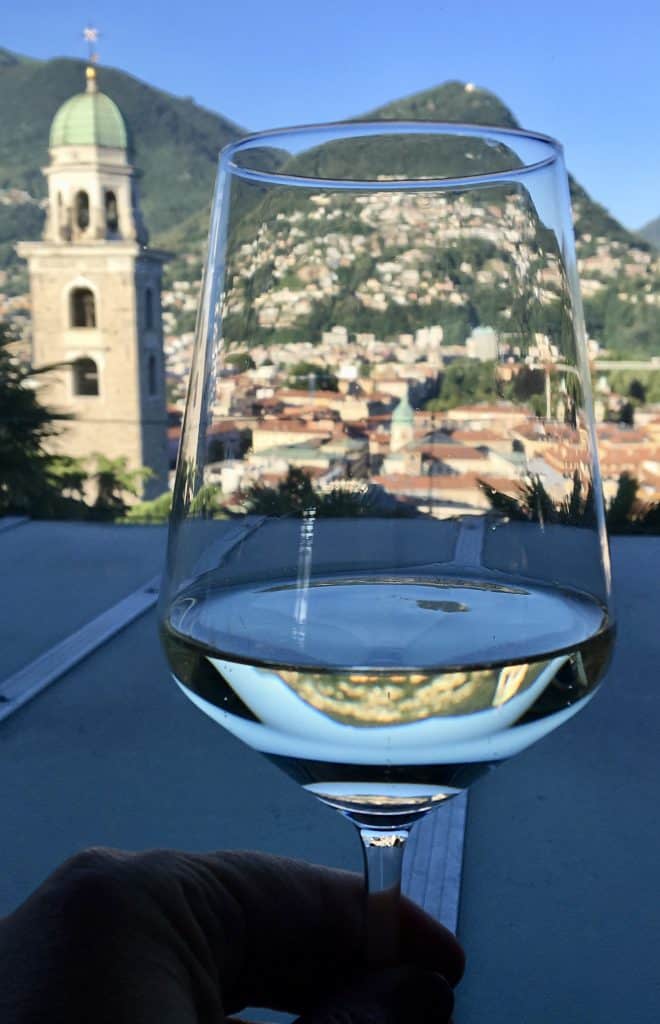 One evening, Cynthia and I had dinner with Laura from Ticino Turismo, at AnaCapri which is directly across from the main train station in Lugano. Dinner was wonderful, from the wine and views, to the excellent Italian dishes.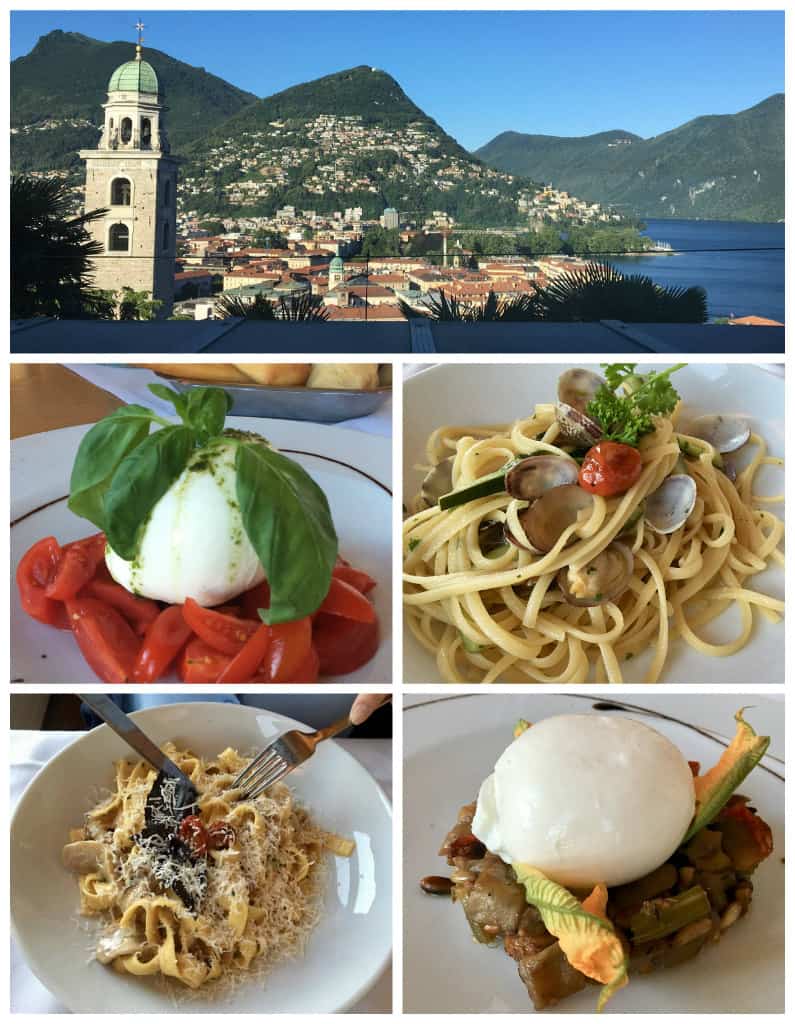 Here are some other wonderful culinary options from Lugano.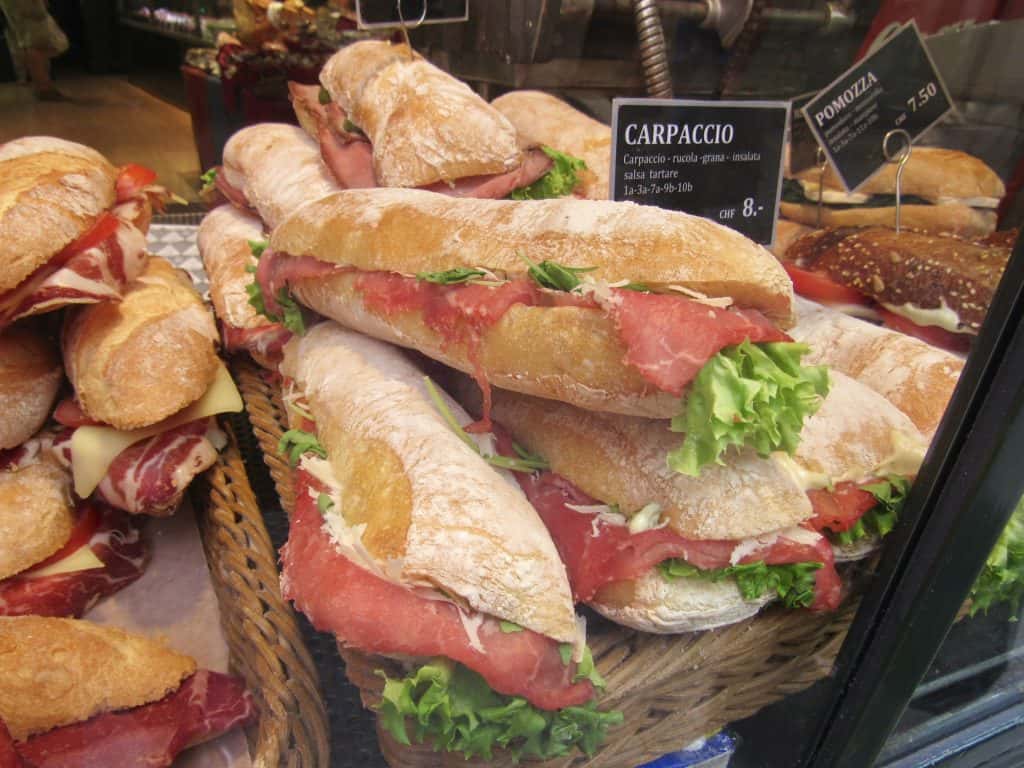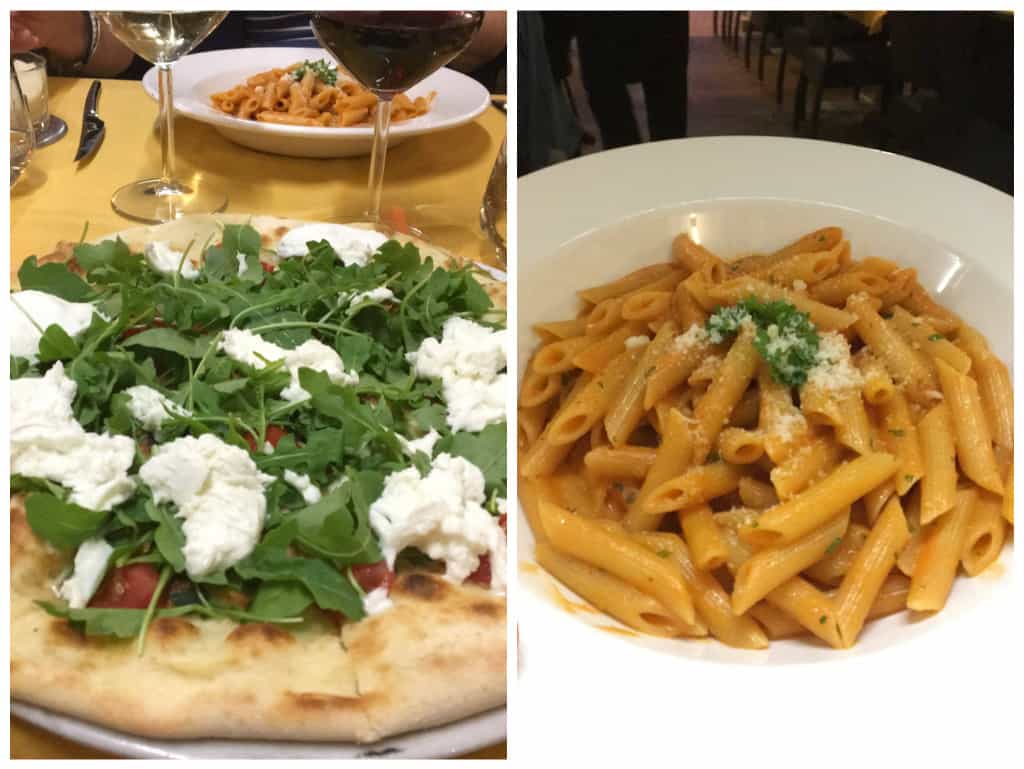 9. Proximity to Other Italian Lakes and Italy
As I stated earlier, Cynthia and I had arrived from Como which was half an hour away. This gives you an idea of how close other Italian Lakes are in relation to Lugano. Not to mention, the rest of Europe is a hop, skip and a short plane flight or train ride away!
Here is the clip of my Instagram stories from my time in Lugano if you'd like to see some fun footage.
At the end of our weekend in Lugano, Cynthia and I had a toast with my last bottle of Valdo Prosecco 1926, which I had brought from Venice! The patio of Hotel de La Paix was the perfect setting to catch our breath before leaving beautiful Lugano.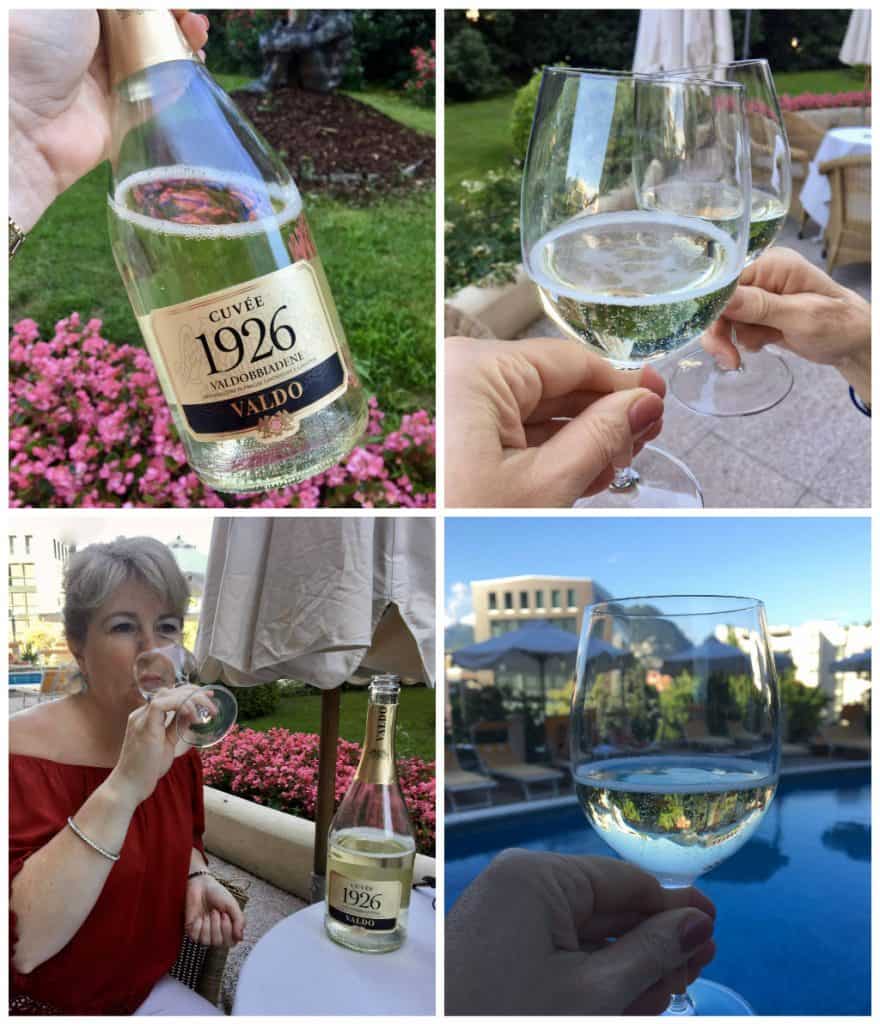 Is Lugano worth visiting? You tell me what you think in the comments below.
You can read about Cynthia's experience HERE.
Thank you to TICINO TURISMO for hosting us!
You'll find lots of information on their site.
Don't miss another post; sign up for my subscription below.
Is Lugano worth visiting?