After a family christening and festivities the day before, I only had one day in England before hopping on a plane to fly to Brussels, so I told my cousin, Connie, that I wanted to take her for afternoon tea. She immediately suggested Hanbury Manor, as she'd been there before, and we made a reservation for that afternoon.
Disclosure: We were hosted by Hanbury Manor for afternoon tea; as always, all opinions are my own.
As it often does in England, it was raining that day and although it's always nice to see places in the sunshine, there's something soothing (and very British) about having afternoon tea indoors on a rainy day.
Hanbury Manor has an interesting history and was a family home for many years, before being converted into a convent school, and finally becoming a 5 star luxury hotel and country club in 1990. The manor is located in Ware, which is 50 minute train ride north of London, and is considered the "original country retreat". The Jacobean house, which was originally built in 1730, sits upon 200 acres of beautiful Hertfordshire countryside. It's also quite coincidental that it's Hanbury Manor's 25th anniversary as a hotel, as it is the same month as my 25th wedding anniversary. Many events were and are scheduled for this year; one is actually being held tomorrow (Sept. 25th)! Goodfellas is being shown in an open air cinema on the grounds, with guests enjoying picnics and beverages while the movie plays. What a lovely venue!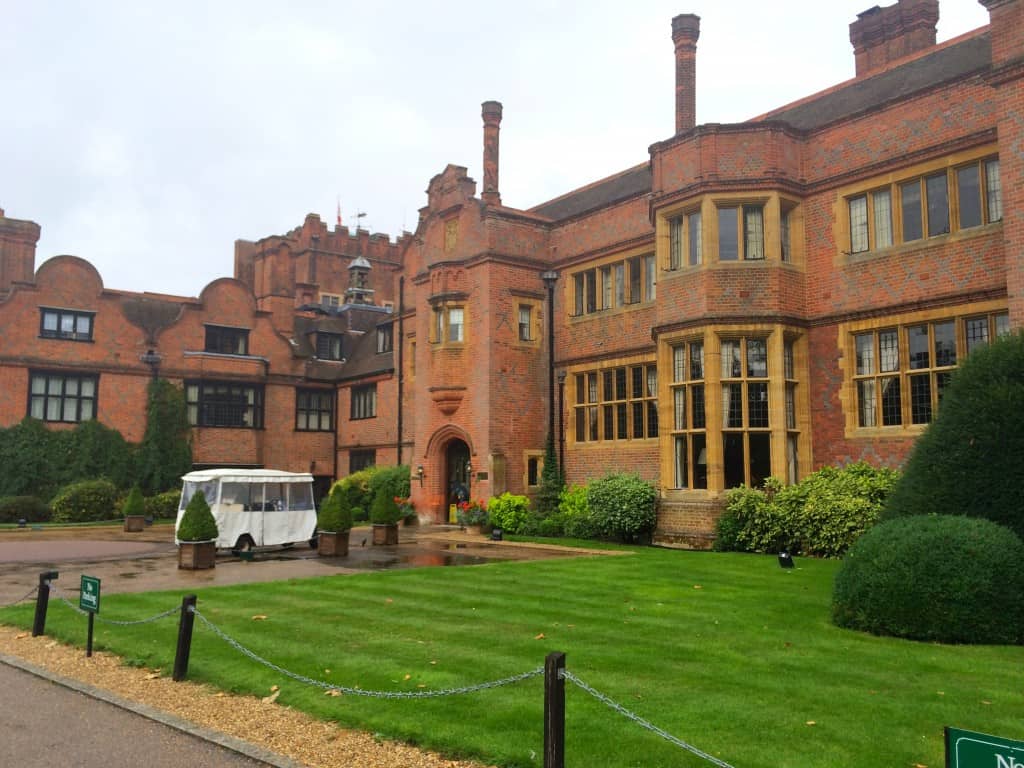 It was just raining lightly when we arrived, so I was able to snap a few shots outside. When we stepped inside, the dark wood beamed ceiling and paneled walls with many intricate carvings welcomed us, as well as the friendly staff who took us to the Zodiac restaurant to be served afternoon tea. (Note: afternoon tea is also served in the library; see photos below.)
We had a lovely table near the window and my cousin and I chose our teas and were each promptly served a flute of champagne. Shortly afterwards came the tea and the lovely savory and sweet filled tea tray and we sipped and ate all the while admiring the ornate decor of the room.
The tea was piping hot and the savories consisted of a variety of finger sandwiches, such as traditional cucumber and cream cheese, but also a lovely ham roast ham and mustard sandwich on walnut bread and smoked salmon pinwheel sandwiches, which were a favorite of my cousin.
My sweet tooth was happy with the gorgeous scones we were served with the most flavorful strawberry jam and clotted cream!
Sorry to be such a tease with that last picture, but you want to know that I'm not lying, right? (Insert wink here.) Then we were onto the tantalizing miniature pastries which included one of the tastiest strawberry tarts I've ever had, Battenburg Cake, macarons, chocolate cake and more.
When we had finished all we could manage (it was a lot of food), Connie and I did some exploring around the hotel. (I also want to add that our servers couldn't have been better.) I am a Marriott Rewards member as I really love the brand and have stayed at many of their hotels, and I can easily say that this is the oldest and the most unique Marriott that I have ever been to.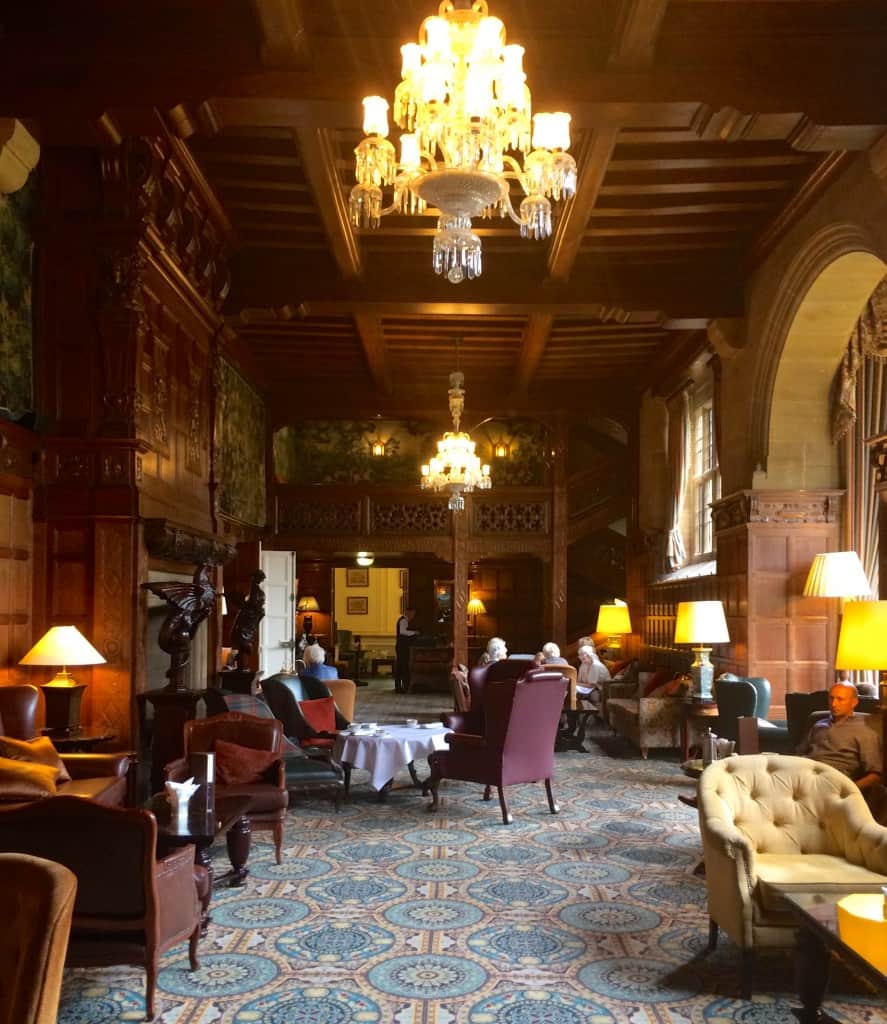 It was like wandering through a National Trust property. Just take a look at these rooms!
I may have to give my cousin a break next time I visit and stay at Hanbury Manor. If the building itself isn't incentive enough, don't forget that they have a spa, and pool too. I think Connie will end up joining me! In fact, with the hotel's famous golf course and new games room with the most realistic indoor golfing experience possible, allowing play on 15 of the world's finest golf courses and decked out with leather sofas, TVs and a bar nearby, I think our husbands will also be joining us!
The bad part about the rain was not being able to truly enjoy the gardens at Hanbury Manor, but that didn't stop us from trying, and we really had a lovely afternoon.
I wish I was nearby during the upcoming holidays because Hanbury is stepping back in time to the glamour of the vintage years with Vintage Christmas Party Nights during the festive season. Guests will be transported back in time to 1920's glamour, with finger snapping music, classic cocktails and champagne and a lavish three-course dinner. The 'Gatsbyesque' vintage theme will be carried throughout the hotel, oozing opulence and charm. As the evening progresses, guests will be dancing to 20s /30s swing classics! How much fun does that sound, especially in such a perfect setting for this retro event?
Click the following link for more information or to book afternoon tea, to attend a vintage party night
and/or a stay at Hanbury Manor Hotel and Country Club.
This is my first post on many more to come from my European culinary tour this past month. I hope you'll sign up to receive my posts in your inbox so you don't miss any of them. I can almost guarantee you'll be adding places to your bucket list. Until the next time–cheers!
Don't miss another recipe or travel post, sign up for my free subscription below!
I promise not to share or sell your email address, ever.
Next stop on my culinary travels? London!
Disclosure: I was hosted for afternoon tea for two from Hanbury Hotel and Country Club, but was not required to write a positive review. All thoughts and opinions are mine alone and as always, I only recommend quality products and services that I truly believe in and would purchase and use myself. I am disclosing this in compliance with the FTC's regulations.