The Bull & Hide Pub in central London is a beautiful respite in the middle of one of the busiest cities in the world. It's truly a hidden gem worth discovering!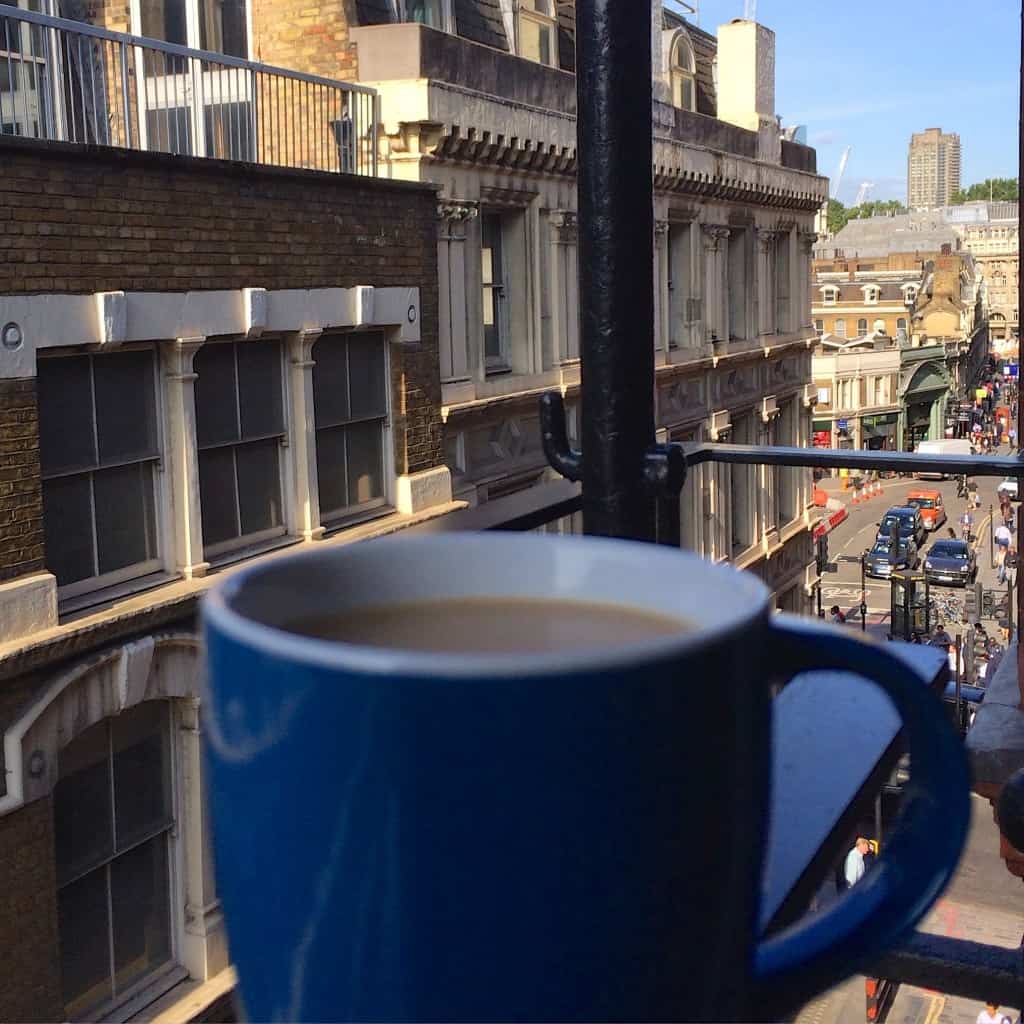 I am so excited to be able to share this post with you as I absolutely loved everything about The Bull and Hide Pub, Hotel and Restaurant. Just read on and you'll understand why.
I was looking at a map of London when I was just starting out on my culinary tour of Europe, as I had to catch the Gatwick Express to get my flight to Brussels in a few days' time, and just happened to see the Bull and Hide on google maps. Out of curiosity, I clicked on it, and even the website sucked me in. As I started perusing the menus and room photos, I knew I just had to see if it would be as good as it looked.
Disclaimer: the Bull and Hide hosted me for bed and breakfast, and I received a media ticket from Gatwick Express. As always, all opinions are my own.
I didn't need a room that night as I was staying with family nearby, but The Bull and Hide not only met my expectations, it truly exceeded them.
*Please note, the only thing that could potentially be an issue for some, is that there is no elevator to the rooms (however, know that this is the case in many old buildings all over the UK and Europe.) Bull and Hide Staff will help with luggage, but if you cannot manage stairs, I would recommend finding a hotel with an elevator.
I knew the Bull and Hide was close to the Liverpool Street Station, but didn't realize just how close.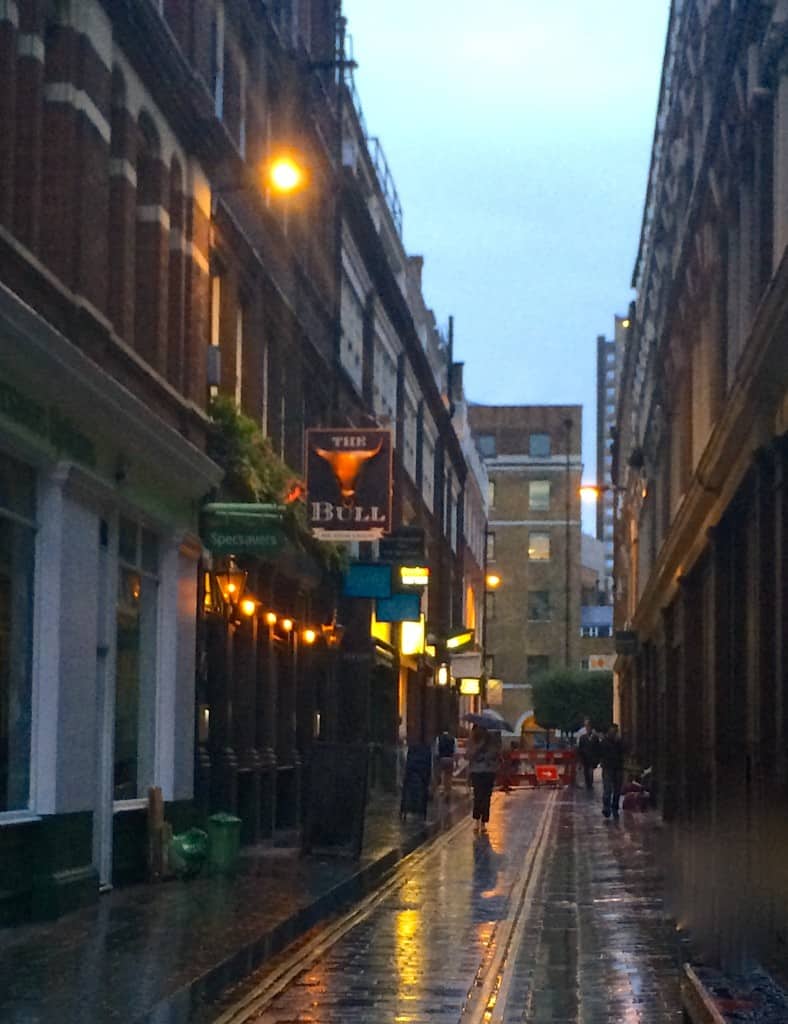 The photo above and the photo below, which shows the Liverpool Street Station entrance (the white and glass arched building to the left of the photo) on Bishopsgate Street, were taken from the same spot.
This is the first reason to stay at the Bull and Hide: the location is fantastic. Nearby, there are so many attractions (many of them free) such as the Geffrye Museum, Museum of London and the Whitechapel Art Gallery. You can also climb 311 steps to the top of The Monument (which I have done, and recommend) to get a great view of London. There are also many markets nearby, such as Spitalfields and Old Truman Brewery Market.
When I walked past the pub, I couldn't resist taking a photo as I've often walked past lovely pubs and restaurants and wanted to go in because they look so inviting (for whatever reason, I'm usually heading somewhere else), but this time, I was going in.
When I arrived, I was greeted by Guido who was so welcoming, it was as though I'd arrived to see family (he also just happened to be Italian)! He carried my bag up the stairs to my room and showed me around my suite, and I have to say, I honestly felt as though I'd come into a secret hiding place in London that no one else knew about.
The suite was tastefully decorated in muted tones and had a perfectly soothing atmosphere–exactly what I love after playing tourist in a busy city all day long. I kept thinking how my mother would flip over the room because it was absolutely immaculate, in fact, the bathroom looked as if it had never been used. And of course, there was the view of "The Gherkin" out the window, assuring me I was still in London.
The Hush Heath Suite is perfect for a couple or young family as it also has a couch with a pull out bed in a separate room down the hall within the suite. If larger families or groups are traveling together, you'll be pleased to know that there are six other suites in this boutique hotel.
Of course, you can see lovely professional photos of the suites on the Bull and Hide website, but what you won't see is one of my favorite things at the hotel: The Guest Pantry! Ooh, I couldn't believe my eyes–they had Tunnock's Caramel Wafers in one jar and Jelly Babies (a sort of gummy candy that I grew up with) in another, packets of Walker's Crisps (chips) and a selection of hot and cold drinks at my disposal. More than the contents, I appreciated such a lovely gesture to guests, as typical hotels offer $5 candy bars and $7 bottles of water in their rooms. By the way, I was a good girl and only took one caramel wafer!
Guido let me settle in and told me to come down to the pub whenever I was ready. I took a peek at The Hide Restaurant when they were just about to close and took a few shots (photos, not drinks-haha!) A lovely place to have dinner, as you can see, and if the food is anything like the desserts and the breakfast I had, there won't be any disappointments.
Although I'd graciously been invited to have dinner, I just couldn't eat a full meal after having a substantial afternoon tea earlier in the day, so I opted to try a couple of the desserts: Sticky Toffee Pudding and Chocolate Lava Cake (two of my favorite desserts-see my own recipes at the very bottom of the post). Both were fabulous, but I couldn't choose which was better!
I also had some of The Bull and Hide's own apple cider (cider in the UK contains alcohol, apple juice is never called cider), which was marvelous. Guido explained to me that the owners have a vineyard, orchards and a winery in nearby Kent called Hush Heath Estate (in fact, my Hush Heath Suite is named after the 1503 Tudor-framed manor on the estate). Who knew you could go wine tasting in England?
Although I arrived by myself this particular evening, I definitely wasn't alone because Guido, Julia and Alba all kept me company; we had a lovely conversation about all things food and drink, what else?
I slept like a baby that night and was very happy that the suite was so quiet. I've slept in many large cities and one of the biggest problems is street noise (my college roommate, Amy, will attest to the nightmare of a night we had in Paris many years ago).
The next morning, I made myself a cup of tea and was thrilled to see the sunshine, so I enjoyed it on the balcony.
I was really looking forward to The Big Bull English breakfast as it included black pudding, which isn't always served with full English breakfasts. My anticipation was well met with what was presented to me, and I'll be honest, I actually started to tear up when I started eating my breakfast (ex-pats will understand). Just look at this and tell me it doesn't look phenomenal!
And my egg was perfectly poached!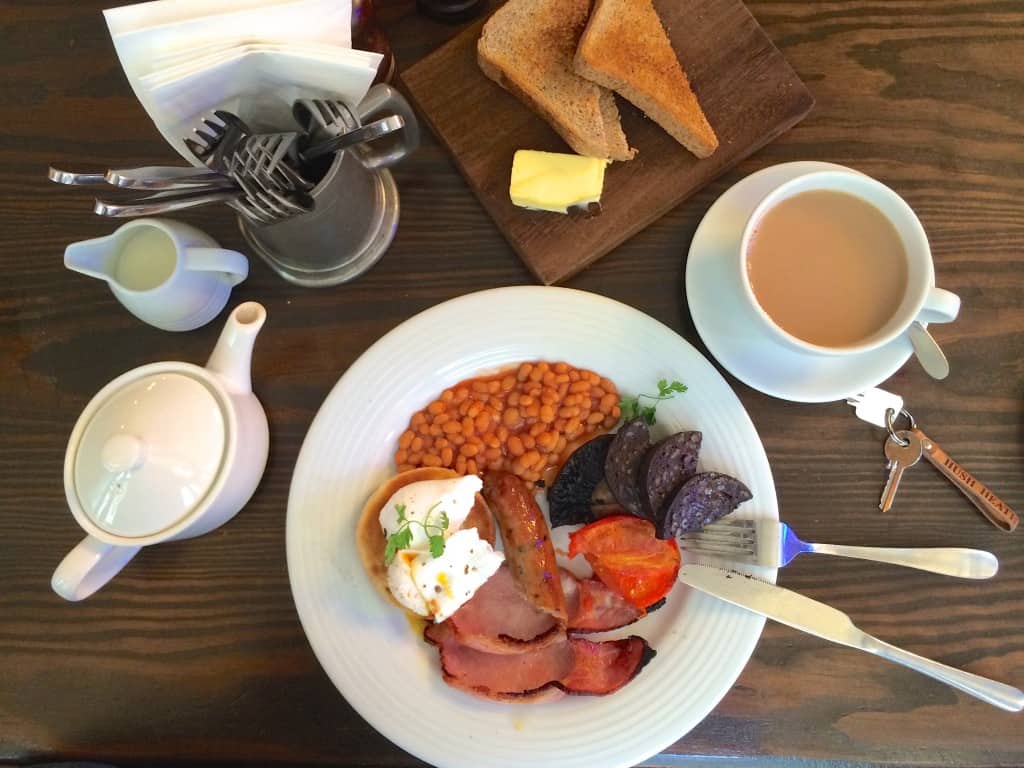 If you have followed me for any amount of time, you know how particular I am about food, especially British and Italian cuisine, so when I tell you that the Bull and Hide's was definitely one of the best British breakfasts I've ever had, it's truly saying something. Besides the egg being perfect, the bacon was amazing, especially since it had the rind on (my favorite part and hard to find anymore), the black pudding was excellent and the pork and leek sausage had so much flavor; it was a truly tasty breakfast!
I spoke briefly with a couple who were also eating breakfast next to me, who happened to work for Hush Heath Hospitality, and later with James the manager, and it became very apparent that everyone loves their job and the company.
I can tell you that it shows in the service and care that is provided to the guests, which is why I'm so happy to be able to spread the word about Hush Heath Hospitality, their winery and hotel and pubs. In addition to The Bull and Hide, there are two other locations: The Goudhurst Inn (near the winery) and St. Bart's Brewery (no rooms) which is also in London.
It was difficult to pry my fingers off the room key to return it, but I did have to leave to catch my flight to Brussels that day.
It was a quick walk back to Liverpool Street station to catch a tube train to London Victoria Station where I boarded the Gatwick Express train to Gatwick Airport (which runs every 15 minutes.) I never knew that this service existed until now. It makes Gatwick seem so much closer to central London!
It was a quick and comfortable 30 minute train ride, and I was already at Gatwick Airport.
For those of you who are unfamiliar with London, Heathrow is the closest international airport to London, and Gatwick is more outlying, but often offers cheaper fares. The Gatwick Express makes those flights a much easier and more viable option, and as the photo shows above, it's cheaper to buy your ticket online. This sign told me very clearly that I'm very late to the game! Keep the Gatwick Express in mind when buying airline tickets in and out of London (FYI: search LON for all London airports, LHR = London Heathrow and LGW = London Gatwick).
Click the link for more information or to book a table or room at The Bull and Hide Pub.
Next stop on my culinary tour of Europe? Bruges, Belgium!
Don't miss another recipe or travel post; sign up for my free subscription below.
Disclosure: I was hosted for bed and breakfast at The Bull and Hide and provided with a media ticket from Gatwick Express, but was not required to write a positive review. All thoughts and opinions are mine alone and as always, I only recommend quality products and services that I truly believe in and would purchase and use myself. I am disclosing this in compliance with the FTC's regulations.