Waddesdon Manor isn't just about the manor, the gardens are absolutely a must-see if you're anywhere in the vicinity. Blenheim Palace is nearby and is another historical gem (Churchill's birthplace) and Tatton Park is also a wonderful place to spend a day, although it's much farther north.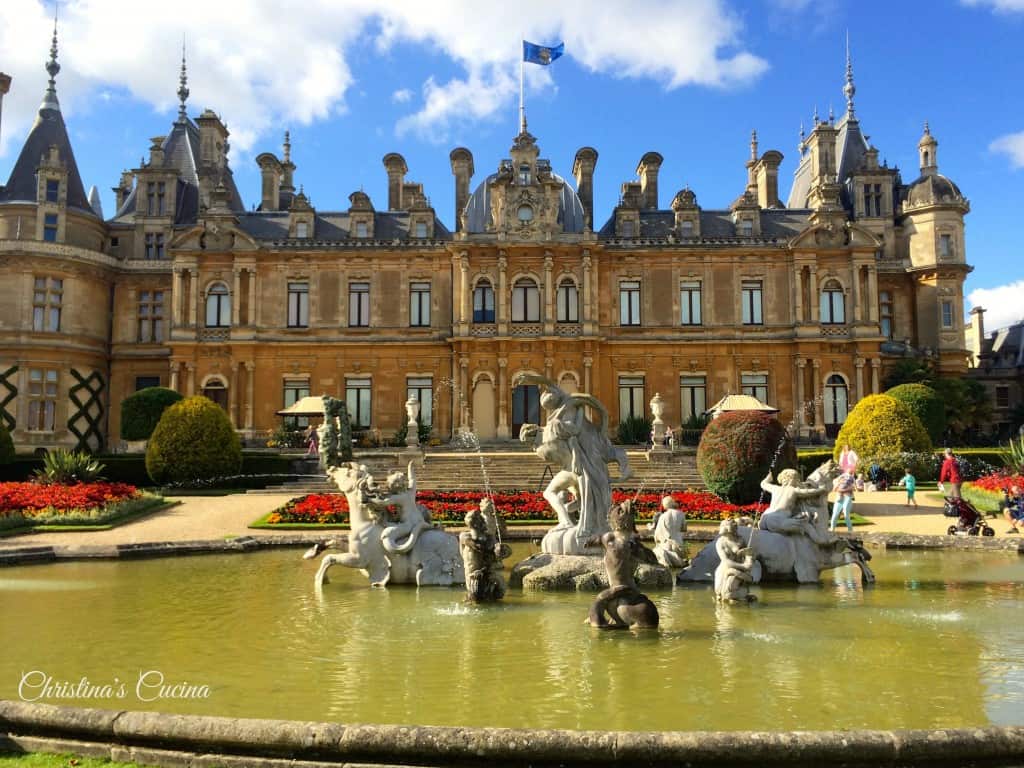 I left Battle in East Sussex later than I'd planned.
Disclosure: As an Amazon Associate I earn from qualifying purchases. I was given a one year Royal Oak Foundation Membership; all thoughts and opinions are mine.
Fortunately, there was only one spot with backed up traffic on my way to my cousin Connie's house, north of London. I had my Walker's Cheese and Onion Crisps, though, so that made it a bit more bearable.
The next day, Connie and I had plans to meet my friend, Lotte Duncan at a place called The Milk Shed in Oxfordshire. It's one of Lotte's favorites, so I had no doubts it would be wonderful, and it was!
As always, Lotte was so much fun to be with (you can follow Lotte Duncan on Instagram) and you'll see what I mean!
During lunch, Lotte suggested we visit Waddesdon Manor which wasn't too far away, and I'm so glad she did! It's one of hundreds of National Trust properties in England, and since I still had my valid Royal Oak Foundation membership from last year, it gave us free admission to the property!
Waddesdon Manor (National Trust Property)
There was some sort of community event at Waddesdon Manor that day, with lots of Bernese Mountain dogs on site. I started to take a photo of one of the many dogs, when her trainer said, "Her name is Lotte, call her and she'll look at you". I thought I misheard him, so I asked him to repeat what he just said, and yes, her name was "Lotte"! I texted human Lotte the photo and told her I didn't know which Lotte was cuter!
Connie and I walked through the expansive gardens as the manor house was closed. Although, having such gorgeous weather with bright blue skies, dotted with cotton-wool clouds, it would have been a shame to be indoors. The scenery and colors were simply stunning.
I'd highly recommend visiting Waddesdon Manor, even if only to stroll the gardens. Next time, I'll look forward to touring the manor house. One should always have a reason to return, no?
For those who don't want to walk the distance, there is a shuttle bus that takes visitors from the car park to the manor and gardens. Although there was a long line, we only waited a few minutes since they had so many buses.
Note: see the pink rose in the center in the collage above? The scent was intoxicating and I was so smitten with this rose, I wrote down the name of it. It was a David Austin rose named Gertrude-Jekyll. When I came home, I went to my local nursery to see about possibly ordering it. However, I was shocked to discover that they had it IN STOCK! I now have this rose, and it is simply spectacular!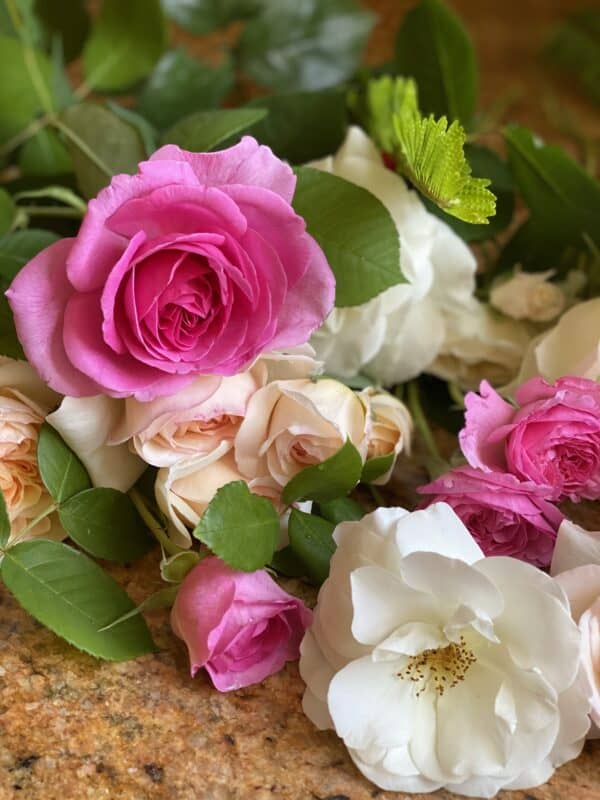 If you are a rose enthusiast, I cannot recommend it enough. These are a few of my roses, and the dark pink are the Gertrude-Jekyll variety.
On the motorway back to Connie's, I spotted a sign for Blenheim Palace. It was getting late, but I would have been happy just to see Sir Winston Churchill's birthplace from afar, so I took a detour to the palace. Blenheim was glowing in the late afternoon sunshine, casting long shadows on the grounds on which Churchill once played as a child. Blenheim Palace was nothing short of awe-inspiring and I was so grateful to be able to see experience it firsthand.
Blenheim Palace (Not a National Trust Property-ineligible for ROF entry)

It was too late to go inside, but I was content to wander around on the beautiful grounds with Connie. It is definitely another place to which I will return.
And if there weren't already enough reasons to go back, here's one more!
Connie and I finally made it home about 8 pm after stopping at Marks and Spencer (if you're visiting the UK, you need to go to M & S, I repeat, need), a high quality, combination grocery and department store. I almost shed tears of happiness on my return to my beloved Marks and Spencer, during this trip.
The next day, Connie, her husband, Tony and I were off to Scotland. I was the only driver on the rental car, and it was Tony's first time being a passenger for the entire trip, but he was a good sport and managed. The weather forecast was terrible, but thankfully, they couldn't have been more wrong.
After hours of driving and a couple of stops at rest areas, we decided to stretch our legs at Tatton Park, near Knutsford in Cheshire, another National Trust property (note: the Royal Oak Foundation/National Trust parking passes are not accepted at this property).
It seemed to be a trend, but we didn't have time to go inside Tatton Hall, so we decided to tour the gardens. The entrance took us into some of the most impeccable vegetable gardens I've ever seen (similar to the ones at Chartwell, Winston Churchill's estate).
Tatton Park (National Trust Property)
As you can see, there was much more than just vegetable gardens: there was a Japanese garden and large, peaceful pond, enjoyed by some resident ducks. We felt as though we had the gardens to ourselves.
We still had not seen Tatton Hall at this point, so we followed our park map towards it. There were even more gardens, including a large greenhouse where tropical plants and trees grow.

We finally reached Tatton Hall, and somehow it was not quite as ostentatious as I'd imagined it would be, given the expansive gardens we'd already seen. It might also have been the fact that I'd just been to the much more architecturally detailed, Waddesdon Manor, and Blenheim Palace, which was incomparable.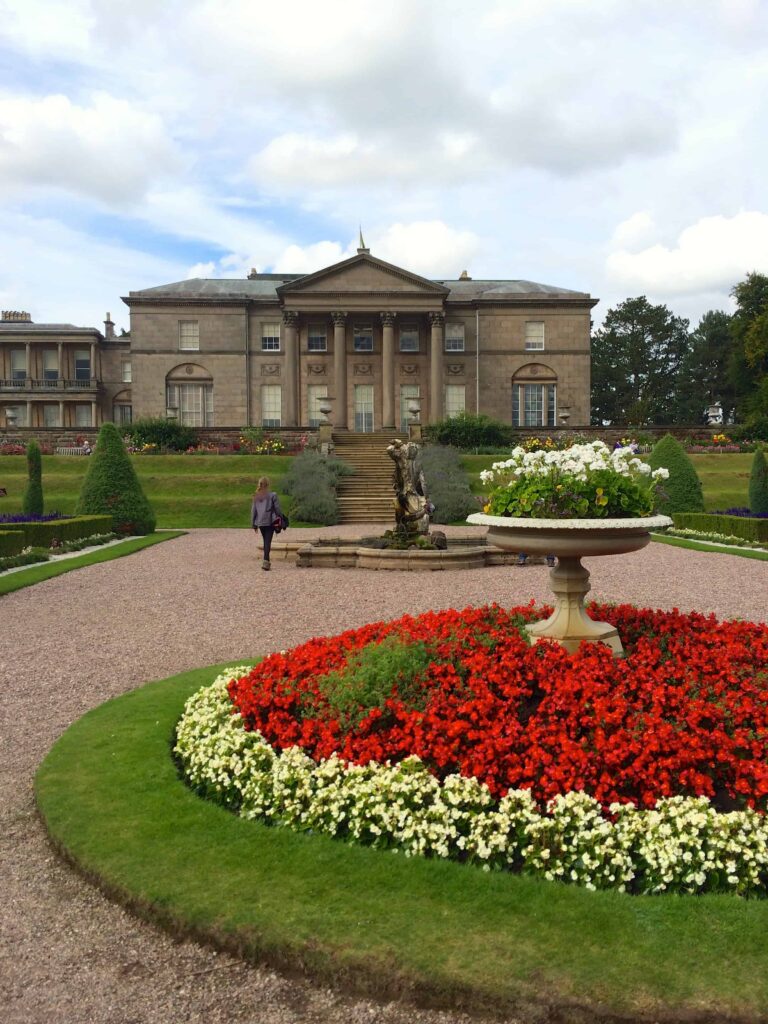 Every aspect of the gardens at Tatton Hall was pristine, and the grounds were impeccably manicured.
Tatton Park also has a lovely little garden shop where visitors can buy produce from the gardens, and there's Gardener's Cottage for dining, which features a quaint outdoor seating area, as well as a tea room.
Visiting Tatton Park was a great way to break up our journey up to Scotland even if it's just to have a cup of tea! I love stopping at National Trust properties when traveling throughout Britain. Even in Scotland, my Royal Oak Foundation membership has reciprocal benefits with the National Trust of Scotland, so all those properties include free admission, too!
We were back on the motorway in no time. Can you tell we're heading to Scotland with those clouds ahead?
We made one last stop at a rest area in England, called Tebay Services, and I have to say, it was probably the best rest area I've ever been to. I bought everything I needed for breakfast the next morning, and it was all superior quality except for the black pudding. Why didn't I read the ingredients? (The company should be ashamed of themselves. Do yourself a favor and don't buy black pudding from the Bury Black Pudding Company.)
I should have taken photos of the shop; I wanted to buy one of everything they sold! I did get a photo of the bacon; have you ever seen such beautiful bacon?
And how about the setting of this rest area?
And the views?
But there's one view that out-does them all–one of my most favorite sights in the world!
We just arrived in Edinburgh and were getting out of the car, when it started to rain! How was that for timing?
For more information about the Royal Oak Foundation or National Trust, just click on the links.
Disclosure: I was given a one year Royal Oak Membership; all thoughts and opinions are mine. I am disclosing this in accordance with FCC regulations.
Don't miss another recipe or travel post, sign up for my free subscription!
Christina's Cucina is a participant in the Amazon Services LLC Associate Program, an affiliate advertising program designed to provide a means for sites to earn advertising fees by advertising and linking to Amazon.com.