Afternoon tea at the Gardener's Cottage in Tatton Park is a beautiful way to spend a couple of hours before or after visiting the gorgeous gardens.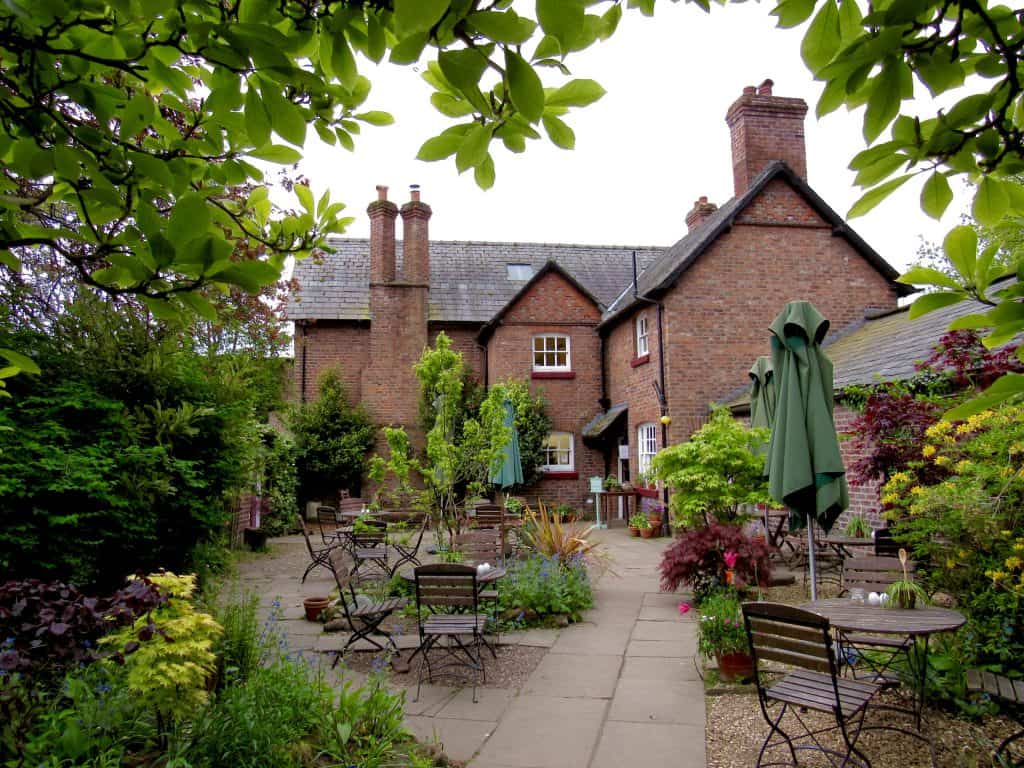 My dad is now 81 years old and had his first afternoon tea at the Gardener's Cottage in Tatton Park (a National Trust property) just a few weeks ago.
Disclosure: my parents and I were hosted for Prosecco afternoon tea at the Gardener's Cottage in Tatton Park with no strings attached. As always, all opinions are my own.
As an Amazon Associate I earn from qualifying purchases.
Even he was surprised at how much he enjoyed it, but what's not to enjoy? Delicious savory sandwiches, mile-high scones with cream and jam, sweet treats and endless cups of tea. Oh, I forgot to mention that we started with a glass of sparkling Italian Prosecco!
Let me back up a bit and tell you a little more about Tatton Park before sharing our afternoon tea. Only 20 miles from Manchester, Tatton Park is a National Trust property in England. US residents, this means you gain free entry with a Royal Oak Foundation membership AND you can get a 10% discount by using my special code: CUCINA2020 (NB: this is not usually the case at National Trust properties, but there is a parking charge at Tatton Park. The Royal Oak Foundation parking pass is not valid here.)
Tatton Park is situated within 1000 acres of a deer park, with so much to see and do, such as visiting the mansion (I've been twice and still have to go inside!), gardens, working farm and stableyard.
Not to mention, Tatton Park hosts 100 events each year, so there's often even more entertainment. Before the National Trust acquired the property in 1958, it was the home of the Egerton Family for 400 years! You can find more detailed information about the park HERE.
The Gardener's Cottage is located at the entry of Tatton Park's gardens, and is just like a hidden garden itself. I can only imagine how beautiful the atmosphere is on a warm, sunny day when one can eat in the courtyard.
Afternoon Tea at the Gardener's Cottage
Since it was so cool and overcast, we had our afternoon tea inside the cottage. It was really a perfect day for afternoon tea! We chose our teas and our tea tray arrived shortly afterwards. It looked fabulous!
To me, these were perfect tea sandwiches: no crust, evenly matched sizes, good ratio of filling to bread and FRESH, soft bread! It's so disappointing when this is not the case. The flavor of these lovely finger sandwiches was up to snuff, too: delicious. My parents loved them too.
And the scones–remember I described them as "mile-high"? Now you can see why.
The pastries were tasty; some delightfully whimsical, and some were traditional. A nice variety of flavors, too.
As shared on my Instagram story that day!
Service throughout our afternoon tea was very good and we thoroughly enjoyed ourselves which was wonderful, given it was my father's first tea outing. Afterwards, we headed out to explore the gardens.
Tatton Park Gardens
Although it wasn't a bright, sunny day when we visited, the gardens were still spectacular since the rhododendrons were in bloom. One could spend an entire day in the gardens at Tatton Park!
It was a shame that we were there a week or two early for the roses to be in bloom.
Are you going to be in or near Manchester some time in the future? Make it a point to stop in to Tatton Park to visit the gorgeous grounds, mansion and more, but be sure to plan breakfast, lunch or afternoon tea at the Gardener's Cottage while you're there. The kitchen uses real butter, local, free-range eggs, and salad, root vegetables and herbs from the walled garden right in Tatton Park. For more information, click on the links below.
Don't miss another recipe or travel post, sign up for my free subscription below.
Christina's Cucina is a participant in the Amazon Services LLC Associates Program, an affiliate advertising program designed to provide a means for sites to earn advertising fees by advertising and linking to Amazon.com.