This post will demonstrate a step by step method to teach you how to open a pomegranate in the easiest and least messy way.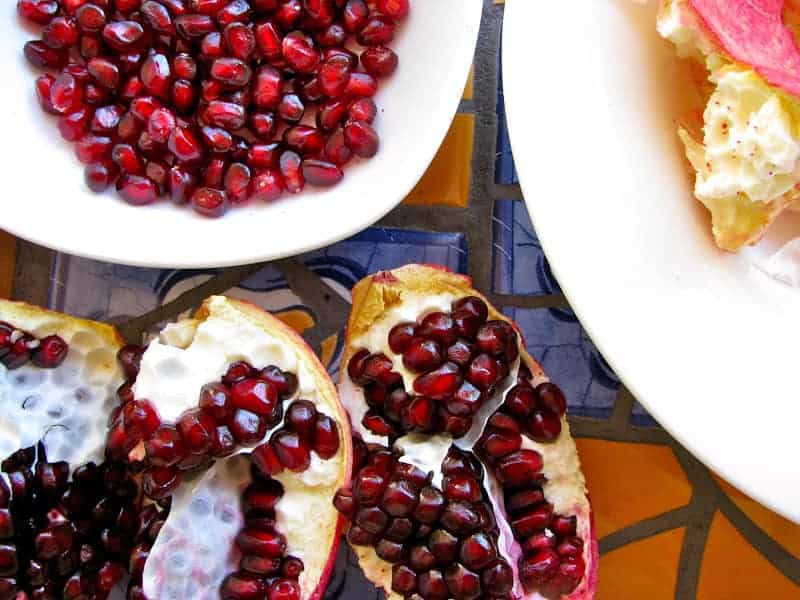 I don't know if the fact that I was born in October has anything to do with the fact that my very favorite fruit are pomegranates.
It's probably a coincidence, but a very nice one for me, because I was just given pomegranates for my birthday from two different friends!
If you've never tried one of these ancient fruits, you should really pick one up at the market next time, or you'll have to wait another year until they are in season again.
What's Not to Love?
To me, pomegranate arils (each individual seed is called an aril) look just like a beautiful shimmering jewel, and their flavor is so unique, but so sweet and wonderful. If you taste a pomegranate and it is sour or not flavorful, unfortunately, you're not in luck. Just as you can get a bad tasting apple or orange, it happens with pomegranates too. I've found that POM brand pomegranates are consistently sweet and delicious; if you can find POM in your market, it's a good bet it will taste how a pomegranate is supposed to taste. (This post is NOT sponsored.)
I could get into the history and nutrition benefits of pomegranates (powerhouse of antioxidants, for one thing) however, I'm actually posting this to show you how to open a pomegranate. I'm stunned by how many people have never tasted a pomegranate, or don't even know where to start in order to eat one.
Here's the way my mother taught me to open them, however, I've seen all sorts of other methods, including cutting them with a knife (very messy and wasteful) and opening them under water (something I see as unnecessary.)
How to Open a Pomegranate: the Easiest, Least Messy Way
You'll need a stain proof work area/clothes and two bowls (one for arils and one for the skin) and a small, sharp knife.
1. Take a conical shaped part out of the end of the fruit, as shown (avoiding cutting too deeply and breaking into the arils. Score marks from the bottom to the top of the pomegranate so the fruit is marked into quarters, as in the photo.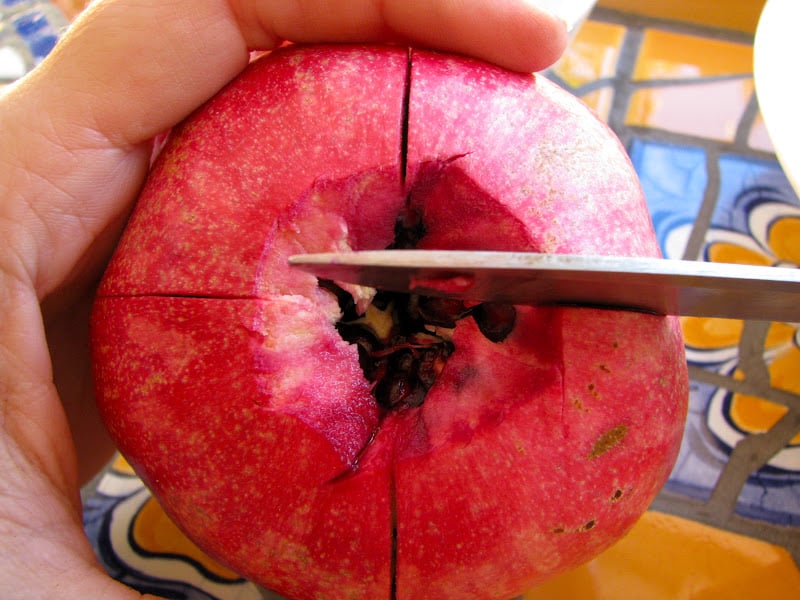 2.  Insert your thumbs into the opening at the bottom of the fruit and gently pull apart. Do this over a bowl to catch any falling arils.
3.  Break the pomegranate into halves…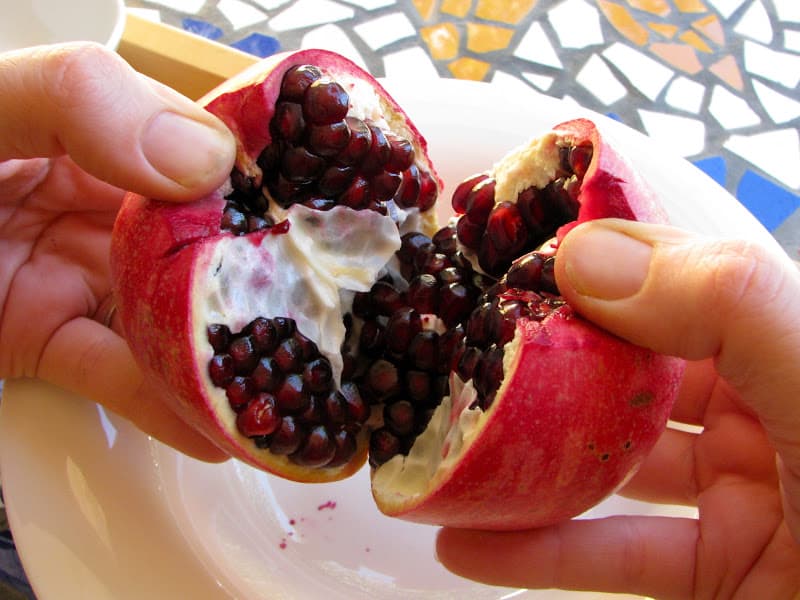 then into quarters.
4. Now remove the arils from the skin and pith, placing each in their respective bowls.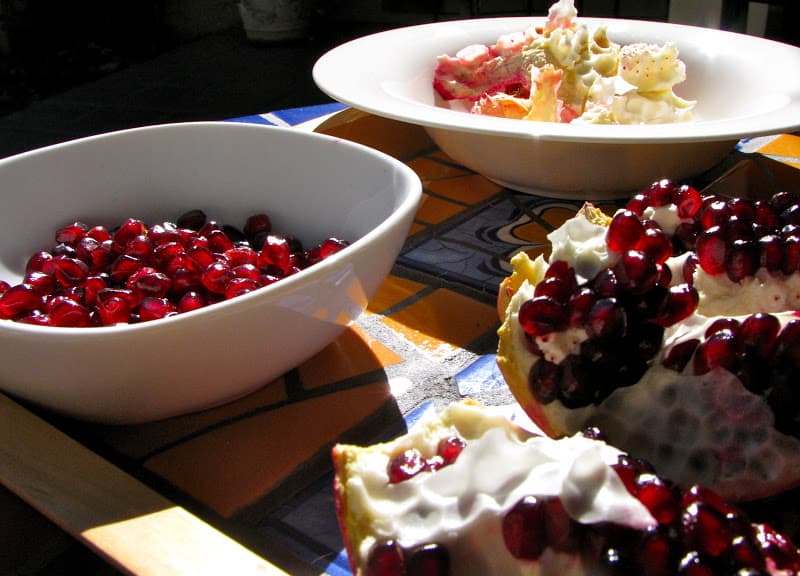 Pomegranates are fabulous just eaten alone. I snack on them all day long. They are also great for juice, garnishes for fall dishes, or where you just want to add a bold dash of color.
If you've never had a pomegranate martini, you're missing out, and my neighbor makes a mean pomegranate jelly!  So pomegranates can be used in many ways, but if you're like me–there won't be too many left to cook with, as I eat them before they make it into anything! I hope you'll give pomegranates a try this season, and that you'll love them as much as I do. Now you know how to open a pomegranate without making a mess!
Don't miss another travel or recipe post; subscribe to my free subscription below!
I promise never to share or sell your information!