5 reasons you will fall in love with Hotel Granvia Barcelona, and my fourth post on visiting the beautiful city of Barcelona.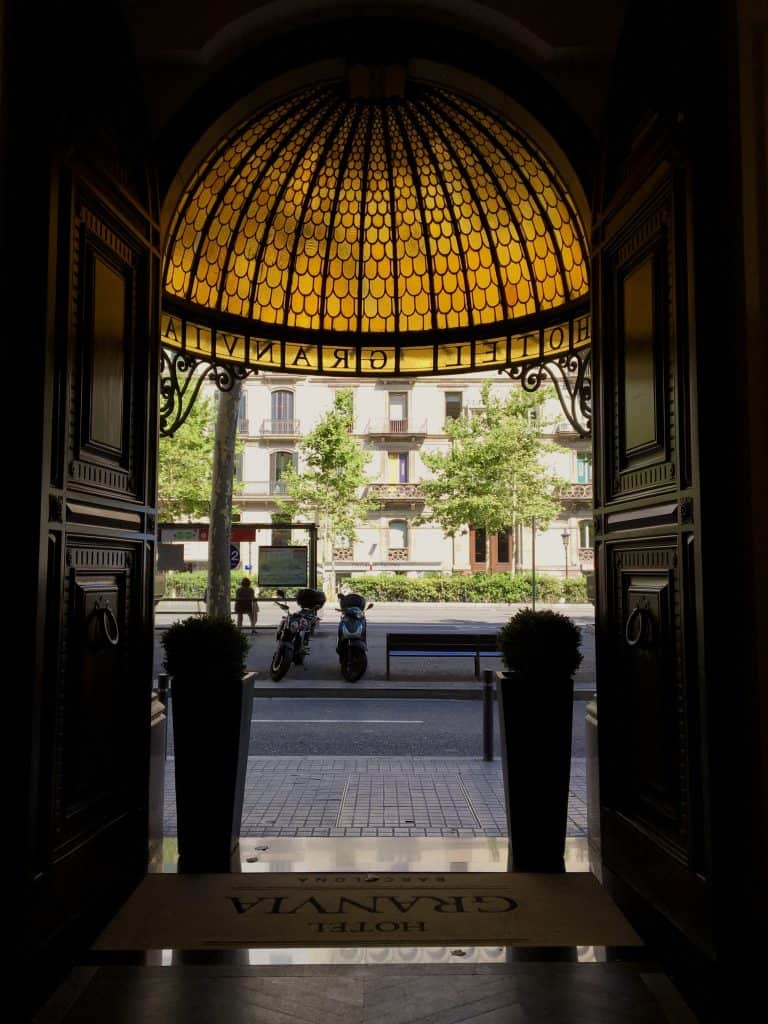 Last June found me back in beautiful Barcelona.
Disclosure: I paid full price for my room at Hotel Granvia Barcelona. I was graciously hosted for breakfast. As always, all opinions are solely my own.
I did find a difference since my first visit last December. There were definitely more crowds and and it was more difficult to find a nice hotel that wasn't outrageously priced.
Hotel Granvia, Barcelona
Luckily, I was able to book a single room for a night at the luxurious, yet unpretentious, Hotel Granvia. I actually wanted to stay for two nights, but they were fully booked for the following day, and I now understand why.
Here are the 5 reasons I think you will fall in love with Hotel Granvia, just as I did.
1. Granvia's History: A 19th Century Palace
In 1870, the building was commissioned to be built as a palace home for the husband and wife owners of the Bank of Barcelona. Although their home was an incredible and expensive architectural feat, Lady Dorotea de Chopitea dedicated her life their fortune to the betterment of Barcelona and its citizens.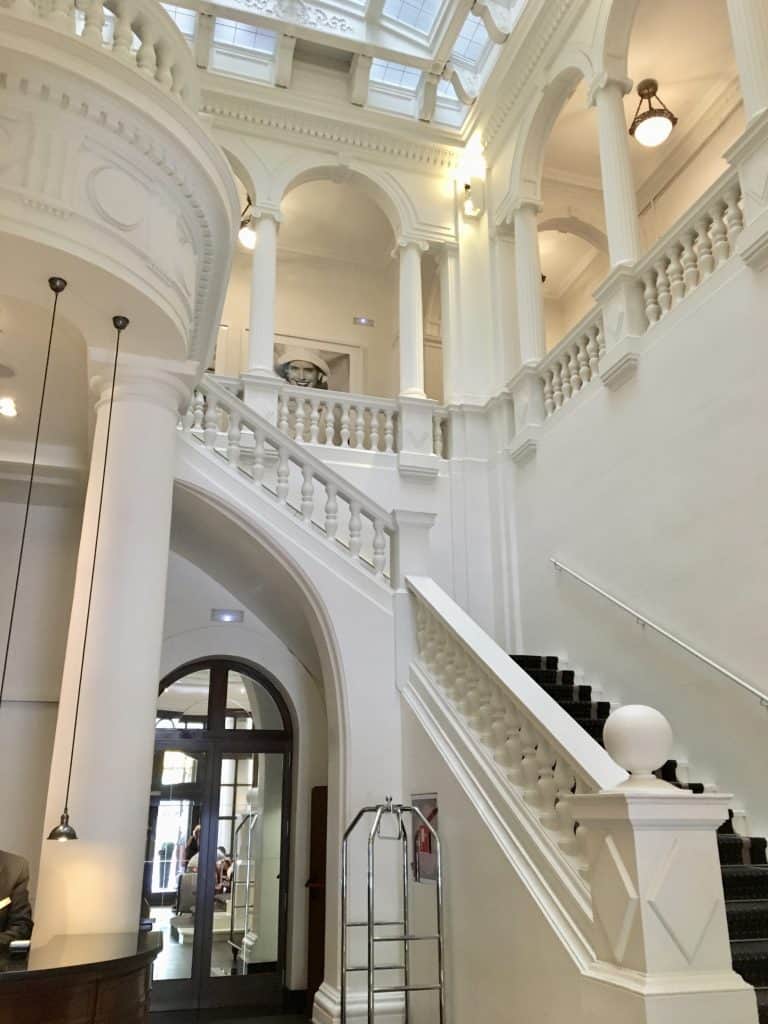 2. Style, Decor and Atmosphere
From the moment you reach the entrance and step into the foyer, you cannot avoid being encompassed by the feeling of serenity that exudes Hotel Granvia. It's the perfect respite from the frenetic sights and sounds of the city.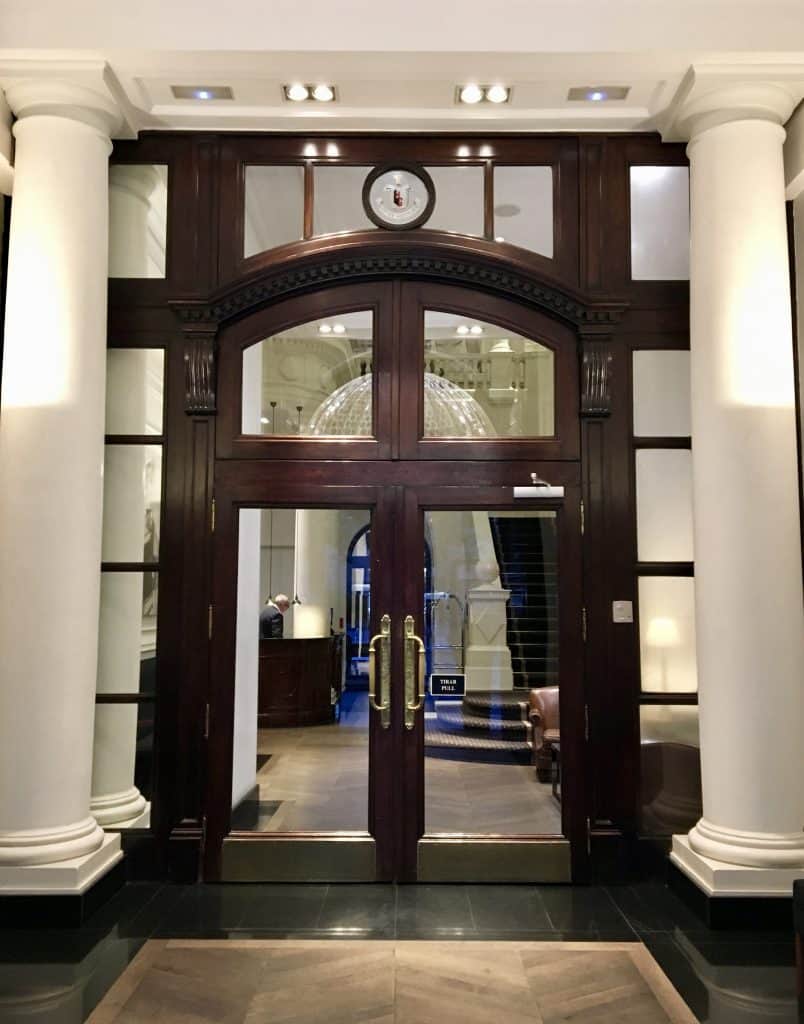 Since I had a tiny, single room, it was difficult to take photos, but it was decorated in the same classic and cool style of the rest of the hotel. You can see proper photos of the rooms on Hotel Granvia's site (link below). I do have to show you this pillow menu, though. I've seen pillow menus in the past, but nothing like this one. Nice to have choices as pillows are a big reason I'm often uncomfortable when I'm not in my own bed.
Check out this pillow menu!
3. The Terrace and Library
In lovely weather, there's no need to stay inside. Hotel Granvia's terrace is a quiet, wonderful place to read a book while you take in some rays, have breakfast or even order a cocktail and small bites.
Staying inside or need a quiet place to do a little work? The library is calling your name.
4. Breakfast and Tea Time
Attention to detail is evident throughout the hotel, and can also be seen at breakfast and tea time. I was very impressed at the choice and quality of the offerings at breakfast. Everything was top notch. Make sure to include breakfast if you stay at Hotel Granvia Barcelona!
Breakfast, as well as tea, coffee and snacks in the afternoon, are presented in this grand and spacious room. I want to clarify, a full afternoon tea is not served at Hotel Granvia Barcelona. However, they provide an inclusive self-serve coffee and tea assortment in the afternoon, along with some homemade baked goods.
I had a frothy coffee on the terrace.
5. Location
Finally, boutique Hotel Granvia is in a perfect location for exploring the city. It is particularly close to Plaça Catalunya in central Barcelona, as well as the Eixample neighborhood, Las Ramblas and the Gothic Quarter. The following ornate buildings and stunning locations are just a few of the unforgettable places I visited nearby.
Palau de la Musica
Plaça Catalunya
Plaça Reial
The Columbus Monument
The views are phenomenal.
Barcelona Cathedral
Sunset from a rooftop on Las Ramblas
Palau Güell
Yet another of Gaudí's masterpieces.
Parc de la Ciutadella
Arc de Triomf
And last, but not least, some pretty awesome tapas and drinks nearby!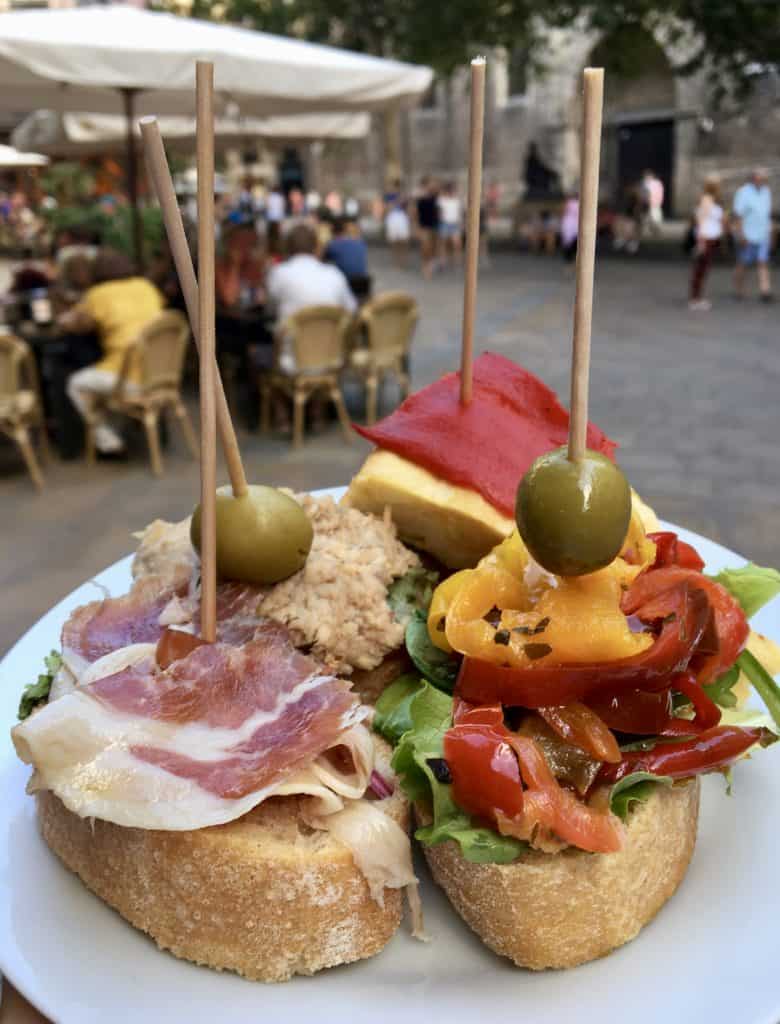 So if you're heading to Barcelona, I'd highly recommend the boutique Hotel Granvia. I don't think it's a stretch to think you'll fall in love with it, too!
TRAVEL TIP: The Barcelona airport buses have their first/last stop at Plaça Catalunya, so it's extremely convenient for stays at Hotel Granvia Barcelona. Click below to visit the hotel website for more information or to book a stay.
Don't miss another recipe or travel post; sign up for my free subscription below.
I promise not to sell or share your info, ever.