Christina's breaded pork schnitzel recipe is a simple way to turn regular pork chops into something really special that the family will love.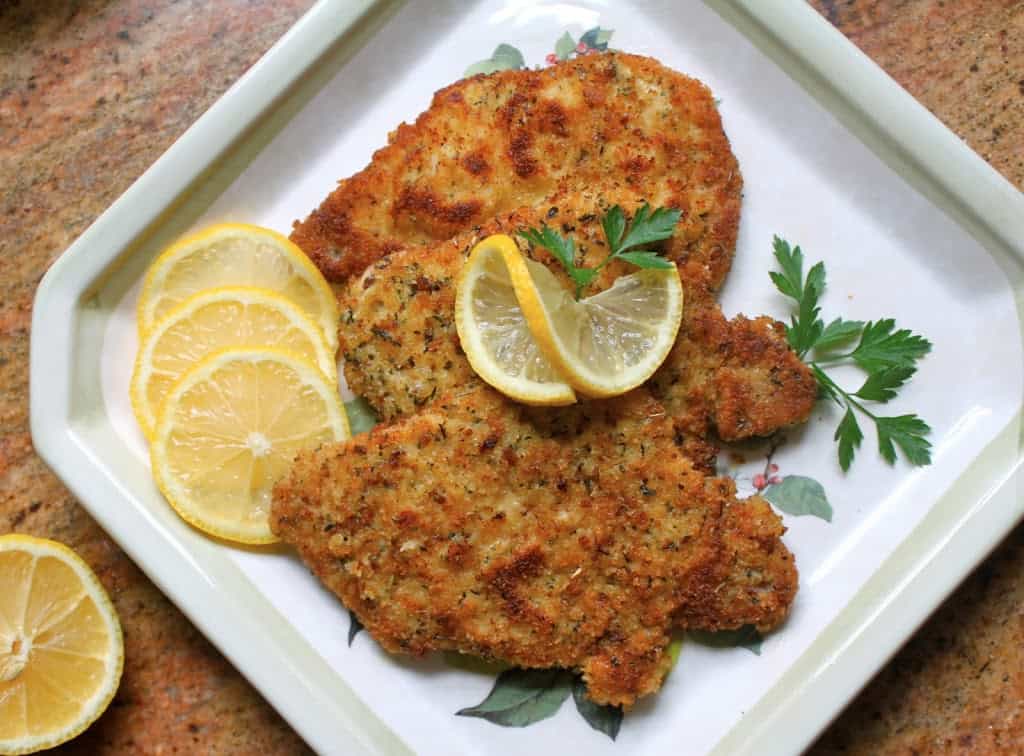 One of the things I enjoy most is travelling.
Of course, how much I love travelling is directly proportional to how much I enjoy the food along the way.  I'm sure this won't surprise you, but food is as important to me as any other aspect of the travel experience. I'm sure most of you can relate, as you don't even have to travel far to have food impact your enjoyment of a night out, or a day trip, for example. If I get in my car and drive to Santa Barbara and have a fabulous time at the beach, taking in the beautiful views, doing a little shopping, and then end it with a horrible meal at a restaurant (for which I had high hopes)…it rather puts a damper on the day. However, if that meal is fabulous, then it's the crowning glory that just makes for a perfect day!
Eating delicious food across the countries of Europe is like hitting the jackpot to me, and when my children were younger, I loved exposing them to new tastes, sights and cultures.
Twice, I have been fortunate enough to travel from Germany to Italy and back, by car (once on honeymoon, and once with our children). There are so many reasons why I adore making this trip besides being able to take smaller roads, and see quaint, old villages and breathtaking views (which we would miss if we took another mode of transportation), there is the opportunity to sample German, Austrian, Swiss and Italian cuisine all in one trip!
One of the highlights of visiting Germany and Austria is having "Wiener Schnitzel mit Pommes Frites"…thin, breaded veal which is fried to a golden brown, and served with french fries (chips.) It's such a simple meal, but so incredibly delicious, and it also happens to be Austria's national dish.
I don't buy or eat veal in the US because calves are not treated as humanely here as they are in Europe (this is also why I buy organic, grass-fed beef as much as possible, and never buy regular beef anywhere) so when I make my version of this meal, I like to use pork.
PLEASE NOTE:  this is not the recipe for traditional Wiener Schnitzel or Schwein Schnitzel, and I am not claiming that this is how these dishes should be prepared; this is in fact, just my own recipe for breaded pork schnitzel.
After you make this once, you won't have to refer back to this recipe, because it's so easy!
If you don't eat pork, you can make this with chicken too; it also tastes great prepared this way.
Make sure to serve with lemon slices or wedges which can be squeezed over the breaded pork schnitzel! Delicious!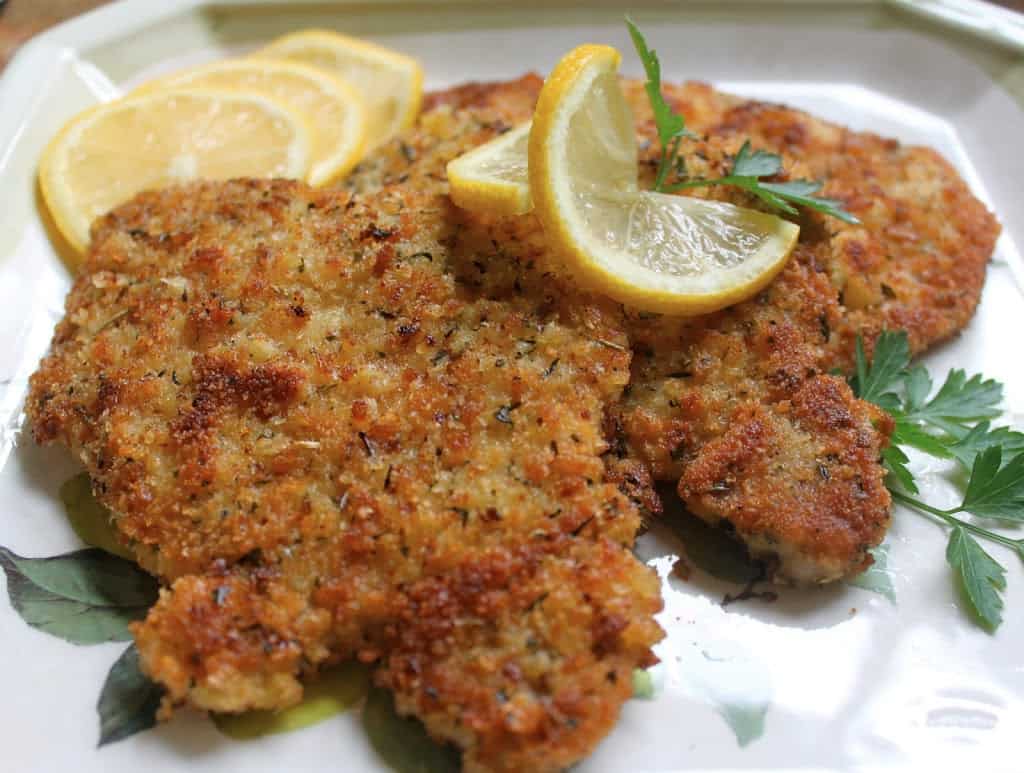 Christina's Breaded Pork Schnitzel
Ingredients
4 or 5 boneless pork cutlets/chops
Kosher or sea salt
1 egg, beaten with 1 tbsp water and a pinch of salt
flour, to dredge pork (about 3/4 cup)
about 1 1/2 cups (6 oz) plain dry breadcrumbs, preferably homemade
dried thyme
dried parsley
dried herbes de provence
salt and pepper
light olive oil
Pound the chops in between a sheet of parchment or waxed paper until at least double it's size.
(Original size on left, after pounding on right.)
Sprinkle a little salt on each side.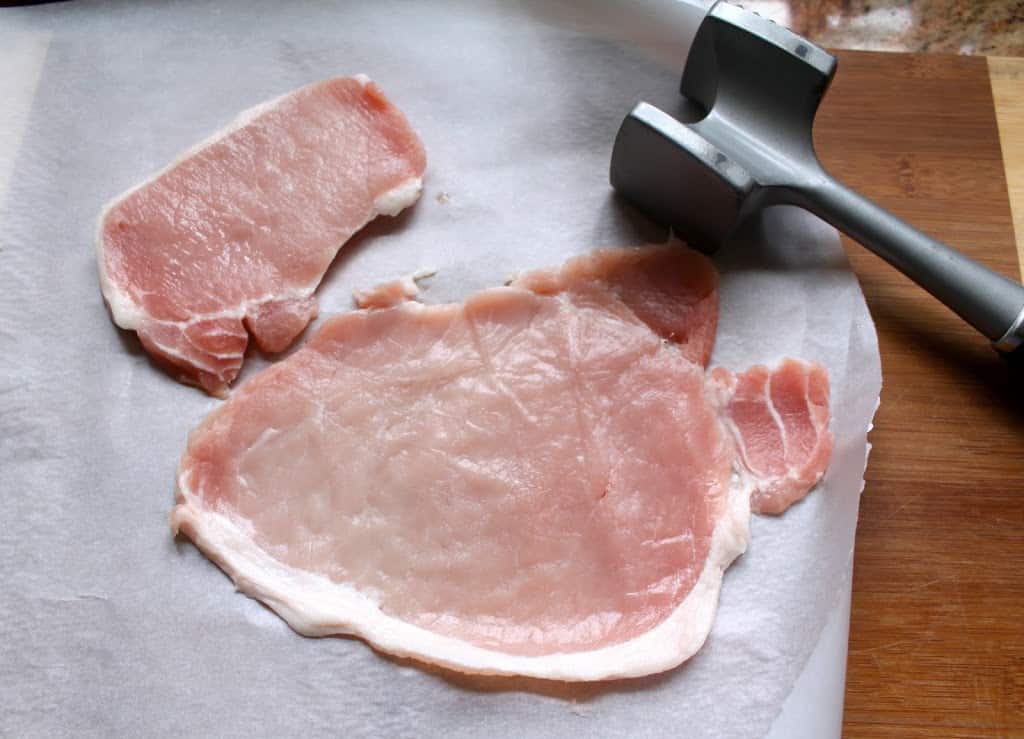 Next, prepare a plate with some all-purpose flour to dredge the meat in (just start with about 1/3 cup as whatever is leftover will have to be thrown away.)
Put the beaten egg and water in large flat bowl, that will accommodate the beaten pork cutlets.
Now, don't panic, but I cannot be specific with measurements on this part, but you really don't need to measure anything, honestly!
Turkey Schnitzel with Leeks and Butter Sage Sauce
Here's why: as you dip the pork into the breadcrumbs, the herbs tend to disappear quicker than the breadcrumbs, so you'll have to "top-up" your herbed breadcrumbs a few times.
So take about 1/2 a cup or 2 oz of breadcrumbs and put them in a large flat bowl.
Add about 1/8th tsp each of thyme, parsley and herbes de provence and a little salt and pepper. Mix together.
Dredge the pork pieces into the flour, then the beaten egg, until completely coated.
Now dip into the herbed breadcrumbs and set aside on the parchment/waxed paper.
As the flour and/or herbed breadcrumbs are used, refill the plates with more of each, as needed until all the pieces are coated and ready to cook.
Using a stainless steel or non-stick frying pan, heat some light olive oil over medium high heat until hot, then add a few pieces of pork. The pork will cook quickly as it is so thin.
Fry until golden brown on each side, adding more oil as needed.
Remove the breaded pork schntizel from the pan and place on a paper towel lined plate.
Keep warm in the oven while frying the rest of the pork.
Place the breaded pork schntizel on serving platter and garnish with parsley and lemon slices. Serve with your choice of potato, such a french fries, mashed potatoes or baked potato, and a green vegetable. Applesauce is very good as an accompaniment, as is a fresh green salad.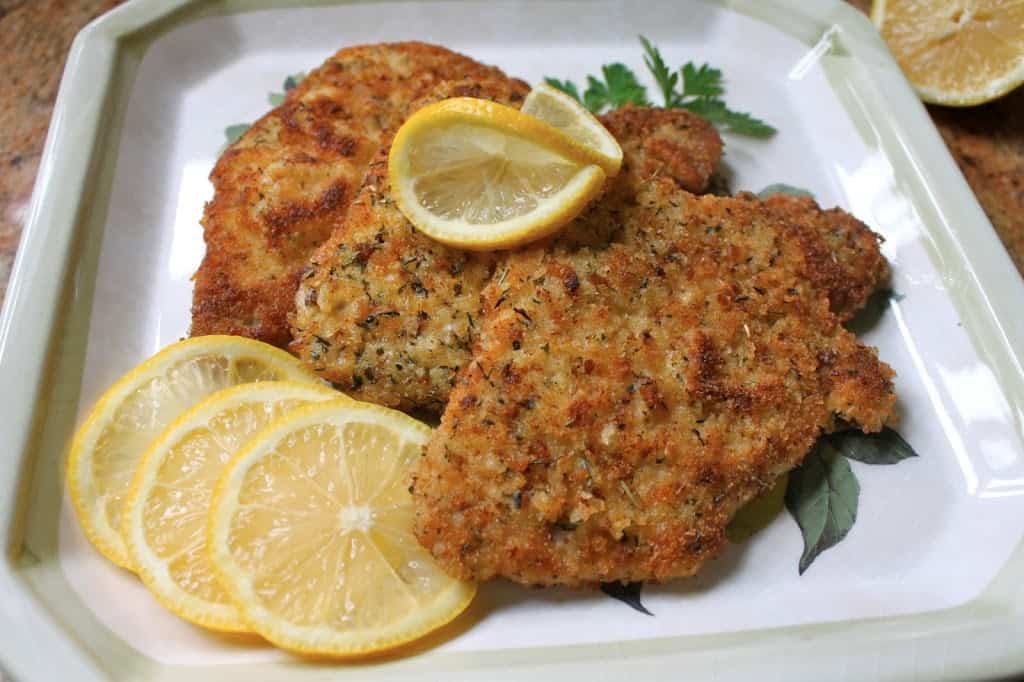 And to prove to you how simple this is to make. This is the dinner, including breaded pork schnitzel that my 14 and 17 year old made for themselves when I went out one evening. Looks pretty delicious, doesn't it?
Don't miss another travel or recipe post; subscribe to my free subscription below!
I promise never to share or sell your information.