Steak au poivre, or peppered steak, is a luxury mid-weak meal you can whip up in 15 minutes! Don't save it for only weekends!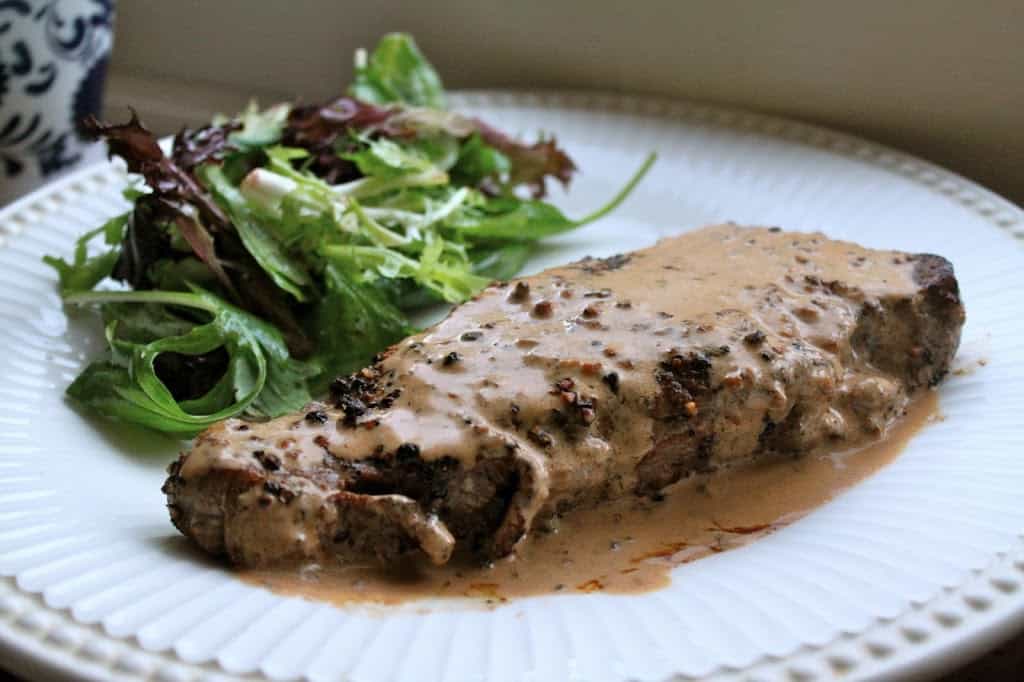 How much do you think this Steak au Poivre with a side salad would be at a decent restaurant?
This post may contain Amazon affiliate links, at no additional cost to you.
Easily a minimum of $25, right? Multiply that times two, add tax and tip, and the bill has exceeded $60 and that doesn't include a beverage (or other members of the family!)
I think many people don't realize just how simple it is to make "restaurant-menu meals" at home. When making Steak au Poivre, you can choose your own organic, grass fed steak for much less than half the price you'd pay at a restaurant (of course you do realize for that $25, most places are not serving you quality, organic steaks.)
Before I go any further, I want to explain that one of the main goals I have in writing this blog is to convince people that eating well doesn't have to entail endless hours in the kitchen, or depleting your savings account when you go to the grocery store. In fact, if you are eating out, or ordering in, or buying pre-made meals, it will actually save you money (and your health!)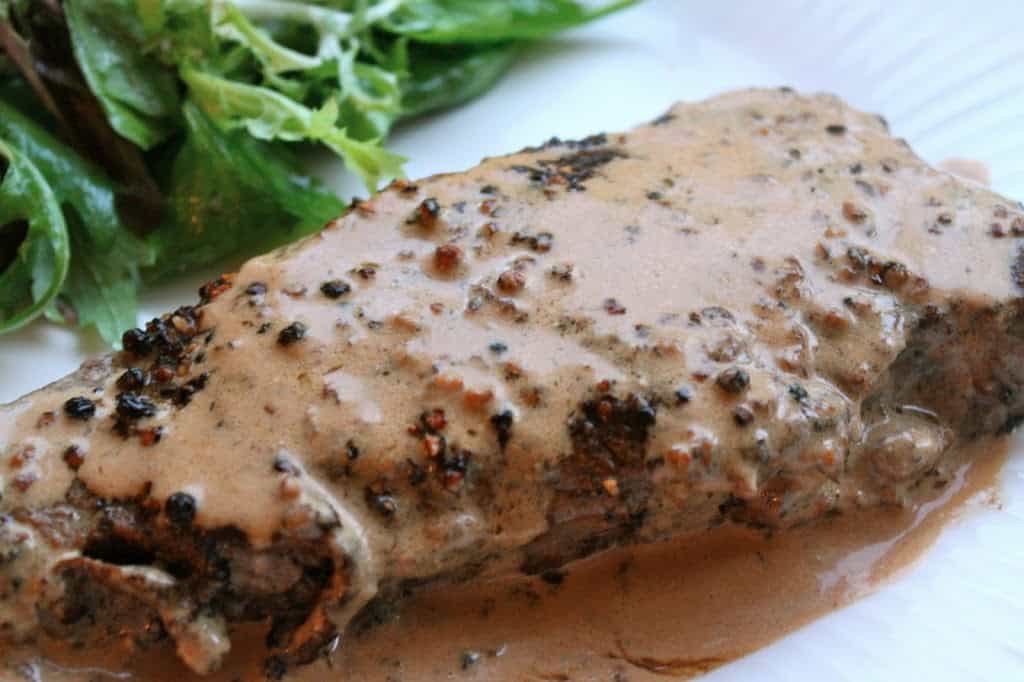 Also, please note that my photos are grainy on this post because this is what I made for dinner after being at my daughter's swim finals for hours earlier that day, into the early evening. I cooked this at 7:30 p.m., and there wasn't much natural light at that time, therefore, the grainy photos!
My point is that if I can make this meal and take pictures in 20 minutes, it'll take you even less time just to make the steaks (the biggest factor in how long it will take is how well-cooked you like your steaks.) The photos you see on my site is the food my family and I are eating.  My food photos are real, not some shellac-sprayed, boot polished, painted or photo-shopped dish that looks like it belongs on the cover of a food magazine, despite the fact that it is completely inedible.
By the way, I am not a steak person, in fact, I will not eat a thick steak, unless it's prepared this way. So do I really need to talk about the fabulous brandy and cream sauce, combined with the flavor of the crushed pepper on the tender, seared steak?
I didn't think so.
Steak au Poivre (Peppered Steak)
adapted from a Bella Magazine recipe
Ingredients
2 steaks, your choice (preferably organic, grass fed beef)
2 tbsp. whole black peppercorns*
1 tbsp butter
1 tbsp olive oil
Kosher salt
2 tbsp brandy
1/3 cup (3 oz) heavy cream (you can substitute half and half for less fat)
parsley, to garnish, if desired
*although the steaks are encrusted with black peppercorns, because they are not finely ground, the dish is not very spicy; however, if making this for young children, too, you can omit the peppercorns and serve the plain steak with the sauce (all the alcohol is burned off)
Crush the peppercorns coarsely with a mortar and pestle (or place in a plastic bag and crush with a heavy object, like a pan or rolling pin.)
Place peppercorns on a flat plate or waxed or parchment paper, then press the steaks into the peppercorns to coat well on each side. Use all the pepper.
Heat the oil and butter over medium heat, then increase the heat to high and sear the steaks for two minutes on one side.
 Turn steaks over and continue to sear the other side for two minutes, then reduce the heat to about medium, season with salt and continue to cook the steaks for the following:
1 or 2 more minutes, each side, for RARE
3 more minutes, each side, for MEDIUM
5 to 6 more minutes, each side for WELL-DONE
 Season the other side with salt, and when cooked to your preference, remove steaks from pan and place on plate and loosely cover with aluminum foil to keep warm (you can also keep them in a warm oven.)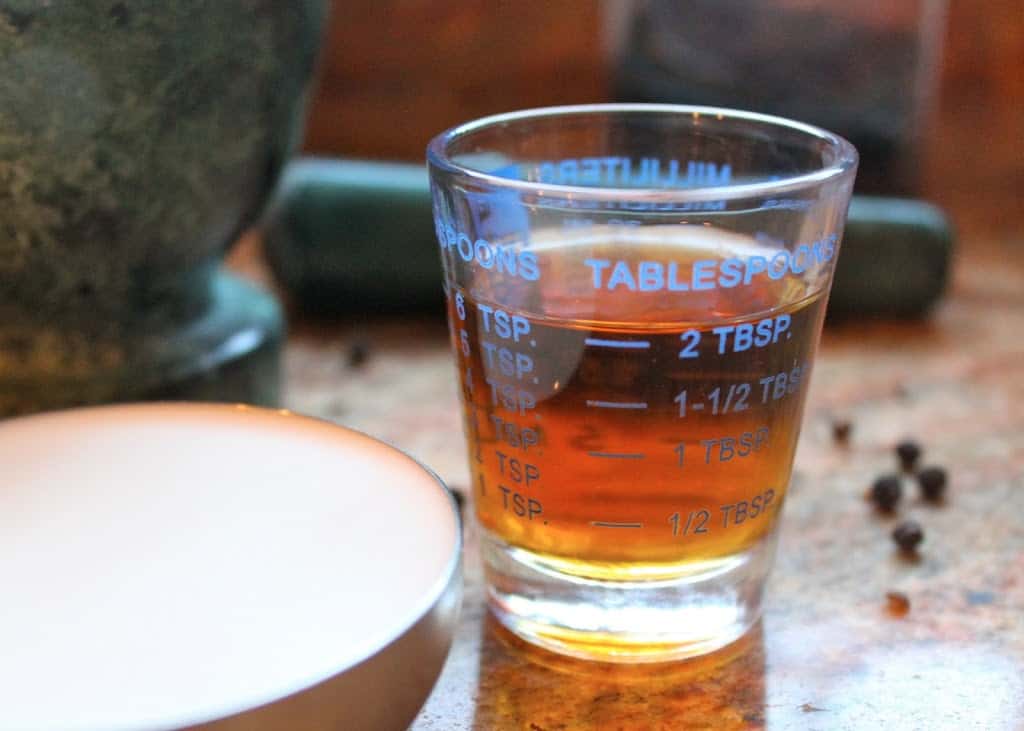 Meanwhile, pour the measured brandy into the pan, and warm slightly. TURN OFF gas or electric burner, remove the pan from the heat and carefully light the brandy with a match (preferably a long one-and keep a tight fitting lid nearby, just for insurance).
Once the flames have dissipated, return the pan to the burner over low heat.
 Add the cream, stirring well to clean all the flavorful bits from the bottom and sides of the pan.
Place the steaks on plates and serve the brandy/cream sauce over the top, along with a simple side salad, and/or vegetable or baked potato.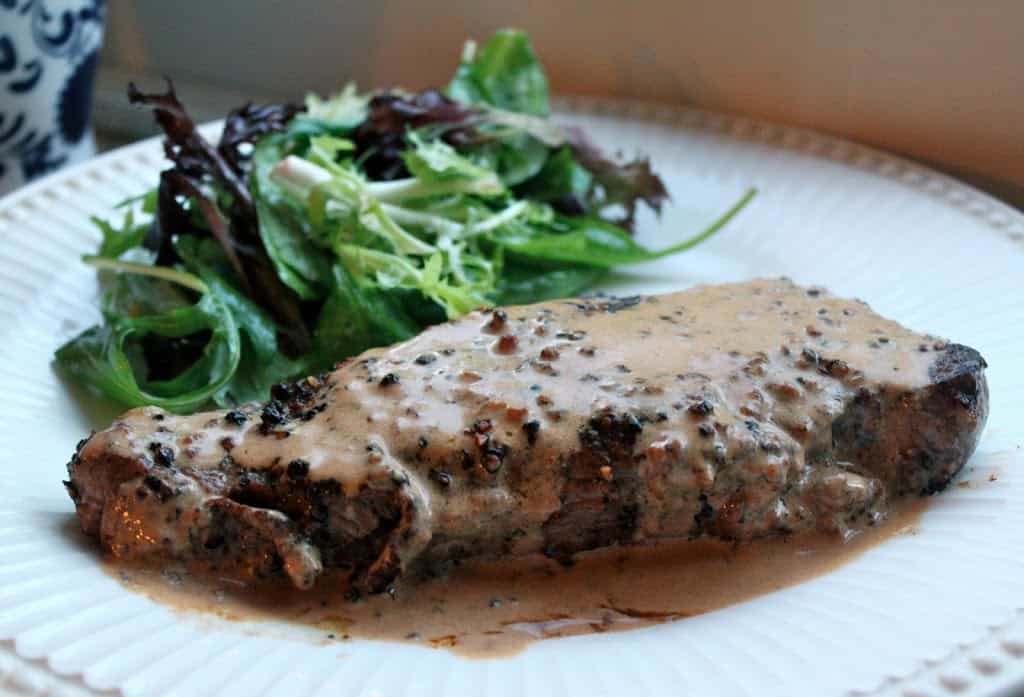 *Tip: you can crush the peppercorns ahead of time, so this meal takes even less time to prepare.
Don't miss another recipe or travel post, sign up for my free subscription below!
I promise not to share or sell your email address, ever.
Christina's Cucina is a participant in the Amazon Services LLC Associates Program, an affiliate advertising program designed to provide a means for sites to earn advertising fees by advertising and linking to Amazon.com, with no added cost to you.