The Norton House Hotel and Spa is truly a fabulous choice if you are ever in need of a luxurious hotel stay in Edinburgh near the airport.
About two weeks ago, I was fortunate enough to experience an evening at the lovely Norton House Hotel & Spa in Edinburgh, which included a marvelous dinner at The Brasserie.
Disclosure: I was hosted for dinner for two and accommodation for one evening, however all opinions are mine alone, and there were no conditions attached.
There are so many fabulous aspects about the Norton House Hotel & Spa, that I honestly have a hard time knowing where to begin, but have decided to start with the location. The Norton House Hotel is a 10 minute drive from Edinburgh airport, and 20 minutes from the city center, but feels as though it is situated in the middle of the Scottish countryside, miles away.
It sits elegantly at the end of a very long driveway, away from the main road, in a serene and quiet spot of 55 acres. This feature gives guests the convenience of being close to the city and airport, and the luxury of feeling as though one is in a remote and quiet location.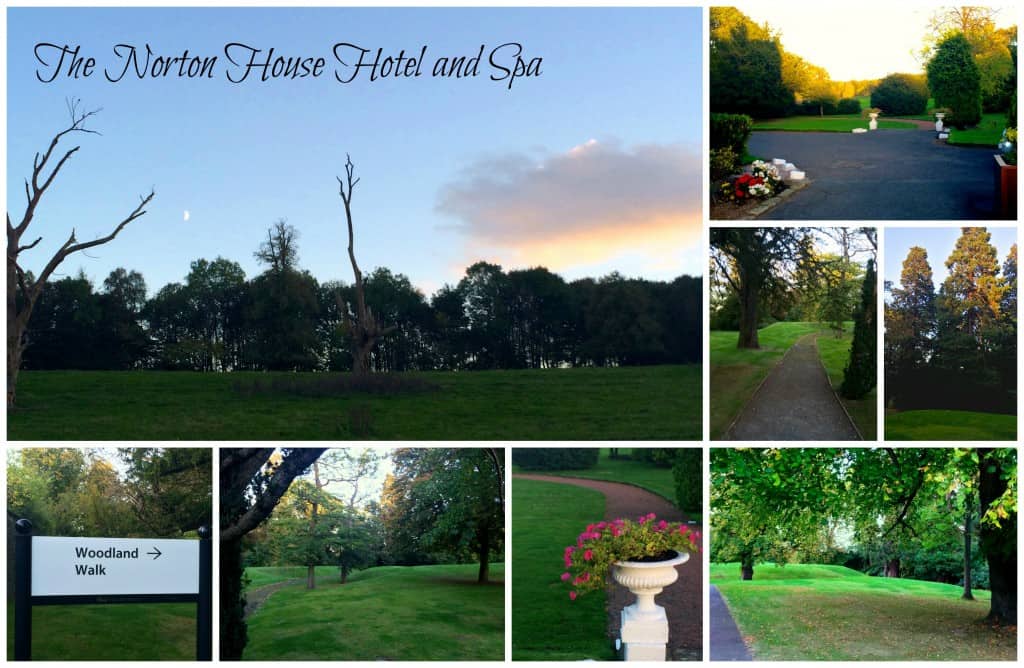 My mother was traveling with me, and when we arrived at the stately house, we were helped with our luggage and shown to our room in no time. The lobby was lovely, and the hotel filled with character. Although it sounds trite, the photos truly don't do justice to these spaces.
The Norton House Hotel was built in 1840 and intended as a country retreat, but it is so much more than that now. Chosen by Julia Hands to be one of her Handpicked properties, it offers 83 bedrooms including 36 luxury rooms and suites; Usher's Restaurant holds 3 AA Rosettes (for US readers, that's the equivalent to a 3 diamond AAA rating), and let's not forget the spa facilities which are top-notch.
The Norton House Hotel and Spa actually was awarded Hotel of the Year in Scotland in 2010 by AA, and after visiting this wonderful establishment, I can see why.
My mother and I checked into our room in the newer part of the premises and I must say, I was surprised at how large and spacious it was. The decor was tasteful and I really liked the low lighting. The stuffed toy kitty in the center photo below is to be placed outside one's door instead of a "do not disturb" sign, which I thought was quite adorable. And yes, that is a TV above the bathtub, so you can soak, and not miss your favorite shows!
We freshened up and changed before going downstairs for our dinner reservation at The Brasserie. It really felt like a celebratory dinner, given that I'd won the World Porridge Championship Specialty Award the night before, and was still on a high!
When I travel, I want to eat the foods that are locally grown, sourced and traditional for that country or city. I don't understand people traveling thousands of miles from the US, for example, only to eat at McDonald's or Chipotle in the UK. Although these are fast food restaurants, my point is that in traveling, I enjoy eating food I would otherwise not be able to eat at home. The Brasserie at the Norton House Hotel is definitely the kind of restaurant I choose to dine in, and it is perfectly described on their website:
"The Brasserie Restaurant at Norton House Hotel & Spa Edinburgh, creates an informal and relaxed atmosphere in which to enjoy traditional Scottish cuisine. Here you will find great traditional food and an accompanying wine list, with recommended dishes and hand picked wines, the perfect place to dine out in Edinburgh and West Lothian."
After we were seated, we perused the menu and I had a hard time deciding because there were so many appealing dishes on the menu (you can see the full menu on the website). We learned something interesting about the wine list, and that "hand picked" wines was a literal description because the Chairman and Chef Executive, Julia Hands is a lay judge for the International Wine and Spirits Competition. She brings her knowledge to choose the wines which are served in her hotels.
There is much too much to tell about this incredibly talented woman to fit in one post, so I will refer you to The Hand Picked Wine Story. Needless to say, I felt very confident that we would not be disappointed in any of the wines we chose, and we were not. I chose the red Raccolto a Mano (which means "hand picked" in Italian), 2011 which was very good with my meal, while my mother decided on a Terre Forti Bianco, 2012 from Tuscany which she also enjoyed.
Then it was time for our appetizers, and my mother chose the Salt and Pepper Calamari with a Cucumber and Chili Salsa, and I decided on the Mature Cheddar Cheese Soufflé with Rocket (Arugula) and Red Wine Poached Pears. If these were any indication of how our main course was going to taste, we were both extremely happy!
The calamari were hot and crisp, and the batter not too thick, but the best part was they were not in the least bit greasy and the relish dressing on the salad was unique, but delicious. My Mature Cheddar Soufflé was light and flavorful, and the poached pears and arugula were lovely accompaniments. You know that I was thinking–that I need to make this one at home, right?
Next came our entrees, and I had been swaying amidst choosing the roast rump of lamb, Cumberland sausage or sirloin steak which was offered with an array of sauces from which to pick. Mum had decided on the roast chicken breast, leek Dauphinoise Potato, Fondant Carrot with Sherry Wild Mushroom Sauce, which was great because I really wanted to try that, too. In case you don't know, Scottish beef is renowned for being some of the best in the world.
Although I'm not a big steak fan, I do really enjoy an occasional Steak au Poivre, so I decided to have the Grilled Sirloin Steak with Peppercorn Sauce. It was served with chunky chips (steak fries, if you are in the US), flat cap mushrooms and grilled tomato. Unfortunately, the photos aren't the best due to the lighting, but I hope you can at least get an idea of how wonderful the food truly was. I might add that everything was served piping hot, which I absolutely love!
Even though we'd eaten appetizers, we cleaned our plates because everything was so appetizing, and it would have been a sin to leave anything uneaten. The chicken was especially moist and succulent; the steak, perfectly grilled and the peppercorn sauce was fantastic–I could have almost eaten it on its own!
Next, we moved onto dessert, which is usually never a problem for me as every single one of my teeth is a "sweet tooth", however it seemed to me that the majority of the dessert menu was something one would expect to see in summertime, and most of them included ice cream.
We decided to share the Caramelized Apples, Toffee Sponge, Honey Ice Cream and Crumble. Unfortunately, it was a bit disappointing as I was most looking forward to the Caramelized Apples and I'd conjured up a picture in my head of what was to appear, but as you can see, the apples simply weren't caramelized.
However, given the fantastic meal, the un-caramelized apples were not a big issue and we were completely happy with the friendly and prompt service we received and I would absolutely recommend The Brasserie to anyone and everyone.
My cousin and his wife had their anniversary dinner at Ushers in August and had told me how wonderful their meal was, so my dining expectations were absolutely met and exceeded at The Norton House Hotel & Spa. I'd love to go for afternoon tea one day, as it's the perfect place for it, and I know I wouldn't be disappointed.
After dinner, I was given a tour of the premises by a lovely young man named Mike, who was so friendly yet very professional, which seems to be a running theme of the employees at The Norton House. I was able to see the Cramond Suite located in the original building, which was classic and elegant.
In addition to these, The Norton House hotel also has very tasteful contemporary suites available.
We were then off to see the incredible spa facilities which are located in a separate building, steps from the Norton House Hotel.
It is a beautiful building in itself and offered so many amenities, I even had to ask about one of the treatments, Rasul, as I'd never heard of it before. Apparently, it's a form of mud therapy. Maybe I'll be able to indulge the next time I return to Edinburgh!
As you can tell, my mother and I immensely enjoyed our dinner and stay at the Norton House Hotel & Spa, and I am so glad that I discovered the Handpicked line of properties, because knowing how impeccably run the Norton House Hotel & Spa is, I am sure the same high standards would also be met in England and Wales.
I felt very welcomed and comfortable in all areas of the hotel, and I truly feel locals and tourists alike can enjoy the down to earth luxury that the Norton House Hotel & Spa has to offer. I look forward to exploring more Handpicked hotels in future and I hope you will do the same. You won't be disappointed!
THE NORTON HOUSE HOTEL & SPA, EDINBURGH
All thoughts and opinions are mine alone, and as always, I only recommend quality products and services that I truly believe in and would purchase and use myself. There have been no conditions stating that the reviews must be positive; I am disclosing this in compliance with the FTC's regulations.
Don't miss another recipe or travel post, sign up for my free subscription below!
I promise not to share or sell your email address, ever.