This sticky toffee porridge recipe knocked the judges' socks off at the 2014 World Porridge Championships (The Golden Spurtle). Why don't you give this unique dessert a try? I bet you'll love it, too.
Introducing my unique, and utterly delicious, award winning STICKY TOFFEE PORRIDGE!
As an Amazon Associate and Scottish Grocer affiliate I earn from qualifying purchases.

My World Porridge Championship experience!
Many of you already know that my Sticky Toffee Porridge recipe won the annual World Porridge Making Championship Speciality Award in Carrbridge, Scotland. I based it on this sticky toffee pudding, and now, I want to share my porridge recipe with all of you. I'd be over the moon for you to make and taste this wonderful dessert for yourself.
I wasn't the only speciality winner though. For the first time, the judges simply couldn't decide between my sweet dessert and another savory "risotto" dish.
Ultimately, they decided to choose two winners! I couldn't be happier to share the limelight with Chef Chris Young from Perthshire Oatcakes. He created his Wild Mushroom Pinhead Risotto using oats! Here we are with the traditional winner and Porridge Masters winner (special event for the 21st anniversary of the Golden Spurtle) on BBC News!
To skip all the photos and day's events and get right to my recipe, scroll to the very bottom for a printable version.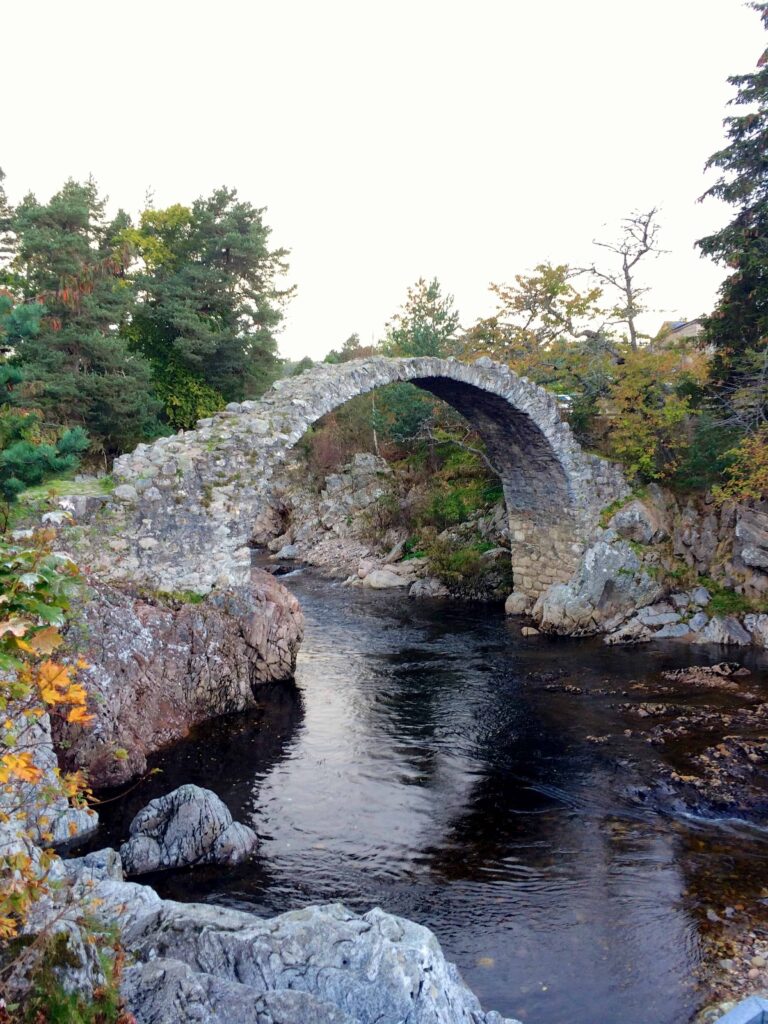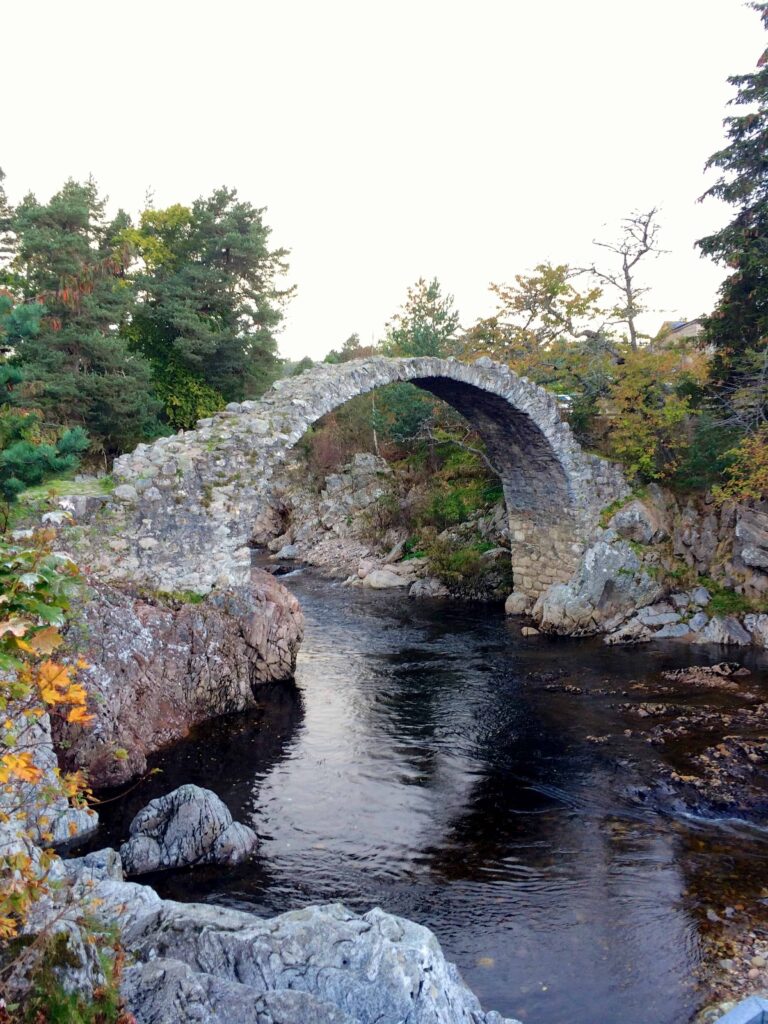 For the 21st time, The Golden Spurtle competition took place in the beautiful village of Carrbridge, in the Highlands of Scotland. This part of the country is so beautiful, and everyone so warm and friendly, that I just didn't want to leave. By the way, in case you do not know what a spurtle is, it is a wooden stick which is used to stir porridge. This is the trophy which is given to the winner of the traditional porridge contest.
Carrmoor Guest House in Carrbridge
My mother was traveling with me (the trip was a gift from my brother and me to celebrate her 65th birthday earlier this year). I had booked us in to stay at the Carrmoor Guest House. This was incredibly lucky for us because we could not get over how wonderful Christine and Michael were in making us feel at home.
When Christine handed me the keys to our room, she told me we were in room 5 and I immediately said, "That's my favorite number!" To which Christine replied, "That means you're going to win!" and she was right! Michael let me borrow some ramekins and they were both so helpful with everything I needed while participating in the porridge contest.
And when you have a breakfast that looks like this before partaking in a competition, I believe it's called "The Breakfast of Champions" and it truly was. If you're ever in the area, this is the place to stay!
The day began with a parade through town. The Scottish pipers followed by everyone involved with the Golden Spurtle competition, including all the competitors.
The Golden Spurtle World Porridge Making Championships
Click on the photo of the pipers below to hear them playing Scotland the Brave!
Everyone gathered in front of the hall for a photo and a toast to the porridge (with whisky or Irn Bru)!
The Porridge Judges
The expert porridge judging panel was headed by Neil Mugg, Gleneagles Hotel Head Pastry Chef and Masterchef Colin Bussey, who has 33 years experience in the food industry including working at The Savoy and Gleneagles. Kenta Gallagher, Commonwealth Games mountain bike competitor and Pro Cyclist, was the guest judge.
There were 3 heats of porridge making, and then the cook-off for the 5 finalists before the winners were chosen. I didn't realize there would be so many cameras and media present throughout the event, and was a bit nervous beforehand. However, once I fired up the burners, I was completely calm, and just focused on cooking the porridge.
Finally, the announcement was made that the judges could not decide on one single specialty dish. They stated that for the first time, they had chosen two winners. There was a savory winner, and a sweet porridge winner. Of course, they were Chris Young's "risotto", and my Sticky Toffee Porridge! We were both over the moon!
The traditional porridge award went to Dr. Izhar Khan from Aberdeen, and he was absolutely delighted!
Sticky Toffee Porridge Recipe
When I created this recipe last year, I felt so strongly about it and just had to know if Scottish judges would agree. So when I was asked to be a judge in the Scottish Baking Awards Competition for this year and realized that the Golden Spurtle contest was later that same week, I knew that I just had to enter!
I based my recipe on one of my favorite desserts, sticky toffee pudding, by adding dates and Golden Syrup to the oatmeal. Then, I candied some oats to use as a "crunch" and a garnish in my dessert, but honeycomb candy can be used instead.
I also added whisky to my sticky toffee sauce, which just makes the entire dessert irresistible! To top it all off, I added a dollop of (Scottish, if you're lucky enough) cream! Trust me, you'll want to dive into this dessert!
I used Hamlyn's pinhead (steel cut) oats which is grown in Scotland. I was so happy to learn that it was available through Amazon here in the US! I ordered six tins before I even went to Scotland and now I love their oatmeal!
USE CODE CHRISTINASCUCINA for 10% off YOUR ENTIRE ORDER at THE SCOTTISH GROCER
Of course, you know that I will tell you you must start with good quality ingredients in order to get good quality results. You can order Hamlyn's Oatmeal here if you are in the US. In the UK, it is available at Tesco and other shops (Hamlyn's is the main sponsor of the World Porridge Making Championships).*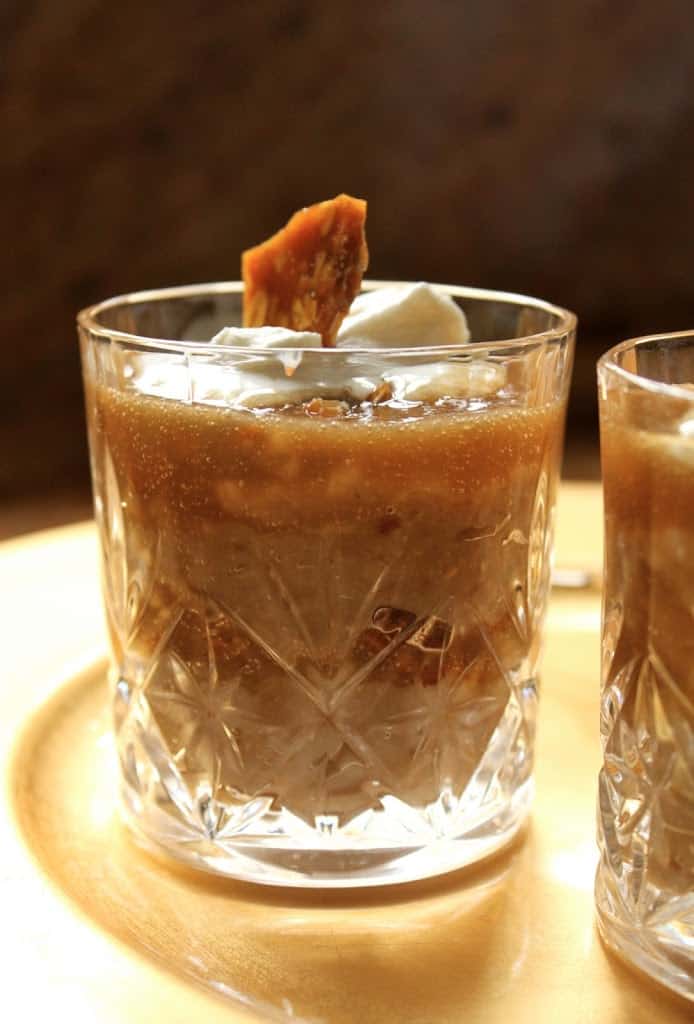 Crystal glasses similar to the ones I used to present my Sticky Toffee Porridge to the judges.
Leaving Carrbridge
I met so many wonderful people and made new friends at this event. I know I'll be sad if I'm not there next year, but who knows, maybe I will return and try for the Golden Spurtle!
Here's another nice gallery of photos of the day from Fergus Thom.
When my mother and I left that evening, we headed to Pitlochry, but I just had to stop to take some shots of the beautiful countryside. The colors of the landscape were stunning as the rain cleared.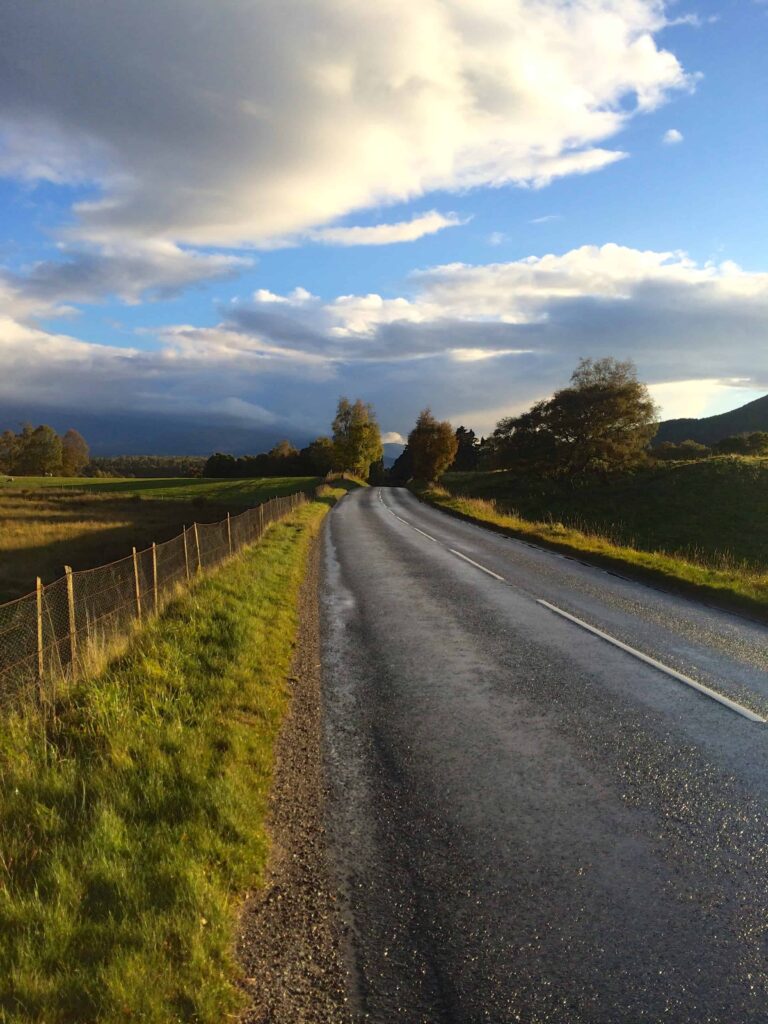 In Pitlochry, we had dinner then went to experience The Enchanted Forest, which was utterly breathtaking. I strongly recommend it if you're in Scotland in October! It was a fabulous ending to an incredible day!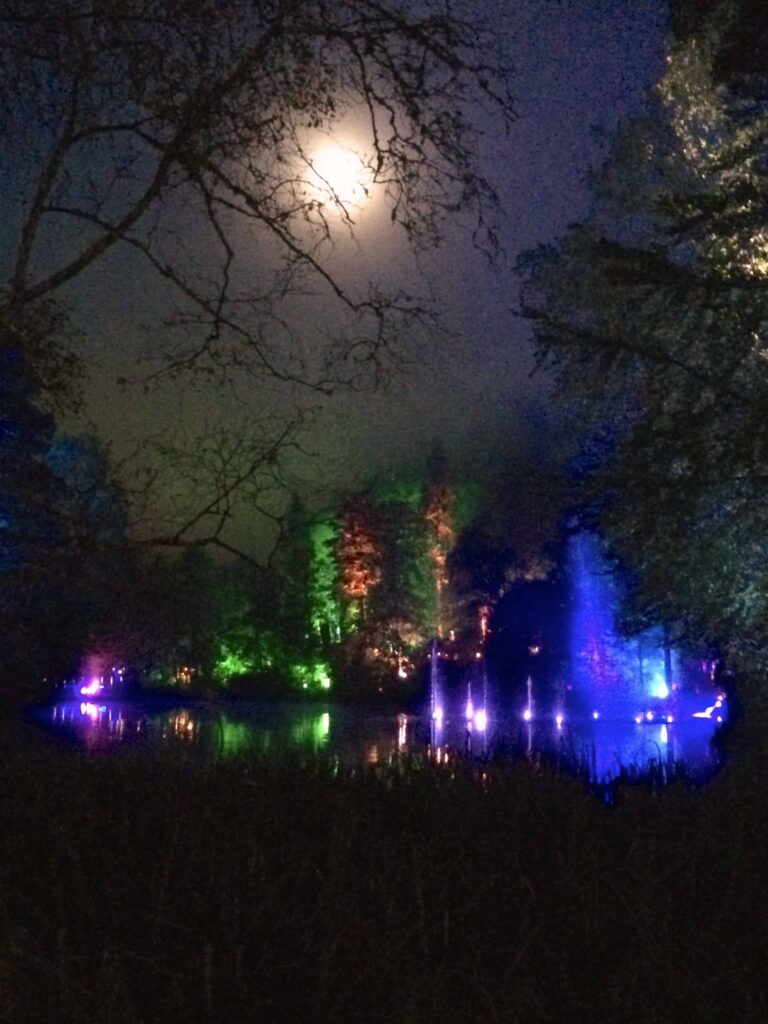 Now, go and make sticky toffee porridge!
Sticky Toffee Porridge
21st Annual World Porridge Making Championships Specialty Award Winning Recipe
Ingredients
2/3 cup (110g) Hamlyn's Pinhead Oatmeal
20 oz (575ml) water
1/2 tsp sea salt
1/4 cup (75g) finely chopped dates
1 tbsp Lyle's Golden Syrup
Sticky Toffee Sauce:
2/3 cup (125g) brown sugar
1 oz (1/4 stick) 25g butter
4 oz (100ml) double cream
1 1/2 Tbsp. Scotch whisky
To Serve
oat brittle (or nut brittle or honeycomb), crushed (plus a few larger pieces to decorate)
thick cream (or whipped cream in the US)
Instructions
Put the oatmeal and water into a heavy bottomed pot; bring to a boil, then add salt and chopped dates. Simmer and stir for approximately 20 minutes, adding the Lyle's Golden Syrup when almost ready.
While the oatmeal is cooking, prepare the sticky toffee sauce. Place the brown sugar, butter and cream in a small pot and stir until well blended and smooth. Simmer for a few minutes, then remove from heat and add the whisky, stirring well.
Spoon porridge into crystal glasses about one third full; sprinkle a few pieces of the brittle and pour on a little of the sticky toffee sauce; repeat with more porridge and sauce. Add a dollop of thick cream and decorate with a larger piece of brittle. Serve warm as a dessert.
Notes
Omit the whisky for children or a non-alcoholic option.
Nutrition Information:
Yield:

4
Serving Size:

1 glass
Amount Per Serving:
Calories:

550
Total Fat:

18g
Carbohydrates:

47g
Protein:

4g
Nutrition information is only estimated.
Finally, I want to thank everyone who encouraged and supported me on my journey to The Golden Spurtle Awards. First, my friend Elizabeth, who was the first person to whom I described the recipe (she told me she was drooling, just thinking about it). Henry, who helps me immensely, and constantly cheers me on, that I am now forever in his debt. All my friends and family (especially my Mum and Dad). From friends to complete strangers, like Toni, a lady we briefly met in Mohr Bakery in Callander who told me I was going to win and sent me off with well-wishes and a prayer. Thank you all! xx
Christina's Cucina is a participant in the Amazon Services LLC Associates Program, an affiliate advertising program designed to provide a means for sites to earn advertising fees by advertising and linking to Amazon.com. I am also an affiliate with the Scottish Grocer and earn a commission from purchases made via my links.