The BBC Good Food Show is coming to Scotland and there's going to be some amazing things to see, hear and eat there, so I hope you'll join us!



I have some incredible news to share!
You probably already know that I am ecstatic to be be judging at the Scottish Baking Awards held by Melanie Andrews McRae, at stately Mar Hall on September 28th, but in addition to the SBA, there are two other events I will be attending in Scotland this autumn.
I am happy to report that I have been accepted as a competitor at the 21st Annual Golden Spurtle World Porridge Making Championships! (Which I won with the Specialty Award!) I feel so strongly about my recipe, and hope you'll wish me luck as I compete for the Specialty title!
If you live in the UK, you will already be familiar with the BBC Good Food Shows. For those of you in North America and outside of the UK, these are themed food events, usually showcasing the city's or country's unique foods and restaurants, similar to events such as The TASTE in Los Angeles.
I am over the moon to tell you that I am extremely honored and humbled to be a part of the BBC Good Food Show -Scotland which will be held in Glasgow, (my home town) along with the UK's top celebrity chefs such as Mary Berry, Paul Hollywood and James Martin, just to name a few!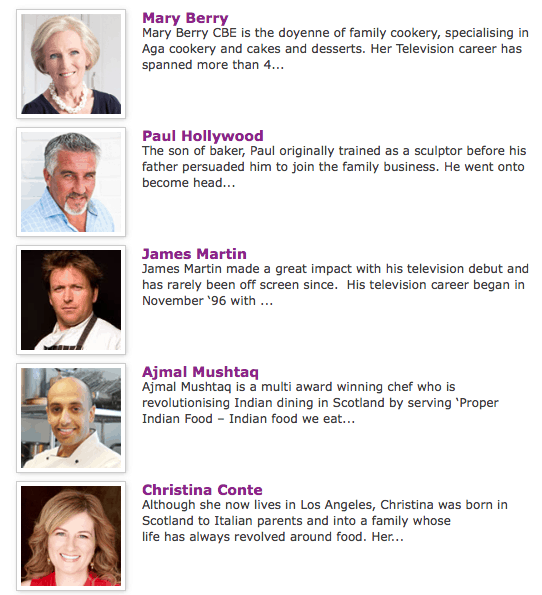 To be able to go home to Scotland for any occasion, or for no occasion at all is always a fantastic experience for me; but to go home and be a part of these three incredibly brilliant events, is truly a dream come true!
A massive thank you to my friend Melanie, to whom I am so indebted for asking me to come home for judging duties at the Scottish Baking Awards. One of the things I am most looking forward to, is going back to her Craigard Tea Room!
For those of you outside of the Scotland or the UK, please follow me home, by signing up for a free subscription to my blog posts, but also on Facebook, Twitter, and Instagram as I'll be updating readers on my social media accounts, all along my travels. I'll introduce you to The Royal Oak Foundation, and you'll see gorgeous National Trust properties which you'll be able to add to your own bucket list! It's going to be an amazing trip!
If you are lucky enough to be in Scotland, please come to one or all of the events, as I would absolutely love to meet you all!
Don't miss another recipe or travel post, sign up for my free subscription below!
I promise not to share or sell your email address, ever.