These cinnamon raisin English muffins will have to pushing your cart right past the English muffin section of your grocery store!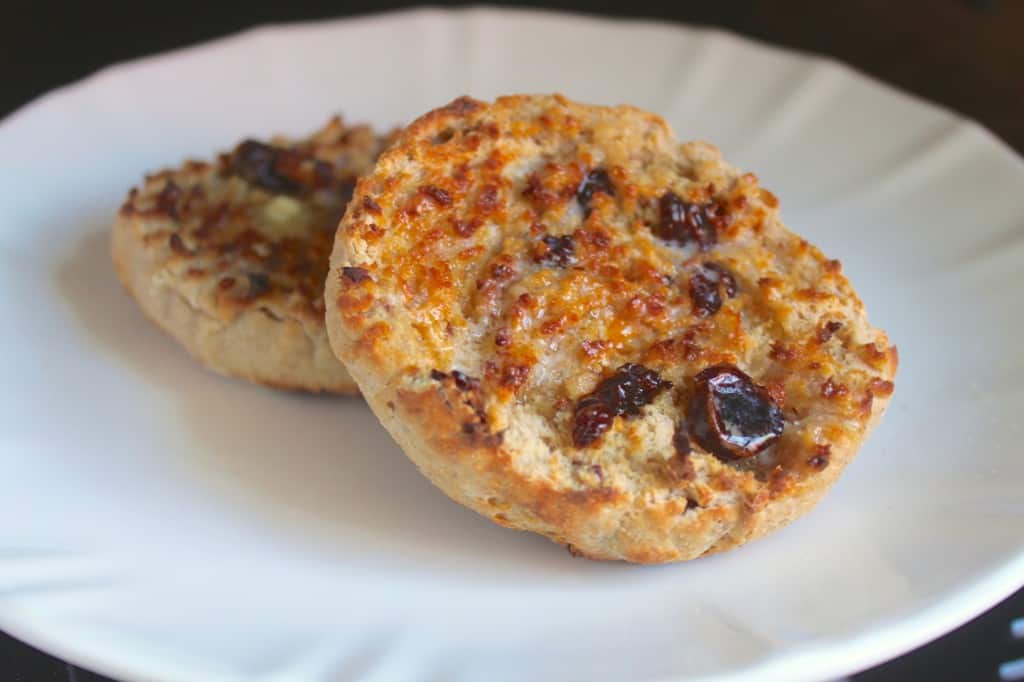 This post seems apropos, since I'm in England right now, even though English muffins are virtually unknown in England! That's okay, we'll skip that discussion because we should be able to agree that wherever they came from, they're bloomin' delicious!
As an Amazon Associate I earn from qualifying purchases.
Since I started this food and travel website, I have met so many talented creators, both virtually and in real-life.
For example, Cynthia from What a Girl Eats always calls me her "real-life" friend when she refers to me to her readers). Susan from View from Great Island had these great looking English muffins I just had to try.
Love griddle recipes? Try these Scottish cream girdle scones.
As I suspected, they were marvelous!
I made the dough in my bread machine; how easy is that? (The bread machine link will take you to the bread machine I own, but there are many more less expensive machines to choose from.)
Here is the recipe for these wonderful English muffins. The link will take you directly to View From Great Island for the original recipe without using a bread machine.
And if you love this type of griddle creation, you simply have to try Welsh cakes! They're so incredibly delicious!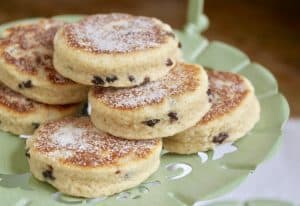 Cinnamon Raisin English Muffins
slightly adapted from The View From Great Island. makes 12 muffins
FULL PRINTABLE RECIPE BELOW
Cinnamon Raisin English Muffins
A delicious homemade version of Cinnamon Raisin English muffins.
Ingredients
14 oz (1 3/4 cups) lukewarm milk
1 tsp lemon juice
3 Tbsp softened butter
1 1/4 tsp salt
1 1/2 Tbsp sugar
1 large egg, lightly beaten (room temperature)
1 lb (3 cups) bread flour
1 1/2 cups oat flour
2 tsp cinnamon
2 tsp dry yeast
3.5 oz (1 cup) raisins
(cornmeal, for sprinkling)
Instructions
Place the ingredients (in order listed, except for the cornmeal) into a bread machine and set the dough cycle. Add the raisins when the machine beeps for the addition.
When the dough has doubled in size, place it onto a work surface dusted in flour (it will be a bit wet). Cut the dough into 12 pieces.
Form the pieces balls, then flatten them into muffin shapes about 3 1/2" in diameter. Dust on both sides with cornmeal. Cover loosely with plastic wrap and allow to rest for 20 minutes.
Use a little oil on the griddle and then cook the muffins on a low to medium low low heat for about 15 minutes on each side, until they are golden brown. Open one muffin to make sure they are thoroughly cooked.
Split the muffins in half with a fork before toasting.
Notes
You can omit the raisins or even the cinnamon if you prefer. Add other dried fruit instead, as well.
Nutrition Information:
Yield:

12
Serving Size:

1 muffin
Amount Per Serving:
Calories:

262
Total Fat:

5g
Saturated Fat:

2g
Trans Fat:

0g
Unsaturated Fat:

2g
Cholesterol:

24mg
Sodium:

284mg
Carbohydrates:

46g
Fiber:

2g
Sugar:

7g
Protein:

8g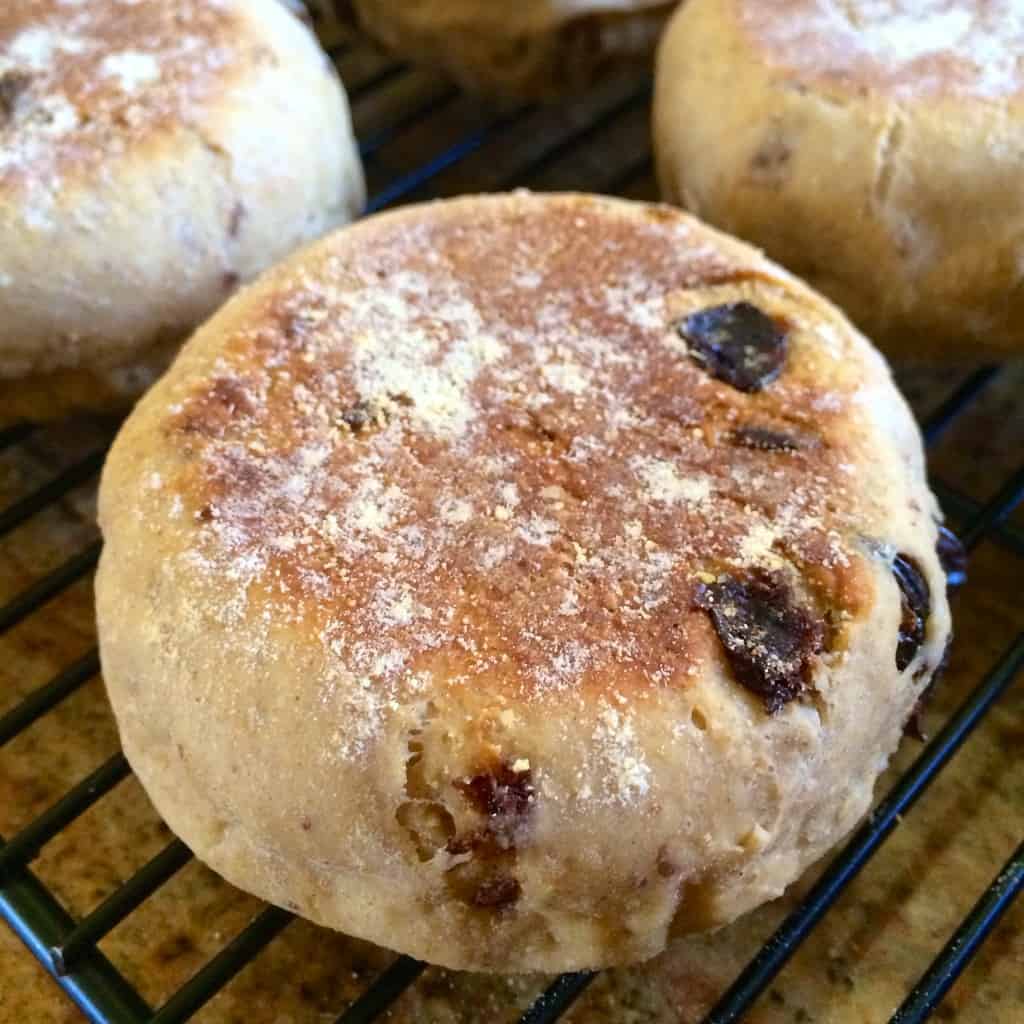 Don't miss another recipe or travel post; sign up for my free subscription below!
I promise not to sell or share your info, ever.
Remember that I'm traveling in England right now so you can follow me and see all the places I go if you check out my Christina's Cucina Facebook page (don't rely on Facebook giving you notifications, because they won't), Instagram, and Twitter.
This weekend I will head back up to Scotland for the BBC Good Food Show, Scotland! Hope you'll join me!
Christina's Cucina is a participant in the Amazon Services LLC Associates Program, an affiliate advertising program designed to provide a means for sites to earn advertising fees by advertising and linking to Amazon.com.