Spaghetti alla Carbonara is an egg based pasta dish from Italy. Here, I share my version, which is not authentic, but also share the authentic recipe so you can choose the one you prefer.
Before you read my ramblings below~
THIS PASTA IS SUPER QUICK AND SUPER EASY TO MAKE!
When I ask people if they've ever had Spaghetti alla Carbonara, and the answer is "no,"  I attempt to describe it as "spaghetti with bacon and eggs" and I get the strangest looks.
Well, I can imagine what they're picturing, and maybe you're picturing it too, but It's not what you think, as you can see by the picture above.
Spaghetti alla Carbonara, or "Coal Miner's Spaghetti" is a traditional Roman meal, and one of the best known from the central Italian region. Most people tend to believe the pasta is named after the coal workers, because it was a staple for those who collected wood in the Appenine Mountains to make charcoal.
Authentic (Quick) Italian Tomato Sauce Recipe for Pasta
There is also the theory that the quantity of bacon and powdered eggs that American soldiers had readily available during World War II was the inspiration for this pasta.
I tend to go with the former idea, but the fact is that this pasta is fantastic and I'm just glad someone thought of it!
Traditionally, this dish is made with guanciale which is Italian style bacon made from pig's cheek, however, since it's not easily obtained in the US, I usually use pancetta (you can make your own pancetta) or American bacon and it's still delicious. I also use cream and milk, which is definitely not authentic, but I just like a creamier, smoother and less "eggy" pasta.
Years ago, I was given a cookbook as a wedding gift, called The Top One Hundred Pasta Sauces by Diane Seed. As a British born cook living in Italy (lucky duck!) she compiled 100 pasta sauce recipes in this very simple book. After reading her inauthentic version of Spaghetti alla Carbonara, I just had to try it.
Well, I sort of tried it.
I just couldn't bring myself to use the quantity of the ingredients she listed!!
Being from Lazio (central Italy), my mother often made her version of Spaghetti alla Carbonara, but she would only use about 2 eggs and a little milk for a pound of pasta.
In contrast to my mother's, here is Diane Seed's recipe for a pound of pasta:
5 eggs
4 oz heavy cream
1 tbsp olive oil
1 oz butter
7 oz bacon
4 oz grated Parmigiano or Pecorino Romano cheese
salt and pepper
Can you say "HEART ATTACK ON A PLATE!?" Make sure to have a doctor nearby if you decide to make this version; you've been duly warned.
So I will give you my adaptation of her recipe, since this is how I've been making Spaghetti alla Carbonara for years. I do only make it once in a while because it still is rather high in fat and cholesterol, but it is so creamy, delicious, and flavorful, and is also a nice change from tomato sauce.
For those of you who want to cut calories/cholesterol, I will post a lower-fat, authentic version of the ingredients immediately following the first recipe.
Spaghetti all Carbonara
Christina's Not-so-Low-Fat, Non-Authentic version
about 6 or 7 rashers of lean bacon, chopped into pieces (I use kitchen scissors) or pancetta
3 eggs
2 ounces heavy (whipping) cream
milk (whole will taste best, but 2 % is still good)
1 ounce grated Pecorino Romano cheese (please do not use Kraft)
salt and black pepper
1 lb of high quality spaghetti
Start boiling salted water for pasta in a very large pot (pasta needs a lot of water to cook properly.)
Next, fry the bacon pieces until cooked, but not crispy. It should look like this.
Pasta should be in the water and starting to cook by this point.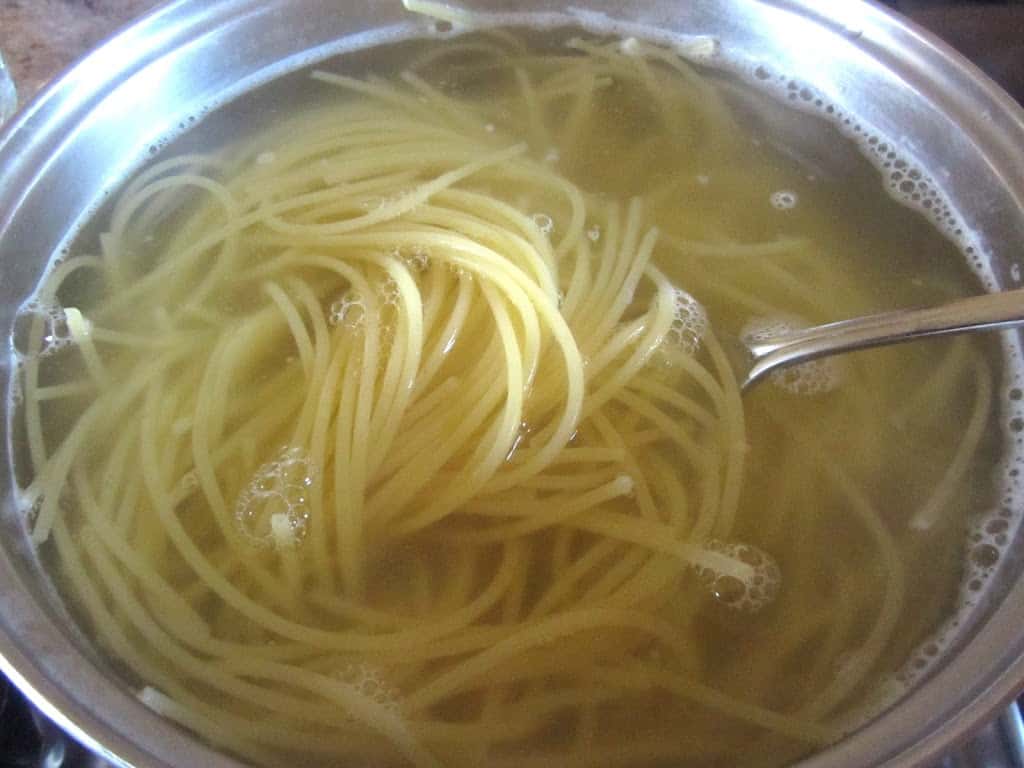 Beat the 3 eggs in a 2 cup pyrex jug. Add the cream, and fill with milk up to 16 oz. Stir well, and add some salt and quite a bit of black pepper.
When the pasta is al dente, drain it and reserve some water, and put back in the same pot and back on the burner, over the lowest heat possible (just warm.) Now add the egg mixture from the pyrex jug.
Start to stir and then add the bacon pieces. Add some of the pasta water if needed.
Now add the grated cheese, and stir well to combine evenly. The eggs will cook from the heat of the pasta, so quickly turn off the burner as soon as the sauce starts to thicken.
That's it–it's ready!
I have to admit, these aren't photos of my own cooking. The truth is, my son made dinner tonight (yes, my 18 year old son made this). Both he and my daughter were starving, so I was rushed into dishing out the pasta for my photos. I didn't get enough sauce mixed up from the bottom, but you can still see how creamy and delicious it looks!
Spaghetti Alla Carbonara
(lower fat authentic version)
6 oz guanciale (since most of you are in the US, just use pancetta if you can't find guanciale, or even 6 or 7 rashers of lean bacon) chopped into pieces
3 or 4 egg yolks
1 ounce grated real Pecorino Romano (remember, it's a Roman dish)
salt and black pepper
1 lb of high quality spaghetti
Follow directions exactly as above, omitting the milk/cream.
Please leave me a note if you try any of my recipes and enjoy them! Grazie!
Don't miss another post; sign up for my free subscription below.
(I promise not to sell or share your info, ever!)