Antica Corte Pallavicina Restaurant and Relais, just a few miles from Parma, is one of the most awe-inspiring places I've ever visited.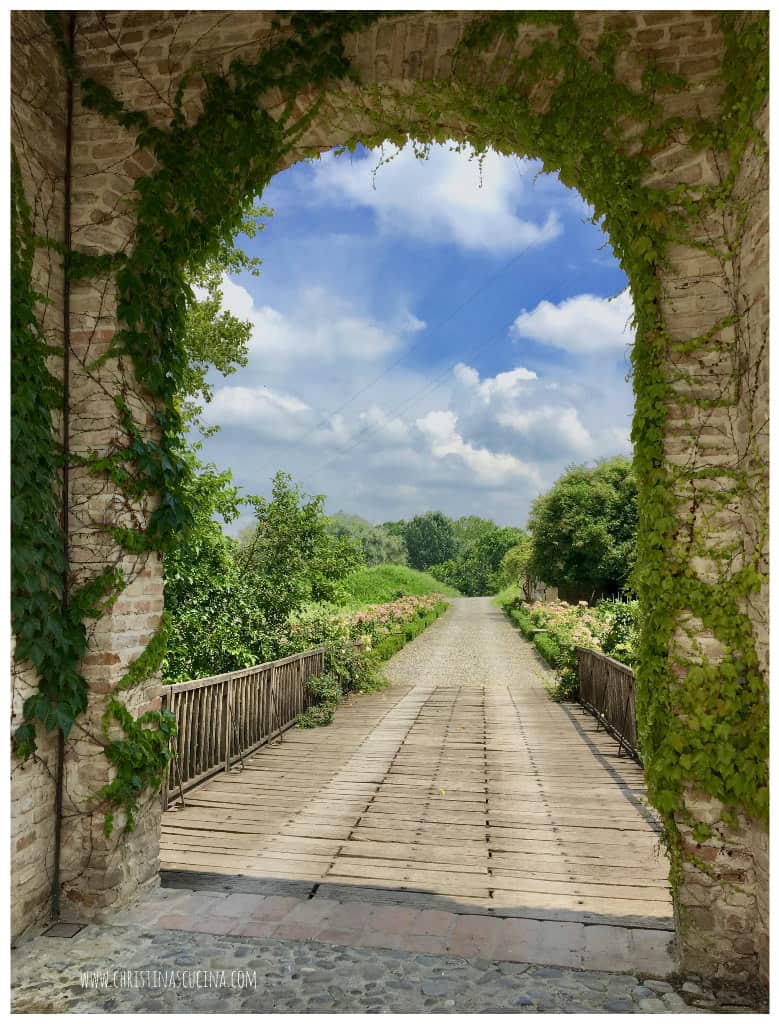 I realized after I wrote the title that it is probably quite an eyeful for those who do not read/speak Italian. So let me break it down to something more understandable.
Antica Corte Pallavicina is the name of the establishment which we visited. The buildings have been renovated to include guest rooms, two restaurants (one features a Michelin star chef, who is also the owner), a museum, and so much more.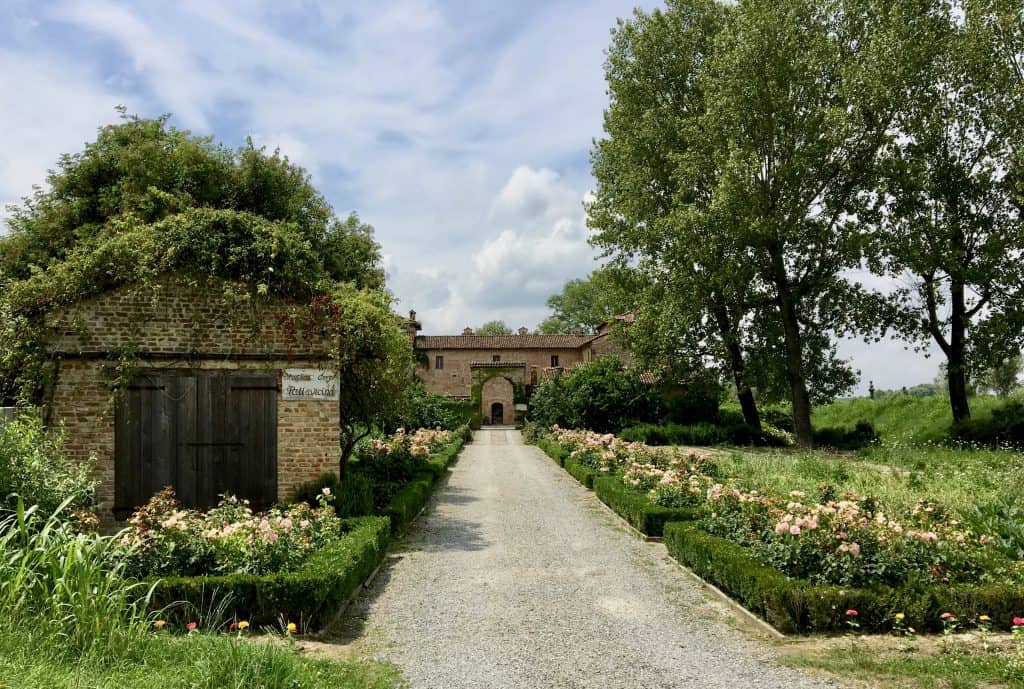 Culatello di Zibello DOP is a cured pork product. It is similar to Prosciutto di Parma, but even more coveted because of the upper part of the leg/butt that is used, and how it's made. Culatello is also produced in far less quantity than prosciutto.
My mother and I were hosted for a visit to Antica Corte Pallavicina along with lunch at Hosteria del Maiale, thanks to Antica Corte Pallavicina, Food Valley, and the Emilia Romagna Tourism Board. Our wonderful tour guide was Daniela Lanfredi.
Antica Corte Pallavicina
To truly appreciate Antica Corte Pallavicina, you have to know its history. You can read the story here, and I encourage you to do so, but in a nutshell ~
The current owners, Massimo and Luciano (two brothers) Spigaroli's great grandfather used to work for Giuseppe Verdi as a sharecropper. After becoming a tenant, he brought his family, including three children, to the current property of Antica Corte Pallavicina located on the Po River. Here, they worked the land, planted trees, raised farm animals, cured pork, and even grew silkworms.
Somehow, over the years, the property fell into ruin and disrepair, but the Spigaroli family was able to buy it in 1990. Through a labor of love (of 20 years) they were able to restore it to its current beautiful condition! It is honestly breathtaking, and my photos simply cannot justify the beauty here.
I asked my friend Ale Gambini if she could explain the meaning of "corte" in the context of this name, as I only knew it to mean, "short". She explained that it's rather like a courtyard, which makes sense.
Stepping Inside
Daniela, my mother and I arrived after our Verdi tour, which had ended nearby at Villa Verdi. One of the first things that caught my eye in the lobby was this sign.
We were greeted and welcomed at Antica Corte Pallavicina by manager Giovanni Lucchi, who invited us in for a tour. If you should choose to stay here, I don't think you'll be disappointed in the decor. I just wanted to check in and never leave! This fireplace is in the lobby.
These are just the public rooms of the Relais. We weren't able to see the guest rooms, but there are some photos available on the website (below).
Just look at the architecture and detail in the ceiling of this room!
Once we visited the public rooms, Giovanni led us down a small staircase.
Culatello di Zibello
Our noses gave us the clue to where we were going before we could see anything: the aroma of culatello was dizzying!
Mum and I were in heaven! We could have been left locked down here and you wouldn't have heard a peep from us for months! 😂There are about 5000 culatelli here, all from different producers, including those made by the Spigarolis. We walked past the hanging meat in awe.
Some are aged for 14 to 15 months. Others are aged longer, up to as long as almost four years.
The process is incredibly interesting as the conditions are so controlled and can only be made in a small region, of which this area is included.
Daniela and Giovanni then led us to where we were to have a tasting of our very first culatello, and lunch. Yes, even though my mother was born in Italy and I have been visiting since I was a baby, neither one of us had ever tasted culatello!
Hosteria del Maiale
Can I suggest something to you? If you're traveling to Italy anytime soon, put Emilia Romagna on your itinerary because you simply cannot go to Italy and miss places like Hosteria del Maiale. This is the true and authentic essence of Italian cuisine. It's the foundation, so to speak. There is nothing but whole food here: the antithesis of fast food.
The slow food movement is funny to me, as it's always been "slow food" in Italy, but no one ever had to put a name to it until recently. As Chef Massimo says, in order to make culatello, you need patience.
Before the food arrived, Giovanni brought a bottle of their homemade wine, Fortana del Taro. It's a type of wine that is made in the region to pair with the antipasti of culatello, prosciutto and other cured meats. It's also served in bowls, and one is to hold it and drink it in a special way!
Both mum and I loved not only the unique style of drinking it, but the wine itself was so good: sparkling, light and sweet.
Tasting Culatello di Zibello, DOP
Giovanni then served us beautiful arrangements of cured pork products on wooden boards, along with some Parmigiano Reggiano and a basket of gorgeous, crusty bread! When I tell you that I couldn't have made my mother any happier, do you believe me? Trust me, this is what she'd look like if you told her she won the lottery!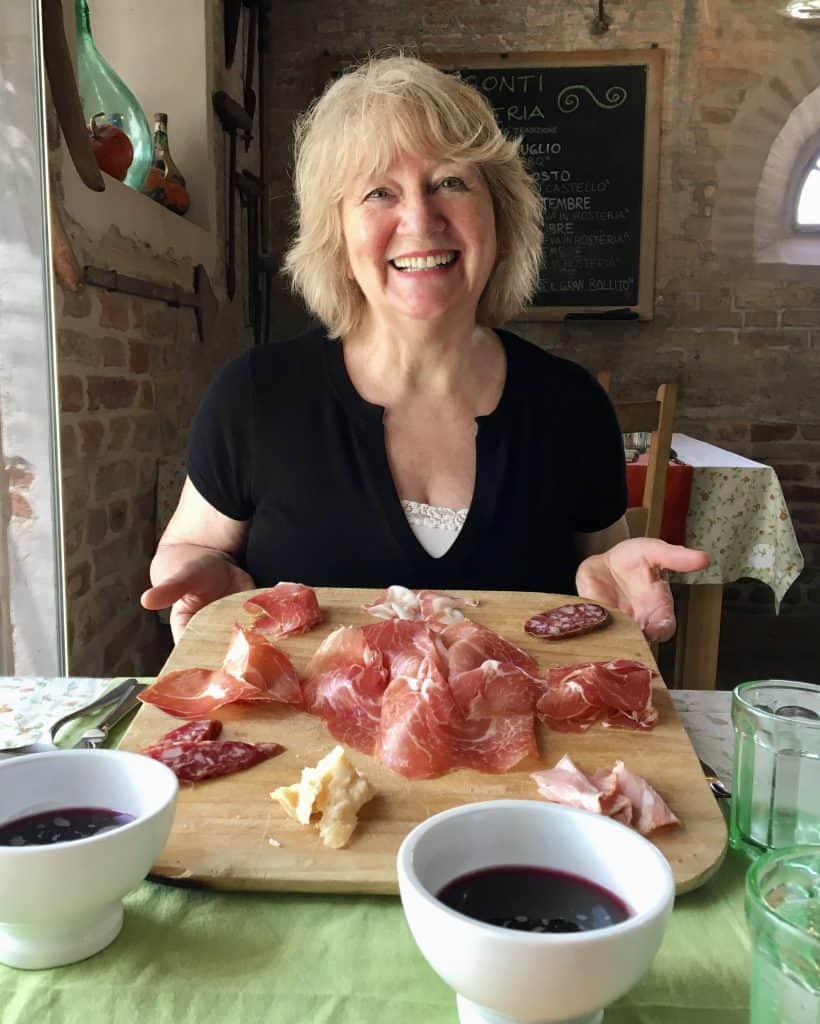 Here is the selection which we had on our boards. Imagine the board is the face of a clock.
Center: Culatello di Zibello, DOP, at 12 pm is Parmigiano Reggiano, at 1 pm is strolghino (salame made from leftover cuts when making culatello). At 3 pm is fiocchetto (which is made from the cut that isn't used for culatello), at 4:30 pm is coppa, at 6 pm is gola. 7 pm is salame gentile (not aged long), at 9 pm is spalla cruda (shoulder cured ham), and finally, at 11 pm is spalla cotta (cooked shoulder ham).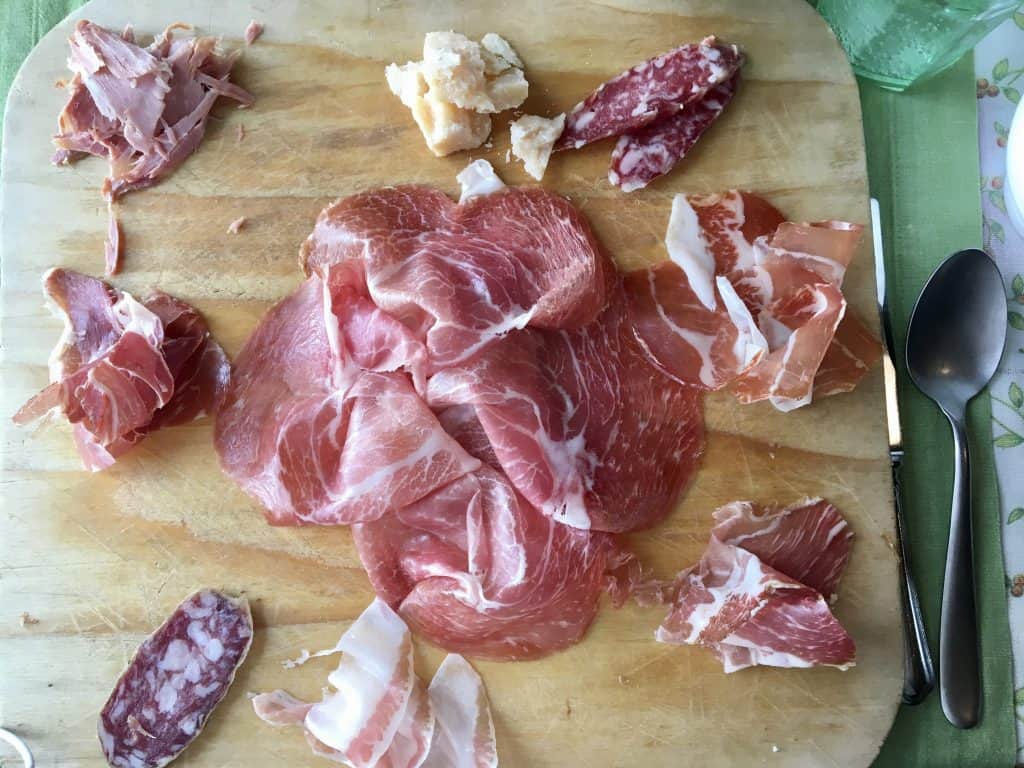 We devoured every last bite, which should tell you what we thought of culatello and all the other cured meats that we were served. By the way, the three of us each had our own boards!
Truly, this is food of the gods, at least to my mother and me. Proof of my claim.
Hold onto your seats, because in true Italian style, there's more. Yes, we had to try the traditional ricotta and spinach tortelli. Remember we had been told they have to be bathed in butter and dried in Parmesan cheese? Just look at this! They tasted even better than they looked, too. Delizioso!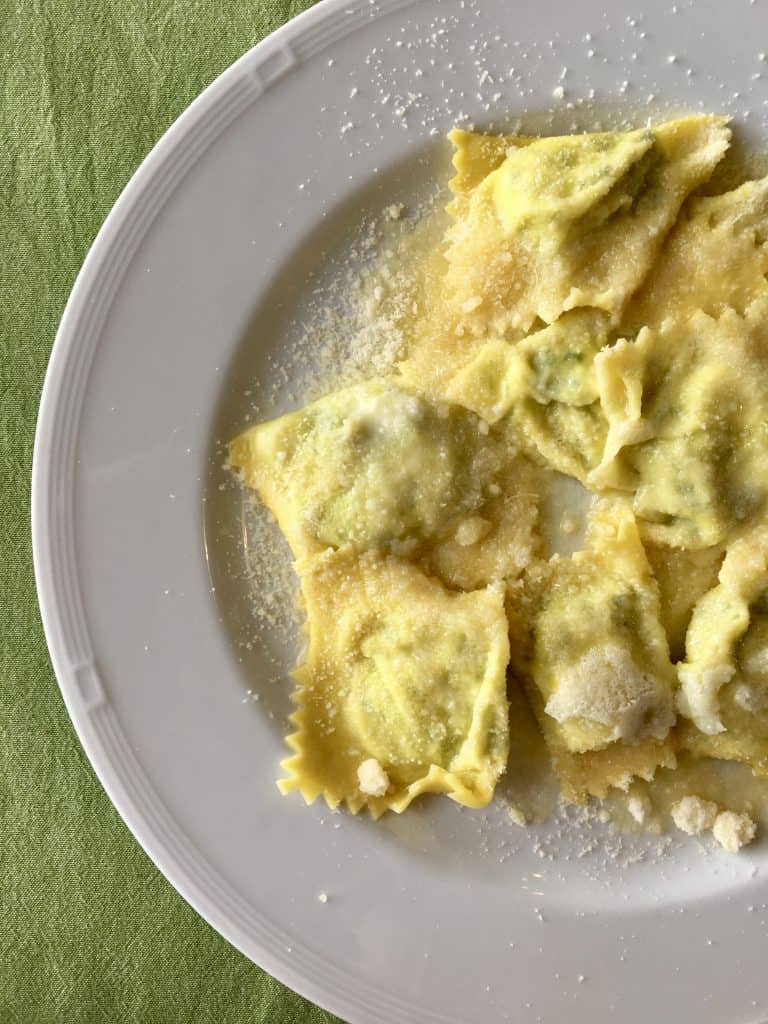 I wish I could have packed up a suitcase full of cured meat products before we left, but unfortunately, the US government takes issue with that. I'm going to censor myself here. 🤐
We thanked Giovanni and the other staff for the most marvelous meal and made out way back out to the courtyard.
Here you can see the restaurant where Chef Massimo Spigaroli and his team create their award winning menus in a gorgeous venue.
Antica Corte Pallavicina Restaurant
I popped inside to see if I could meet Chef Massimo or Luciano.
I found myself incredibly fortunate to be able to have my photo taken with Chef Massimo! What an honor.
I told him that I was trying to bring recipes like cucina povera to the US, and he was very happy to hear it! I've added a link for a video about Chef Spigaroli at the bottom of this post and I really think you'll like it. He talks about how culatello is made, and shares interesting stories. For example, how Prince Charles tasted his culatello and asked to meet its producer.
When I went back outside, Mum was having a great time with another peacock who was showing off for her.
And a sleeping cat who was obviously unimpressed with the peacock.
Mum and Daniela had a quick espresso before we left. How is everything so much more beautiful in Italy?
We said, "arrivederci" to Antica Corte Pallavicina, but I should have said, "ci vediamo" because you can count on the fact that I will be back soon.
If you'd like to see a quick clip of my Instagram story from our time at Antica Corte Pallavicina,
CLICK HERE.
Back to Parma
I drove us back to the city of Parma after one of the most incredibly wonderful days I've ever had. I won't soon forget the Verdi tour or learning all about Antica Corte Pallavicina and culatello. Thanks to Food Valley for setting up these wonderful tours and Daniela for being our guide. I can only imagine the other tours which are available!
One last thing I must share with you about Parma. It's definitely another item to add to your list.
Camera di San Paolo (St. Paul's Room)
I'd never heard of Camera di San Paolo, but a couple who were on our Parma Like a Local tour had told us about it. It was very close to our hotel, so Mum and I popped in for a quick visit. It's very small so it doesn't take long to see the rooms.
This is a former Benedictine convent and is famous for the artist Correggio's fresco (the first photo).
As promised, here is the video of Chef Spigaroli.
For more information about Antica Corte Pallavicina, to visit, eat or stay, click the link below.
To learn more about Food Valley tours, click the link below.
If you'd like to learn more about the Emilia Romagna Region, click the next link.
Next, Mum and I went to visit a prosciutto factory
just outside Parma as we headed south!
Christina's Cucina is a participant in the Amazon Services LLC Associates Program, an affiliate advertising program designed to provide a means for sites to earn advertising fees by advertising and linking to Amazon.com.