My Top 9 Reasons to Visit Ferrara are listed below. Ferrara is probably not high on most travelers' bucket lists when they go to Italy, but read on to find out why this city deserves more attention.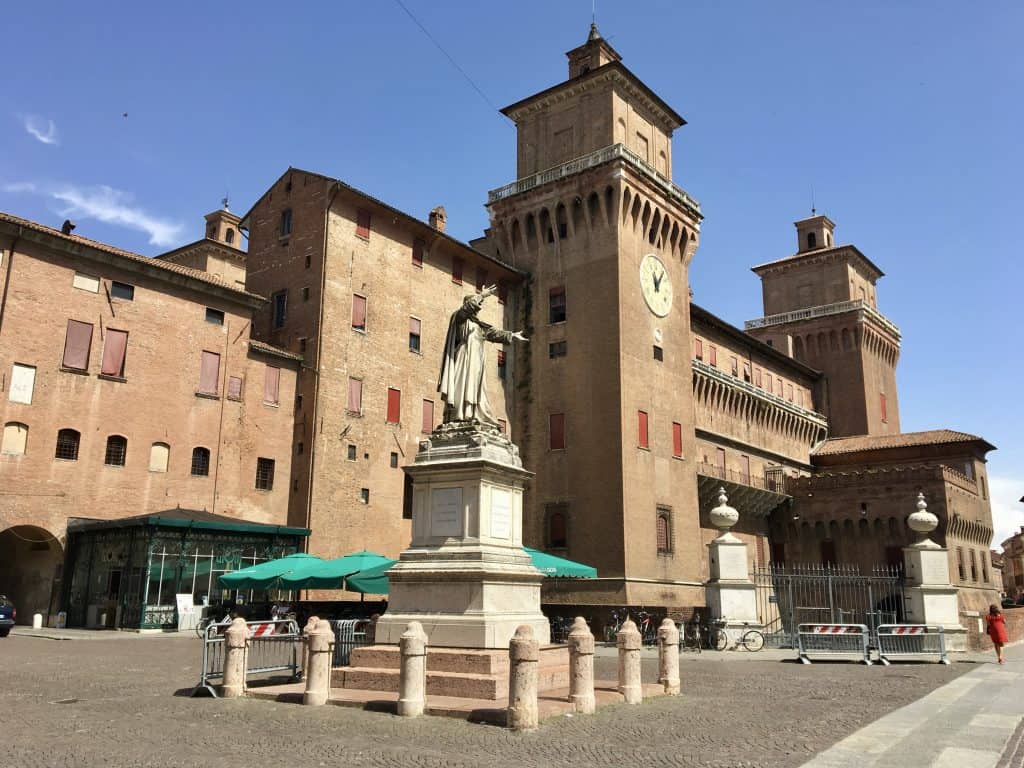 Mum and I left Sirmione sul Garda after being in Venice for three days.
We were graciously hosted by the Emilia Romagna Region Tourist Board at The Astra Hotel, a walking tour, as well as dinner at the Hotel Astra Restaurant. All opinions are my own, as noted, these are "my" top 9 reasons for visiting Ferrara.
Driving to Ferrara
I'd hired a car in Venice, so along the way, we stopped at an Autogrill for lunch. If you travel on the autostradas (proper in Italian: autostrade) in Italy, you'll be sure to pass at least one or more of these restaurant/rest stops. My suggestion: stop.
Like so many other culinary things that Italy does so well, you can add Autogrill to the list. You'll find some surprisingly very good quality food here. Take a look at this and tell me if this is the sort of food you'd find at any rest stop in the US or Canada?
After filling up on the lovely meat and cheese platter and fresh tomato salad, we continued to Ferrara. It was only a two hour drive and with no traffic, we were right on schedule. (In case you don't know where Ferrara is located, this should help.)
In the afternoon, we arrived at The Astra Hotel. Mum and I checked in, quickly freshened up and headed down the street to meet a friend. Katie and her adorable baby met us for a drink across from the Castello Estense.
Katie introduced me to a new cocktail I'd never heard of: a Hugo. I googled it upon my return to the US and apparently it's originally from the Tyrol region of Austria. It's made with Prosecco, elderflower liqueur (St. Germain) and mint. I really liked it! Here's a recipe from a bar in Positano, Italy.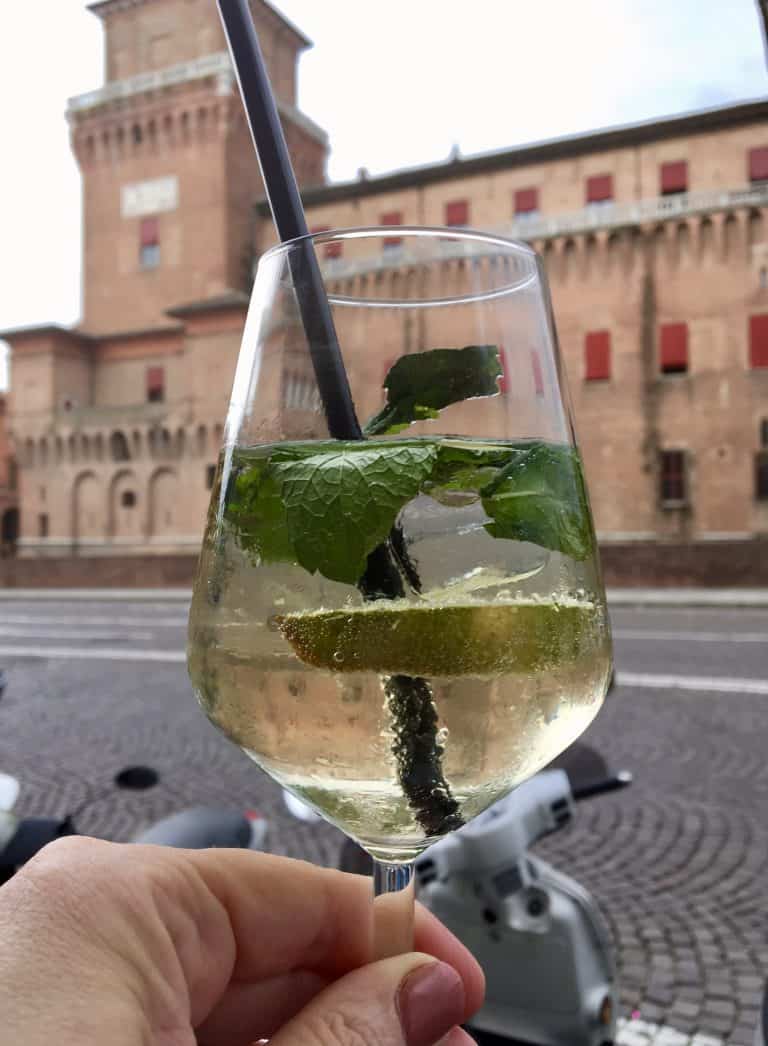 After catching up with Katie, Mum and I walked back to our hotel to meet Rita, our guide for a walking tour of central Ferrara. Rita was lovely and explained that we would be learning about the history of Ferrara as well as many typical Ferrarese dishes.
My Top 9 Reasons to Visit Ferrara
✧
1. UNESCO World Heritage Site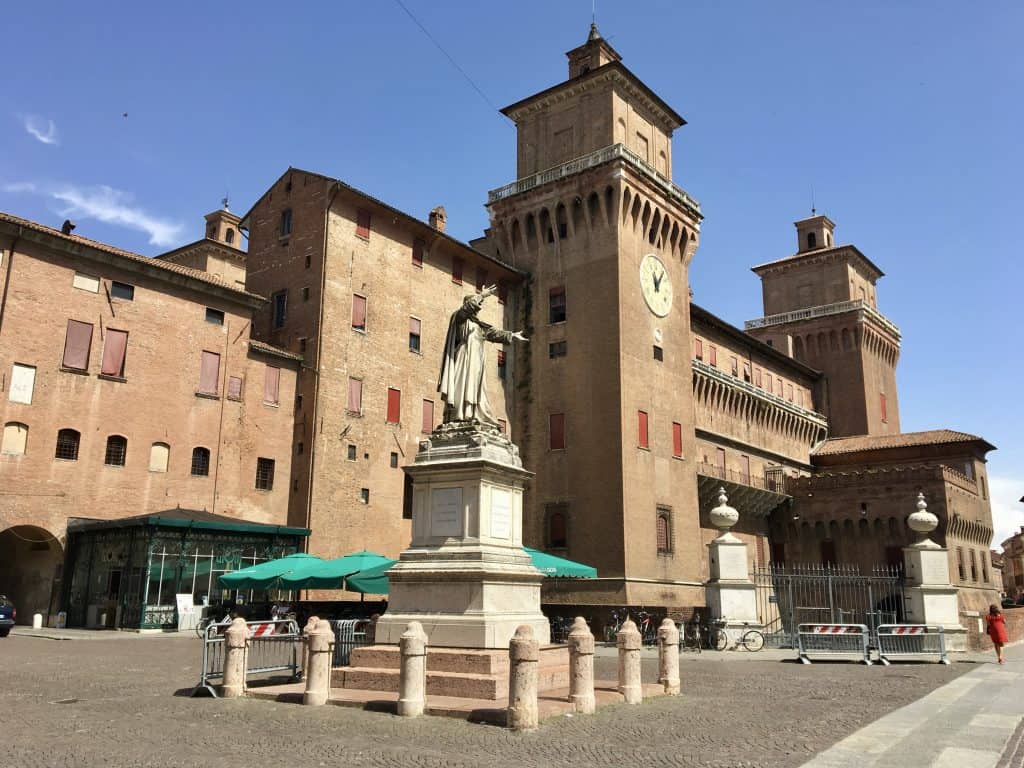 Ferrara is designated as a UNESCO World Heritage site. It was chosen due to its intellectual and artistic contributions during the Italian Renaissance of the 15th and 16th century. Ferrara was the first city to be planned using the new discovery of perspective. In 1492, its completion was the beginning of modern town planning. UNESCO doesn't throw out these designations anywhere.
2. The History
Ferrara has an incredibly long and complicated history. Rita gave us a good background on the rich, yet violent, history of the city. She covered more "recent" history, but honestly, if you're a history buff, Ferrara is for you.
The House of Este was instrumental in the formation of the type of city Ferrara would ultimately become. It morphed from a medieval city to a Renaissance gem.
Rita took us to see a column which details all the floods since the early 1700s. Repeated flooding is due to Ferrara's proximity to the Po, Italy's largest river. Incidentally, the relatively recent, and worst flood, occurred in 1951.
There are so many facets of Ferrara's history that it is difficult to list them all. For example, Ferrara has a large Jewish influence. In fact, a new museum of Italian Judaism just opened earlier this year. Rita also told us that in 1570, Ferrara experienced six months of earthquakes! As an LA girl, that's a frightening length of time for continued quakes!
3. Castello Estense
Beginning construction in 1385, the "castello" is Ferrara's jewel. Besides being very well preserved, the castle also has a large moat. Rita explained that the water in the moat is actually from the Po River, which I found a really unique characteristic. The castle is massive and very imposing. Certainly you cannot miss it if you go to the center of Ferrara.
It is one of the two important surviving buildings from the Medieval era. Although we just walked into the courtyard and through the castle, the interior is open for visits and apparently is quite stunning.
4. The Savory Cuisine
Are you sitting down? Because this could take a while. Yes, the food in Ferrara is fabulous, at least what Mum and I sampled at Ristorante Astra was 5 star good! The photo above is the typical Ferrarese cappellacci filled with ricotta and spinach, but let me back up.
Ristorante Astra
First of all, I have to tell you about our wonderful waiter that night, Gianluca. He was the most attentive, helpful and friendly waiter and enhanced our dinner experience that evening. He explained everything we wanted to know about all of the dishes and was patient with my picture taking, even assisting!
Antipasto
The antipasto platter (tagliere di salumi e formaggi tipici) was so gorgeous, Mum and I were just happy to sit and stare at it for a while. On the board we had two types of Zia salami (typical Ferrarese salami), Prosciutto di Parma, coppa, chunks of Parmigiano Reggiano and cherry tomatoes. Essentially, the best of the best!
In the lower part of the photo, you can see what looks like a wine glass, but it's a balsamic vinegar sauce to drizzle on the cheese. Also, barely visible in the upper right of the photo above is the regional Coppia bread. This bread is very famous and protected and you can read more about it as it is one of the reasons to visit Ferrara (#9). Believe it or not, Mum and I finished the lot! We were happy as clams and honestly could have left content. Below is the local DOC Sangiovese wine we had with dinner.
Primo
Our next course was pasta. As we wanted to try all the local specialties, we each had a plate of cappellacci. One was spinach and ricotta served with salted butter and hazelnuts (photo above). The other was cappellacci di zucca (pumpkin) al ragù di bolognese, which the most well-known of the two. Both were delicious, but my favorite was the ricotta and spinach.
Secondo
Mum and I were already full, but there was yet another course, of course! 😂We were not disappointed with the Salamina da sugo, a Ferrarese type of cured sausage, which is cooked and served with mashed potatoes. Salamina da sugo must be the absolute comfort food for the locals as it was so hearty, delicious and wonderful!
It very much reminded me of a type of sausage my Nonna used to make, so I would easily say I loved this dish. The food is definitely one of the best reasons to visit Ferrara.
We were also served a lovely beef and porcini dish (tagliata di manzo ai funghi porcini) and were really reaching capacity at this point although it was all superb!
You'll see our dessert below (yes, Gianluca brought us dessert, too)!
Lastly, there's one more savory food I'd like to mention is Pasticcio Ferrarese, which is essentially a macaroni pie. Yes, pasta, white sauce and meat baked into a crust. It honestly didn't look appealing to me, but it's another typical creation from Ferrara. I didn't have the chance to taste it, but you can see what it looks like in this collage.
5. The Sweets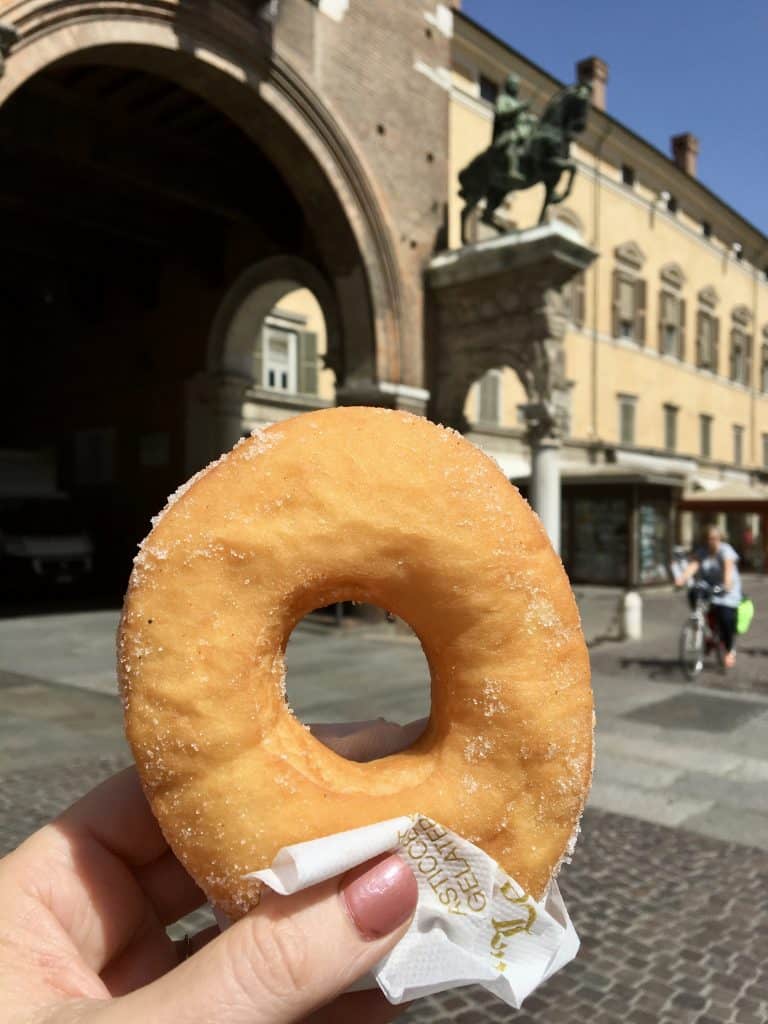 No, not just doughnuts, although you know my love for them! Ferrara has its own typical sweets, two of which Mum and I both tried.
Ristorante Astra was where we tasted Tenerina Ferrarese. It was a dark and chocolatey cake. Hardly any flour, and super rich and decadent. Tenero means soft in Italian, and this cake is definitely soft and delicate; we loved it. You might say this cake has some history behind it as it was made for the first time in the 900s. No, I didn't miss a digit! In addition, I'd hazard a guess that this could be the precursor to our beloved molten chocolate lava cakes?
A very famous Ferrarese sweet is the Pampapato. This dark chocolate covered, dense chocolate cake also has a rich history. Pampapato or pampepato, means "peppered bread" and is made with cocoa, flour, sugar, candied fruit, almonds and spices, then covered in dark chocolate.
Pampapato also refers to "pane da papa", or, bread for the pope. Mum and I are split on this sweet: I really liked it, but she didn't. In all honesty, we thought it would be the other way around!
6. Its Geographical Location
This one of the biggest reasons to visit Ferrara, if you ask me! The driving distance from Ferrara to~
Bologna 27 miles / 44 km
Padua 42 miles / 68 km
Verona 51 miles / 83 km
Venice 55 miles / 89 km
Florence 1o3 miles / 166 km
and under 200 miles away from Switzerland
7. A Walkable and Almost Car-Free City Center
I don't know about you, but car-free (and almost car-free) cities and areas have a big appeal to me. If you've walked in cities like Rome, you'll know the stress of just having to cross a street can be monumental! I loved the city center of Ferrara. As you can see from the photo above, it had such a relaxed atmosphere.
8. The Architecture
Similar to most Italian cities, there is an incredible range of architectural styles in Ferrara.
I didn't even mention the photo opportunities in Ferrara: endless! Consequently, this could be another one of the reasons to visit Ferrara in itself.
9. The Famous Ferrarese Coppia Bread
One of my reasons to visit Ferrara is a local specialty. As you can see, this isn't a typical Italian loaf of bread. I can easily say that this is the most unique bread I've ever seen, don't you agree? It's so unique, it's protected. That's right, Coppia bread has earned the Protected Geographical Identification (IGP) from the EU. Incidentally, coppia means couple, in Italian. I won't go into the history of the bread as you can read that here. However, this is the reason I chose Coppia bread as one of the reasons to visit Ferrara. It's very special.
It's not soft inside or out, and reminded me of a cross between a bread and a cracker, if that makes sense. We were fortunate enough to be given a Coppia bread making tour of a local bakery! Rita met us the next morning to take us to Panificio Perdonati.
Panificio Perdonati
Sergio, the owner, Silvia and Raffaela were the loveliest hosts, welcoming us to their bakery. Not surprisingly, the display had beautiful pastries, like these peaches.
Sergio took Mum, Rita and me into the back to see how the Coppia bread is made. Sergio's father used to own the bakery, so when we asked how long he's been baking, essentially he said it's been his whole life.
Coppia bread is based on an ancient recipe and even the sourdough started Sergio was using was decades old. They make the bread from sourdough starter, very little yeast, salt, water and flour. There is nothing else added.
The bakery has machines which makes the dough, kneads it and even folds it in the manner that is necessary for the Coppia bread. However, the final product must be shaped by hand. It was incredible to watch Sergio and the other bakers doing their magic with this dough! Take a look at Sergio shaping just one Coppia.
This photo shows the shaped dough before and after baking.
Mum and I were truly impressed by the bakers at this bakery. One baker made a few variations of the Coppia bread just for us.
Thank you to Sergio and his family and team of bakers for the wonderful tutorial and educational experience regarding this Ferrarese baking tradition!
Sergio didn't let us leave without trying one of his creations. I chose a chocolate brioche type pastry which was so light and delicate. I also guessed the type of chocolate they used as it was so good: Perugina!
Grazie!
Finally, a massive thank you to Barbara from the Emilia Romagna Region Tourist Board for organizing my visit to Ferrara. Also, The Astra Hotel for my stay and the most wonderful meal at Ristorante Astra! I am grateful to Rita for the lovely history and food tour of Ferrara and the wonderful family and staff of Panificio Perdonati, Sergio, Silva and Raffaella. Grazie a tutti!
For more information on visiting Ferrara and the Emilia Romagna Region click this link.
I'll leave you with a beautiful video to inspire you further! Click on the photo below.
I hope you enjoyed my Top 9 Reasons to Visit Ferrara! Let me know if you have any questions or suggestions, or simply a comment in the section below. Have you been to this historic city? What is one of your reasons to visit Ferrara? Here are some links to help plan your trip to the Emilia Romagna region.