This "always perfect chocolate chip cookie recipe" is the only chocolate chip or chocolate chunk cookie recipe that has ever turned out for me. Before this recipe, I was a chocolate chip cookie making failure, every time!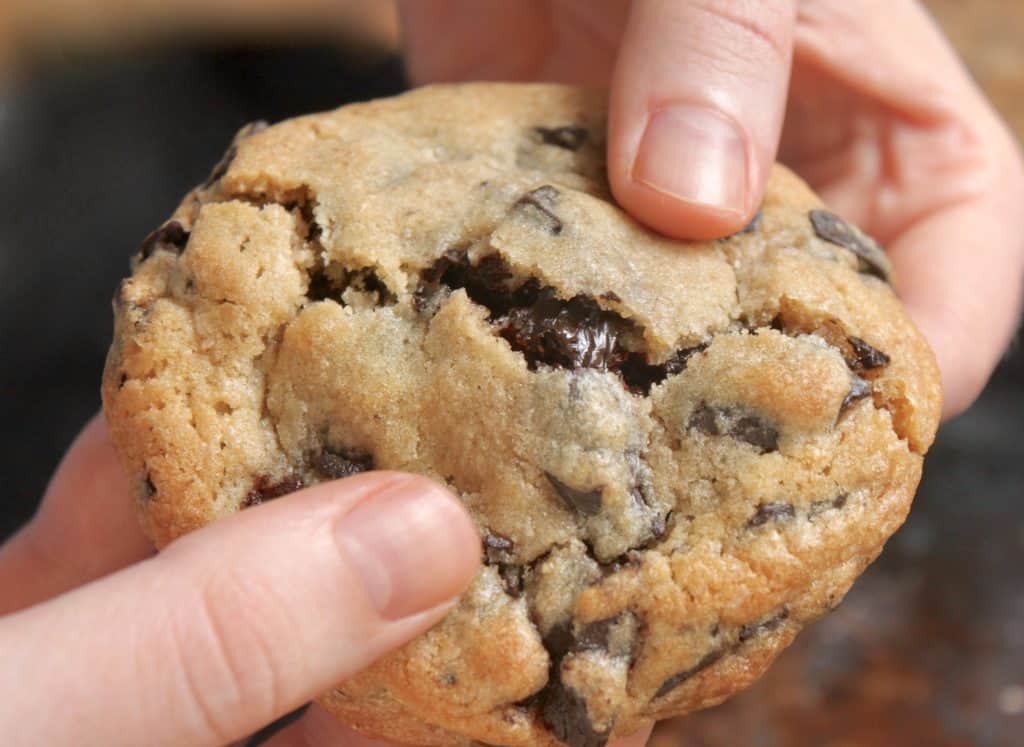 You may or may not believe me, but no one in my immediate family ever tasted a chocolate chip cookie until we moved to the US.
As an Amazon Associate I earn from qualifying purchases.
My dad was 40, Mum was 27, I was 10 and my brothers, 4 and 5. Of course, after tasting them, we just had to make chocolate chip cookies ourselves, right? Well–sort of.
The Chocolate Chip Cookie Failures
You see, from the late 70s until rather recently, my mother and I were both complete and utter failures when it came to making and baking chocolate chip cookies. We tried every recipe under the sun (yes, even the supposed Neiman Marcus cookie recipe), to no avail. They'd either fall flat, stay in the shape we made after baking, turning out dry and rather hard, it was so frustrating! After becoming US citizens, I decided that my chocolate chip cookie making skills would follow suit, but I was wrong.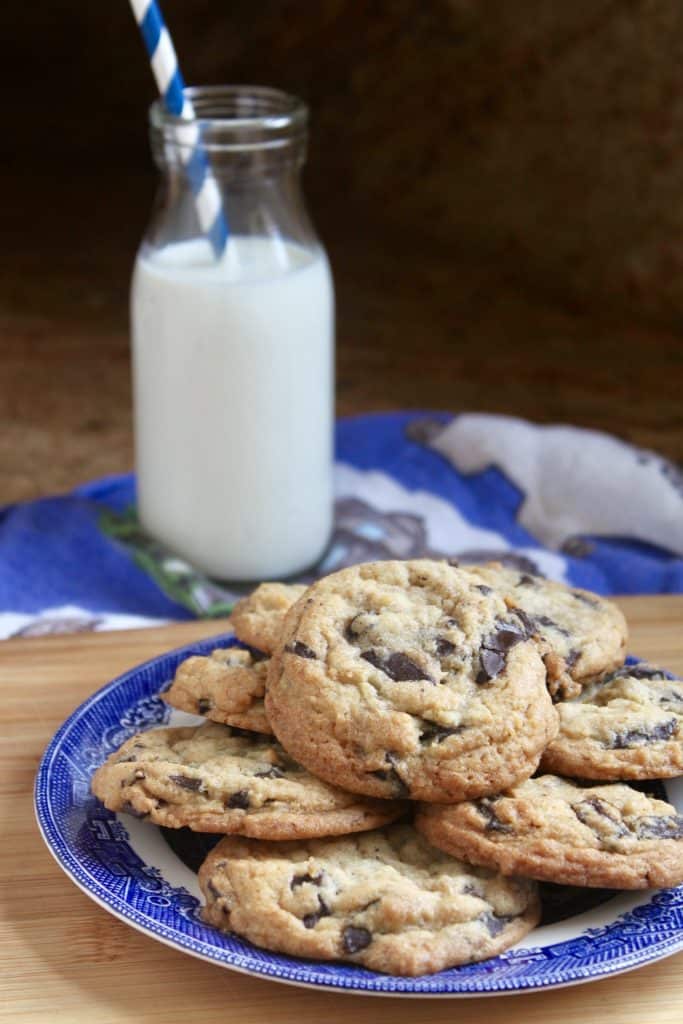 Jacques Torres To the Rescue
Given that Mum could bake the most perfect soufflé and I had no problem with choux pastry, it didn't make sense that neither one of us could bake a simple cookie properly! However, after numerous attempts, we both gave up.
That is, until the New York Times shared Jacques Torres now incredibly famous chocolate chip cookie recipe. Incidentally, it isn't a chocolate "chip" cookie recipe at all. One of the main reasons that this cookie is drop dead delicious is the use of REAL chocolate and in a large quantity.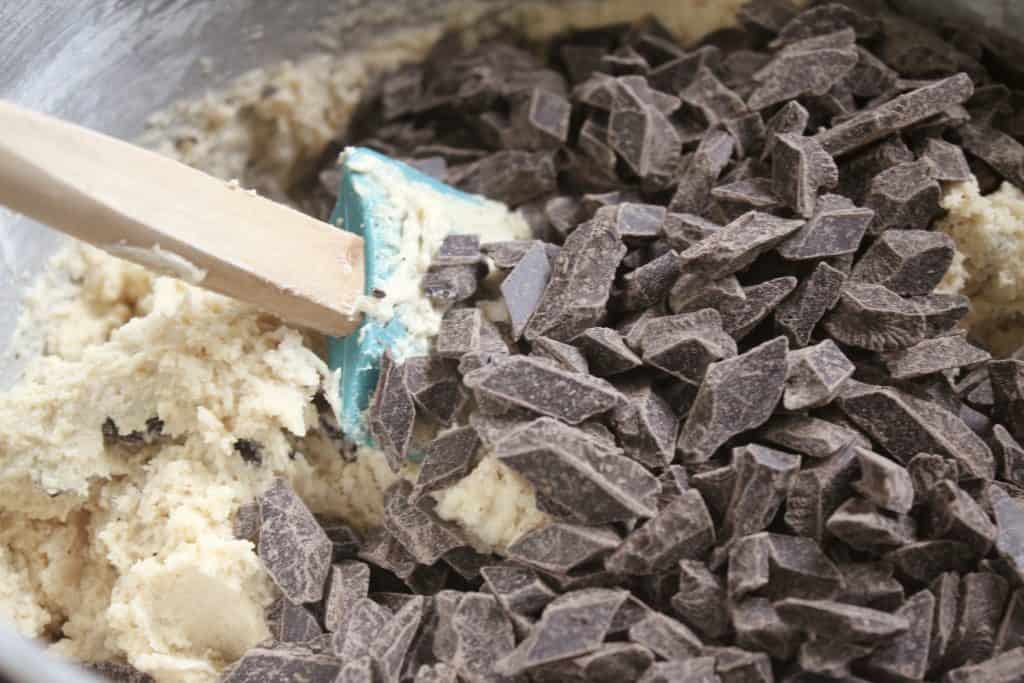 If you haven't tried this recipe yet, you're missing out. All the hype is not unwarranted. This is truly an "always perfect chocolate chip cookie recipe"! The cookies are a little crunchy around the perimeter, slowly softening towards the center. Imagine lots of gooey, melted chocolate throughout a chewy, delectable cookie! They're heavenly.
My Changes and Variations on How to Use the Dough
Jacques has done all the hard work of figuring out which flours work best. Although the super large cookies are great, I have decreased the portioning of the cookie dough to a more reasonable size. I've also slightly decreased the sugar in the recipe, and I skipped the salt topping since I don't understand the love of sweet and savory combined.
Salt in the recipe to bring out the flavors is necessary, but I don't want to eat a salty cookie that is meant to be sweet. It's easy enough to add a sprinkling at the end if you disagree.
Chocolate Chip Cookie Cake
Use this recipe if you want to do a chocolate chip cookie "cake" for your next birthday celebration.
Truffle Surprise Chocolate Chip Cookies
As a super decadent treat, I tested hiding a chocolate truffle inside the center of the dough.
It turned out perfectly! Warning: don't make too many of these if you have no self control!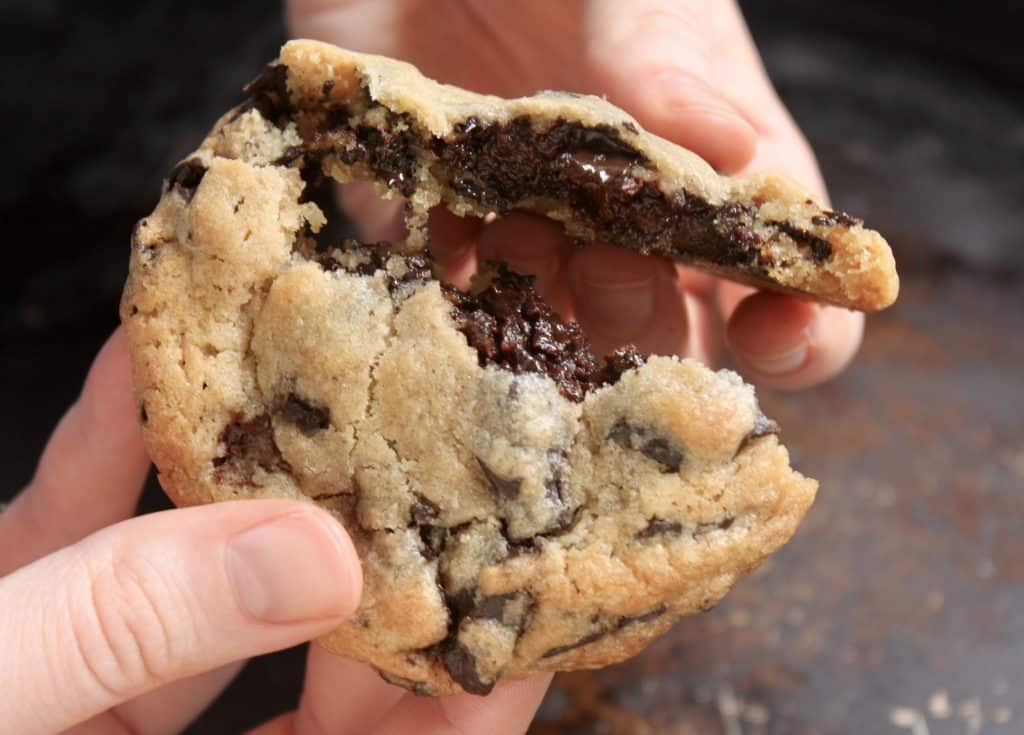 A Chocolate Chip Cookie Pie Crust
You need to try this–it's fabulous. I turned one into a Baked Alaska Chocolate Chip Cookie Pie!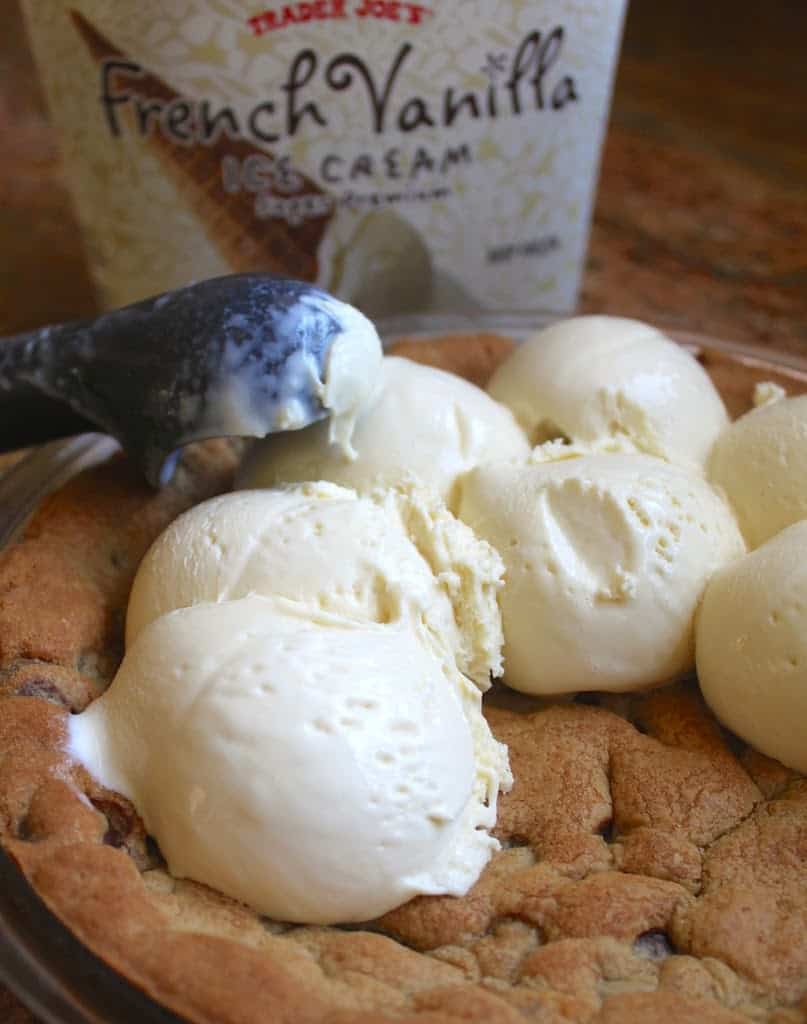 Finally, Mum and I now feel like we're more American! We finally have conquered chocolate chip cookies!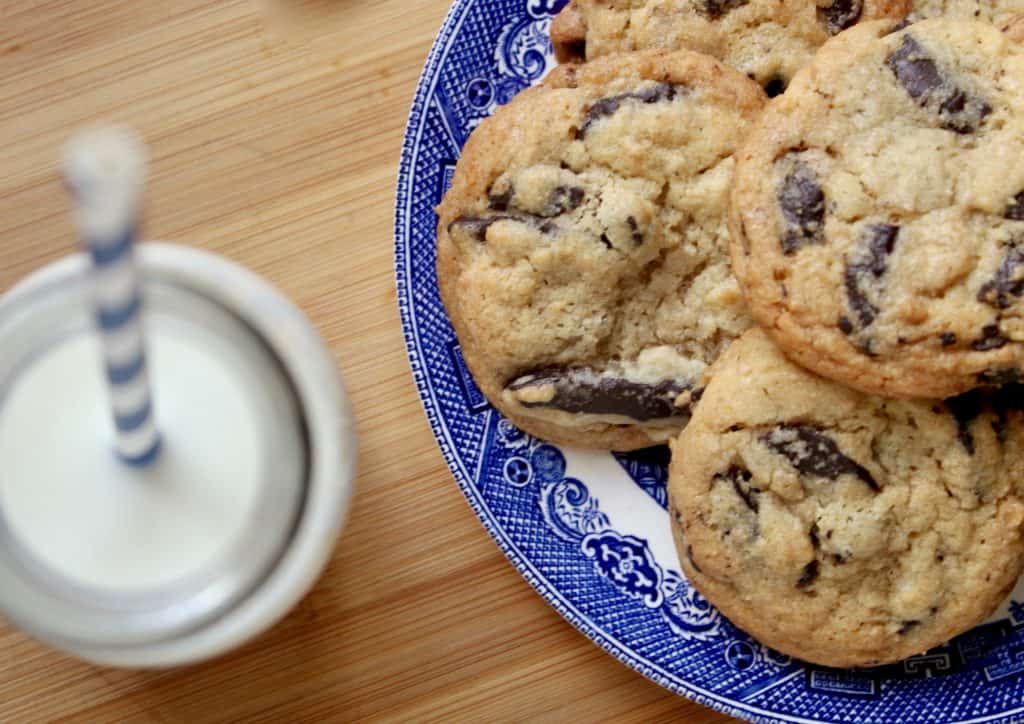 Always Perfect Chocolate Chip Cookie Recipe
(or Chocolate Chunk-which I prefer)
Tips~
Use top quality ingredients, especially the chocolate (I use Callebaut) or Trader Joe's chips/chunks.
Chef Torres didn't include cups for a reason. Want these to turn out? Use a scale, they're so cheap now, there's really no excuse not to have one. You'll kick yourself for not getting one earlier.
You can use chips or chunks or discs of chocolate. The latter two give the best results.
Have the eggs and butter at room temperature.
The dough freezes extremely well. Shape them, freeze them on a tray, then store them in a freezer bag. To bake: place on cookie sheet and leave for an hour then bake as normal.
Best eaten warm, or at least the same day, but this applies to most chocolate chip cookies.
If you need a gluten-free chocolate chip cookie recipe, check out my friend Sheena's recipe HERE.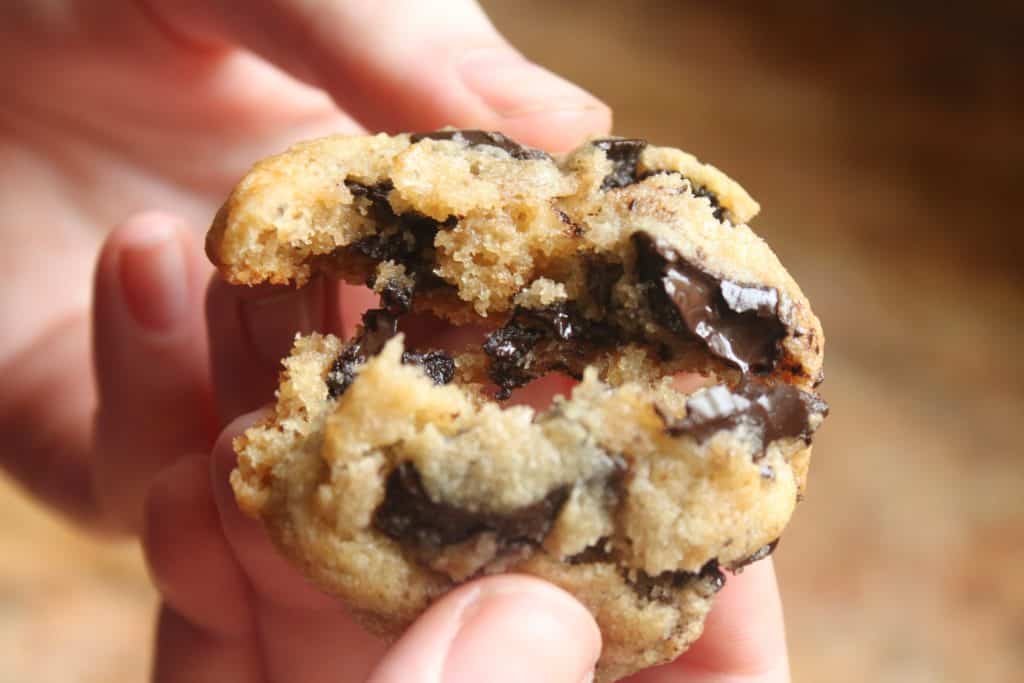 Always Perfect Chocolate Chip Cookie Recipe (or Chocolate Chunk Cookies)
A no fail chocolate chip/chunk cookie that is the best recipe I've ever found.
Ingredients
241g (2 cups) bread flour
241g (2 cups) cake flour
1 1 /4 tsp baking powder
pinch of cream of tartar
1/2 tsp Kosher salt
1 1/4 tsp baking soda
285g (2 1/2 sticks) unsalted butter (10oz)
255g (1 1/4 cups) brown sugar
195g (1 cup) granulated sugar
2 large eggs
2 tsp natural vanilla extract
510g (about 3 cups - this will vary in cups due to the size difference of your choice of chocolate) bittersweet chocolate disks, chips, chunks or fèves, about 60% cacao content (DO NOT USE HERSHEYS, NESTLE or other US type chocolate as these do not have 60% cacao)
Instructions
1. Sift first 6 dry ingredients together into a bowl.
2. Using another mixer bowl (using a paddle), cream butter and sugars together until very light, about 5 minutes. Add eggs, one at a time, mixing well after each egg. Stir in vanilla. On low speed, add the dry ingredients and mix until just combined, 5 to 10 seconds. Drop chocolate chunks or pieces in and incorporate them without breaking them (I use a spatula). Press plastic wrap against dough and refrigerate for 24 to 36 hours. Afterwards, either bake or freeze the dough,
3. Preheat oven to 350°F/175° C.
4. Place 2 1/2-ounce scoops of dough onto a silicone sheet lined cookie sheet. Bake until golden brown but still soft, 15-18 minutes. Remove and place on a cooling rack. Repeat with remaining dough, or keep dough refrigerated. Alternatively, you can shape the cookies then freeze on a tray and then place in a bag to keep frozen, to bake another time. To bake from frozen: place on cookie sheet and leave for an hour, then bake as instructed.
Notes
If you choose not to weigh your ingredients, please realize that your results will vary each and every time you make these. Weight is the only way to guarantee good results.
Nutrition Information:
Yield:

36
Serving Size:

1
Amount Per Serving:
Calories:

255
Total Fat:

11g
Saturated Fat:

0g
Trans Fat:

0g
Unsaturated Fat:

0g
Cholesterol:

0mg
Sodium:

0mg
Carbohydrates:

40g
Fiber:

0g
Sugar:

0g
Protein:

5g
Other delectable cookie recipes ~
Chocolate Chip Hazelnut Cookies
Christina's Cucina is a participant in the Amazon Services LLC Associates Program, an affiliate advertising program designed to provide a means for sites to earn advertising fees by advertising and linking to Amazon.com.
Always Perfect Chocolate Chip Cookie