My list of things to do in Napa are some highlights of this gorgeous California city, but there's so much more you can experience, and best of all, you won't need a car!
DISCLOSURE: Thanks to DoNapa and the Andaz Napa Hyatt Hotel who graciously hosted my mother and me for a short stay. Several places were not in operation, or were closing early due to the beginning of the travel restrictions (March 2020).
Is it Possible to Visit Napa Without a Car?
Absolutely, yes! Downtown Napa has so much to see and do and is completely walkable. The last time I went to Napa, I didn't have a car either, but had gone on the Napa Valley Wine Train.
Where Should I Stay in Napa?
Well, I just happen to know about this wonderful 141 room boutique hotel in Downtown Napa called the Andaz Napa Hyatt Hotel (91 of the rooms are suites.)
Mum and I arrived one day last month in the early afternoon and were greeted by such lovely staff. We were offered a glass of wine even before checking in.* That's a lovely welcome to Napa! Our room had a spacious bathroom with marble shower and such comfortable beds.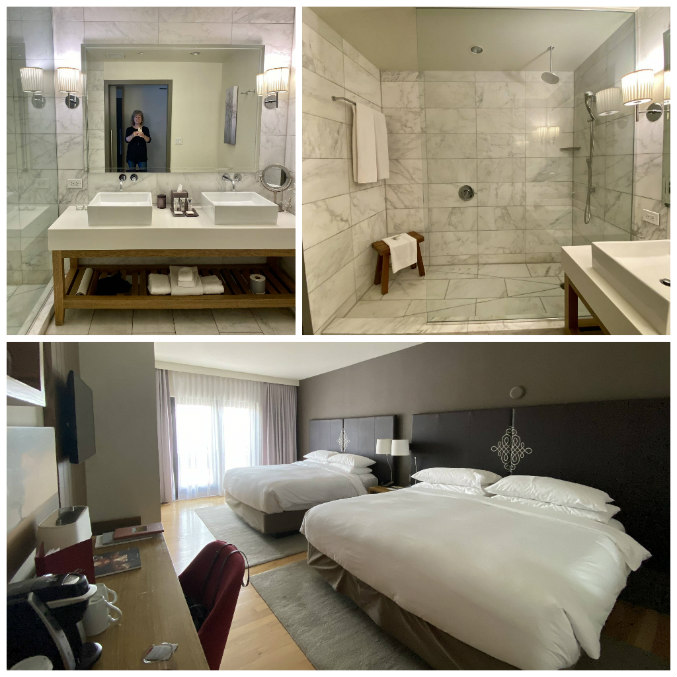 One of the nicest parts of our room was the balcony overlooking Napa. I couldn't stop going out to admire the view when we were in the room. We even watched hot air balloons one morning.
The Andaz Napa offers a dining option at the Mercantile Social bar in the lobby and the Mercantile Terrace offers a cosy space of outdoor fire pits or cabanas.
Downstairs, there's the Farmer's Table where mum and I had a fresh and tasty breakfast each morning, including freshly squeezed juice and English muffins from world-famous, Model Bakery.
I would highly recommend the Andaz Napa as your home base while exploring Napa, and if you have any questions while you're there, the staff are more than happy to help.
12 Things to do in Napa, California (Without a Car)
1. Napa ARTwalk.
The Napa ARTwalk is a biannual, rotating exhibition of sculptures by artists from the Western US and displayed in Downtown Napa. The current theme is: sense of place.
2. Restaurants Galore!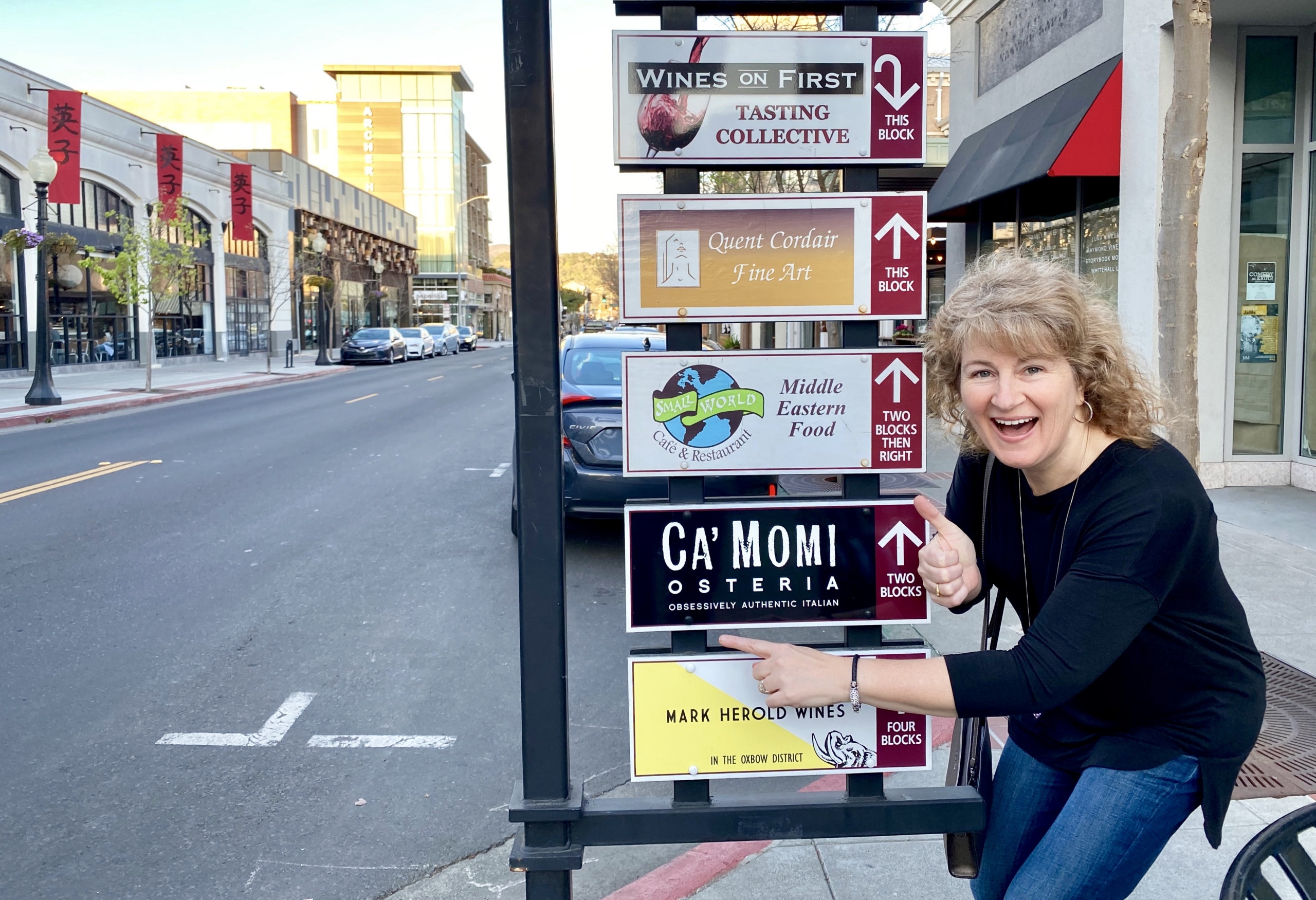 There are over 80 eateries in Napa, so you won't be limited with choices! I immediately found a restaurant I wanted to go to because their logo is, "Obsessively Authentic Italian." If you know me, you know why I wanted to eat here! Mum and I were not disappointed; so yes, it's Nonna approved!
Mum and I had a difficult time narrowing down our choices on where to eat because there were simply too many restaurants for less than three days of dining! However, we managed to try all of these delectable dishes!
As you can see, from Asian food to Greek and American, as well as incredible cheese and charcuterie boards, we happily ate our way through Napa! Top row from left to right: lettuce wraps at Eikos, buttermilk biscuit from 5 Dot Ranch and Cookhouse, angioletti alla pizzaiola from Ca' Momi, dumplings and salad from Napa Noodles, fries from Gott's Roadside, and ice cream from Three Twins.
Bottom row, left to right: local board with salumi from Oxbow Cheese and Wine Merchant, mint chocolate ice cream from Anette's Chocolate Factory, vermicelli noodle salad with prawns from Napa General Store, fruit salad from The Farmer's Table (Andaz Napa), almond pastry from The Model Bakery and gyro from Tarla. My mother flipped for a bread pudding from Basalt, but it was very dark, so the photo isn't very good.
3. Walk, Walk, Walk!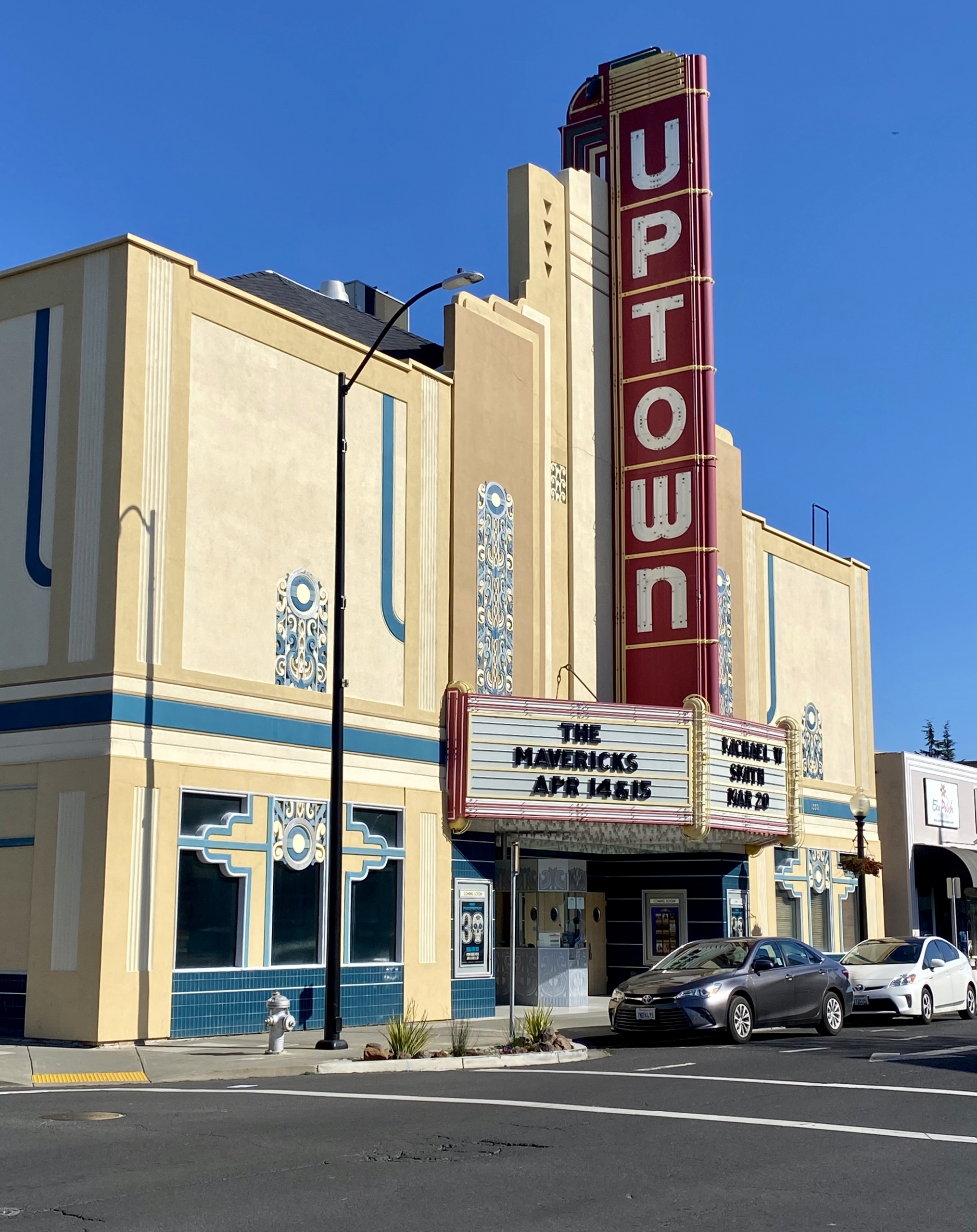 Napa is such a walkable city, it's a shame if you don't walk it! My mother and I were very fortunate that the weather was simply glorious and trees were blooming as well as many flowers. You can also learn to do the cha cha on your walk!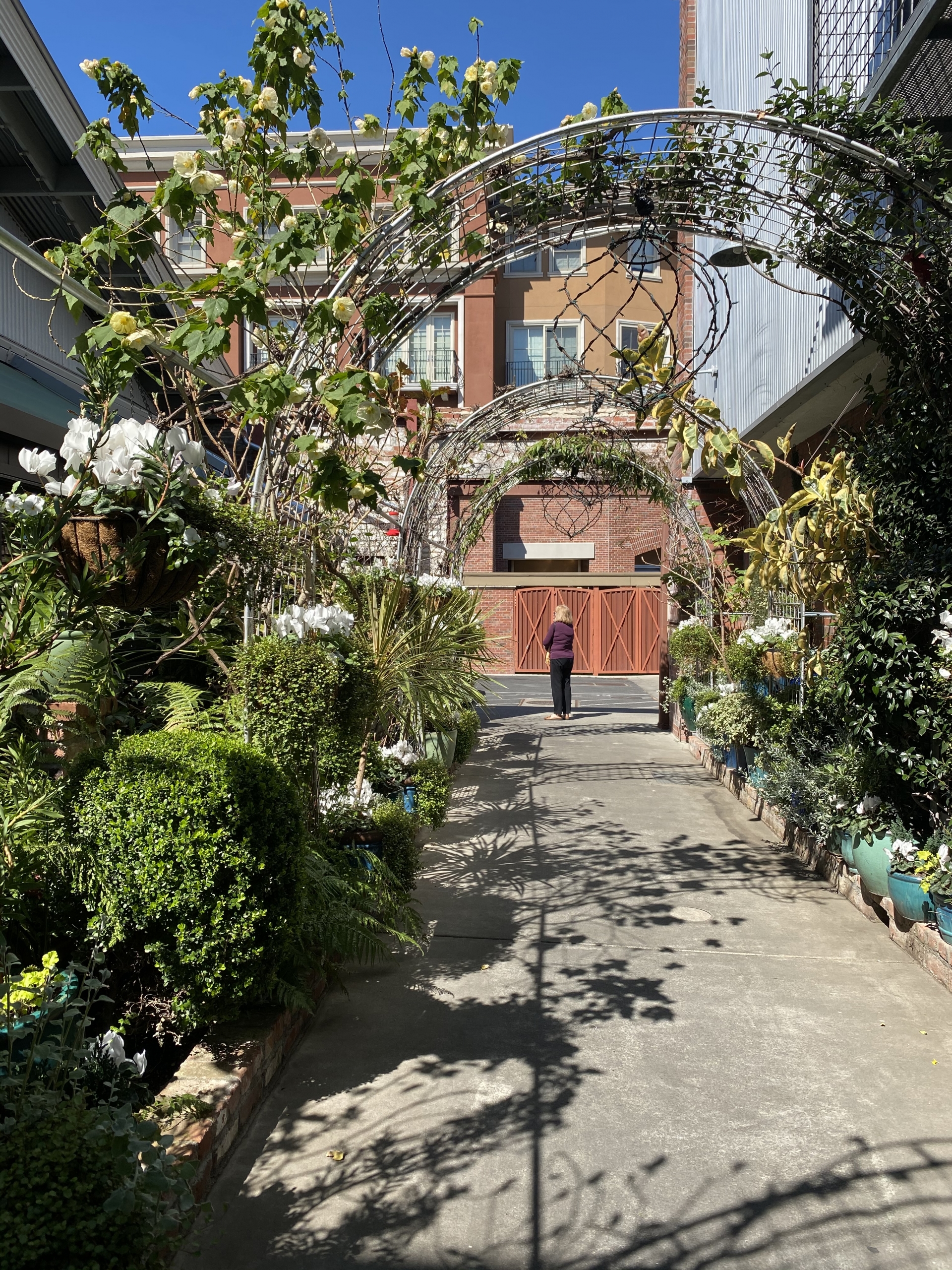 I want to add that Napa was just as lovely and walkable in the evening, too.
4. Visit the CIA at Copia.
There's so much to see and do at the Culinary Institue of America at Copia! One of my favorite parts for me was visiting the Chuck Williams Culinary Arts Museum. Over 4000 specialty culinary items are on display, so you can imagine how much I enjoyed this museum! These are just a few of the items we saw. I was so happy to see the scale (on the far right) because I have the exact same one!
There are gardens filled with culinary delights, from fruit and vegetables, to herbs and even flowers. You can also enjoy a meal at the Restaurant at CIA Copia. See the lifesize couple toasting on top of the building? That's Robert and Margrit Mondavi, the vintners who planned and mostly funded the center. I loved this fork sculpture, and was elated to be able to visit the artist's studio (see #13.)
5. Enjoy Napa's Riverfront.
Besides walking to take in the views of the river, there are also many shops and restaurants along the riverfront.
We had lunch outside at the Napa General Store one day as it the weather was simply too splendid to eat inside.
A view of the Riverfront shops and restaurants from across the river.
6. Visit the Oxbow Public Market.
I cannot encourage you strongly enough to visit the Oxbow Public Market, especially if you are a foodie! It's a culinary dream and Mum and I visited several times.
As you can see, it's a mix of restaurants and shops. You can stop by for a beer, some oysters, some spices, or a bar of chocolate as well as doing some grocery shopping. When my mother and I first spotted Oxbow Cheese and Wine Merchant, we both knew we'd have to return for one of their cheese and charcuterie boards! We did and we were overjoyed.
And I'm unabashedly showing you the plate when we finished. #nowaste
Everything was top quality, from the cheese to the prosciutto to the bread and olives. We had a glass of wine to enjoy with this gorgeous plate and were simply over the moon! Ellie was our server who was just lovely, so the service went hand in hand with the quality of the food. I'd definitely recommend the Oxbow Cheese and Wine Merchant.
7. Go Shopping.

Shoppers will delight in all the places there are to shop in Napa. There are over 60 boutique and specialty shops! Mum and I did a lot of window shopping, but also did some buying, too.
8. Pop into a Museum or two.
The Napa County Historical Society, located in the Goodman Library is centrally located in Downtown Napa, so mum and I went in to peruse the exhibitions, photos and old maps. Napa was incorporated as a city in 1872, so it definitely has some history to share.
9. Eat Amazing Bread and Pastries at Model Bakery.
Definitely one of the best bakeries I've been to recently, and I highly recommend that you visit! Mum and I liked it so much, we made two trips there!
10. Wine Tasting, of Course!
I did some wine tasting at The Wine Thief which had been recommended to us by a Napa local. The nice thing about coming here is that you are able to taste wines you may not find anywhere else in the world. Jerrod, the owner, was lovely and we chatted about wine and food while I tasted several wines. The one I enjoyed most just happened to be his own: a 2018 AJ Pearce Sauvignon Blanc, which had lovely and refreshing stone fruit flavors.
Did a trip to Napa even happen if there wasn't any wine tasting? We enjoyed wine tasting at Napa General Store. I enjoyed some white and red wines, which my mother chose to sample some Port which was paired with delicious chocolate truffles.
11. Take a Cooking Lesson.
Unfortunately, due to closures and restrictions, Mum and I weren't able to take a cooking lesson while we were in Napa, which we would have loved to do. They are available at the CIA at Copia and other locations.
12. Napa Gondola Tours.
Yes, this is Napa, not Venice! This was one of the fun things my mother and I had wanted to do, but were unable to due to limited schedules. It's something we can look forward to doing on our return trip!
The 12 things to do in Napa listed above definitely do not require a car as they are all within walking distance of downtown. However, on our way out of town, my mother and I stopped at one more place that I would feel terrible withholding from you! It is not within walking distance of Downtown Napa, but if you do happen to have a car, please don't miss my virtual #13 (just think of it as a bonus, much like a Baker's Dozen!)
(13. Gordon Huether Studio)
I feel that we were so fortunate to have just made it into the studio before they closed for the day! I called before visiting and Taryn welcomed us in. She gave us a little tour of the studio and shared some highlights about Gordon and his artwork. I highly recommend stopping here if you can. Gordon's art is featured all over the world, but can be found in several places in Napa.
I hope you've enjoyed my virtual tour of our trip to Napa, and my wish is that we are all able to travel again, very soon. There's so much more to discover, from craft breweries, nightlife and many annual events like the Downtown Napa Culinary Crawl and classic car show. When we are ready, and able to travel, Napa is ready to welcome us back!
Please visit the following websites for more detailed information ~
You can also see more of our trip via this link to my Instagram stories
from last month. Enjoy!
* A destination fee of $30/night applies at The Andaz Napa Hyatt Hotel. This fee covers a multitude of amenities including a $10 food and beverage credit, complimentary featured winery lobby pour, shoe shine, self parking, and much more.
I was hosted by Andaz Napa Hyatt Hotel and DoNapa to visit the city of Napa, California, however, as always, all opinions are solely my own. I am adding this in accordance with FTC regulations.