Grilled polenta, with or without cheese, is indescribably delicious, simple and nutritious. Bring grilled polenta into your weekly menu; just a warning, it's addictive!
Recently, I posted the recipe for basic polenta with rapini.
As an Amazon Associate I earn from qualifying purchases.
Now, I want to show you how to use that polenta the next day, or when you have leftover polenta. There are a few key things you'll need to know, but it's a super simple recipe, if you can even call it a "recipe." Many ask,
What Can I do With Leftover Polenta?
You can do so many things with leftover polenta! From this grilled polenta to polenta lasagna, polenta appetizers, polenta chips, fried polenta and more. It truly such a versatile dish, and remember, the basic recipe is vegan and gluten free!
Can you Reheat Cooked Polenta?
Of course, you can reheat anything! However, the question should be "How can I reheat cooked polenta?" I can tell you that no Italian would ever add water or milk to polenta that's set, and try to reheat it that way! That's an abomination, and the site that suggests this simply attempts to rank for every recipe under the sun, even if they have no clue about it (same site that used ground beef in an apple "mince" meat pie!) So please don't attempt to reheat polenta in a pot. Follow my directions below and you'll be much happier with the results.
Tips for Making Grilled Polenta
~The main thing to remember is that you should plan ahead for making grilled polenta. Don't ever leave polenta sitting in a pot. Immediately put the polenta that won't be eaten right away in a pan or dish that is preferably square or rectangular.
This makes for easier cutting and grilling similar sized slices.
When making the polenta, if you are going to make the entire amount grilled, use a little less water. It's much easier to make grilled polenta with cheese that's a bit more stiff, than runny.
Grilled Polenta with Cheese
(How to Make Grilled Polenta)
Ingredients
leftover polenta, chilled (preferably in a square or rectangular pan)
(optional: mozzarella, scamorza cheese, or any melty cheese of your choice, including vegan)
Turn out the polenta onto a cutting board.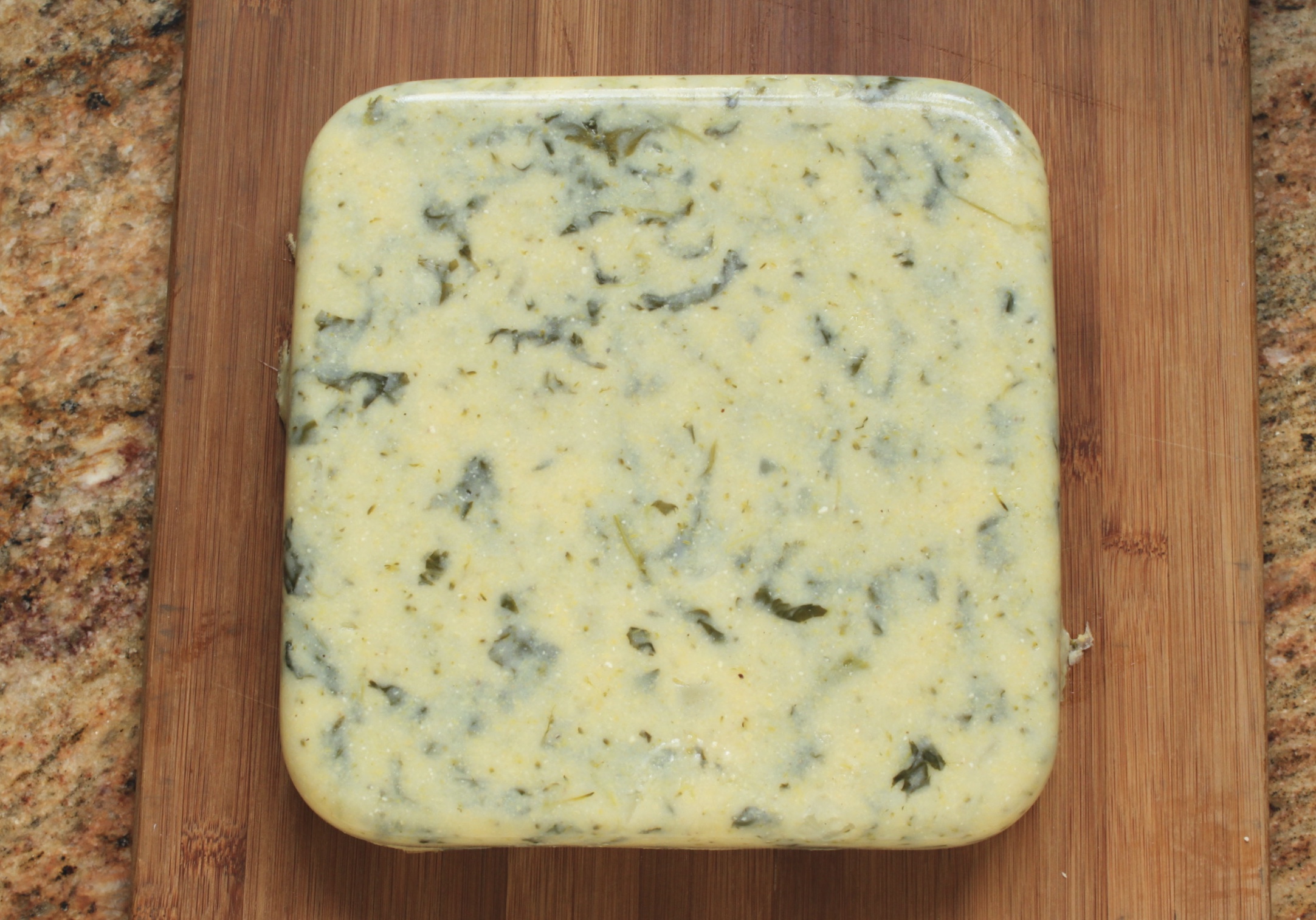 Cut into slices, or pieces.
Place on an oiled grill (bbq) or oiled rack under the broiler on high.
Cook until starting to crisp and brown. Then turn over and cook the other side.
You can choose to eat them plain. I love them this way!
But! If you choose to gild the lily, no one will complain! Just top with a piece of cheese and place back under the broiler/grill.
The cheese won't get a lovely brown color, or crisp, on a proper grill, so I recommend finishing off under a broiler, either way.
Enjoy your grilled polenta!
Printable recipes below.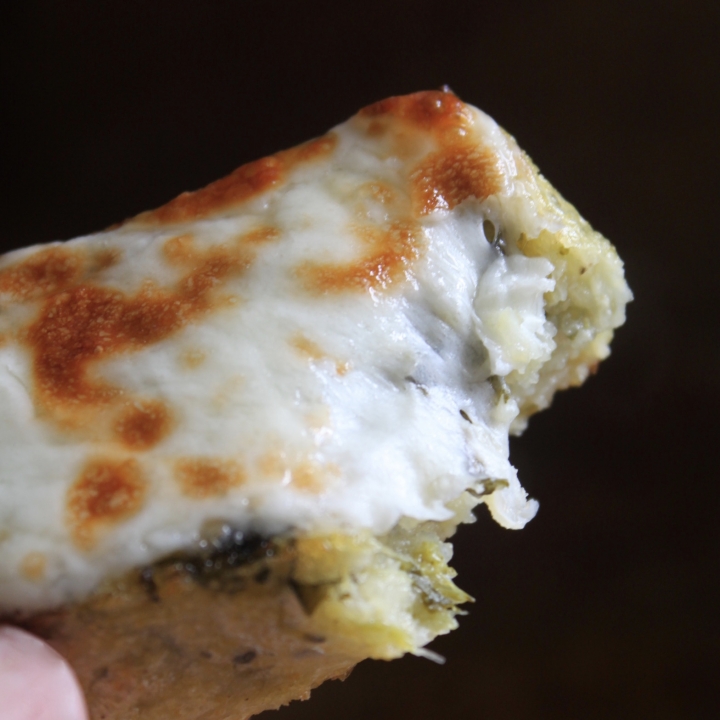 Grilled Polenta with Cheese (How to Use Leftover Polenta)
A tasty and cheesy way to serve leftover polenta.
Ingredients
cold polenta, chilled in a square or rectangular dish (see recipe card below)
mozzarella cheese (or melty cheese of your choice)
Instructions
Cut polenta into the slices when cold.
Place onto an oiled grill or rack placed under the broiler.
Cook until the polenta starts to brown and crisp, then turn over and cook the other side.
Serve plain, if desired. However, if you like cheese, add a slice of mozzarella and put back under the broiler until nicely browned. If you cooked the polenta on a grill, you may want to finish it off with cheese under a broiler/grill.
Serve hot. You can also serve with a little tomato sauce.
Notes
You will need a baking sheet and oiled baking rack so the polenta doesn't stick.
Nutrition Information:
Yield:

6
Serving Size:

1
Amount Per Serving:
Calories:

47
Total Fat:

3g
Saturated Fat:

2g
Trans Fat:

0g
Unsaturated Fat:

1g
Cholesterol:

8mg
Sodium:

152mg
Carbohydrates:

4g
Fiber:

0g
Sugar:

0g
Protein:

2g
All nutrition information is only an estimate.
How to Make Polenta - an Easy Italian Recipe
A simple and delicious corn meal dish that has been made in Italy for centuries.
Ingredients
2 Tbsp extra virgin olive oil
one medium to large onion, diced
small bunch of rapini, washed and chopped into small pieces
1 1/2 cups (9 oz) polenta or good quality corn meal (you can put it in the blender to make it more fine or leave as is)
Kosher salt (Diamond Crystal)
( Optional: caramelized onions to serve)
Instructions
Fry the onion in the olive oil in a large, heavy pot over medium high heat until translucent and just starting to brown.
Add 4 cups of water to the pot. Then add the chopped rapini.
Next, add 2 cups of water to the cornmeal placed in a bowl, and stir to moisten. This technique of adding water to the dry ingredient will ensure that you will avoid lumps. However, do not add the water to the polenta until just before adding it to the pot. Add half a teaspoon of Kosher salt at this time, taste and add more as needed.
Immediately add the wet polenta to the pot before the water comes to a boil. Continue stirring, and cook over medium heat (it should be bubbling) for about 25 minutes. Keep scraping the bottom to make sure the polenta doesn't stick. Be careful not to let it boil too fast or the polenta may bubble which is painful if it squirts onto your hand.
If you are using a quick cooking package, it will be ready in just a few minutes, however the traditional type will need to cook for about 25 minutes, possibly longer. Taste again for salt and remove from heat when it is no longer hard and gritty.
Pour into bowls immediately and serve as desired.
Notes
Important Note: If there is any leftover in the pot, put it into a dish which you will want to keep in the refrigerator as it hardens as it cools. 
Nutrition Information:
Yield:

5
Serving Size:

1 bowl
Amount Per Serving:
Calories:

169
Total Fat:

8g
Saturated Fat:

2g
Trans Fat:

0g
Unsaturated Fat:

6g
Cholesterol:

5mg
Sodium:

172mg
Carbohydrates:

23g
Fiber:

2g
Sugar:

2g
Protein:

3g
Nutrition information is only an estimate.
Christina's Cucina is a participant in the Amazon Services LLC Associates Program, an affiliate advertising program designed to provide a means for sites to earn advertising fees by advertising and linking to Amazon.com.