Homemade Greek Gyros are not impossible to make at home, as I had originally thought. You'll see that you can re-create these yummy Mediterranean delights in your own kitchen!
It's already "back to school" time when families' schedules kick into "crazy" gear!
One problem many families have is balancing after school activities and having time for a healthy dinner.  Besides crock-pot dinners, another option is freezing meals. Freezing some food is definitely a put-off, but others are perfectly suited to the freezer, and luckily, gyros/kebabs are in the latter category.
When my kids were younger, their favorite restaurant was Daphne's, a Greek restaurant chain. They served such tasty options, and compared to other fast food chains, was much healthier too.
I made gyros with a boxed mix of spices many years ago, but it wasn't anything to write home about. Last year, however, I discovered Alton Brown's recipe for gyros which had such rave reviews, I decided to give it a try. It wasn't difficult to make, in fact, I was surprised at how few ingredients were in the meat mixture. I have to tell you though, the flavor was fantastic! My family devoured them. I was elated over accomplishing yet another feat in the kitchen: making homemade Greek gyros that tasted great!
If you own a rotisserie, I would highly recommend using it with this recipe, but since most people don't, I've shown the alternate method.
Unless you're having a large group for dinner, this recipe makes a lot of gyros! However, this is not a problem, just freeze the leftover meat, right after slicing it. The pita freezes perfectly too. Imagine having delicious homemade Greek gyros on a weeknight- a quick salad and dinner's ready!
Here is my version of Alton Brown's recipes, as I made some changes, mainly with the ingredients (beef and lamb vs just lamb.) Oh, and the proper way to say "gyro" is "YEER-oh,"  without the hard "g".
Homemade Greek Gyros with Tzatziki Sauce
adapted (slightly) from Alton Brown's recipe
Ingredients:
1 medium size onion, roughly chopped
1 lb ground beef
1 lb ground lamb
1 tbsp finely minced garlic
1 tbsp dried marjoram
1 tbsp dried ground rosemary
2 tsp Kosher salt
1/2 tsp ground black pepper
Tzatziki Sauce (recipe follows)
lettuce
sliced tomatoes
sliced sweet onion

Pita bread (I like the soft, thick, Greek kind, which are more difficult to find, but worth the search!)
Run the onion in a food processor for about 15 seconds.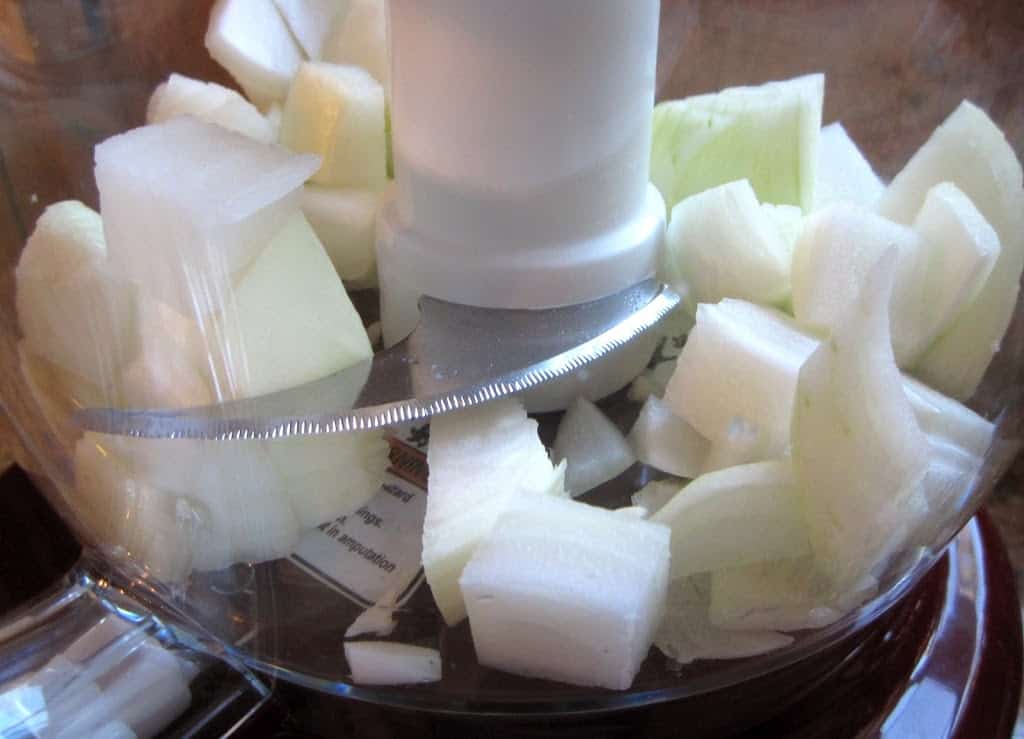 Place the onion in the center of a kitchen towel and squeeze out the juice and return to the food processor.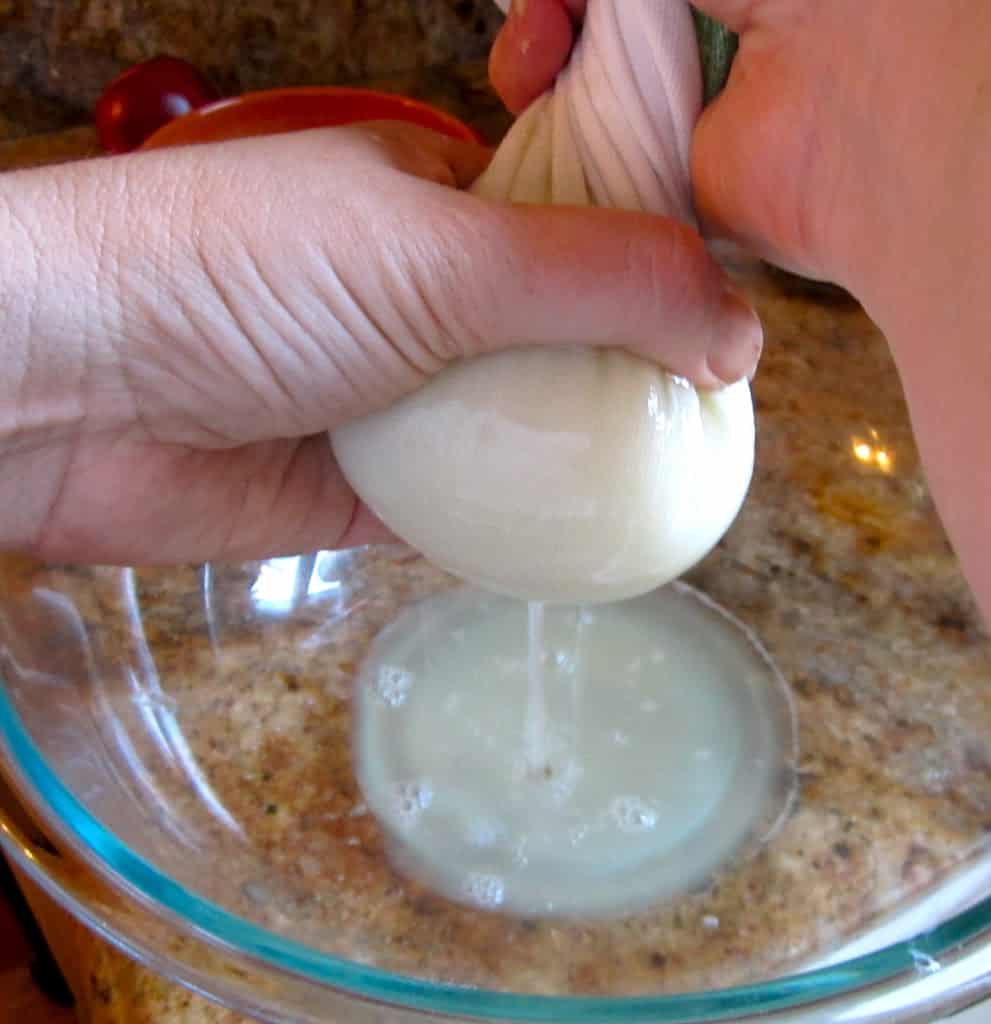 Add the meat, garlic, spices, salt and pepper to the onion, and process.
Do so until it looks like a fine paste, about a minute.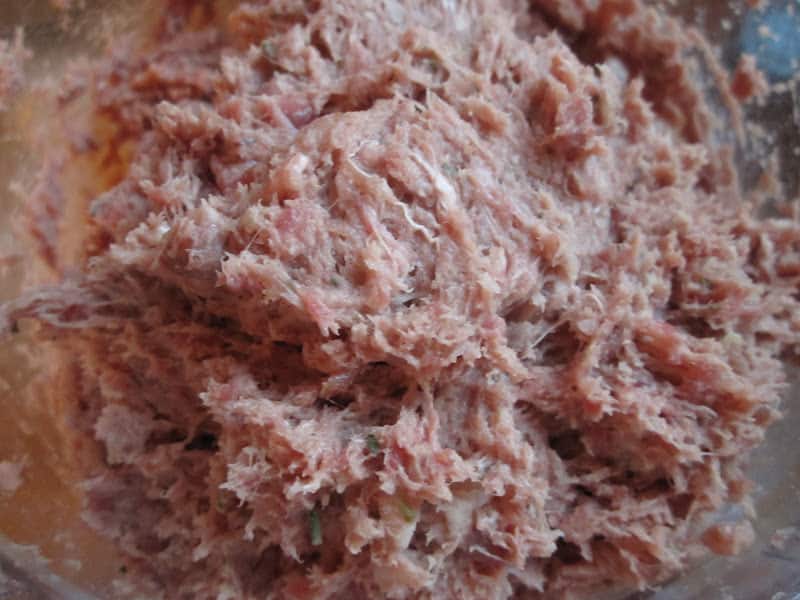 Place the mixture in a loaf pan and press evenly.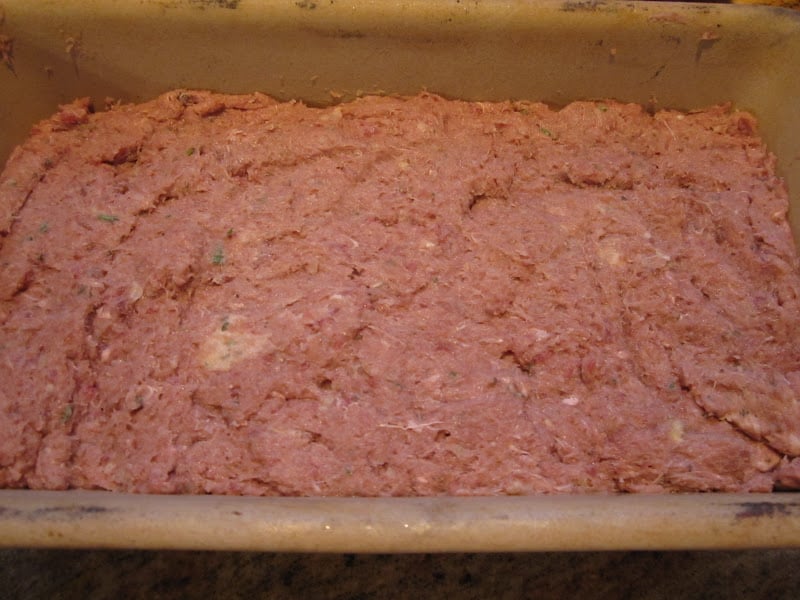 Bake in a water bath (place loaf pan inside another pan filled with water) at 325°F (165°C) for about an hour or more until temperature reaches 165-170°F (75°C.)
Remove from the oven, drain fat, and place on a cooling rack.
Cover meat with aluminum foil and a heavy weight (Alton suggests a brick)  for about 15 minutes until internal temperature is 175°F (79°C) (I found the times are not quite accurate, and I didn't know if the brick actually had an effect, but I think the important part is getting the meat to the correct temperature.)
Place meat on a cutting board and slice as thinly as possible with an electric knife (using anything else would be much more difficult.)
I added the following step myself as I think it mimics the rotisserie a bit more. Add a few slices to a nonstick frying pan (very little or no oil) and heat gently until the meat browns a little.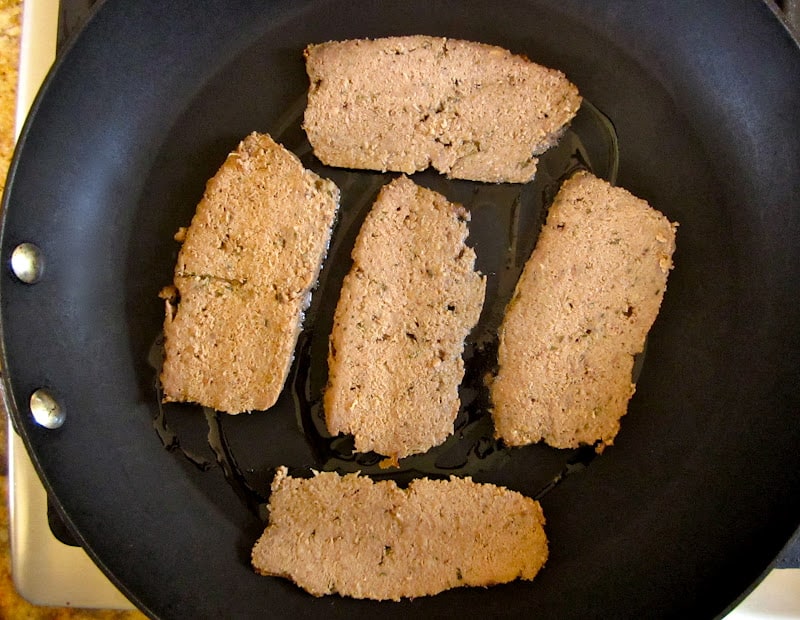 In another pan, heat the pita bread.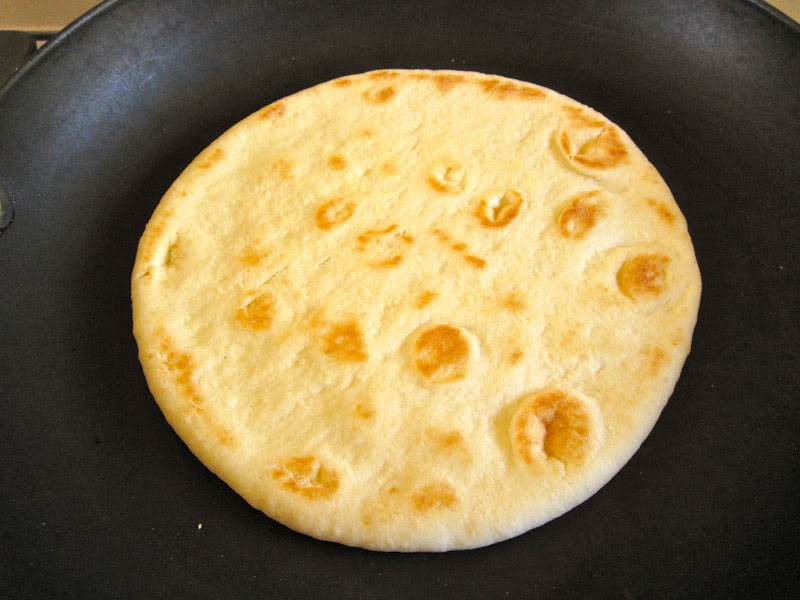 Finally, place the meat on one half of the pita, topped with tzatziki sauce, lettuce, tomatoes, and onion. You could also put a little Greek dressing on the tomatoes too (extra virgin olive oil, vinegar, salt, oregano.)
Serve Homemade Greek Gyros with rice pilaf or a Greek salad, and enjoy!
 You can find the recipe for
Tzatziki Sauce

here.
*For US readers: the UK doesn't really use the term "gyros." Rather, they are called "doner kebabs" or just "kebabs."
Don't miss another recipe or travel post; sign up for my free subscription below!
(I promise not to sell or share your info, ever!)