The Napa Valley Wine Train is a fabulous day trip to take, even if you're in San Francisco. You'll feel like you're a world away from any big city, and almost as though you're stepping back in time. I highly recommend it.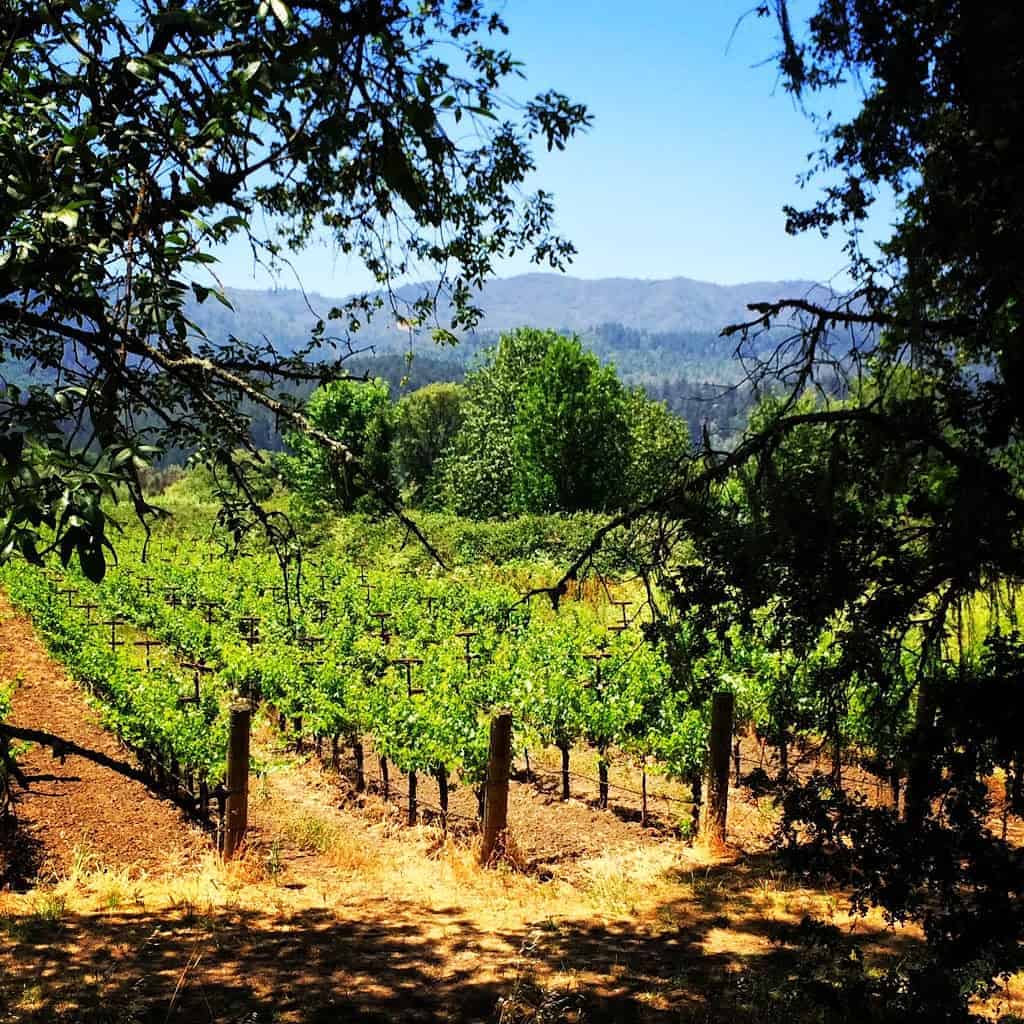 I have been going up to San Francisco at least once a year for the past few years, and I will continue for as long as I possibly can.
As an Amazon Associate I earn from qualifying purchases.
However, it wasn't until recently that I realized that Napa, and the surrounding wine country is so accessible to the wonderful city of San Francisco, even without a car. I also discovered that The Napa Valley Wine Train is a perfect excursion whether you only have one day or an entire week.
~Disclosure: I received a Gourmet Express lunch for my daughter and me, including transportation from SF from the Napa Valley Wine Train in exchange for a review/post. All opinions are my own.~
The Napa Valley Wine Train is a family run business, and from their website, it seemed like quality and customer service were at the top of their list of priorities. So when I was offered to enjoy the experience in exchange for writing about it, I sensed that they truly believed in the services they provide, and doing it in the best possible way. From beginning to end, the trip from San Francisco to Napa, the train journey, and ferry ride back to the city was completely enjoyable and stress-free, not to mention how fantastic food and wine was.
If you don't have The Napa Valley Wine Train on your bucket list yet, get your pen out now because I'm telling you, it needs to be on there. This three hour, 36 mile (roundtrip) train ride from Napa to St. Helena in Northern California, is such a unique, relaxing and luxurious trip through wine country, and is like nothing I've ever experienced.
The gourmet four course meal is nothing short of excellent, and as many of you know, I am very particular and often disappointed when dining out. You could drive to Napa and take the train, but I'm sure there will be many of you who are visiting San Francisco without a car, so here's what to expect after you've chosen and booked your package on
We arrived at the Ferry Building in San Francisco at about 8:10 am, which gave us time to pop into a coffee shop for breakfast (I'd recommend the Blue Bottle Coffee Company in the Ferry Building). My daughter and I went on the weekend, so instead of the ferry, we took a bus to Vallejo (just look for the bus that is parked between the Ferry Building and Starbucks) and were off at 8:30 on the dot.
If you are traveling during the weekday, you will take a ferry instead which can be found to the left of the Ferry Building: you will see Gate B, which is where you will board your ferry for Vallejo.
Once in Vallejo, you will be met by a shuttle driver who will whisk you up to Napa in about half an hour. Our driver was named Caesar, and he was just lovely!
You'll arrive in Napa with time to spare, so once you've checked in, you can pop into the gift shop or have a wander near the station. I found two wonderful places very close by, The Fatted Calf and The Model Bakery. I returned to buy some salami and sausages at The Fatted Calf, but was too full to try anything at the bakery–I'll just have to go back, I suppose (darn).
My daughter and I then returned to the Napa Valley Wine Train station and it was almost time to board the train which leaves at 11:30 am.
Boarding the Napa Valley Wine Train
Everyone is given assigned seating, so boarding was done in a very orderly fashion. There are two lunch times: one group dines on the outbound trip and the other half dines coming back. We were in the later seating, so we were given our appetizers in the lounge car and I had a glass of wine, while my daughter chose from the non-alcoholic drink menu.
We were told to feel free to explore the antique train (1915-1917) from front to back, which I did after finishing our delicious appetizers which included Scottish smoked salmon, calamari, a crunchy seaweed salad, fresh fruit and assorted international cheeses. The interior of the train was so beautifully decorated with lovely drapes and period paintings.
The Silverado car, which serves a barbecue meal had a Western style decor. Our Gourmet Express meal car was very elegant, and the last meal car was the Vista Dome, which featured atrium type windows for a really light and open feel. I really noticed the attention to detail throughout the entire train.
Of course there's a wine-tasting car, offering wine from many of the wineries we were passing through, which seems like the perfect place to taste them! During the rest of the trip, we relaxed in our comfortable seats and enjoyed the view, passing numerous vineyards and wineries on the way to St. Helena.
Upon reaching our destination, the staff effortlessly seated those who had just dined in the lounge cars, while reseating guests from the lounge cars into the dining cars, again, everyone has preassigned seating. We were then given our menus and although it was difficult to choose because so many of the main course selections sounded fantastic, we both chose the salad, and I decided on the Special of the Day which was halibut, along with a glass of Chardonnay, and my daughter chose the porcini encrusted breast of chicken (all meats are humanely raised without antibiotics and all fish are fresh and line caught; this alone told me that the rest of the ingredients would be just as high quality).
The meals were not only impeccably presented and served piping hot, as another guest mentioned later, but everything was incredibly delicious. I was actually impressed, and the meal truly exceeded my expectations, especially my daughter's chicken dish. I don't know what Chef Kelly Macdonald's secret is, but the chicken was so tender and the avocado sauce (which I'd never even heard of before) was something I will remember for years to come. Yes, it was that good, and I'm afraid I wouldn't even know where to start to try to recreate it at home (insert food blogger tears here).
Both my daughter and I were so full after our meals, but could not turn down dessert! How could we when the choices were creme brûlée and chocolate tiramisù truffle? Oh, and I can tell you, the creme brûlée was fabulous, but the tiramisù truffle was heavenly! Just look and you can practically taste them with your eyes. The entire meal was first class, all the way.
Traveling Back to San Francisco After Riding the Napa Valley Wine Train
When we finished our desserts (yes, we did finish them!) we were just arriving at the station (2:30 pm) but were told to take our time if we weren't quite finished. Nothing about the entire day was rushed, which was such a pleasant change, as much of my life entails constantly rushing everywhere.
Each staff person on the Napa Valley Wine Train was so helpful and truly did such a first-rate job throughout our trip. Once alighting, we had plenty of time to take a short walk into the little town of Napa to spend about an hour and a half, before meeting Caesar at 4:15pm for our ride back to Vallejo to catch the ferry.
Here's a really great tip: you can take the bus or ferry to Napa one day and return the same day or the next day, or even a week later, which means you can enjoy more of the area, visiting wineries or whatever you fancy, if you happen to have more time. This is what I hope to do, as hopefully my husband will be able to join me the next time I go.
Back in Vallejo, we only waited a few minutes before boarding the ferry which left at 5:15 pm. The one hour ferry ride was a lovely end to the trip, and afforded us great views of San Francisco's skyline before we reached the dock.
I don't think I even need to say that I would highly recommend this day trip, do I? I loved it and can't imagine anyone who wouldn't, even non-wine drinkers. It was a truly beautiful day, and I can't wait to return! Please let me know if you do go, and what you think of the experience, I'd love to hear from you.
All the information you need about The Napa Valley Wine Train and how to book can be found here~
Don't miss another recipe or travel post, sign up for my free subscription!
Disclosure: I received transportation to and from Napa and two Gourmet Express lunch packages from The Napa Valley Wine Train, but was not required to write a positive review. All thoughts and opinions are mine alone and as always, I only recommend quality products and services that I truly believe in and would purchase and use myself. I am disclosing this in compliance with the FTC's regulations.
Christina's Cucina is a participant in the Amazon Services LLC Associate Program, an affiliate advertising program designed to provide a means for sites to earn advertising fees by advertising and linking to Amazon.com.