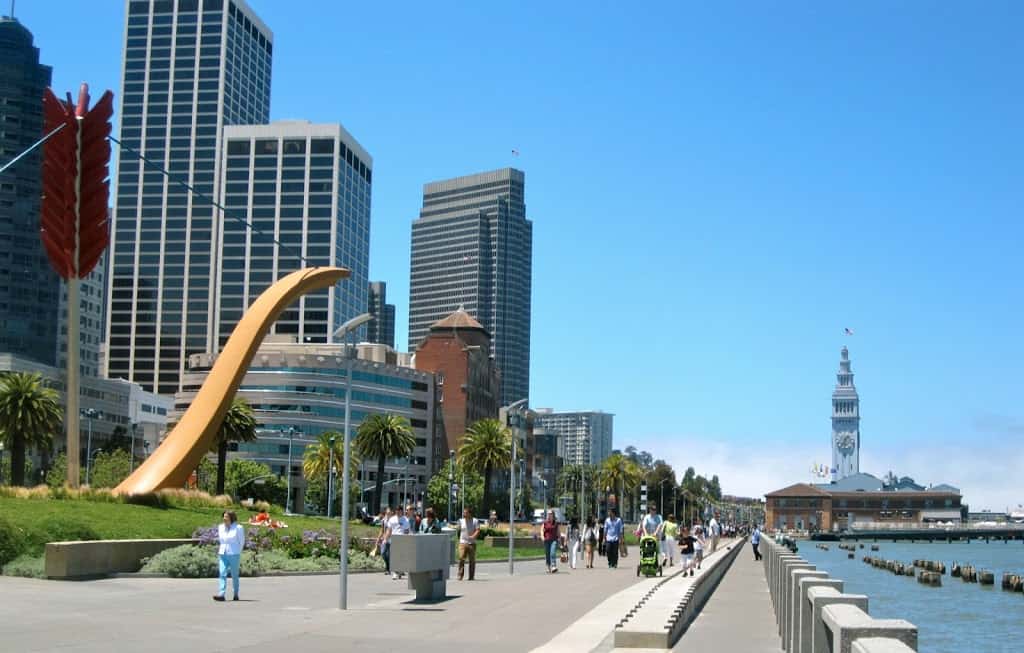 San Francisco loves me!
How do I know? Well, if you knew my luck with travelling and the weather, you'd know that my presence has brought desperately needed rainstorms to parched Italian soil on more than one occasion. You'd be savvy to the fact that during my 9 week trip to Europe, the weather was brilliant in England while I was in Scotland, and once I arrived in England, the sun decided to shine upon Scotland instead…and I didn't really see the sun shine until I reached Sicily, half way through my trip. I seem to have a knack for having bad weather follow me when I travel…except, when I go to San Francisco.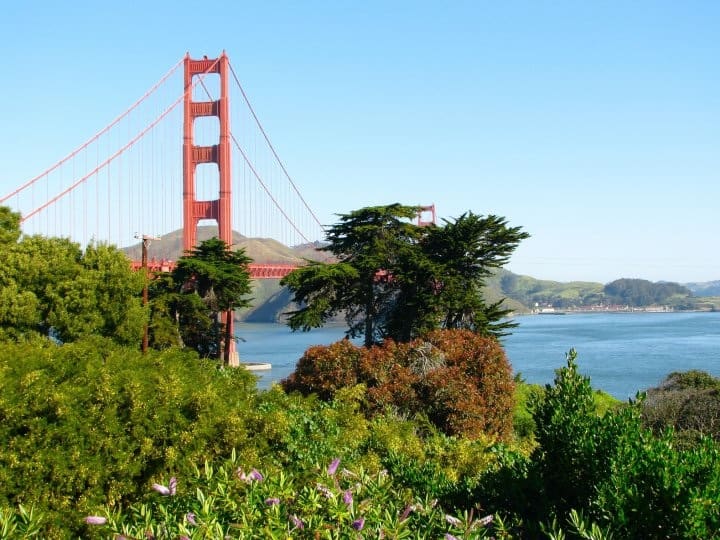 Every single time I have been to this wonderful city, the weather gods have smiled upon me! This is actually quite a feat, especially if you take into consideration the following quote, which is often attributed to Mark Twain (but most likely not his actual words):
"The coldest winter I ever spent was a summer in San Francisco."
All I know is that it is such a walkable, enjoyable, beautiful and delicious city, and that everyone who can, should really try to venture into San Francisco and take advantage of all it has to offer, at least once in their lifetime.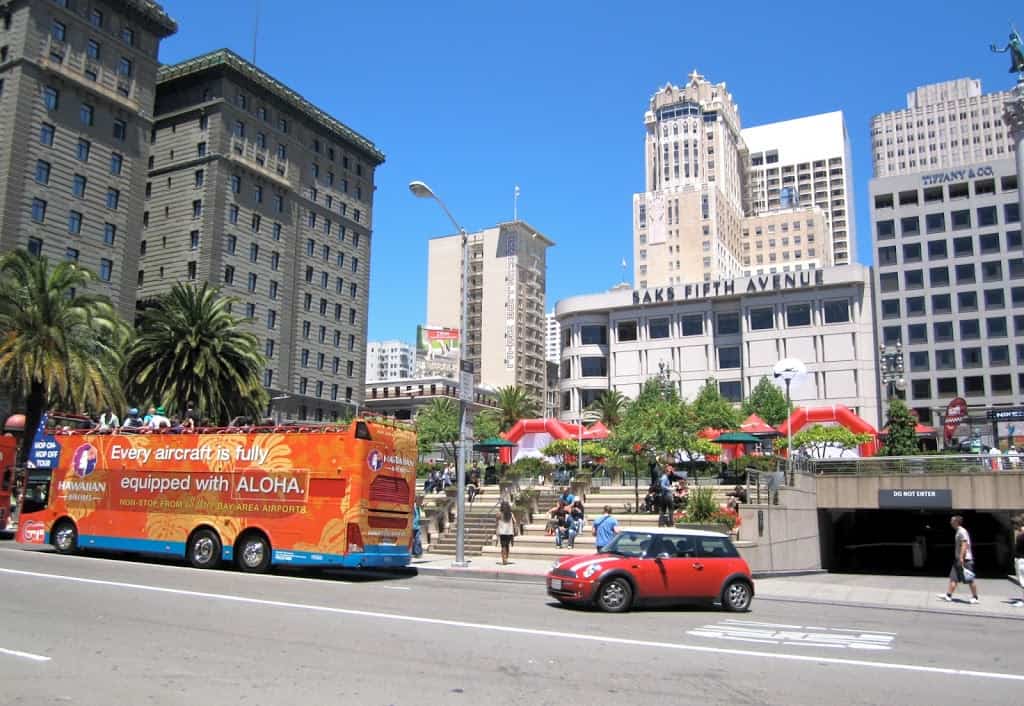 Here's my caveat, before I share my thoughts and experiences on the food places I visited: just as no two people share the exact same values, styles, beliefs and taste buds, my opinions are just that—opinions. 
I know that I have high standards when it comes to certain food, and it's not that I'm picky, it's just that I've been very fortunate to have tasted "the best of the best" of so many cuisines, that the bar has been set very high. I have had my Dad's fish and chips in Scotland from his fish and chip shop, using the freshest haddock from the North Sea, I've had afternoon tea in England…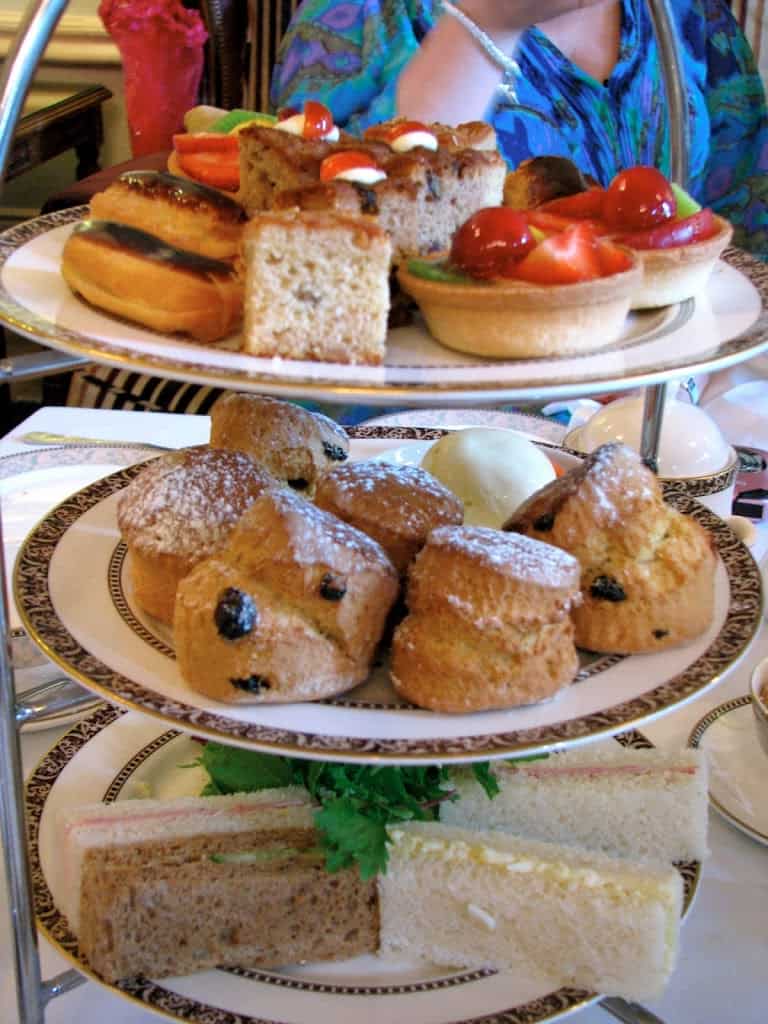 …pastries in Paris, apple strudel in Germany, Weiner Schnitzel in Austria, chocolate in Switzerland, homemade gnocchi in Italy, fresh swordfish in Sicily, corn straight off the stalk in Michigan, homegrown citrus and avocados in California…I think you get the idea. I also want to clarify that I'm not a food snob, by any means; I actually prefer peasant and pub food to haute cuisine. I just go by what my tastebuds tell me, and most of the time they are screaming at me (in true Italian fashion).
So, without further ado, here's my take on the things we did in and around San Francisco…I hope it is both helpful and enjoyable…I'd love to hear what you think.
First of all, the fog in SF is not a rumor…this is on a bright sunny afternoon, crossing the Golden Gate Bridge…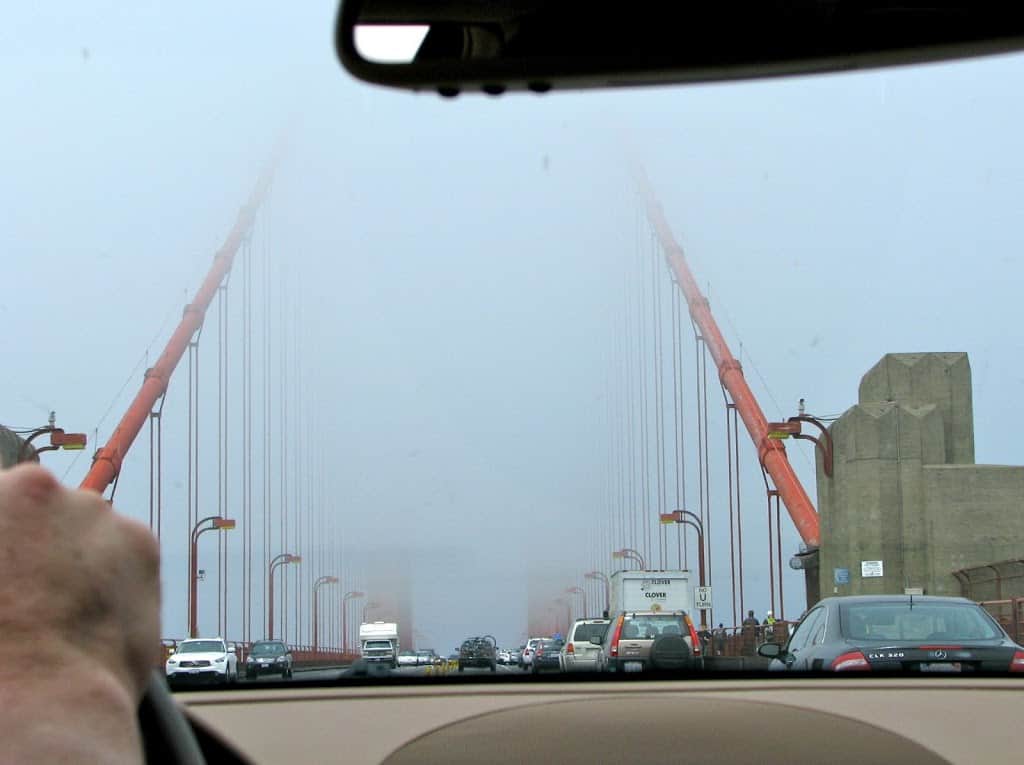 And just a few minutes later: a view from the road on our way to Muir Woods.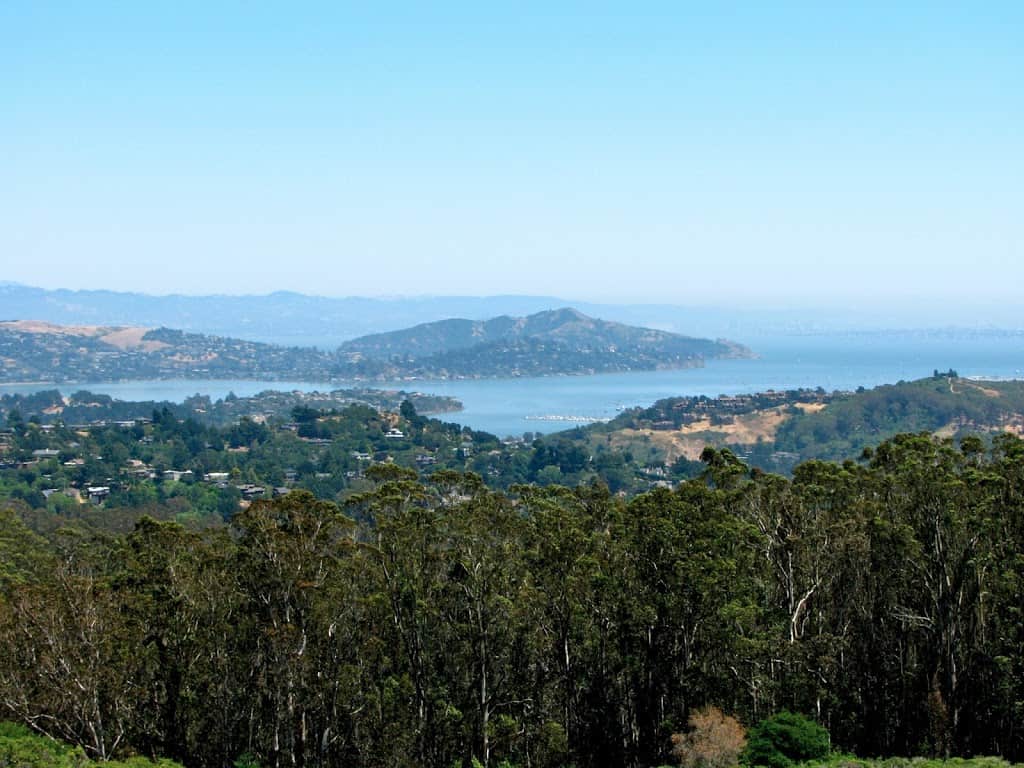 MUIR WOODS NATIONAL MONUMENT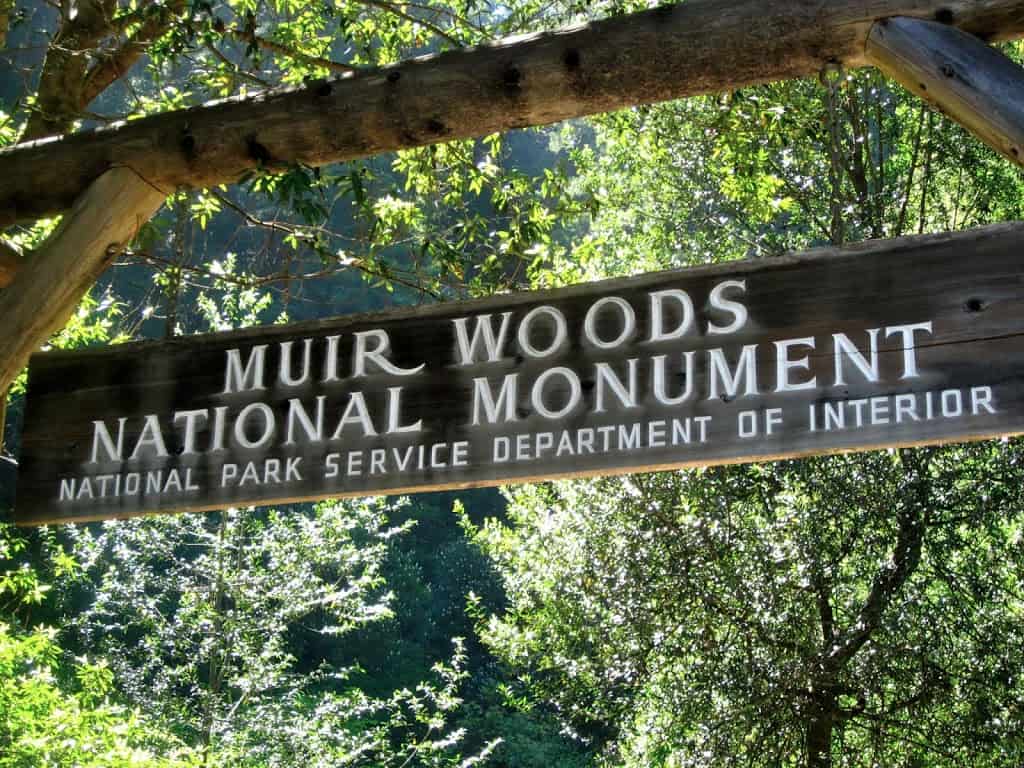 About eleven miles north of San Francisco, just past the Golden Gate Bridge, you will feel as if you have just traveled 111 miles from the city as you near Muir Woods. Named after John Muir, (a Scotsman!) who is known as the founder of the US National Parks system. All I can say is that you will not be disappointed if you decide to leave SF for a short trip to see this awe-inspiring area. The Redwood trees' age and height is enough to inspire awe! There are salmon in Redwood Creek which runs through Muir Woods, so the time of year you go will determine what stage of the salmon's life cycle you will see.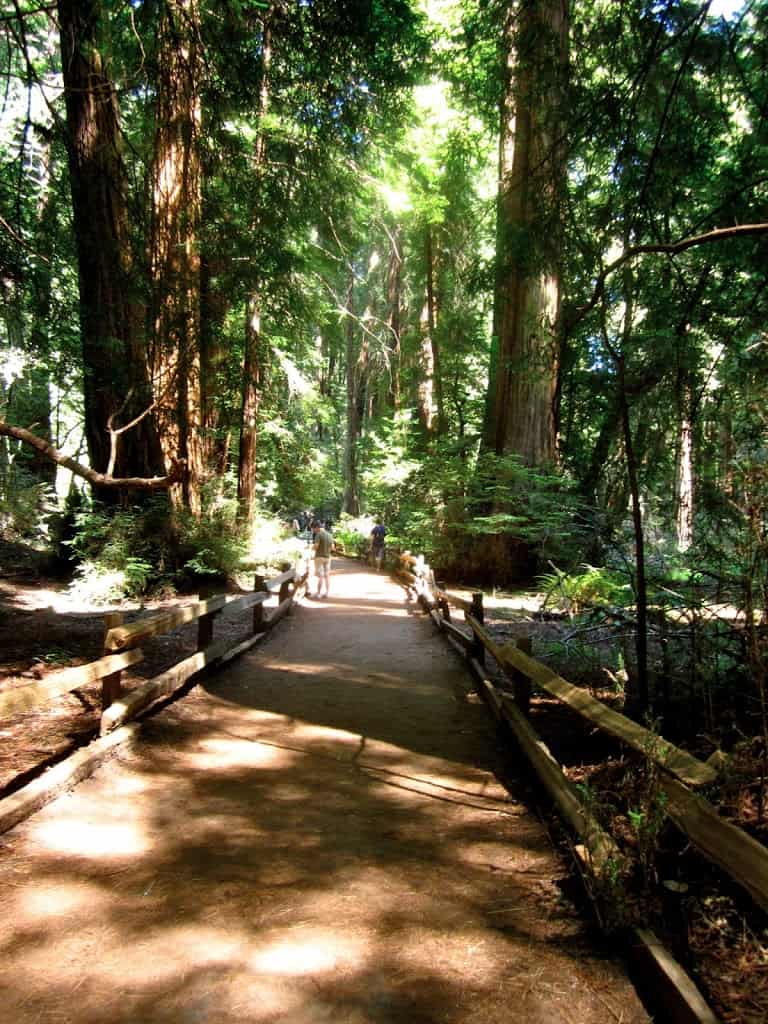 My daughter, Denisa, practiced her photography skills on nature's beauty, as we walked through the forest.
SAUSALITO
On our way back to San Francisco, we stopped to see the famous little town of Sausalito. What a slice of heaven!  Subdued and elegant, but also like a diva showing off all she has, Sausalito has a fabulous, yet laid back atmosphere, which made me want to stay the night, or maybe the year…hey, did someone say "coolest retirement spot, ever?" All this and only ten minutes away from San Francisco!? Just, wow.
Don't have a car in SF? Then just ride over to Sausalito on the ferry; how awesome is that? By the way, I would recommend not driving a car into San Francisco for several reasons:
1. The parking prices alone are reason enough…plan on at least $50/night at hotels.
2. The city is very "walkable", so if you are in decent shape, you can walk to see a lot of it.
3. The public transportation system is fabulous, plus, don't you want to ride on a cable car?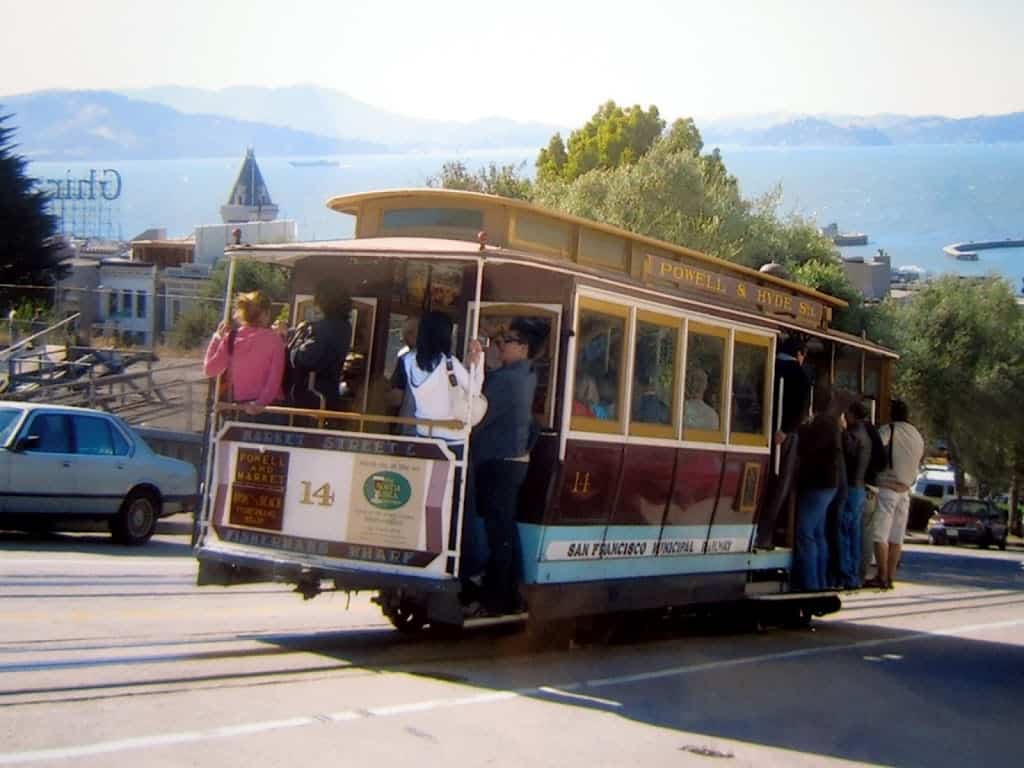 So, back in Sausalito, we popped into a little cafe in town and had some coffee and pastries,  then walked along the main street which offered little boutiques selling their jewlery, gifts and knick-knacks, interspersed with restaurants and other shops. There was one shop in particular that caught my eye, called Venice Gourmet, which sold lots of gourmet food, kitchen tools, gifts and even loads of British candy! Alas, their prices were quite high, so I only came out with a few bags of dried lupini beans.
That night we decided to go to North Beach, which is San Francisco's "Little Italy", and went back to a restaurant we'd been to last year, called…
PANTA REI
Sometimes I walk into an Italian restaurant and turn right around and walk back out, because of the smell. Honestly, there's a difference in the smell of an authentic Italian restaurant versus others. Panta Rei is an Italian restaurant I really like, and we actually ended up eating there twice over the weekend.
Please excuse the first three photos from Friday evening as it was dark in the restaurant, but I can recommend the Tortelloni Verdi which my daughter ordered (no photo) which were green ravioli stuffed with spinach and ricotta in a mascarpone sauce…truly just like homemade, and so creamy and delicious! I enjoyed my calzone, filled with mozzarella and Italian sausage, hot out of the oven, topped with fresh tomato…
My husband and son enjoyed the lasagna, although I didn't taste it, it did look good. At the end of our meal, our wonderful waiter, Gianni, brought us a piece of tiramisu which was perfection! It was exactly the right proportions of moistness (I hate dry tiramisu), flavor and creamy texture. It wasn't overly sweet or rich…this is one of the best tiramisus I've tasted, to tell you the truth.
My kids and I went back to Panta Rei for Sunday lunch, just before we headed back to LA, and since it was my son, Steven's 19th birthday, I didn't want to chance it at someplace we didn't know…and my son ordered a Pizza Margherita again (he and my daughter had one as an appetizer on Friday!) This is how I like pizza: not super thin, but not too thick. A little less cheese would do me fine, but I know most people like more.
Denisa was over the moon with her Caprese Sandwich and salad! I must make these at home…I just always forget about using my sandwich press!
I had the Tre Paste, which usually comes with a red sauce too, but I misspoke when I ordered, so I got pink sauce on two of the pastas, which was no big deal as they were all wonderful: gnocchi, strozzapreti, and ravioli.
The next morning, Denisa and I went out for a little shopping and had a chocolate croissant from…
BOUDIN BAKERY
Now, I could do an entire post just on Boudin Bakery. They're famous for their fabulous sourdough bread which they have been making since 1849 (okay, Europeans, for example, may "pooh-pooh" this, but in the US that's a long time!) I absolutely adore their clam chowder served in a sourdough bread bowl! Unfortunately, I didn't have it on this trip (massive traffic jam on the main road it is on, so I had to give up) but it's something you won't want to miss if you've never had it before. (I must add that we had hot chocolate from Boudin Bakery last year, which was so bad no one could drink it and we had to throw it away, so stick to their baked goods and chowder!)
I'm glad we didn't want to ride the cable car this time as I have never seen such a long queue! People must have waited hours to ride it…but again, it's something you just have to do at least once!
UNION SQUARE
If you like to shop, I have two words for you regarding Union Square: GO THERE.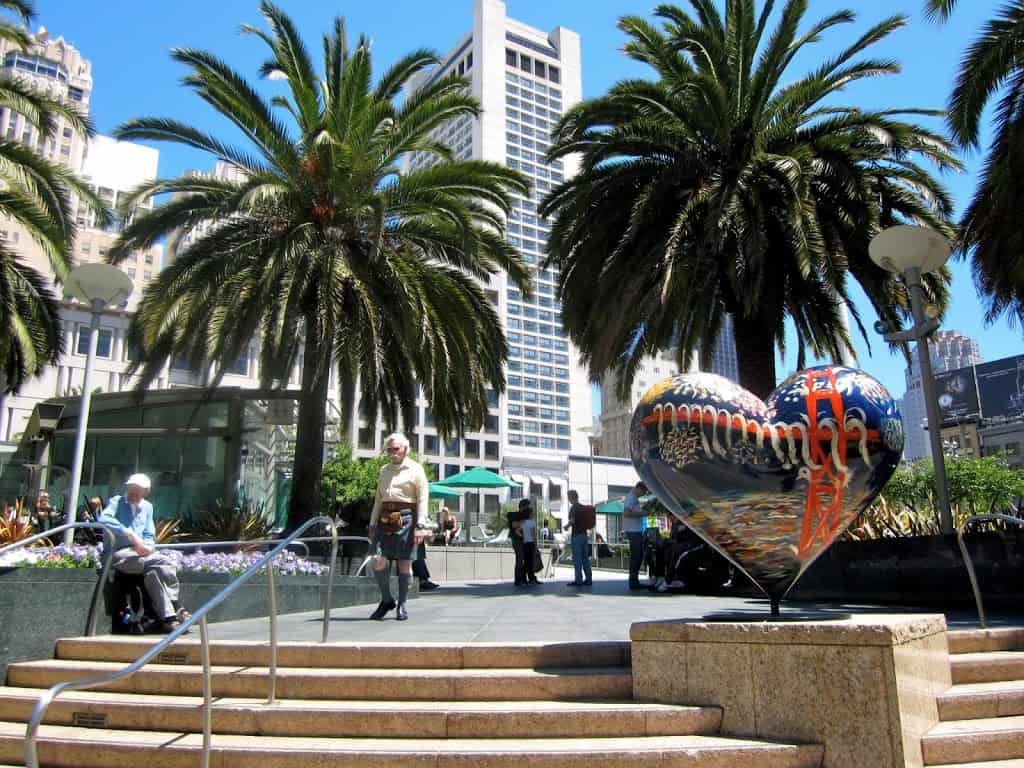 The list of stores and shops is in the link above, but I do want to point out that you won't want to miss Williams-Sonoma's flagship store…all three floors of it!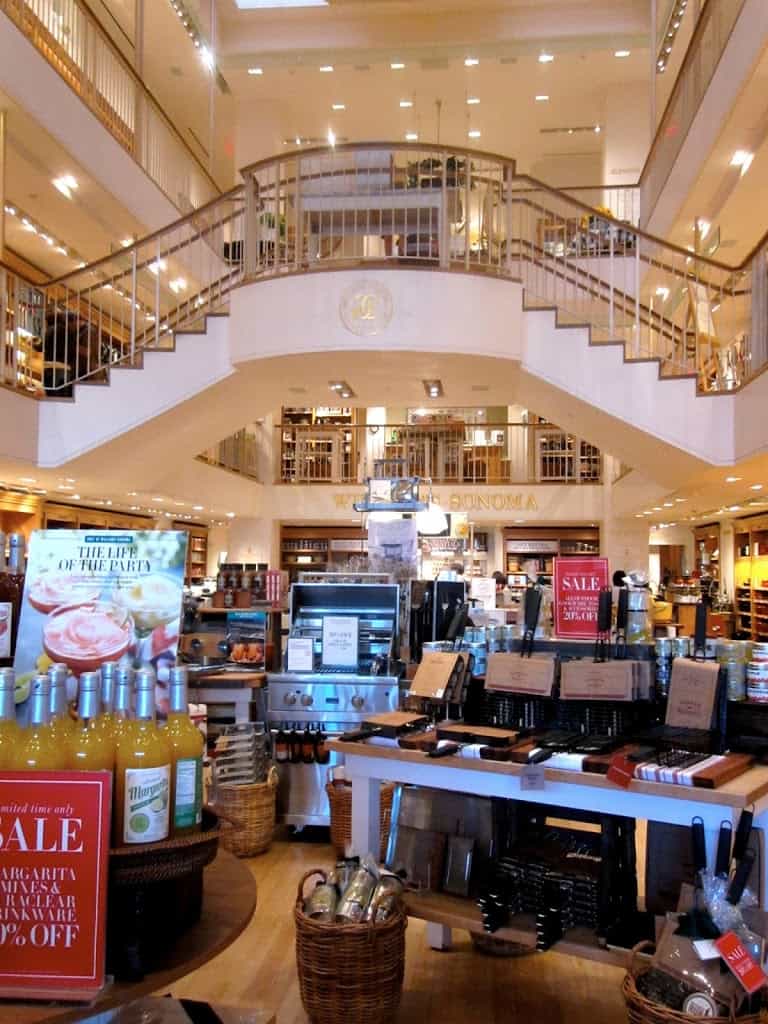 Nearby, I spotted two Scottish flags which lured me across to them like magnets to The Whisky Shop, which sold everything from Scotch Whisky to kilts and keychains.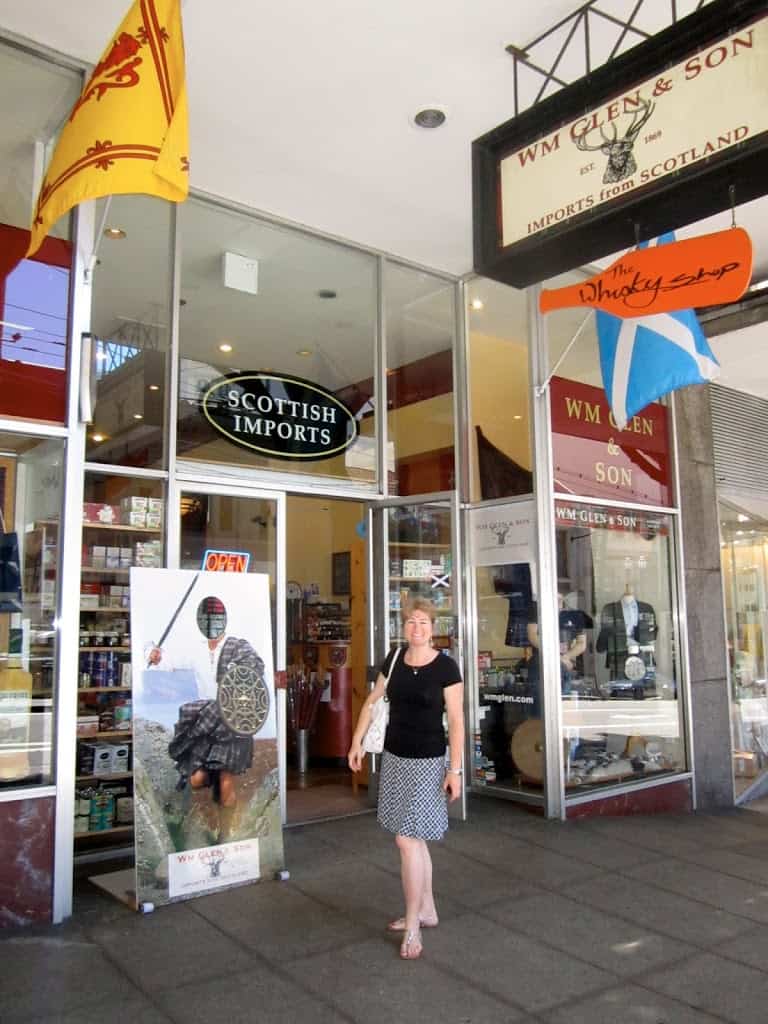 Down the street from there we found Fiona's Sweetshoppe, which was filled with all the different sorts of candies (sweeties) I grew up with in Scotland! It's a lovely little shop, and I ended up buying some Barley Sugar, Strawberries and Cream and Lemon Sherbet "sweeties", which are all made in the UK!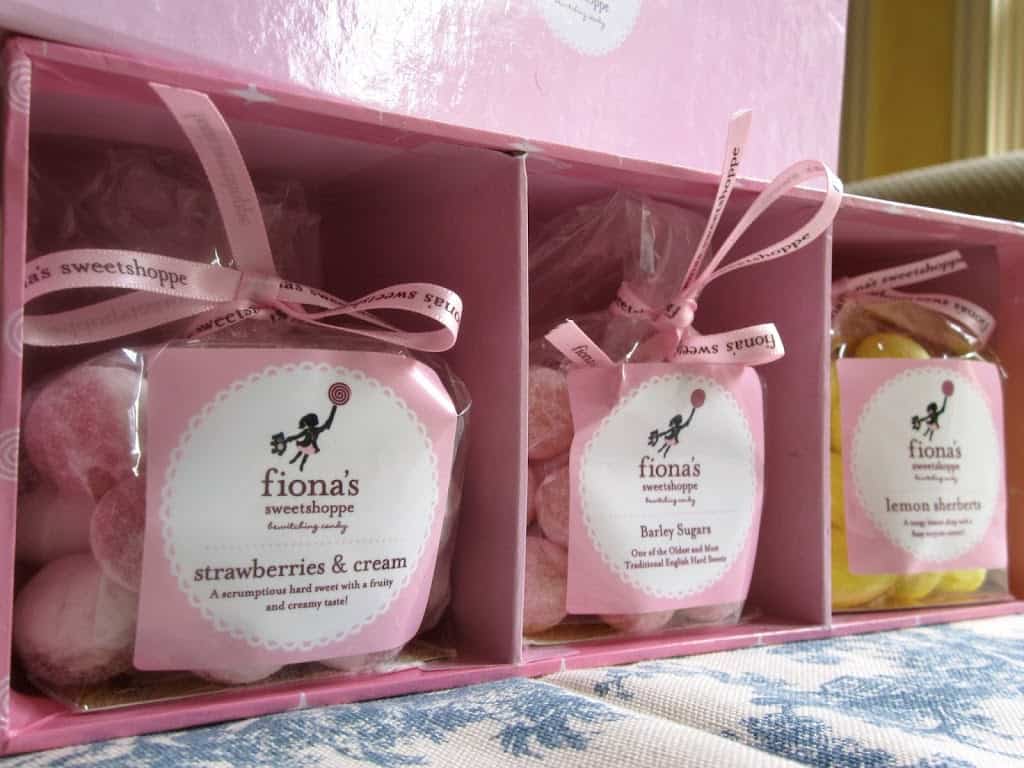 Denisa took a photo as it reminded her of Honeydukes Sweetshop from Harry Potter (gee, I wonder where J.K. Rowling got that idea?)
Don't miss another recipe or travel post, sign up for my free subscription below!
I promise not to share or sell your email address, ever.