Antica Corte Pallavicina restaurant offers a unique, exquisite and memorable dining experience. I will never forget this Michelin star meal.
Continuing from last week when I highlighted Relais Antica Corte Pallavicina's wonderful property and accommodations, I'm elated to share our dining experience with you. My travel and dining companion was Cynthia from What a Girl Eats. Here we are before our unforgettable dinner that evening.
Disclosure: Cynthia and I were graciously hosted for dinner by Antica Corte Pallavicina Restaurant. No terms or conditions were given and as always, all opinions are solely my own.
Antica Corte Pallavicina Restaurant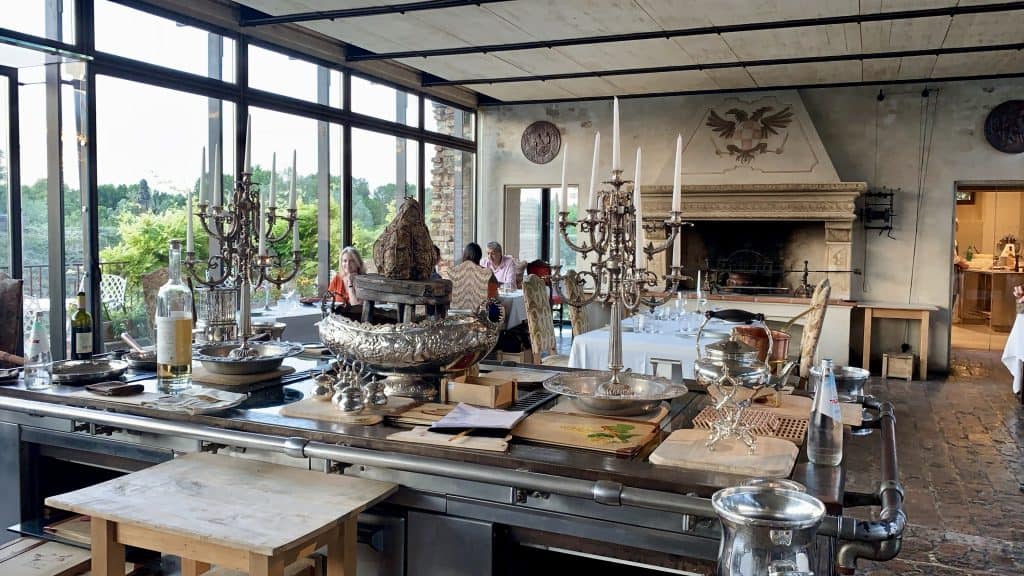 Cynthia and I were seated near the window overlooking the rear of the property towards the Po River. The other side of the restaurant overlooks the courtyard, so there isn't a bad seat in the house, to be honest.
The ambiance of the restaurant is very warm and welcoming whether it's during the day or evening. In the evening, the restaurant definitely has a more romantic vibe, but it was still perfect for families, groups or two ladies out for a fabulous meal. Our wonderful waiter, Kirill, poured us a glass of sparkling Franciacorta just after we were seated.
We were told that we'd be having dishes from the menu dedicated to Parma, the creative city of UNESCO gastronomy. If Cynthia and I weren't already excited enough, this almost put us over the edge! We couldn't wait to sample this incredible menu.
Our first taste was of a fresh and flavorful tomato and red pepper gazpacho topped with housemade giardiniera. It was better than the best one I had in Spain, so we were off to a lovely start.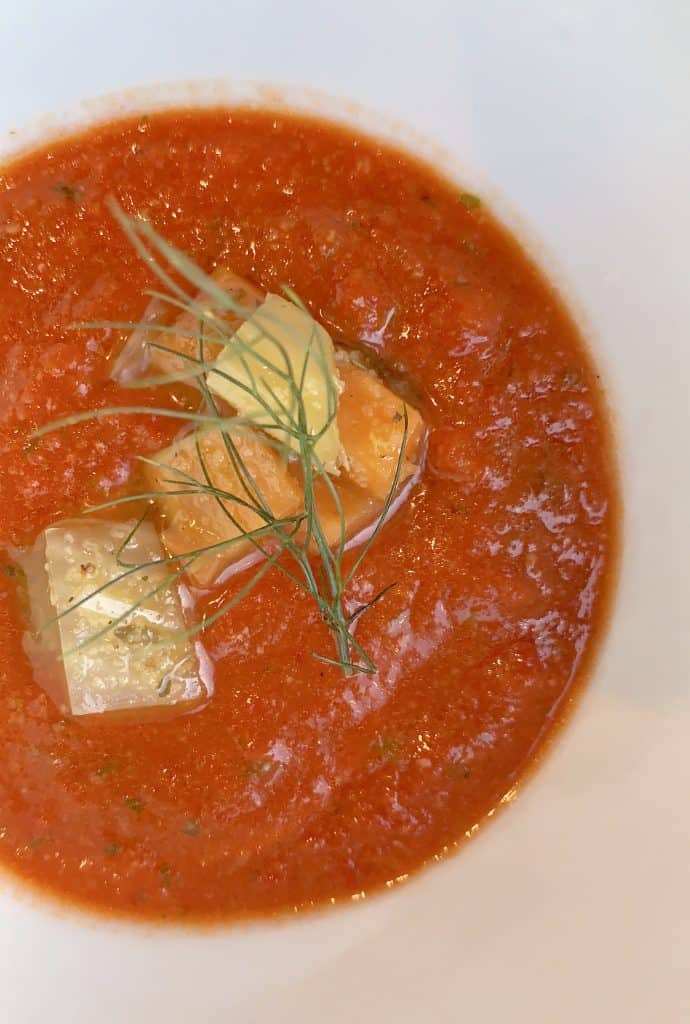 The house made grissini, breadsticks and homemade bread were wonderful, and there was a tray with butter made from local red cows and lardo with rosemary. How can you beat that? The large breadsticks were flavored with "elicriso" which is strawflower or helichrysum in English (not that I've ever heard of or used this).
Although Cynthia and I documented as much as we could as discreetly as possible, we also really wanted to enjoy and savor every single bite. Just know that this was such a special experience that it's difficult to convey exactly how I felt being able to taste some of the best food in the world, prepared by a Michelin star kitchen staff.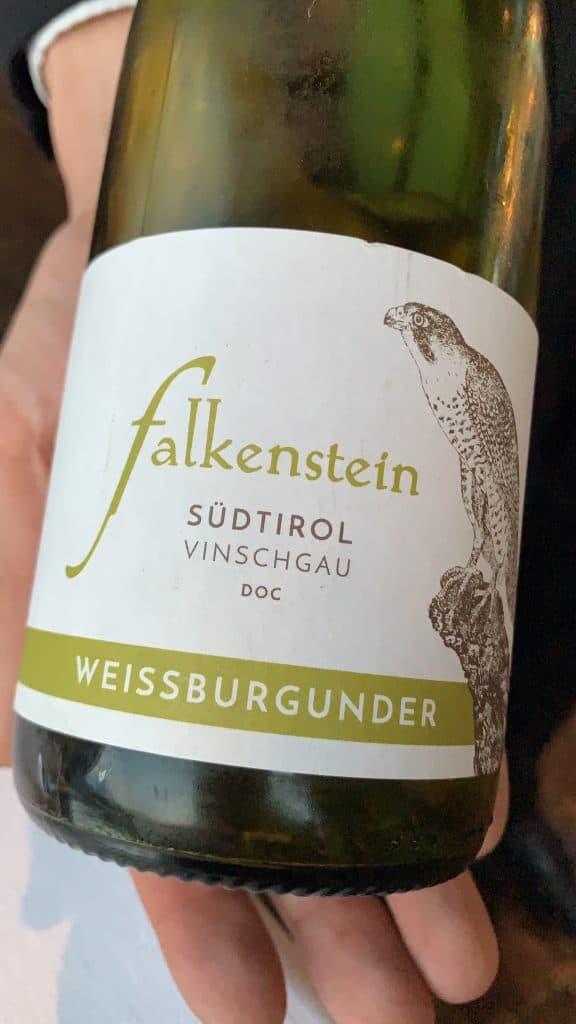 There was a wine-pairing with each course starting with this refreshing pinot bianco which was served with the eel done three ways. I have never had eel before and was so surprised to learn that it is sourced from the Po River!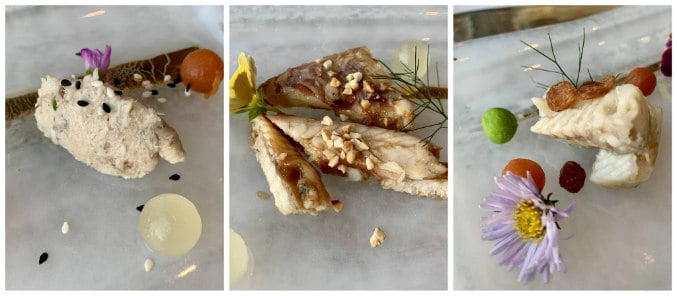 My favorite was the mousse with sesame, but the lacquered and eel with raisins were both delicious with the gorgeous little pearls of garden gelée. The eel didn't taste like fish, although it had a similar texture as you possibly can see in the last photo.
The next dish was beautifully presented: cannelloncini filled pasta with rabbit, spring vegetables, scallops, wild herbs and citrus fruit consommé. My favorite part of this dish was the scallops; just so deliciously tender and perfectly cooked. Cynthia and I really took our time and enjoyed it all.
Next, we were presented with bowls of delicate chicken soup with Parmigiano Reggiano dumplings inside, topped with a light and flaky pastry crust.
The flavor of the chicken soup alone was marvelous, but with the soft Parmigiano dumplings, black truffle and the texture of the crust; it was just a glorious combination! I didn't want to ever finish eating this dish.
But there was more to come, and we had no idea that our tastes buds were going to be working overtime that evening! Our next dish was a typical local cheese fondue with egg, asparagus and culatello: simply divine!
A few years ago, I wrote a post about a cheesemaker and the meal he prepared for us at his caciosteria (cheese making place) in Southern Italy, near my mother's village. The food was so incredibly flavorful, fresh and tasty, I really couldn't convey just how incredibly good it was. I did explain that those who have traveled, will understand, but for readers who have never left the US, for example, there was no way they would understand what I was attempting to express.
The same concept applies for this meal. For example, I hardly ever order steak. I rarely cook steak or a big chunk of beef as I'm just not a huge beef lover. I do eat beef, but it's usually been ground up and used in a pasta sauce, cottage pie, or in chunks like a stew or a steak pie. So, when I tell you that I could have eaten this beef fillet every day, for the rest of my life, it's saying something.
As you can see, it was so unbelievably tender, we weren't even given knives. The meat was sublime. Cynthia and I just kept looking at each other in awe, and sighing. We had no words, but understood each other completely. This was easily the best meat I've ever had in my life, and paired with a bold red: I was in heaven.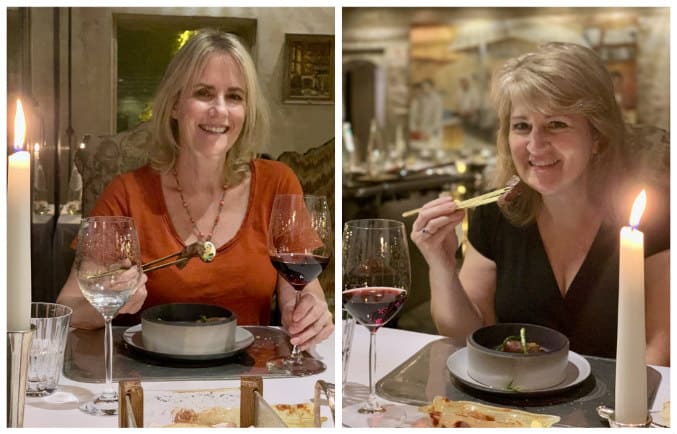 Once we finished our meat, Cynthia and I decided to forgo the cheese course, given that we'd already eaten so much cheese earlier in the day (of course, we regret that decision now). It was time to choose our desserts.
Cynthia chose the gelato and coffee dessert, while I opted for the chocolate selection. At this point, we had been sitting and eating for almost three hours, so you can imagine that the sun had set and it was dark by now, so please excuse the poor photo quality.
Cynthia's dessert was basically a unique and beautiful interpretation of an affogato. I've made a highlight on Instagram from our dinner that evening, which I'll link to here. I do hope you'll watch it as it gives a little more depth to our phenomenal meal at Antica Corte Pallavicina restaurant. It also includes Cynthia's ball of white chocolate melting when the hot coffee is poured over it!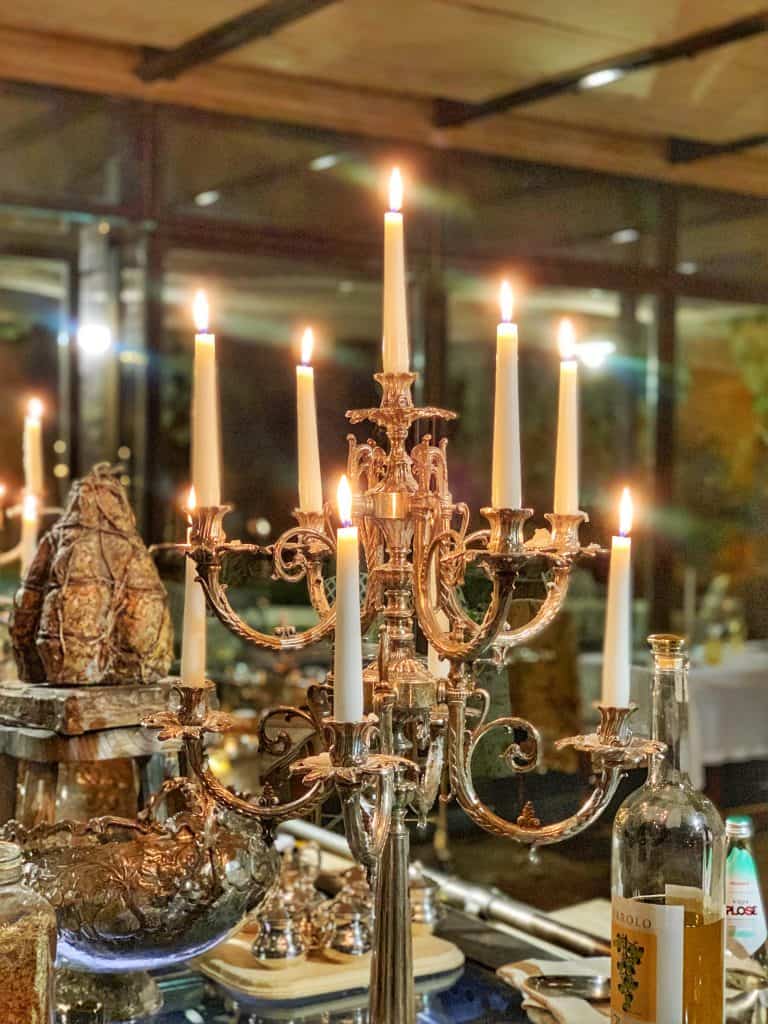 Last photos of us at dinner, I promise! These little pastries were our culinary finale!
I focused on our food, but there was another important part of our dining experience that you must know about, and I briefly mentioned him earlier: Kirill, our waiter. He was a perfect waiter: extremely professional, yet friendly and kind. Kirill didn't mind our endless questions, was attentive, yet didn't overdo it (I don't like hovering waiters who are constantly trying to assist and fill glasses, etc.).
I would give him 5 stars on service and he could definitely be a great model for other wait staff. Our evening could have turned out much differently without having a wonderful waiter. A huge thanks to Kirill!
For those of you who asked about the wine glasses on social media, the brand is Spiegelau, but they might be very difficult to find, sadly.
Disclosure: Cynthia and I were graciously hosted for dinner by Antica Corte Pallavicina Restaurant. No terms or conditions were given and as always, all opinions are solely my own.