Burrata cheese is a little bit of heaven on earth. If you've never tried it, source the best one in your area and give it a try. You can thank me later.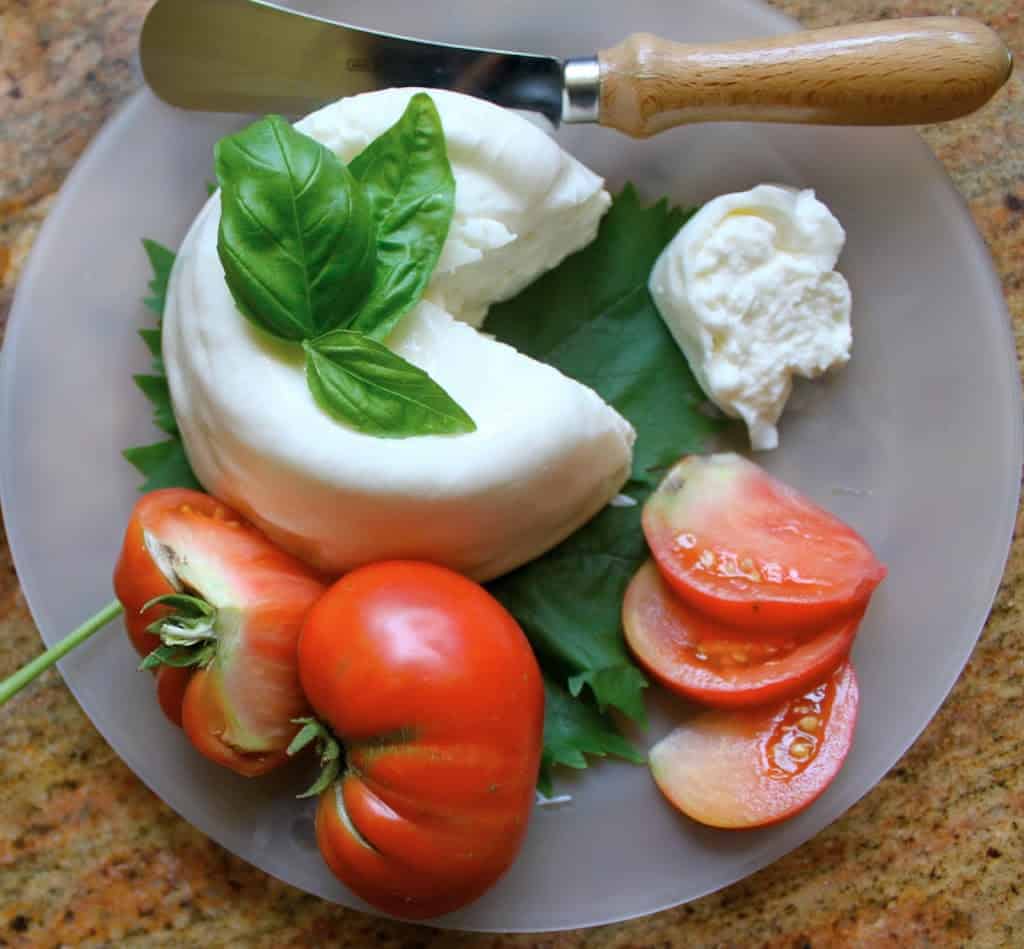 Today, I picked my first tomato of the summer.
I held it as if it was a prize I'd won. Even with its blemishes and imperfect shape, it looked fabulous to me, and I knew it would be the best tomato I will have eaten this year. Such a harvest cannot be paired with just any run-of-the-mill ingredient. No, it would have to be something just as exceptional that would marry with this beautiful tomato. I quickly realized that I had the perfect accompaniment in my fridge–burrata cheese!
Burrata is definitely not an "everyday" cheese. It's possible that many of you haven't even heard of burrata cheese before. If so, you'll have to be sure that is a good quality burrata before trying it. I've tasted some pretty bad burrata cheeses, and if I didn't know any better, those would have been my last.
Think about someone who has never tasted an apple before, biting into a mushy, tasteless apple for the first time–don't you think they'd decide that they don't like apples? It's actually the same with any food, if you think about it.
If you are in the Los Angeles area, you are in luck, because I can recommend the best one I know–it's made by the Gioia Cheese Company (I find it at most Italian delis). Di Stefano and Franco and Angelo cheese companies in LA are also good.
In New York? Head to Murray's Cheese. You'll just have to search around if you're elsewhere, but I can tell you, the Trader Joe's burrata is not worth buying.
What is Burrata Cheese?
Burrata is a very soft cheese; it has a fresh mozzarella skin on the outside, which hides a rich, creamy, and flavorful stringy, gooey center called stracciatella. It's difficult to describe, but a food editor of the LA Times had a great analogy: "Burrata is to mozzarella, what foie gras is to chicken liver." This is why I chose to have it with my first tomato of the summer–it's a match made in food-heaven.
Burrata cheese is best eaten plain to enjoy its wonderful flavor. I usually put it on a plate and let everyone help themselves with a little bread, olive oil, sliced tomato (with salt) and basil. That's all that's needed for a gorgeous open-face sandwich, too (otherwise known as today's lunch)!
My first little tomato of the summer lived up my expectations along with one of my favorite cheeses; it's a lovely way to start tomato season before it's even officially begun!
Don't miss another recipe or travel post; sign up for my free subscription below!
I promise not to sell or share your info, ever.