The best Danube River cruise you can take is with AmaWaterways. Take a virtual cruise with me as I share and review each day in detail. You'll then understand why AmaWaterways has won countless awards and welcomes so many returning guests!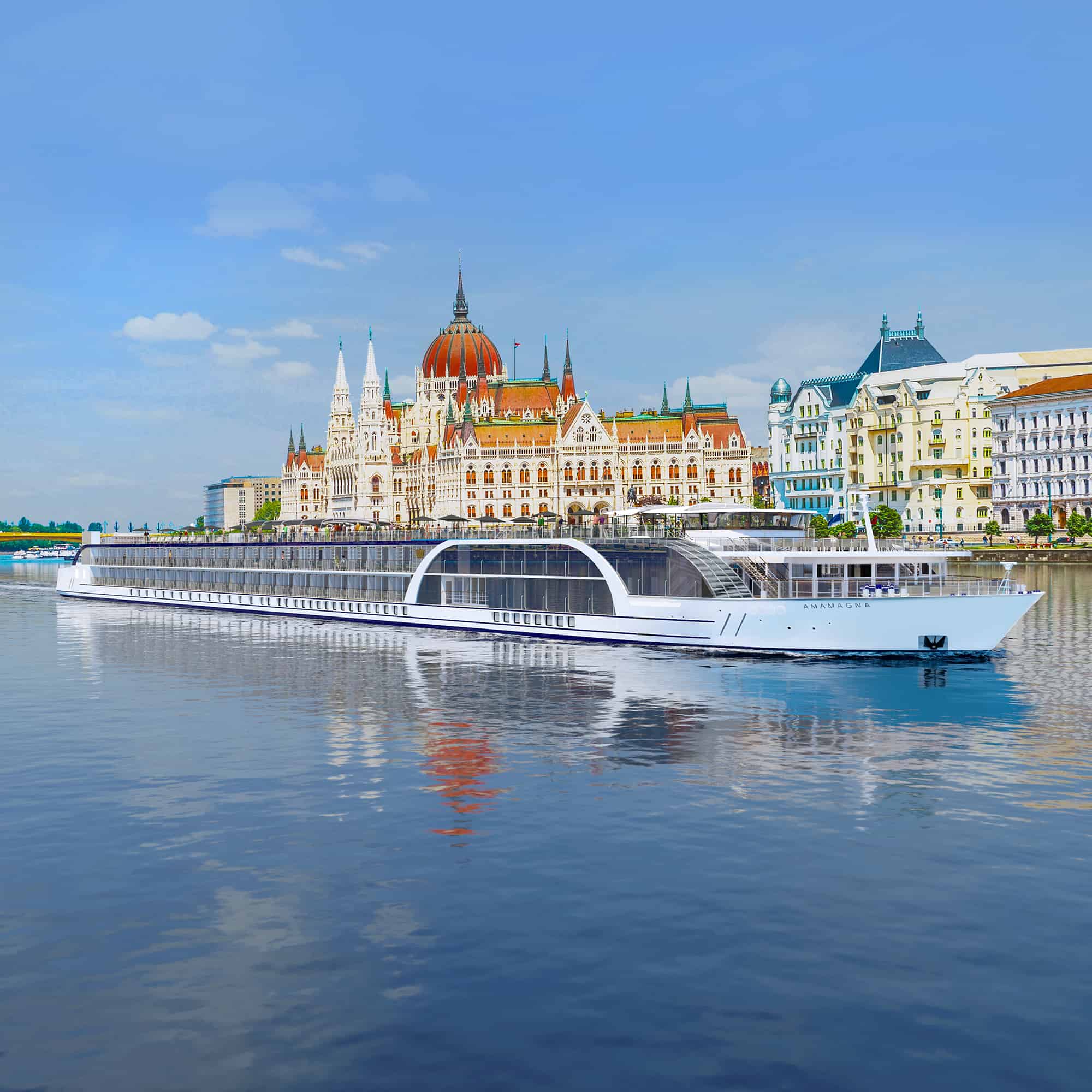 My first AmaWaterways experience was in 2016 on the Enchanting Rhine River cruise. It was truly eye-opening in so many ways.
Disclosure: my mother and I were hosted on a 7 night Melodies of the Danube river cruise with AmaWaterways. No requirements or stipulations were made for a positive review. As always, all opinions are my own.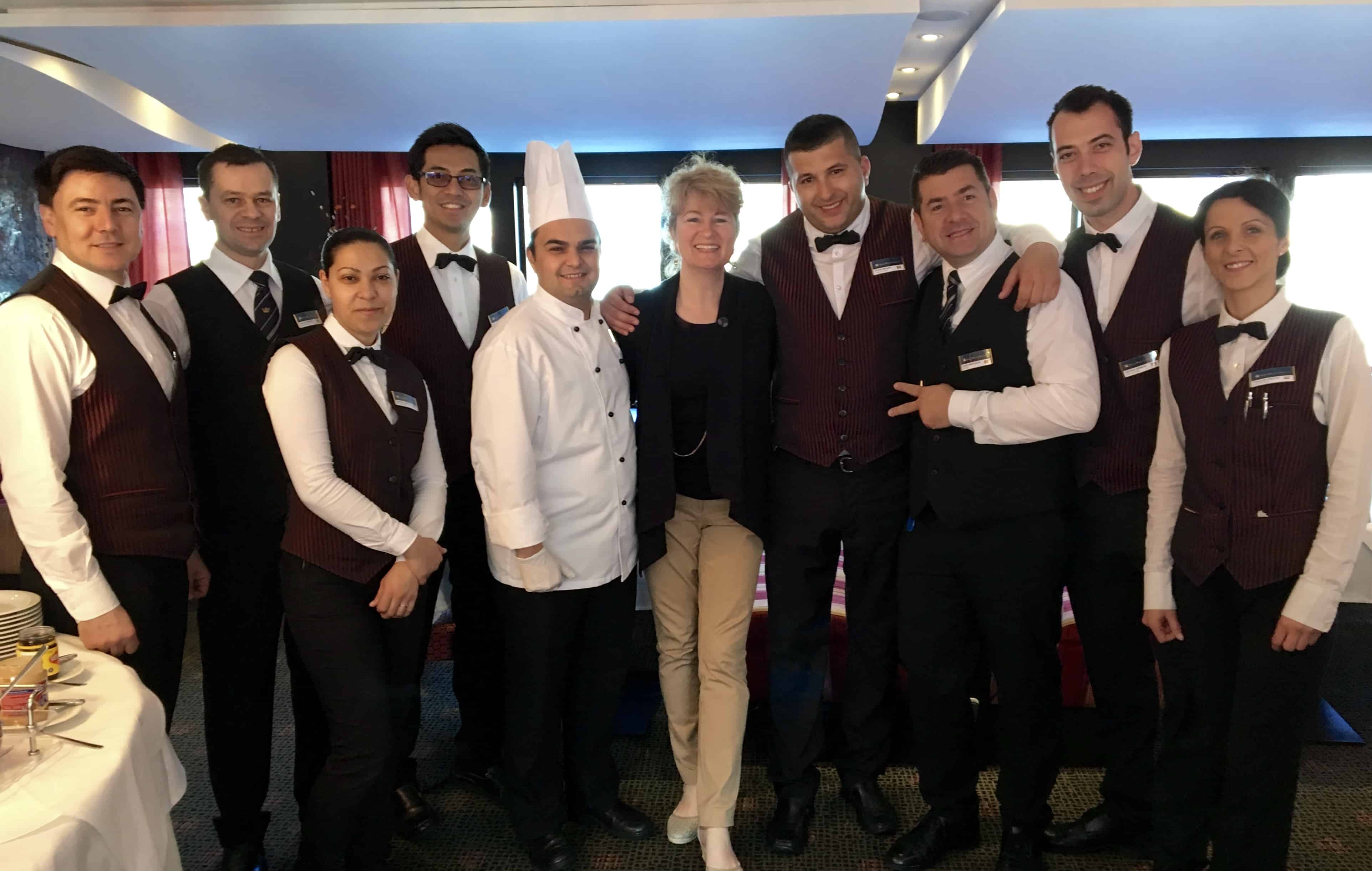 On that cruise, I learned that AmaWaterways feels the same about quality in all aspects of their business as I do, with everything from ingredients to hotel rooms. The attention to detail by the company and staff shows how much they care about pleasing each and every guest.
This is one of the reasons that so many people will not just cruise once with AmaWaterways, but will become loyal guests in future. Having spoken to many guests on the Rhine cruise and the Danube cruise who had booked with other companies in the past, the resounding feedback was that AmaWaterways cannot be topped. Everyone says that there is no comparison.
Which is the Best Danube River Cruise?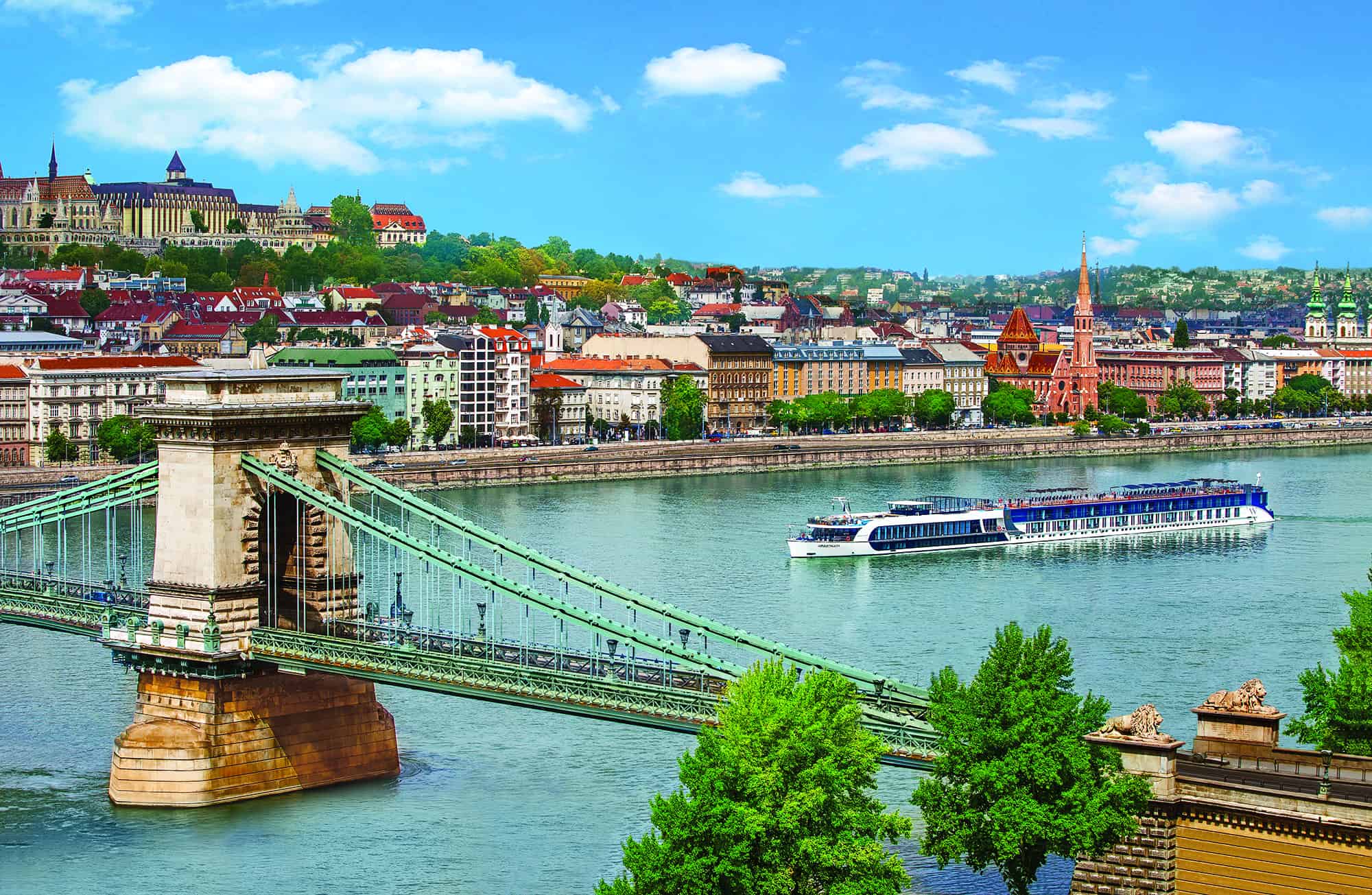 Having experienced two AmaWaterways European river cruises, speaking to other seasoned guests, and with the numerous accolades and awards that have been earned, I have no hesitation in saying that AmaWaterways offers the best Danube River cruise. (I should add, every other river cruise, too!)
There's so much I want to share with you about my cruise, the AmaMagna, and AmaWaterways itself that it feels like a daunting task, but I hope to cover as many aspects of the best Danube River cruise over the course of the next seven posts, including this one.
If you've been following me recently, you'll remember that my mother and I stayed at the luxurious Corinthia Budapest Hotel in mid October, just before embarking on our AmaWaterways Melodies of the Danube river cruise.
If you're taking a river cruise from Budapest or disembarking from one, I cannot recommend the Corinthia Budapest Hotel enough. Mum and I had the most enjoyable and delicious stay at this stellar hotel, which was perfect just before boarding our ship, the phenomenal AmaMagna.
Before I begin sharing our first day of embarkation, I want to outline the Melodies of the Danube itinerary. The cruise either starts in Budapest, Hungary and ends in Vilshofen, Germany or vice versa. This is a map of our journey which spanned just over 300 miles on the Danube River.
Melodies of the Danube River Cruise Map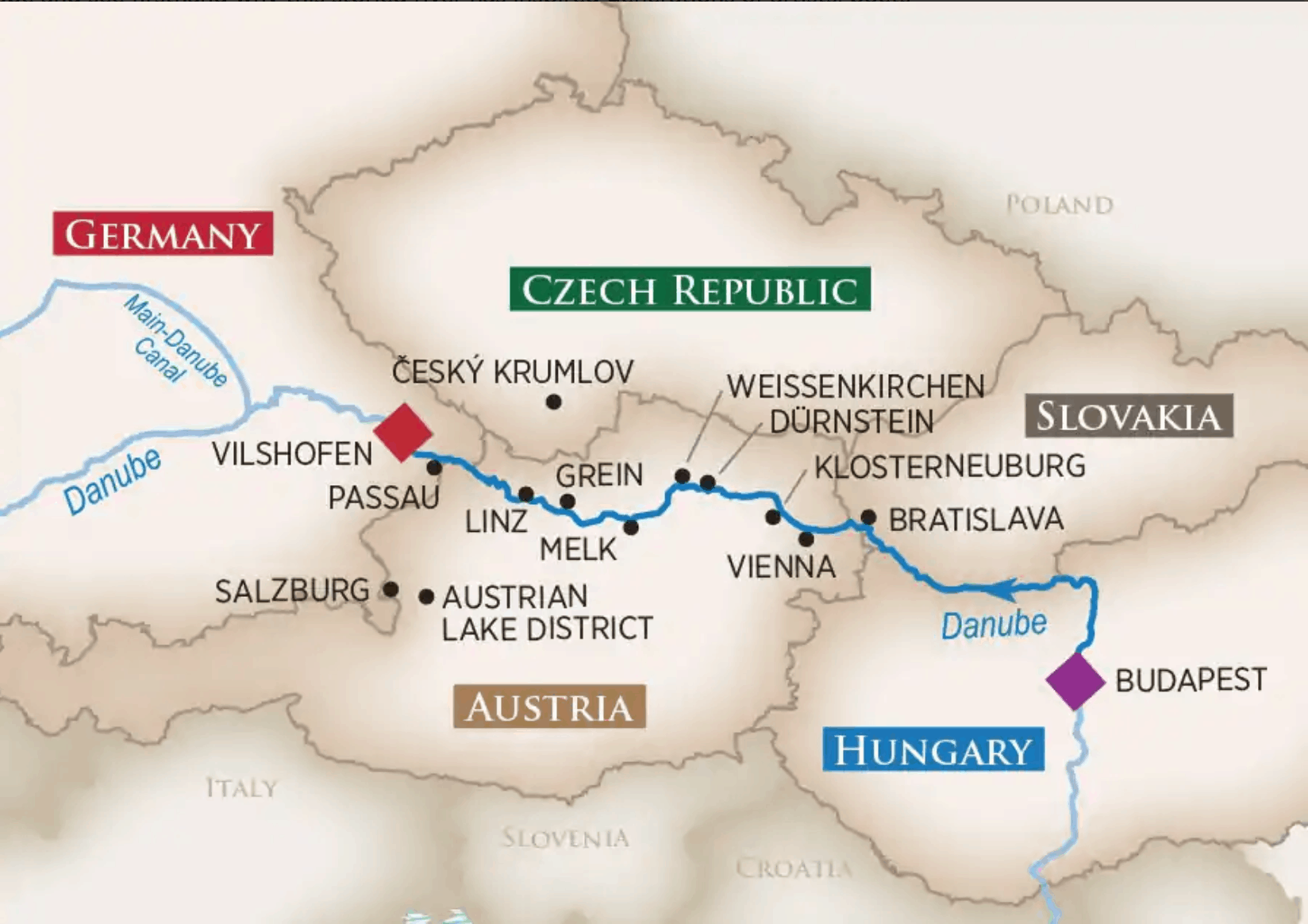 Melodies of the Danube River Cruise Itinerary
My Review of the Best Danube River Cruise with AmaWaterways on the AmaMagna – Day 1
Embarkation
Boarding the AmaMagna was effortless: it was just like checking into a 5 star hotel. Our luggage was handled for us as we got out of our taxi, and we walked onto the ship. As you can see, my mother was so excited and far ahead of me. She just couldn't wait to get onboard!
Mum and I showed our passports and had our photo taken for our AmaMagna ID cards which were also our room keys. In no time, we were shown to our suite.
Rooms and suites on the AmaMagna are so much more spacious because the ship is twice as wide as other river cruise ships! That's a big difference, and we felt the spaciousness throughout the ship, in the lobby and even when walking down the hallway to our suite.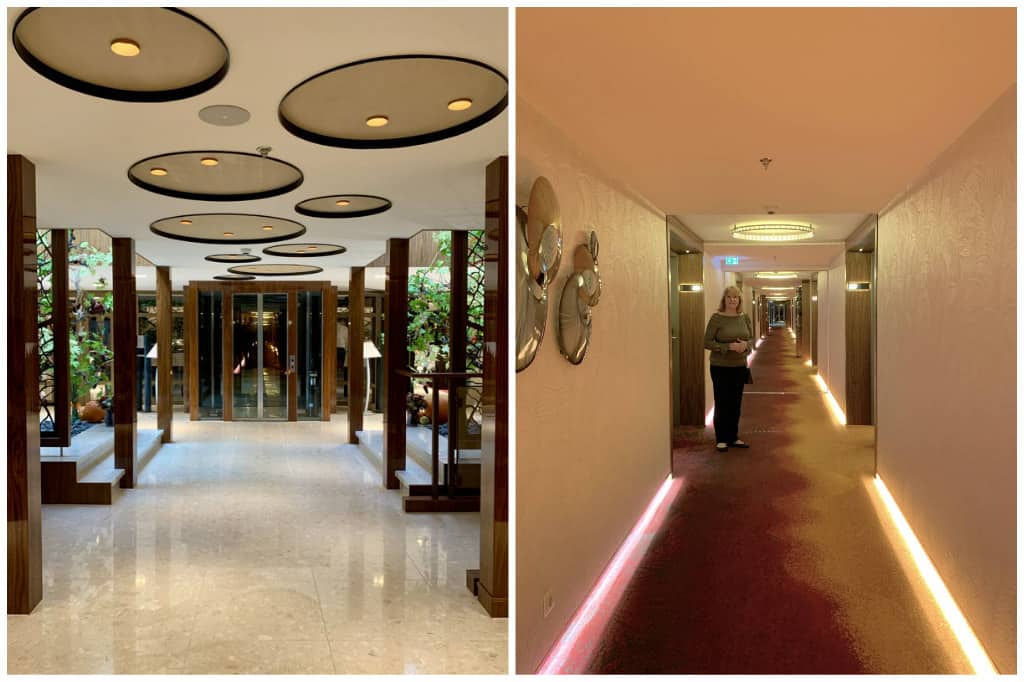 Our Accommodations
Most accommodations are spacious suites measuring 355 to 710 sq. ft. with full balconies. Even though Mum and I were very happy with our cabin on board the AmaCerto, our suite on the AmaMagna was outstanding! Who doesn't appreciate more space?
We were also welcomed on board with lovely greeting cards and sparkling wine, a welcome gift each (a beautiful and useful scarf) as well as having a mobile Wi-Fi device for use ashore (these are a few perks of the "suite-life" on the AmaMagna).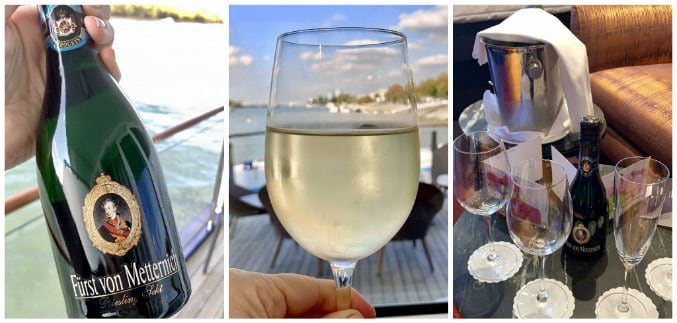 I'm sure you want to see more detail of our suite, right? So besides the photos here and on AmaWaterways website, be sure to check out my Instagram story from each day on board. Here is my story (photos and video clips) from Day 1.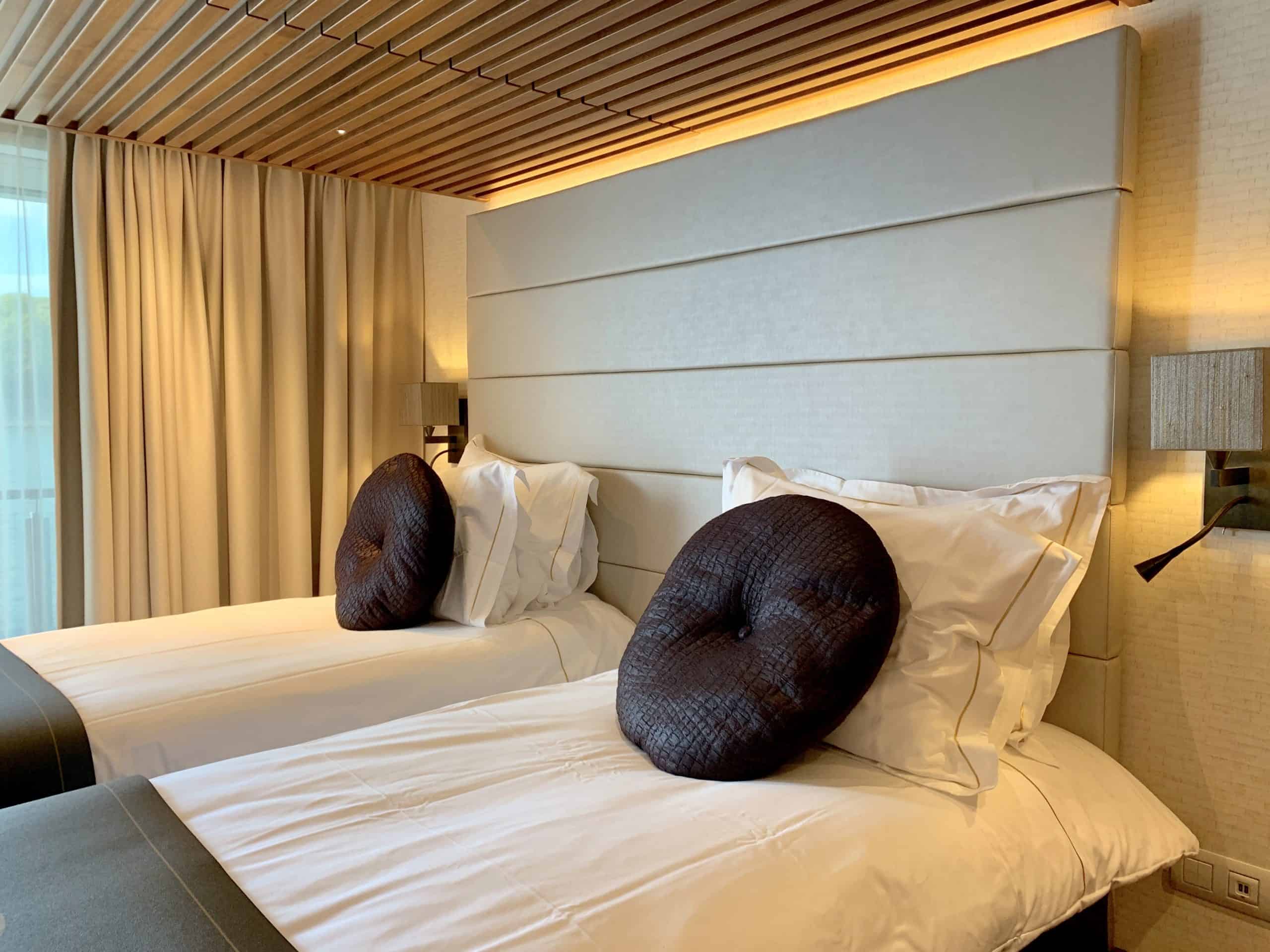 Our beds were super comfortable, and we had room service twice a day. Talk about being spoiled! The bathroom was spacious, as was the shower. Sometimes we'd forget we were on a cruise ship!
You can see 360 degree views of the staterooms and a bathroom here, and I'll share more photos in following posts, too. Mum and I were in a 355 square foot Category SB suite with an outside balcony.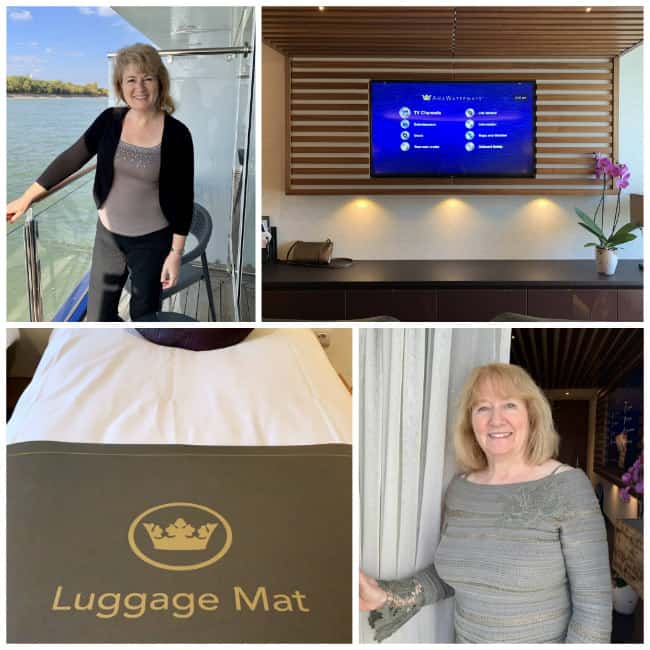 One perk I must tell you about was that laundry service is INCLUDED when you book a suite on the AmaMagna! Mum and I loved this perk since we'd been traveling before arriving in Budapest and actually needed to do laundry. The service was excellent as was the turn-around time!
Public Areas
The numerous sumptuous sofas, chairs and coffee tables are always open for whoever wants to use them. The floor to ceiling windows offer amazing views of both sides of the river while cruising, or when docked.
Mum and I were lucky enough to chat with Peter, a bartender, who offered to give us a tour of the AmaMagna and we graciously accepted. He was delightful, and took us around the ship, clearly so proud of his workplace.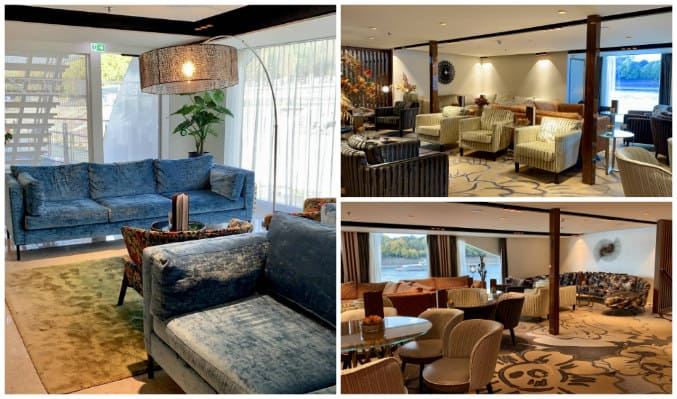 There's even a theatre on board the AmaMagna, but I will warn you, you probably won't use it! There's so much to see and do on the cruise, this was the only time we stepped in here. However, it's nice to know it's available if you feel like watching a movie.
Peter took us through the library to one of the dining areas, the Al Fresco restaurant. It's a lovely, multi-use area. Breakfast is served here in the early morning for those who don't want a leisurely sit-down meal. Many guests who were biking, golfing or hiking opted for breakfast here. Afternoon tea and snacks are served here in the mid-day hours. In the evening, guests can make a reservation to have dinner here.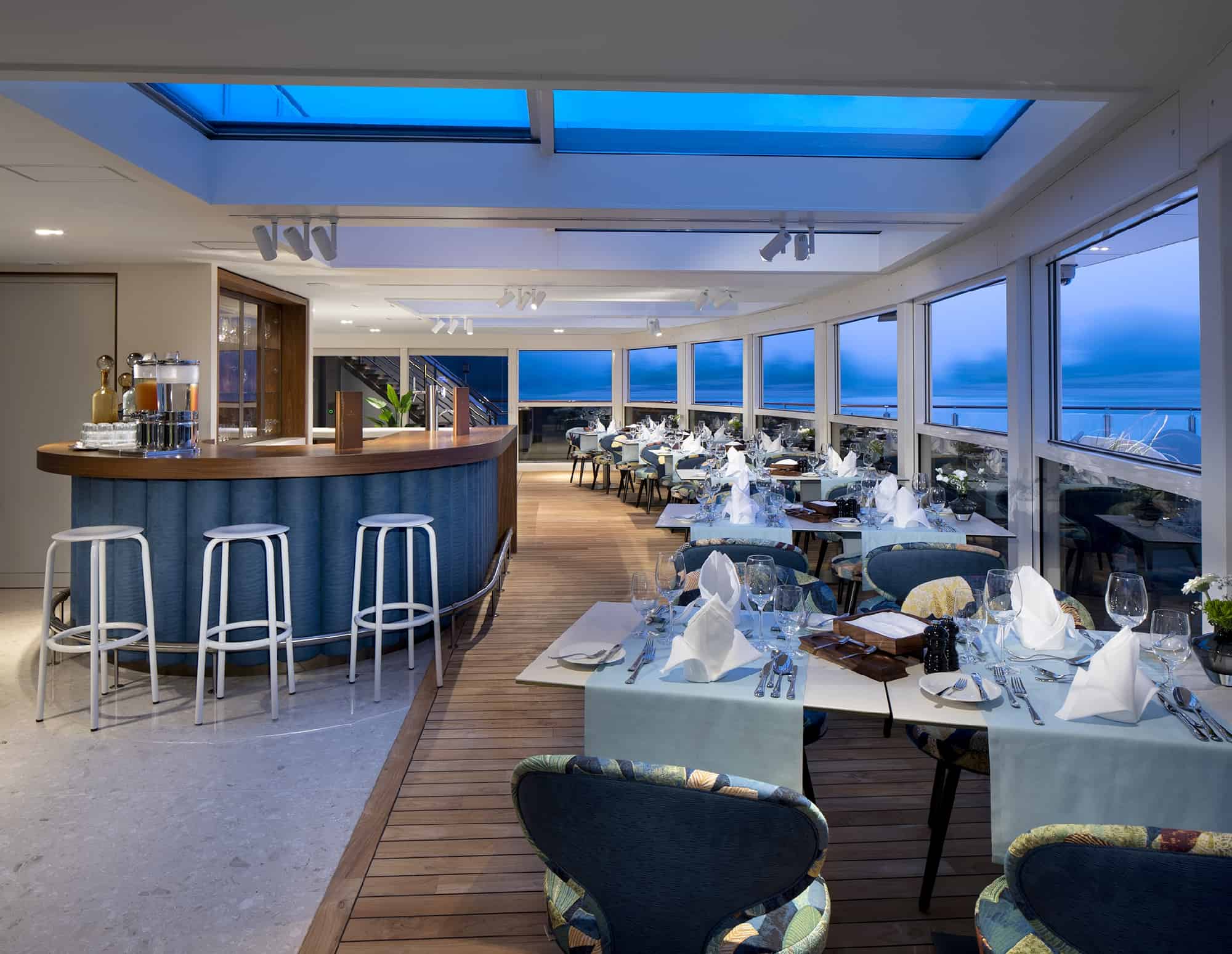 The largest dining area, the Main Restaurant, is located just off the main lobby and atrium.
Peter also took us to see the beautiful boutique.
He then led us downstairs to Jimmy's Wine Bar & Restaurant and The Chef's Table Restaurant, where Chef Nico was hard at work. More to come on The Chef's Table later.
Although we didn't use it, there's also a Zen Wellness Studio Fitness Center and Bar onboard.
After our tour, Peter went back to bartending, and Mum and I popped back into Al Fresco after seeing all the delicious offerings there.
Welcome Aboard!
Feeling peckish when you board? There's never any reason to go hungry over the course of the next week. There's always snacks available as well as hot and cold beverages. At the back of the ship, in the Al Fresco restaurant, sandwiches, soup, fruit, pastries and more were waiting for guests.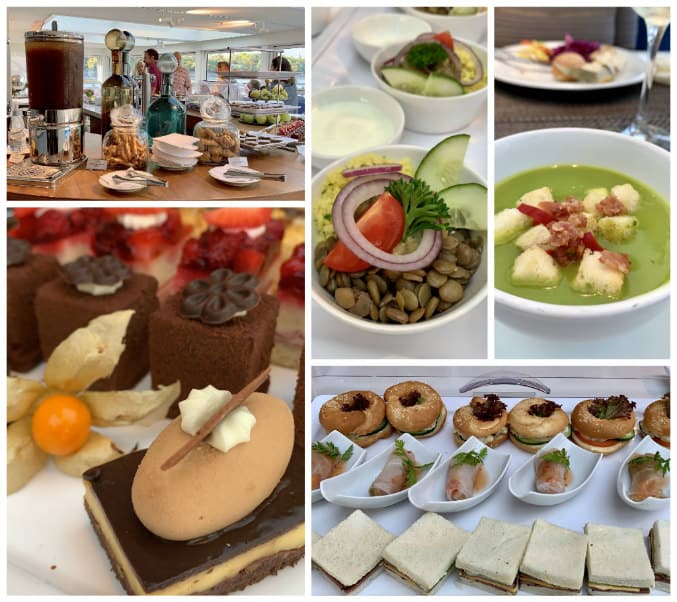 After having some delicious soup and nibbles, Mum and I returned to our suite to get ready for the welcome cocktail and dinner afterwards.
Welcome Cocktail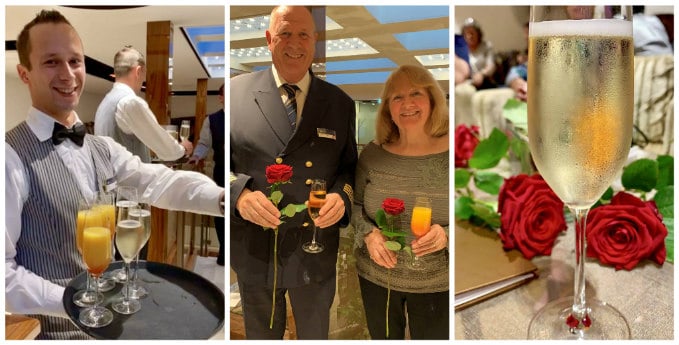 Everyone received a glass of champagne or non-alcoholic beverage, and all the ladies received a long stemmed red rose from Captain Jan before being welcomed onboard by the Captain, Cruise Director, Cesario and Peter, our Cruise Manager.
Captain Jan welcomed everyone on board and we were given some safety information as well as being introduced to the staff and crew. We met some fellow guests and had a lovely time.
Dinner in the Main Restaurant
After the welcome cocktail event, we made our way downstairs to the Main Restaurant where most of the guests had already been seated. Violinists serenaded the guests with Hungarian music that evening which was wonderful!
I have to tell you that if you are a foodie, AmaWaterways cruises should be your number one choice. They are the only cruise line to be inducted into the distinguished "La Confrérie de la Chaîne des Rôtisseurs, a prestigious international gastronomic society dedicated to fine cuisine. Founded in Paris in 1950 to honor the royal Guild of Goose Roasters (whose origins date back to the 13th century), it is the oldest and largest food and wine society in the world." -courtesy of AmaWaterways website.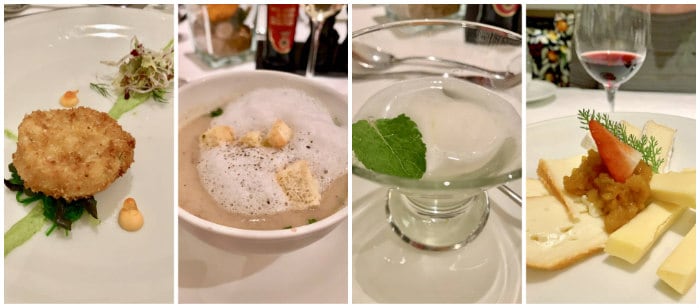 AmaWaterways offers a fixed menu for those with less adventurous palates, however, every day the rest of the menus change. The dishes most often reflect the cuisine of the country, or area where the ship is located at the time.
Mum and I both chose the fish dish on our first evening, after our appetizer, soup and palate cleansing sorbet and sparkling wine (I love this)! Wine is always included with meals at no extra charge, and although the selection changes, whenever I asked for one of my favorites, I would have my glass filled right away. The wines are handpicked and always top quality selections. Unlike some other cruise companies, complimentary, unlimited wine, beer and soft drinks are offered during both lunch and dinner.
From AmaWaterways: "Our reds and whites are of the highest quality, and come from local wineries and vineyards. It is a fantastic way to savor the flavor of each region you are visiting. Rieslings from the Wachau Valley, Sauternes in Bordeaux and Calvados from Normandy are just a few examples of how you can indulge."
Our fish was beautifully plated and just as delicious as it looked. We finished with a small cheese plate for a perfectly satisfying meal.
An Evening in Budapest
Our first night onboard the AmaMagna was spent docked in Budapest. The next day's excursions were going to be in this beautiful capital city. Since it was our last night here, Mum and I decided to go for a walk to see Budapest by night. We especially wanted to see the iconic Parliament building lit up and reflecting on the Danube. We were on the Pest side, so we walked across the Chain Bridge to the Buda side of the city.
It was a lovely evening, and despite being mid-October, it wasn't cold. After some time, we were rewarded with a beautiful view of the stunning Parliament building.
We walked along some side streets in Buda and then made our way back over the Chain Bridge and to the AmaMagna under the moonlight.
One of the things I loved on our cruise was checking the screen in the lobby which displays lots of interesting information. From a satellite map of where were currently located, to a map of Europe showing all the other AmaWaterways cruise ships in real time!
A new addition since my last cruise with AmaWaterways is the myAmaCruise app. Download this free app before embarking on your cruise and have everything you need on hand. I was able to check our cruise itinerary, our Daily Cruiser (a printed schedule delivered to our suite each day), and share photos with friends and family! It's convenient and helpful, and I still have it on my phone to refer back to anything I need to look up regarding our cruise.
Next, I'll share our AmaWaterways "Queen of the Danube" tour of this marvelous city! The next day we would start our cruise, making our way towards Bratislava, Slovakia.
Many of you have already told me you're looking forward to hearing more details about my cruise experience, so if you have any specific questions, please leave them below. In the meantime, the following link should have almost all the answers for you!
Visit AmaWaterways for more information on this cruise and many others which they offer from Europe, to Africa and Asia.
I was hosted as a guest on the AmaWaterways Melodies of the Danube River cruise, without any stipulation for a postive review. I am disclosing this in accordance with FTC regulations.