Visiting Passau and Vilshofen, Germany, on the AmaMagna was a marvelous end to our Melodies of the Danube river cruise. Discover what it's like to visit with AmaWaterways' award-winning cruise line.
NB: As with all travel companies, AmaWaterways has paused their cruise schedule through June 30, 2020. Please go to their website for detailed information about future bookings and increased flexibility for your travel plans.
This is the last of a series covering each of the 7 days of our Melodies of the Danube river cruise from Budapest, Hungary to Vilshofen, Germany. My most recent post (Day 6) was our day in Linz, and touring the Austrian Lakes region. It was simply a heavenly day making memories to last a lifetime!
Disclosure: my mother and I were hosted on a 7 night Melodies of the Danube river cruise with AmaWaterways. No requirements or stipulations were made for a positive review. As always, all opinions are my own.
I woke up on the last day of our cruise with a feeling of disappointment. Truly, the last day of such a phenomenal cruise would make anyone feel this way, right? I mean, who wants to leave when you've been treated to such incredible sights, met so many wonderful people, been waited on hand and foot, and wined and dined with top quality cuisine, and even had your laundry done for you?!
Not to mention the feeling of pulling back the curtain to your balcony door for a view like this when you first arise!
However, I knew we still had one wonderful day ahead of us, and I was so thankful for the opportunity to take the Melodies of the Danube cruise along with my mother. If you have anyone special celebrating a big birthday (my mother turned 70), might I suggest a cruise with AmaWaterways? It will give them incredibly beautiful experiences and memories to last a lifetime. (Obviously, I mean this for future travel when it has been deemed safe for us to do so.)

I love my Priority Pass membership!
Let's get started visiting Passau and Vilshofen, Germany.
Visiting Passau and Vilshofen, Germany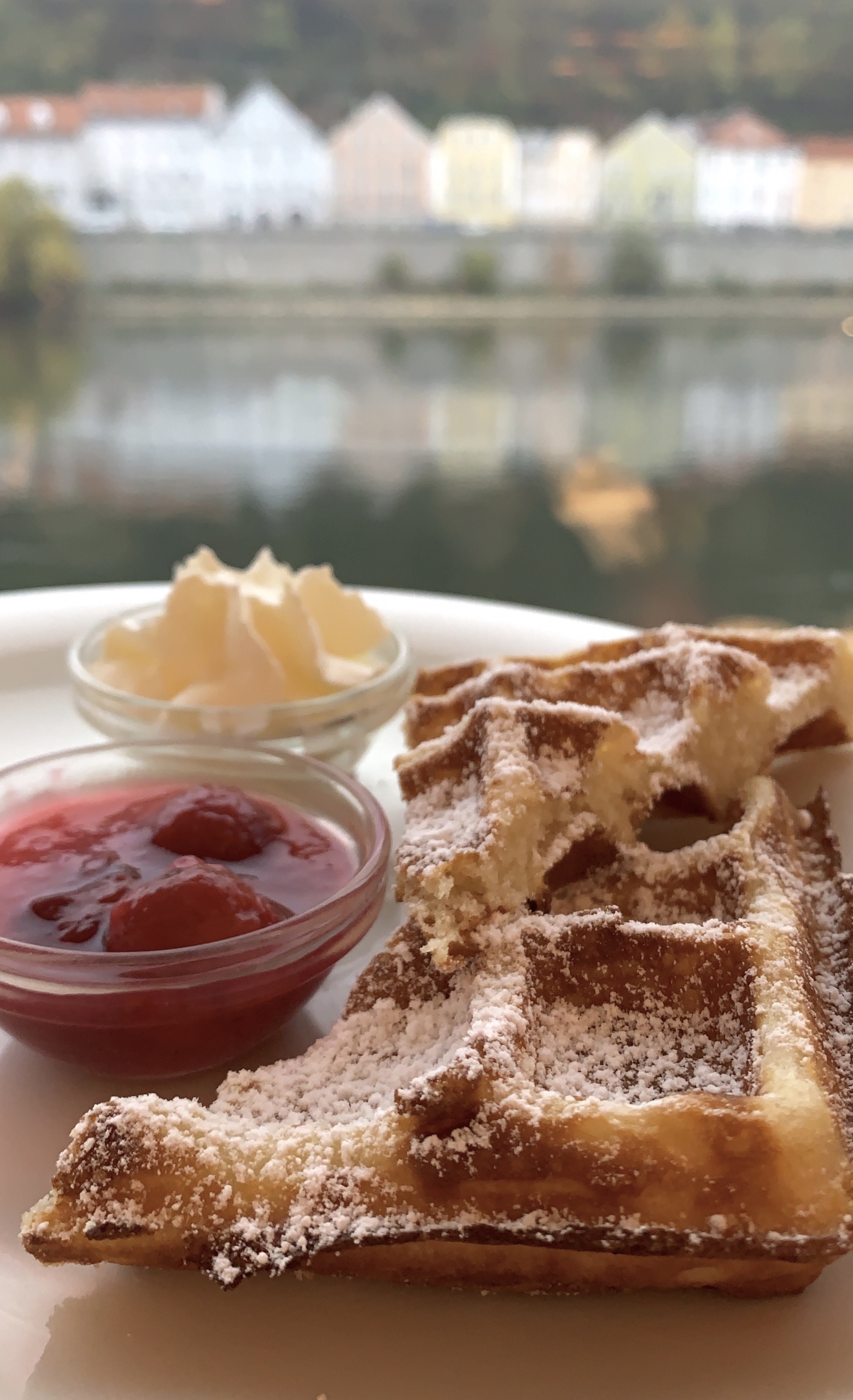 Before disembarking for our guided "City of Three Rivers" walking tour, my mother and I had our last breakfast on board (insert tears here.) I tried the waffles for the first time, simply because there are so many choices each morning. They were light, and so good with the strawberry compote and fresh cream!
Although mum and I had chosen the active walkers tour of Passau, there were two other options: the Passau Castle hike or the River Inn bike tour. There are always options for everything on an AmaWaterways cruise.
The first choice you'll have to make is which cruise you want to take, but you can decide by choosing the ship, or the river, or the countries, or the itineraries! The AmaMagna is the largest and newest of the AmaWaterways 24 custom designed ships simply because it's twice as wide as all other river cruise ships. This could be a deciding factor for you, too.
"City of Three Rivers" Walking Tour
It was a foggy morning when we disembarked from the AmaMagna to meet our respective tour guides. Mum and I had chosen the active walking tour which goes a bit quicker than others and gives some free time at the end. With our tour guide, Emma, we would be visiting the town hall, Domplatz, Residenzplatz and St. Stephen's Cathedral along with many other highlights within the town.
The first thing we saw was the markings on the side of a building facing the Danube River. It showed how high the level of the river was on June 3, 2013. It was an incredible sight to see, given that it was above the drainage pipes at the top of the first floor of the building. It was the worst flooding the area had seen in over 500 years.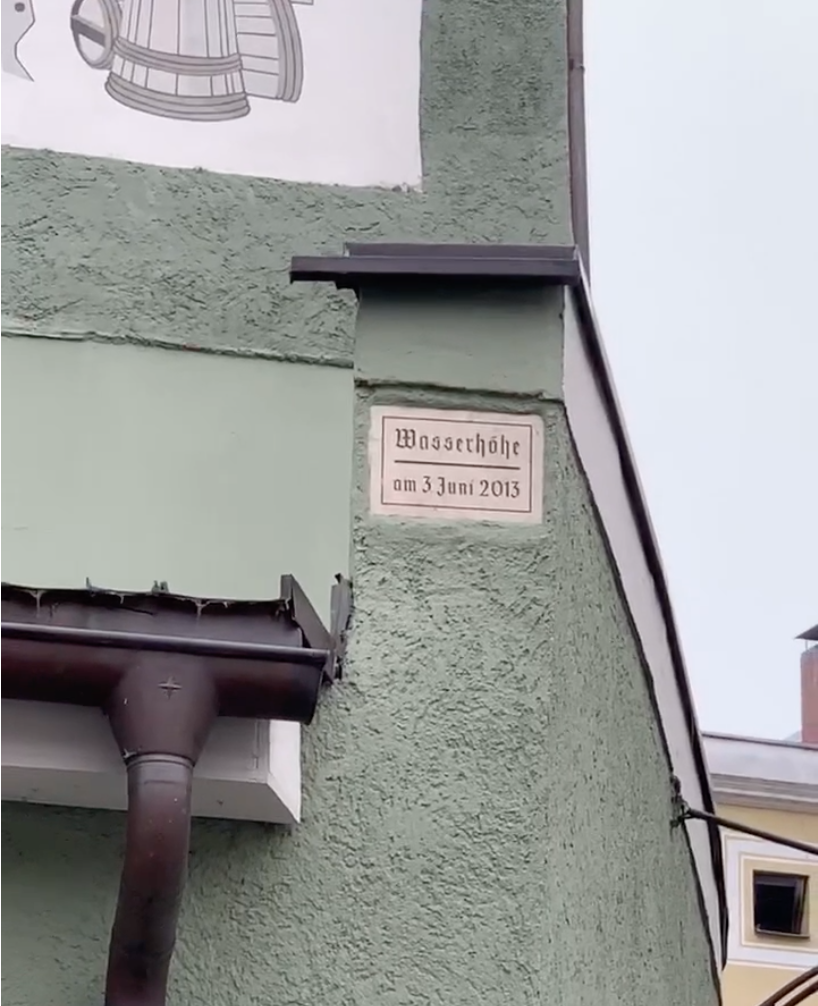 Our guide gave us background on the history of Passau and things that only a local would know. It's nice to hear such stories and legends instead of information we can find ourselves.
The architecture was also a big part of our tour guide's focus as we were visiting Passau. You can see the one lane tunnel to the left of the church in the photo below.
I loved the colorful cobblestones and rampant lion manhole covers.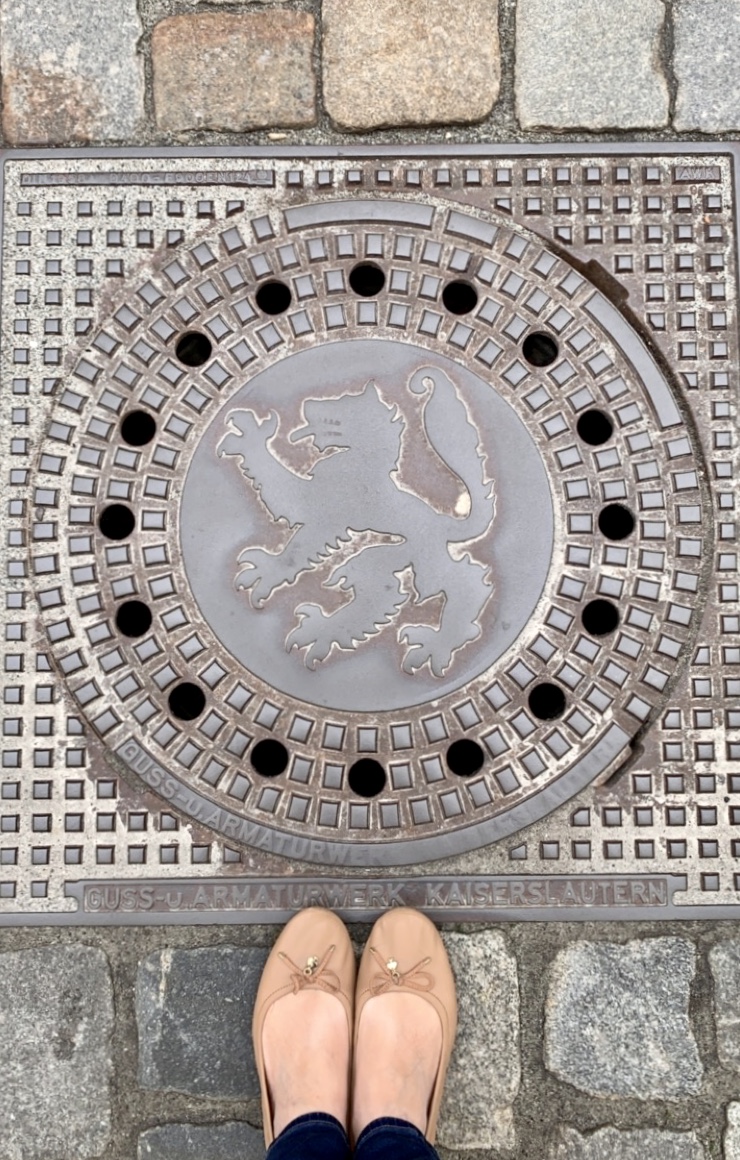 Some colorfully painted cobblestones leading down to the Danube River.
And more leading through the town.
St. Stephen's Cathedral
We visited St. Stephen's Cathedral which was an incredible structure, both inside and out and the home of Europe's largest pipe organ. The architecture is in the Italian high Baroque style and its history is intriguing to say the least. Built between 1668 to 1693, as the original burnt down in 1662, the cathedral was designed, decorated and built by Italians.
The three-dimensional fresco work was done by Carpoforo Tencalla who taught his sons how to paint in this manner, who then continued his work after his death. It was a unique style which included using hay and straw in the bellies of cherubs and goat's blood in the frescos.
The cathedral was built by 5000 workers and includes 5 organs, one of which is installed in the ceiling. St. Stephen's boasts almost 18,000 pipes and 233 registers.
The high altar features a striking sculpture of the stoning of St. Stephen. It is carved from cottonwood and adorned with silverleaf. The entire church was stunning and incredibly ornate.
After our guided tour, we were left to explore Passau until it was time to return to the AmaMagna.
Time on our own Visiting Passau.
As you can see, the fog eventually lifted and we had some sunshine and blue skies. I wanted to return to a bakery we had passed by earlier, and I just fogged up the glass display cases! Oh my, I just wanted a sample of the entire lot!
We walked and I took some photos of beautiful window box flowers and more.
My mother loved this door which appeared to be hand carved.
Given that we were flying to the UK the next day, my mother and I decided to pop into a small German grocery shop. We bought some spices, boozy chocolates, and a few other tidbits as we didn't have much room to spare in our small-sized luggage.
Next, we visited a little outdoor market and I bought two handcrafted wooden spoons with hearts cut into them for my nieces. After our little bit of sightseeing and shopping, Mum and I headed back to the ship. We loved visiting Passau.
Leaving Passau
Shortly after boarding, Captain Jan started us on the final cruise of our journey.
Bavarian Feast on the AmaMagna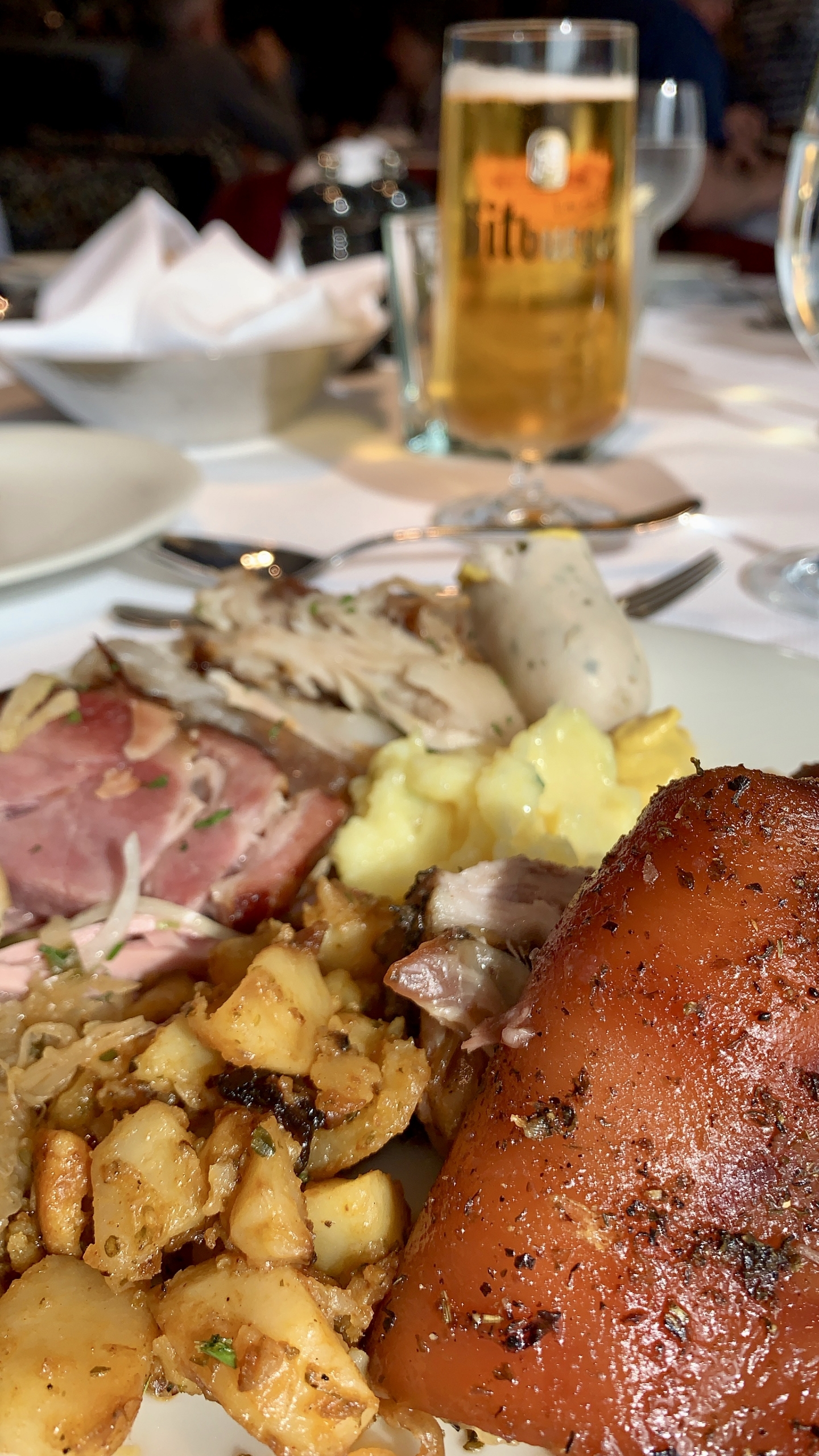 I cannot begin to describe to you how incredibly well done the Bavarian feast was! And the choices?! Well, I'm just going to say, vegetarians and vegans look away now.
From pork knuckle, to cured meats to different types of sausages, there definitely wasn't a lack of options! However, there was still so much more: sandwiches, vegetables, lots of potato dishes, many German side dishes, cheese, and of course, pretzels and beer.
The crew and staff made sure we were in need of nothing. It truly was such an enjoyable meal; not only did everything look good, but it was beyond delicious, too. The only reason I could never be a vegetarian is because I love pork and sausages and cured meats so much, so I was truly in hog heaven!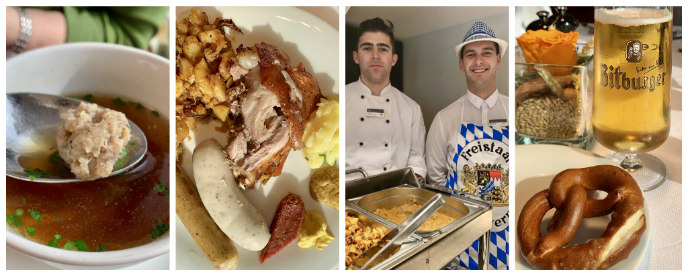 One of my other very favorite foods are blackcurrants. Lo and behold if a blackcurrant topped dessert, as well as blackcurrant sorbet were being served at the dessert table? When our dining companions heard me almost squeal with delight at this discovery, they were intrigued. They had never tasted blackcurrants! So there was a sort of food styling competition at the dessert bar! I have to say, I was impressed with both of their creations–nice job, gentlemen!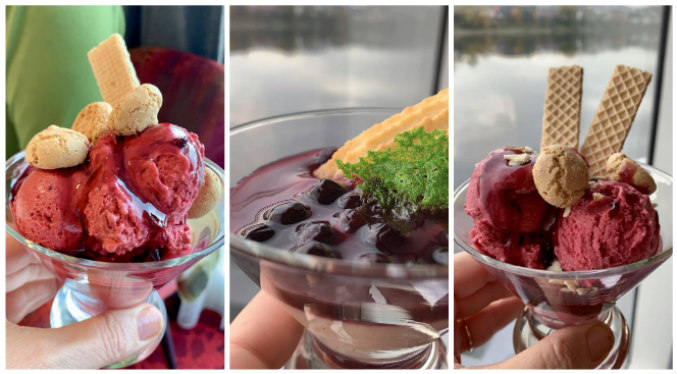 After lunch, we enjoyed cruising to Vilshofen where we would spend the final night of our cruise.
Scenery During the Cruise
Covering every single aspect of a 7 day luxury cruise is difficult. There's so much more that I would like to add, but this post is already a book! One thing I have to add before finishing my series is to say how wonderful it is when we cruised during daylight hours.
You can sit with a hot cup of coffee or tea, or a glass of wine or a cocktail and watch Europe pass you by.
Arriving in Vilshofen
This was many of the breathtaking views from the AmaMagna during our weeklong cruise. Arriving later in the day, the atmosphere in Vilshofen was so peaceful, despite being a Saturday. Although mum and I had yet to pack, the hike with Marcelo, our wonderful Wellness Manager, was not to be missed, and I'm so glad we didn't.
Hike with Marcelo
Mum and I had spoken to Marcelo several times throughout our cruise, but had not taken any yoga classes or done any of the hikes with him until this one. Marcelo was lovely and we were looking forward to the short hike up to the Benedictine Abbey Of Schweiklberg before attending Oktoberfest which had been arranged for us by AmaWaterways.
Wellness
"AmaWaterways prides itself on embracing the newest trend in wellness and active travel and provides a vacation experience that encompasses physical, mental and spiritual wellness. The company's onboard fitness rooms and open-air walking track offer an opportunity for guests to continue with their exercise routine, even while on vacation." -AmaWaterways
This is one of the sights along our hike. Isn't it just lovely?
If you watch my highlights from my Instagram story (link below), you'll hear the church bells ringing just as we reached the top of the hill, almost as if to welcome us.
Since I'm ususally lagging behind taking pictures, I noticed a beautiful shot when I was catching up to everyone on the way back down.
And one of the guests was kind enough to take a photo of Mum and me.
Marcelo took us through town on the way back to the AmaMagna so we got a little taste of Vilshofen. Such a colorful little town!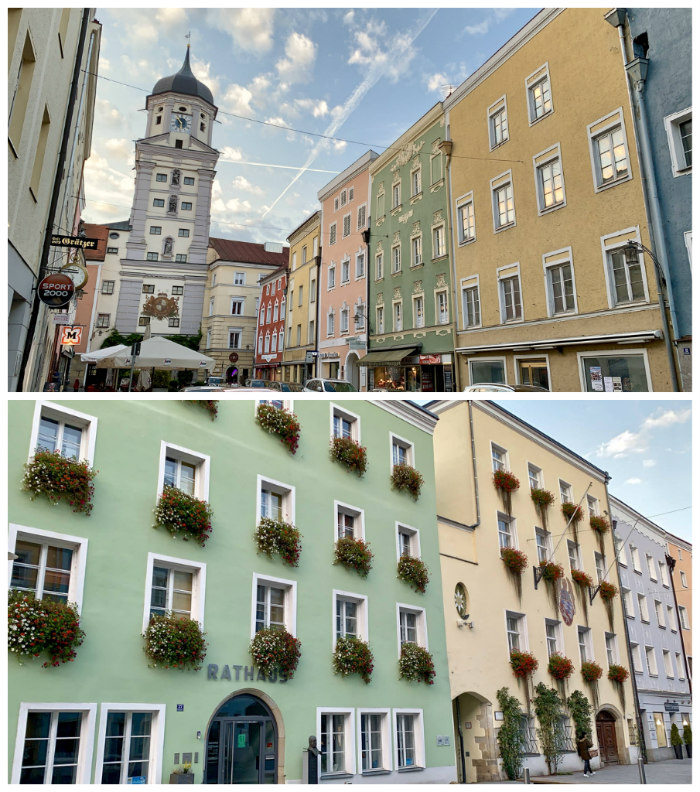 Oktoberfest
You can just see the white tent through the trees at the end of the pathway in the photo above–well, this is where our Oktoberfest was held. As you can see from the position of the AmaMagna, we didn't have far to walk!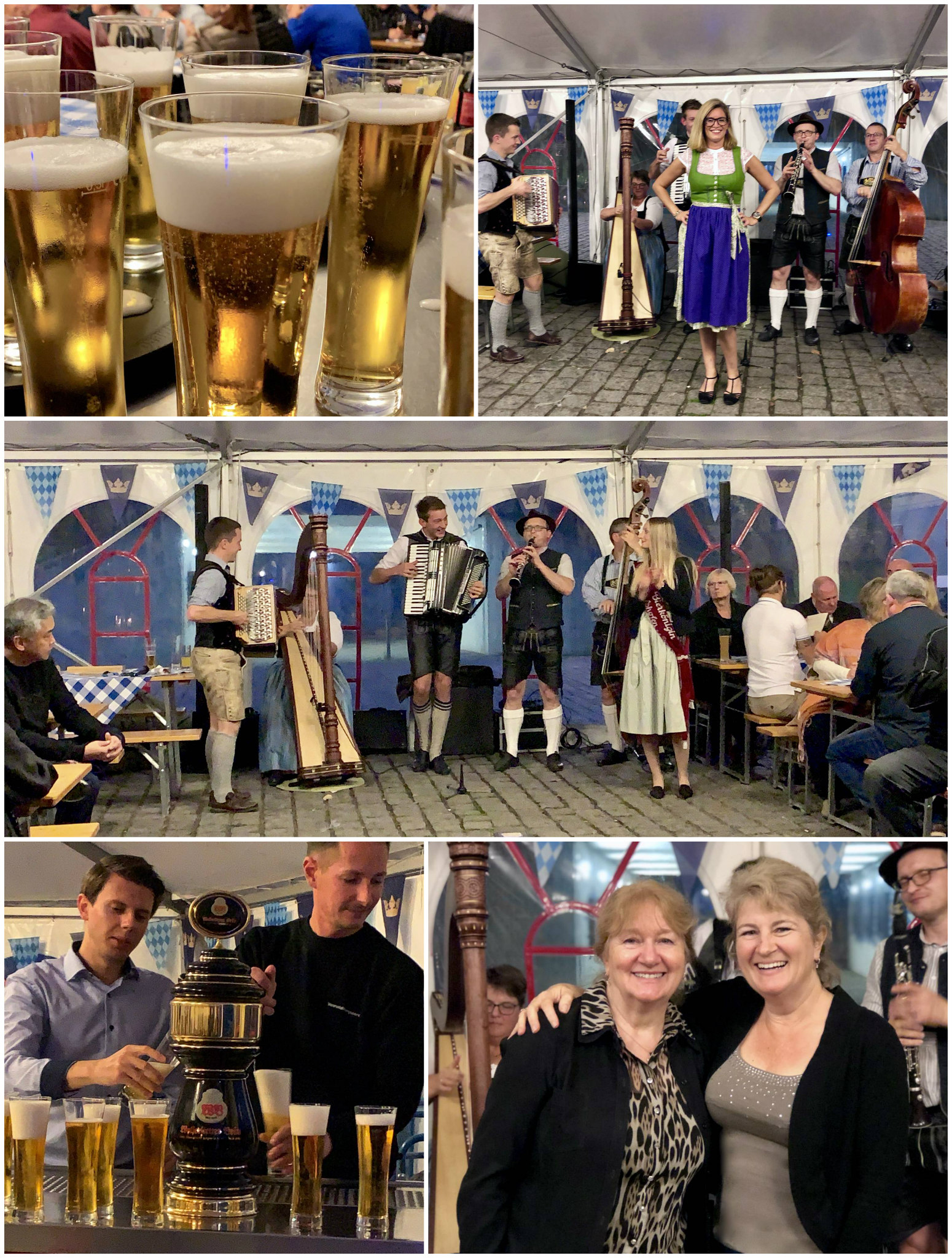 Here's a little taste of the atmosphere and music!
I could write an entire post on how much fun we all had at this quintessentially German event! There was beer flowing (other beverages, too) and lots of pretzel, but the best part was the music and dancing! We had a wonderful time!
Dinner at Al Fresco
Given our Bavarian feast at lunchtime, both Mum and I only wanted a very light dinner, so we popped down to Al Fresco. The courses were so light and delicious, that we enjoyed every morsel yet didn't feel weighted down at the end of our meal.
In case you don't know about the reputation and awards that AmaWaterways has earned.
AmaWaterways' Award Winning Cuisine
• Traditional and regionally-inspired cuisine prepared by expert chefs
• Exclusive La Chaîne des Rôtisseurs dining experience
• The Chef's Table specialty restaurant featuring a true tasting menu complimentary onboard all ships
• Plus, exclusive to AmaMagna, alternative dining venues include Jimmy's and Al Fresco
• Hand-selected complimentary unlimited wine chosen daily by acclaimed European sommeliers; beer and soft drinks during lunch and dinner and specialty coffee and tea stations (European fleet)
• Complimentary unlimited sparkling wine and fresh juices with breakfast, tea time and all-day Tapas (European fleet)
• Sip & Sail daily cocktail hour with complimentary wine, beer and spirits (European fleet)
-AmaWaterways
Packing and Disembarkment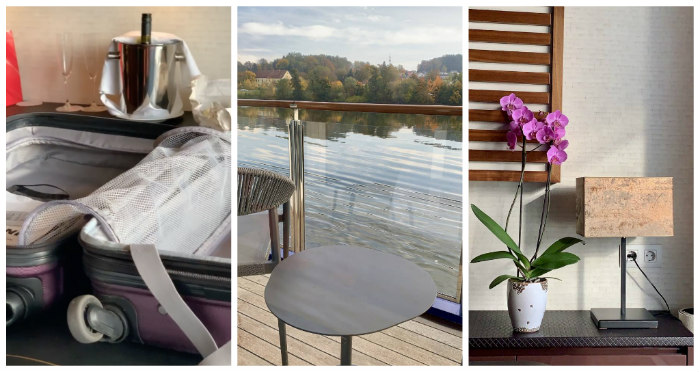 This was the scene that I disliked the most during my entire cruise: my empty suitcase. I would much rather have focused on the view from the balcony, and knew how much I'd miss our lovely purple orchid in our suite as I packed.
AmaWaterways gives such clear and simple directions on all that needs to be done before disembarking, from packing and where and when to leave our luggage, to taking care of any incidentals on our bills. Mum and I managed to fit everything we had into our tiny suitcases, despite being on a three week trip to Europe! It helped us to get a good night's sleep knowing that was accomplished.
Pick up and drop off at Munich Airport
Although I don't have any photos from the early morning bus ride or Munich airport, I simply have to tell you about our experience. Pre-arranged weeks in advance, I had booked transportation through AmaWaterways for a bus to pick us up at the ship, and take us to Munich airport. Due to the fact that we had a 10 am flight to London, we had to leave the ship around 6 am.
Our luggage had already been tagged and taken onto the bus for us, but once we boarded, Cesario, our cruise manager hopped on board the bus. He wanted wish us all safe travels and introduce us to the AmaWaterways representative who was to accompany us on the journey to the Munich airport.
Once we arrived at the airport, there was yet another AmaWaterways representative to guide everyone in the right direction upon alighting from the bus. Since I am used to navigating airports and travel often, I didn't think we would need her assistance. However, after seeing that everyone else was off to where they needed to go, she insisted on accompanying Mum and me to our gate.
At first I felt silly and guilty, taking her time when I "thought" we didn't need her help, but boy, was I wrong. If you have ever taken an Easy Jet flight from the Munich airport, you will understand! It was almost impossible to find the check in desk, and I honestly didn't see one sign for Easy Jet until we were at the actual desk! I don't even remember her name, but she was an angel to navigate the airport with us, even though I said we didn't need help!
Thank you AmaWaterways
This was displayed on the media screen on our final evening on board the AmaMagna, thanking guests. However, I think it should be reciprocal as we were all so grateful to the entire AmaWaterways crew and staff. Please watch my video highlights in the second link below to see the elegant scarf which all the ladies are given as a thank you gift. The men are gifted with a blue AmaWaterways cap.
Although my mother and I didn't do the trip extensions, some of the other guests chose to extend their trip with AmaWaterways by journeying on to Prague. I have been dying to visit Prague since my daughter and so many others have raved about this city, however, it simply couldn't work with our schedule on this trip.
If you ever wondered why AmaWaterways is different than other cruise companies, you can learn all about the reasons here. Thank you to Rudi, Kristin and others for the vision that they had 18 years ago. I love to support family owned businesses and AmaWaterways is one of the best! Incidentally, you can follow Kristin on her own blog; she is truly an inpiration!
Visit AmaWaterways for more information on this cruise
and many others they offer in Europe, Africa and Asia.
The Melodies of the Danube River Cruise Day 1
(to start at the beginning of my cruise)
✧
Interested in a future Rhine River cruise? Click Here to read
my day by day posts from 2017
visiting passau
Disclosure: my mother and I were hosted for a Melodies of the Danube river cruise courtesy of AmaWaterways. No conditions were made for a review and as always, my opinions are solely mine. I am posting this in accordance with FTC regulations.