Visiting Weissenkirchen and Grein, Austria, is a fabulous part of the AmaWaterways Melodies of the Danube river cruise. It is the completely relaxing vacation you dream about.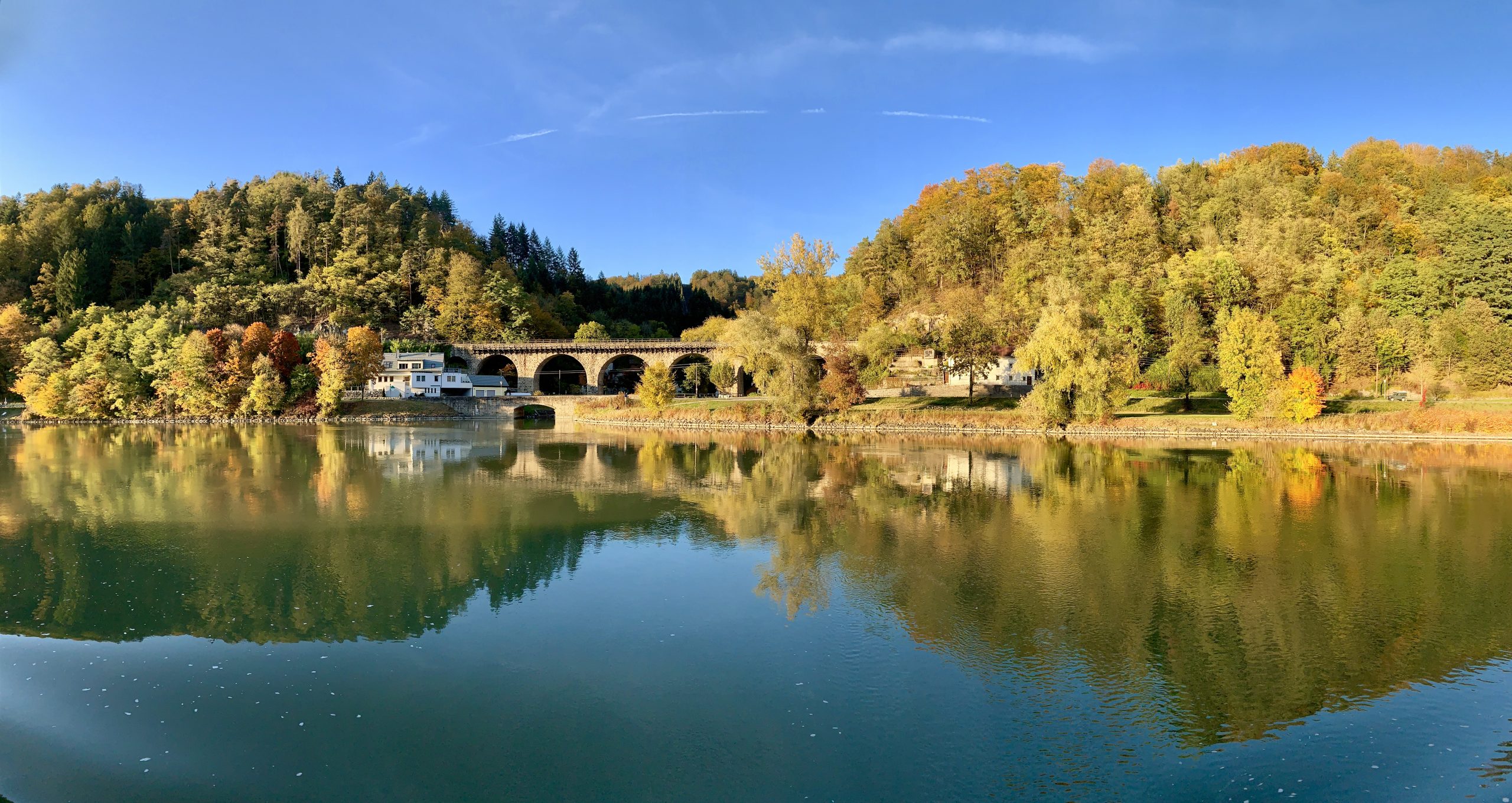 If you've been following along, you'll know that this is day 5 of my Melodies of the Danube river cruise experience with my mother. Day 4 and the previous days can be found here.
Disclosure: my mother and I were hosted on a 7 night Melodies of the Danube river cruise with AmaWaterways. No requirements or stipulations were made for a positive review. As always, all opinions are my own.
I had a reader message me on Facebook yesterday that she's booked her Melodies of the Danube cruise on the AmaMagna for October! I'm so excited when anyone cruises with AmaWaterways because I know they'll be elated with their experience, and it won't be their last! I'm so happy to know others will have the same incredible cruise as my mother and I have had twice.
Visiting Weissenkirchen, Melk Abbey, and Grein, Austria withAmaWaterways Melodies of the Danube ~(Day 5)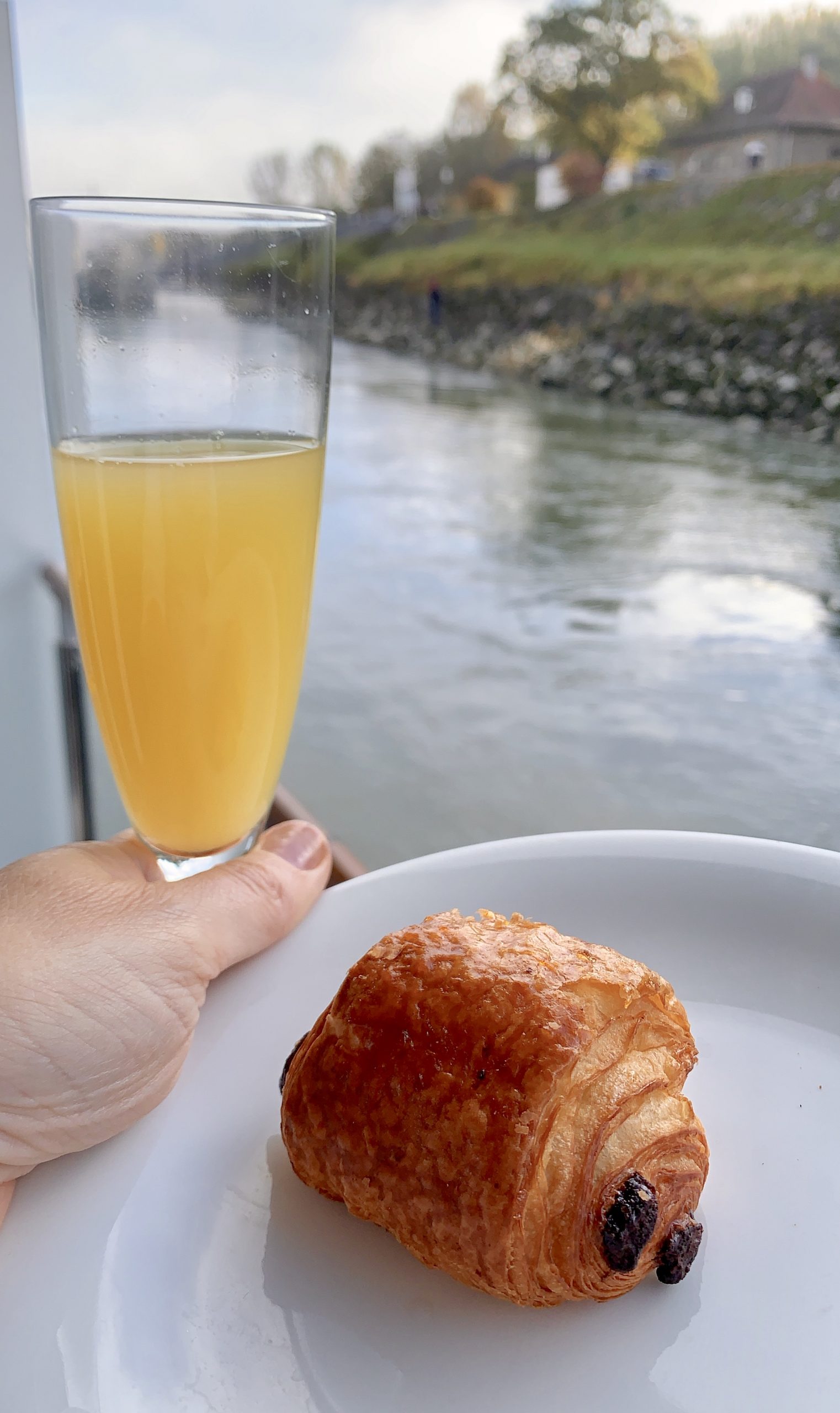 Docking in Melk/Breakfast
We were still cruising the Danube when I woke up. One of the best things about a river cruise is being able to see the views from your room, or better yet, your bed! It was a foggy morning in Melk, but I didn't mind as we were going to have a beautifully sunny day ahead of us visiting Weissenkirchen and more.
Mum and I had our breakfast in the Main Restaurant this morning. In case I haven't already mentioned it, there's a chef preparing omelettes to order and sparkling wine (great for Mimosas) each morning! I ordered a soft boiled egg and it was cooked to perfection.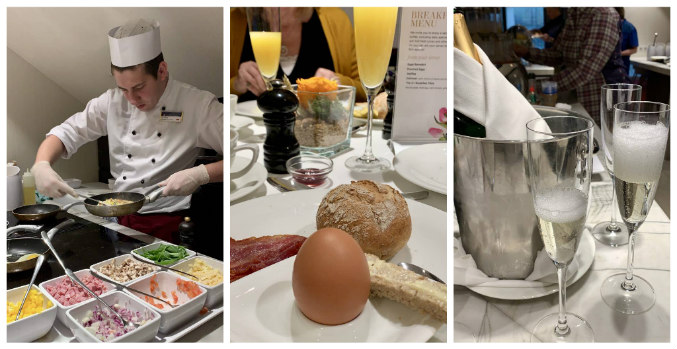 After our lovely breakfast, Mum and I went back to our suite which had been cleaned and our beds made to get ready for our day's first excursions to Weissenkirchen and Melk Abbey.
Disembarking from a river cruise ship is a completely different experience to a large ocean liner. I remember wondering if it was actually worth it to go ashore on the only ocean cruise I went on. What a nightmare–hundreds of people trying to get off as quickly as possible to enjoy a few hours of time on land, only to have to queue up early to get back on board.
With AmaWaterways, disembarkation is always stress-free! You can hear me talk about this on my Instagram story. Here's another key point with river cruises–unlike a large ship, if you happen to miss getting back on the ship before it leaves for the next port, all you have to do is hop on a train or taxi to meet the ship. On an ocean cruise, you've literally missed the boat for the rest of your trip!
Visiting Weissenkirchen (Walking Tour)
Our tour guide met us just off the ship and took us to our bus which was parked a short distance away. Our lovely bus driver. Helga, drove us from Melk to Weissenkirchen through the beautiful Austrian countryside!
Translated into English, Weissenkirchen means "whitechurch" after the central church which, incidentally, is no longer white. The town only has 1500 residents and the area is known for its wine (see the vines in the photo above) and apricots. In fact, the entire Wachau Valley is known for its wine and also apricot brandy.
We walked into the sleepy little town admiring the brightly colored houses and flowers.
I recommend visiting Weissenkirchen in October as the ivy and trees were changing color, so we had an added bonus with the colors!
Visiting Weissenkirchen was a bit of a surprise in that we didn't see many of the residents, and there were no other tourists; it truly was such a quiet little town.
Soon, we were in close proximity to the main church. It was like a fairytale setting and with the sun shining on a gorgeous autumn day–we couldn't have asked for a better atmosphere.
Our guide told us about the history of the church and the town as we walked up the hill. It was absolutely gorgeous inside the old church.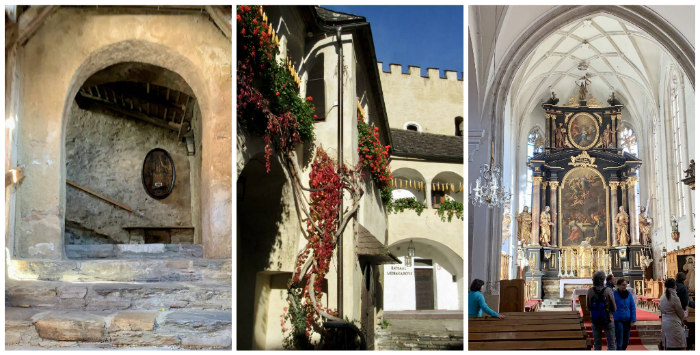 We also had a brilliant view over the town of Weissenkirchen and the Danube River from the church grounds.
After spending some time visiting Weissenkirchen, we returned to the bus as we were due to be on a tour of Melk Abbey within the hour.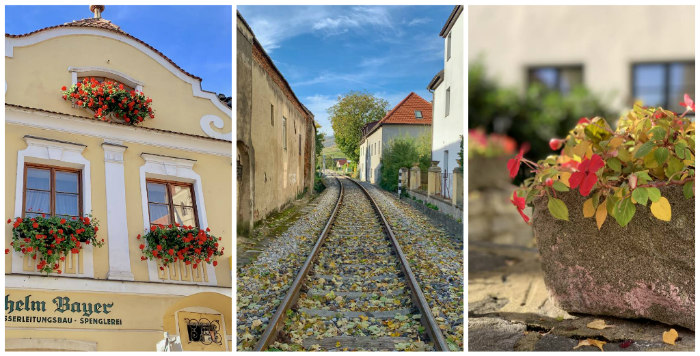 Leaving Weissenkirchen for Melk Abbey
The drive to Melk Abbey was on the same road we took to go to Weissenkirchen. Mum and I both thought the scenery along the way was just as enjoyable as the rest of the tours that day. One of the most interesting facts our guide told us about was regarding Venus of Willendorf. It is estimated to be a 30,000 year old statue of a female which was discovered nearby in the early 1900s. No, I don't have a typo on 30,000!
Melk Abbey Visit
Once we reached Melk Abbey, we walked down the stairs and a short distance through a garden until we reached the actual abbey.
Our guide handed each of us a ticket (entrance to the abbey with a guide is €14.50, but all entrance fees are included with an AmaWaterways cruise) and we walked onto the grounds.
Although the Benedictine monastery was built in the early 16th century, the abbey was founded in 1089. Ever since that time, the abbey has been continuously inhabited by Benedictine monks. It now is also a museum and a school. In fact, Melk Abbey boasts 900 students at the largest Catholic school in Austria.
We walked through the massive courtyard into one of the corner entrances to the abbey. Our guide turned us over to a docent who led us through the museum on an engaging tour, and finally the jewel of the abbey: the stunning Baroque church.
Unfortunately, photos are not allowed inside the abbey, museum and church, so I have none to share, but I can tell you that it was a phenomenal tour, and I would highly recommend visiting Melk Abbey.
The abbey sits on a granite rock overlooking the city of Melk and the Danube River. The views are beautiful as the abbey itself.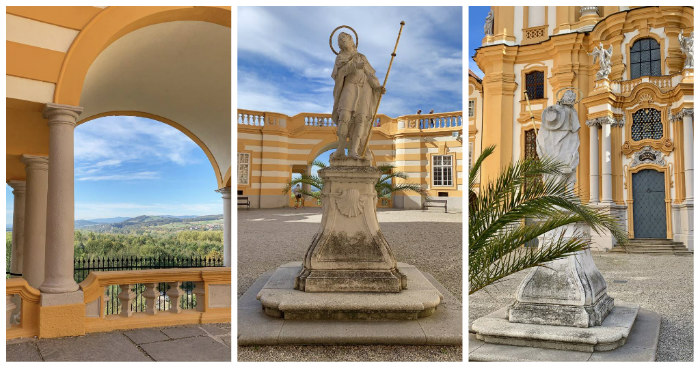 My mother wore the right color for our visit!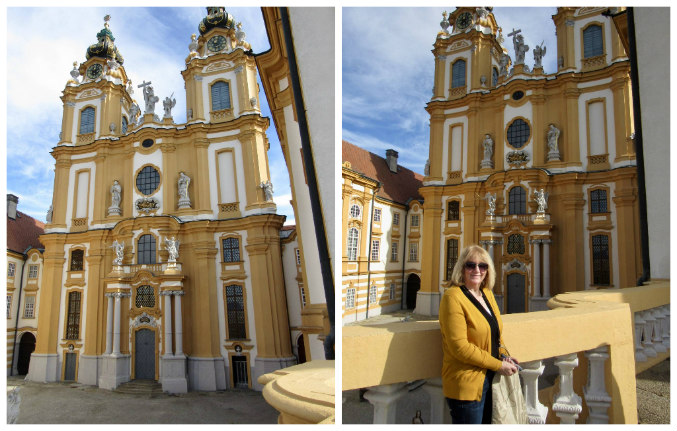 Mum and I bought a few little bottles of the monks' apricot brandy from the gift shop; how could we pass up this opportunity?! After our tour was over, Mum and I took the advice of our guide and went to see the views from the bell tower which was included with our ticket.
The bells were ringing and we had such wonderful views of the abbey and manicured gardens which we had not yet seen. You can hear the bells ringing on my Instagram story clip (link below.) We then walked to the bus to ride back to the AmaMagna which was now docked in Pochlarn.
Note: the alternative choices for excursions included
-Dürnstein walking tour with wine and apricot tasting (after the walking tour, you will taste the local apricot products and famous Wachau wines. (This was so difficult to NOT choose!)
-Melk to Pochlarn bike tour.
Lunch on the AmaMagna
As we were walking on board the ship, I told my mother that I smelled food. I wasn't wrong! We were greeted in royal style with slices of Austrian onion tart and a Kaiserspritzer (white wine, sparkling water and elderflower syrup.) I will admit, this wasn't the only slice I had; it was so good! The Kaiserspritzer was wonderful, too.
One of the best perks on an AmaWaterways cruise is the cheese boards! Honestly, it's almost worth booking a cruise just for the cheese! 😂
We were in for a treat at lunch as mum and I love fish and chips, but I had no idea that it would be upstaged by a bread dumpling and mushroom sauce! Unfortunately, my mother couldn't order it as it contained a mushroom to which she is highly allergic. Luckily, she was happy with her fish and chips!
The Austrian dumplings and mushrooms in cream sauce was easily one of my favorite dishes on my entire trip (including my time in Italy!) It was incredibly flavorful, and the dumplings were so light. I probably don't need to tell you I asked for, and received, the recipe!
I was fortunate to meet Executive Chef Dicky Hermawan who was absolutely lovely to chat with! We talked about certain dishes he serves, and how he and his staff do their best to please each and every guest. When I raved about his Austrian dumplings, but told him mum couldn't try it, he said he could have made her a special serving without the mushroom that she's allergic to! Now that's going over and above!
After lunch, I got a little ice cream and went onto the top deck as we were going through a lock.
Cruising the Strudengau Valley
It's always so interesting to witness a ship going through a lock, especially when you are on the ship! Here's a time-lapse video I took as we went through.
As you can see, the weather gods were smiling upon us on this cruise–it couldn't have been better!
The scenery along the Danube, especially through the Strudengau Valley, is constantly varied.
Stunning is not a superlative on these views!
If you have siblings and want to be "Mom's Favorite," just take her on an AmaWaterways cruise!
Chaîne des Rôtisseurs Dinner on the AmaMagna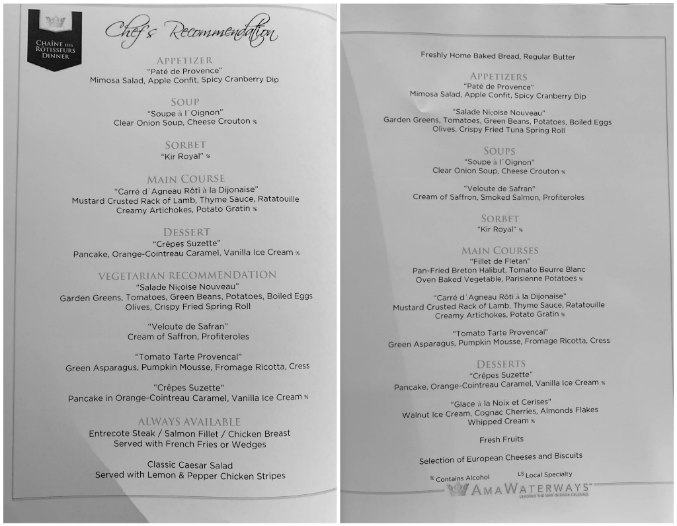 One of the many things that sets AmaWaterways above the other cruise companies is that they are the only river cruise line to be a member of the Chaîne des Rôtisseurs.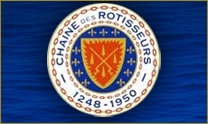 It is an "International Association of Gastronomy now established in over 80 countries bringing together enthusiasts who share the same values of quality, fine dining, the encouragement of the culinary arts and the pleasures of the table." – Chaîne des Rôtisseurs. Every AmaWaterways vessel cruising in Europe is an official member of La Chaine des Rotisseurs.
Tonight's dinner was extra special. As always, the staff dote on all the guests, so our service from our waiter, Wayan, was wonderful. I started with a perfectly dressed "salade Niçoise nouveau" and Mum had the clear French onion soup.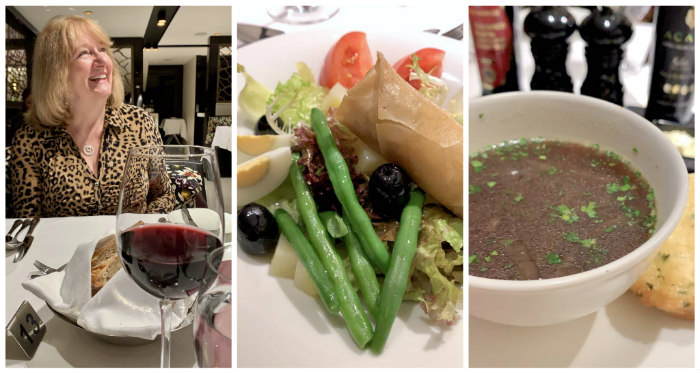 I really loved the red wine this evening, Pasquier Desvignes Beaujolais, as did my mother. It was light and fruity, and I enjoyed it with my tender mustard crusted rack of lamb with thyme sauce and creamy potato gratin.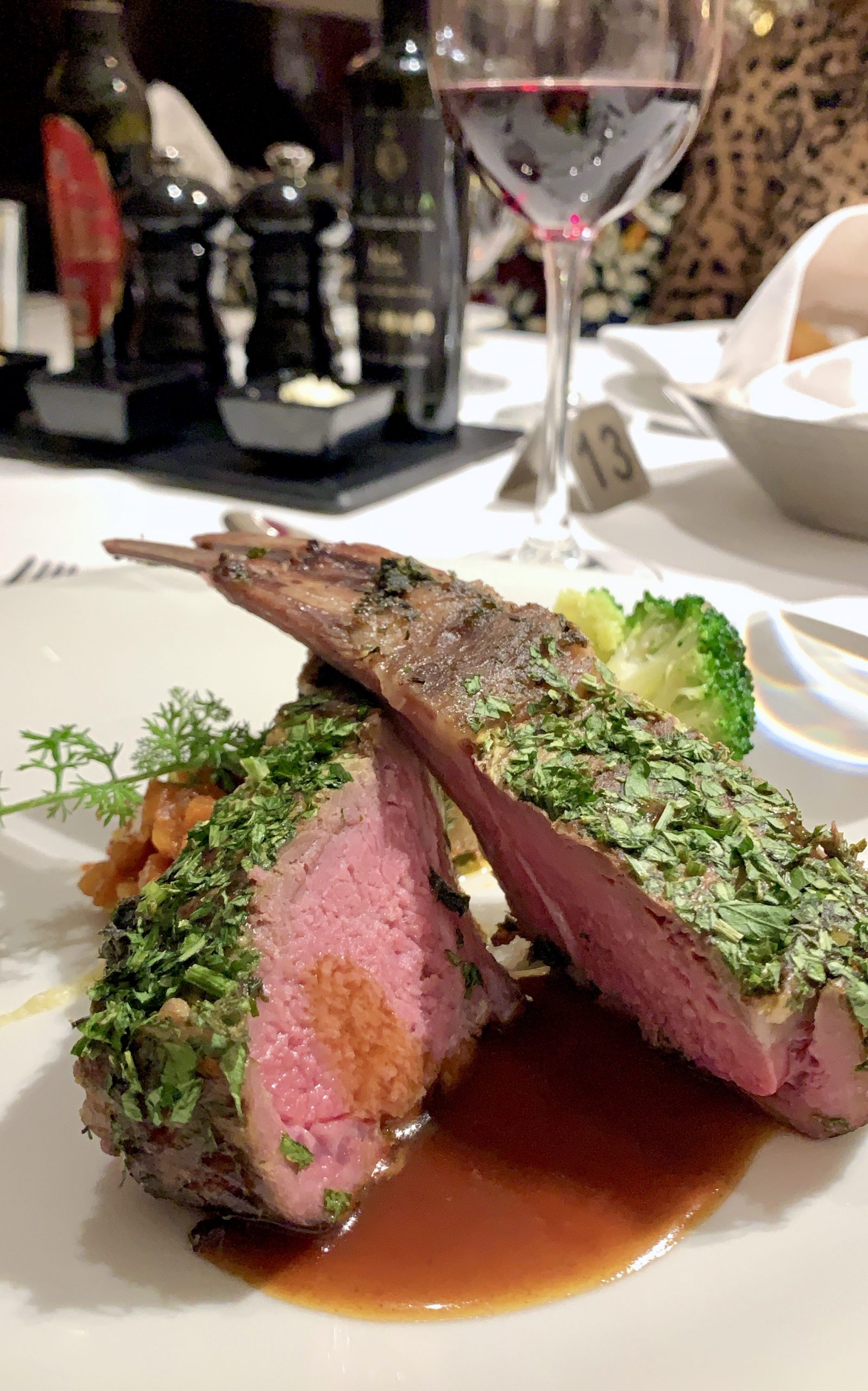 Mum and I ordered the crêpes Suzette and walnut ice cream with Cognac cherries and cream so we could try both. A perfect ending to our meal, and I loved that the cream had no added sugar! As we left the dining room we were offered house-made coconut truffles (similar to Rafaello candies) which were wonderful!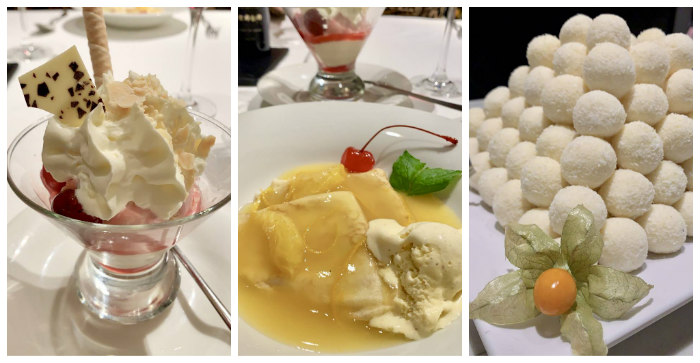 At 7 pm, our ship arrived in Grein (prounounced "grain.") Later that evening we were invited to attend an exclusive Greinburg Castle visit with a private reception.
Greinburg Castle
At 9 pm we met with our tour guides who would take us up the hill to Austria's oldest residential castle which overlooks the Danube in Grein. Christine, our guide led the way and we definitely burned off some of our dinner climbing the steps up to the castle on the moonlit evening!
The current head of the house of Saxe-Coburg and Gotha is Prince Andreas who descends from the British line established by his great great grandfather, Prince Albert. The castle was built from 1488 to 1495. We first walked through the little town of Grein which has the oldest theatre in all of Austria. We didn't see one other person as we passed through, even though it was just after 9 pm.
Christine, told us that the younger Prince Alexander (son of Prince Andreas) is just like any other of the town's residents and is quite friendly. She led us into the castle and we were shown parts that are not usually part of the public tour.
We could tell from the castle's decor that the family have always been hunters and love to entertain.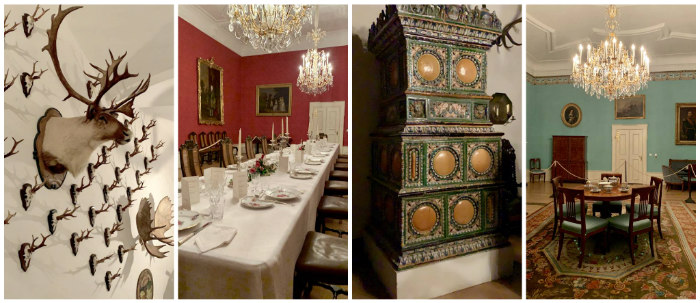 After getting an extensive tour of the living areas and learning all about the Saxe-Coburg and Gotha family history, we had an amazing surprise. None of us expected to see something like this in the castle!
Sala Terrena (Stone Theatre)
A special highlight of visiting Castle Greinburg is the "Sala Terrena" or "Stone Theatre", which was constructed in 1625 under the direction of the Count of Meggau (his coat of arms is shown on the ceiling decoration in the photo below). The Stone Theatre gets its name from the Danube-pebble mosaic covering the entire surface of the walls and ceiling. –Greinburg Castle website.
Christine told us that over 22 million pebbles were used in the decoration for the room!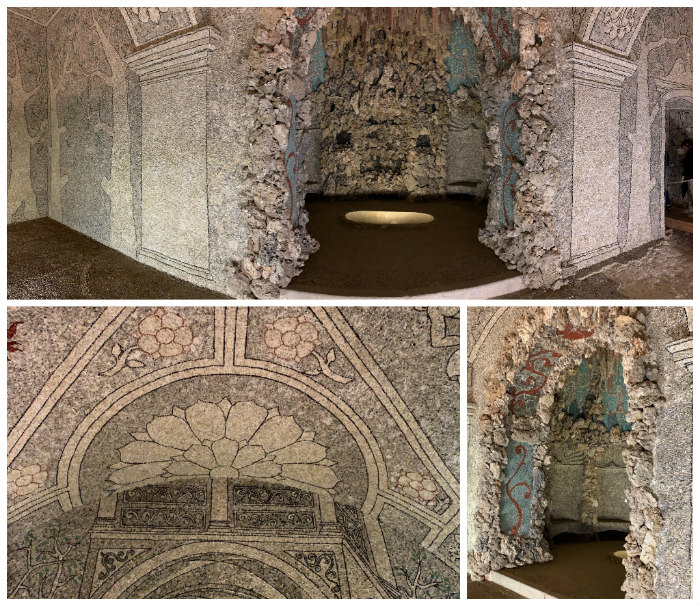 A little anecdote about the Sala Terrena: when we were walking into the room, I noticed one of the other AmaWaterways guests wasn't going in. When I questioned her, she told me she was claustrophobic and didn't want to go.
After being flabbergasted at what I saw as soon as I entered, I walked right back out and told the lady that it wasn't a small space at all, and she simply had to see it! She trusted my judgment, and went in, and then thanked me profusely afterwards. She was so grateful that she hadn't missed this incredible sight.
Diamond Room
According to Christine, this is the only ceiling in the world like this. It is called the Diamond Room for the diamond designs in the ceiling. She also explained that no one can figure out how they designed this room without technology that we now have. It truly looked more futuristic than historic!
Private reception with Austrian Dancers
There was yet another surprise after the two incredibly unique rooms we saw in the castle–we were going to see some young Austrian dancers perform for us!
Here's a taste of the performance and music.
Cruising to Linz Overnight
As we slept, Captain Jan steered the AmaMagna towards Linz, Austria. The next day, Mum and I had chosen to take a walking tour of Linz in the morning. In the afternoon, we were going to enjoy a tour of the Austrian Lakes–here's a sneak peek!
READ ABOUT DAY 6 of THE AMAMAGNA on the MELODIES OF THE DANUBE
I hope you enjoyed my overview of visiting Weissenkirchen and the rest of our fifth day with AmaWaterways' Melodies of the Danube river cruise!
Visit AmaWaterways for more information on this cruise
and many others they offer in Europe, Africa and Asia.
Disclosure: my mother and I were hosted on a 7 night Melodies of the Danube river cruise with AmaWaterways. No requirements or stipulations were made for a positive review. As always, all opinions are my own. I am disclosing this in accordance with FTC requirements.
Visiting Weissenkirchen