Visiting Vienna with AmaWaterways is a great introduction to this historic and elegant Austrian city. Read about my first visit to Vienna and put the Melodies of the Danube river cruise on your travel checklist!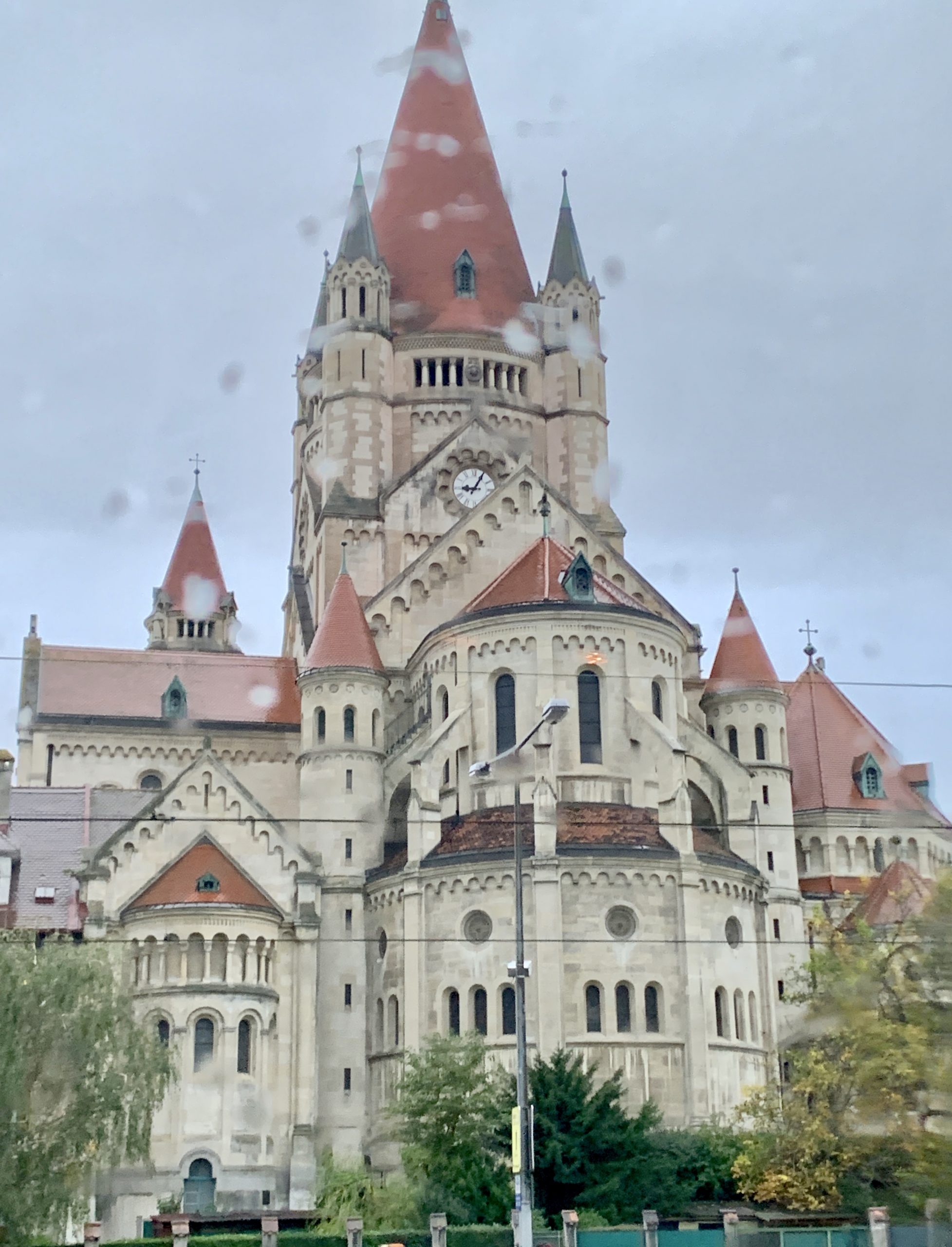 On our fourth morning of our AmaWaterways Melodies of the Danube river cruise, we woke up to a rainy Vienna. You can read about my previous day in Bratislava here (my mother was traveling with me.)
Disclosure: my mother and I were hosted on a 7 night Melodies of the Danube river cruise with AmaWaterways. No requirements or stipulations were made for a positive review. As always, all opinions are my own.
After a delicious and leisurely breakfast on board the AmaMagna in the main restaurant, Mum and I got ready to meet our tour guide for our Imperial Vienna tour. We had a very full schedule on this day because we had been given the opportunity to take advantage of two optional paid tours and I had opted to do both.
This was our original itinerary:
9 am to 12:30 pm ~ Imperial Walking Tour of Vienna
12:30 pm ~ Lunch in the Main Restaurant onboard the AmaMagna (our ship)
1:30 to 5:30pm ~ Schönbrunn Palace and Gardens (one of the optional tours)
5:30 pm ~ early Viennese dinner (Wiener Schnitzel) on board the AmaMagna
7:30 pm ~ Mozart and Strauss Concert in the Vienna Kursalon (venue) (second optional tour)
10:00 pm ~ back to the AmaMagna
If you noted above, that "original" is in italic. I went back and forth on whether to include my blunder and be completely raw and honest with you, or to skip it altogether and you'd never know the difference. If you know me, you probably could have guessed even before I made my decision, that I'm going to tell you what happened in full. Without further ado, let me tell you about our day.
Visiting Vienna with AmaWaterways
As always, Mum and I chose the active walking tour, but in addition, AmaWaterways offers bike tours, regular and also gentle walking tours. Our guide Giulia introduced herself and each group got onto our respective buses.
As we rode into the center of Vienna, our guide pointed out some buildings and gave us some historical background about her city. Within about 15 minutes, we were out of the bus and walking in a beautiful park. Giulia told us that there were 756 varieties of roses planted here (you can see more on my on my Instagram story–you'll find the link below.)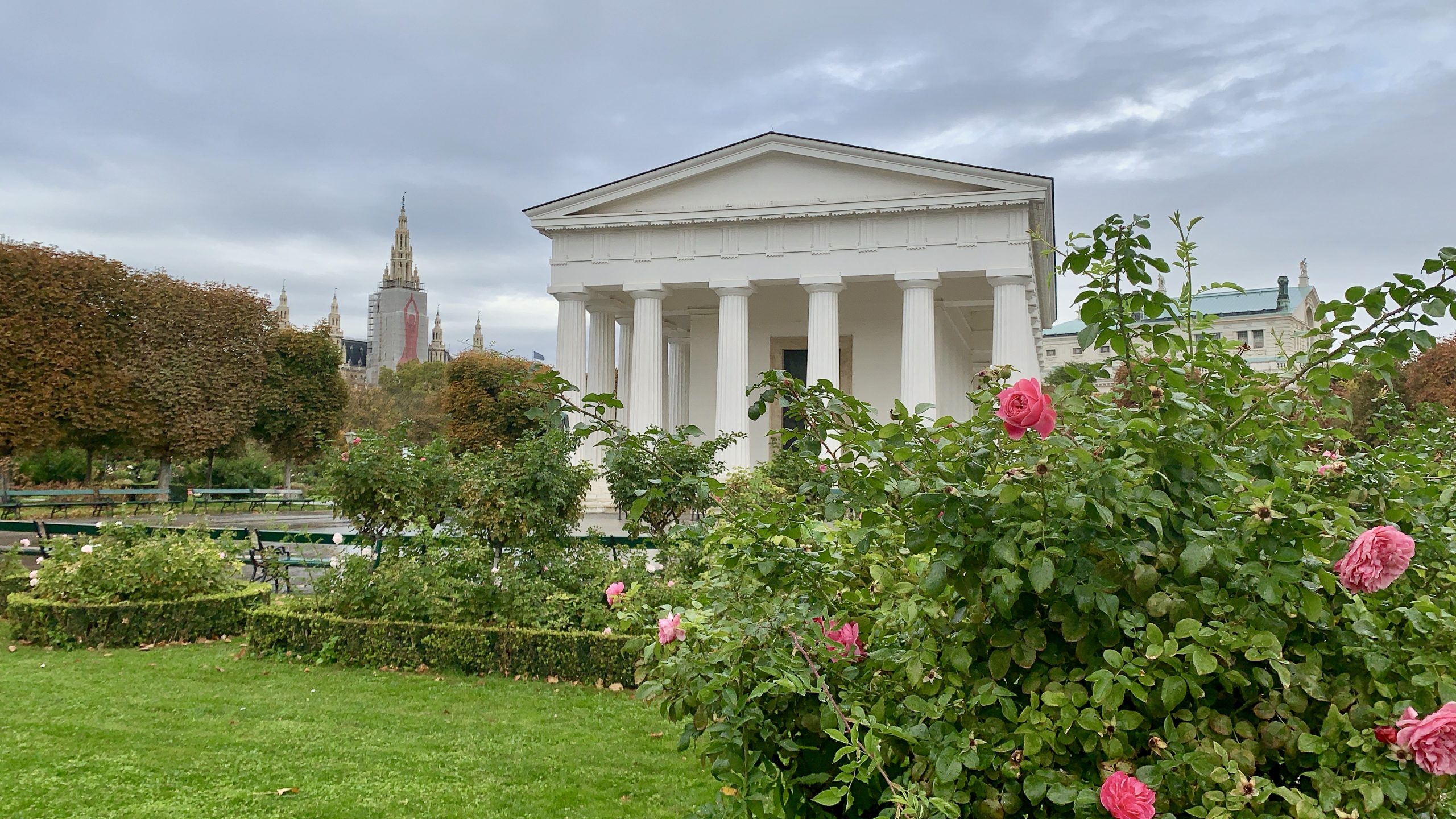 Luckily, the rain stopped just after we started our tour. We saw many statues and memorials, and our guide explained why many of them were erected and built. Below is the statue, Young Athlete by Josef Müllner in front of the Theseus Temple and a statue of Archduke Charles of Austria on horseback holding a flag.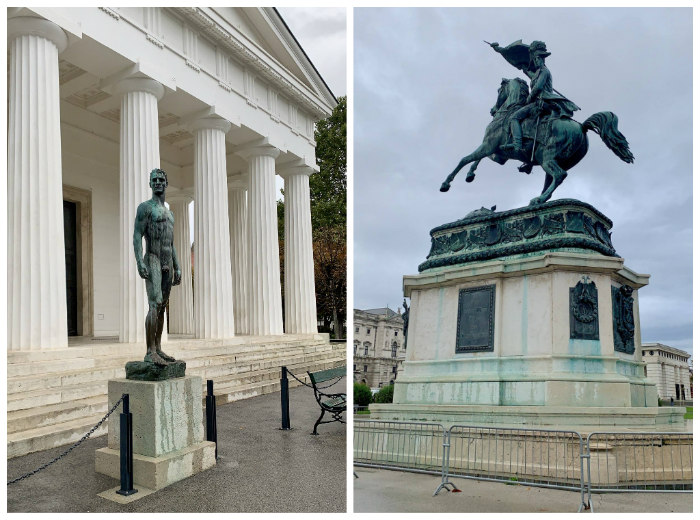 The Hofburg Palace
Giulia led us through Vienna's streets and showed us so many beautiful buildings such as the Hofburg Palace.
As we walked through the courtyards of the palace and went back inside, our guide showed us where the Spanish Riding School was located (famous Lipizzan horses.)
There are more than one hundred museums in Vienna, so if we were at a loss on what to do on a rainy day, this would more than fit the bill! We continued on our walking tour and soon came upon the most somber part of our entire cruise experience.
The Judenplatz Holocaust Memorial
This is the memorial for the Austrian victims of the Holocaust which was designed by the British artist Rachel Whiteread. It's also known as the Nameless Library.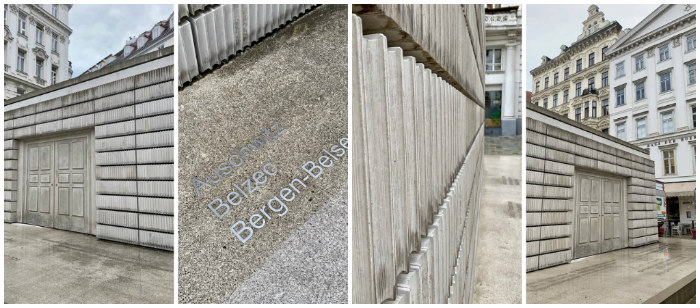 It's difficult to show how this solemn memorial impacted us since it almost just looks like a bunker, but the Judenplatz holocaust memorial was very moving. The doors have no handles, and the walls are made to look like books. All of the spines of the books face into the building so they are unreadable like the lives of those who were taken. The locations where Austrian Jews were murdered during Nazi rule are listed around the memorial.
We continued walking towards St. Stephen's Cathedral (where I'd been the night before.) Some of the architecture was stunning! Just look at these buildings.
There were also many churches that we saw which had exquisite interiors when we were visiting Vienna.
Sachertorte is synonymous with Vienna and we passed by the original hotel.
St. Stephen's Cathedral
As you can see, St. Stephen's Cathedral is massive and incredibly ornate and impressive. Giulia took us inside, but let us visit on our own to be respectful of being inside the 12th century cathedral. The ceiling alone was awe-inspiring.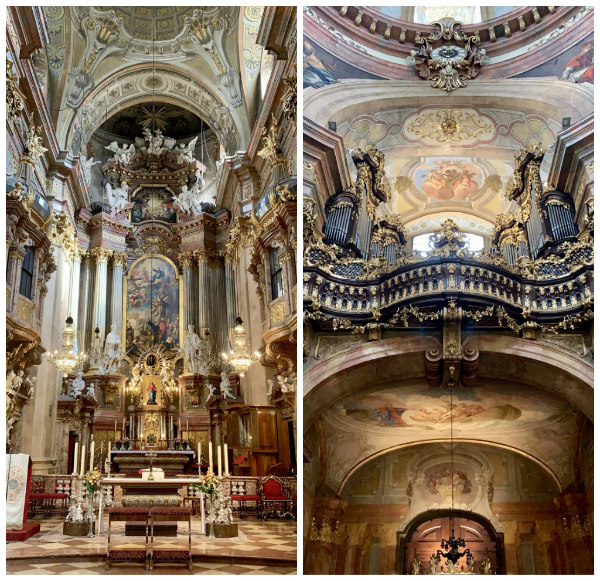 Here's a clip of what it sounded like inside the cathedral.
Once we came out of the cathedral, the clouds had begun to disappear and the sun was shining. Our tour guide then gave us some ideas on where we could visit on our own until she would meet us again at 12:15 pm to take us back to the bus to return to the ship. Depending on everyone's itinerary that day, there were buses running every half an hour from central Vienna to the AmaMagna (our ship) and back, to suit everyone's needs.
Free Time Visiting Vienna with AmaWaterways
It turned into the most beautiful day (as you can see) and instead of heading back on the first bus back to the ship as we had originally intended to do at 12:15 pm, Mum and I decided we'd stay in Vienna longer and take a later bus. I actually remember saying, "Why are we rushing back?" Herein lies the biggest travel mistake I've made in a long time.
Chalk it up to going to bed late and getting up early, or the fact that the sun came out and we were smitten with Vienna, but we both completely and utterly forgot that we had the Schönbrunn Palace tour that afternoon!
Oh, don't get me wrong, we had a wonderful time in Vienna! As they say, ignorance is bliss, and since we had forgotten about the palace tour, we went for coffee and pastries in the cutest cafe.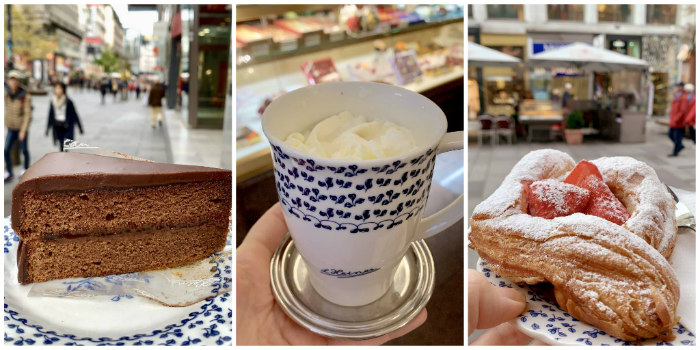 We saw more incredibly beautiful churches.
Walked around the city and window-shopped, and discovered little streets and alleys, and more churches.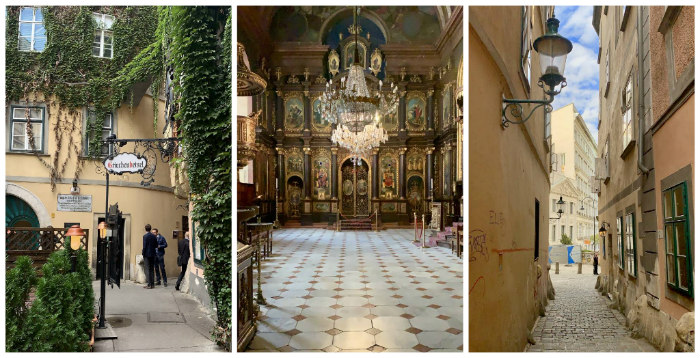 Ate some street food.
Took photos of my boots with leafy puddles.
Found one of the alleged best coffee shops in the world which was literally a hole in the wall.
Well, what would you do? I just had to try a coffee once I saw the unique way they served them, and I will say it was very good! The waffle cones are house-made and the inside is coated in chocolate so the hot coffee melts it when it's poured in–delicious, and beautiful, too!
We even went into a grocery store to explore a typical Viennese shopping experience!
We truly had a lovely time visiting Vienna, and finally walked back to catch the bus at 2:30 pm.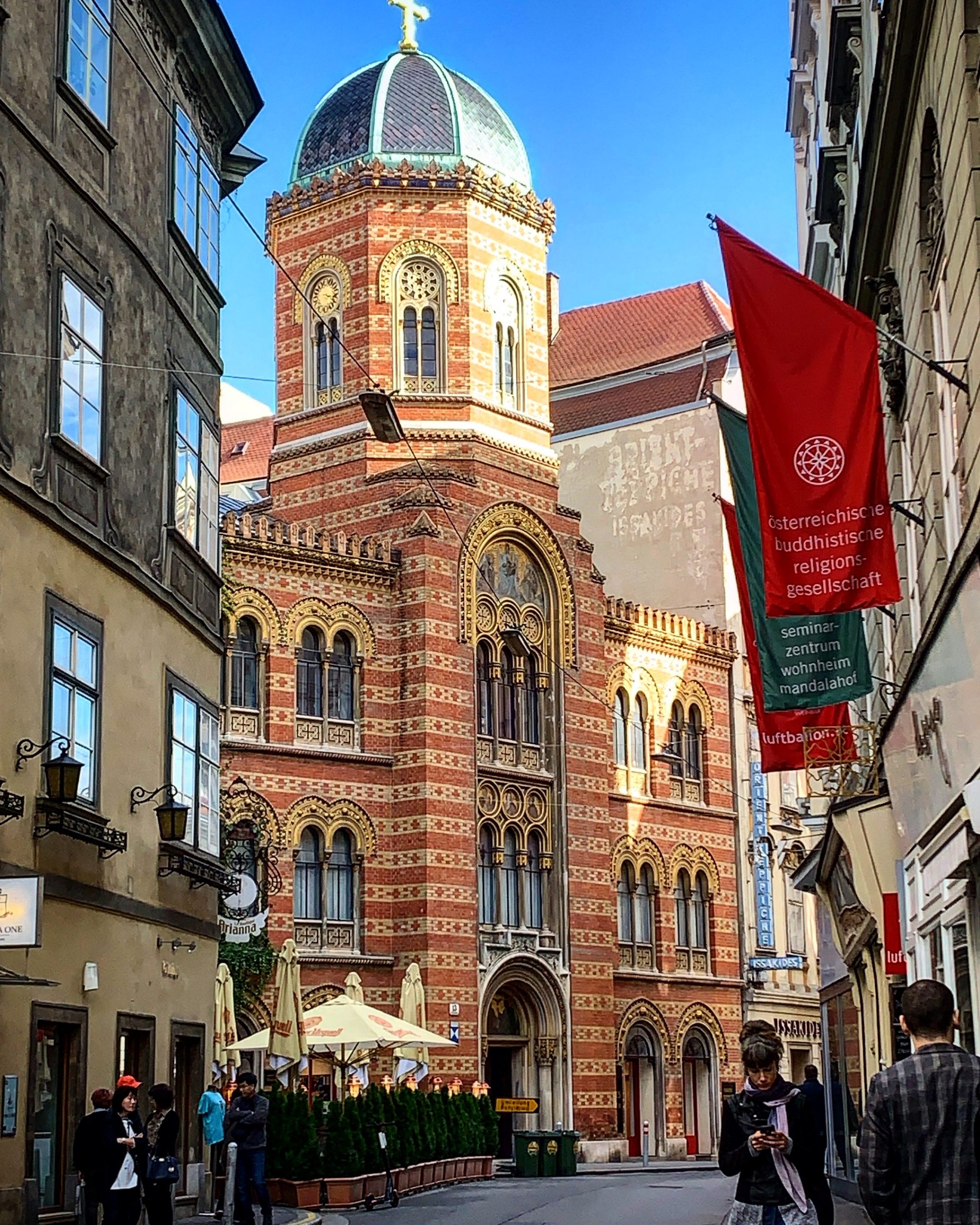 Mum kept saying the bus was at 2 pm, but I told her it was 2:30 pm. She then admitted, "Well, to be honest, I don't usually pay attention because I know you are." So I said, "But if I don't pay attention, then you'll suffer the consequences, too!" We honestly had this conversation when we were supposed to be at the Schönbrunn Palace and still, neither one of us realized our error! At 2:30 pm we were on the bus and on our way back to the ship.
AmaWaterways has its own buses which are extremely comfortable, even though they're mostly used for short journeys. And steps away from the bus was the entrance to the AmaMagna–first class service!
Back Onboard the AmaMagna Whilst Visiting Vienna
Once on board, Mum and I walked back to our suite and as soon I stepped inside, it was as if a switch was tripped–I immediately remembered that we had the Schönbrunn Palace tour! My heart fell into my stomach and I grabbed the Daily Cruiser to check the schedule. My fear was confirmed: the tour was half over!
I ran down the hall to Cesario's desk (the cruise manager) and exclaimed, "I feel sick!" He looked worried until I said, "We missed the Schönbrunn Palace tour!" Visually, I saw his relief as he fell back into his chair and he replied, "That's all?" I slumped into the seat in front of his desk and told him how ridiculous I felt, missing such a special event!
I cannot tell you how much better Cesario made me feel! He related the funniest story about his own personal travel mishap from the previous year, and how it was totally his fault. It must not have been funny at the time, but he truly put things into perspective for me, and in the end I chalked up my mistake to "being human." For whatever reason, it just wasn't meant to be, but you can bet that I was triple checking our itinerary for the rest of the cruise.
While we're on board, let me show you more of the AmaMagna. I just loved this space!
Do you love to send postcards? Gets expensive from Europe, though, right? How about complimentary postcards from AmaWaterways? And they're beautiful, high quality postcards, not the typical cheap freebies you see at some hotels. Oh, and I should mention, AmaWaterways will also stamp and expedite them for you, for FREE. Isn't that wonderful?
Part of the large lounge.
The Al Fresco Restaurant serves a light breakfast, light lunch, afternoon tea and late night buffet.
Mum and I had a couple of hours to relax before getting ready for dinner and the concert afterwards.
Viennese Dinner on the AmaMagna
Mum and I were looking forward to the Viennese dinner as we both love weiner schnitzel and we were not disappointed! You can see the menu and the plethora of choices we were given. The panzanella-style salad was so good, I contemplated ordering another!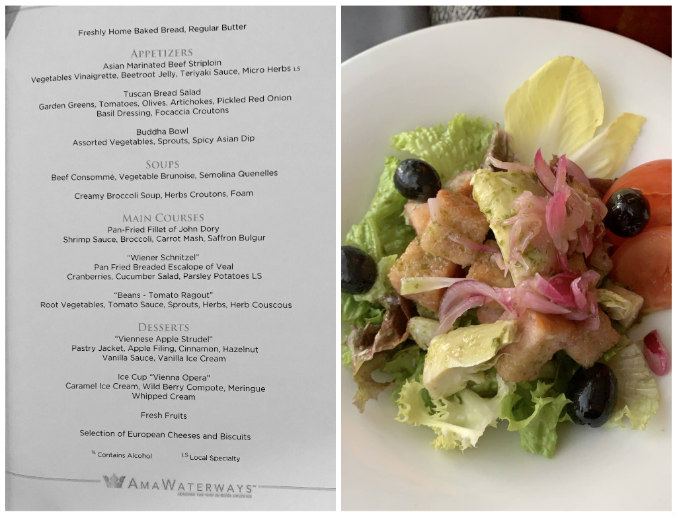 Next, we ordered the beef consommé and creamy broccoli soup; one for each of us, and both were very good.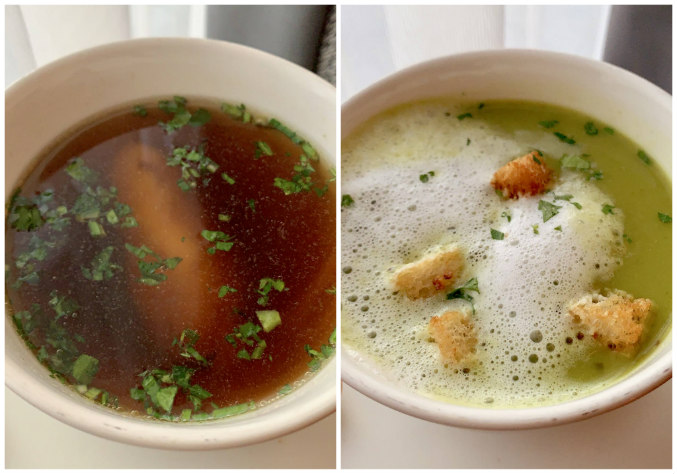 Finally, the star of the meal, the weiner schnitzel arrived! It was delicious, but what you don't see is the lovely basket of chips (fries) that we were also served! Mum and I were both very happy.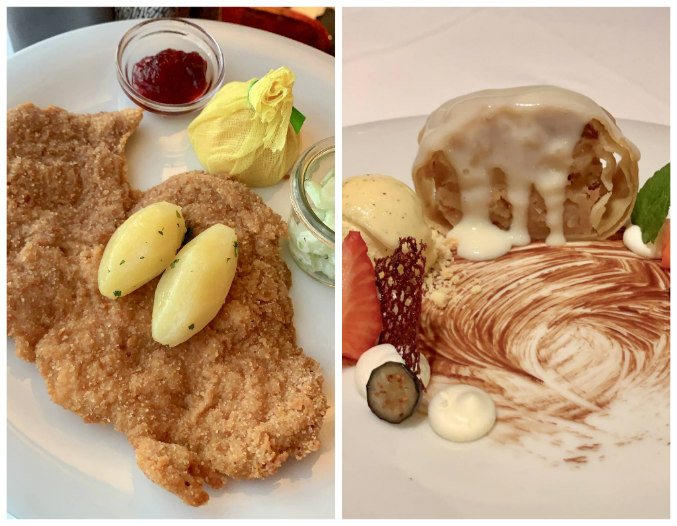 We both chose the apple strudel for dessert, and I will say that it was not our favorite. The pastry was not crispy and light, but we were already so full that we really didn't miss it.
After dinner, we took the bus back into Vienna for the concert.
Mozart & Strauss Concert at the Vienna Kursalon
The concert was marvelous, and both Mum and I truly appreciated every minute. The orchestra was excellent and the performers (singers and dancers) were very entertaining and talented. I have always enjoyed Mozart, but after Tchaikovsky, Strauss is my next favorite composer. The venue, the Vienna Kursalon, was a beautiful building with elegant architectural details inside and out.
Unfortunately, photos weren't allowed during the performance, so this is the most I can share with you.
There was an intermission and everyone got a glass of bubbly. It was even warm enough to enjoy it outside!
Despite the one mishap, Mum and I loved visiting Vienna with AmaWaterways. Once we returned to the ship, the AmaMagna set sail from Vienna on its way to the Wachau Valley. Read about Day 5 of the Melodies of the Danube river cruise!
Visit AmaWaterways for more information on this cruise
and many others they offer in Europe, Africa and Asia.
Disclosure:my mother and I were hosted for a Melodies of the Danube river cruise courtesy of AmaWaterways.
No conditions were made for a review and as always, my opinions are solely mine.
I am posting this in accordance with FTC regulations.