Enjoy the third day of the Melodies of the Danube River Cruise by joining me in Bratislava for a morning tour, then cruising to Vienna for a night. Learn more about AmaWaterways' incomparable AmaMagna cruise ship, as well.
If you are following along on my Melodies of the Danube river cruise with AmaWaterways, you'll already have read all about Day 1, and Day 2 in Budapest.
Disclosure: my mother and I were hosted on a 7 night Melodies of the Danube river cruise with AmaWaterways. No requirements or stipulations were made for a positive review. As always, all opinions are my own.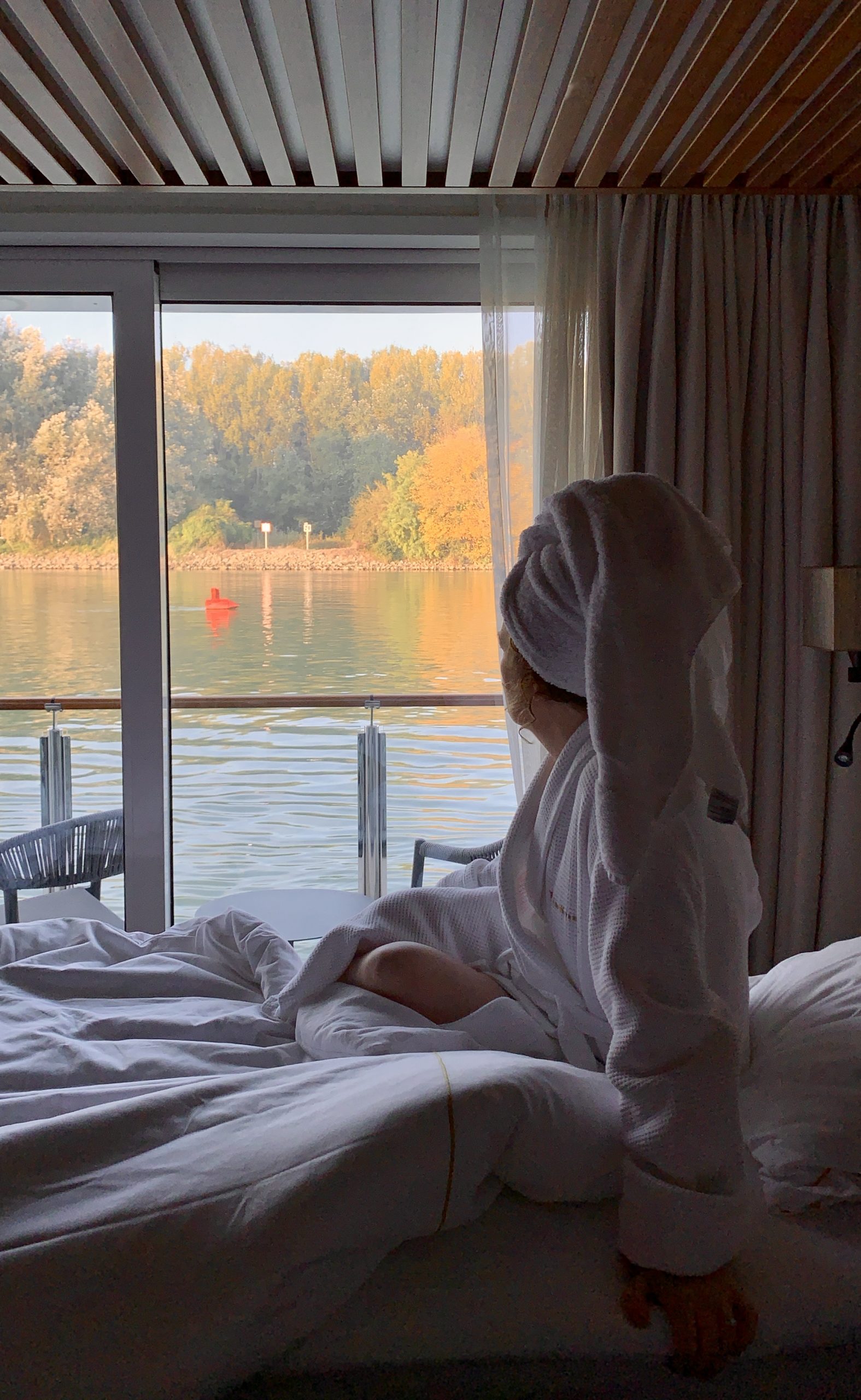 Our third day just happened to be my birthday! Let me tell you, one of the best ways you could ever spend your birthday is on an AmaWaterways cruise! I didn't plan to be cruising on my birthday; just call it luck. 😎However, I was extremely happy to have this added bonus on my trip.
How would you like to wake up to this ever changing view from your bed on the morning of your birthday? You can, on the Melodies of the Danube river cruise, or any other AmaWaterways cruise.
At 4:00 am we went through the Gabčikovo lock, the largest lock (19.9m/65.2′) on our cruise. This information is given to us on our Daily Cruiser so that if we would have liked to get up to experience going through the lock, we could have asked for a wake up call (or simply set an alarm).
Later that morning, we passed a bridge that was in mid-construction and I had to take a photo as I just thought it was so interesting, especially from our perspective on the river.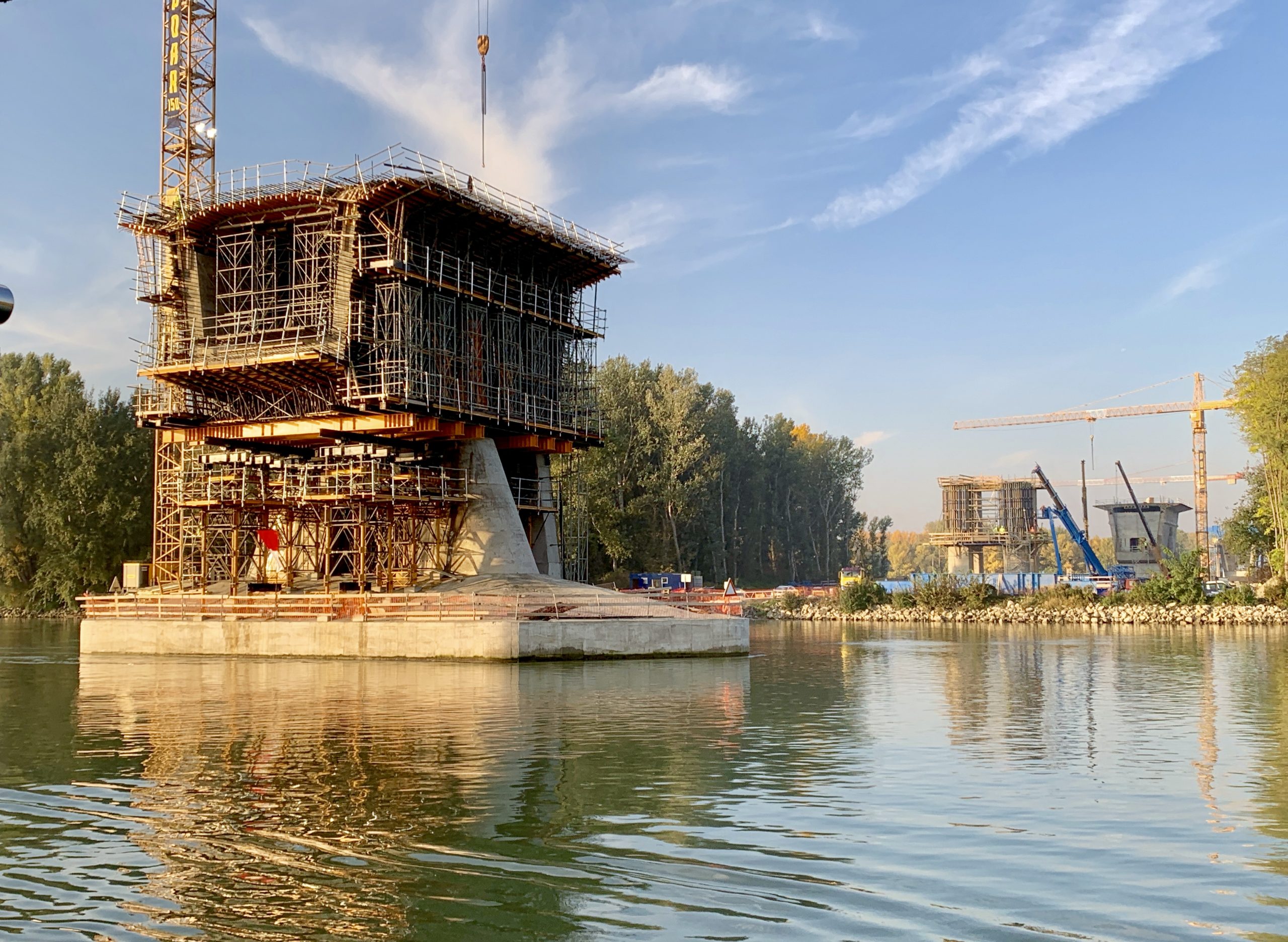 Melodies of the Danube River Cruise with AmaWaterways – Bratislava to Vienna, Day 3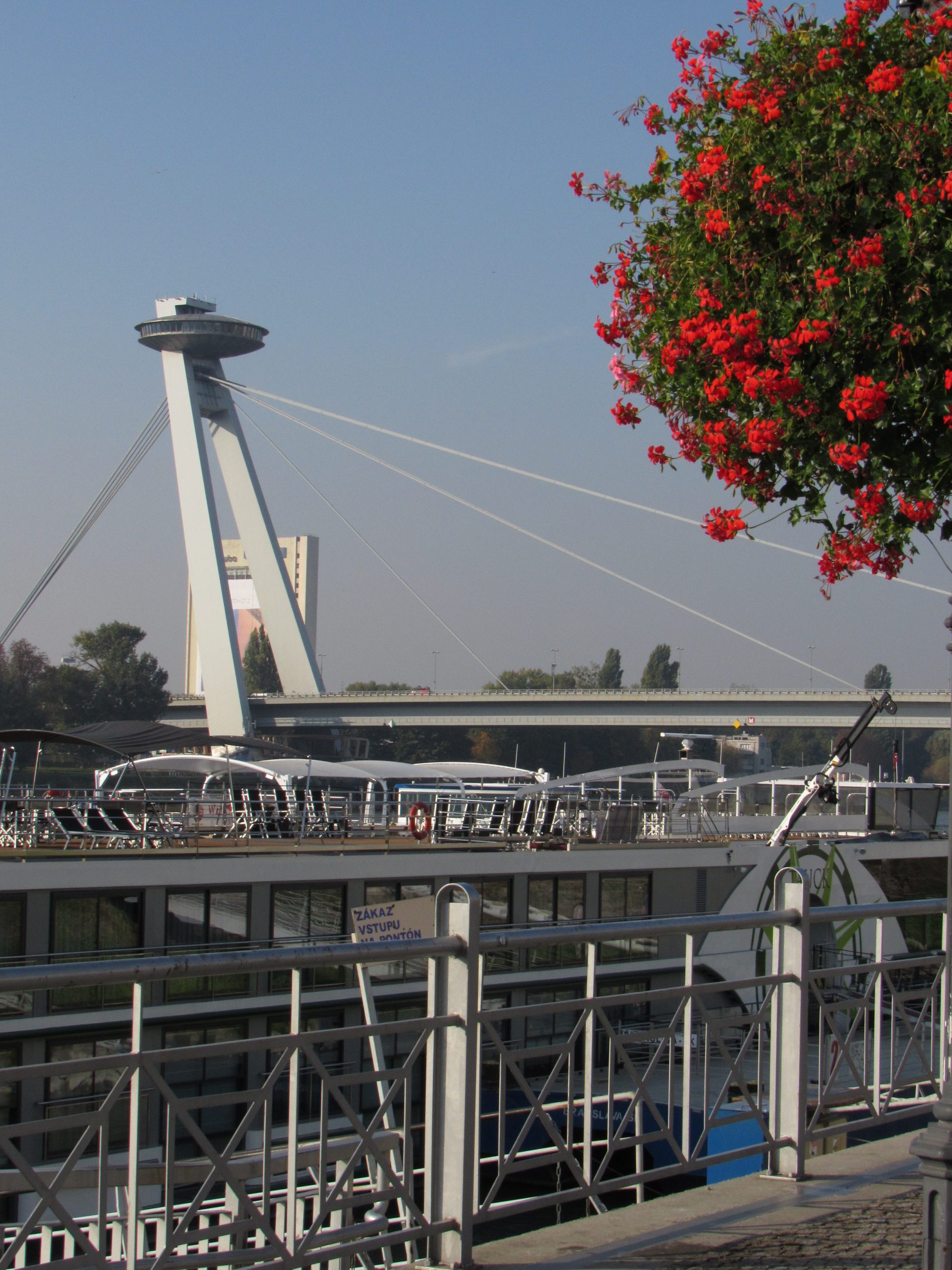 "Coronation City" Walking Tour
After a filling breakfast, Mum and I headed to the lobby to join our group which was going ashore for a walking tour of Bratislava. We met our tour guide just off the ship and walked a for a few minutes and we were already in the city center. We checked out this beautifully detailed bronze map of the city before continuing.
With a history going back 2000 years, Bratislava, surprisingly is one of the youngest city capitals in Europe. It is known as the Coronation City because 11 Hungarian kings and 8 royal spouses were crowned here. Bratislava is a mixture of old and new as you can see in the picture below.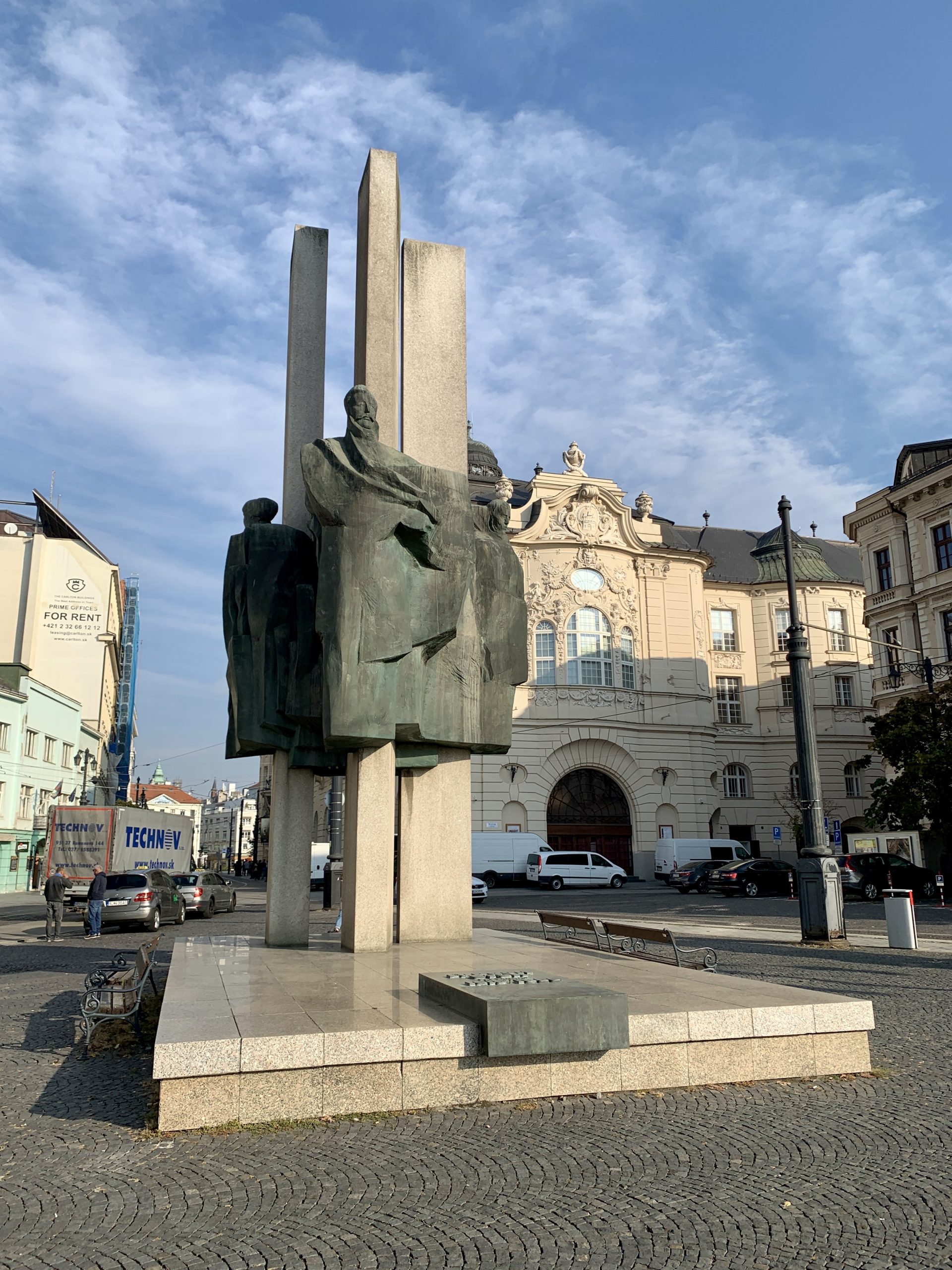 The largest square in Bratislava is the Hviezdoslav Square. Don't ask me how to pronounce this name because I don't know (😂) , but what I do know is that Hviezdoslav was a very famous and important Slovakian poet.
Directly across from his statue is the beautiful Slovak National Theatre. The building's curved Neo Renaissance style and ornate architecture is stunning.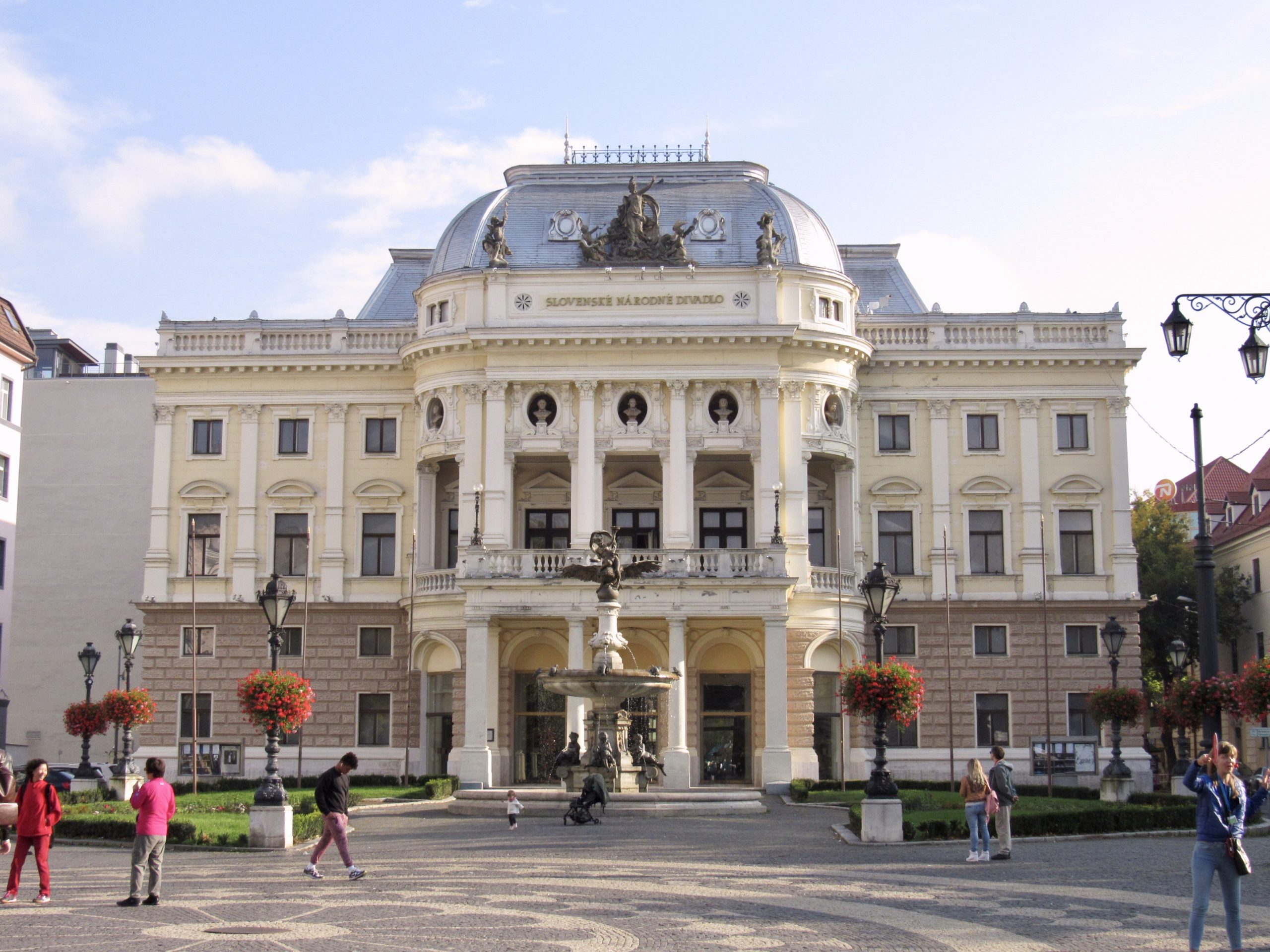 I zoomed in on this detail at the top of a nearby building for the exquisite artwork high above the square.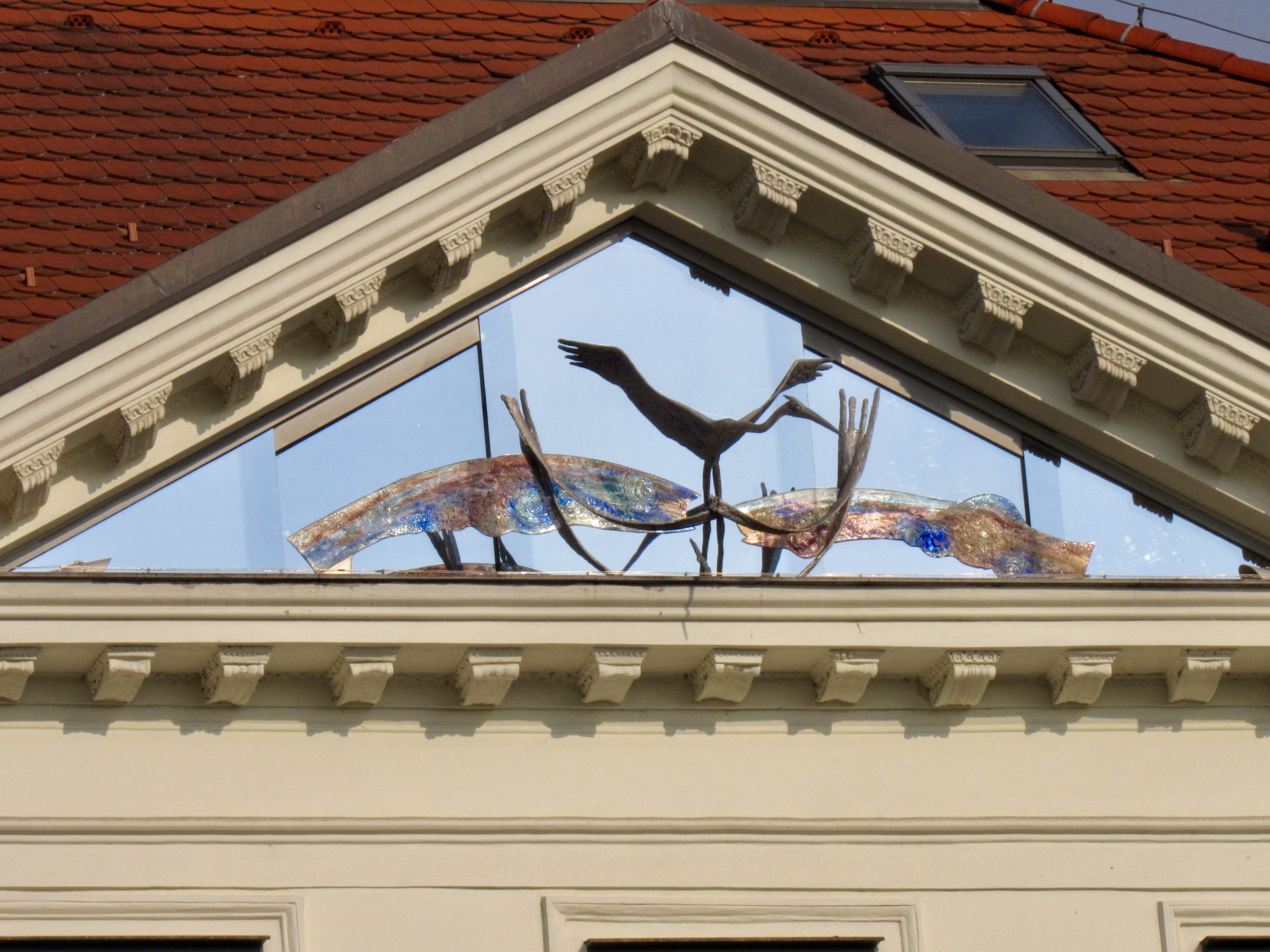 Walking further along, behind the statue of Hviezdoslav, we came across another statue of someone probably a bit more familiar: Hans Christian Andersen with some of his fairytale creatures. No, he wasn't born here, but this statue was erected to commemorate a visit he made to this capital city in 1841.
Our guide told us about Bratislava's main source of income, the population, the importance of the auto industry, cost of living and other general facts about the city. Of course, I had to ask about food, but I'll get to that later. Art is not in short supply in Bratislava: there are so many statues, fountains, and monuments throughout the city!
We walked along the gorgeous tree lined street until we reached a main road where we turned in another direction.
St. Martin's Cathedral is an imposing structure in this part of Bratislava. The bells were ringing loudly as we walked nearby, and it was beautiful to hear.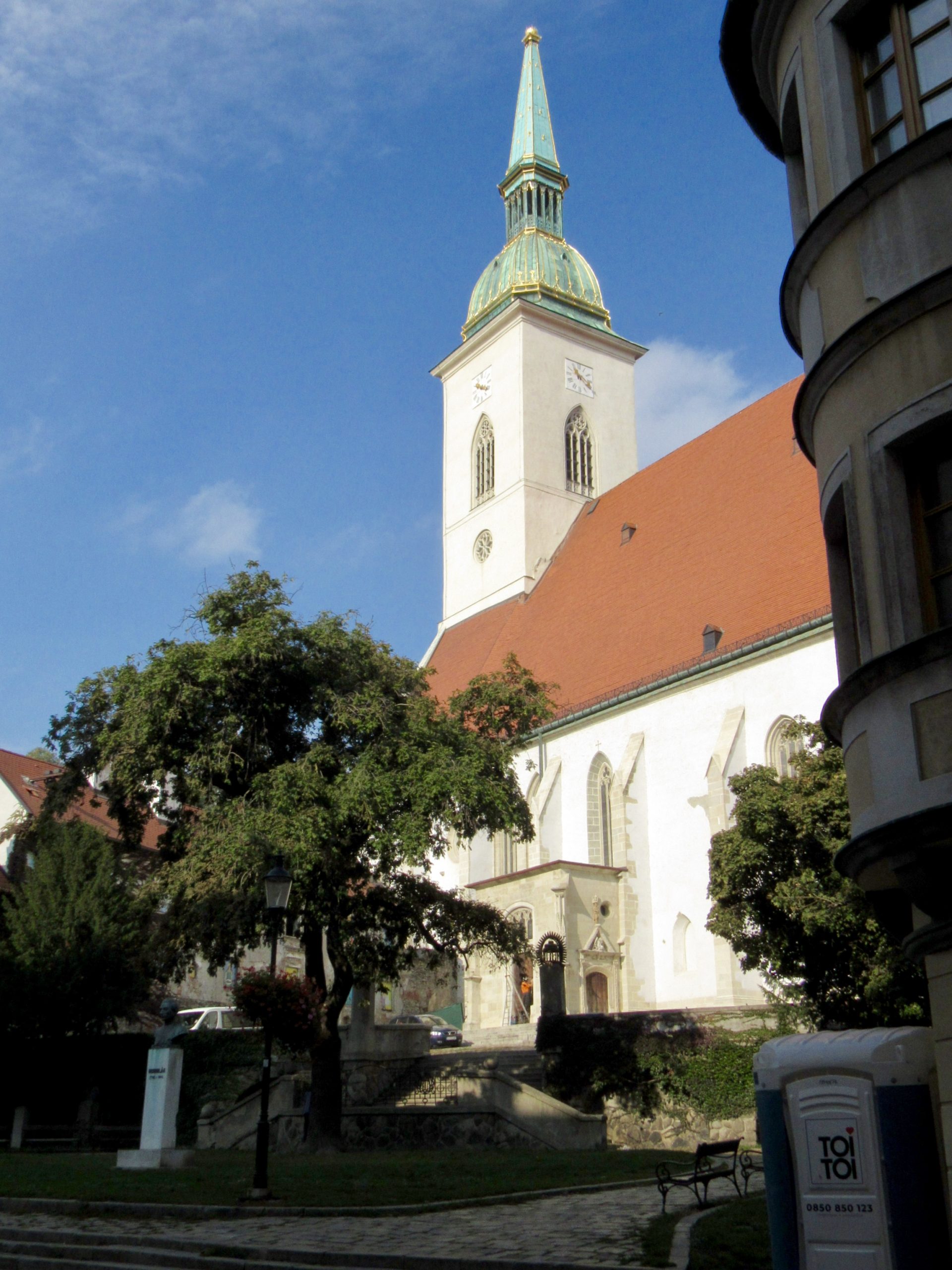 This part of the city led us into the older neighborhood with gorgeous buildings and tiny cobblestoned streets, cafes, and old antique shops.
The Old Town
Soon, we were in a more bustling part of town. There were lots more restaurants, souvenir shops, art stores, and gift shops. Michael's Gate (at the end) is the only surviving gate from when there were fortifications around the city and four gates from which to enter.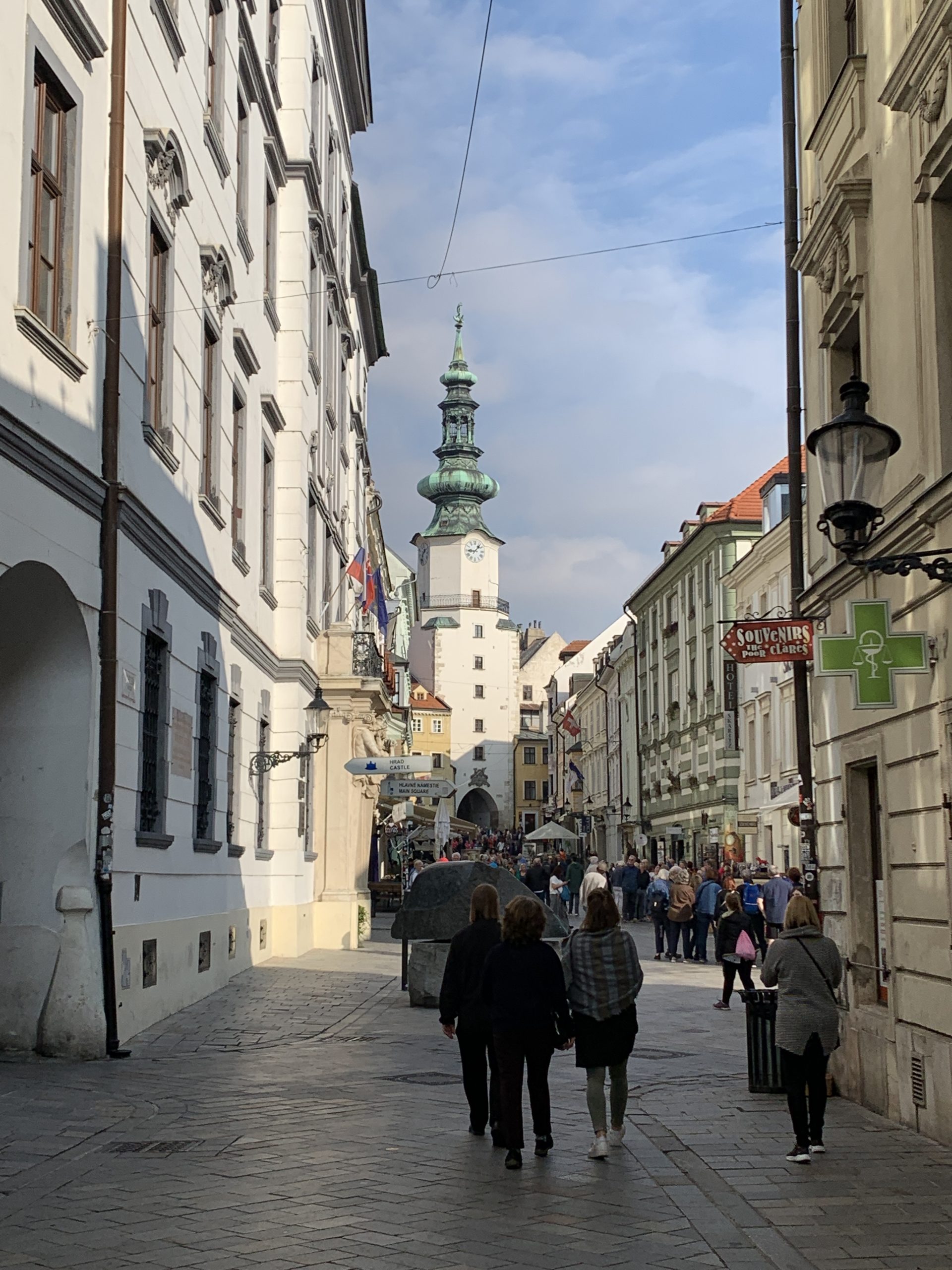 A "Franz Liszt played here" plaque.
There's also a plaque to commemorate Mozart visiting and performing here when he was only six years old!
We came upon a lovely bakery near the main square in Old Town. The square was a magical place and not at all overrun with tourists as many other places are.
Mum and I had to pop in to the bakery to see what types of pastries are popular in Bratislava. However, I spied the most unusual cake and just had to have a slice to try, after all, it was my birthday. And yes, it was a wonderful as it looks: chocolate meringues on top of a moist chocolate cake!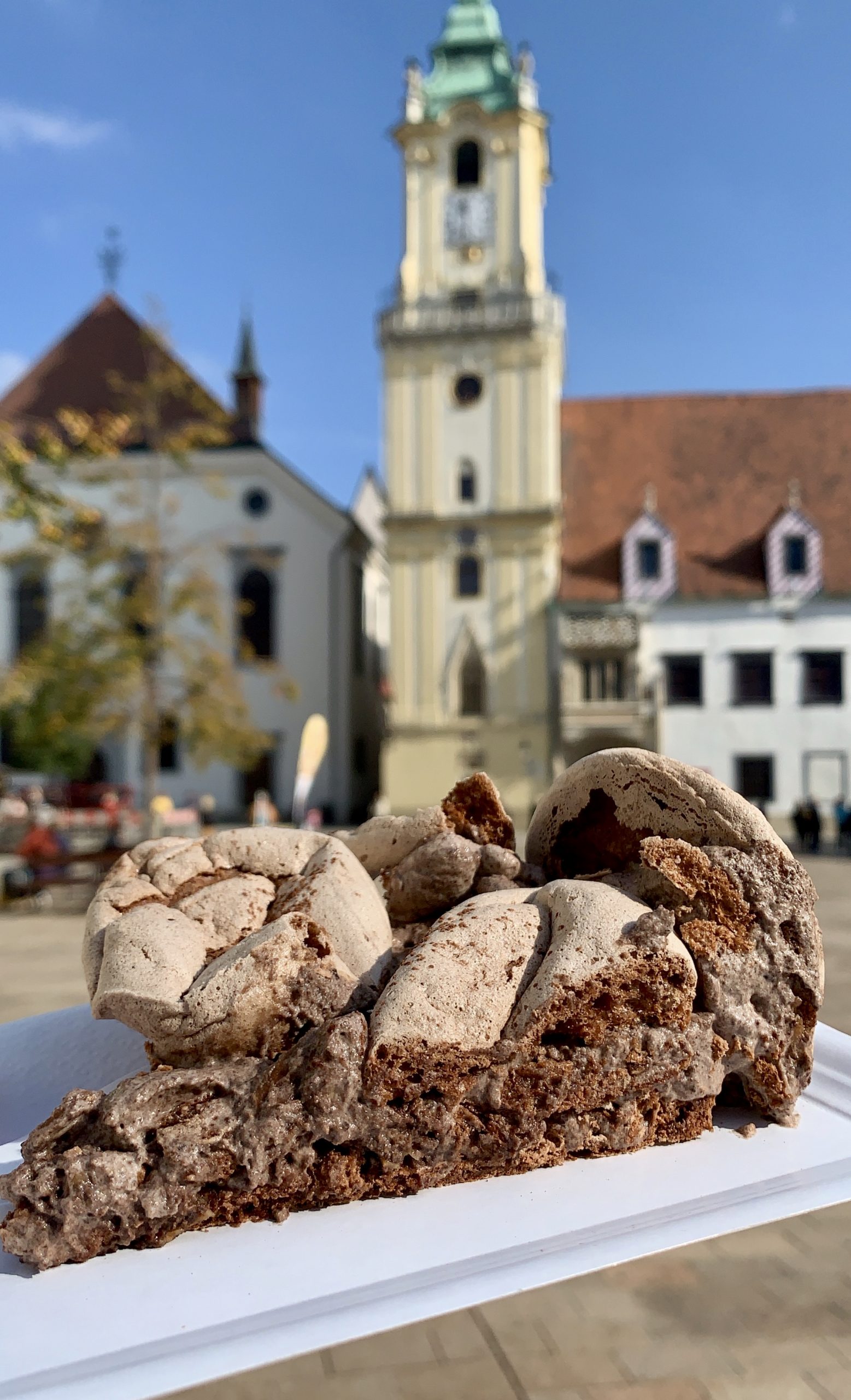 After our walking tour, our guide let us have some time to discover Bratislava on our own. Mum and I stayed in Old Town as we both really liked it as there was so much to see.
Remember I told you that there were lots of statues in Bratislava? Well, one of the most popular and well-known is this one, which is said to be like a peeping Tom poking out of a manhole. Pretty unique, isn't it?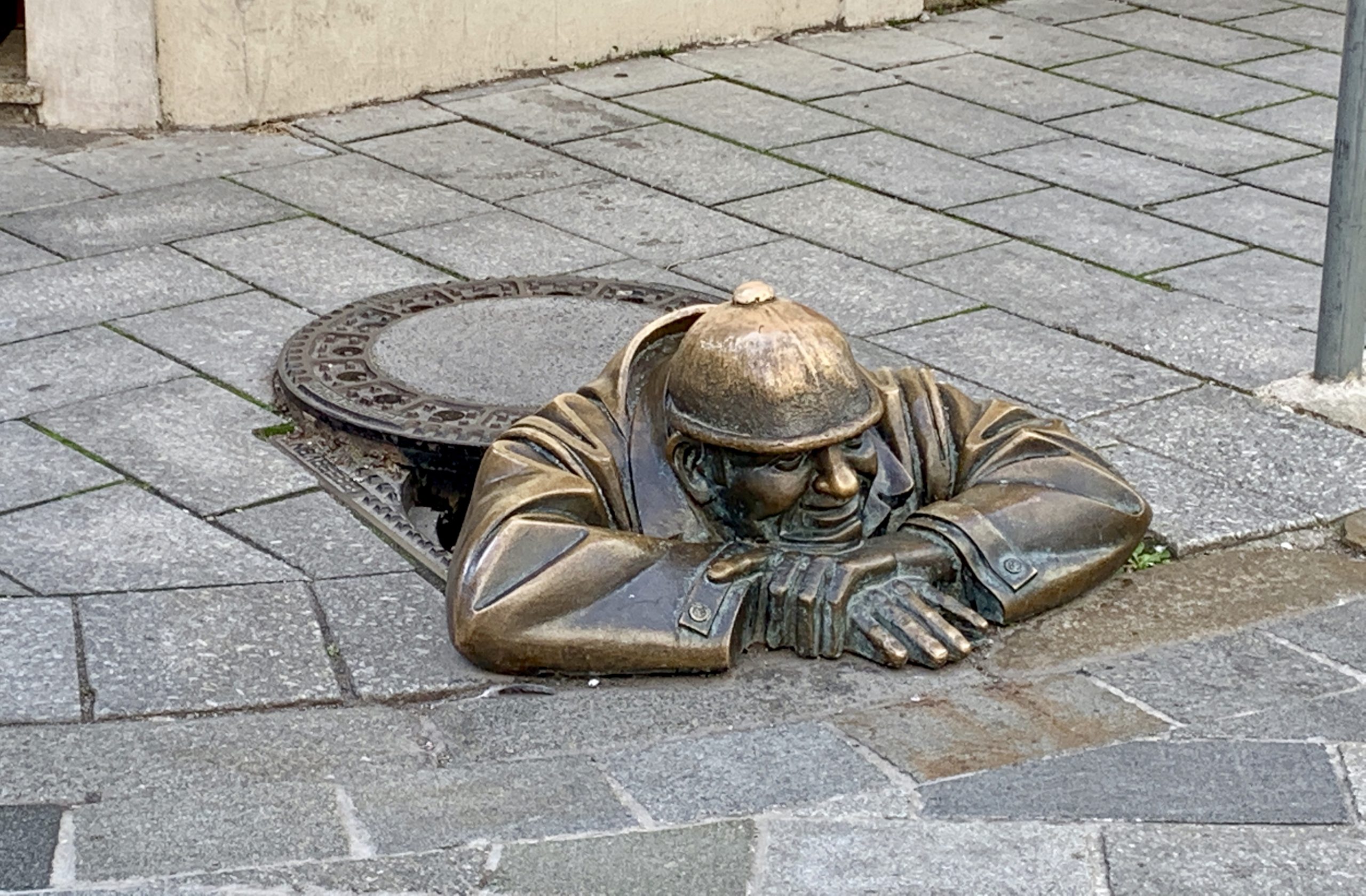 Our guide met us after our leisure time and showed us a board in front of a restaurant and explained a little about Slovakian cuisine, as I had asked. It's too bad I wasn't able to sample one of each!
Afterwards, we made our way back to the ship as we were set to leave Bratislava at noon. Once on board, guests could choose to have a post excursion stretch with Marcelo (the Wellness Manager) in the Zen Wellness Studio. Marcelo also led after lunch Digestive Walks on the Sundeck everyday as well as all the resistance band, high intensity and yoga sessions (you'll meet lovely Marcelo in a later post.)
Lunch Onboard the AmaMagna
As an avid lover of Indian cuisine, I cannot tell you how excited I was to see that one of our lunch options was naan bread, curry, rice, chutney, and more. You see, I recall just how delicious a similar meal was from my last cruise on the AmaCerto and the bar was placed high! This meal was just as phenomenal, if not better and I'm going to admit, I had seconds!
My mother, who isn't a big fan of Indian cuisine, was even impressed: she loved it, too! Of course, there was much more to choose from–as always, there's something for everyone. It wasn't long after we boarded that we were already on our way to Vienna, passing the Bratislava Castle.
As we were having lunch, one of the best views was of Devin Castle and its ruins.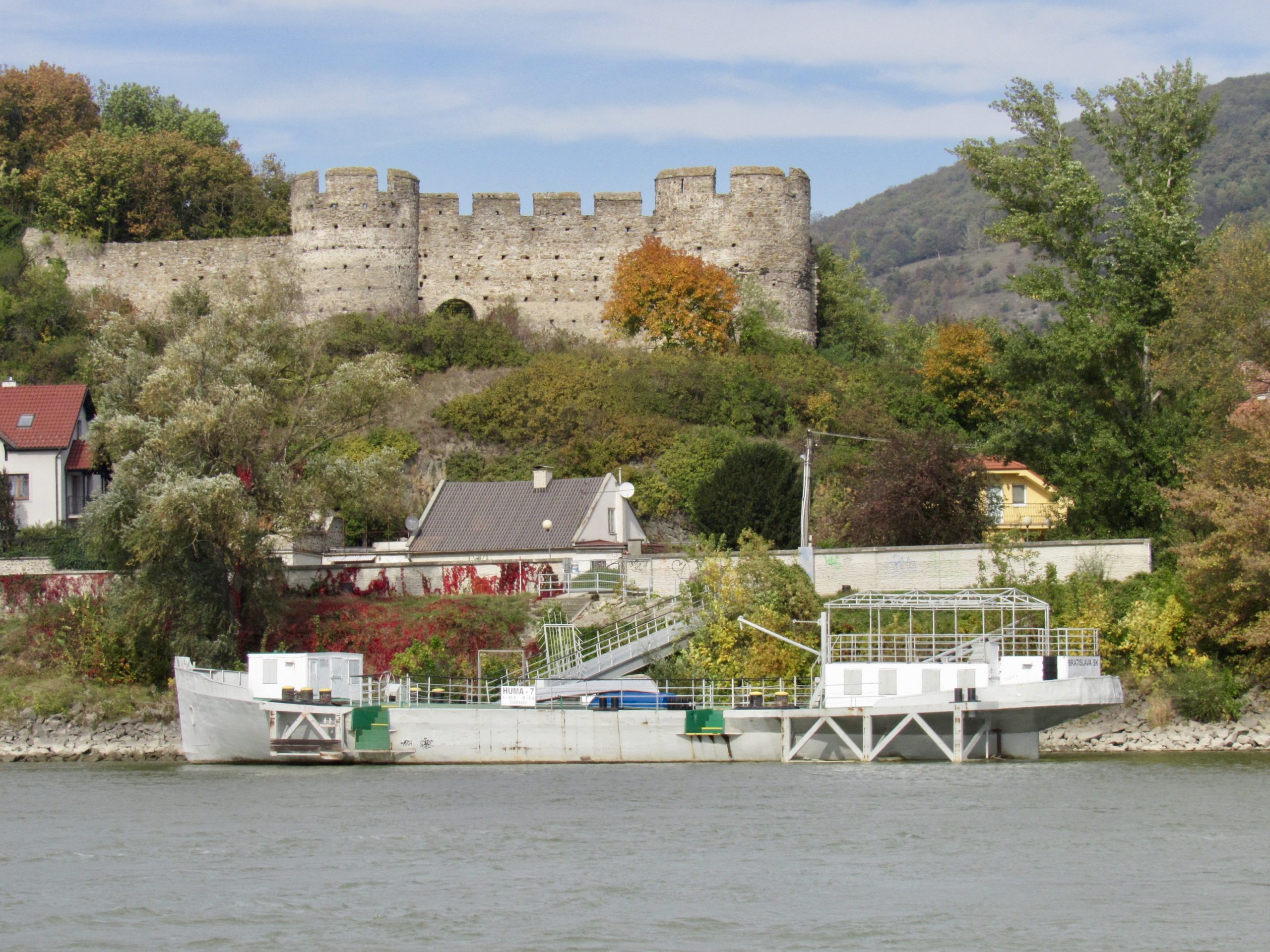 Many legends exist about damsels being locked in this turret.
Once we passed the castle and ruins, we were in Austria. (Devin Castle is on the border of Slovakia with Austria.)
Cruising on the Melodies of the Danube River Cruise in Austria
We had the afternoon to spend as we chose as we cruised the Danube. The every changing scenery was fantastic.
Aboard the AmaMagna Cruise Ship
Allow me to show you more of the public areas of this amazing ship. Remember that the AmaMagna is twice as wide as other river cruise ships, so to say it's rather spacious is an understatement.
The Bar and Lounge Area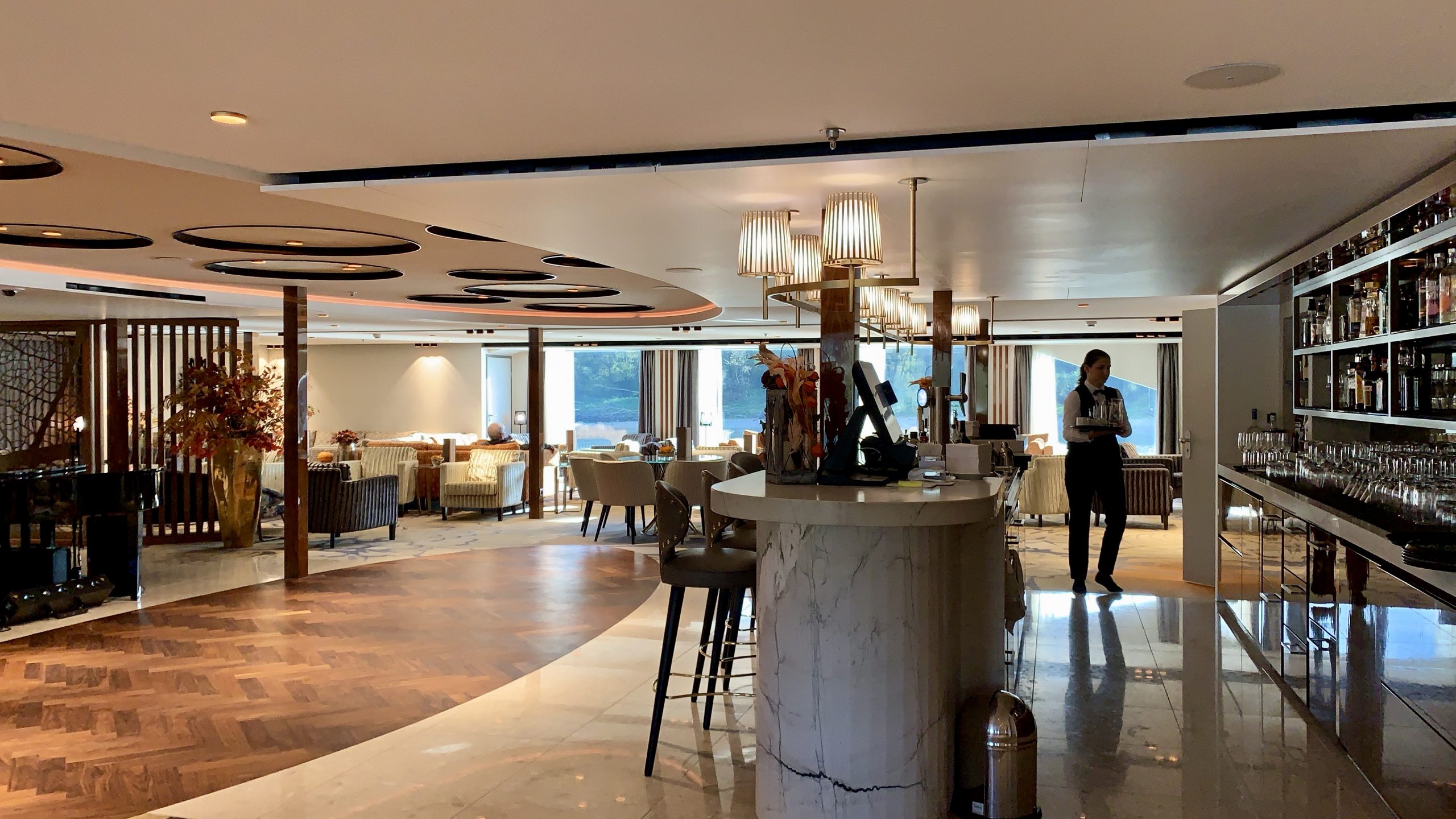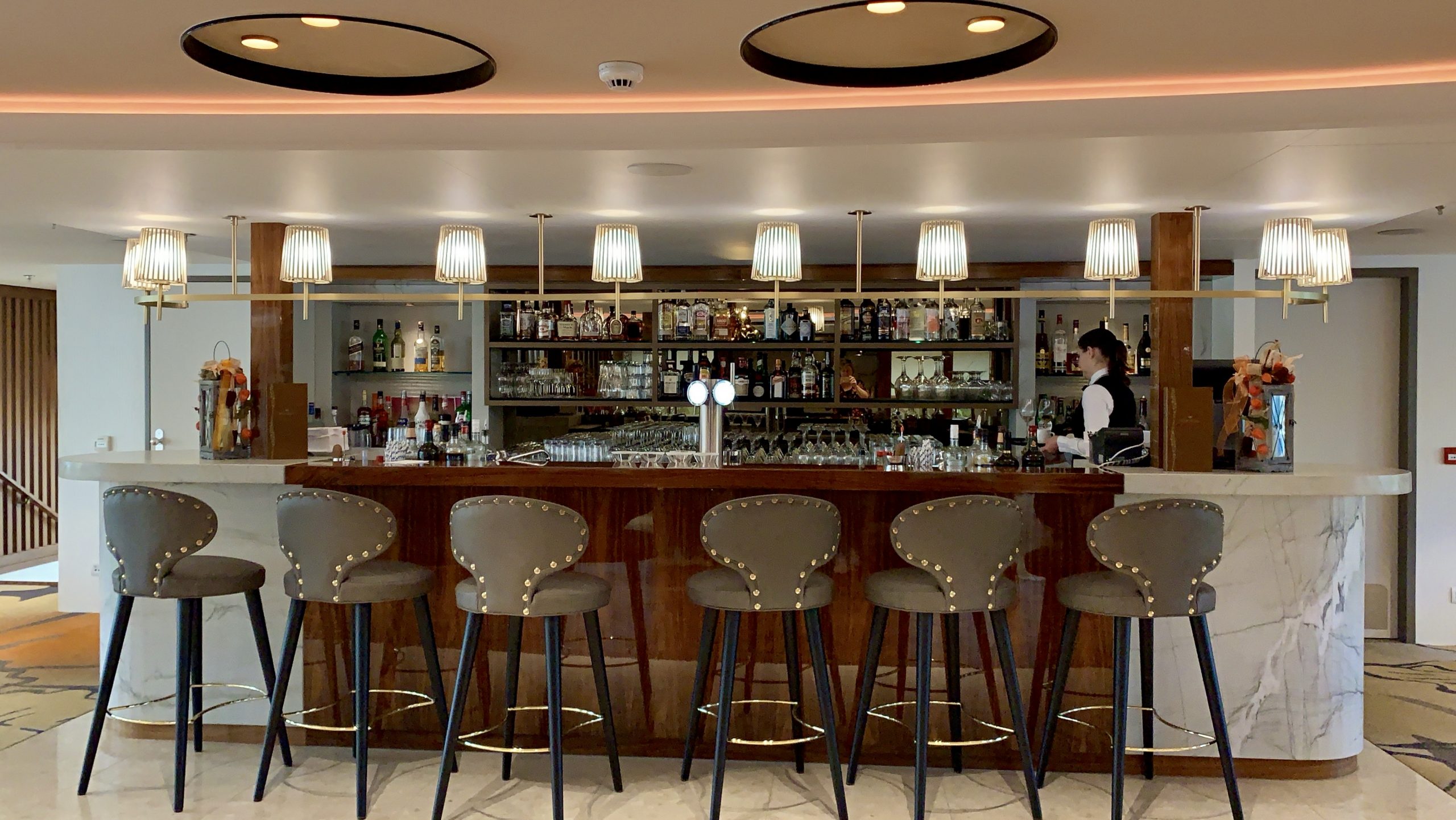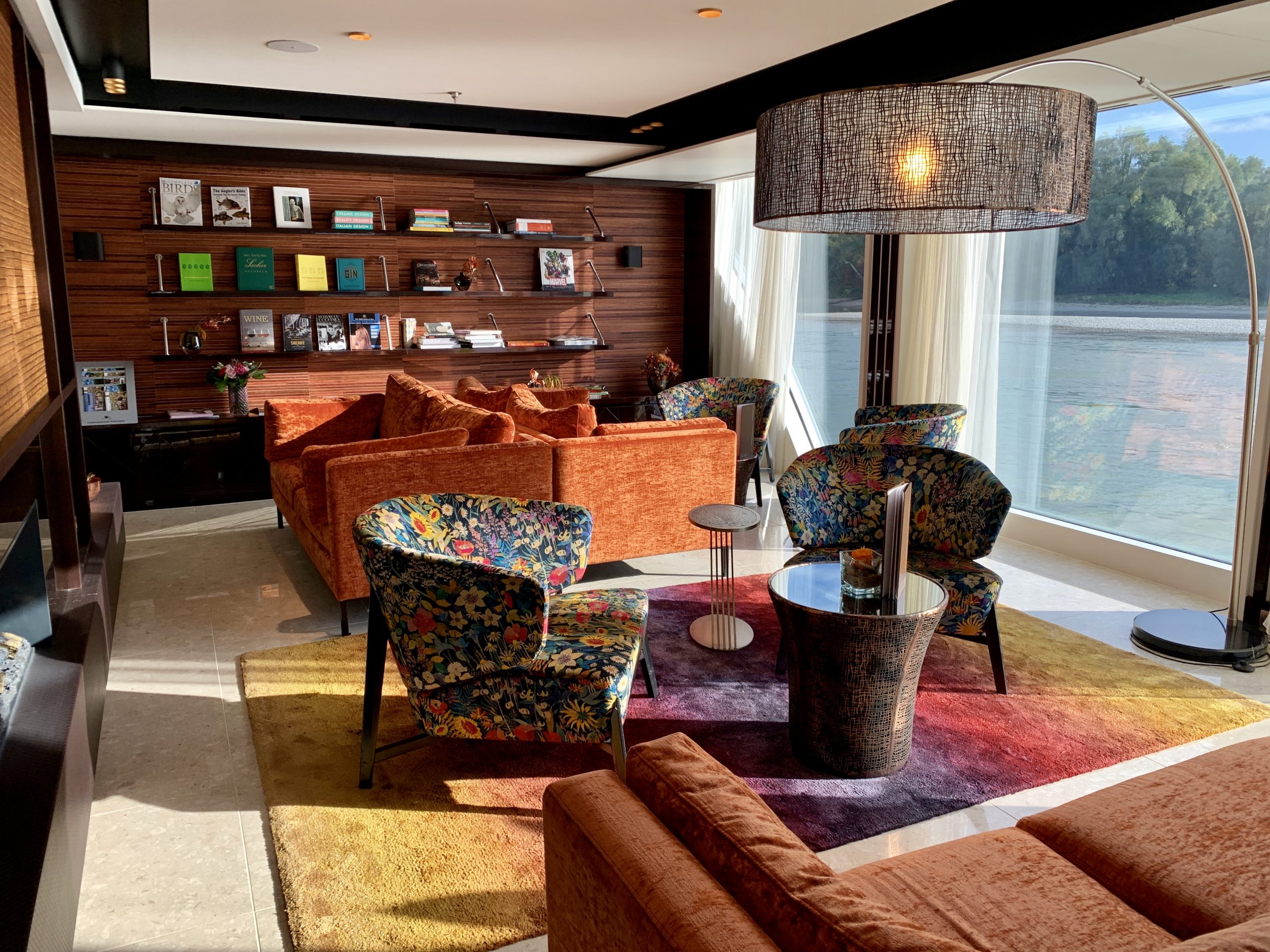 The Sundeck
Enjoying the glorious sunshine was easy on the top deck of the AmaMagna! When it's warm enough, there's a beautiful pool for a swim, or to just dip your toes. There's also a chess set, yoga and other exercise classes are held here, or you can simply lie on the lounge chairs (as you can see, this was my choice!)
On our third day of our cruise, the high was 69˚F (22˚C) so it was lovely to be outside, whether sitting or walking laps around the sundeck.
AmaWaterways Family Reunion Party
Guests who have sailed with AmaWaterways in the past were invited to meet other return guests in the lounge at the AmaWaterways Family Reunion party. Lovely hors d'oeuvres and bubbly were served as we were hosted by our Cruise Manager, Cesario.
Belcanto Duo
The clip above is the best way for me to share with you one of the talented groups that we had on the AmaMagna. Belcanto Duo is a husband and wife who perform opera together. We enjoyed them immensely!
Dinner Before Arriving in Vienna
After my big Indian lunch, I wanted something lighter for dinner, so I skipped the antipasti and chose the creamy leek soup with crispy leeks, croutons and foam: perfection. My mother chose the same.
Next we both opted for the goat cheese vegetable strudel with champagne sauce. Many of you know my love of goat cheese so you can imagine how happy I was with this dish! Paired with a lovely dry Reisling and I was delighted!
Since I had eaten such light first courses, I had room for dessert (surprise, surprise!) I chose the tiramisu, nougat sauce and berries. A lovely ending to our meal.
Vienna by Night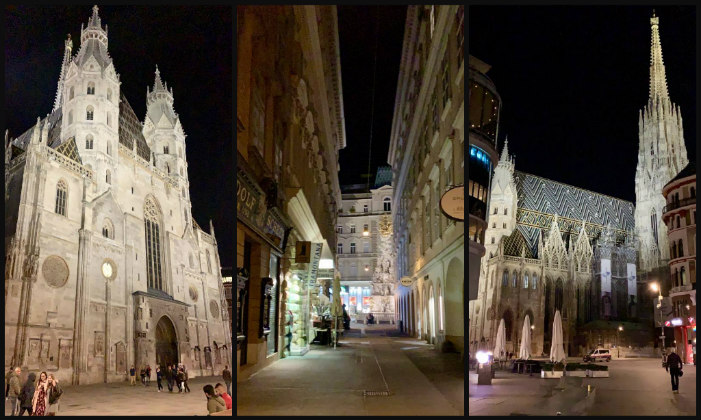 Mum didn't want to have a very late night so she decided not to go into Vienna once we docked at 9:30 p.m. I was going to go into the city alone, but then met up with some other guests I had met earlier, so the four of us went into Vienna together. We shared a taxi, as the central part of the city isn't near the Danube, however, it was only about a 10 minute ride.
As you can see from the photos above, St. Stephen's Cathedral which is in the center of Vienna, was lit up beautifully! I was so glad I had gone into the city at night as it had a completely different atmosphere from the daytime (which you'll see in my next post.)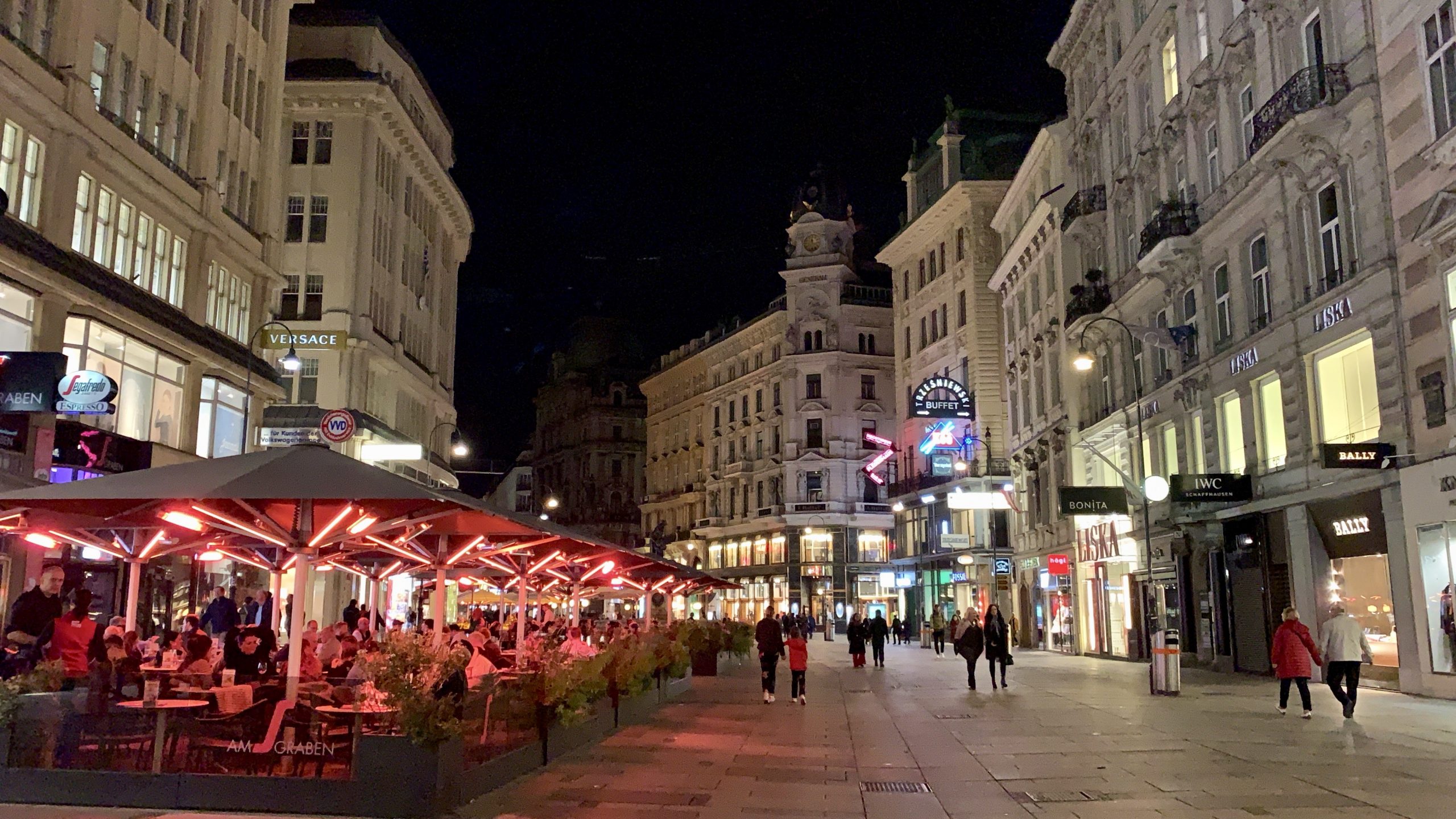 The photo below shows a gorgeous Baroque monument which was built in thanks to God and the Holy Trinity for those who survived The Plague.
My new-found friends and I found an Italian restaurant and had some wine (and pistachios) at the bar while we chatted. It was a lovely way to spend my birthday evening!
Instead of taking a taxi back to the AmaMagna, it was such a beautiful night, we decided to walk even though it would be about 45 minutes. It was a good way to burn off some calories from the day's wonderful cuisine.
When we arrived at the ship, we all went straight to bed as we had a big day ahead of us back in Vienna.
Continued on Day 4
Melodies of the Danube River Cruise
Visit AmaWaterways for more information on this cruise
and many others they offer in Europe, Africa and Asia.
Disclosure: my mother and I were hosted on a 7 night Melodies of the Danube river cruise with AmaWaterways. No requirements or stipulations were made for a positive review. As always, all opinions are my own. I am disclosing this in accordance with FTC requirements.