Cruising the Danube River could never be better than when you're on the luxurious AmaWaterways AmaMagna cruise ship! Read on to learn more about this marvelous travel experience.
This post will cover our second day of our Melodies of the Danube river cruise with AmaWaterways. If you missed the first day, you can find it here.
Disclosure: my mother and I were hosted on a 7 night Melodies of the Danube river cruise with AmaWaterways. No requirements or stipulations were made for a positive review. As always, all opinions are my own.
Day 2: Cruising the Danube River with AmaMagna (Melodies of the Danube Cruise)
Mum and I popped down to Al Fresco as we weren't too hungry and just wanted a bite before meeting our tour guide for the "Queen of the Danube" tour of Budapest. I had a Mimosa with my breakfast, because no matter where you eat on the ship, it's all 5 star!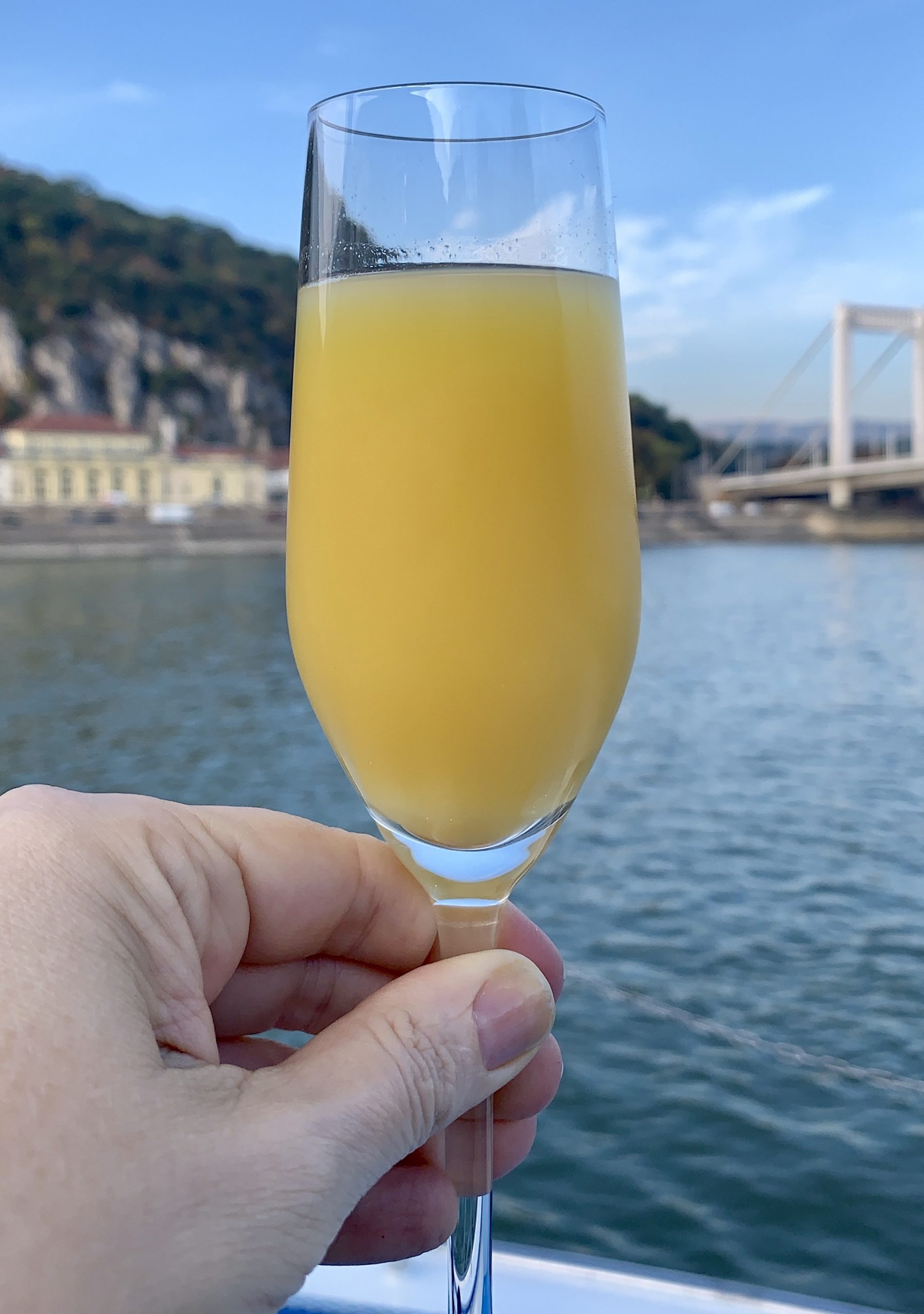 Just look at this cheese selection for breakfast as well as the breads we had to choose from. Just know that this is just a sampling of what is available each morning for breakfast. I will be sharing more as post about days that follow.
Once we finished breakfast we headed back to our freshly serviced suite. Our bathroom had been cleaned, room tidied up and beds made–what service!
We put on comfortable walking shoes, grabbed our Quiet Vox audio sets (for listening to our tour guide), put on our jackets and headed back to the lobby. AmaWaterways has a great system for organizing their tours. We chose the active walking tour and met our guide, Edith, just off the ship. The tours include gentle walking tours to cycling and hiking, so there's something for everyone.
The guides and coach drivers chosen by AmaWaterways are always the best in the business: professional, yet friendly. The guides are always local, often lifelong residents of the town or city that we're visiting.
Queen of the Danube Tour
Edith, our lovely tour guide, introduced herself, made sure we were all connected with our Quiet Voxes before getting onto our private AmaWaterways bus. While the bus driver navigated through the city towards the Great Market Hall, Edith gave us interesting facts about Budapest while pointing out places of interest as we traveled.
It didn't take long for us to arrive at our destination. Our small group (about 10 of us) walked into the market hall and Edith explained its history and what we could find there.
As you can see, it's not a small market by any means and there's a lot to see, taste and buy here. I could have spent a good few hours here! Hungarian food uses a lot of paprika and there were stalls full of the most beautiful bags, jars, bottles and containers of paprika here. During our free time in the market, Mum and I bought some paprika, but it was so difficult to choose as it was all so beautifully packaged.
The market also has lots of fresh produce, cheeses, sausages and if you head upstairs, there are so many lovely handmade items: dolls, clothing and loads of beautifully embroidered products.
Once again, we boarded the coach and Edith narrated our short journey from the market to Heroes' Square, an iconic sight of Budapest. We passed sights like part of the Berlin Wall and stopped near the Dohány Street Synagogue, the largest synagogue in Europe and second largest in the world.
Heroes' Square
Heroes Square is a must see spot when visiting Budapest. The statues, Memorial Stone of Heroes, museums nearby and the history of events that have taken place here are all reasons to visit. Edith told us a lot of interesting historical tidbits and stories including the importance of the Holy Crown of Hungary. You can see the angel at the top of the column holding it in his right hand.
Nearby is Vajdahunyad Castle which is set upon a lake and is now the Hungarian Agricultural Museum and Library.
After some time to walk around this area, we boarded our coach to head across the Danube River to the Buda side of the city to the Castle Hill District (until now, we'd been in the Pest side.)
Castle Hill District, Buda
The Castle Hill District is an old part of the city with very old buildings and streets, so large vehicles, including coaches, aren't able to drive into the center. This meant we were able to see more of the historic architecture, shops and other interesting sights, such as The House of Houdini, as we walked towards the center of town. The great illusionist was born in Hungary and this museum was created in his honor.
Matthias Church
Our visit to the Buda side of the city began with a guided tour of Matthias Church. Edith picked up our tickets (all tickets and excursion costs are included with all AmaWaterways tours, with extremely few exceptions), and we went into the church without having to wait in any lines.
Although the exterior of this church, with its intricate architecture and beautifully colored rooftop is stunning, I cannot tell you how breathtaking this church inside–it's truly not to be missed!
The ornately decorated walls, tiles, floor and ceiling are mesmerizing; and just look at this altar.
After our tour of Matthias Church, Edith took us across the nearby square to Fisherman's Bastion and the incredible views of Budapest, and of the church, from this vantage point high above the Danube.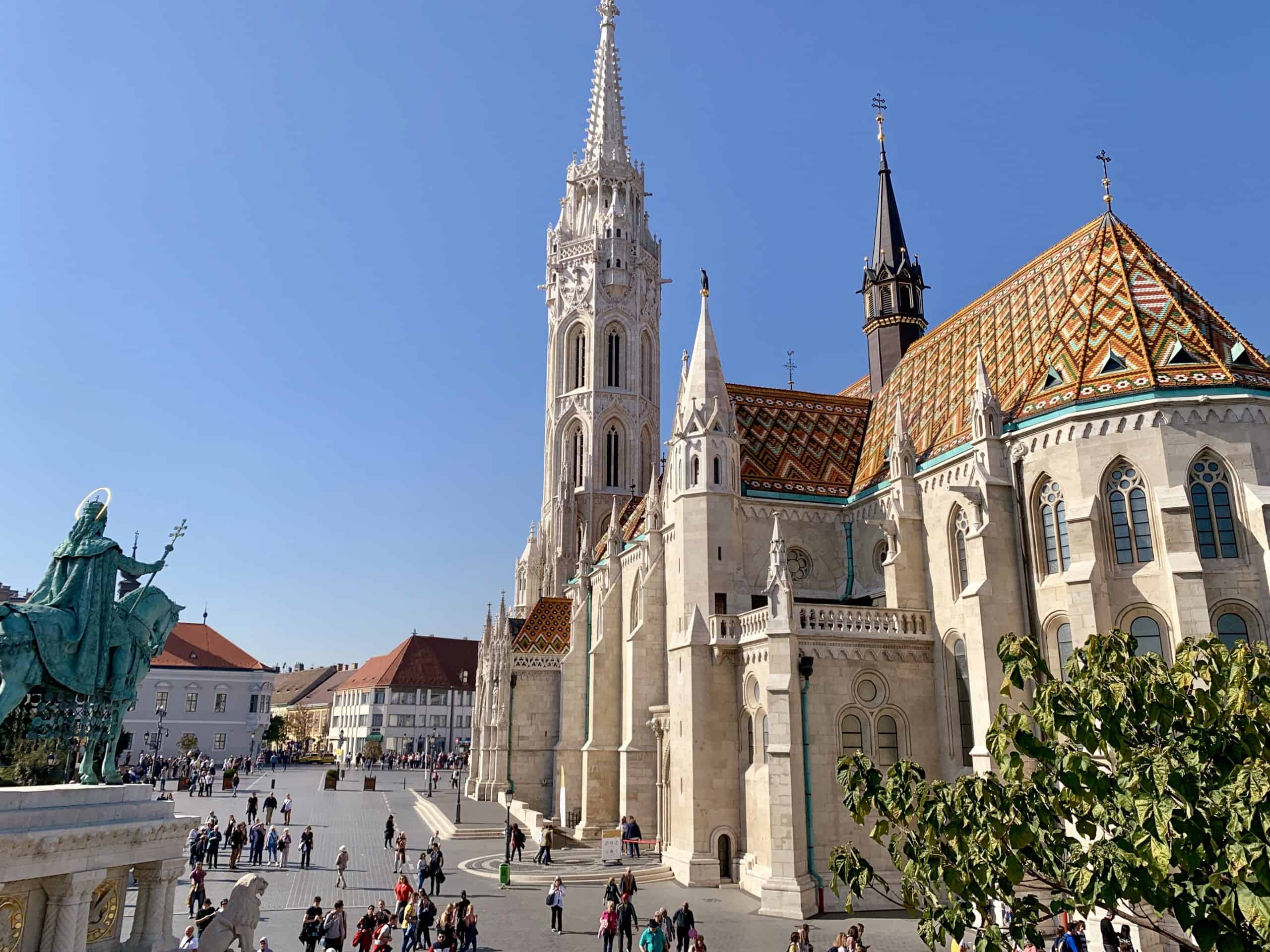 Fishermen's Bastion
Part of the Buda Castle, the Fisherman's Bastion has some of the best views of the entire city of Budapest. It was difficult not to take hundreds of photos as there were so many opportunities for great shots! You simply can't miss visiting if you're cruising the Danube River.
Even within the Fisherman's Bastion itself, there were so many beautiful spots to capture. Truly this is a photographer's dream.
However, the view of the city is truly the best.
I will add a link below for more information on this historic and decorative part of the Buda Castle for those of you who are interested.
Chimney Cakes (Kürtőskalács)
Some of you may remember that I had my first chimney cake in Rüdesheim, Germany during my Enchanting Rhine river cruise with AmaWaterways a few years ago. I fell in love with this unique pastry, and was so looking forward to having one in Budapest. However, because I lost my ATM card somewhere in Barcelona, I had no Hungarian forints! I was so disappointed thinking that I may not be able to buy a chimney cake as I was sure street vendors wouldn't accept credit cards.
As my luck would have it, I found a 2000 forint bill my first night in Budapest! I had no clue how much it was worth at first, but knew it wasn't a large amount. Turns out it was about $6 and enough to buy one kürtőskalác and even get some change! You can see them being rolled, baked and dipped in my instagram story highlights of Day Two, along with clips from the rest of my day.
Back to the AmaMagna
After our Queen of the Danube tour, our bus driver returned us to the AmaMagna where the chef and his kitchen staff had the most wonderful lunch awaiting us.
I made myself a lovely salad from the salad bar (I was elated with the top notch vinegar which was always available, not to mention the extra virgin olive oil, both from Italy.) I then had a big bowl of pho, and Mum tried the Hungarian goulash. Both were delicious! There was so much more to choose from and of course, many pastries, desserts and an ice cream bar with lots of sauces and toppings.
Just after lunch, the Amamagna left its docking place and we were on our way to Bratislava, the first place on our itinerary on the Melodies of the Danube cruise. The captain announced that we were on our way and not to miss the incredible view we were passing as we left Budapest.
Cruising the Danube River to Bratislava
Hungarian Parliament Building in Budapest
Of course everyone recognizes the iconic Hungarian Parliament Building in Budapest when it is lit up at night, but honestly, the daytime view can be just as fabulous!
Luckily, the weather was absolutely gorgeous so most of us were up on the top deck of the ship to view the beautiful building as we cruised past. The AmaMagna is so spacious, we always felt spoiled. I wasn't exaggerating when I wrote the "incomparable AmaMagna" because there is no other cruise ship like her. Did you know that the AmaMagna is twice as wide as all other river cruise ships? "Spacious" is an understatement.
We would be cruising the Danube on this outstanding ship all night long until arriving in Bratislava at 9 am the following morning.
For dinner, Mum and I decided to enjoy the Chef's Table this evening which is a specialty restaurant to enjoy AmaWaterways' award-winning cuisine while cruising the Danube.
Chef's Table Dinner
Chef Nico and his team did a superb job with all the dishes that evening, as I'm sure they do each and every evening. I had the opportunity to speak to Chef Nico after dinner and it was clear that he was truly passionate about his career in the food industry. We found a lot of common ground even though I've never been to cooking school.
The Chef's Welcome was a beautiful heirloom tomato carpaccio with eggplant caviar. I must say that although I usually only like eggplant when it's pickled, I really enjoyed this starter.
Lemon pepper salmon was next on the menu, and it was served with a turnip-cucumber tartare, vegetable vinaigrette and chickpea mousseline–lovely!
Both mum and I chose the white wine which was an Austrian vintage, Sandgrube 13 Grüner Veltliner. It was a nice wine to have with the tasting menu and I had a couple of top ups!
Next came a carrot ginger soup with tabbouleh crème fraîche and cumin ciabatta. Beautiful presentation and just as tasty as it looked.
Pike perch was next on the menu, and it came with a bright citrus sauce, celery mash and Beluga lentil ragout. The portions were just the right size to be able to enjoy these culinary creations. Mum and cleaned our plates each time!
We had a refreshing vineyard peach and sparkling wine sorbet as a palate cleanser, which I loved. The only problem with this serving is I could have had another one. And knowing the AmaWaterways staff, I would only need to mention it and I would have had another sorbet appear in front of me.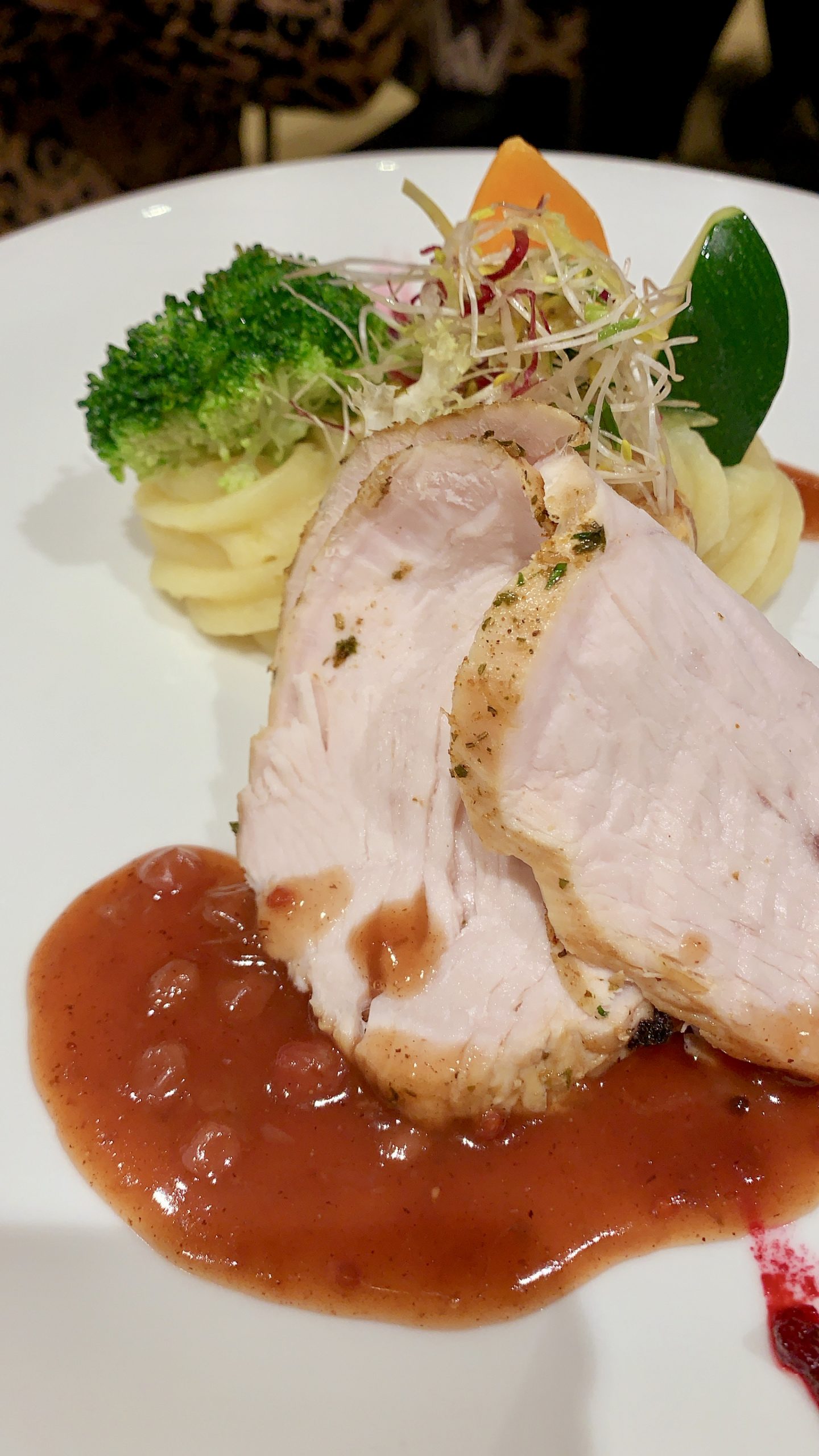 The next course on the menu was Nebraska beef, so Mum and I not being huge steak fans, opted for a turkey dish which was served with lingonberry sauce and mashed potatoes. I would guess this was made for Canadian guests celebrating Thanksgiving, which was a really lovely gesture. The turkey was very moist and tasty, which I think you can even see in the photo.
Our dessert was a rum raisin crumble, and apple tartlette served with vanilla ice cream: a delectable ending to a fantastic meal. We thanked Chef Nico profusely for his perfectly executed meal that evening, as did the other diners. What a way to dine as one is cruising the Danube River!
The next morning we would arrive in Slovakia and dock in Bratislava at 9 am. I hope you enjoyed this post on cruising the Danube River. Don't miss any my posts by signing up for my free subscription HERE.
End of the day thoughts/review~
Simply a spectacular day from beginning to end. Mum and I felt we chose the excursion that was best suited to us with the foodie themed market tour, exploring the hot tourist spots of Budapest and being able to get some fabulous shots of the city. We began our Melodies of the Danube cruise in style on the AmaMagna, and were absolutely enamored with Chef Nico and his love of cooking at the Chef's Table restaurant and dinner. A phenomenal start to our cruise holiday!
Visit AmaWaterways for more information on this cruise
and many others they offer in Europe, Africa and Asia.
Disclosure: my mother and I were hosted on a 7 night Melodies of the Danube river cruise with AmaWaterways. No requirements or stipulations were made for a positive review. As always, all opinions are my own. I am disclosing this in accordance with FTC requirements.
cruising the Danub