Scottish food is often made on St. Andrew's Day as he is the patron saint of Scotland. Find lots of delicious and traditional recipes here. (Click the pic)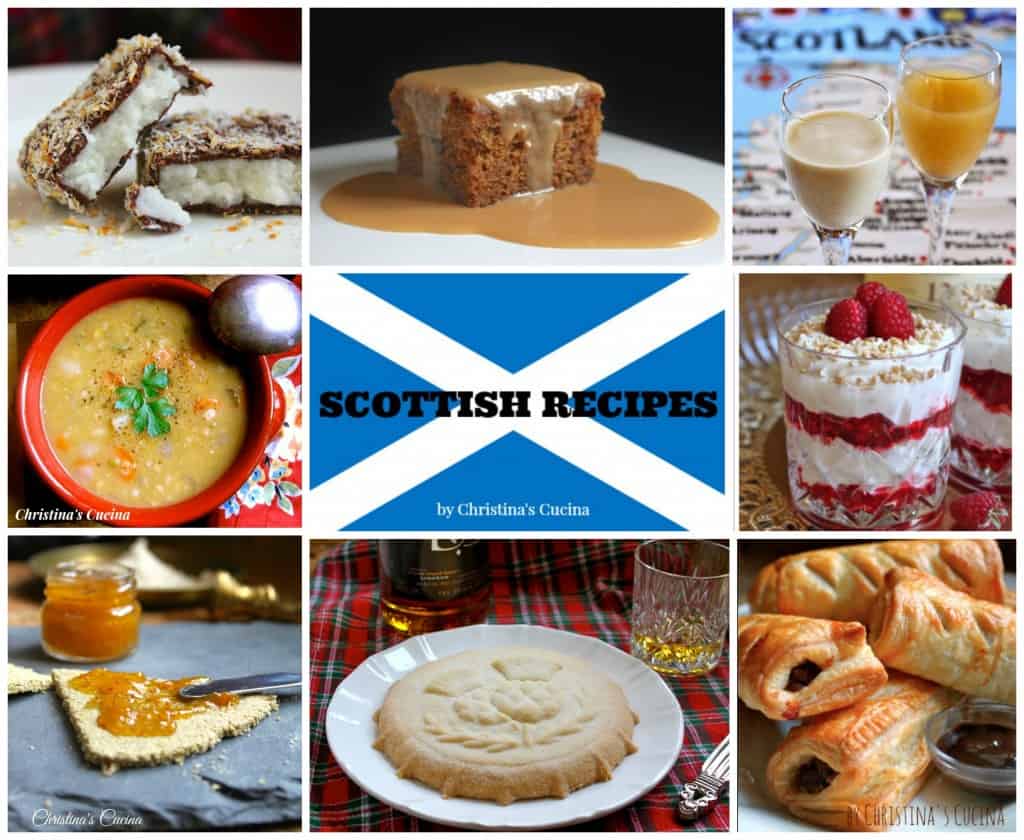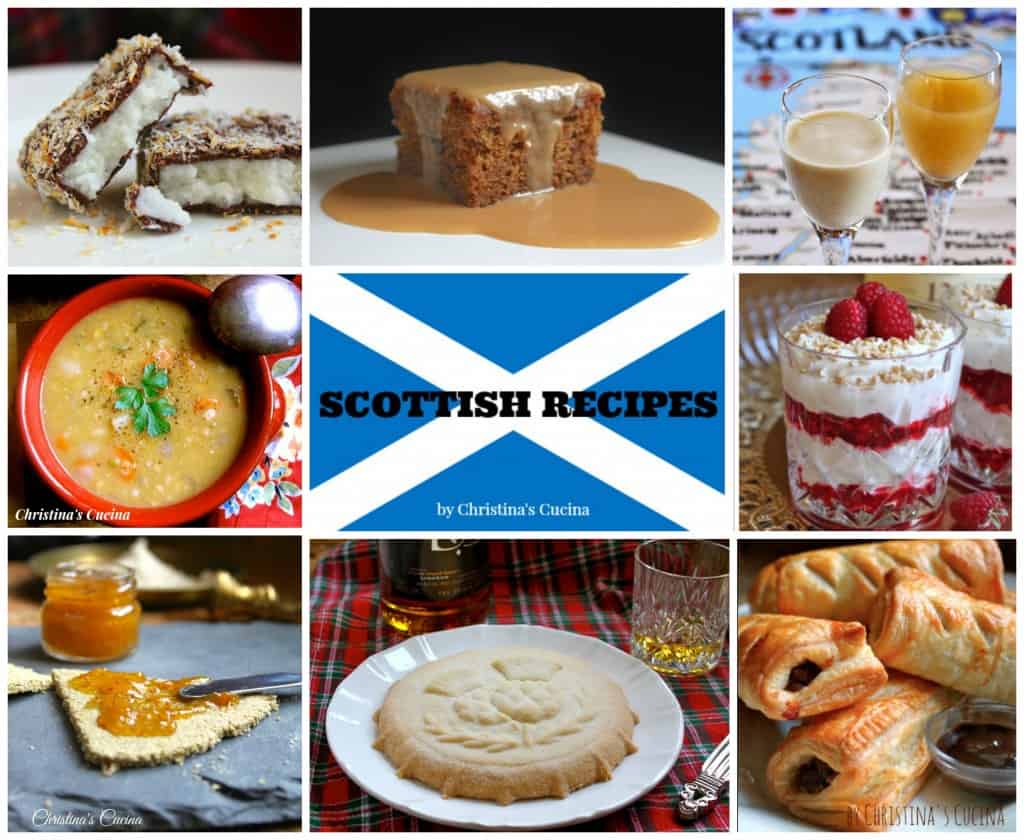 Happy St. Andrew's Day!
(Click on the photo above for a list of my Scottish recipes.)
November 30th is St. Andrew's Day, celebrating the patron saint of Scotland. I'd like to take this opportunity to talk to you a little more in depth about Scottish food and drink, especially traditional Scottish recipes. You already know I'm always promoting a lot of food from my homeland.
Unfortunately, I feel many Scottish and British foods have been unjustly maligned. Many people who carry on the stereotype and describe food from the UK as being "bad and bland", have never even stepped foot on foreign soil.
Next year is going to be The Year of Food and Drink in Scotland, so it's going to be a fantastic way to show off all Scotland's incredible fare and tipple!
The BBC Good Food Show, Glasgow – Scotland
You'll remember that I was at the BBC Good Food Show in Glasgow last month, and was overwhelmed with the array of delicious food and drinks which were available from local producers and companies.
In between the times that I was being interviewed by the lovely and vivacious, Lotte Duncan, and speaking at the VIP lounge, I spoke with many of the owners of the Scottish food and drink companies at their booths. Every single one of them was so passionate about creating the very best Scottish products, from salt to ice cream, to smoked seafood to chocolates, and everything in between.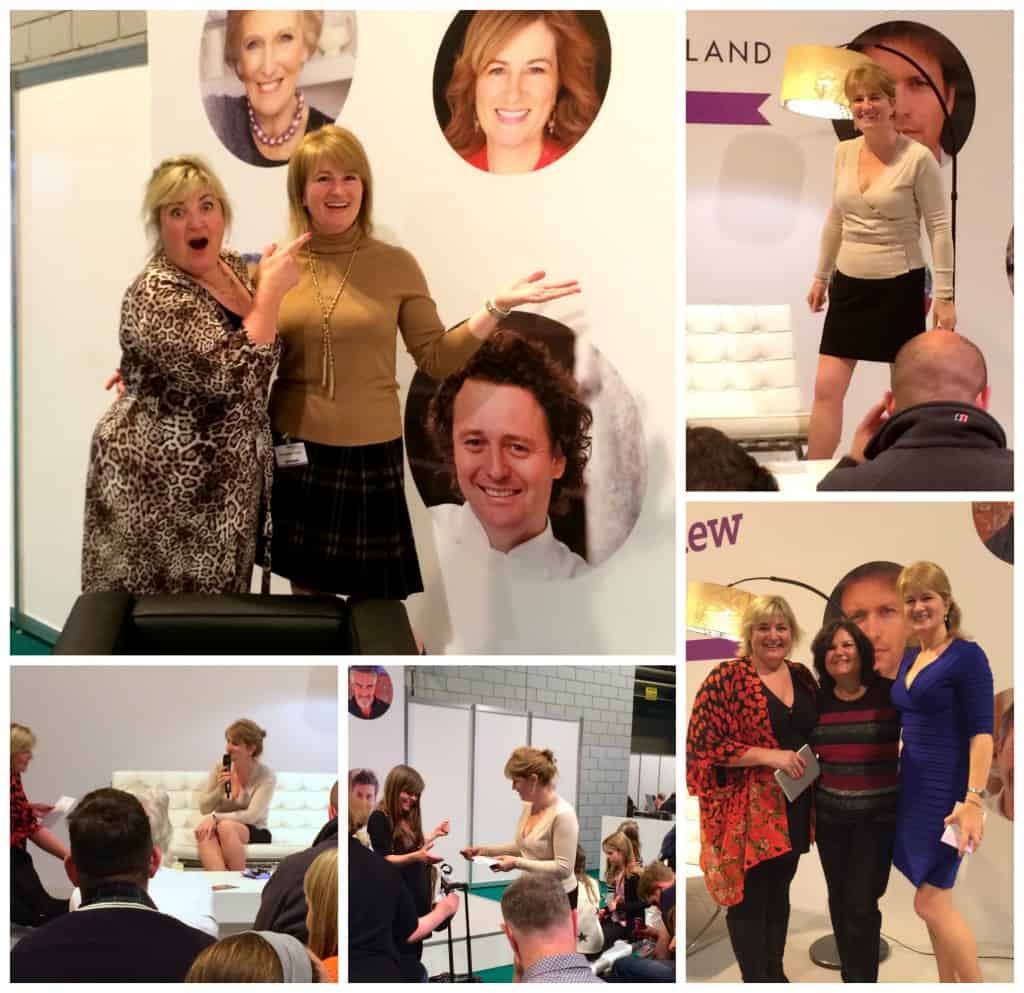 Here are some of the wonderful companies/products which were at the show. They are all produced in Scotland and many are available in the US with free shipping.
Hamlyn's Pinhead Oats comes first, because this is the brand of oatmeal I used to win the World Porridge Championship Specialty Award. In fact, so did my co-winner, Chef Chris Young. Here we are at the BBC Good Food Show together again, along with the girls at the Hamlyn's booth!
Hamlyn's is produced from premium Scottish oats, grown and milled in Scotland – 100% Scottish from seed to mill to finished product. Quite a few of their products are available in the US via Amazon (link above). I have my oats ordered via subscription, so I'll never run out! I've been soaking the pinhead oats overnight (about 1/2 cup oats in 1 1/2 cups water). The following morning, I cook it for about 8 minutes. It's a quick, nutritious and tasty breakfast. Trust me the Scots know their oats, so if you really want the best, I hope you'll give Hamlyn's a try.
Tunnock's Teacakes, Caramel Wafers and Snowballs are some of Scotland's most popular chocolate snacks. I love them all! My dad used to go into the cafe above the little bakery when he was in elementary school and eat his lunch there.
That very same bakery is now making millions of teacakes, wafers and more, each week! I grew up eating their delicious chocolate goodies as a little girl. Tunnock's is still a family owned business so I was really excited to get my photo taken with the current owner!

Magnum Cream Liqueur Unfortunately, Magnum is not yet available in the US, but this delicious liqueur should be–not because I'm telling you how good it is, but it just won a gold medal at the 2014 World Spirits Competition in San Francisco! It's a wonderful Scotch whisky cream liqueur and I just hope it makes its way across the pond soon, so go to their Facebook page and send them a message to get over here–STAT! UPDATE: Magnum Cream Liqueur IS now available in select locations of the USA!
Simply Add Chilli is a brilliant condiment which combines Scottish strawberries as a sweet base for spicy chili peppers, and it's really good! I tried some at the show, and was given a jar to bring home to try and must say that it's a fantastic item to have in the fridge to spice up all sorts of dishes; it comes in mild, wild and extreme varieties.
Simply Add Chilli was created by a mother who had been laid off from her job, but the best part to me is that it is an all natural product and made simply with Scottish ingredients. Ask for it at your local Whole Foods in the US.
Border Biscuits are available online via Amazon, here in the US. All I can tell you is that someone had told me that I needed to try these biscuits (cookies) during the first part of my stay in Scotland. Luckily, they were at the Good Food Show! Well, they were right, they were delectable, especially the Dark Chocolate Ginger biscuits.
Perthshire Oatcakes are made by Chris Young, who is my co-winner for the Specialty Award at the World Porridge Championships, and his lovely wife, Fiona. I sampled most of his varieties at the BBC show. My personal favorite are their award winning traditional oatcakes. You can order Perthshire Oatcakes on Amazon in the US.
Of course there were lots of booths selling cheese, black pudding, meat products, ice cream, bakery items and other delicious Scottish food. However, those cannot be exported, unfortunately, so you'll have to go to Scotland to taste them. For example…

Mackie's of Scotland (ice-cream, but you can buy their crisps (potato chips) here)
Billington's of Lenzie
Ramsay of Carluke
Capability Browns

2015
SCOTLAND: The Year of Food & Drink
As you can see there was something for everyone, but the one thing in common was the quality of all the food and drink. Hopefully, I've convinced you to want to try at least one new Scottish food or recipe. If you are planning to visit Scotland and have never been before, you are in for a treat! I think you'll agree that nothing I posted above looks "bland or boring", right? If you have any questions about Scotland or Scottish food and drink, I'd be happy to answer them.
I'd love to also mention Plan Bee Ltd, and Guide Dogs, which were both at the BBC Good Food Show. If you are in the UK, please check out their sites and see if there's any way you can help out these wonderful organizations.
If you follow me on Facebook, you might have seen a few photos of me and the top celebrity chefs in the UK. These were taken at the BBC Good Food Show in Glasgow, promoting Scottish food. To my American audience: The Great British Bakeoff TV show will be viewable in the US soon!
The good looking guy in the purple shirt is Paul Hollywood, and Mary Berry is the lovely lady in pink. Together they are the judges for the bakeoff show. The other good looking guy in black is none other than Chef James Martin. James is incredibly talented, and a wonderful person to boot.
Lastly, I'd like to tell you about another Scottish company, although it is not associated with food and drink, its standard of quality is unrivaled. I was extremely fortunate to receive a magnificent Begg & Co. cashmere scarf as a gift when I was in Scotland. Honestly, I don't think I've ever owned anything quite as luxurious! I am compelled to tell you about it, as this is one of the most finely made products I have ever seen.

Begg & Co. was founded in Scotland in 1866 (exactly 100 years before I was born) and has kept the same standard of quality since that time. Reading about Begg & Co. was like an intriguing history lesson. I learned so much about the company, its standards and craftsmanship.
For example, my scarf is woven with 8 kilometers of the finest gossamer cashmere yarn, and is so incredibly soft! And I'm not putting it in a drawer to save it for a special occasion–I wore it in Scotland with my raincoat, and have been wearing it here in Southern California with everything from my jean jacket to evening wear. It's so very versatile. Their scarves are available on Amazon!
If you ever want to splurge on a top quality Scottish made scarf, consider Begg & Co.
Happy St. Andrew's Day!
Don't miss another recipe or travel post, sign up for my free subscription below!
I promise not to share or sell your email address, ever.
Christina's Cucina is a participant in the Amazon Services LLC Associates Program, an affiliate advertising program designed to provide a means for sites to earn advertising fees by advertising and linking to Amazon.com.